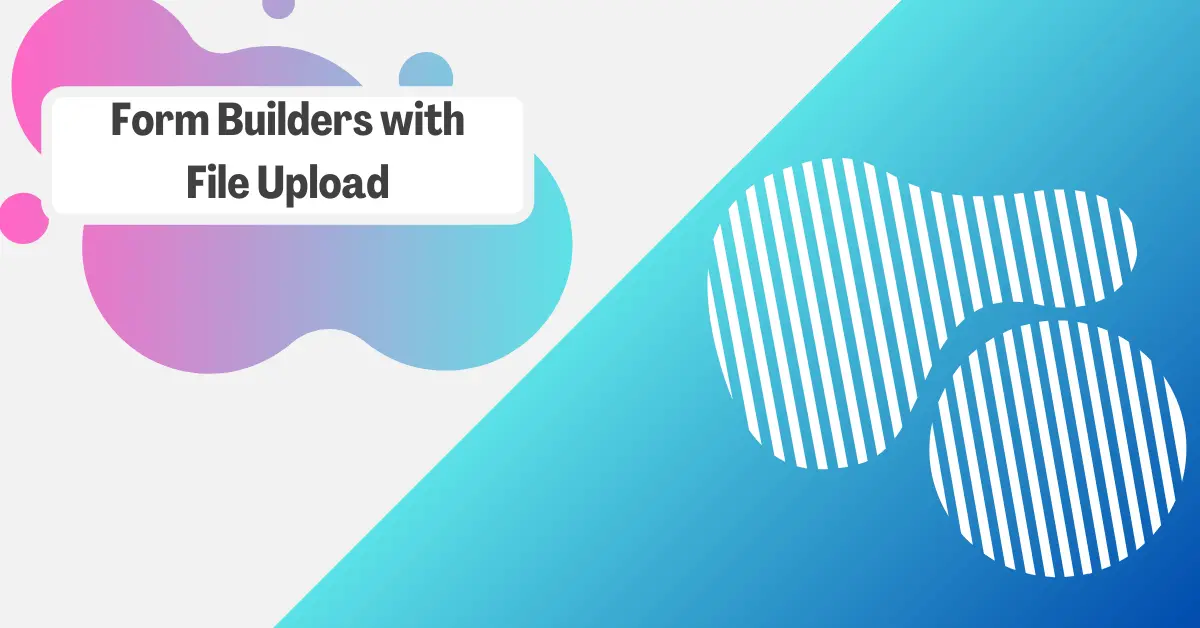 A good form builder is practically a must-have for digital marketing campaigns.
However, finding the best form builder for your specific needs can be a challenge. After all, there are dozens of form builders, and each has its own unique strengths and features. For instance, some are best for building registration forms while others are ideal for capturing leads. 
But what about form builders for creating forms with file upload capabilities?
If this is the type of form builder you are looking for, you are in luck.  
In this post, you can discover 7 of the best form builder with file upload functionality.
Let's dive in…
Jotform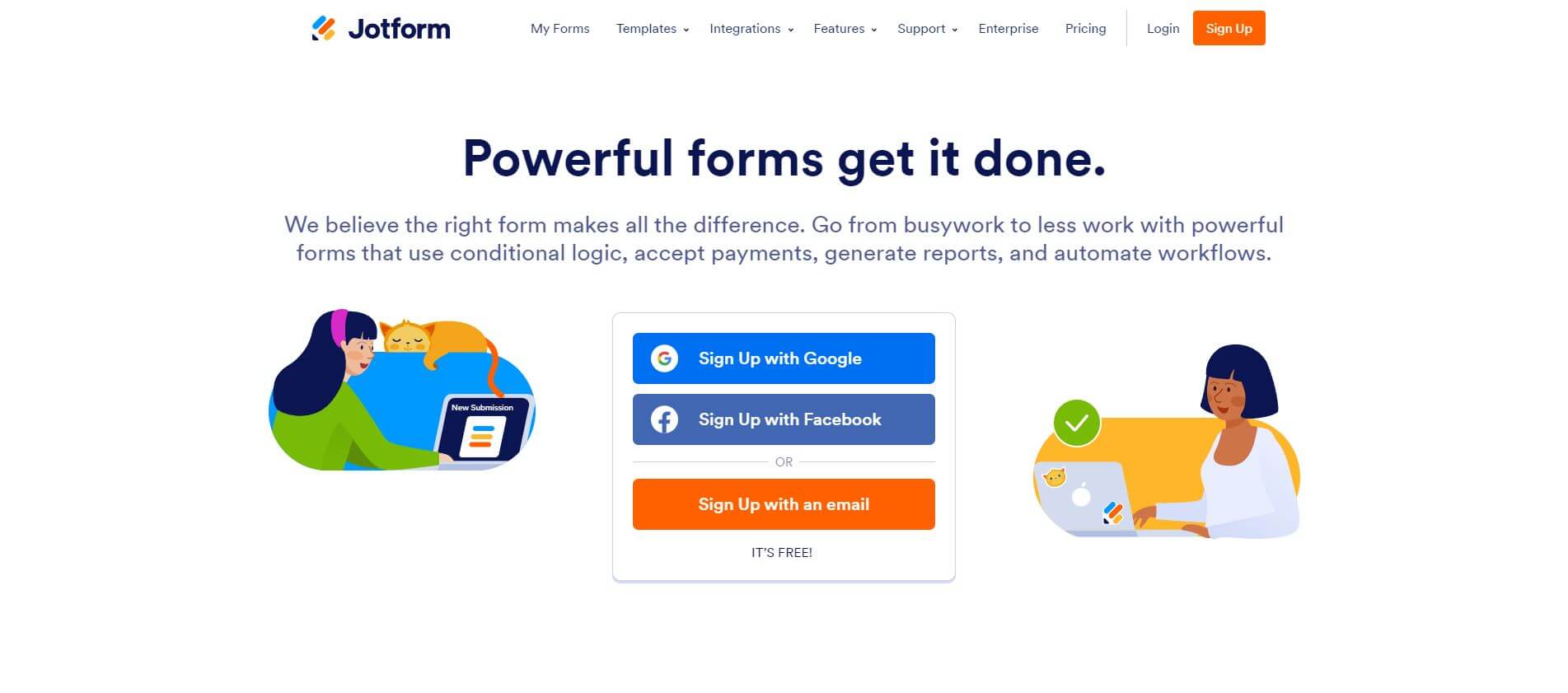 Jotform offers users a library of more than 250 different templates that can be used to create file upload forms, but also membership forms, contact forms, registration forms, product order forms, and so much more.
Like other popular form builders, Jotform's templates are fully customizable with a drag and drop interface that makes field editing clear and straightforward. The software solution also features many conditional logic options. Jotform can be integrated with payment collection services, including Stripe, Square, and Paypal.
Due to Jotform's generous capabilities with the free version, the tool is regarded as one of the best free online form builders. With Jotform, users can create up to five forms, record up to 100 submissions, and utilize 100 MB of storage space. An upgraded, paid plan unlocks advanced features such as removing JotForm branding, HIPAA compliance, additional storage space, and increased form submissions.
Jotform file upload functionality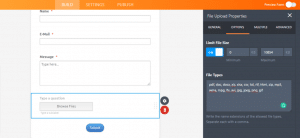 Jotform makes it incredibly easy to collect uploaded files from your forms and access them in your Google Drive, Dropbox, or other cloud storage apps.
The file upload element can be dragged and dropped wherever you want it to go in the Jotform editor. From there you can specify what file types you want to collect, the file size limit, the number of files you want to collect, and more. You can even edit the design of this element to make it stand out to anyone filling out the form. 
Better yet, Jotform's free plan gives you 100MB of storage space and 500 submissions before you will need to upgrade to a paid plan. For some businesses, this level of storage may be sufficient, but for many, the 10 GB of storage space that the Bronze plan provides (starting at $24/month) is sufficient. 
Wufoo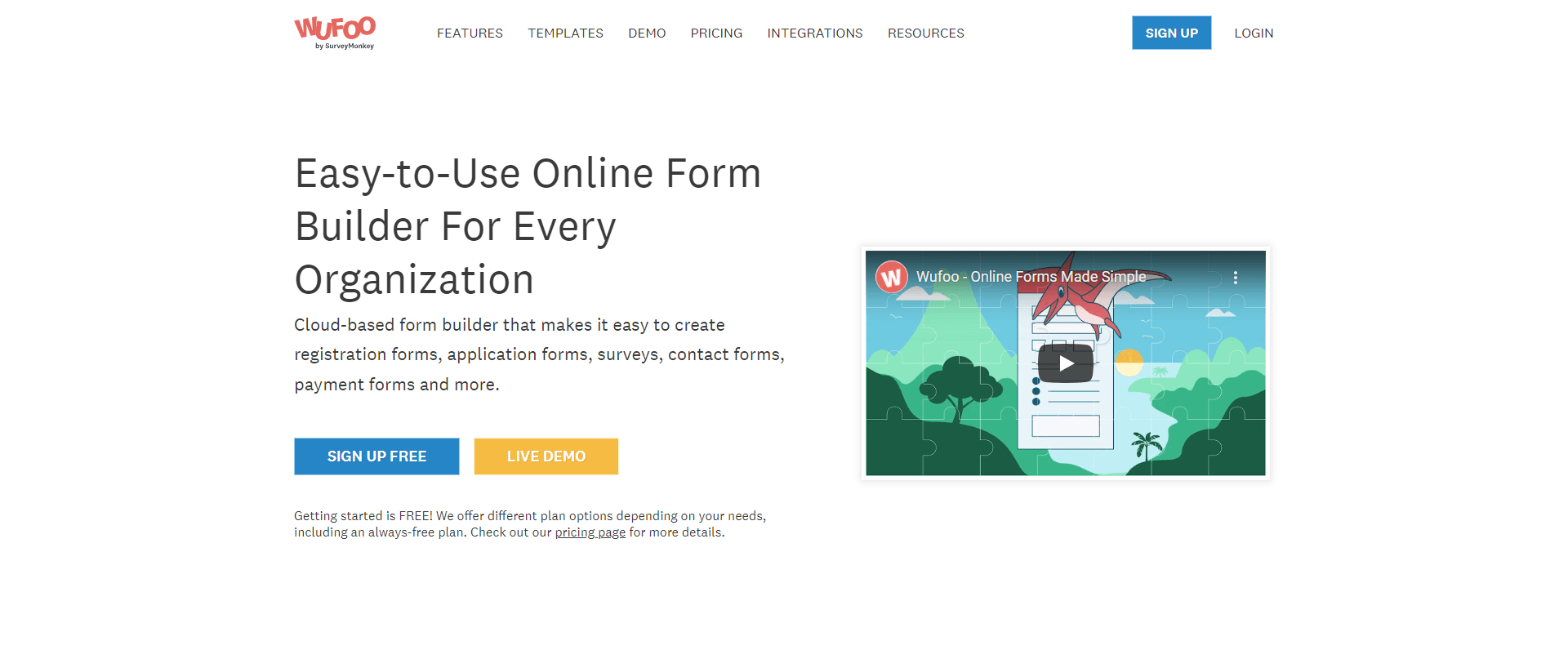 Wufoo, by SurveyMonkey, is a popular online form-building tool utilized by small companies and large businesses alike.
This drag-and-drop form builder offers an easy-to-use interface that allows users to create various forms, either from scratch or using one of the more than 400 Wufoo templates.
With Wufoo, customization goes well beyond just choosing background images, themes, and templates. Users can easily add and remove fields from their custom or pre-loaded form and customize those fields to meet their specific needs, including the implementation of conditional logic.
Other Wufoo features include Google Analytics integration for form tracking, the ability to collect the IP addresses of respondents, captcha spam protection, and payment service integration. Wufoo integrates with over 2,300 different software solutions.
Wufoo file upload functionality

With WuFoo, creating forms with file upload functionality is a piece of cake. 
Along with the standard fields that practically every form builder has, Wufoo has a convenient file upload field that users can add to any form. 
Given that you can upload most file types including JPEG/JPG, PNG, GIF, CSS, or SVG, your audience can upload anything from resumes to photos to applications. 
Although Wufoo has a free version, the file upload field is a paid feature. The starter plan ($14.08/month) has a max file size per field limit of 10MB and a 20MB max file size limit per form. 
This file size limit may be sufficient for some users, but for fewer restrictions, consider upgrading to a higher-tier paid plan. The paid plans after the Starter plan have a max file size per field limit of 25MB and a 100MB max file size limit per form. 
Conveniently, files submitted through the file upload field are stored in the File Manager in your Wufoo account where they are added to a folder that matches your form title. 
Formstack
Formstack Documents (formerly known as WebMerge) is not only a form builder, but it is part of an all-in-one workplace productivity solution that streamlines business tasks for professional organizations of any size.
With Formstack Documents, anyone in your company can create online forms, gather data and automate processes. Users can choose from more than 150 responsive templates and take advantage of an array of robust form-building features, collaboration tools, and streamlining options.
Formstack offers an array of analytics, payment processing integrations, custom branding options, and HIPAA compliance features.
There is no free version of Formstack, only a 14-day trial that allows users the option to test out the software before buying.
Formstack file upload functionality

Formstack is able to collect a variety of different files so that respondents can submit videos, images, music, documents, and more. 
One of the greatest advantages of Formstack is the numerous file storage options for collecting submissions. Formstack has direct integrations with Box, Dropbox, Google Drive, Amazon S3, and Microsoft OneDrive. However, these options are just scratching the surface. Formstack has over 100 integrations for data storage and management. 
Additionally, given that Formstack is designed for teams, the platform gives you the ability to set up workflows to route file submissions to certain people at your organization for review. 
Google Forms
Google Forms is no-frills when it comes to the features that it offers, but this form-building software can still get the job done if you are comfortable with its obvious limitations. Google Forms offers 17 templates in its form gallery, with very few options for design customization. However, users can edit color palettes, change background images, edit up to nine different form fields, and accept limited file uploads.
Although Google Forms offers conditional logic features, they are also quite limited. Reporting and analytics features work well when combined with Google Sheets, and data can be imported to other analytics software solutions in a CSV format.
Google Forms file upload functionality
The beauty of Google Forms' is that all data collected from Google Forms is stored directly in your Google drive. That being said, you can create a folder in your Google Drive designated specifically for documents uploaded through your Google Forms. Having all your forms and data collected from your forms within one application can be extremely convenient for users. 
Google Forms allows your audience to upload a variety of documents including, PDFs, images, video and even audio. On the backend, you can also determine the maximum number of files that can be uploaded and the maximum file size as well. 
However, while Google Forms' file upload element is convenient and easy to manage for Google Workspace users, it is important to note that Google Forms is a notably less sophisticated solution compared to Jotform, Formstack and other paid form builders. These form builders simply give you more control settings such as the file types your forms can accept and the applications that can be integrated to store the files collected from your forms. 
Nevertheless for those on a budget, Google forms is an excellent free form builder with file upload capabilities.
Cognito Forms

This high-quality form building software solution is feature-rich with tons of great features that most businesses look for in a form building tool. Cognito Forms software supports HIPAA compliance, payment acceptance, encrypted data, advanced calculation fields, and electronic signatures.
To access Cognito Forms features, users can customize their pricing plan based on needs. Pre-paid short-term plans are available at a reduced rate, making the software's pricing incredibly desirable, especially for small businesses on a budget.
Given that Cognito Forms is one of Wufoo's biggest competitors, the solution makes it easy for users to transition to Cognito Forms from Wufoo. Cognito Forms has a WuFoo import tool that allows Wufoo users to easily move their existing forms and data over to their Cognito Forms account. 
Cognito Forms file upload functionality

Like the other form builders mentioned in this post, Cognito Forms has a file upload field that can be easily added to any form. 
Cognito Forms makes it incredibly easy to specify which types of files can be accepted from your form, the max file size that can be accepted, and the max number of files that can be accepted for each form. 
With Cognito Forms' conditional logic, it is also easy to specify when the file upload form will appear for your audience based on responses to previous questions in the form or survey. 
For example, let's say you create an online job application form. You could design the form so that the file upload field is intended for accepting resume uploads. However, with conditional logic, you can set up the form so that the file upload field ONLY shows up when respondents have answered "No" to questions such as "Have you ever committed a criminal offense" and "Do you have a problem submitting a drug test". 
This way your form will be designed to only accept resumes from qualified applicants. 
WPForms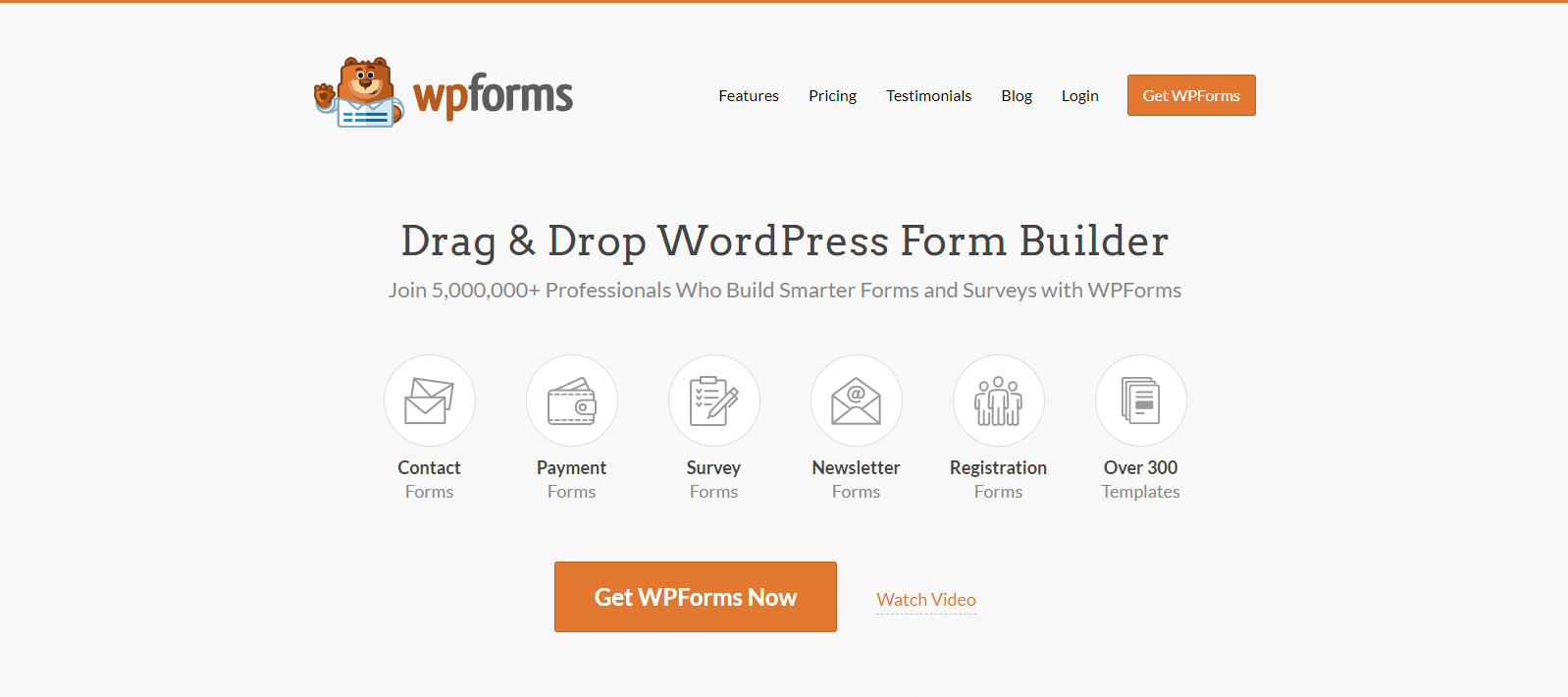 WPForms is a WordPress plugin forms builder that uses an easy drag-and-drop interface to create various form types, including file upload forms, donation forms, online surveys, and more.
This simple, feature-rich tool offers more than 300 different form-building templates that can be fully customized and accept payments, allow for user submission, collect signatures, add reCAPTCHA, enable conditional logic, and so much more.
Expanded features include a Form Abandonment addon, allowing you to follow up with respondents who left your form before completion, and the User Journey plugin, allowing you to track a respondent's path. WPForms even captures visitor geolocation tracking respondents' country, city, and state.
WPForms offers integration with payment services such as Stripe and PayPal and popular email marketing services like Constant Contact, Drip, Sendinblue, and AWeber.
WPForms File upload functionality

WPForms' file upload feature is on par with its proprietary competitors. All in all, accepting files through a plugin on your WordPress site can be much more convenient than using proprietary software completely separate from your website.
However, it is important to note that by default, WPForms only allows the safe file type uploads that WordPress allows. These file types include: 
Images like .png, .gif, .jpg

Documents such as .doc, .xls, .ppt, .pdf

Audio like .wav, .mp3, .mp4

Video like .mpg, .mov, .wmv
The file types listed above, of course, are very common and most users are perfectly fine with this selection. However, to accept additional file types, you can override this default setting and accept other files. 
One unique feature of WPForms' file upload element is that you can create custom field types. 
When creating your custom field type you can specify the 
File description (the name of the file type)

The MIME type (the category and data type)

Extension (the type of files that can be accepted, such as .png, .gif, .pdf etc)
MightyForms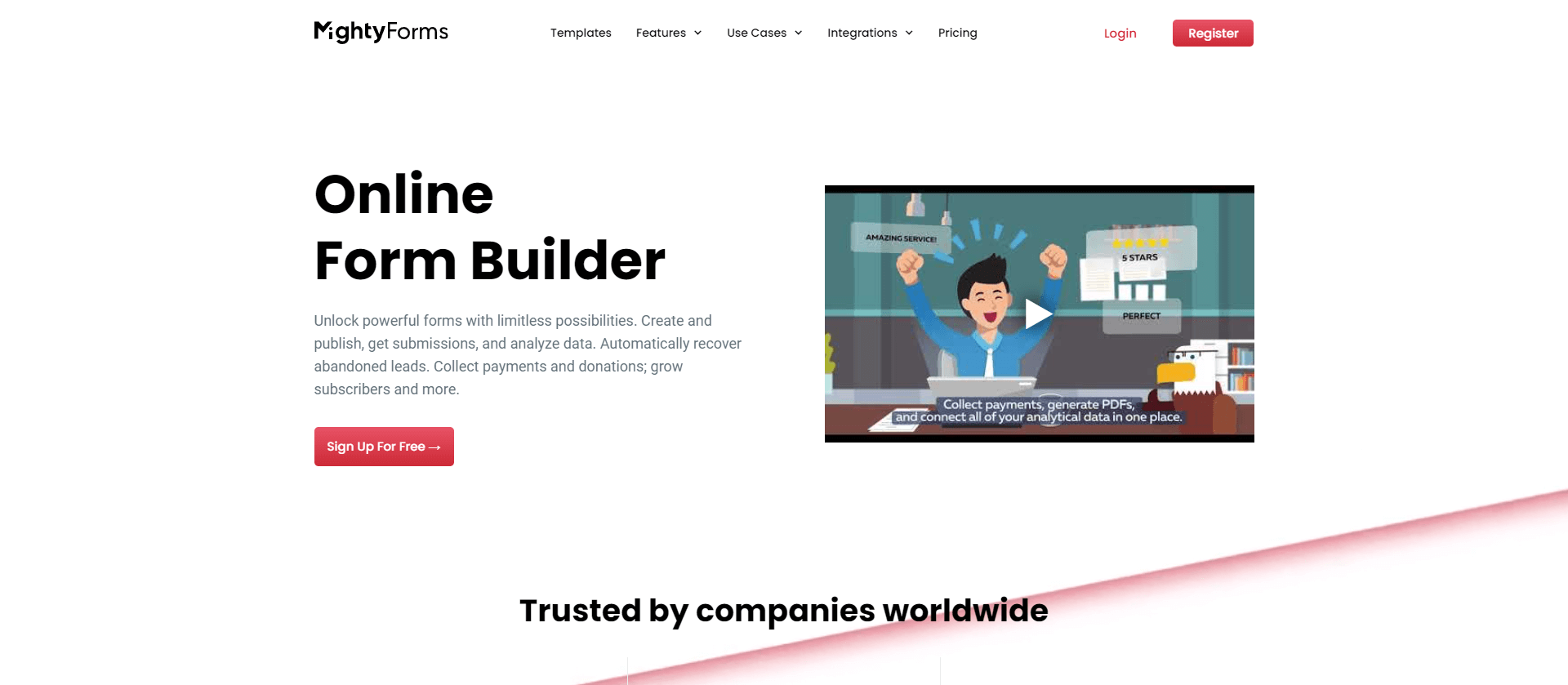 MightyForms is an all-in-one form building and management software solution that allows users to create and publish forms, gather submissions and report and analyze crucial data. With the powerful MightyForms Form Abandonment Recovery feature, users who abandon your form will automatically receive an invite to complete their submission, giving you a chance to recapture those lost leads.
With MightyForms, you can also collect donations and payments, build and manage your subscriber list, and more. MightyForms integrates with the Stripe Customer Portal for complete billing and subscription management. 
MightyForms file upload functionality

One of the coolest aspects of MightyForms is the selection of templates designed with file upload fields. A few of these templates include

Picture upload forms templates

Blog post submission templates

CV application forms

Artwork submission forms

Job application forms 
Templates like these can make it incredibly easy and efficient to build out file upload forms for specific purposes. 
But of course, you can certainly build out your forms from scratch and simply drag and drop the file upload element wherever you see fit on the form. 
Better yet, Mighty Forms can integrate with your Google Drive or Dropbox so that you can conveniently store file uploads and form submissions in the cloud. Alternatively, you can have your file submissions sent to you via email as well. 
Final words
Although the file upload feature of a form builder is important to consider, keep in mind that it's just one of many form builder features. That being said, it's important to not fixate on this one specific feature but to consider how other features can play a role in your marketing efforts. 
Try a few of these form builders out and play around with them before settling on the solution you feel is best for you. Fortunately, given that many of these form builders have free versions, you can try a few of these solutions without paying a dime before moving forward with your solution of choice.