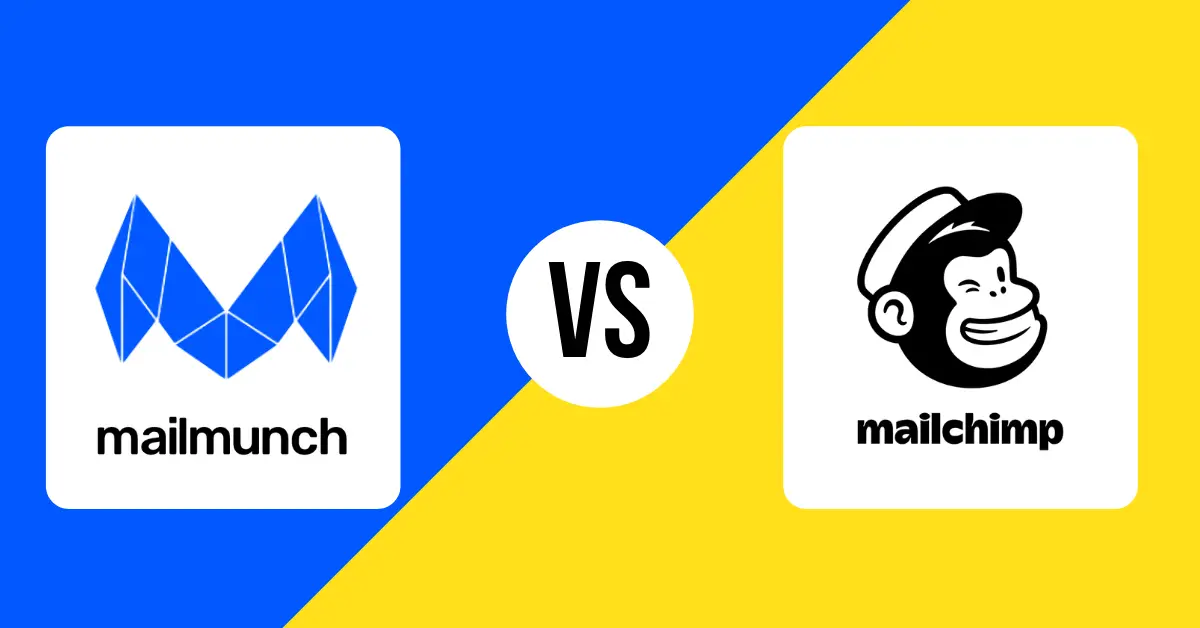 Mailmunch and Mailchimp are two powerful lead generation and email marketing solutions.
While Mailmunch isn't nearly as well established as some of its larger email marketing competitors, it certainly has some unique capabilities that set it apart from many other solutions. On the other hand, Mailchimp is one of the largest email marketing service providers and has its own distinctive advantages.
Both tools are highly regarded, however, one solution might be more appropriate for your needs than the other.
This post explores what differentiates Mailmunch and Mailchimp so that you can make an informed decision on which platform is best for you.
Mailmunch vs Mailchimp: How are they different?
While Mailmunch and Mailchimp might seem like very similar tools at first glance, there are a few key differences to keep in mind.
Founded in 20141, Mailmunch started off as a platform solely for building email lists. Given that Mailmunch recently launched its email marketing feature, Mailmunch is now more of a comprehensive marketing platform. However, today Mailmunch is still widely used mainly for its lead generation features.
Mailmunch integrates with many popular platforms such as Shopify, Wix, and WordPress as well as numerous email marketing platforms as well. That being said, you can use Mailmunch on your website to build your email list while seamlessly transferring subscriber data to your email marketing service provider.
Mailchimp on the other hand is a slightly different story. Founded in 20012, Mailchimp is one of the oldest players in the email marketing industry. Without a doubt, it's one of the most popular as well.
While Mailchimp is best known for its email marketing capabilities, it has evolved over time to become an all-in-one marketing solution. In addition to its email marketing features, Mailchimp also offers social media management, a CRM, a website builder, landing pages, and more.
The most important distinction between the tools, however, is that Mailchimp is a stand-alone email marketing solution while Mailmunch comes as an application or plugin depending on whether you are using it on WordPress, Shopify, or another platform. Applications and plugins are different from Mailchimp (and similar services) for a few reasons. 
Mailmunch notable features
Mailmunch really shines in terms of its lead generation capabilities. In fact, Mailmunch seems to trump Mailchimp in this respect given the variety of opt-in form styles and templates it offers. Let's take a look…
Forms and popups
Mailmunch offers a variety of different forms and popup styles including:
Popup

Embed form

Topbar

Scrollbox

Fullscreen cover

Sidebar widget
Suffice to say that Mailmunch has a wide variety of forms to choose from. Mailmunch also has hundreds of form templates tailored to numerous industries.
Mailmunch also has exit intent technology so you can automatically trigger popups right before visitors are about to leave your site. You may also create different forms on different posts for more personalized targeting.
Landing pages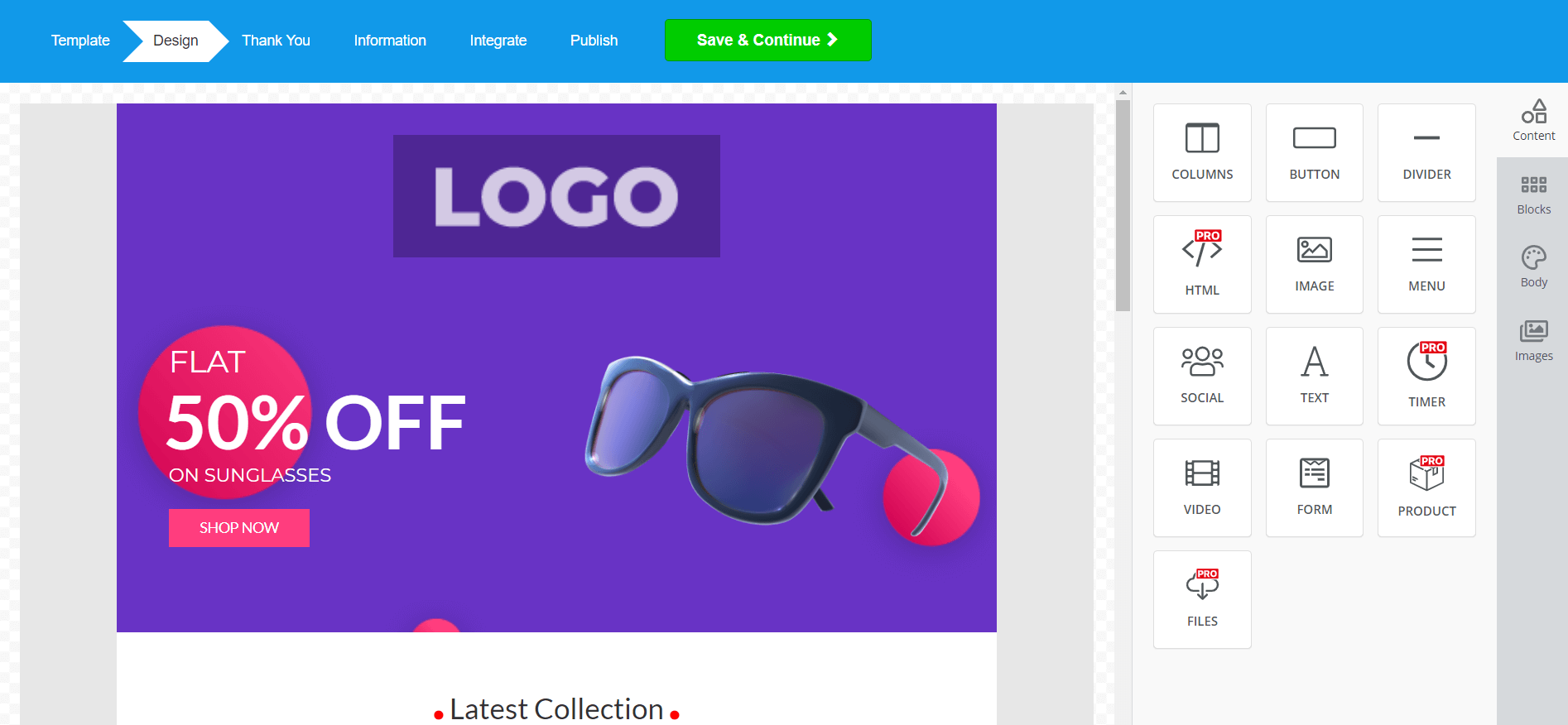 Like Mailmunch's forms, there are dozens of landing page templates tailored to numerous industries.
Mailmunch has an intuitive drag-and-drop builder that allows you to easily configure your landing page's design to your liking. In the landing page builder, you can also access thousands of free images from Unsplash, Pexels, and Pixabay. Lastly, with A/B split testing, you can use your landing page's performance results to optimize your landing pages for better conversions.
Email marketing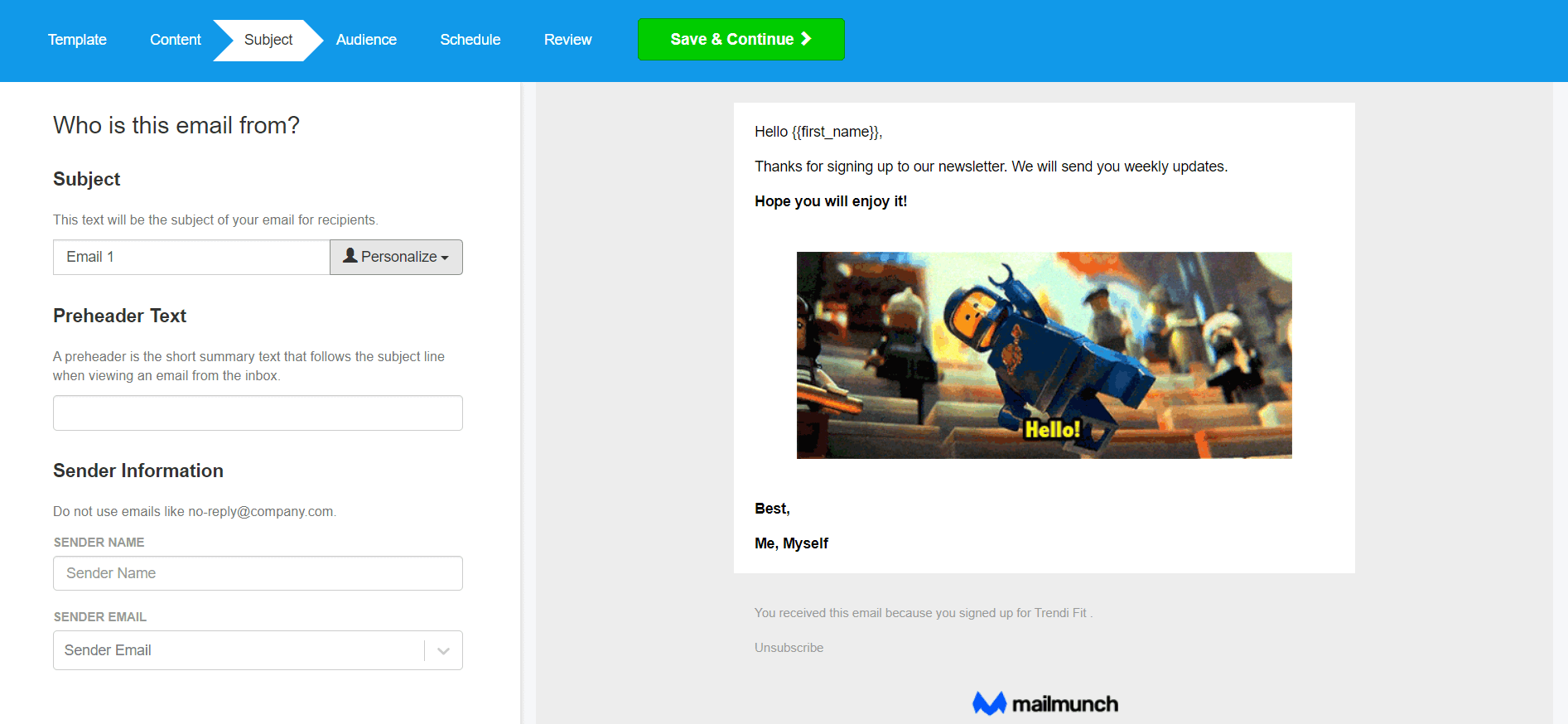 While Mailmunch may be best known for its lead generation features, it does have basic email marketing capabilities as well.
Mailmunch allows you to set up broadcast emails, drip campaigns, and automated welcome emails for when subscribers first join your mailing list. The platform offers numerous email templates. Many are designed for specific occasions such as holiday sales. Similar to the landing page editor, you can use a drag-and-drop builder to design your emails. 
Mailchimp notable features
Mailchimp has numerous features. The platform can do everything from building websites to managing social media.
However, features like these are beyond the scope of this post. To see how Mailchimp stacks up to Mailmunch, we will focus on Mailchimp's comparable features in terms of lead generation and email marketing.
Popups, forms, and landing pages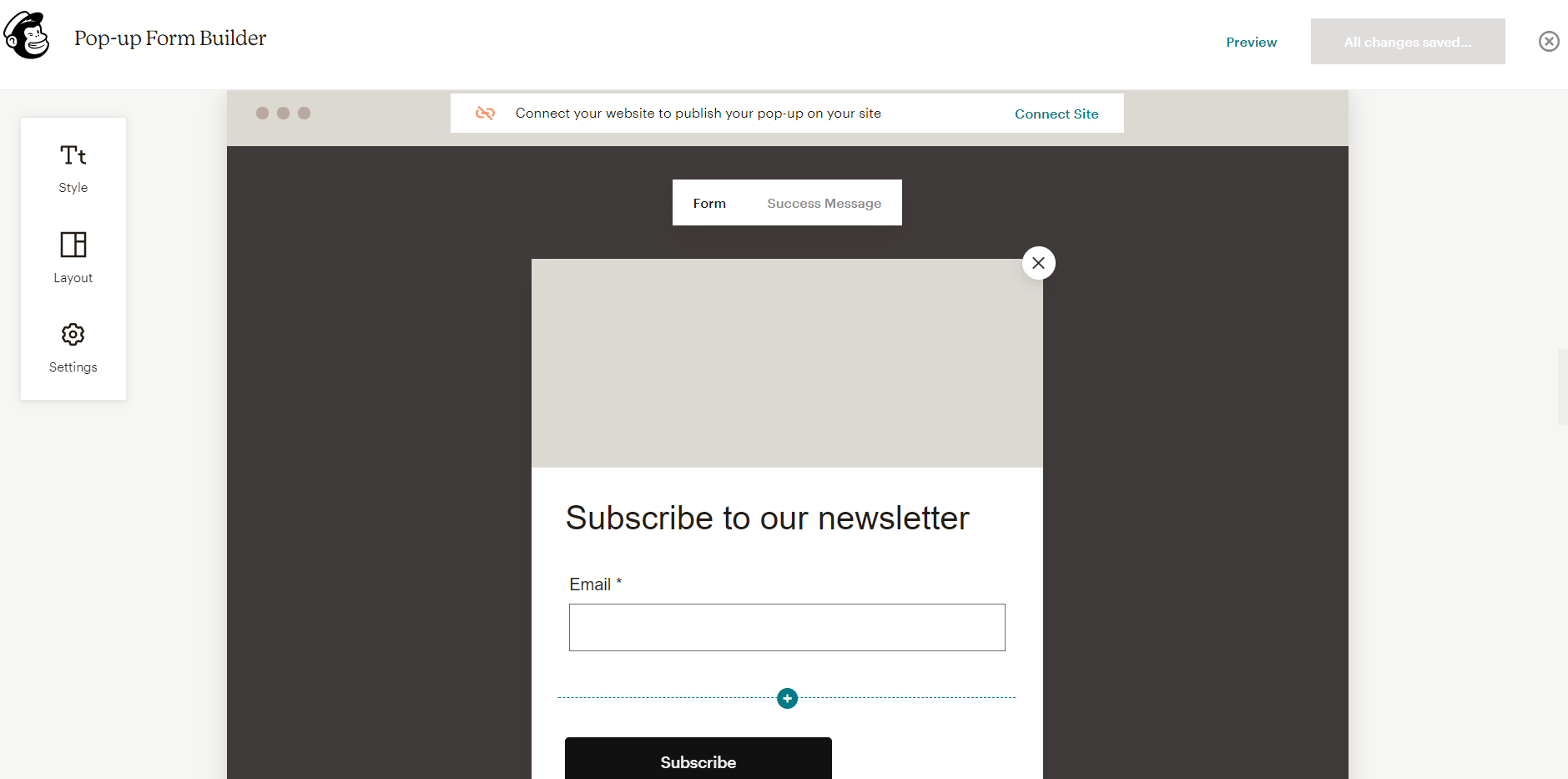 Like Mailmunch, Mailchimp gives users the ability to create embedded forms, popups, and landing pages for your site.
However, unlike Mailmunch, Mailchimp doesn't give you as big of a selection of form types to choose from. Additionally, Mailchimp only offers one basic template for embedded forms and pop-up forms. As for landing pages, Mailchimp gives you a selection of 8 templates to choose from.
You can edit your popup forms and landing pages in a drag-and-drop builder.
Advanced email marketing capabilities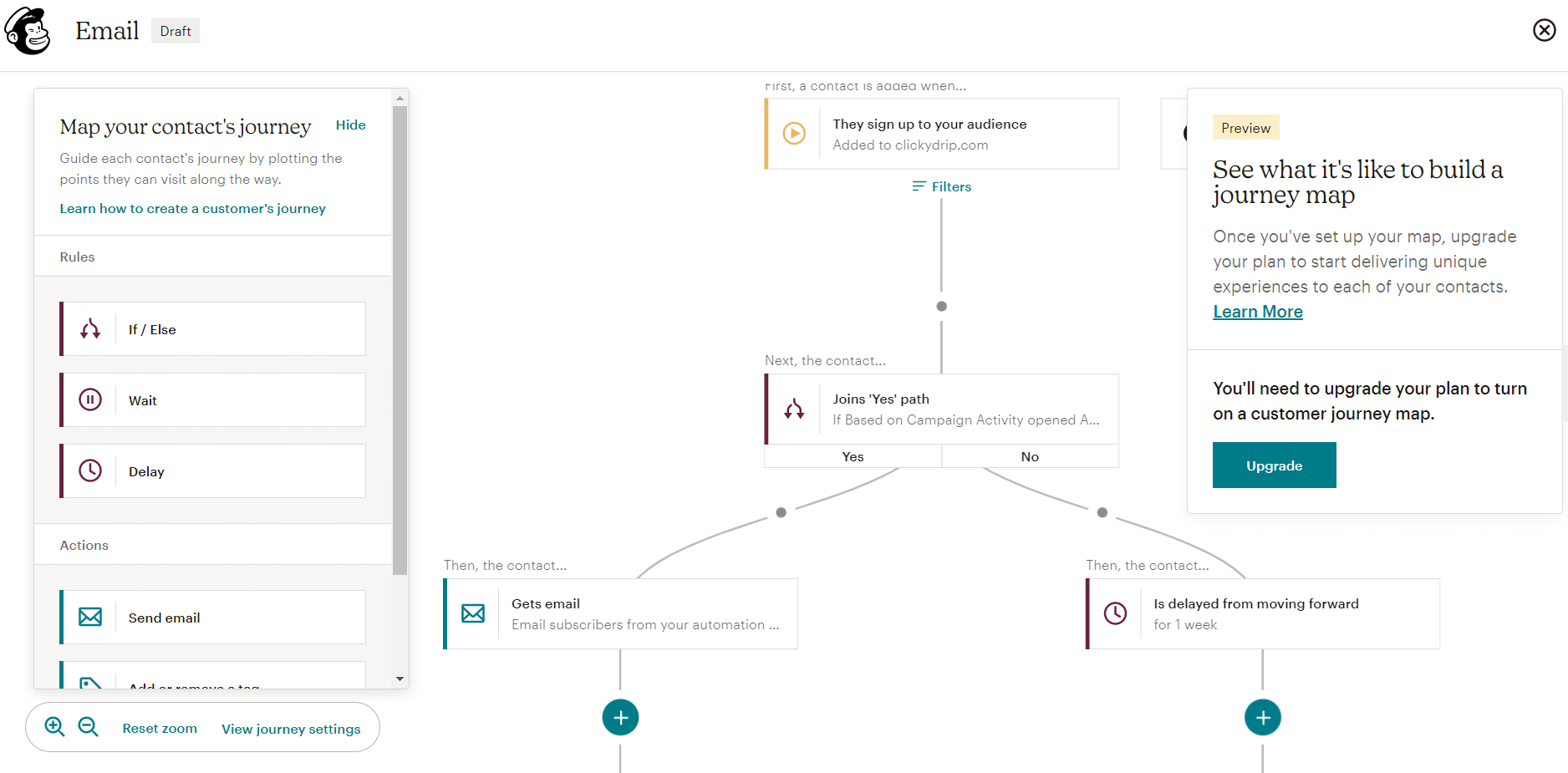 Mailchimp has many sophisticated email marketing capabilities that set it apart from other solutions such as Mailmunch. These features include:  
Advanced segmentation: Mailchimp allows you to segment subscribers based on shared characteristics such as sign-up source, engagement with previous emails, and website links clicked to name just a few.
Predicted demographics: This feature uses data science to predict the age and gender of contacts so that you can personalize your message to your audience.
Multivariate testing: You can use this feature to test multiple variables in your emails to better optimize your emails.
Reporting and analytics: Mailchimp allows you to deeply examine your email marketing campaigns with its advanced analytics features. This way you can make the most informed decisions moving forward.
Marketing automation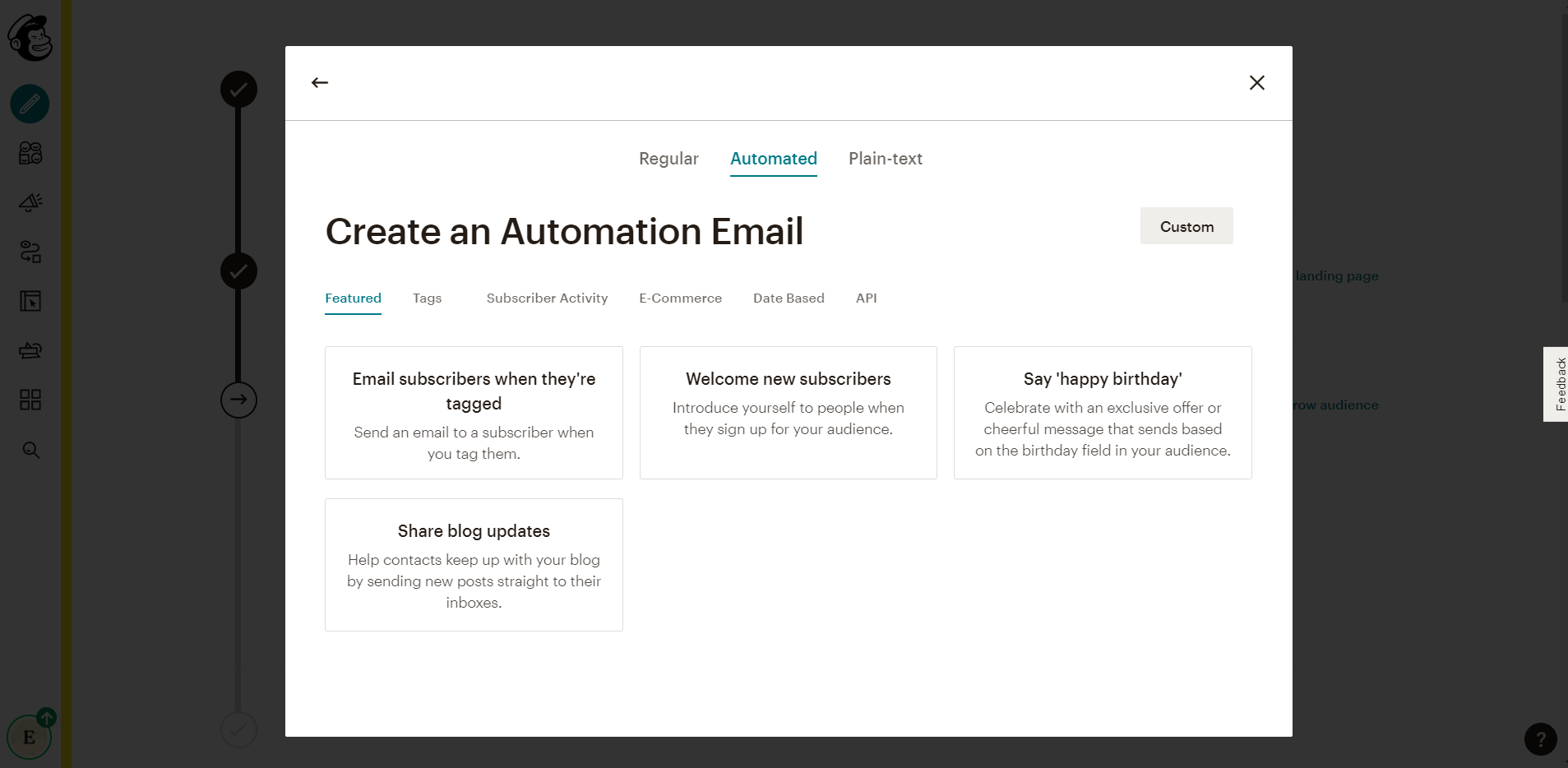 With Mailchimp, you can set up elaborate workflows so that email subscribers receive different emails based on their behavior. You can set up these automated email series using the customer journeys feature.
Additionally, you can set up numerous classic automation triggers such as abandoned cart emails for ecommerce.
Pricing
Mailmunch pricing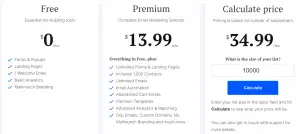 Mailmunch has a free plan that gives you some basic features such as forms and popups. The paid plans give you additional features such as unlimited landing pages, A/B split testing, and Mailmunch's premium email marketing features as well.
There is a free version, followed by a Premium plan starting at 13.99/month (with annual billing) with a 1,000 email contact limit. With more than 1,000 contacts, your pricing will get adjusted based on the number of contacts you have. 
Mailchimp pricing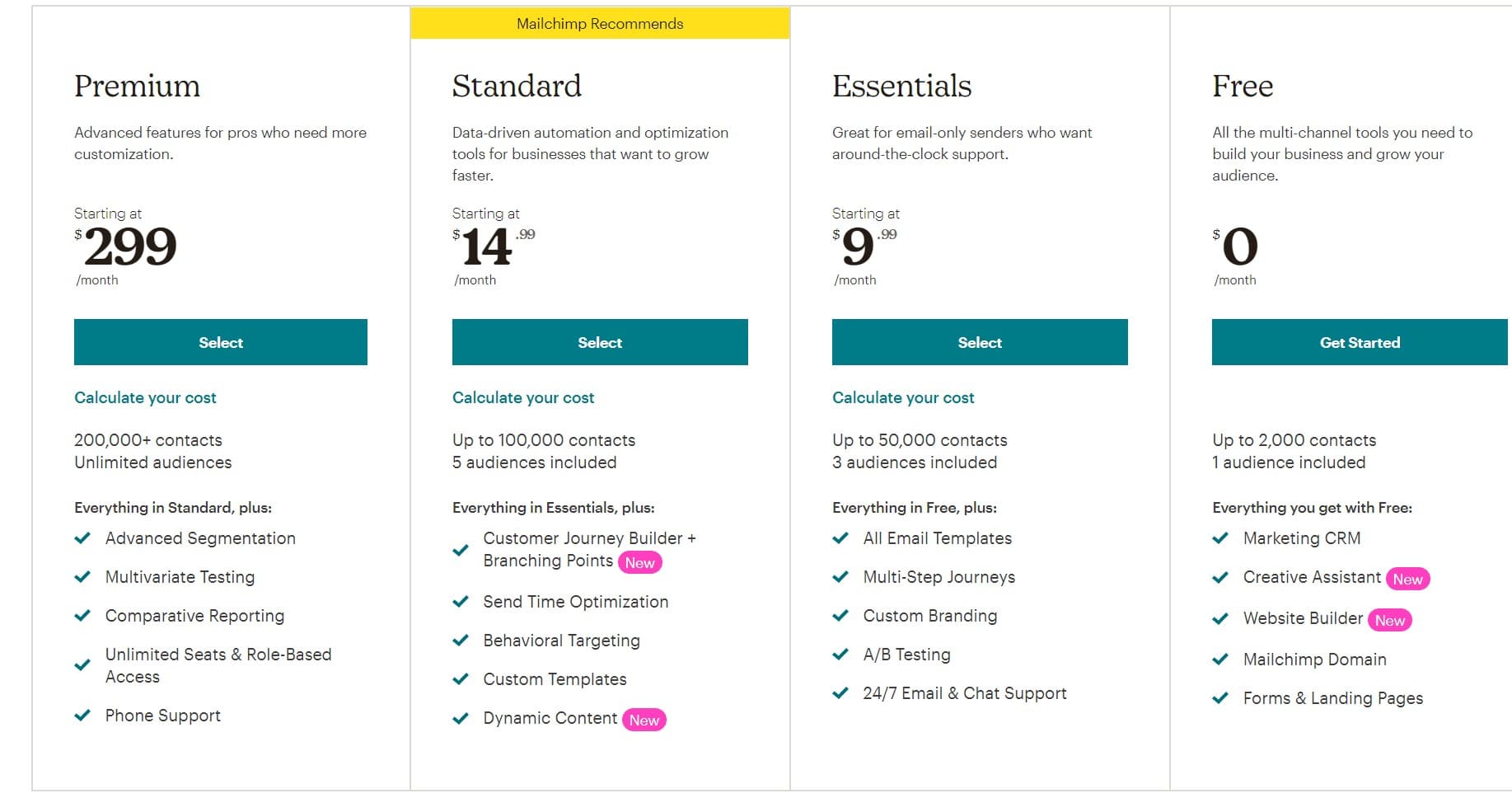 Mailchimp has a few plan tiers that start at different monthly pricing. Naturally, the plans with more advanced features are more costly. Additionally, some plans have a maximum number of subscribers you can carry before you must upgrade to the next tier.
However, Mailchimp has a free version that is pleasantly feature-rich. For many small businesses, the free version is perfect for their email marketing needs.
Free plan
Starting price: $0 per month

Subscribers: up to 2,000
Essentials plan
Starting price: $9.99 per month

Subscribers: up to 50,000
Standard plan
Starting price: $14.99 per month

Subscribers: up to 100,000
Premium plan
Starting price: $299 per month

Subscribers: 200,000+
Ease of use
In terms of ease of use and convenience, Mailmunch may have the upper hand over Mailchimp.
You can easily upload the Mailmunch plugin in WordPress, Shopify, or another platform that Mailmunch is compatible with. That being said you can make use of the platform within your website's backend dashboard without needing to open up another tab. Suffice to say the tool is quite convenient.
Additionally, in terms of lead generation and email marketing, Mailmunch is comparably straight-forward and intuitive. HOWEVER, one could argue that Mailmunch is easier to use because it's a relatively basic WordPress email marketing plugin. It doesn't have nearly as many features as Mailchimp. Mailchimp's additional features can make the platform seem more complicated for some. 
Who is each best suited for?
Mailmunch trumps Mailchimp in terms of lead generation capabilities. Its collection of form types and templates is superior. That being said, if you are focused on building your email list quickly, Mailmunch would be your best bet. 
On the other hand, Mailchimp certainly outperforms Mailmunch in terms of email marketing capabilities. The platform has much more advanced features in this respect.
That being said, if email marketing is your main focus you may want to consider a more sophisticated email marketing platform like Mailchimp. While Mailchimp may come with a steeper learning curve, Mailchimp's advanced features can drive amazing results when used effectively.
Final words: Using Mailmunch AND Mailchimp
You don't necessarily need to choose between the two platforms… you can use both if you so wish.
As alluded to before, Mailmunch integrates with numerous email marketing service providers… and Mailchimp is one of them.
Given that Mailmunch has excellent lead generation features (which Mailchimp lacks) and since Mailchimp has strong email marketing features (which Mailmunch lacks), the two platforms complement each other quite nicely. You can use Mailmunch to build your email list and use Mailchimp to send emails to your subscribers.
You can see how other email marketing tools stack up to Mailchimp in the following comparisons:
Vertical Response vs Mailchimp