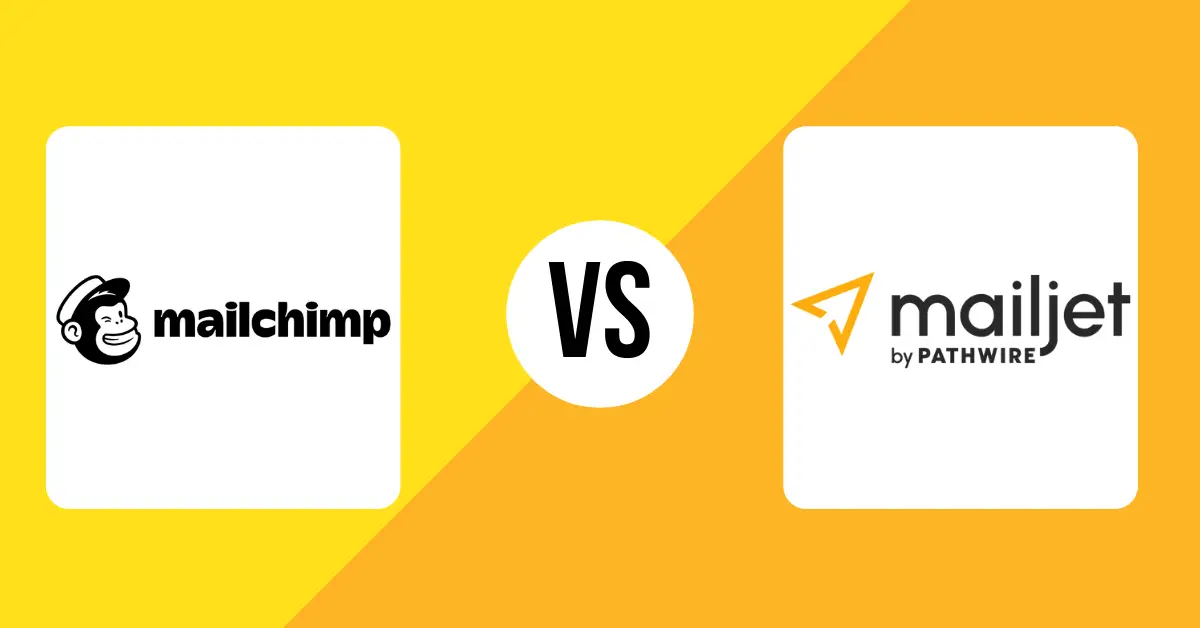 There are hundreds of email marketing tools on the market, and at first glance, they mostly look the same.
Many even sound the same, following the popular "mail" plus noun formula.
It's not until you've tried most of these tools that the differences become clear, and that's what we've done over the years.
If you're working for a small to medium-sized business and looking for a simple and affordable email marketing tool, both Mailchimp and Mailjet should be platforms that you consider.
In this post, we will walk through a detailed comparison of Mailchimp vs Mailjet in terms of features, pricing, and ease of use so that you can determine which platform is best for your business. 
About Mailchimp and Mailjet
Mailchimp is arguably the most well-known brand when it comes to email marketing. It was founded in 20011 with the goal to give small businesses the same access to email marketing tools that mostly only existed for large businesses at the time.
Originally, Mailchimp also offered web design services but decided to focus purely on email marketing in 2007. Back then, Mailchimp was among the first to offer a free plan and has continued to build and expand the features it offers.
Mailjet is also an established company but was founded about a decade after in 2010.2 The company's core mission is to focus solely on making email marketing as simple as possible for developers and marketers in small businesses. 
Mailjet is the most developer-friendly email marketing platform. For companies that want to focus on transactional email marketing and building their own custom email marketing features, Mailjet should be a top consideration.
Features
Email Templates and Editor
You can create plain text emails in Mailchimp, or choose a layout or template if you're looking to create a more branded feel.
There are over 60 templates total, although some of them are a bit dated, so you'll want to customize the design before sending them out.
The editor is a standard drag-and-drop interface with block elements, but it's one of the smoothest we've used.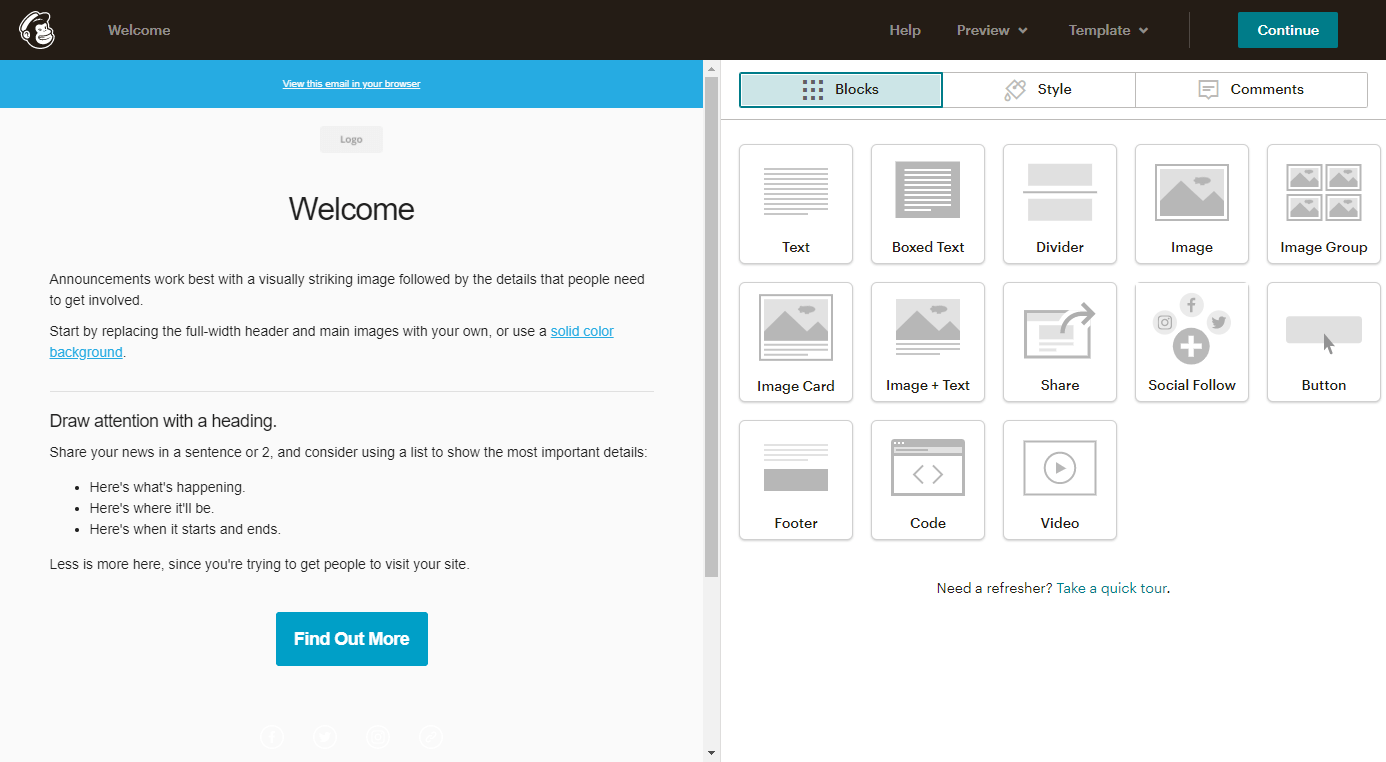 There are more blocks to choose from than many other email marketing tools, and you can add custom code if needed if you have a developer available.
Mailjet has a similar email creation workflow. There are just over 50 templates, and most of them feature modern designs that don't need to be tweaked too much.
The email editor is fairly similar to Mailchimp's, with both layout and element blocks that you can drop in your email.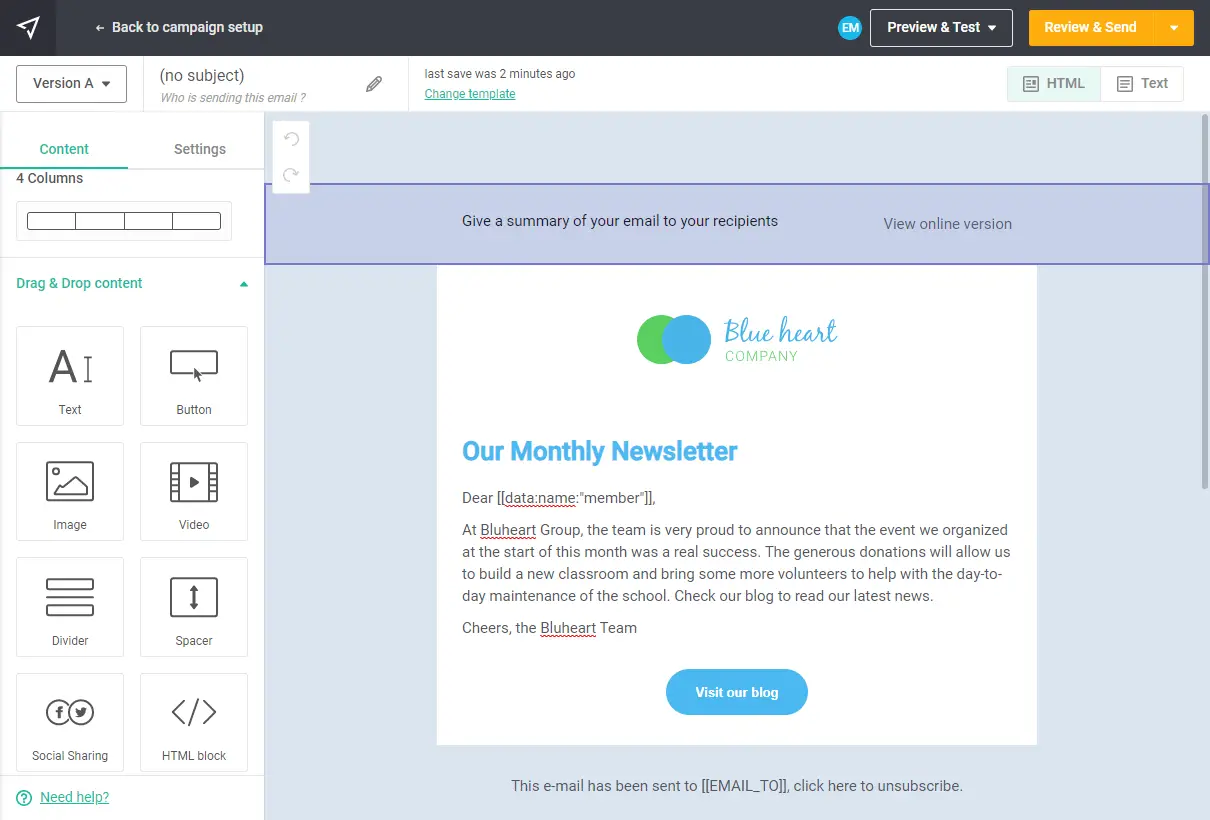 It has all the essential blocks plus a few extras like social buttons and custom code blocks, just like Mailchimp.
While it's fairly easy to use, editing and moving around elements on the email is a bit clunkier than Mailchimp's smooth editor.
List Management
It's not the easiest feature to find, but Mailchimp does let you create custom segments of contacts, which enables you to target emails better.
You can create segments of your contacts who meet certain criteria. For example, you can find users who have opened a certain number of emails you've sent them, or clicked on links.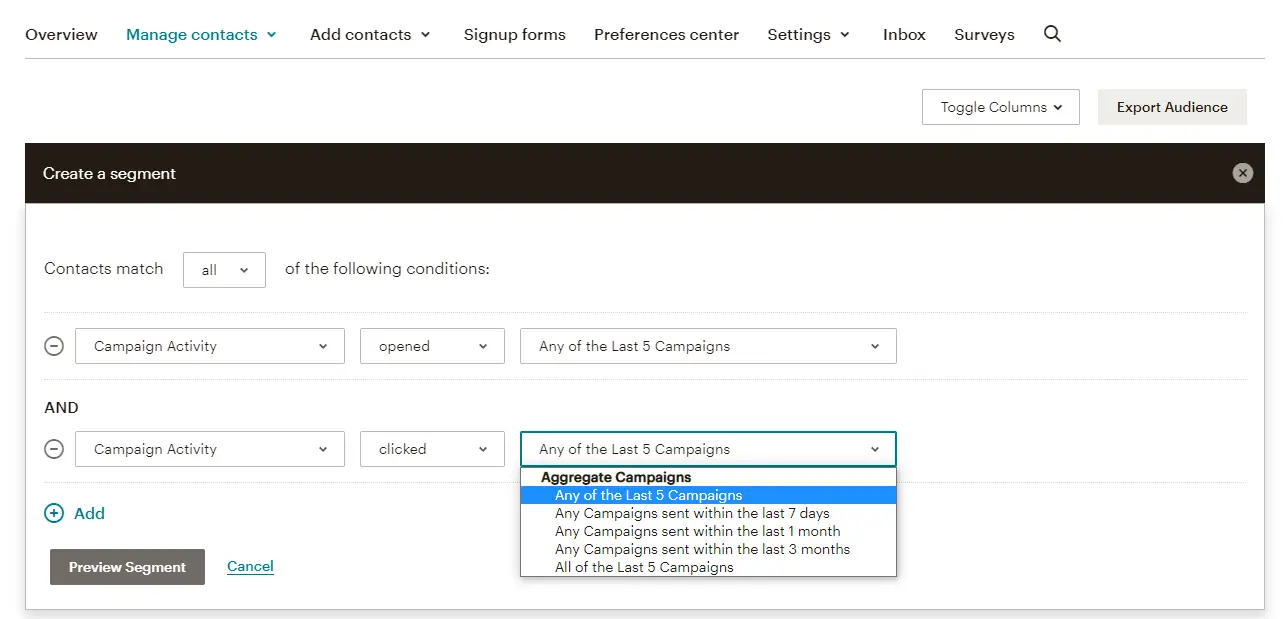 Additionally, like many email marketing platforms, you can categorize emails through the use of tags. Using tags is an excellent way to manage your contacts and narrow down which ones you want to include in campaigns. 
Mailjet also offers similar segmentation features, which are about as powerful as Mailchimp's.
Like Mailchimp, you can segment subscribers by chaining together actions with "and" statements, you can also include "or" statements (e.g. opened an email or joined a list in the last week).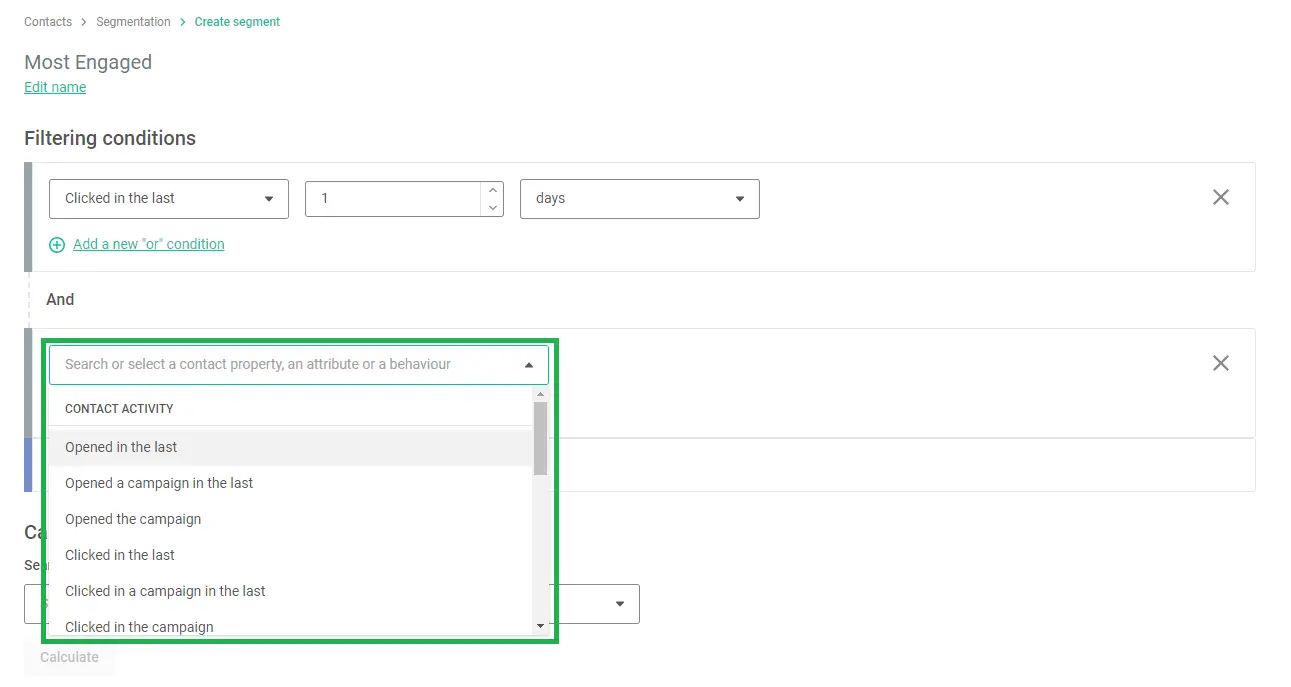 One of the most noteworthy traits of Mailjet's contact management is the sheer amount of criteria you can use to segment your email lists. Compared to many other email marketing platforms, Mailjet simply gives you more options. It even has some criteria that Mailchimp doesn't. 
Overall, Mailjet might just be the most intuitive and powerful tool when it comes to making segments. It's likely the biggest strength of the tool.
Marketing Automation
If all you're looking to do is send email blasts at certain time periods to some of your contacts, automation isn't always needed.
But, marketing automation can be a powerful tool to save you time and improve your ROI in most situations.
Both Mailchimp and Mailjet offer powerful automation features, which are good for companies that mostly just want to create autoresponders and workflows where emails are automatically sent out in sequences. 
In Mailchimp, automation workflows are called "customer journeys." They let you send emails to contacts who take an action like joining a list or buying a product automatically, and you can chain together actions and emails.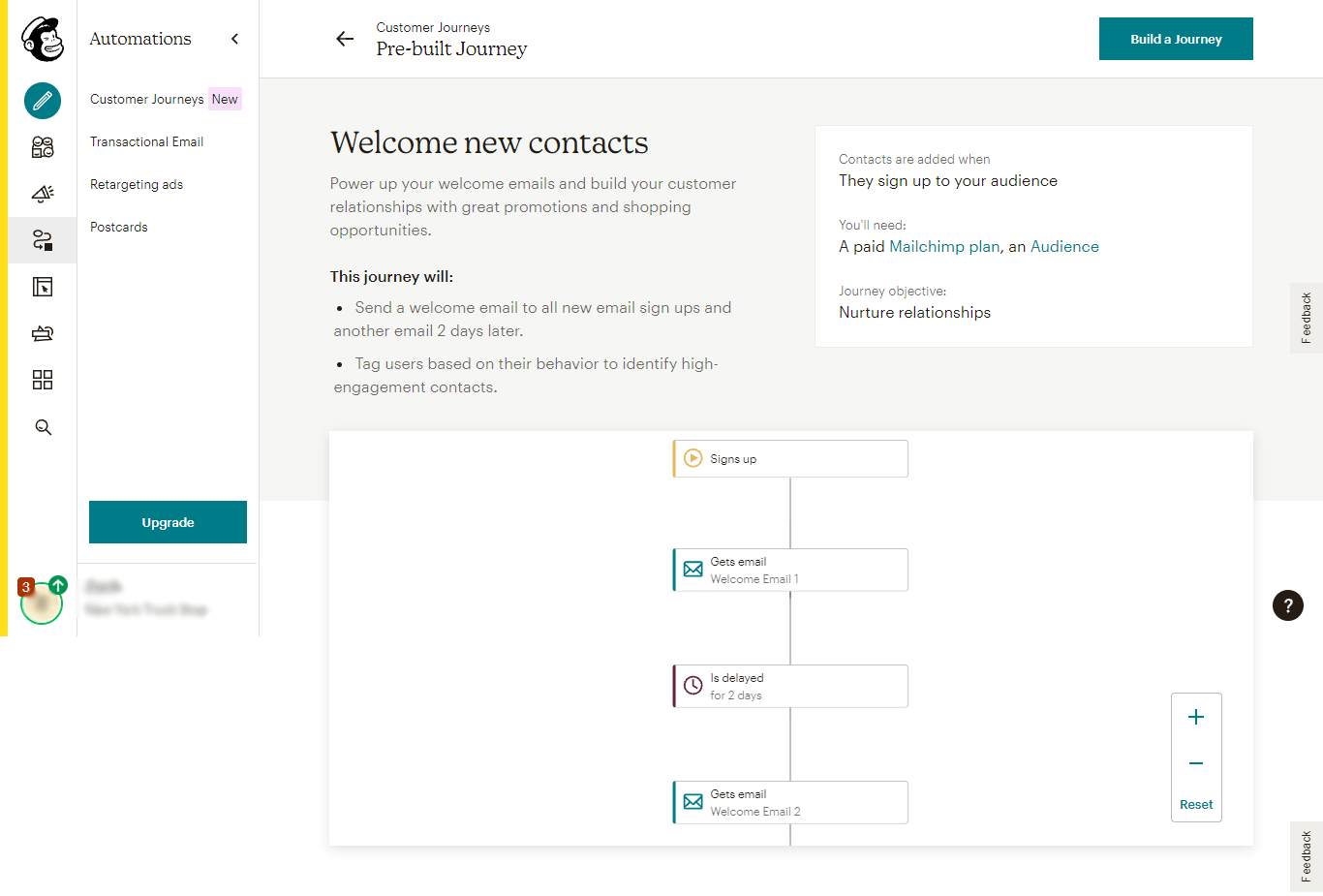 The workflows are powerful enough for most small and midsize businesses but might be somewhat limited for advanced marketers. 
Mailjet also lets you set up autoresponders and build workflows. However, Mailjet doesn't offer as many prebuilt "automation scenarios" (which are the equivalent to Mailchimp's customer journeys) as Mailchimp does. You can pick from a small selection of automation scenarios (e.g. joining a list, updating their contact information), and then you can schedule an email sequence to send them with time delays in between them.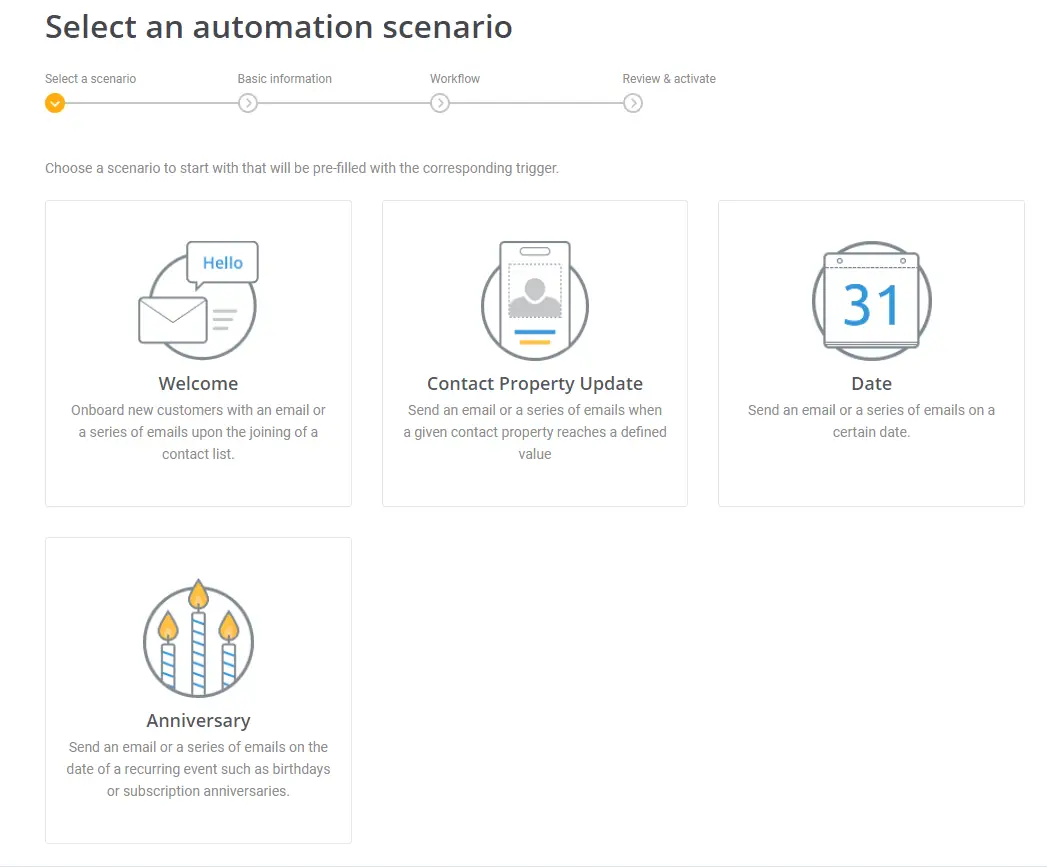 However, the flexibility of the workflow editor makes up for the limited selection of prebuilt workflows. You can easily customize these workflows as you see fit with a visual email sequence builder similar to Mailchimp. One somewhat unique element is that you can delay emails after conditions are met by minutes, hours, or days, instead of just days like you are limited to on most platforms.
Additionally, given that Mailjet is an excellent platform for transactional emails, Mailjet makes it incredibly easy to create simple automation such as purchase receipt emails, account creation emails, account notification emails, and many similar transactional emails. 
Finally, since Mailjet is such a developer-friendly platform, there are actually third-party tools that integrate with it to offer advanced automation features if you need them. It's a bit cumbersome, but a nice option to have if you think you might need them later on.
Forms and Lead Generation
Mailchimp's form builder isn't the platform's strength, to say the least.
You can create a form as a standalone page, pop-up, or embedded form. However, the form editor is much clunkier than its email editor counterpart, and the styling options are extremely limited. You simply can't customize your forms that much.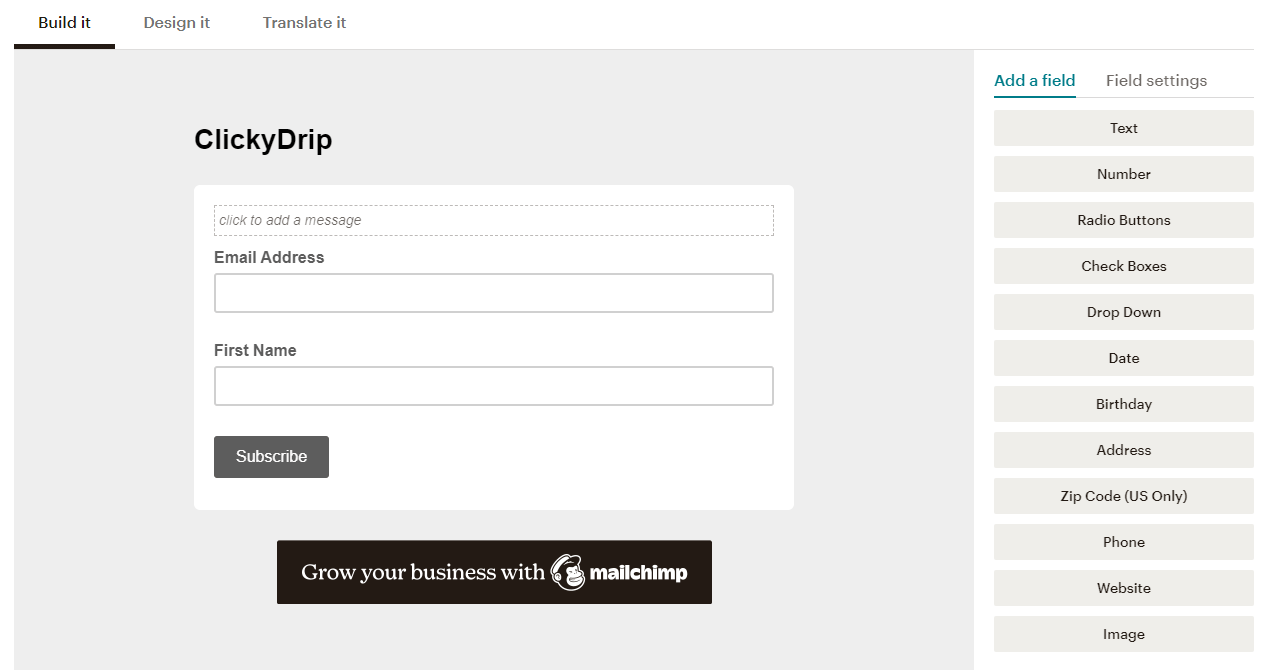 You'll essentially end up with a very plain form unless you're comfortable customizing the CSS by yourself. However, coding isn't something that most small businesses want to spend time doing. 
What many Mailchimp users end up doing is using an integration for a tool like Gravity Forms, which lets you create attractive sign-up forms fairly easily, but that's just another tool you'll need to learn how to use and pay for.
We much prefer Mailjet's form creation options, which they call "subscription widgets."
You can create embedded forms or pop-in forms, and they already look decent by default. The form editor is a bit clunky but also has some cool features like dragging-and-dropping colors on text or backgrounds.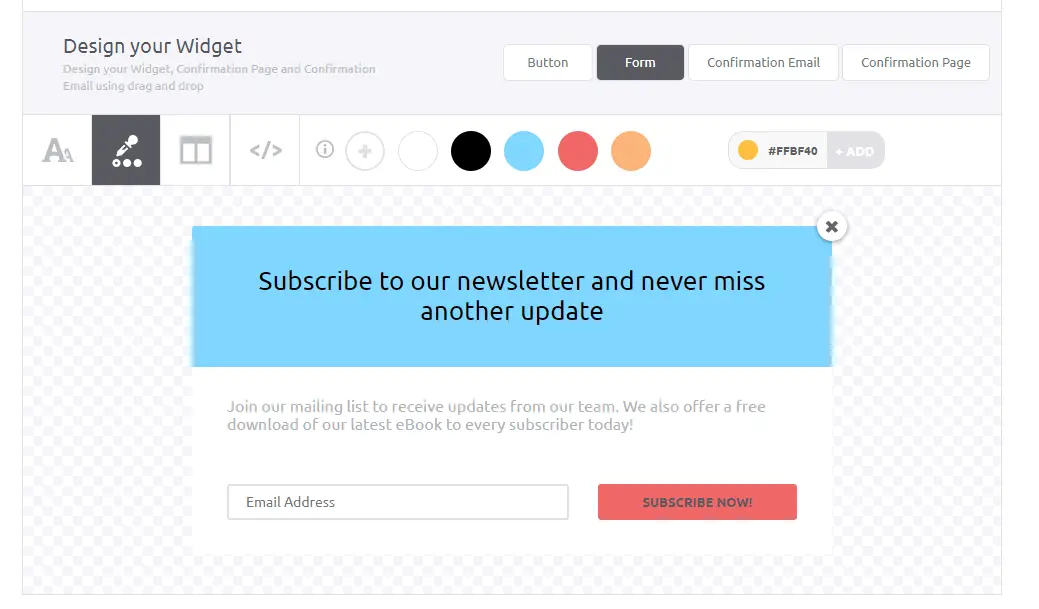 You can also edit the code directly if you're comfortable with it.
All in all, Mailjet's form builder is a bit easier to use than Mailchimp's you have more customizability with this feature as well. 
Reporting and Analytics
Both Mailchimp and Mailjet give you all the statistics about your email campaigns that you ever really need, or could expect given the features that each platform offers.
Mailchimp gives you basic stats like emails sent and opens, but also more advanced stats for each individual emails that include link click information, sales, and social activity.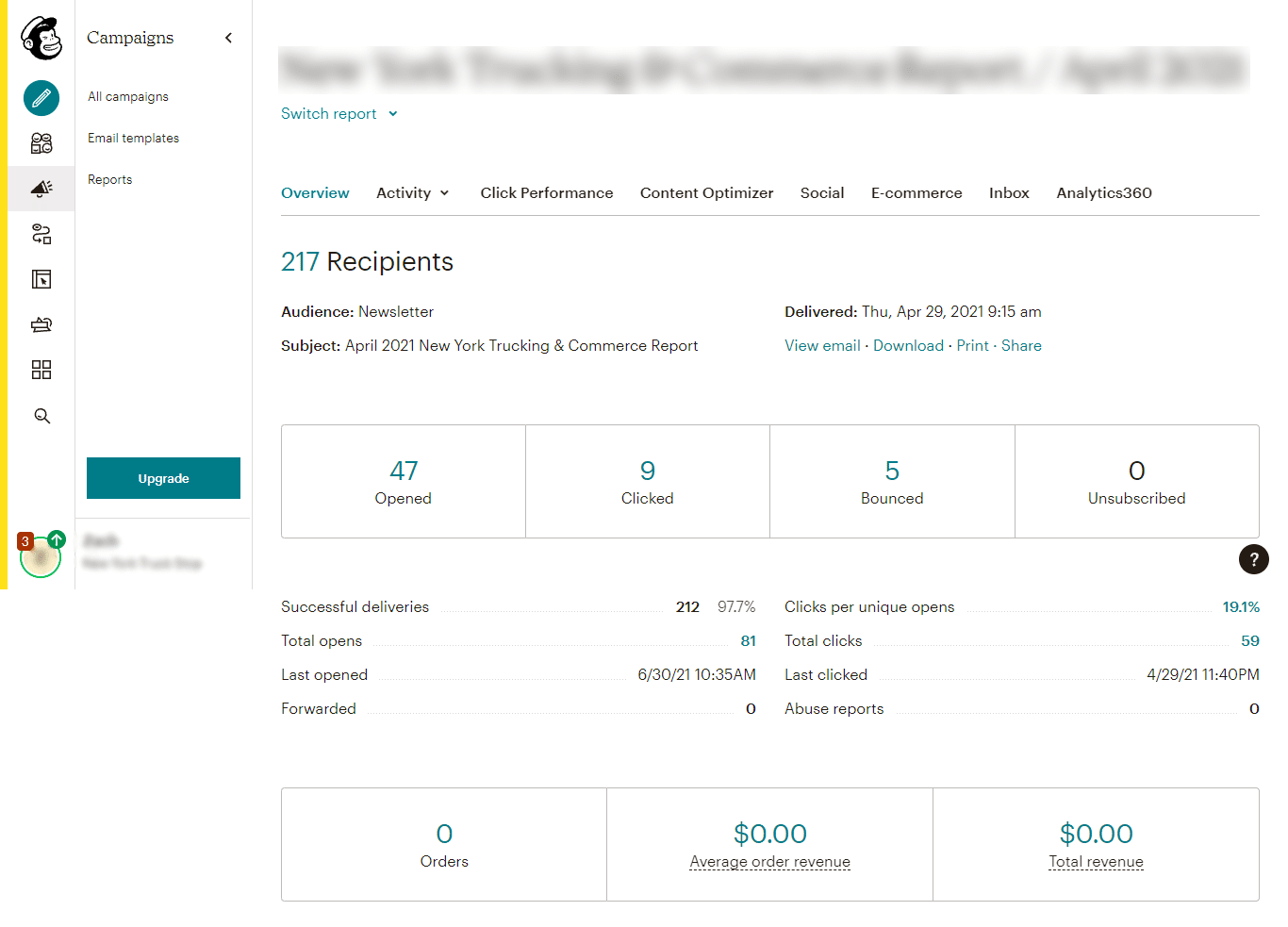 Ideally, your email marketing strategy should be one part of your overall marketing and business strategy, so being able to link its performance to social and sales data can be useful if relevant.
Mailjet gives you a similar view of your email campaigns. You can see your overall email marketing statistics with opens and link clicks, but also a detailed performance breakdown for each email.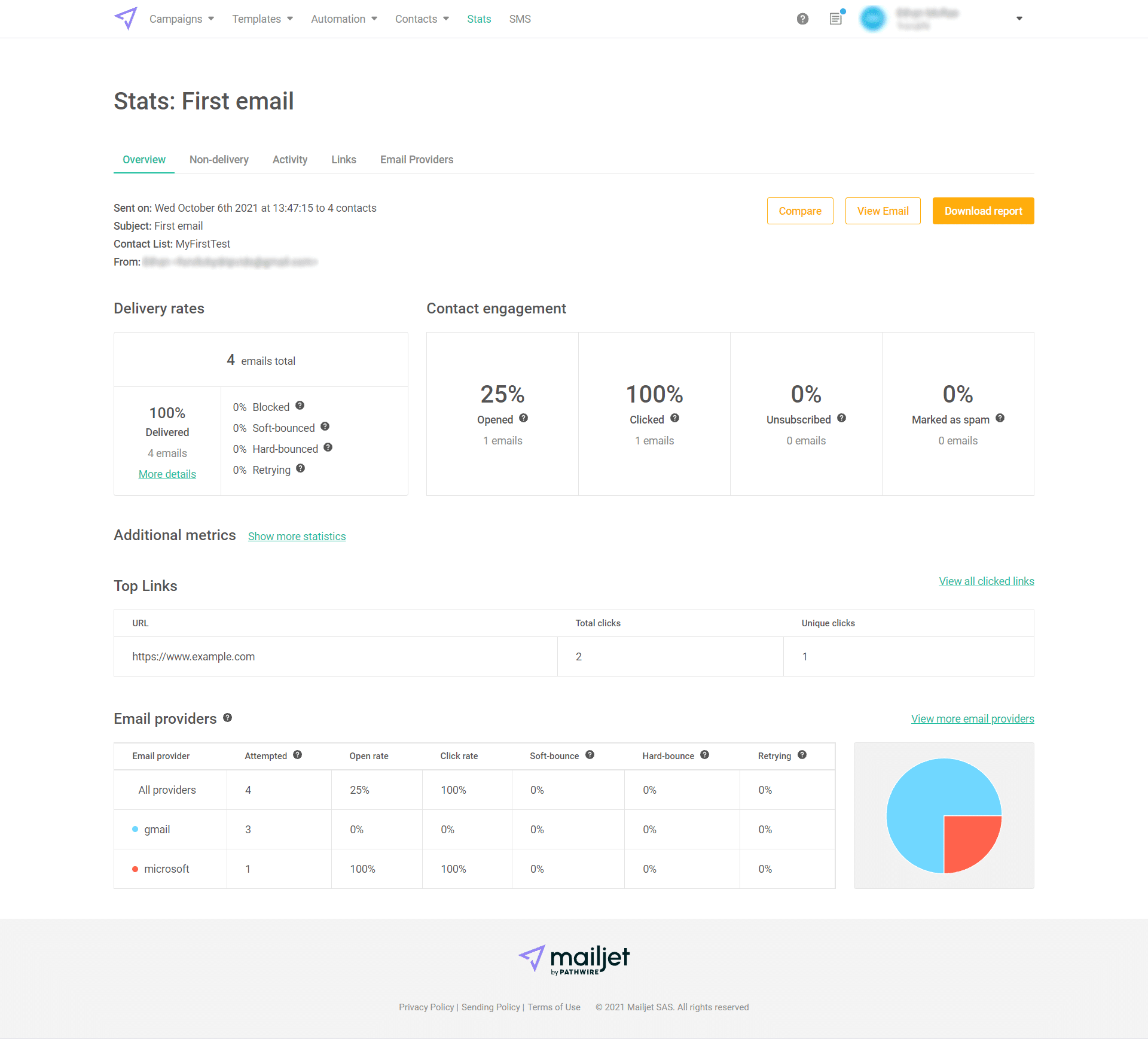 One useful but somewhat uncommon feature is the ability to see engagement data by email provider. This can quickly tell you if you're getting flagged as spam (or being put in a "promotions" category) by a particular provider.
Pricing
Both Mailchimp and Mailjet offer free plans, which is great to get started with before having to worry about cost. You're able to send a limited amount of emails and create forms on both free plans, but not much else.
At some point, you'll get a much better ROI by upgrading to a paid plan.
On Mailchimp, the basic paid plan unlocks the automation features we've looked at, all of the email templates, and 24/7 email and chat support.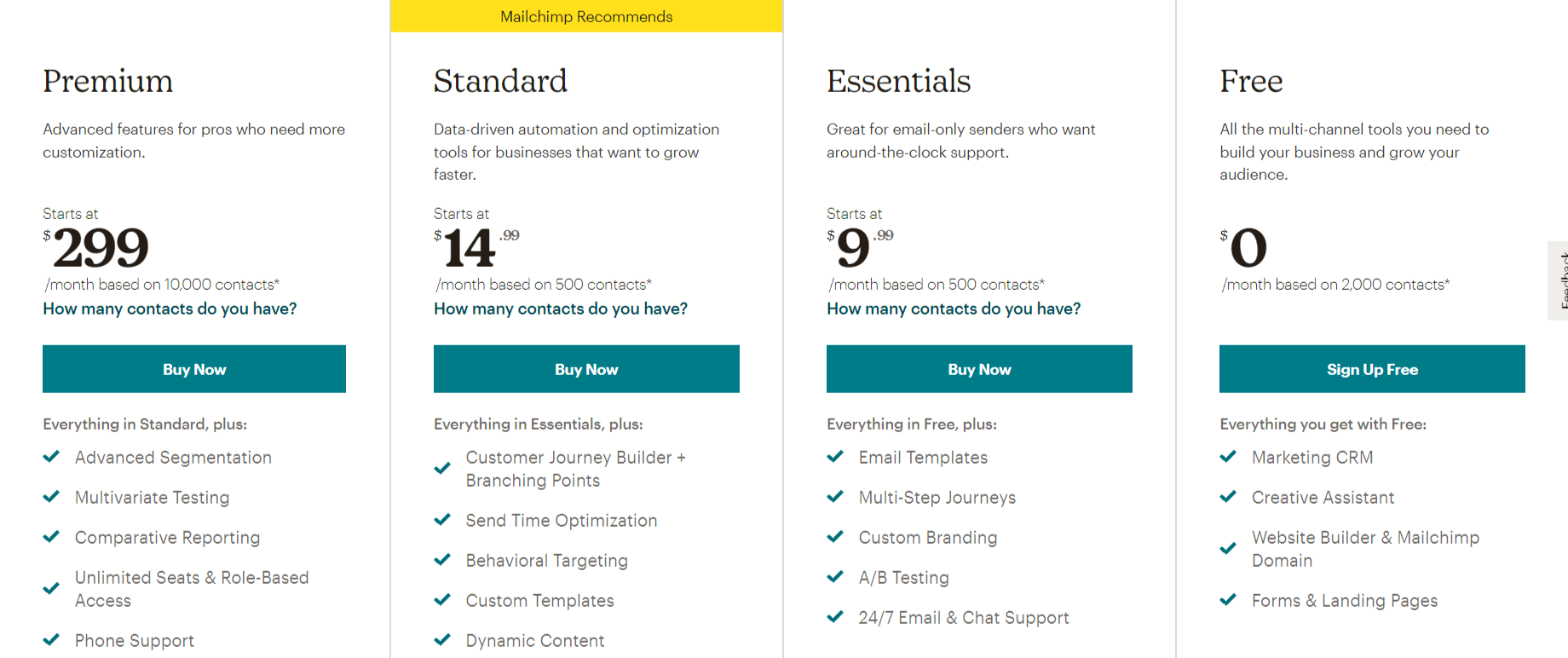 You can upgrade further on Mailchimp to get access to features like send time optimization and more advanced automation.
Mailjet takes a unique approach to pricing by charging based on emails sent, not number of contacts (after you've surpassed the free limits). For most businesses, this works out to be a lot cheaper. For example, say you had 5,000 contacts that you wanted to send 6 emails per month (each) to; it would be about 5 times cheaper on Mailjet than Mailchimp.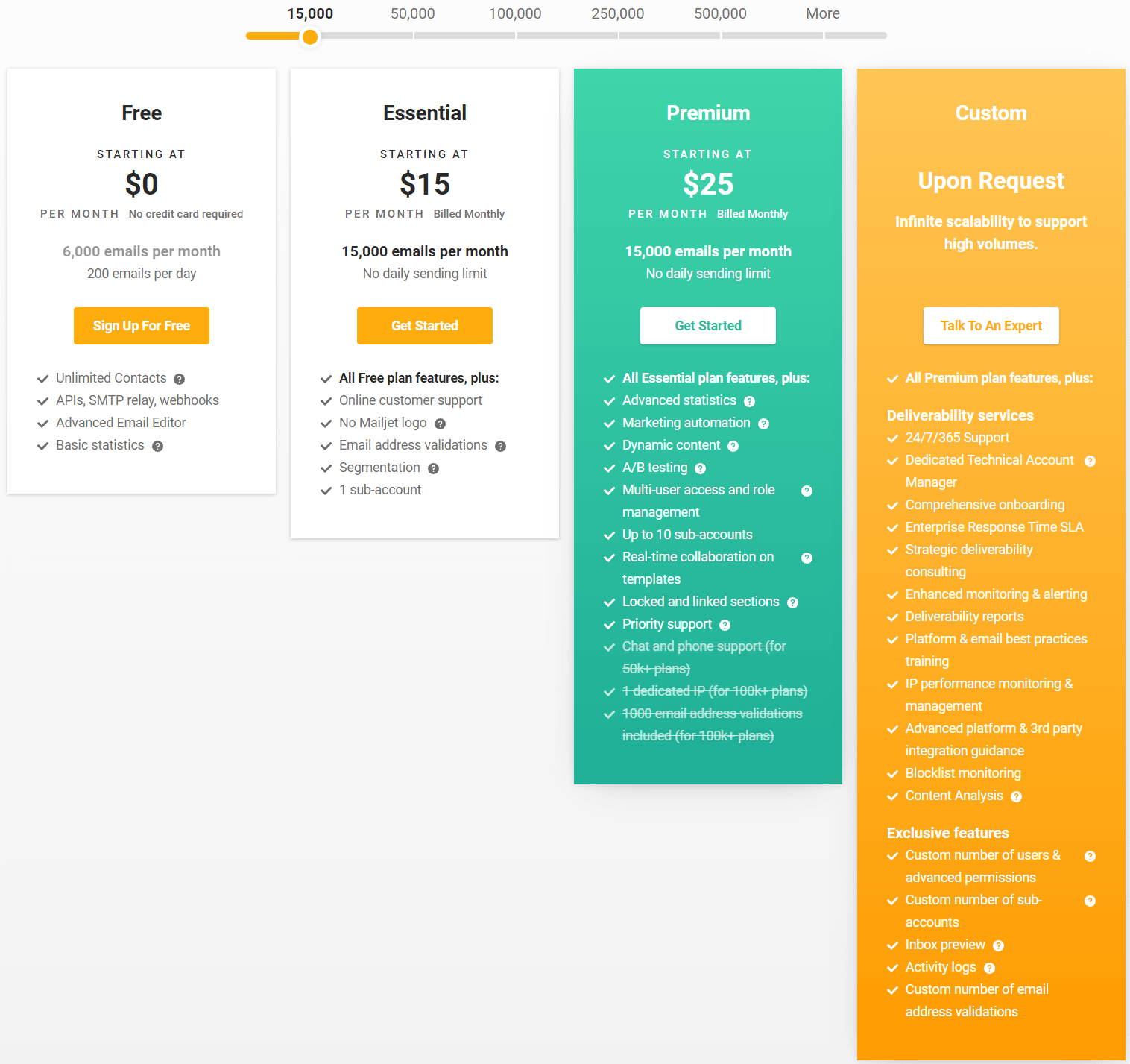 The costs between the 2 platforms get closer if you want access to automation features on Mailjet, which you'll need to upgrade further to get access to. The next tier of features include automation, segmentation, and A/B testing.
If you're sending a relatively low volume of emails, Mailjet is one of the cheapest email service providers out there. If you're sending a high volume of emails to a relatively small list of contacts, Mailchimp does become cheaper at some point.
Refer to this guide to email marketing pricing for some of the most popular email marketing services for a more thorough email marketing pricing analysis. 
Ease of Use
Mailchimp has a well-designed user interface, but we wouldn't describe it as simple to use.
The fact is the Mailchimp has grown a lot since its early days, and now it offers a ton of different features for small businesses including:
Website creator

Landing page creator

Surveys

Postcards

Ad campaigns
There's just no way for a platform that contains so many features to be intuitive to new users. So while it's designed well, and many individual parts are easy to use, there is a learning curve to figuring out what Mailchimp offers and where you can find it.
Mailjet is a lot simpler and has a clean, stripped-down user interface. This is because it has one goal: to let you send emails to contacts as easily as possible. The platform doesn't have all the additional features to complement the core email marketing functionality that Mailchimp has. 
Even if you haven't used it before, you won't spend more than a minute looking for anything.
Deliverability
Most popular email marketing platforms have similar deliverability rates (percent of emails that get in the inbox of recipients) these days.
According to EmailToolTester's data, Mailchimp has an 80-90% deliverability rate while Mailjet hovers around 90% for most months.
If anything, Mailjet has a slightly better deliverability, but they're both in the same ballpark. Most issues with deliverability come from the content in emails themselves, not the platform, so this likely won't be a deciding factor in most cases.
Integrations
With the impressive range of features that Mailchimp offers, it's not surprising that it can integrate with just about every other major software out there.
In total, Mailchimp has just about 300 total integrations, which includes all the popular ones like WordPress and Shopify, plus a ton of niche integrations.

If you're looking to connect your email marketing with a particular CMS or sales tool, Mailchimp almost certainly can.
Mailjet has just under 100 integrations, which seems small in comparison even though it's a decent library.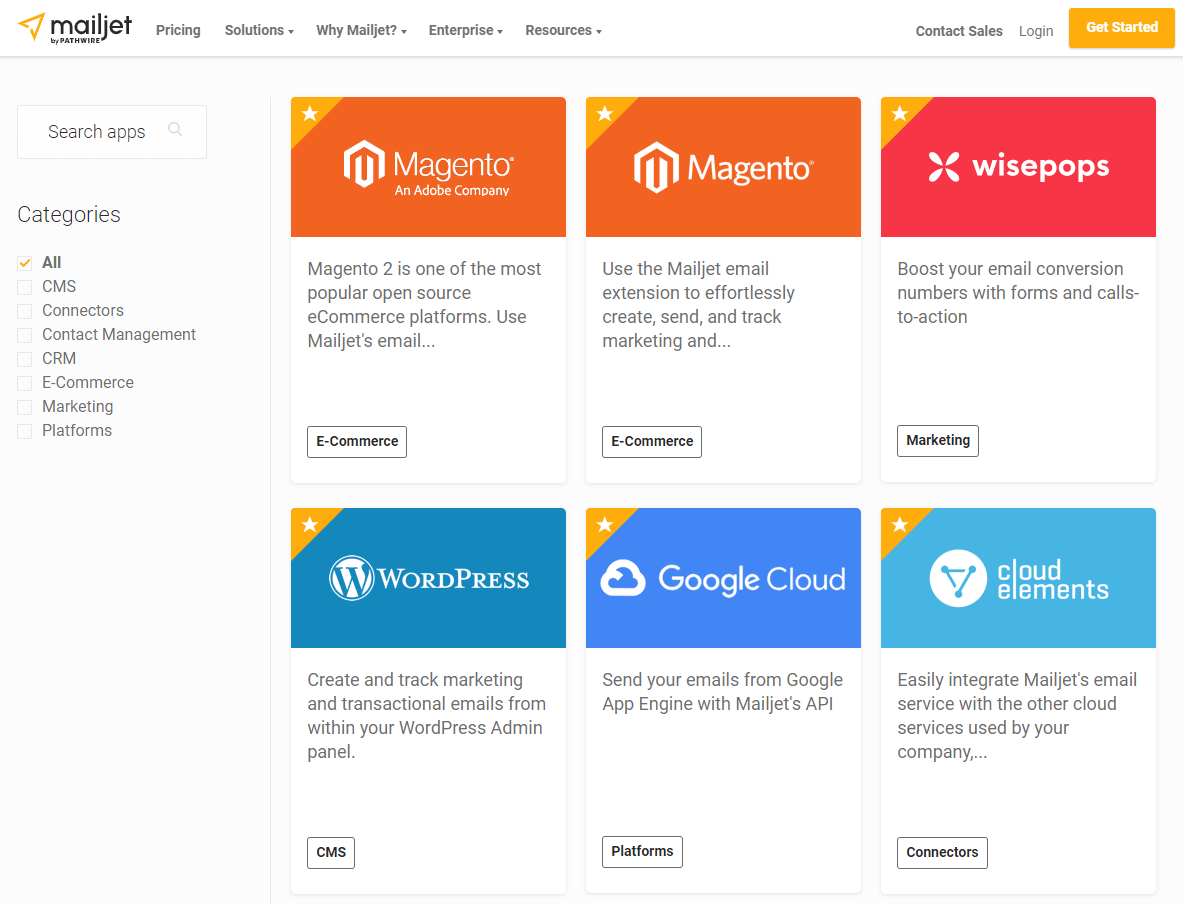 It has most of the most popular integrations like WordPress, WooCommerce, Facebook, and Gravity Forms. However, it's missing a few relatively common ones among email marketing providers like PayPal, Clickbank, and Slack to name a few.
So if you need a particular integration for your email marketing, check beforehand. Otherwise you'll need to have a developer create you a custom integration (which is a reasonable option in many cases).
Customer Support
While free users on Mailchimp only have access to the knowledgebase, paid users get 24/7 email and chat support. Users on the highest tier also get access to phone support.
The knowledgebase has hundreds of step-by-step written tutorials that are kept up-to-date, so as long as you're willing to dig a bit, you can solve most problems yourself.
Mailjet is one of the few email marketing providers that doesn't offer live support, even on paid plans. It's likely one of the ways prices stay low.
With that being said, there are just over 100 articles in the knowledgebase that cover most common questions, and you can open support tickets (essentially email support) for more complex problems.
When to Choose Each: Mailchimp vs Mailjet
Both Mailchimp and Mailjet are good choices for most small businesses but they have some distinct differences.
Mailjet is a great low-cost option that is efficient to use if you want to run simple email marketing campaigns and set up transactional emails. It's also developer-friendly with a great API that allows you to create custom functionality if you have a developer available.
If you need more features, that's where you should start leaning towards Mailchimp. While it usually costs quite a bit more, Mailchimp gives you access to more advanced automation, as well as unique additional tools like a landing page builder and social media management.
Depending on your resources and email marketing ambitions, the best option for you is hopefully clear now.
You can see how other email marketing tools stack up to Mailchimp in the following comparisons:
Vertical Response vs Mailchimp