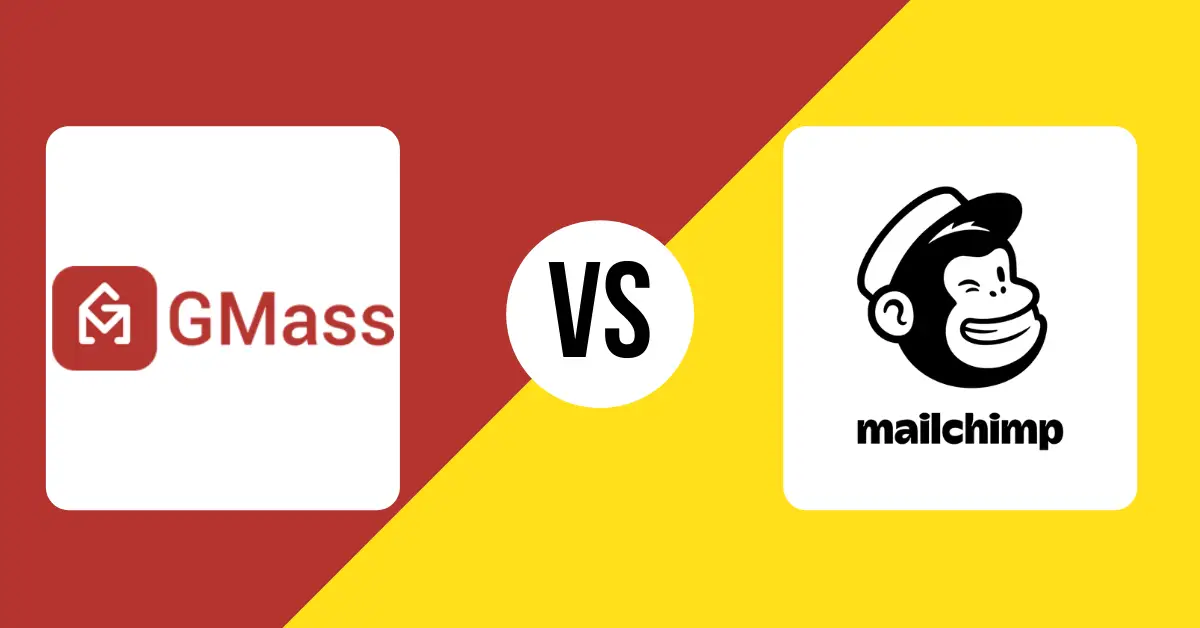 Gmass and Mailchimp are incredibly powerful tools, however, they tend to be used by different target audiences for different purposes. 
Founded in 2001, Mailchimp quickly established itself as a leader in the email marketing landscape, offering a wide range of features for email marketing, but also marketing automation, and lead generation as well.1
Gmass was founded nearly a decade and a half after Mailchimp in 20142. Rather than providing a full-blown email marketing service like Mailchimp, Gmass offers an email merging and bulk sending service directly from your Gmail dashboard.  
However, these differences only scratch the surface of what distinguishes the two platforms. 
This post explores the biggest differences between Gmass vs Mailchimp and who each platform is best suited for. 
Gmass vs Mailchimp: The biggest difference
Gmass and Mailchimp have very different capabilities and are typically used for different purposes as a result. 
Mailchimp is an email marketing platform, that's capable of sending emails to thousands of subscribers at once. The platform also helps companies to ensure their emails stand out, with access to a host of customizable templates for your campaigns. In addition to email marketing features, Mailchimp also offers additional complimentary marketing features. With that in mind, Mailchimp could be considered more of an "all-in-one" marketing platform rather than simply an email marketing tool.
Gmass is a Gmail add-on. Unlike Mailchimp (which is a platform entirely separate from Gmail), you would access Gmass right from your Gmail dashboard. The solution is capable of mass sending emails, however, these emails are sent directly through your Gmail account rather than a third-party server. Considering that Gmail has a daily sending limit of 500 emails, you can send emails on as large of a scale as you can with Mailchimp. 
With that in mind, the solution is more popular for sales and recruiting than mass email marketing. However, one of the tools most notable benefits is that it conveniently plugs right into your familiar Gmail dashboard. 
In short, Mailchimp is the kind of email marketing solution you'd go for if you wanted to design automated email flows that help to nurture and convert leads over time. Think of it as your tool for building relationships with leads. Gmass, on the other hand, is more likely to be the product you'd use for optimizing your email outreach strategy. You would use this tool for sending emails to just a handful of select recipients. 
Gmass vs Mailchimp: Who Uses Each Tool?
Both Gmass and Mailchimp are very popular tools. 
Currently, Mailchimp has more than 20 million customers worldwide. Gmass isn't nearly as popular, but with over 200,000 active users, it's still a widely used extension. 
So, who is Mailchimp for? Mailchimp is an all-in-one email marketing platform primarily for small to midsize businesses in a variety of different industries from manufacturing to software. The platform has a variety of marketing features that businesses can take advantage of to scale quickly. 
Gmass is commonly used for prospecting, recruiting and cold outreach. At its core, Gmass is a relatively simple tool for email merging that's perfect when you want to improve the efficiency and performance of your outreach campaigns. The service appeals most to salespeople, bloggers and recruiters, but it could also be ideal for any business that's just starting to grow an email list. 
Gmass probably wouldn't be the product you'd choose to improve your enterprise sales, due to its email sending limits. However, you can achieve some excellent sales outreach outcomes if you're running a smaller company. 
Gmass Notable Features and Capabilities
As a lightweight addition to Gmail, Gmass has a few key features and capabilities that make it a valuable tool.
Automated email sequences
Just because Gmass isn't designed specifically for large-scale email marketing, doesn't mean you can't send plenty of mass emails in a well-organized sequence. Gmass allows you to choose who you want to send your message to, then personalize the content as much as you like by connecting to a Google Sheet, you can also add personalization with first and last names. 
Gmass has email scheduling capabilities, so you can send messages to your customers at just the right time, and you can set repeat mail sending times too. Plus, there's also an option for automatic follow-up emails. For companies that need to send cold emails, follow-ups are an excellent way to improve your chances of success. Gmass even supports basic behavior-based campaigns. For instance, you can create a campaign to follow up with everyone who has opened your previous email.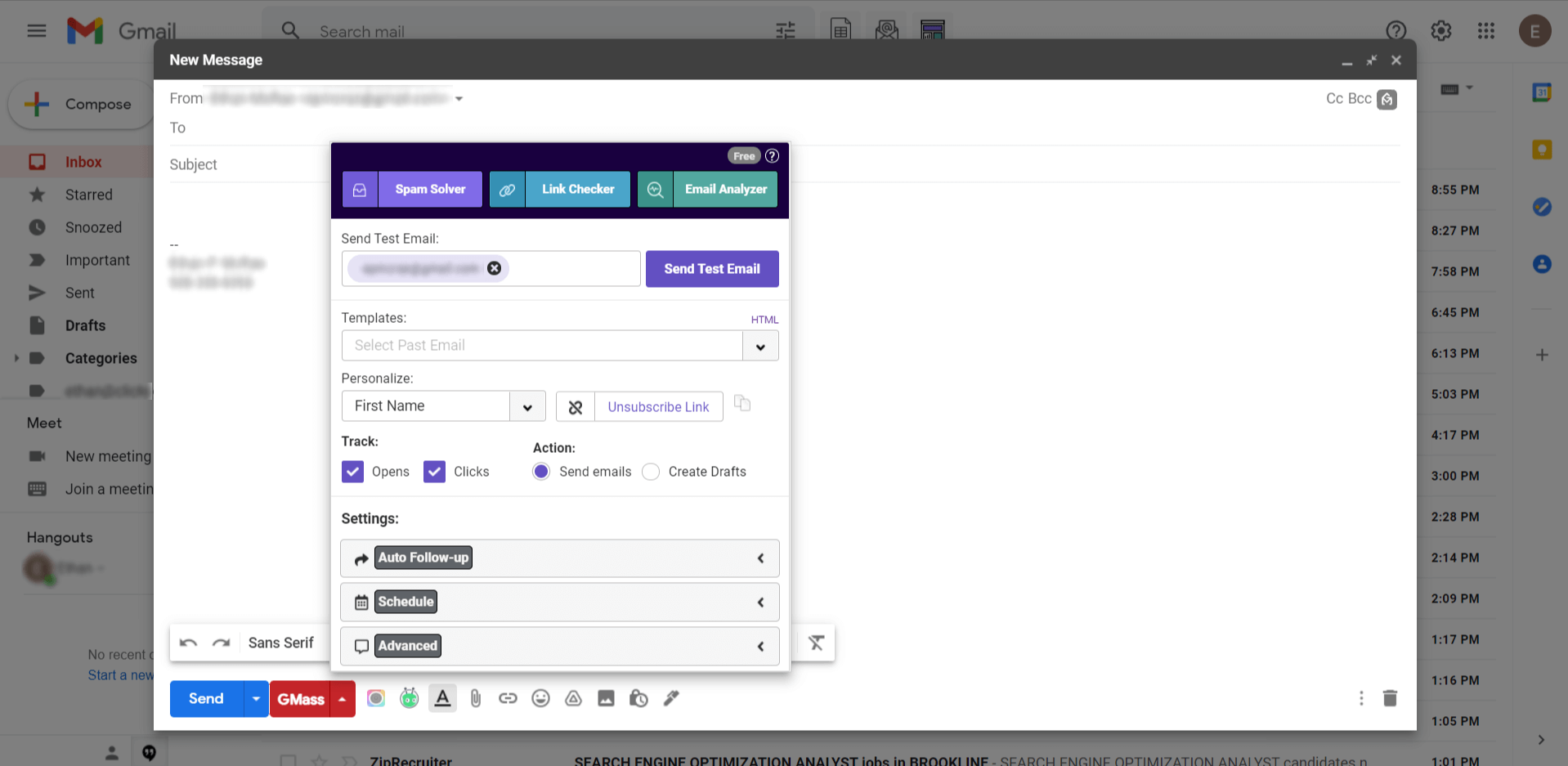 Mail Merging
Mail merging is the process of automatically pulling data (such as email addresses and names) from spreadsheets (such as Google sheets) into software. In doing so, you can send personalized emails to a large number of recipients without manually entering each recipient's information when building your email campaign. 
Gmass was created specifically for this purpose. The idea is that you can create a comprehensive mail merging experience within Google Sheets, and pull all your recipients' information directly into Gmail.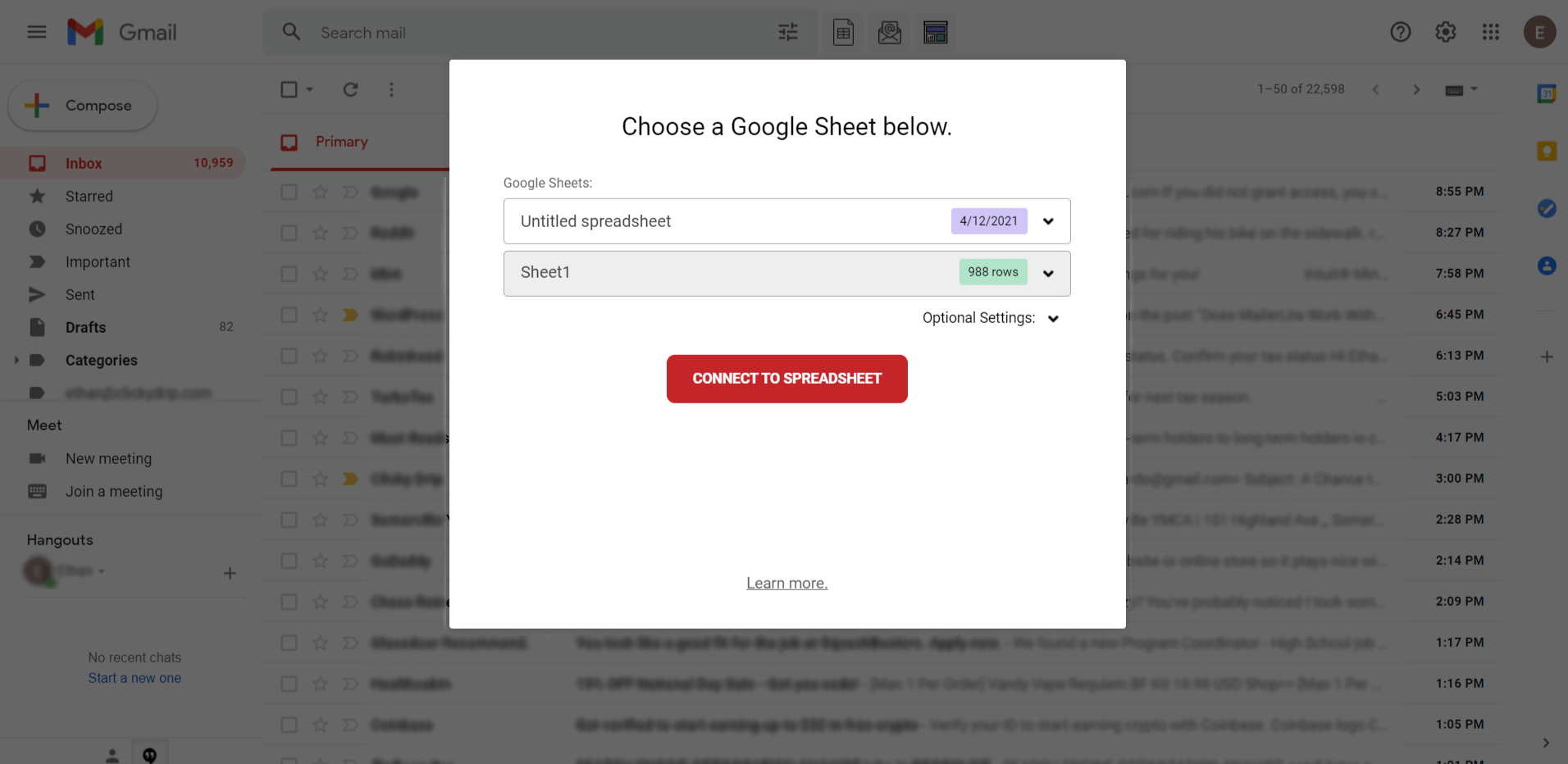 Gmass makes it quick and easy to load content into a mass email and implement things like automatic follow-up and replies at the same time. There's a powerful search feature available within Gmail which should make it easier to track down the recipients you want to email. 
Built-in Email Verifier
The free email verification service automatically scans your recipients' emails and discounts any emails that are invalid (fake email addresses). Verifying your email allows you to filter out invalid email addresses that your emails won't reach. This can improve your email deliverability and help to maintain a good sender reputation. 
The Gmass extension has an email verification system that allows you to verify emails as you send them out. The tool automatically filters out invalid email addresses.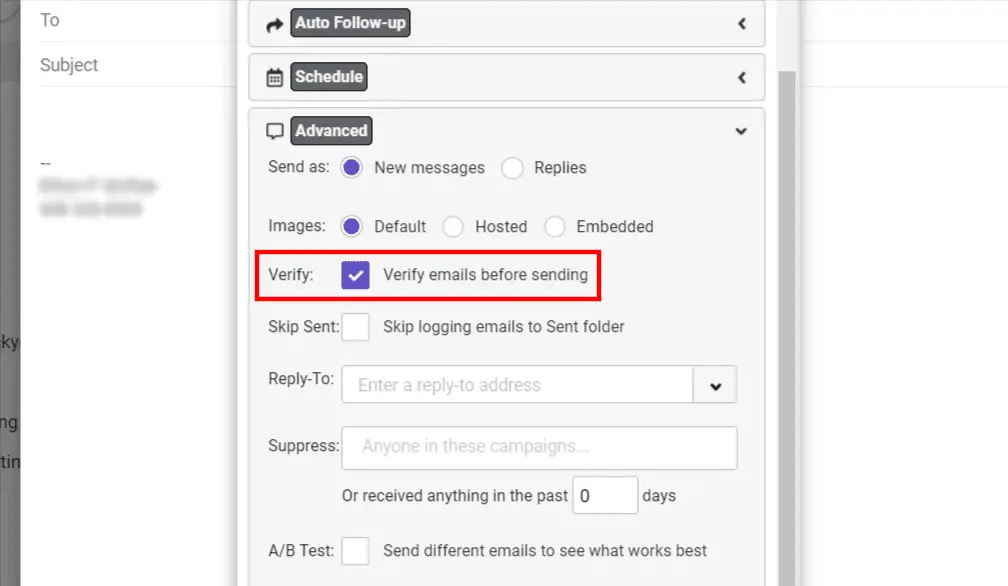 There's also a web-based email verifier from Gmass that can verify your email addressees and update your Google Sheets with a "verified" column, so you know who to remove from your lists.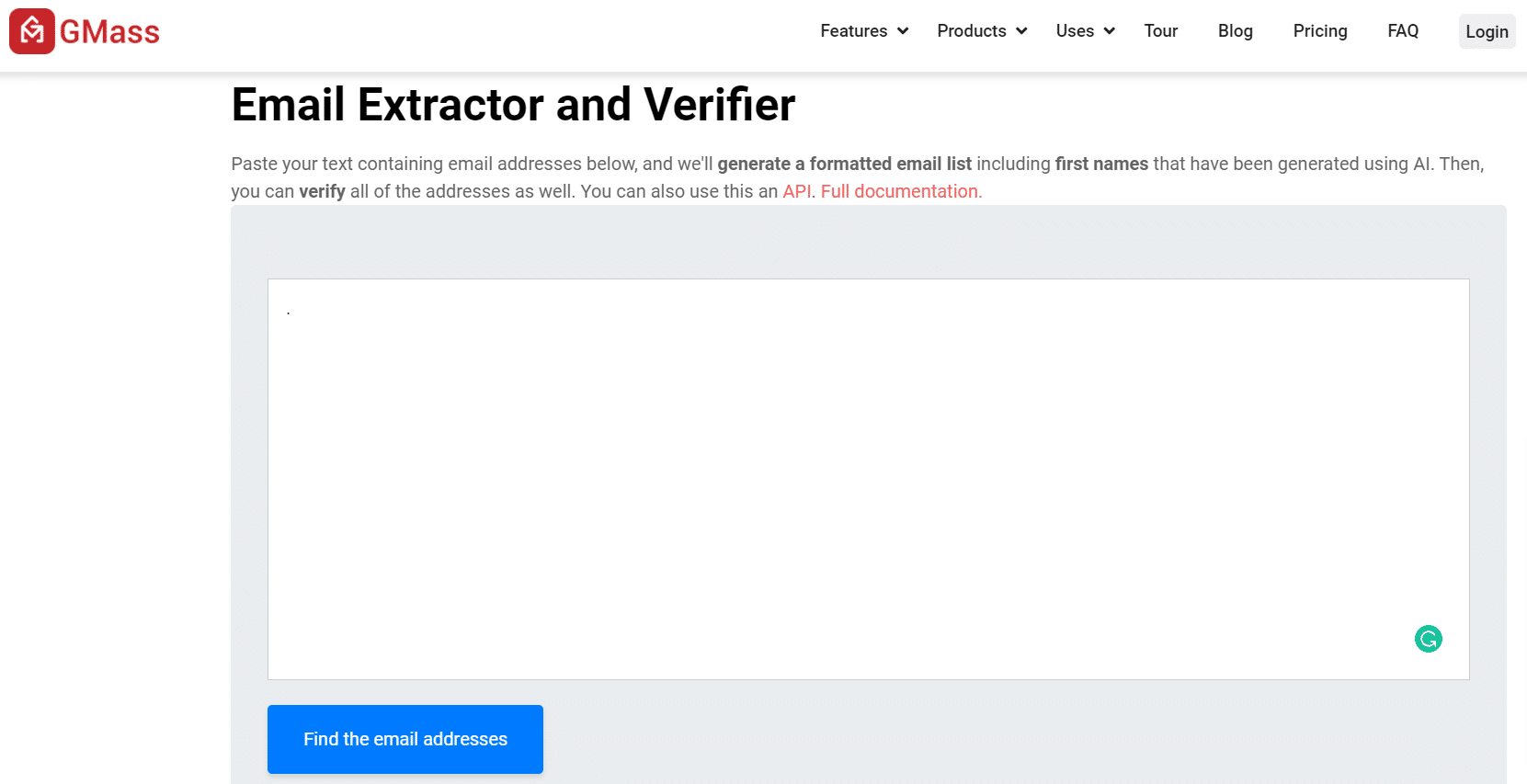 Related: 7 Best Free Email Template Builders for Gmail
Reporting
With Gmass, you get access to reporting such as:
Number of recipients 

Opens 

Clicks 

Unsubscribes

Bounces 

Replies 

Blocks 

Auto-follow ups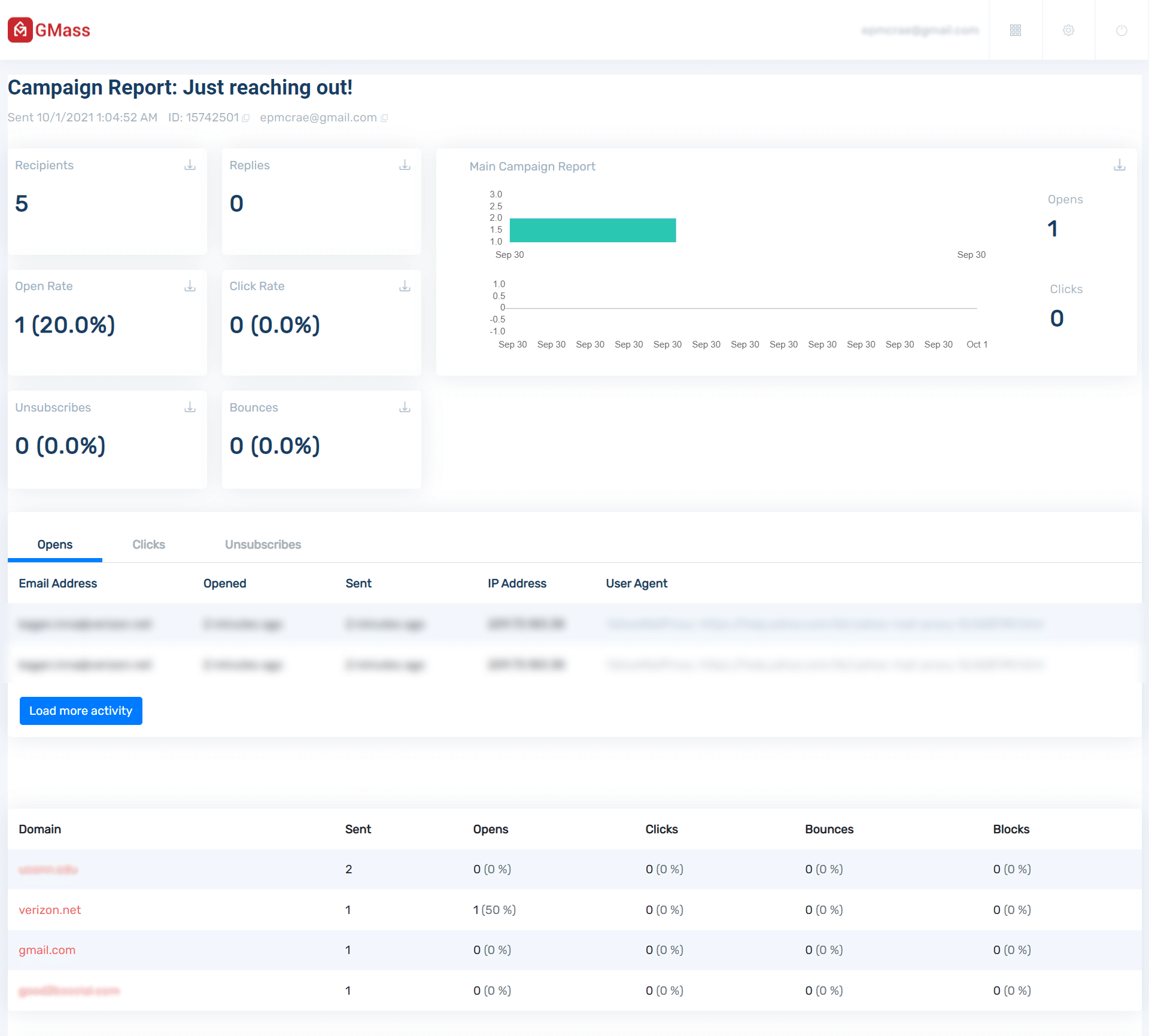 You can view these metrics on a campaign level (total number of opens for the email, total number of clicks etc.). To get more granular, you can view these metrics for each recipient you have sent your email to. 
Mailchimp notable features 
As a complete email marketing platform, Mailchimp is packed full of features. However, for many users, the email marketing features specifically are most important. 
Email Automation
Mailchimp goes above and beyond anything that Gmass can offer from an automation perspective. Although Gmass allows you to make some basic scheduled workflows, Mailchimp can support companies in designing advanced strategies based on customer behavior. 
For the best results, Mailchimp offers users a "Customer Journey builder", which allows you to visually map out personalized emails based on how people connect with your company. For instance, if someone signs up to your newsletter, you can send a welcome message, then send different emails based on whether they click from that message to your website.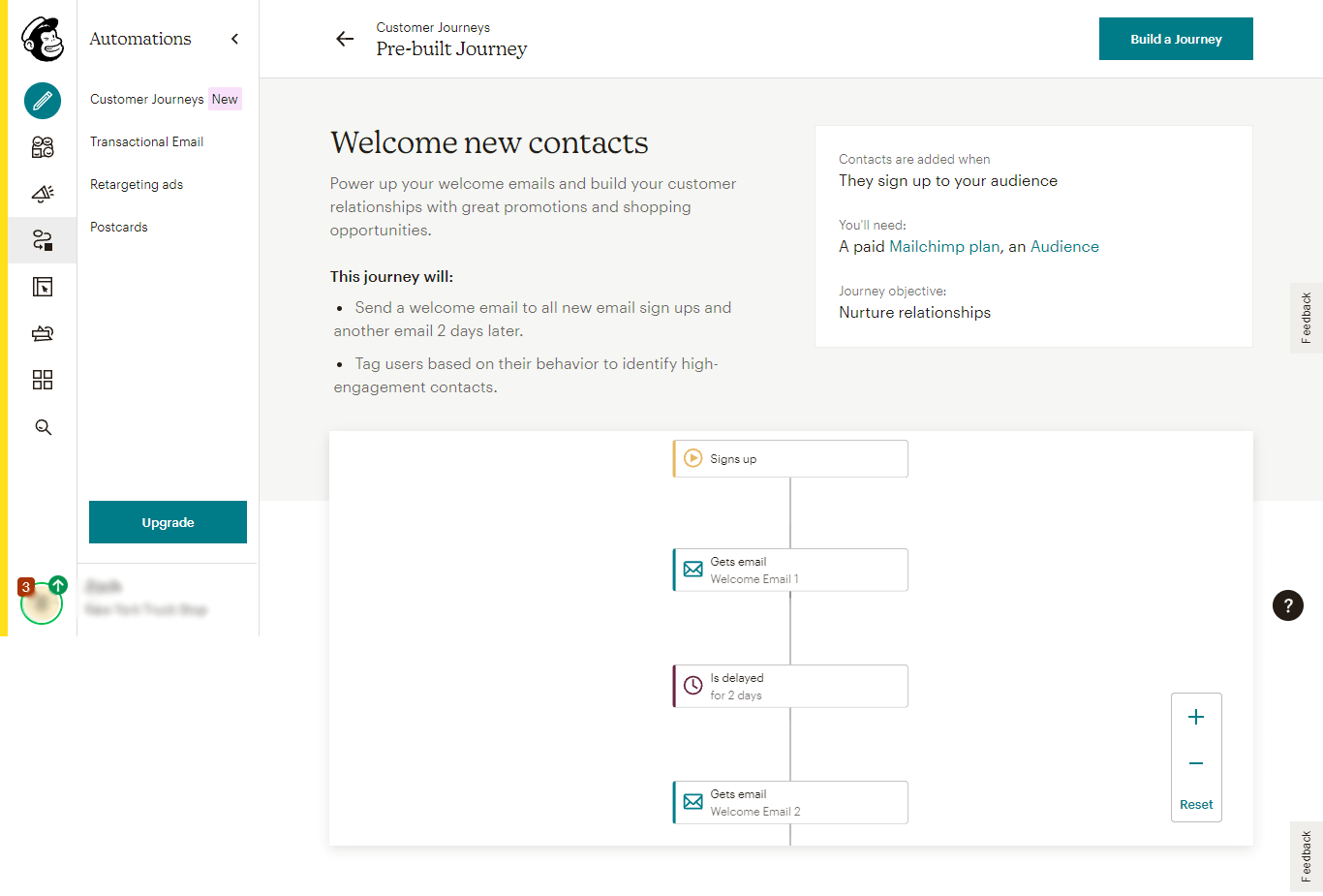 Mailchimp also has CRM capabilities, so you can segment your audience on a deeper level, and send automated campaigns based on what you know about each potential client. The whole experience is a lot more sophisticated than you get from Gmass. There's even AI technology that can suggest when to send your emails. 
Email templates
Unlike Gmass, which allows you to customize parts of your outreach emails, Mailchimp allows companies to transform their messages into unique visual experiences. The wide range of templates available for your messages play a huge part in making Mailchimp a stand-out product. The HTML templates are easy to customize and upgrade with your logo and branding.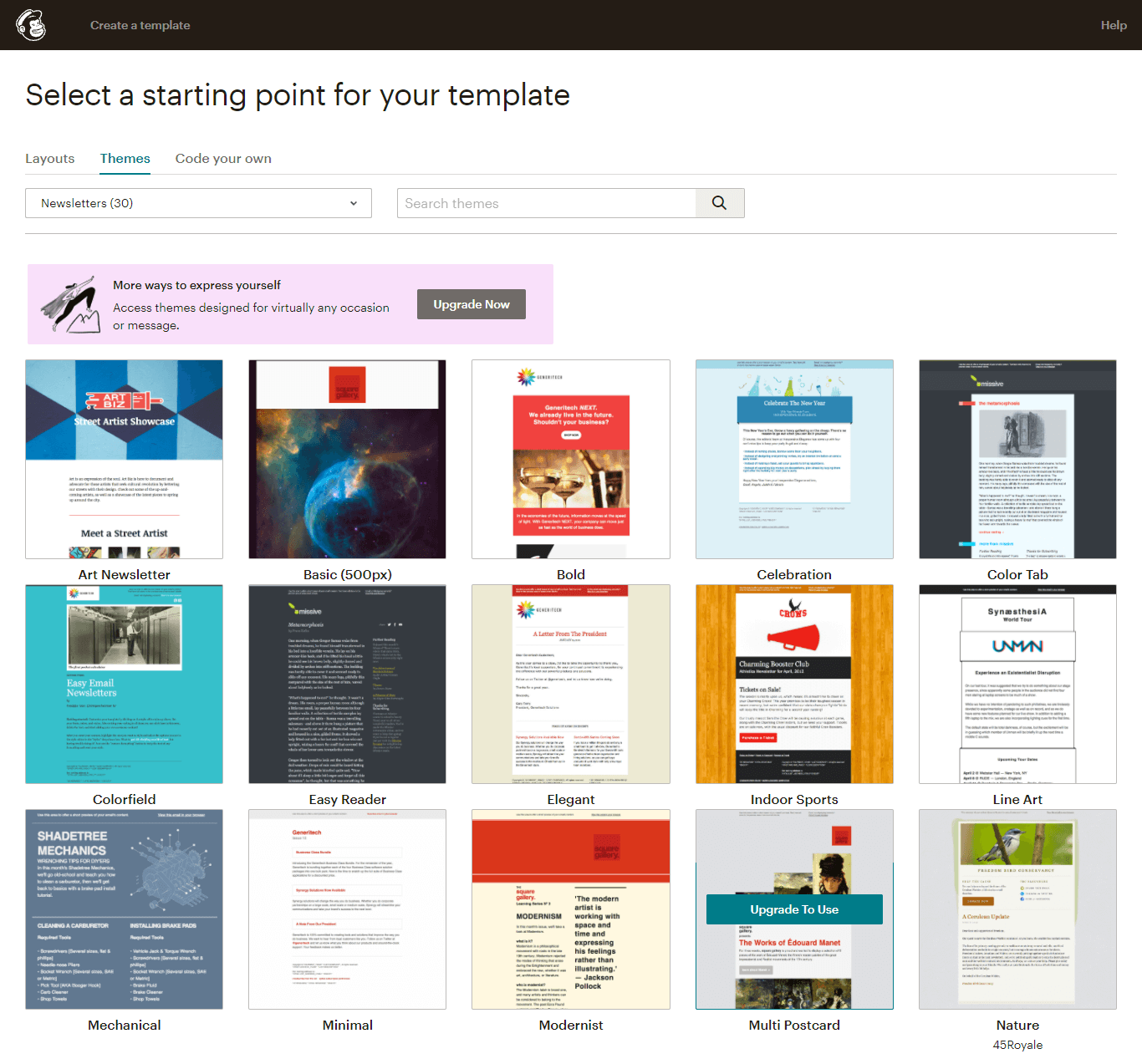 You can sort through templates on Mailchimp based on the kind of message you're sending, such as a newsletter or transactional email. The drag-and-drop editing service then allows you to move various parts of your email design around until you find something that works best for your brand. 
There's really no limit to the ways that you can make your brand stand out here. You can even add your own custom images and videos into messages. 
Complementary tools
Mailchimp isn't just about email marketing – though that's a big part of the service. The solution also has a host of complementary tools to offer as part of any package, so you can really grow your company. There are tons of other features to access, such as landing pages and customizable forms, which you can use to capture leads.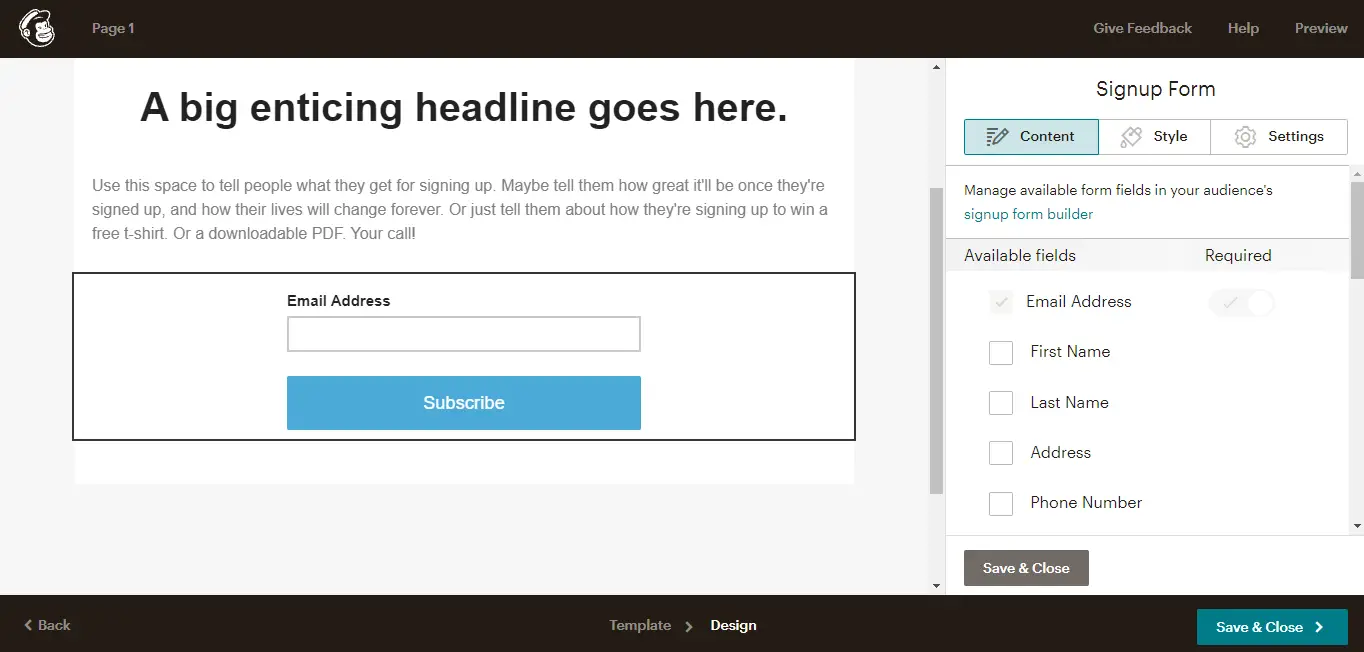 Mailchimp has its own built-in marketing CRM, so you can get to know your audience on a deeper level and create a strategy for relationship building. The full selection of available services means that Mailchimp feels like a robust marketing platform from start to finish. 
Aside from creating emails and landing pages, you can also design digital advertisements, social media posts, and even physical postcards.
Reporting
Similar to Gmass, Mailchimp gives you basic metrics such as opens, clicks, bounces, and unsubscribes per campaign. However, with Mailchimp you get more advanced analytics.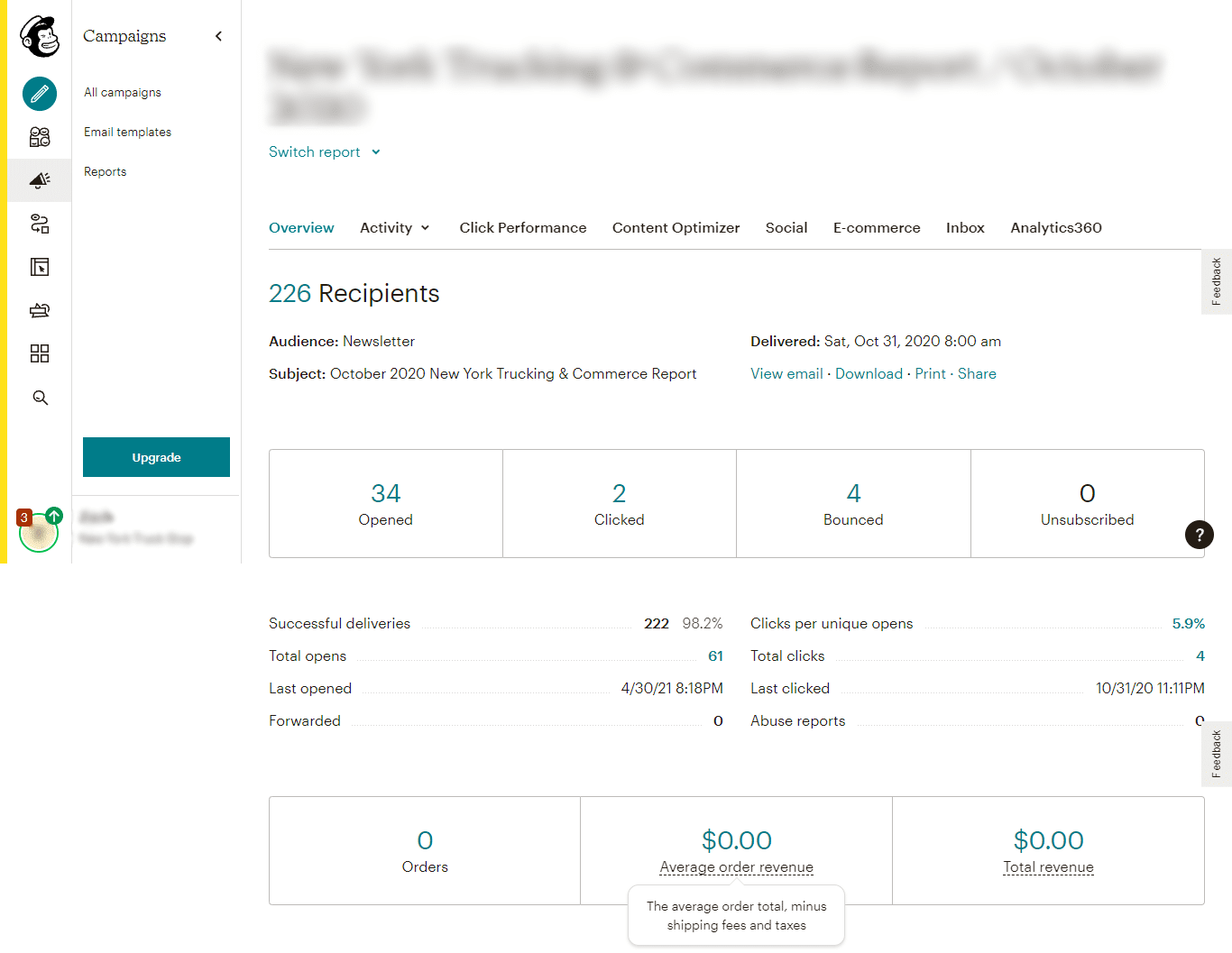 Mailchimp displays additional stats such as top locations by opens, subscriber emails with the most opens, graph of open and click performance 24 hour, top links clicked, and more. 
Additionally, once the platform is configured properly you can see how emails translate to sales for your business as well. 
Ease of Use
An email marketing solution with a lot of features is great – but those features can begin to lose their impact if you don't know how to use them. Usability should always be a crucial concern when you're shopping for a marketing tool.
Mailchimp is a mature product with a lot of features to explore, including connected social media campaigns and CRM technology. The interface is well-designed, with a lot of clean elements and components designed to make your life easier. For instance, choosing and adjusting the elements of a template is very straightforward. 
However, because Mailchimp has a lot more features to offer than Gmass, it also takes a little longer to get used to. Although most people would agree that Mailchimp is a very user-friendly tool, you might need a little time to figure out how all the features work before you can jump into action.
Gmass is also an extremely easy-to-use tool considering you use this add-on right from your Gmail dashboard – something you're probably already familiar with. The service is straightforward, with a button at the bottom of your email creation box which allows you to tap into the features you want. 
Compared to Mailchimp, Gmail is considerably easier to use… BUT… this is largely because the platform is less feature-rich. 
Pricing
Both Gmass and Mailchimp are highly affordable products for businesses of all sizes.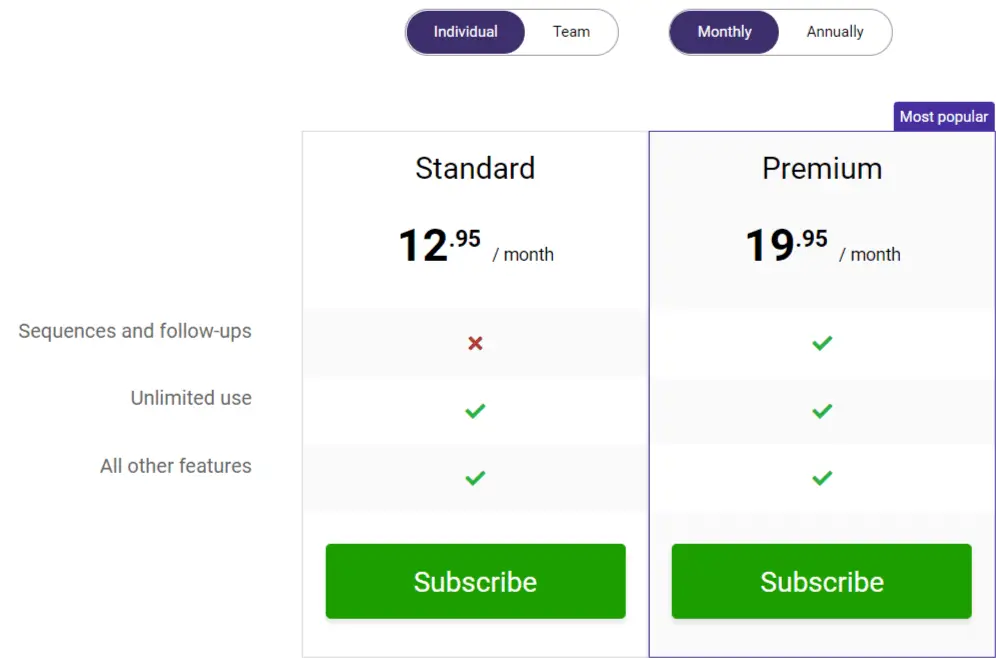 The "Standard" product for Gmass starts at $12.95 per month, featuring unlimited use, but no email sequences or follow-ups. You'll need to upgrade to Premium for $19.95 to get email automation. There's also a pricing section available for teams who need multiple people to access the same service.
Premium packages include extra features like 24/7 support, multi-step journeys, A/B testing, custom branding, behavioral targeting, send-time optimization, reporting, and advanced segmentation. 
Mailchimp has different pricing plans depending on the features included. The monthly price is contingent on the number of subscribers you have.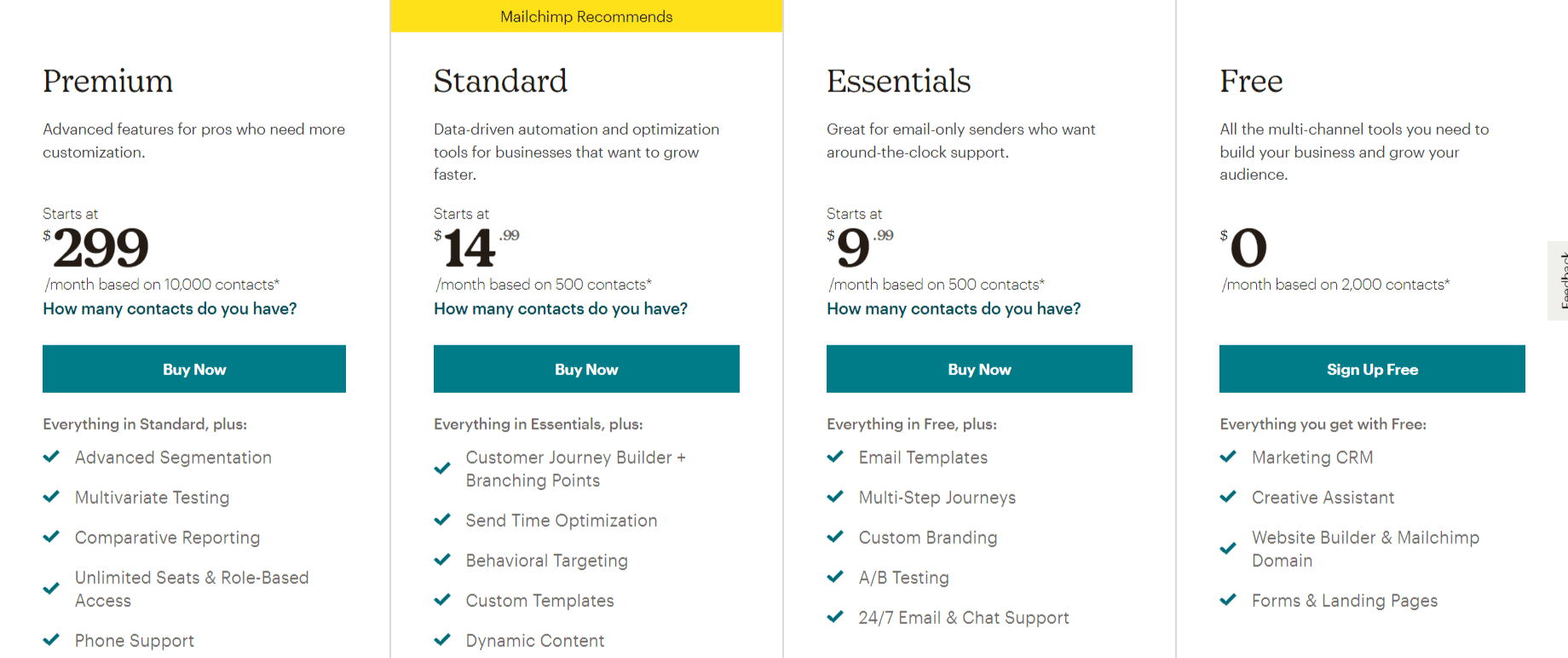 Mailchimp pricing starts with a very appealing free option, which allows you to send emails to up to 2000 contacts. The free plan is a great starting point, with a valuable selection of features like seven marketing channels, a CRM, basic templates, surveys, custom domains, and websites. 
For premium packages, the prices start at $9.99 per month, which supports up to 50,000 contacts. There's also a pricing package at $14.99 per month, for 100,000 contacts, and a premium service with extra features and support for more than 200,000 contacts. 
Refer to this email marketing pricing comparison resource for some of the best email marketing services for a more thorough email marketing pricing discussion. 
Final Words
When deciding which platform is best for you, its most important to consider what your goals are and how large your email list is. 
In short, if you simply need a tool to help you send emails to a relatively small audience from Gmail, Gmass is your best bet. Alternatively, if you are interested in sending large-scale email campaigns to more than a few hundred recipients, Mailchimp is the way to go. 
You can see how other email marketing tools stack up to Mailchimp in the following comparisons:
Vertical Response vs Mailchimp