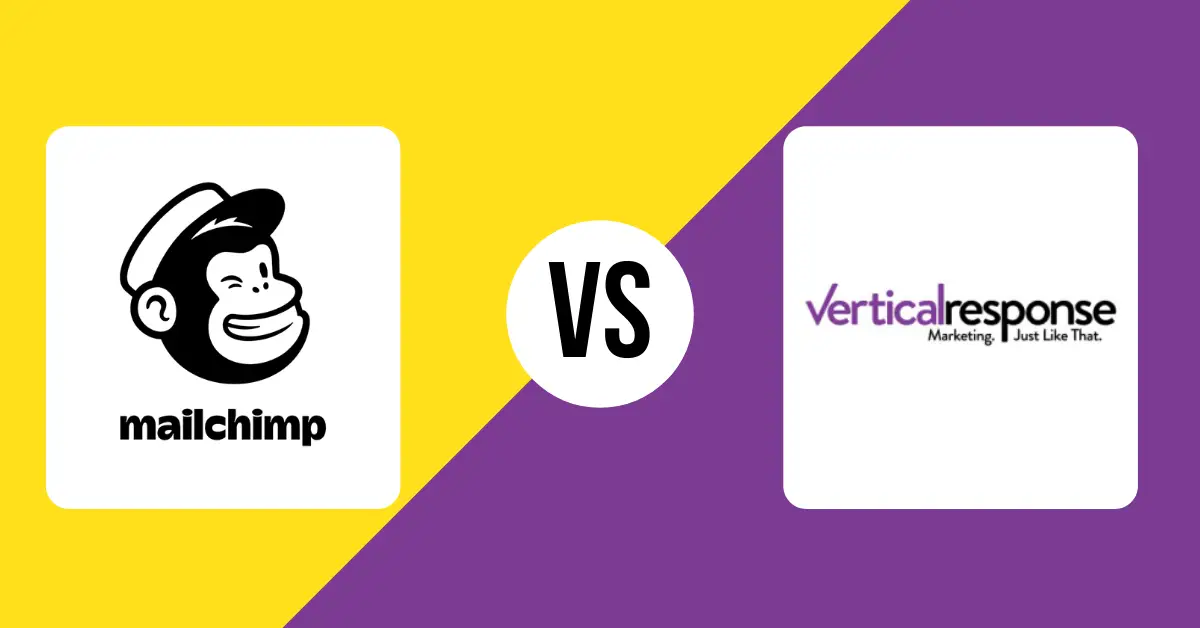 Email marketing is one of the most powerful channels for building relationships with your leads and converting them into customers that will buy from you time and time again. 
However, no matter how effective your email marketing campaigns might be, choosing the wrong email marketing platform can lead to many headaches later down the road. After all, every email marketing platform is designed for a certain type of company so it's important to choose the right platform for your unique business. 
But what about Mailchimp and Vertical Response? These two email marketing platforms are commonly compared given that they have many of the same features.
In this post, we will compare Mailchimp vs Vertical Response in terms of features, ease of use, and price so that you can determine which platform is best for you. 
About Mailchimp and Vertical Response
Mailchimp started out as a bootstrapped side project 20 years ago, in 20011. What started out as a simple email marketing tool has evolved over the years and now offers everything from creative content tools, to form builders, behavioral targeting, and even a marketing CRM (customer relationship management) tool. The company has around 11 million customers. 
Vertical Response isn't quite as well-known as MailChimp, with around 1 million business customers2, according to the brand. Vertical Response launched in 2001 – the same year as MailChimp. Over the years, the company has evolved to support everything from email marketing to social media advertising. Like Mailchimp, Vertical Response is an affordable and scalable tool. 
Features
Email templates and editor
We found the email editor and template section on MailChimp to be wonderfully clean and intuitive. When you log into your account, you get the option to "Send Your First Email". When you click on the "Get Started" option, MailChimp asks you to choose between Regular, Plain-Text and Template options. By choosing templates, you are directed to a dashboard with a generous selection of templates to choose from: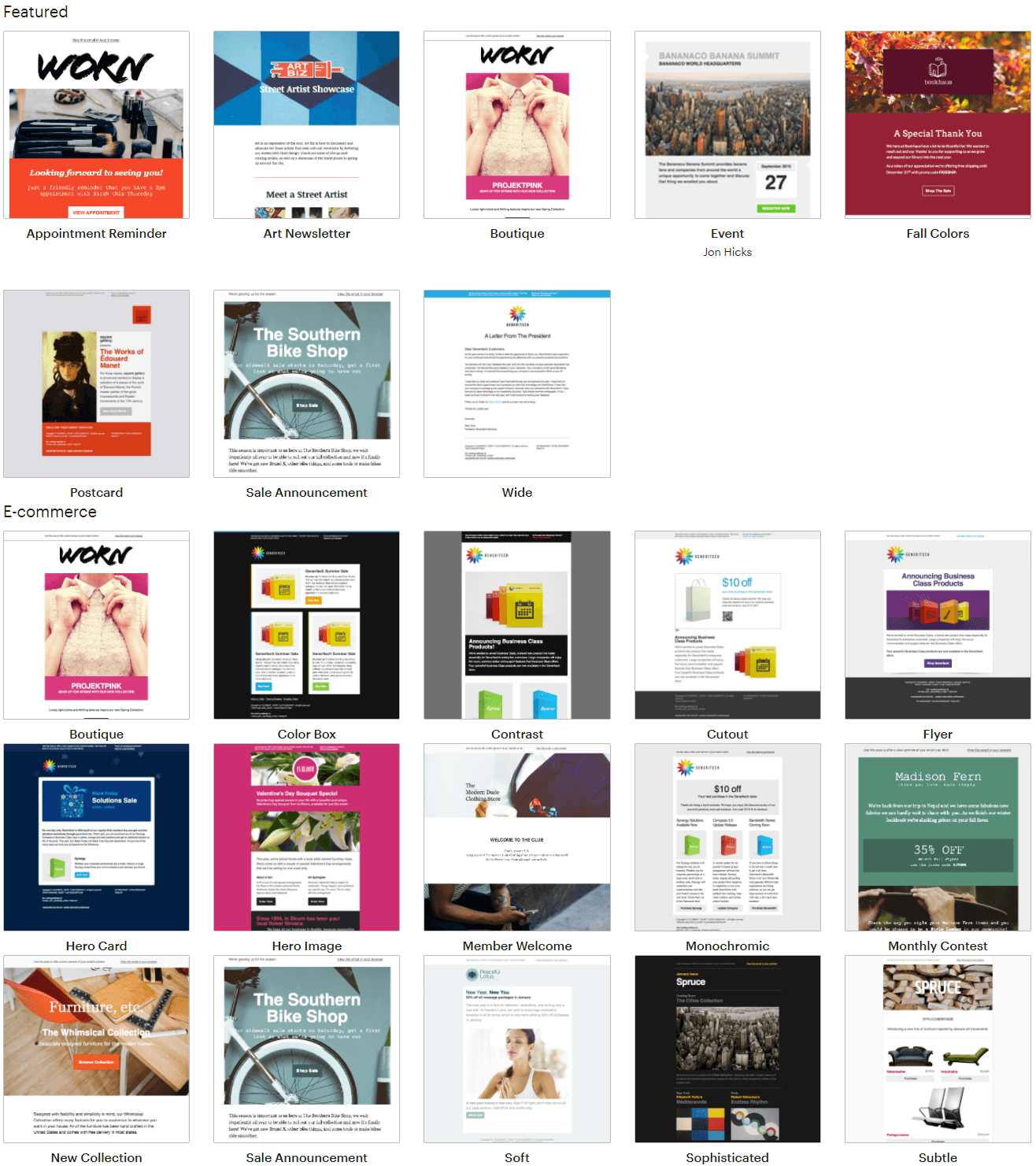 The templates are beautifully modern in MailChimp, with plenty of different options to choose from. We liked the way that we could choose the "theme" of our email first, and then be directed to templates most likely to present that content best. The themes (or categories) you can choose from include: 
Featured

E-commerce

Events

Holiday

Newsletter

Notifications

Photography

Stationary 

Subscriber Alerts
The email editor works through drag-and-drop modules. You can easily adjust the size and location of elements such as headlines, text, images and buttons simply by clicking and dragging. One fun and unique feature is the "Creative Assistant," which uses AI to help you create beautiful on-brand designs for all your emails in one go.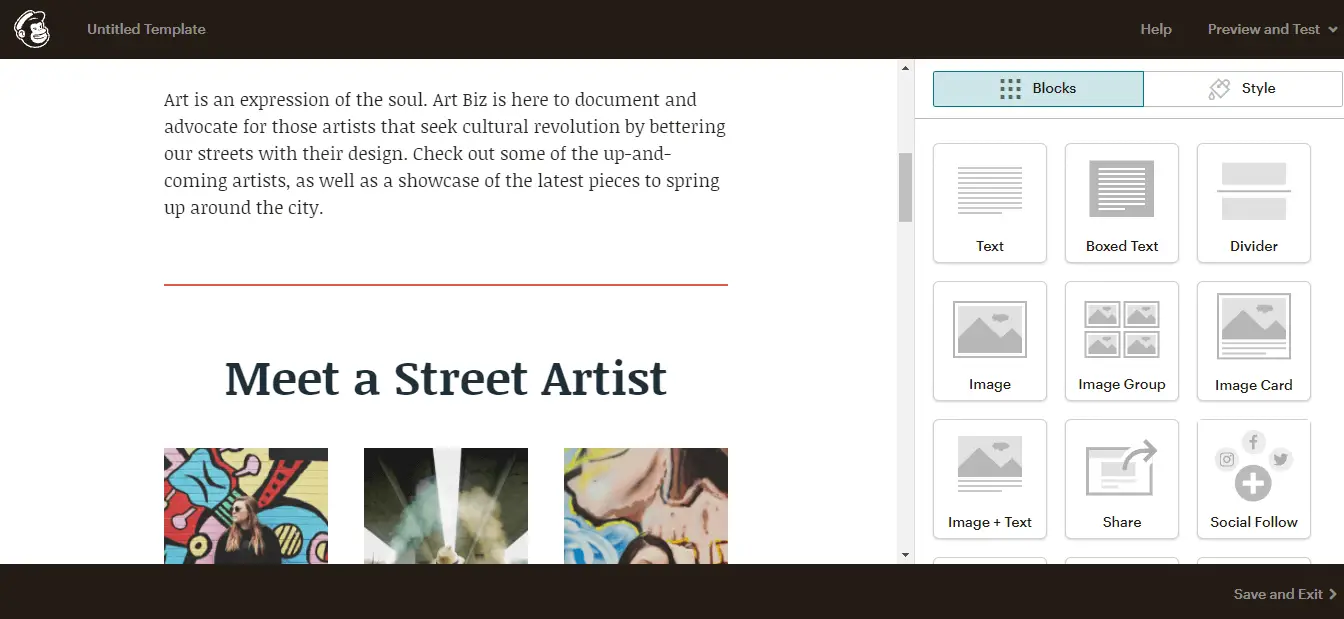 Vertical Response also offers a range of email templates to choose from. However, while the templates are about as well designed and stylish as Mailchimp's, there are significantly less templates to choose from.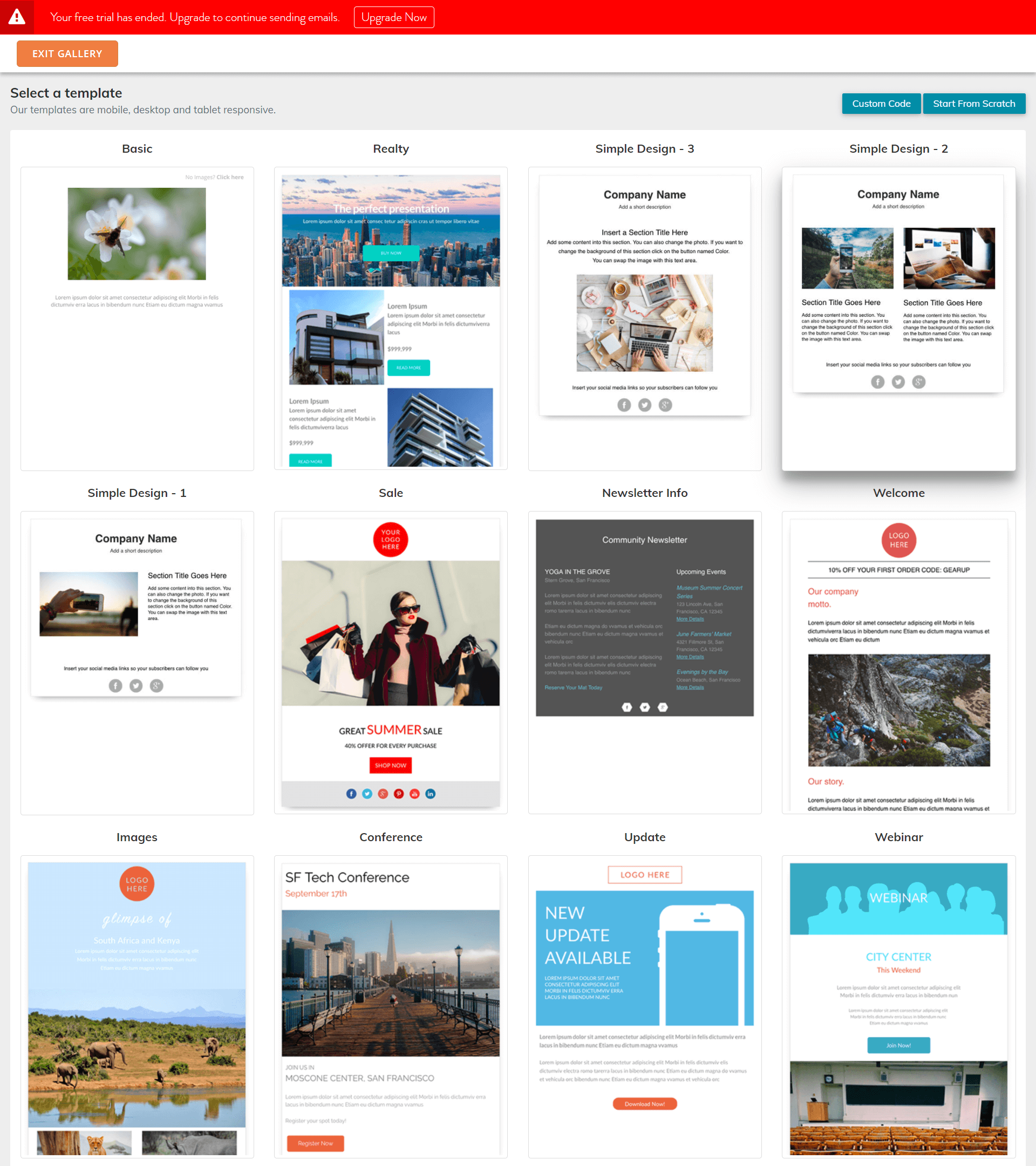 Similar to Mailchimp, Vertical Response's editor is drag-and-drop, with the option to click on a segment to replace or edit content, and various modules to place in each email. To create the design or structure of your email template, you can add the layout blocks first. Layout blocks help to create the framework for your templates to add smaller elements such as text, images, and buttons. A few examples of these layout blocks include two columns of text, two columns- one for image, one for text, three columns- one for image, two for text, etc.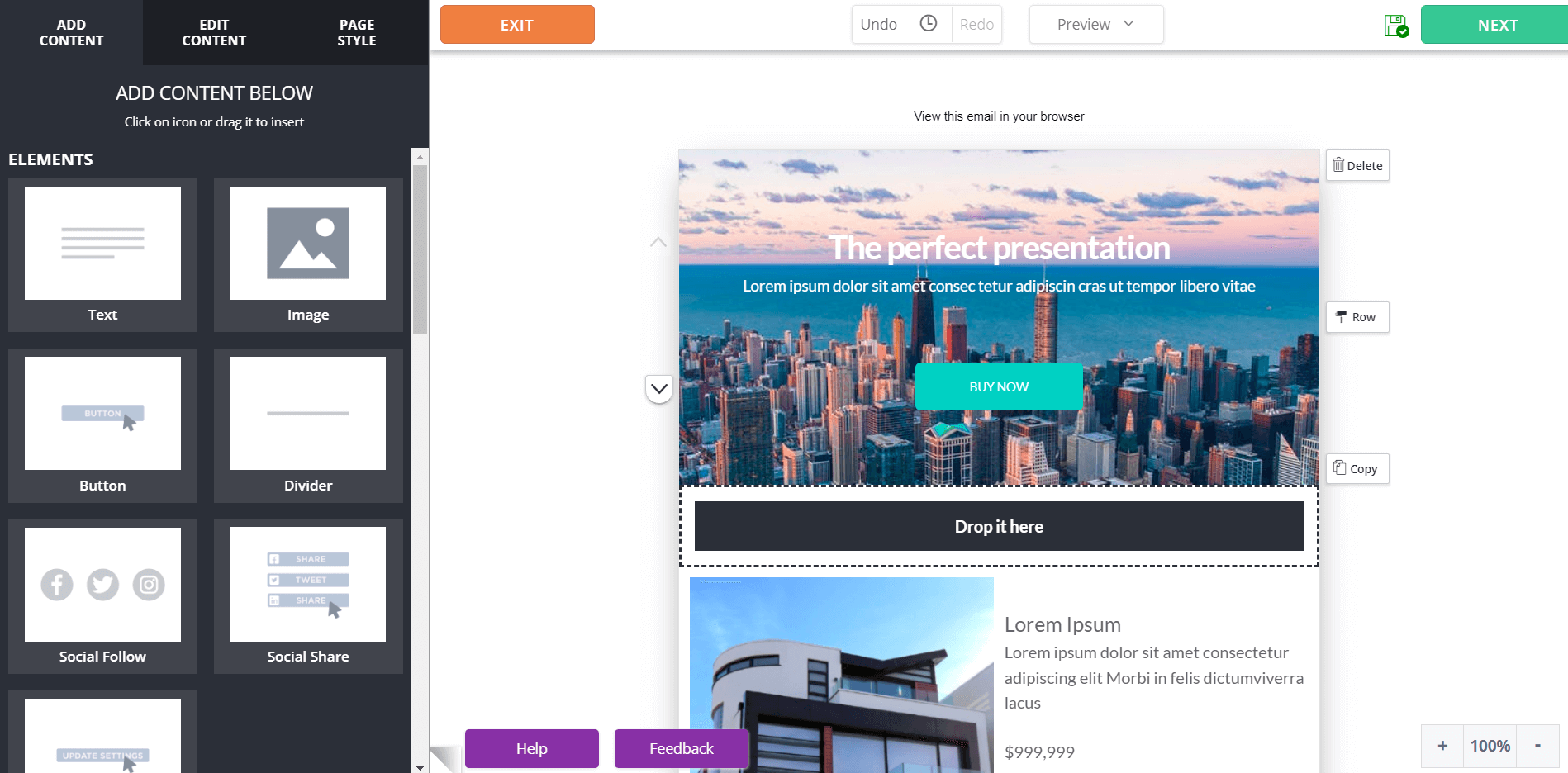 Aside from using and editing their templates, you also have the option to create an email from scratch with both Vertical Response and Mailchimp. Additionally, both Vertical Response and Mailchimp allow you to preview and test your emails before sending them to your audience so that you can see how the designs will show up in your subscribers' inbox. 
List management
Great email marketing starts with well-organized lists. 
Mailchimp has an "audience" segment, where you can search through your contacts, manage them, add contacts from campaigns, and create sign-up forms. 
You can create segments based on their location, behavior, activity, and engagement levels (among many other options). There's also the option to add "tags" to your audience, to help further differentiate groups of contacts.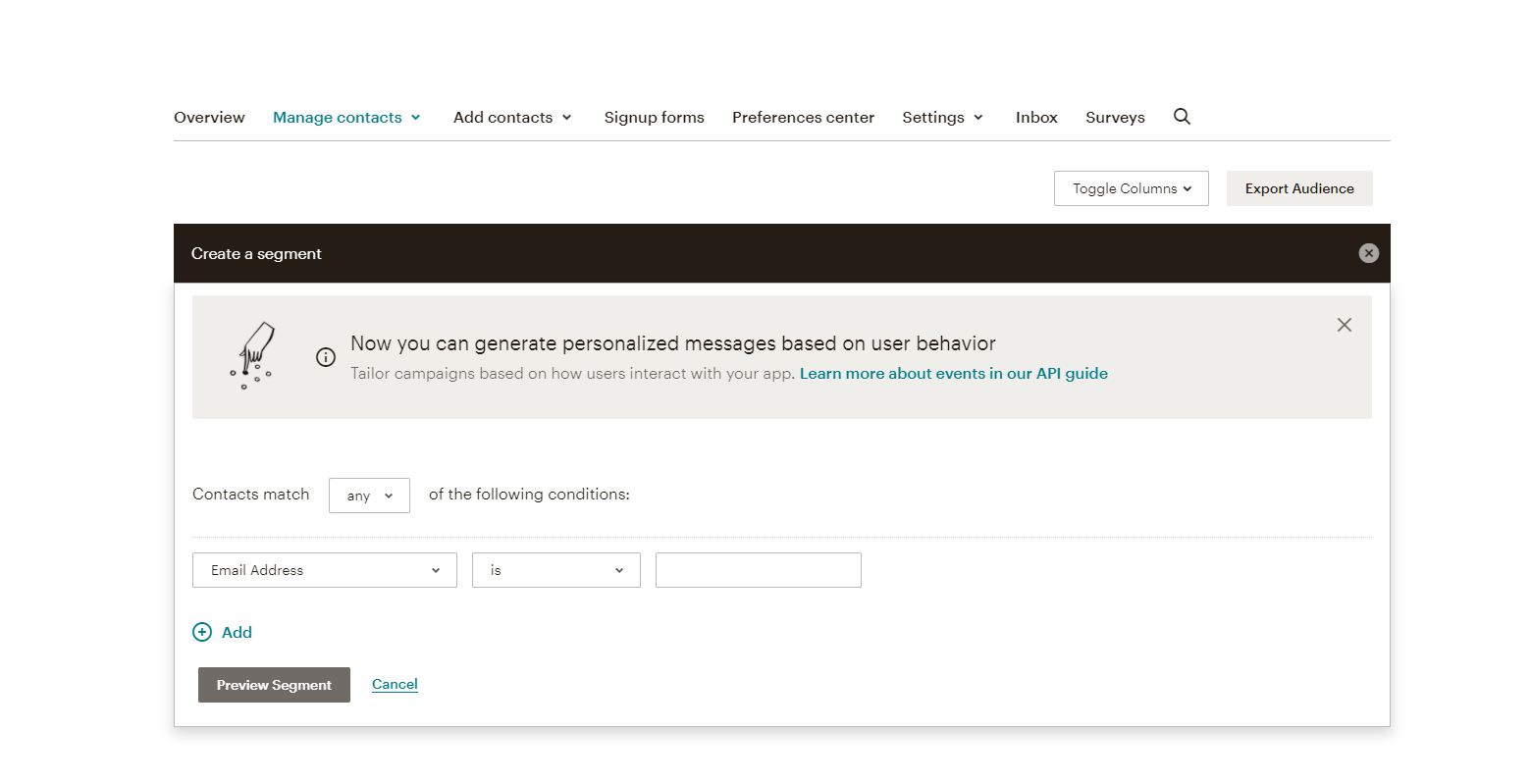 MailChimp allows you to make multiple lists, however, for many users it's easier to stay organized by creating one master list with all of your contacts and further categorizing them with segments and tags. 
Vertical Response has its own "Contacts" section, where you can list all of your contacts, and search through them by name. You can also add social accounts for cross-platform promotion. Uploading new lists is quick and simple. Once you have your lists, you can segment them by a range of filters like, "people who opened previous emails", or the date someone subscribed.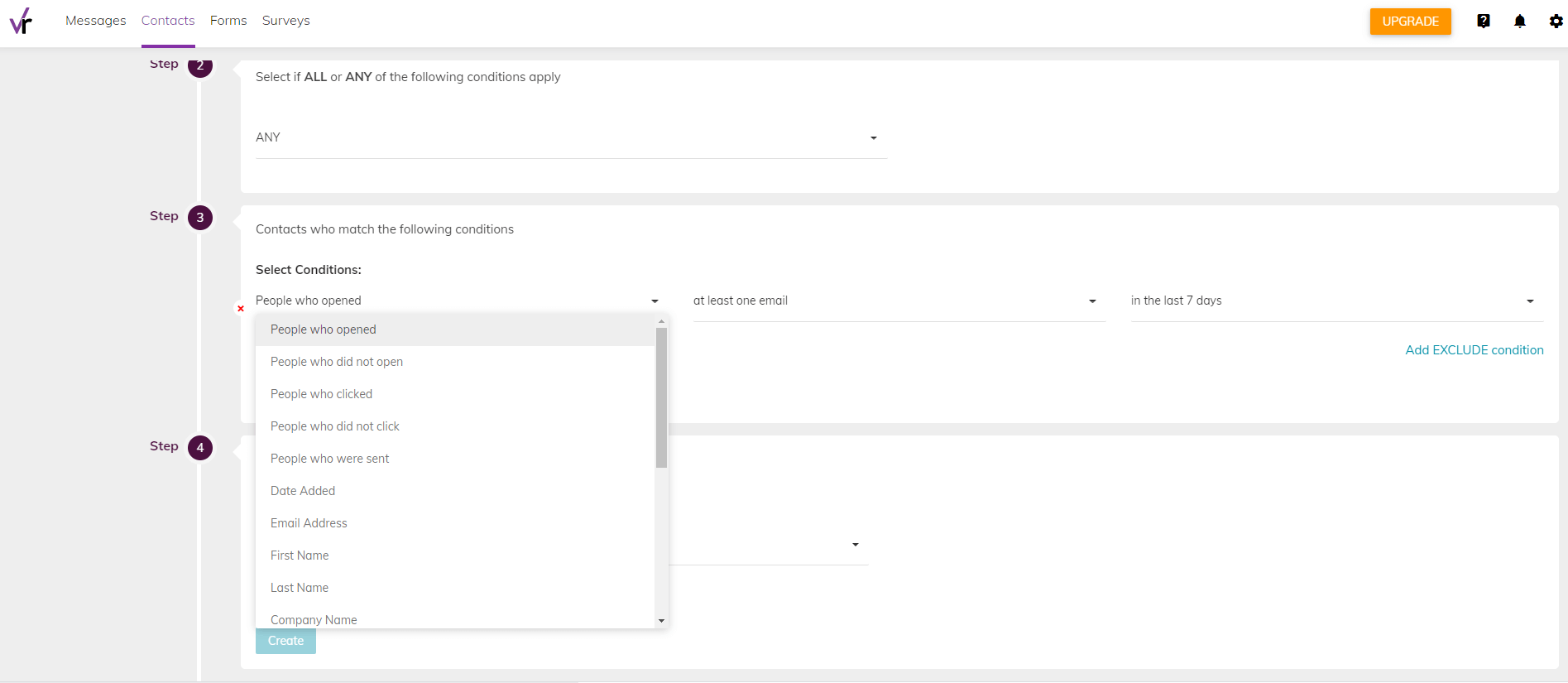 There are no "tags" available for individual contacts with Vertical Response, but you do get to create segments based on pretty precise behavioral targeting. 
Vertical Response and Mailchimp both make it extremely easy to import and export contacts.
Marketing automation
Both Mailchimp and Vertical Response have email automation capabilities.
Mailchimp now has two options for automation: "Classic Automation", or "Customer Journey". The classic automation options allow you to create chains of emails sent in a linear format, according to specific triggers. Customer journeys are a bit more advanced; you get to choose exactly what happens when different customers take different actions. 
If you're feeling a bit overwhelmed, you can start with one of Mailchimp's pre-made automation campaigns, like the welcome sequence: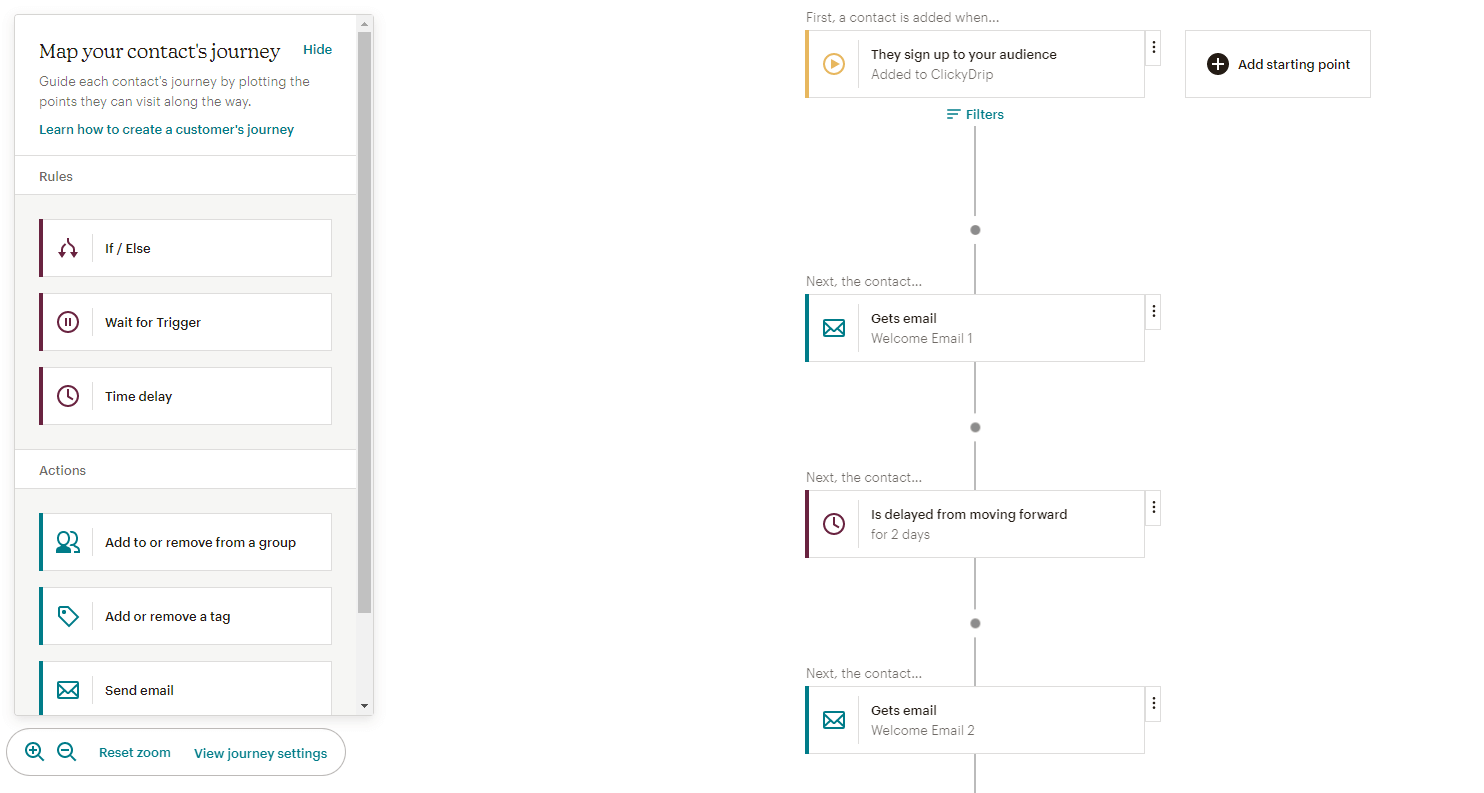 Mailchimp's journey/ automation building service is very easy to understand and use, with multiple triggers to choose from and a range of automation rules. 
We found Vertical Response's automation strategy a little more minimalistic. Once you click on the "automation" tab, there aren't any pre-made templates to get you started. Instead, you simply choose a name for your automation, add your required contacts, and decide when certain emails should send.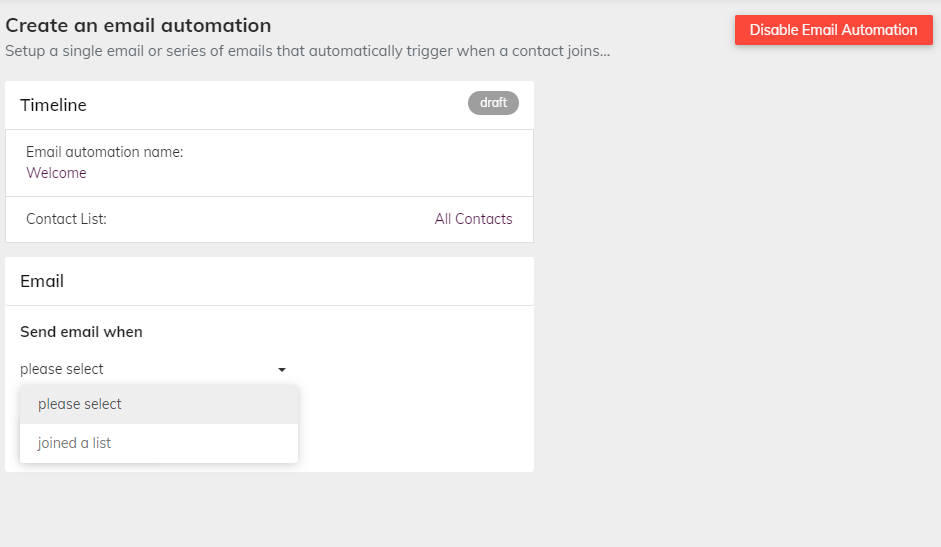 You can choose how long after a certain action a customer should receive an email, but that's about it. 
If you're looking for a simple workflow, Vertical Response definitely has that covered. Unfortunately, you won't have a lot of options for how you target and connect with customers. 
Forms and lead generation
As mentioned above, both MailChimp and Vertical Response will give you ways to capture the leads you need for your email list.
In Mailchimp, if you visit the "Audience" segment, you can click on Sign-up forms to see all of your options. There's a form builder, which works similarly to the email builder, with pre-made templates and drag-and-drop customizations.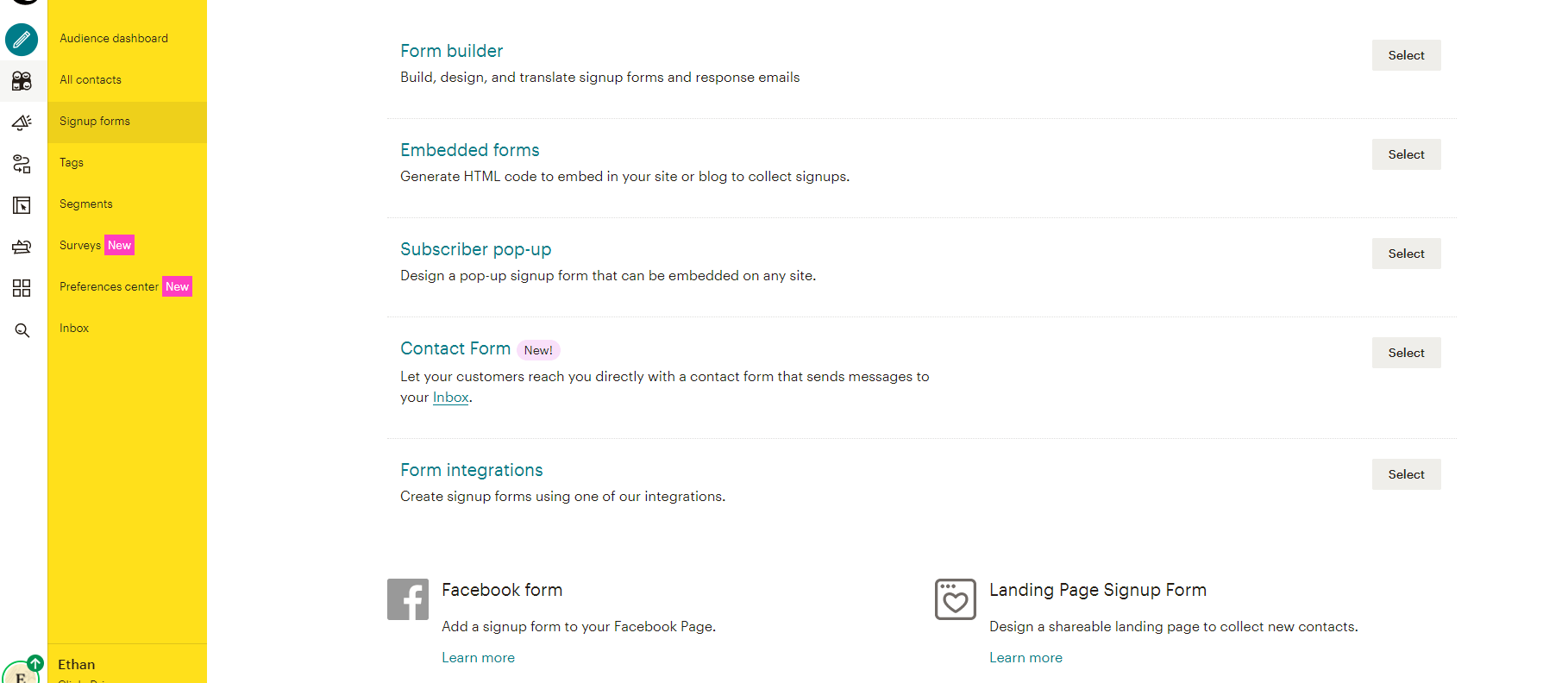 You can also create:
Subscriber pop-up forms

Contact forms

Form integrations

Facebook forms

Landing pages
Everything is wonderfully easy to build, and if you've already created an email campaign with MailChimp, you'll already be familiar with the design of the editors for these tools. You can even connect MailChimp forms and landing pages via WordPress, SquareSpace, and social media. 
Vertical Response also has options for forms, landing pages, and pop-ups. 
There's the option to choose between hosted sign-up forms and embeddable HTML forms which you can add to an existing website. Like MailChimp, Vertical Response also gives you a range of templates to choose from. We actually liked the templates for the landing pages a lot more than the templates for the emails: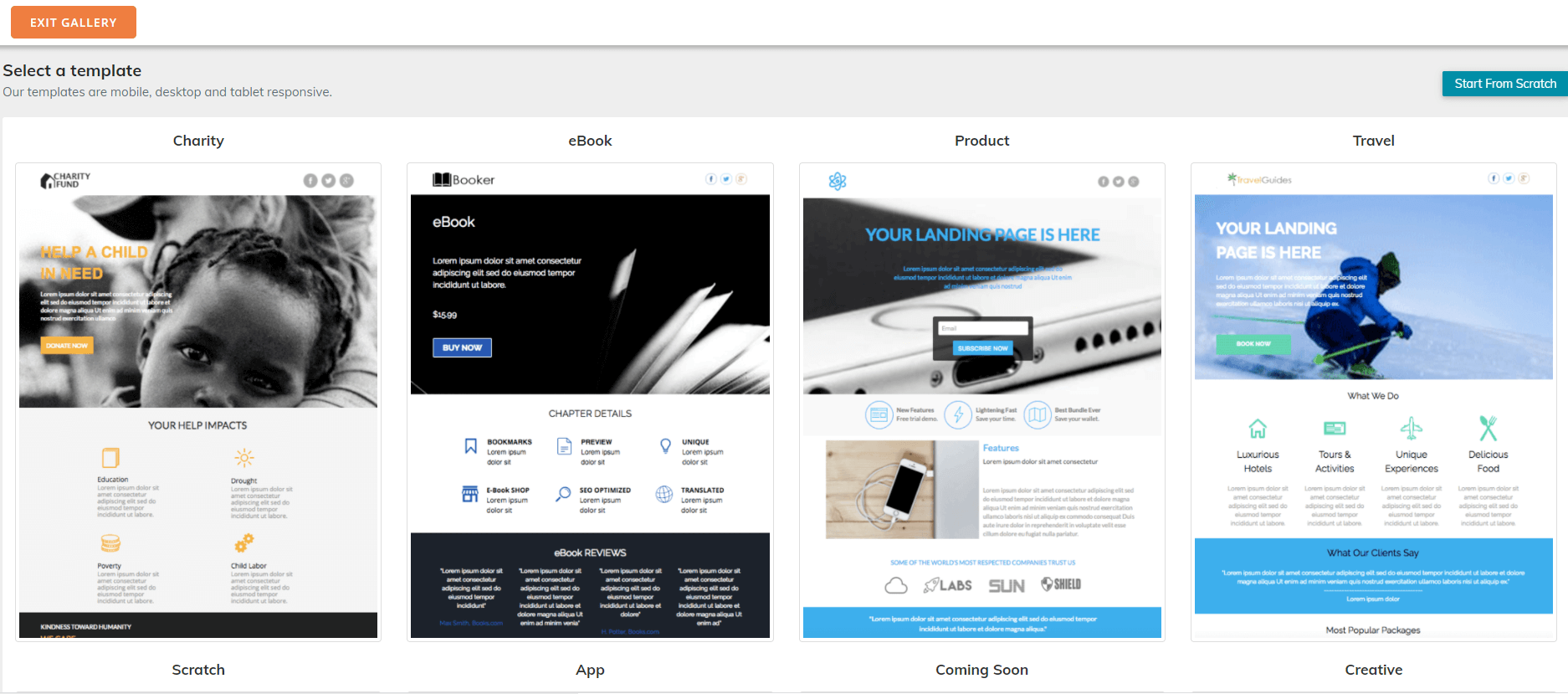 Vertical Response allows users to fully edit and customize each template with various content blocks in a similar style editor as the email editor. You can even get granular with your page styles, adding borders, and shading. 
Reporting and analytics
The best way to make sure you're getting the most ROI from your email campaigns is to track your campaigns and their results. 
MailChimp hides its reports in the "Campaigns" tab. You can use this segment to view your automations, ads, landing pages, social pages, and surveys all in the same space. Mailchimp will report on everything you might need to know about your campaigns, from how many people are clicking on your email, to where your landing page subscriptions come from.
There's also a "comparative" reports section, where you can test the impact of one form or email against another, and watch their results over time. 
Everything is clean and straightforward, so you can easily check all kinds of metrics, and share them with your team. 
For Vertical Response, you'll need to head into the "Messages" section of your account to view Reports on your existing campaigns. You won't see this option until you create an email campaign. If you have multiple messages in a campaign, you'll go to a "report overview" page, which also covers all of your social posts connected to the campaign.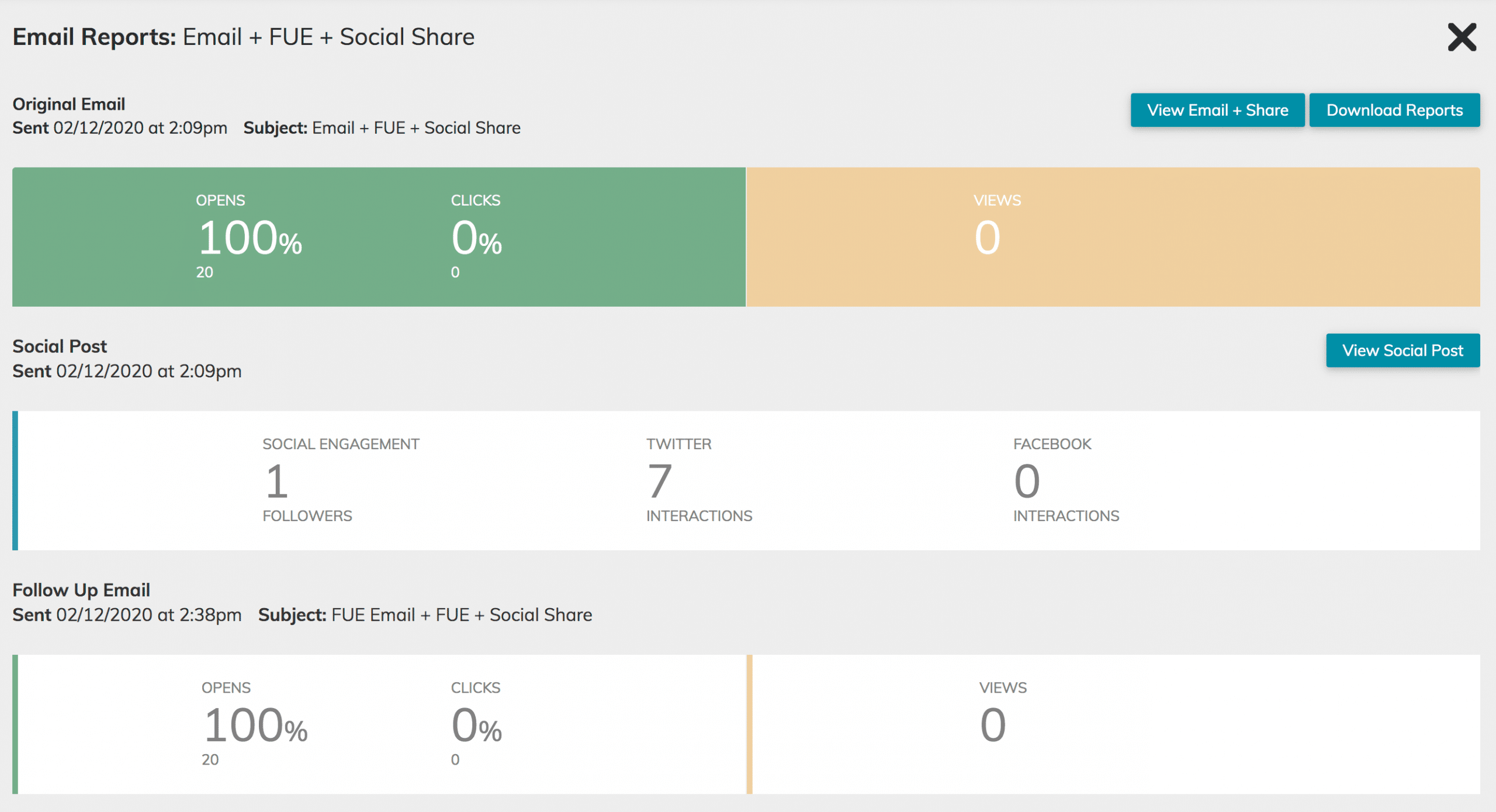 As seems to be the trend with Vertical Response, we found that the insights were a little basic. You could check things like "clicks" and "opens," but it was difficult to dive deep into any meaningful information. 
Pricing
Everyone has a budget to consider when buying email marketing tools. 
Fortunately, MailChimp's pricing packages starts with a free version, which allows you to message up to 2,000 contacts a month. The free campaign comes with the email builder, CRM, forms and landing pages, creative assistant, and the website builder (new from MailChimp).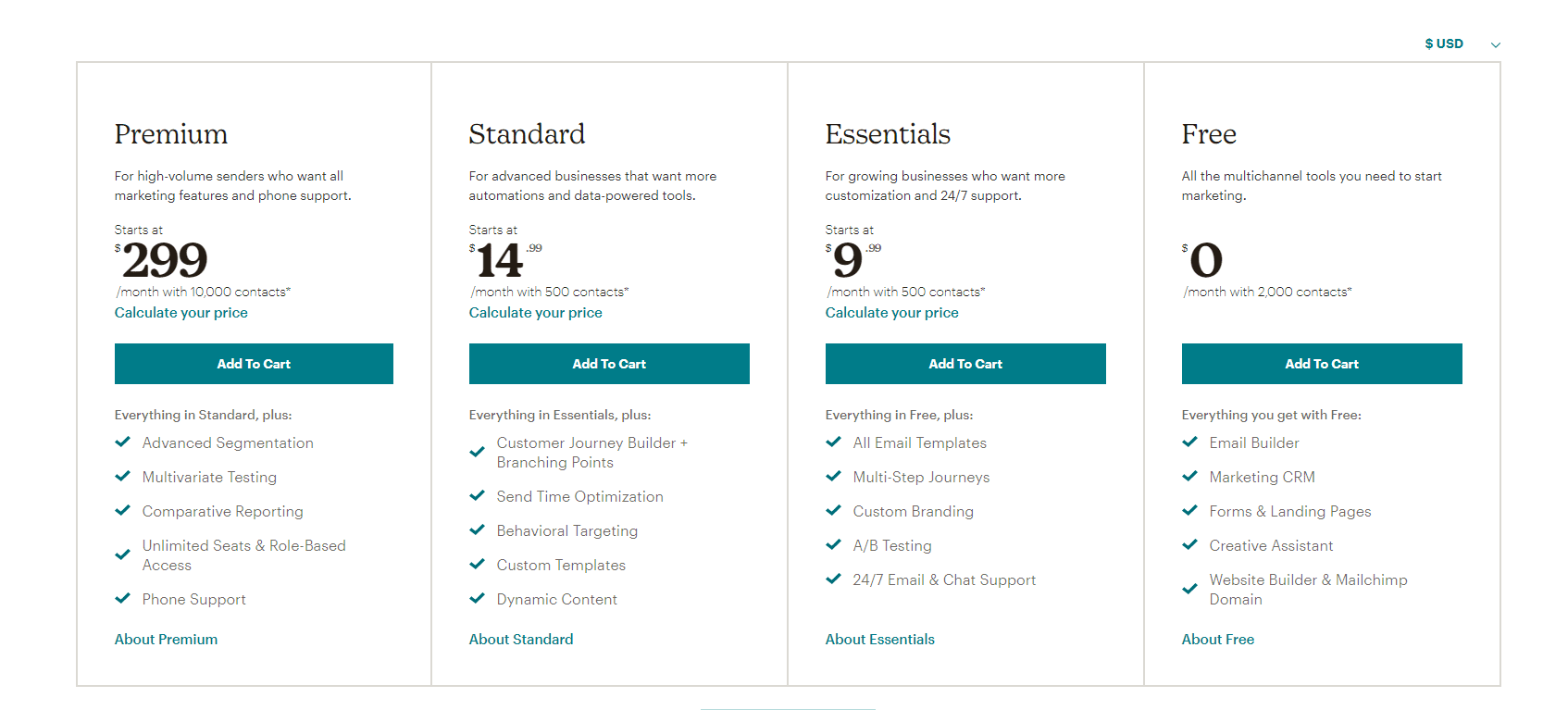 If you upgrade to premium pricing, you have 3 options, including:
Essentials:

$9.99 per month for up to 500 contacts, with all the features of free, custom branding, multi-step journeys, A/B testing, more email templates, and extra support.

Standard:

$14.99 for up to 500 contacts with all the features of Essentials, plus a customer journey builder with branching points, custom templates, dynamic content, behavioral targeting, and send-time optimization. 

Premium:

$299.99 for up to 10,000 contacts, for everything in Standard, plus multivariate testing, advanced segmentation, unlimited role-based access and seats, and phone support. 
The more contacts you have, the more you'll need to pay. 
Vertical Response doesn't have a free plan anymore, but you do get a 60-day free trial.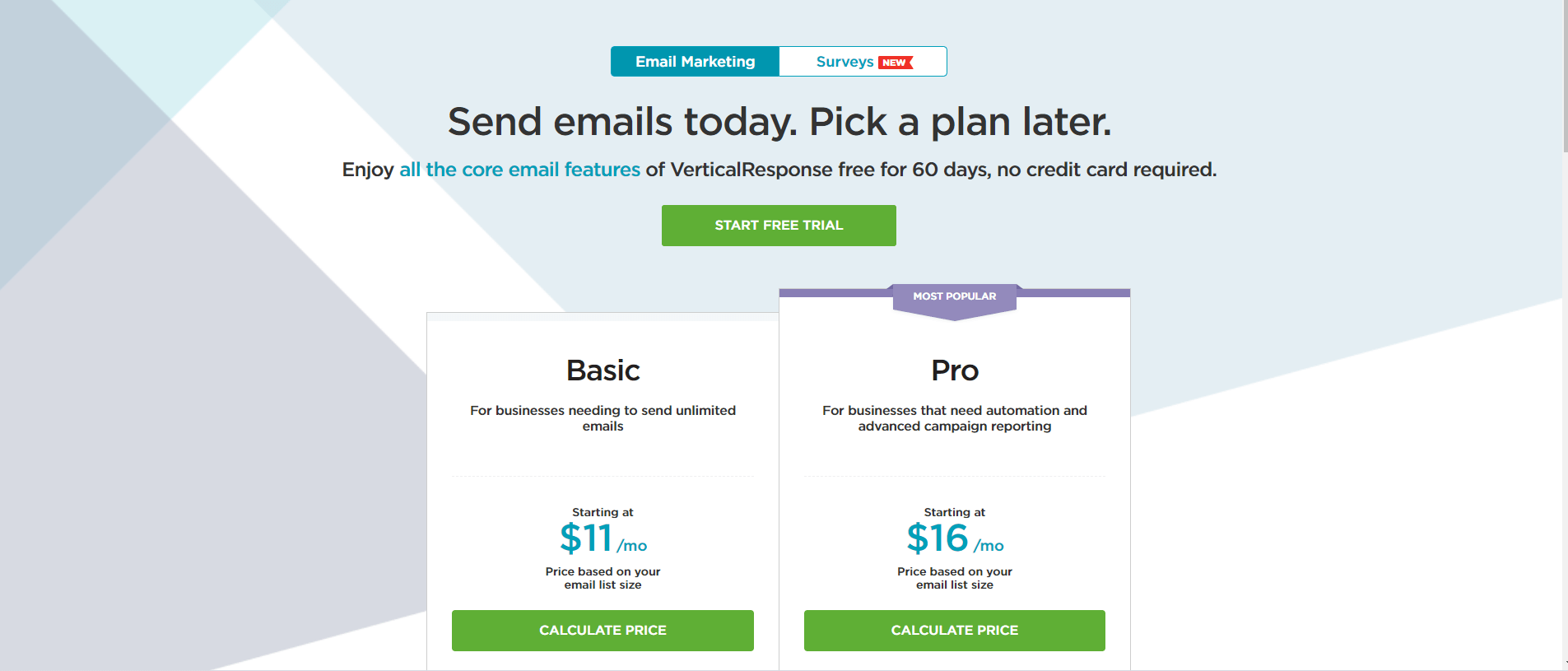 There are two premium packages to choose from, including:
Basic: Starting at

$11 per month for 500 contacts or less, with unlimited emails, automated follow-up emails, award-winning support, custom branding, and landing pages.

Pro:

Starting at $16 per month for 500 contacts or less, with all the features of Basic, plus analytics, heat maps, automated campaigns, email series, autoresponders, subject line testing, and "test kit" credits. 
You'll have to calculate the actual price you can expect to pay from Vertical Response by entering the number of contacts you have. 
Refer to this analysis of the pricing for email marketing software for a more thorough discussion of pricing for the top email marketing services.
Ease of Use
From a usability perspective, both Mail Chimp and Vertical Response are pretty straightforward. However, we found MailChimp to be a lot more intuitive. 
Everything on MailChimp is organized neatly into different sections, so you can find the tools you need in a couple of seconds. Plus, there's plenty of handholding to help you figure out how to use certain features. You can use pre-made automation templates, and even get AI assistance to create full series of fully branded emails. 
Combined with a clean interface and a simple drag-and-drop builder, Mailchimp is perfectly suited to beginners. 
Vertical Response is also very easy to use, but it feels more like the user-friendliness comes from a lack of features. Everything you can do with this service is somewhat "basic". The templates aren't as advanced, reporting is limited, and even segmentation options are a little restrictive.
If you're not familiar with email marketing software and you just want "the basics", Vertical Response could be a good choice. It won't take long to get to grips with everything. 
Deliverability
Deliverability can be challenging to measure with some email marketing tools, as there isn't always a lot of information out there to go on. Mailchimp, as a well-known email marketing service, already has some reports on deliverability linking back to it. 
The Email Tool Tester Deliverability report gave MailChimp the following deliverability scores:
Main inbox: 72%

Tabs: 14.9%

SPAM: 12.9%

Missing: 0.1%
Vertical Response isn't listed on the Email Deliverability report here, so it's difficult to ascertain any specific results. One review from accuratereview.com achieved a deliverability rate of around 90.7%. The same tool also rated MailChimp's deliverability at 85.7%. 
This could indicate that Vertical Response has stronger deliverability levels, perhaps because the company adopts protocols like Domain Keys, SenderID, SPF, and DKIM. 
Integrations
Both Mailchimp and Vertical Response ensure you can integrate your email campaigns with leading eCommerce website builders and other essential tools. Mailchimp has a complete "apps and tools" directory, where you can search for integrations among around 290 options. You can connect your email campaign to everything from Adobe Photoshop, to Automate.io. 
Vertical Response has an "Integrations" marketplace too. Here, you'll find a handful of pre-built integrations with things like BigCommerce, Salesforce, SurveyMonkey, and more. You only get around 33 apps to choose from. However, it's worth noting that Vertical Response does accept requests for new integrations. 
Customer Support
Need help with something?
Mailchimp makes it quick and easy to find the answers to your questions with a comprehensive knowledge base full of guides and tutorials. You can also get automated response from the Mailchimp "Help bot" or email the team for support. 
If you need live chat, phone, and other forms of help, you'll need to spend a little more on a higher-tiered pricing plan. 
Despite being a basic service, Vertical Response offers plenty of support options too. There's a help button on your email builder you can use to find assistance at any time and video tutorials to guide you through different tabs. You can also access email support, and there's an online community to help with answering your questions. 
When to choose Mailchimp or Vertical Response
So, which service should you choose?
Mailchimp is one of the most popular email marketing tools in the world for a reason. The email builder and form builder sections are wonderfully intuitive, and you get tons of templates and integrations to explore too. 
Given Mailchimp's ease of use and affordability, Mailchimp is ideal for small businesses and entrepreneurs. However, you can also scale your use of Mailchimp as your business grows by upgrading to plans that have more advanced features and functionality.
Vertical Response is also great for smaller companies that need simplicity above anything else. If you're looking for a service that's easy to learn and use, Vertical Response is a great choice. There's nothing complicated to learn in this product, largely because the features are relatively limited. However, if you are just interested in basic email marketing without any crazy automation, it's a great choice. 
We'd recommend Vertical Response for true beginners, while companies in search of growth would benefit most from MailChimp.
You can see how other email marketing tools stack up to Mailchimp in the following comparisons: