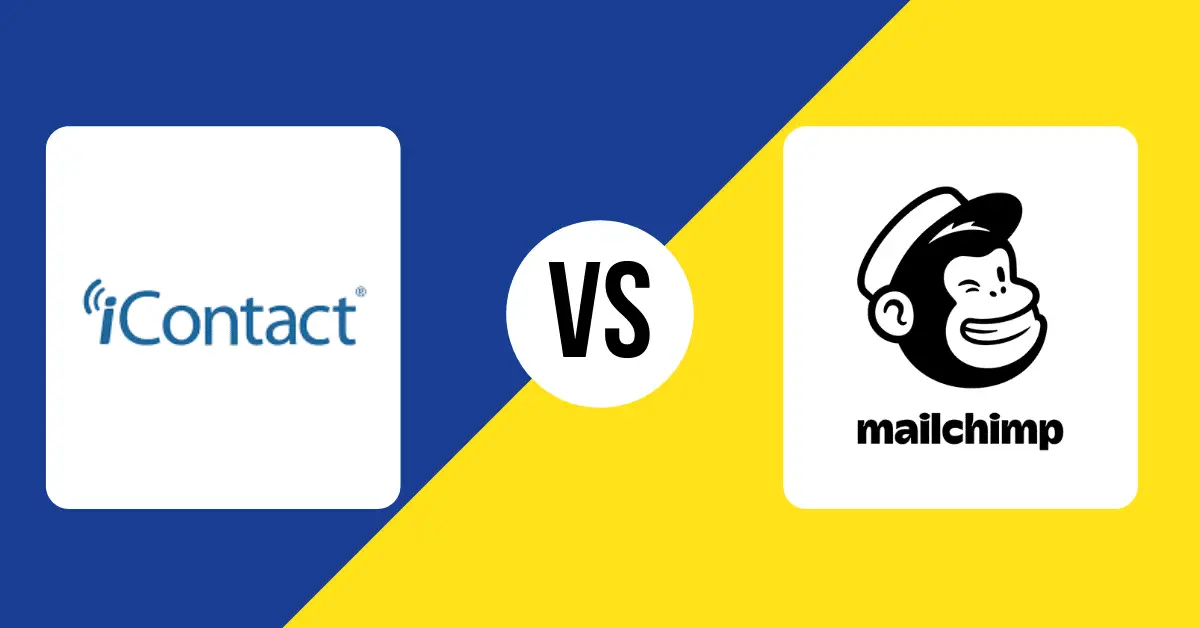 One small business may need to send the occasional email to customers, while another may send daily emails to different segments of subscribers.
The needs of a small business can vary widely, which is why both iContact and Mailchimp provide email marketing tools for small businesses but have fairly different feature sets.
Both of these platforms are among the most popular options for small businesses.
iContact focuses mostly on very simple email marketing for freelancers and entrepreneurs, while Mailchimp has a wider scope that caters to all types of small and medium businesses. However, this general difference just scratches the surface of what distinguishes these two tools. 
In this guide, you will discover a complete comparison of iContact vs Mailchimp in terms of cost, features, and ease of use so that you can determine which platform is best for you.
About iContact and Mailchimp
Mailchimp is the bigger name out of the two platforms in the email marketing space, but iContact is actually older.
iContact was started in 20031, and currently sends billions of emails per month. The majority of its customers are small businesses, but there are a few bigger names like NASA and Habitat for Humanity that have used it.
By staying focused on the basics and simplicity, iContact has managed to carve a solid niche in this competitive market.
Mailchimp on the other hand began in 20012 and has grown immensely. It is most well known for being one of the first email marketing platforms to offer a generous free plan. Since its inception, Mailchimp has continued to pile on features that online business owners might need in order to expand its customer base. With so many features, Mailchimp appeals to a broad range of different businesses from e-commerce to SAAS. 
Features
Email Templates and Editor
iContact has one of the better template selections that we've seen of all the major email marketing platforms. Note that while you get some of the templates with the free plan, you need to upgrade to get access to the full selection. 
When you create an email, you start by picking a template and a layout, which you can quickly preview on desktop and mobile.
The email editor itself is intuitive to use, you just click and type for the most part.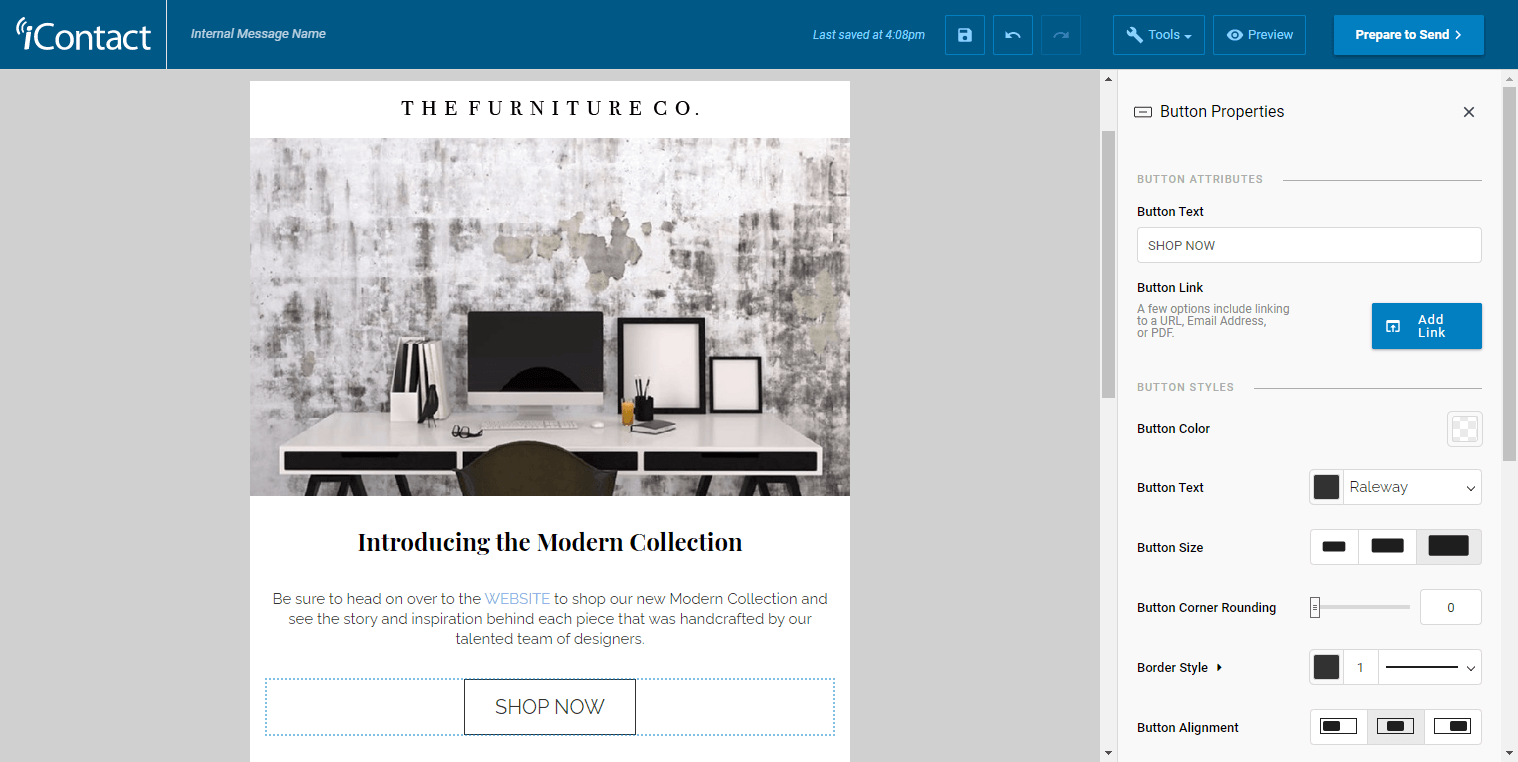 Dragging around sections could be a little smoother, but it's rarely a big issue.
Mailchimp has just over 50 themes for different types of emails and businesses (e.g. welcome letter vs purchase receipt). Many of these templates are sleek and modern, but some look generic and dated.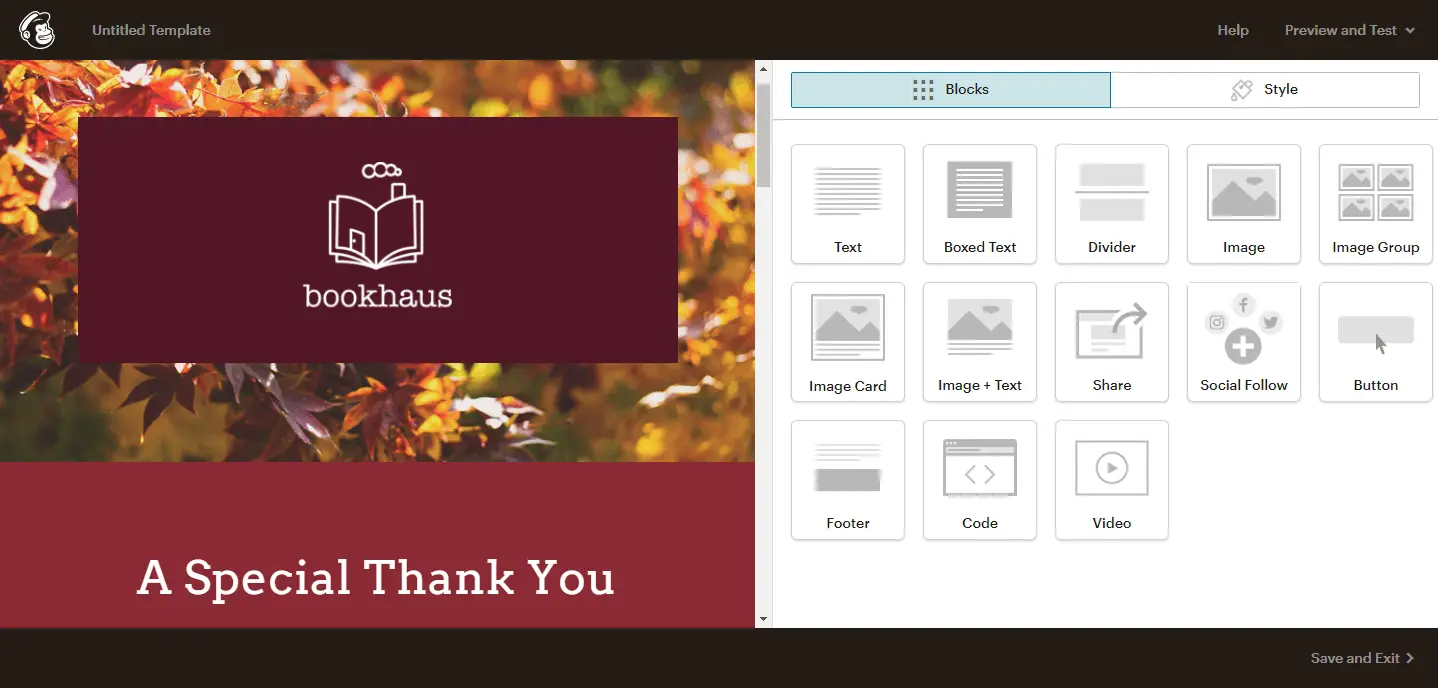 But the email editor itself provides redemption. It's incredibly smooth and intuitive and allows you to customize and email layout or style options without much trouble.
So while the initial email templates won't be particularly helpful at first, you can quickly customize them and then save custom templates for future use.
List Management
The list management features for iContact are basic but suitable for some businesses. 
You're able to see how many contacts you have, and filter them down by basic attributes like which lists they're on.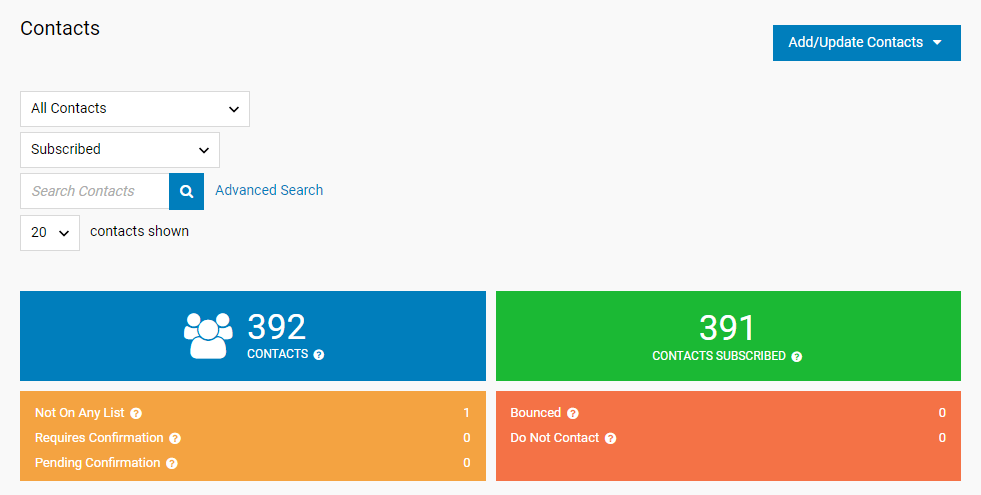 However, you can't search for particular segments like the most or least active subscribers on your lists or apply custom tags to subscribers.
That limits what you can do in terms of automation, but if you're just looking for a dead-simple list that you can send emails to, iContact gives you the bare minimum that you may be looking for.
Mailchimp goes a different direction and has fairly powerful segmentation options.
You can create custom segments of your lists in Mailchimp based on a wide variety of actions like how many emails they've opened or links they've clicked in recent campaigns.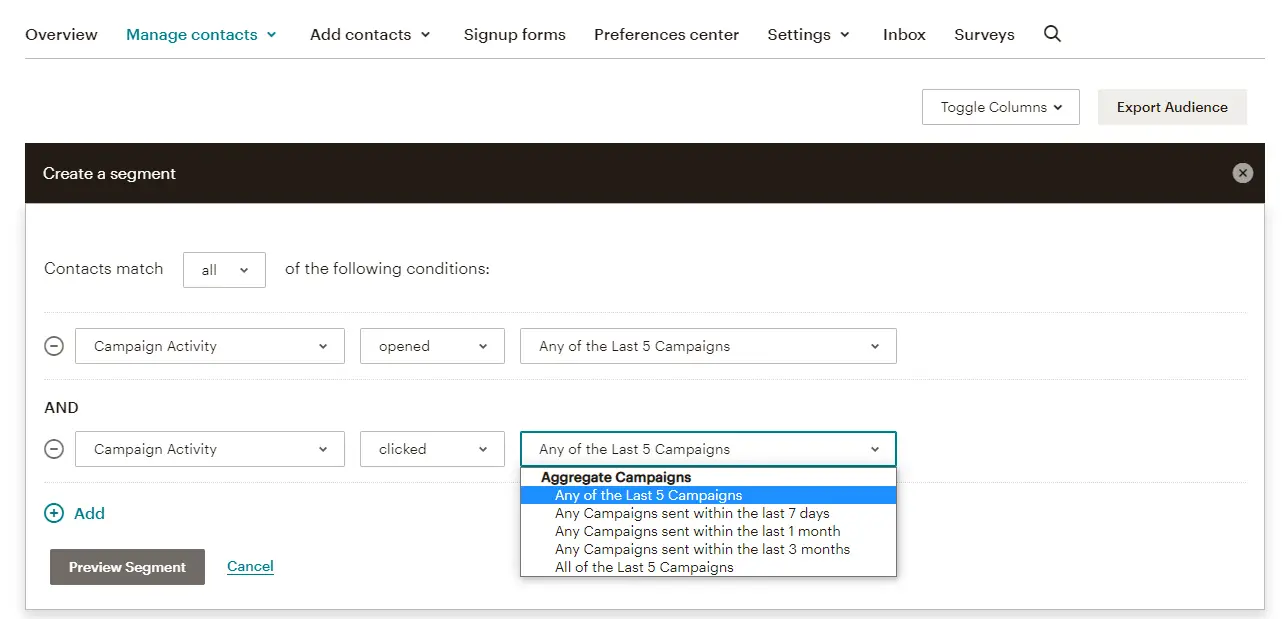 It's not quite as powerful as some other email marketing platforms, but likely more than enough for the vast majority of small businesses.
Once you've created a segment, you can then send individual emails to those subscribers, and also include it in your automation workflows.
Marketing Automation
While iContact isn't known for its email automation features, there are some.
Even on a free plan, you can create a "welcome series," which is a pretty standard autoresponder that schedules out a series of emails based on a time delay between each email.
On paid plans, you can create slightly more advanced email series, where you can send emails based on certain actions like clicking a link in a past email, or just opening an email.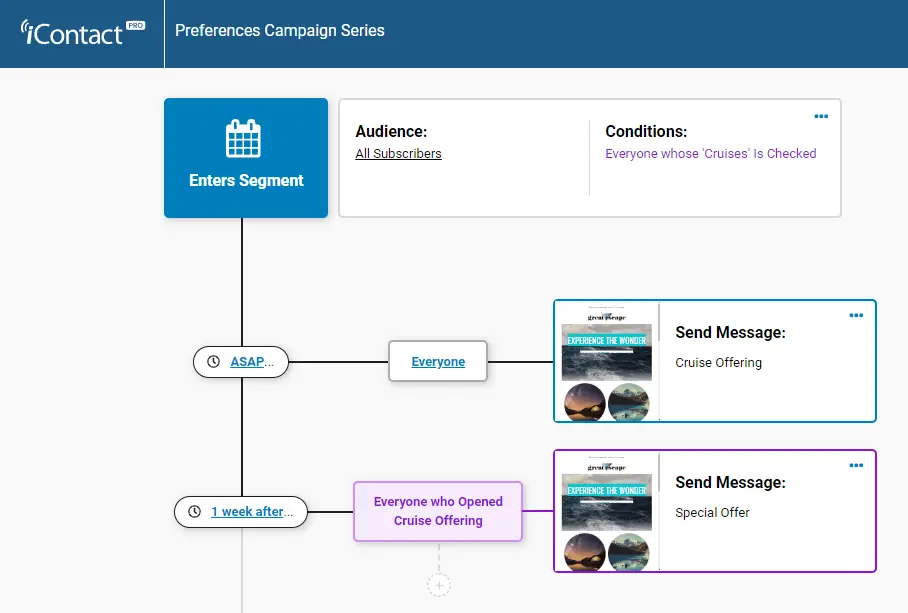 What it's lacking compared to other email marketing platforms are advanced triggers and actions.
Most importantly, you can't automatically add a tag to someone who takes an action, and there's a limited number of conditions you can use. All and all, iContact offers relatively basic automation.
Interestingly, Mailchimp calls their automation workflows "customer journeys."
These are quite a bit more powerful than what iContact offers, and you can create segments of users based on a wider variety of actions (like making a purchase, or abandoning a cart).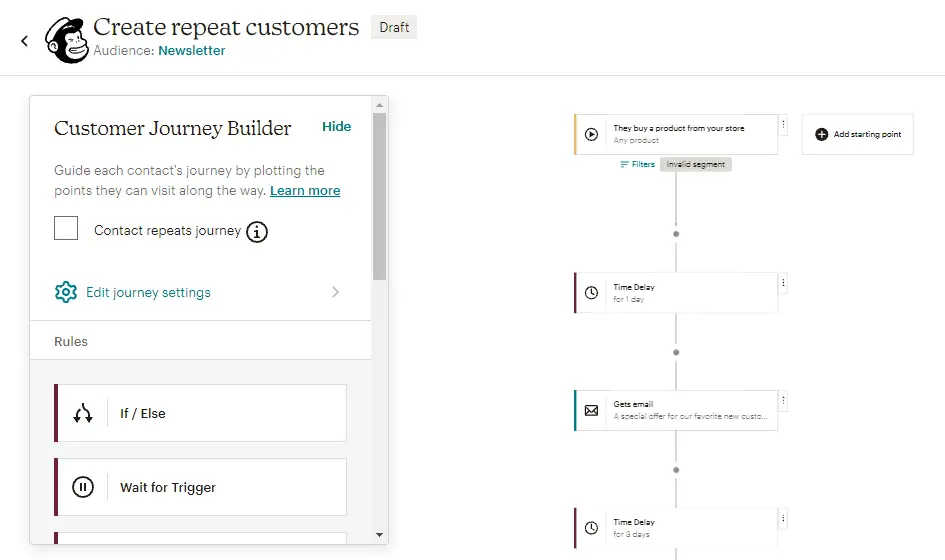 Once you have a list of more than a few thousand subscribers, investing more time in building these advanced workflows can make a substantial difference in the ROI of your email marketing, but can be overwhelming for beginners.
Forms and Lead Generation
iContact offers a basic landing page builder, but no templates. So you'll need to drag and drop every element you want and customize them. It's better than nothing, but it's one of the weakest landing page builders we've used across all major platforms.
However, iContact has a nice modern sign-up form builder.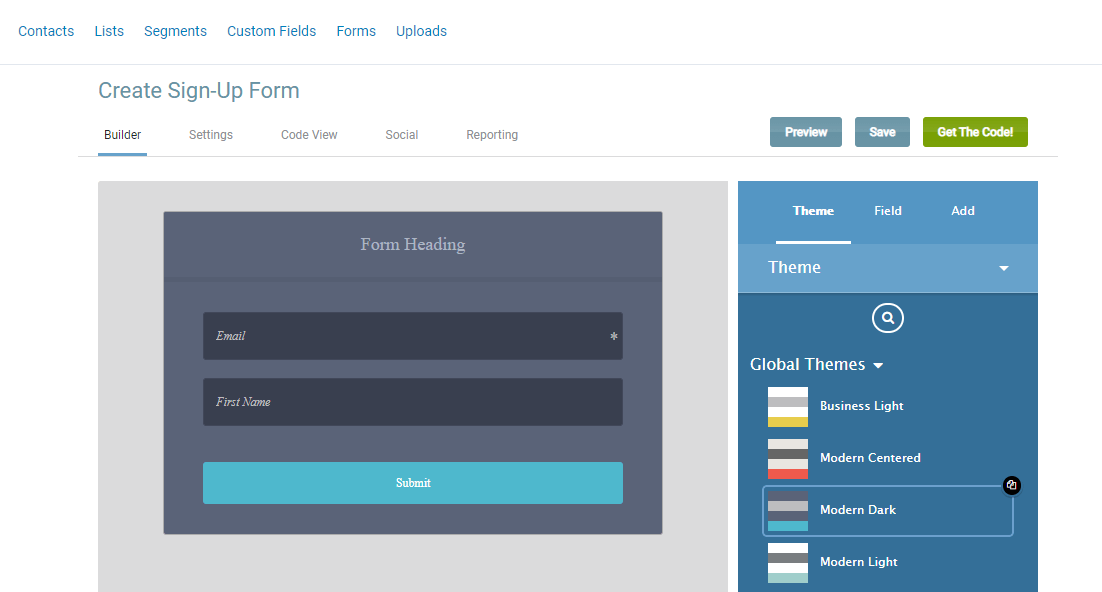 Many established email marketing tools offer ugly form builders that are a pain to customize, but iContact is an exception. Its forms look pretty good out of the box with a few different theme options, and the editor is extremely easy to use.
While Mailchimp offers both embedded forms and pop-up forms, however, the platform has next to no styling options.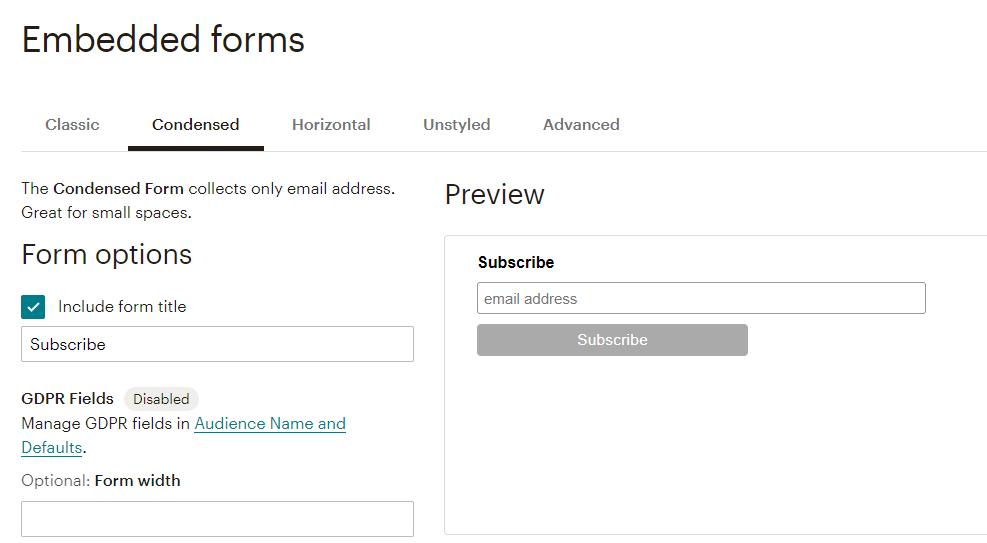 Mailchimp does give you the option to applying custom CSS to forms… however, for many small business owners, editing CSS is not feasible. 
Many Mailchimp users end up using a relatively more customizable Mailchimp form builder plugin on WordPress (or whatever CMS they use), which comes with more hassle, but for some users this option makes sense. 
Reporting and Analytics
As with all the other features we've looked at, iContact offers very basic reporting options.
For each email you can view opens, bounces, clicks, and other basic statistics, and that's about it.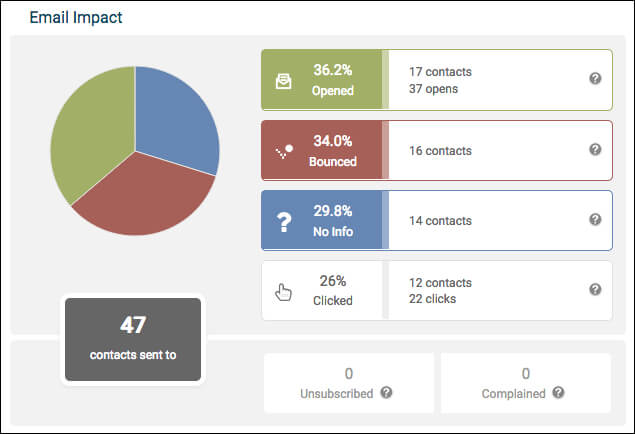 For most small businesses, that's enough, but Mailchimp does offer that next level.
On top of basic stats, Mailchimp reporting also shows you individual link click information, social activity, and sales originating from a particular email (if you've set up tracking), and much more.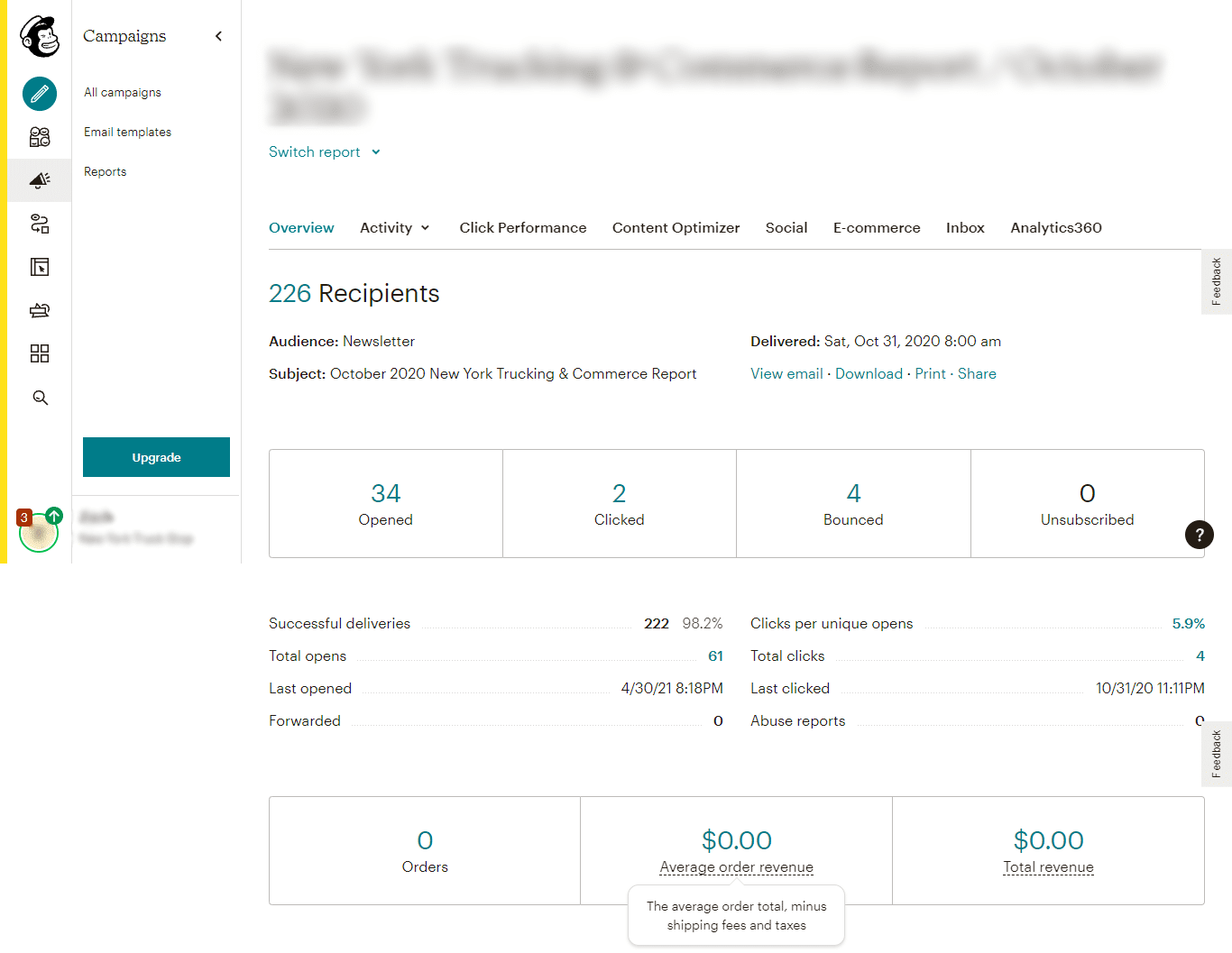 These stats may not be relevant to every business, but the depth of the analytics and reporting is extremely valuable to many. 
Pricing
Both iContact and Mailchimp offer a free plan, but Mailchimp is a bit more generous in terms of features in its free plan.
iContact lets free users have up to 500 contacts, while Mailchimp allows up to 2000.
From there it gets a bit more complicated to compare the pricing of the 2 platforms since both charge different amounts based on your list size and features included on each plan.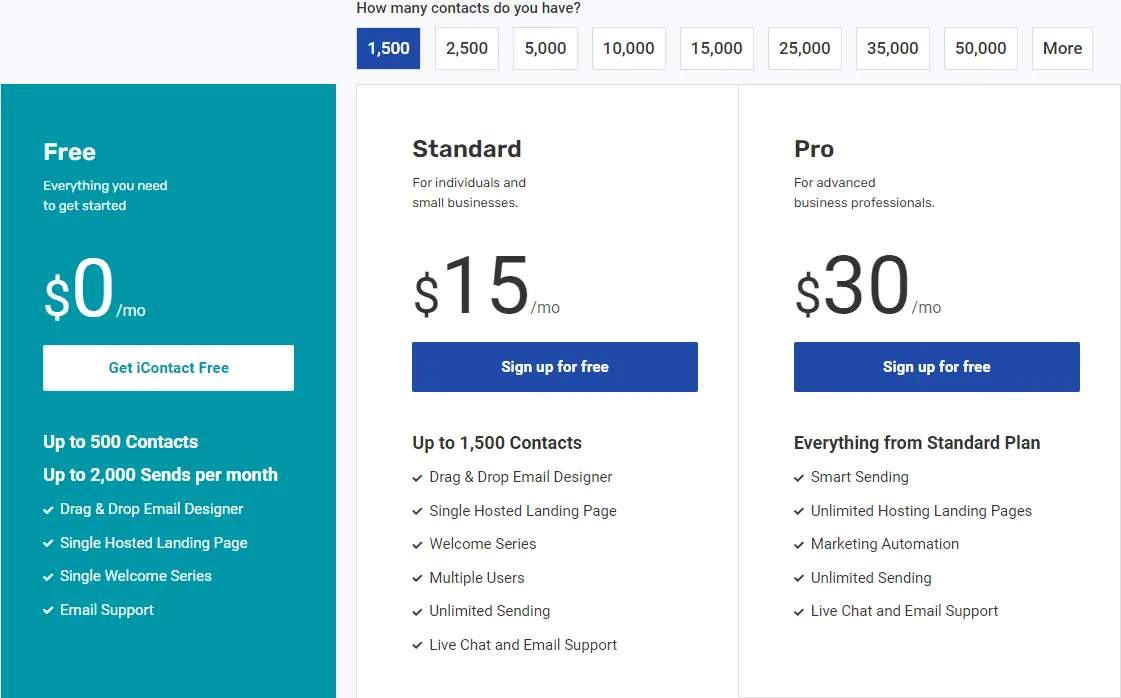 iContact gives you a good amount on the free plan, but you'll need to upgrade to get access to live chat support and most automation features. The pricing scales up pretty linearly based on your list size.
On the most comparable Mailchimp paid plan, "essentials," you unlock chat and email support, as well as all email templates and A/B testing. At this level, both tools cost a similar amount.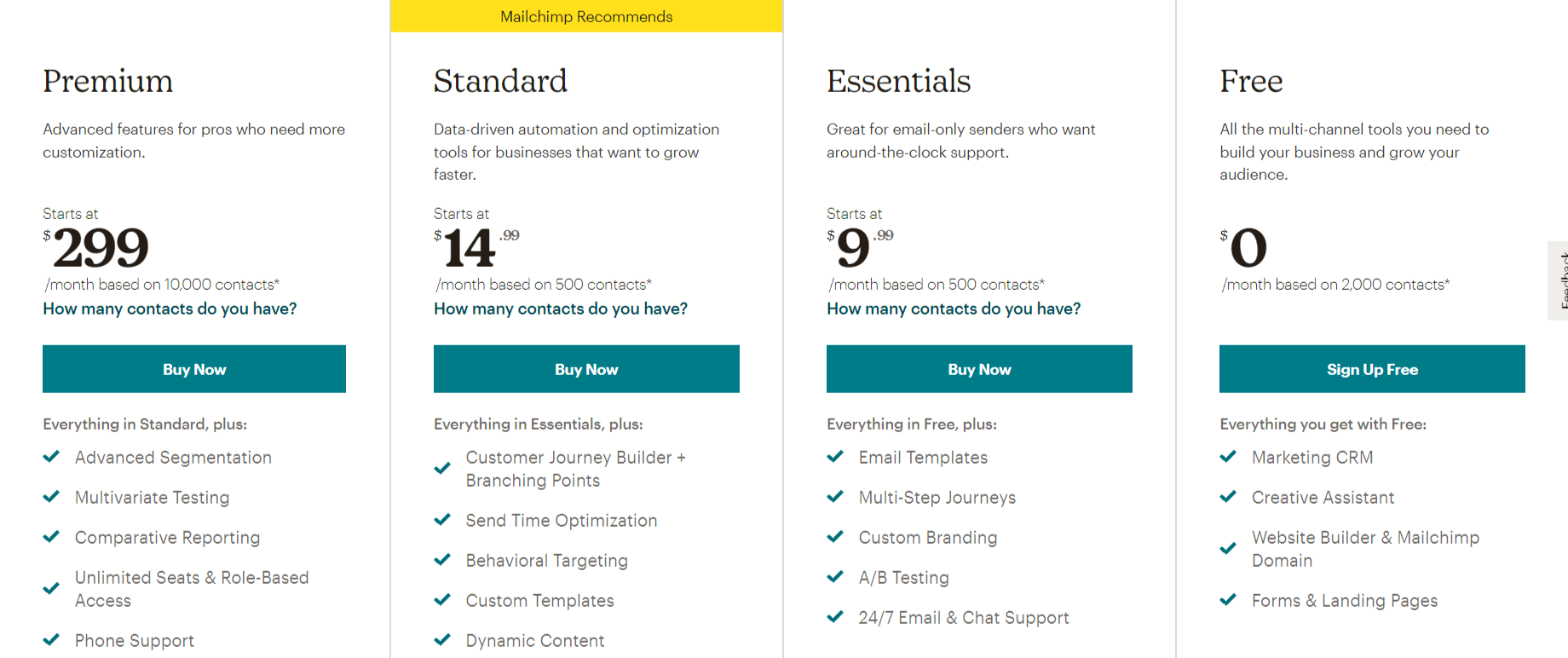 In regards to pricing, the better value comes down to which features you need. If you'll actually use most of the extra features that Mailchimp has (e.g. surveys, advanced automation, graphic design), Mailchimp is more worth it. But if you only need the basic features that iContact offers, your price will likely come out a bit lower.
With all that being said, there are other email marketing options like AWeber and MailerLite that are cheaper and offer feature sets somewhere in the middle of iContact and Mailchimp that can better fit a tight budget.
Refer to this comparison of the pricing for top email marketing services for a more comprehensive email marketing pricing analysis. 
Ease of Use
For the most part, iContact is really easy to use. Spend 10 minutes clicking around and you'll have seen everything you'll probably ever need.
The dashboard itself is uncluttered and has a clear navigation menu.

Even when you can't find a certain feature that you're looking for, it doesn't take long to track down.
The editors for emails, forms, and landing pages are all equally intuitive, and anyone with basic computer experience should be able to use them without many issues.
Mailchimp is a complex platform these days. On top of email creation, you can also create:
Postcards

Surveys

Landing pages

Websites

Ad campaigns

Custom graphics
And more. Mailchimp really tries to be an all-in-one suite of tools for small businesses these days instead of just an email marketing tool.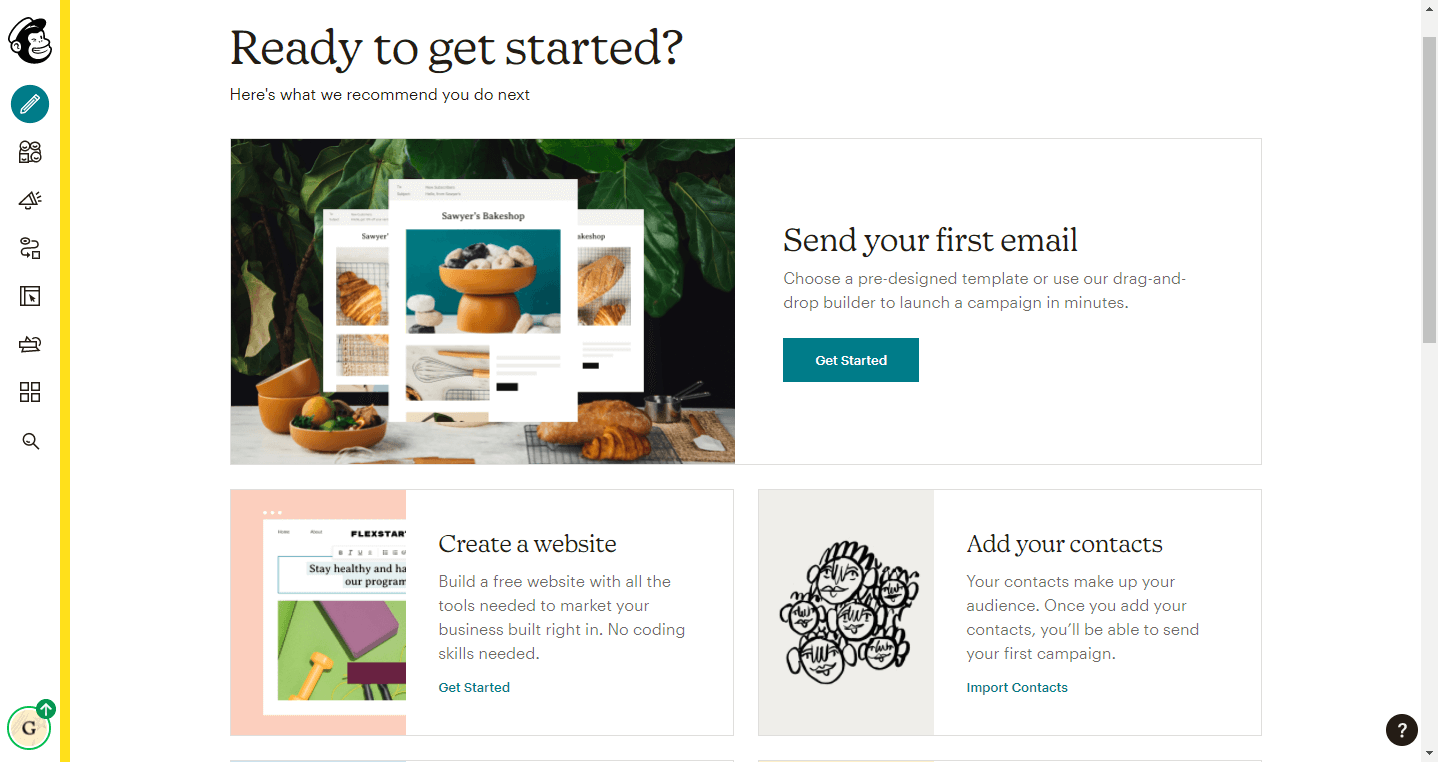 With that many features, of course, there's a learning curve, but Mailchimp still does a great job simplifying its user interface.
Overall, iContact is simpler for an absolute beginner to use, but both platforms are fairly easy to use.
Deliverability
Getting your emails to your subscribers' inboxes is of course important.
While neither of these companies has poor deliverability reputations, they're also not fully transparent about how well they do in practice.
EmailToolTester has found that Mailchimp has an 80-90% deliverability rate, which is competitive among top options. They did not test iContact however, and we were unable to find other published research for the platform.
Keep in mind that the most important factor behind deliverability isn't usually the platform you use, but the emails you send yourself. Keeping your emails' spam score down by avoiding scammy-sounding words and personalizing them is typically the biggest difference-maker.
Integrations
The easier you can connect your email lists with other tools you use, whether that's a CRM or CMS, the better.
Unfortunately, iContact has a very small library of integrations, with just a few dozen. It has the most popular integrations like WordPress, PayPal, Gravity Forms, and Shopify. However, it's missing other options that are a bit more niche like Joomla or Drupal.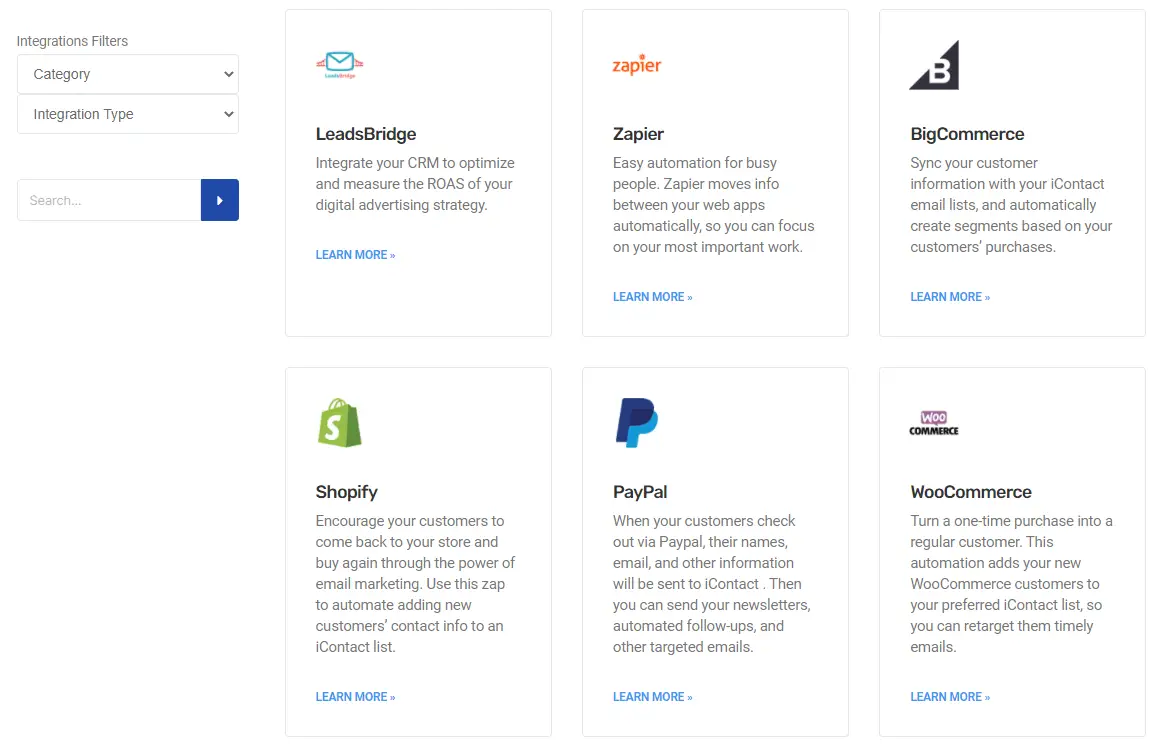 Take a look at the integrations that iContact offers before signing up if you need a particular one.
Mailchimp has a much wider library of integrations, about 300 in total.

This includes everything that iContact offers, and many more niche products. While you should still double-check before signing up, it's almost a certainty that Mailchimp has an integration for any tool you use if it's somewhat popular.
Customer Support
iContact is one of the few email marketing platforms to offer phone support (North American business hours) on non-enterprise plans. You also get live chat and email support on paid plans.
Free users have to rely on the knowledgebase, but it's really comprehensive. There are hundreds of step-by-step written articles, and quite a few detailed video tutorials as well.
Mailchimp also limits support options for free users to just the knowledgebase.
But just like iContact, paid users get 24/7 email and chat support. Phone support is only offered on the most expensive plan.
You can search the knowledgebase while logged in using a pop-up, which is convenient. Mailchimp has hundreds of written tutorials at this point covering just about every possible topic.
Overall, customer support options are nearly identical on both iContact and Mailchimp.
When to Choose Each: iContact vs Mailchimp
If you're looking for a small business email marketing platform, both iContact and Mailchimp will do the job.
iContact is definitely the easier to use option, mostly because it offers a limited feature set, so there's no extra clutter. You get access to basic list management and email autoresponders at a reasonable price point. If you are a small business that wants an affordable and simple email marketing platform for relatively basic email marketing campaigns, iContact is an excellent choice 
Mailchimp includes a lot of "extras" that can come in handy, that you don't necessarily need to pay extra for. Paid plans include more advanced automation, a larger library of integrations, and features like surveys. That being said, if you are a growing small business that needs strong email marketing capabilities as well as various other complementary email marketing features, Mailchimp could be an excellent choice.  
You can see how other email marketing tools stack up to Mailchimp in the following comparisons:
Vertical Response vs Mailchimp