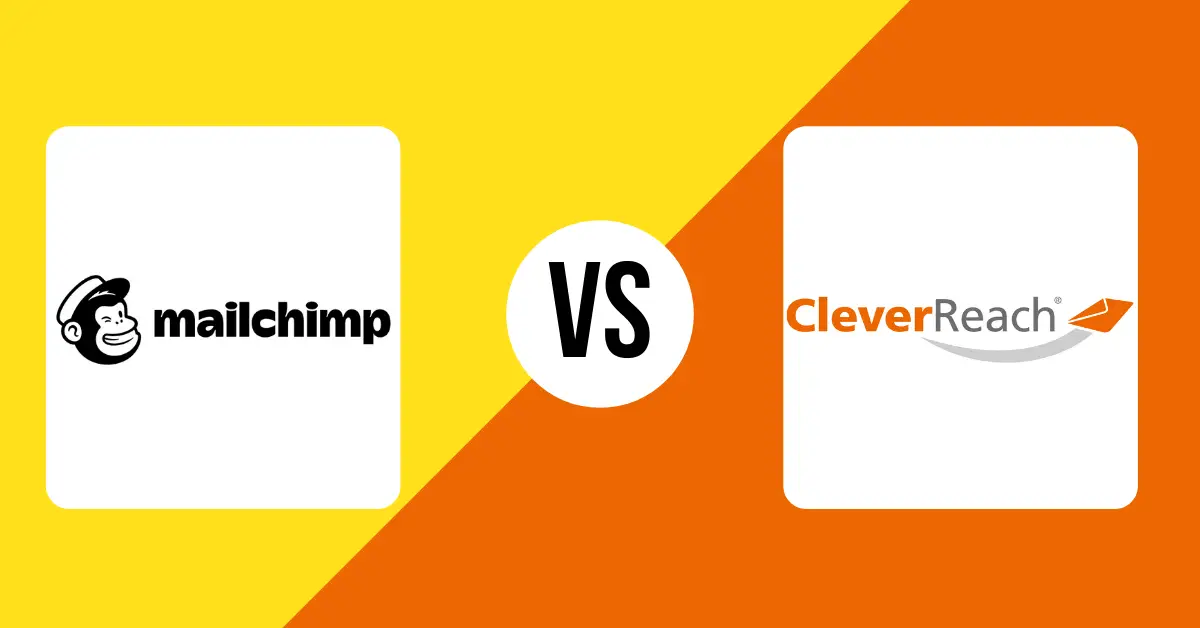 Email marketing may not be the newest marketing channel, however, it's without a doubt still one of the most effective marketing channels. Considering that the average person checks their email 15 times a day,1 email will likely remain one of the most valuable places to reach your target audience. 
However, while making the decision to pursue email marketing is easy, deciding which platform to use might be more difficult. However, if you are debating between Mailchimp vs CleverReach, this guide should make the decision easy for you. 
In this post, you can see a full comparison of Mailchimp and CleverReach in terms of features, pricing, and ease of use. 
Let's dive in… 
About Mailchimp and CleverReach
Mailchimp is definitely one of the better-known email marketing tools available today. The company launched in 2001 as the brainchild of Mark Armstrong and Ben Chestnut. Today, the service has more than 11 million active customers and an audience of 4 billion.2
Mailchimp offers all your basic email marketing tools, as well as form builders, landing pages, CRM access, and behavioral targeting.
CleverReach is one of the top email marketing solutions for the European market. The company launched in 2007 with Jens Klibingat, Sebastian Strzelecki, and Sebastian Schwarz. With around 230,000 customers across 152 countries,3 CleverReach doesn't have the same reach as Mailchimp, but it's a widely used tool nevertheless.
Features
Email Templates and Editor
Email editing is a wonderful experience with Mailchimp. As soon as you log into your account, you'll find a "Get Started" button waiting. Hit the button, and Mailchimp will guide you through the process of building and sending your first email. You can choose between plain-text emails, automated, and regular campaigns. 
We hit the "Automated" option to check out some of the available templates, and found them to be wonderfully clean, modern, and fresh. With Mailchimp, you choose the theme of your email to begin with, and then you can jump into the drag-and-drop modular editor to make any customizations.
There are tons of ways to change your email design, like moving and resizing elements such as headlines and images. The "Creative Assistant" in Mailchimp is on-hand to offer AI-powered support and guidance for those who need it.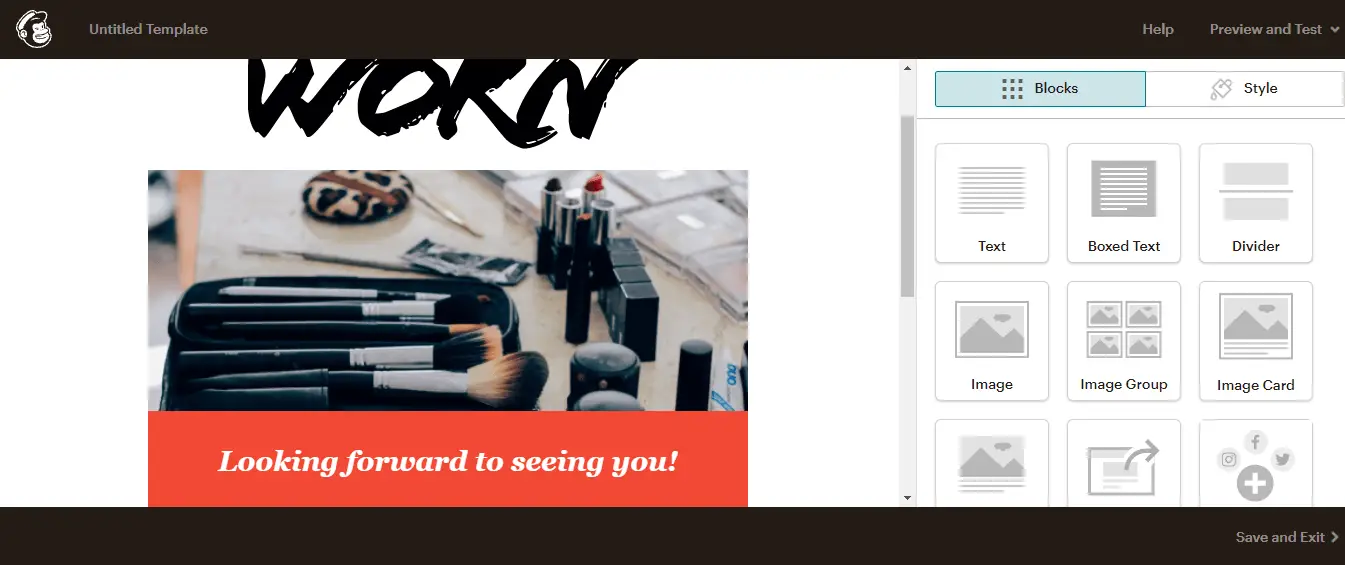 Visit the login dashboard in CleverReach and you'll see an orange button asking you to create an email. Click here, and you'll see a pop-up box with all the templates you can choose from. There are a decent number of templates to choose from here, and most look quite modern and clean.
When you click the "Next" button, you'll be taken to a "Newsletter Settings" page, where you can enter your subject line, sender name, and sender email. There's also the option to set a campaign name. 
The editor works similarly to Mailchimp, with drag-and-drop modules. You can add images, buttons, text, and more, and experiment with pre-built or even dynamic elements. We loved the dynamic options, but also found some things a little lacking. For instance, there's no "undo" button, so you can't just move back and forth between changes.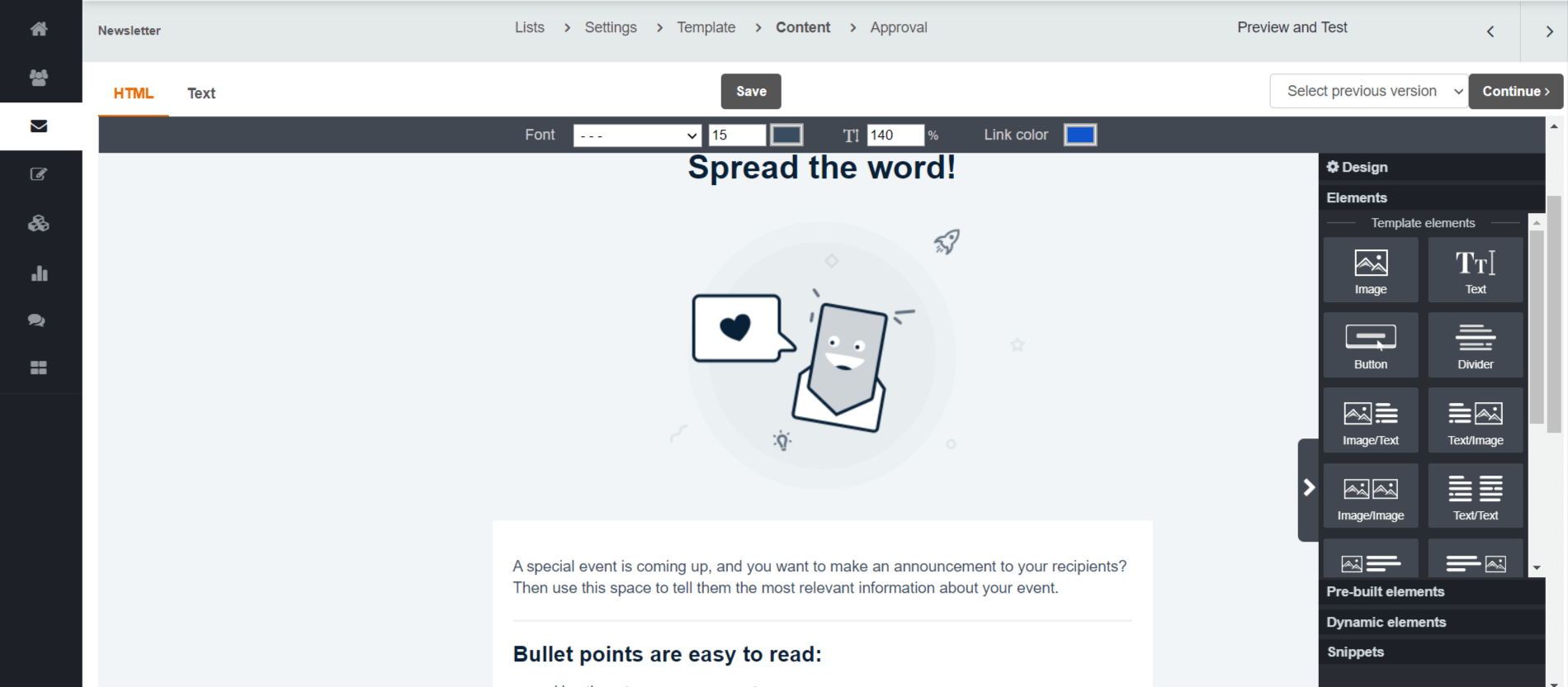 Related: 17 Mailchimp Welcome Email Examples for Inspiration
List Management
Excellent lists are the key to sending more effective, personalized emails. 
Mailchimp's segmentation strategy is wonderfully straightforward. You get an "audience" segment, where you can search through contacts, add people from different campaigns, and design the signup forms you'll use to capture additional leads. 
Once you're ready to split your lists into different groups, you can do so based on filters like engagement, activity, location, and more. There are also "tags" available to differentiate different groups in your audience – like people who previously made a purchase.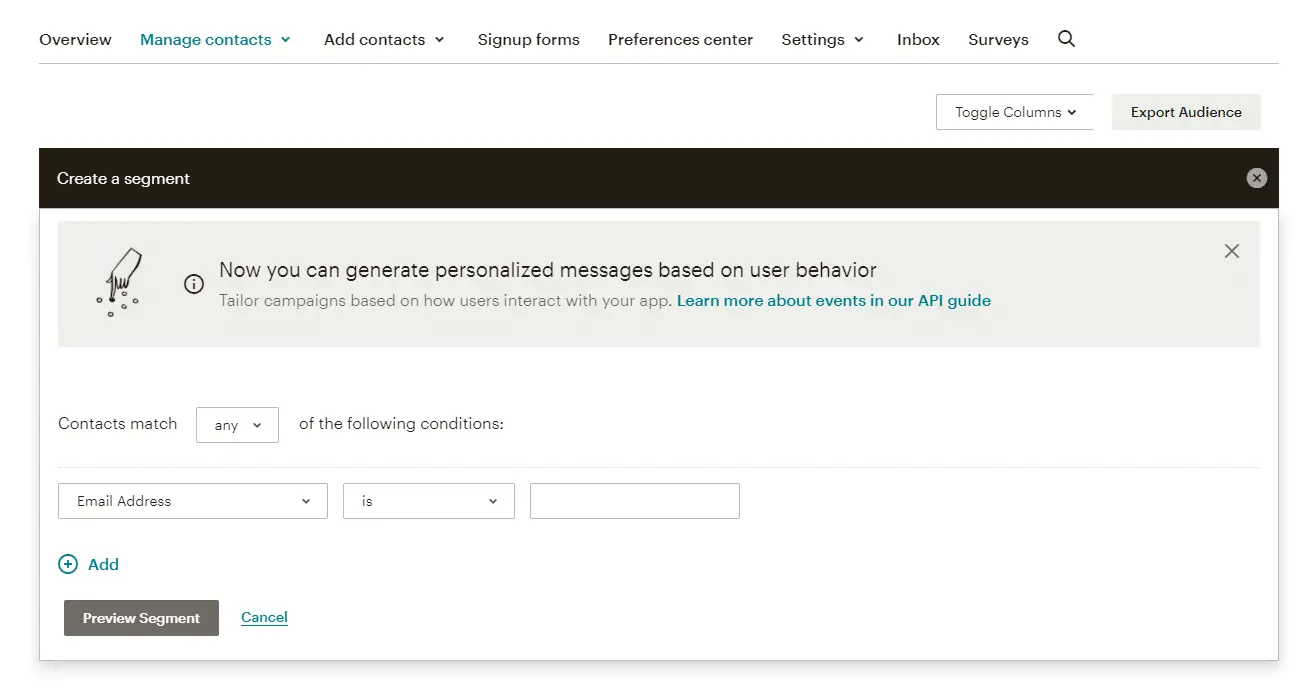 Mailchimp allows users to make multiple lists for segmentation, but you should only have one master list if you can, otherwise, you'll be paying for each duplicate content in every list. 
CleverReach is a straightforward tool for lists and segmentation. You can import your list quickly and easily with the "Add List" button:
Once you've created your list, you can then divide your groups into segments based on different filters. You can also move customers into your "blacklist", check your list growth over time, and even rate your lists based on their lead potential (likeliness to buy from you). Managing subscribers is wonderfully straightforward, and there are even tools for adding statistics and data to each segment. 
The ability to access a wider range of insights about each of your lists and the segments within them could mean that you can make better decisions about your campaigns.
Marketing Automation
One of the most powerful features of any email marketing tool is the automation functionality. 
Mailchimp has two automation options to choose from, starting with the "Classic" automation service. With classic automation, you can create chains of emails sent in a linear format, accessing triggers to determine which message should be sent at any moment.
Customer journeys, on the other hand, are more complex and allow you to plan the full end-to-end interaction with your customer across every touchpoint. These customer journeys are workflows commonly used by businesses such as abandoned cart sequences, welcome sequences, online review encouragement sequences, and more. We'd definitely recommend taking a look at the automation campaigns already pre-built by Mailchimp if you're not sure where to begin. 
Mailchimp's service for automation is extremely easy to use, with a drag-and-drop environment – although you might find that there is a learning curve that comes with building out complex workflows. 
CleverReach takes an interesting approach to automation. Unlike other email services, you can set automations running even if you're on the Lite plan, using the "THEA" automation system. The THEA automation center is a solution that allows you to automatically send emails based on various triggers. For instance, you can send emails when you publish a new blog, or when it's a customer's birthday. 
THEA represents one of the most exciting tools of CleverReach, with access to all kinds of workflows and templates. You can design multi-level workflows, single-track workflows and set up strategies for abandoned carts, non-opens, product purchases, and offers.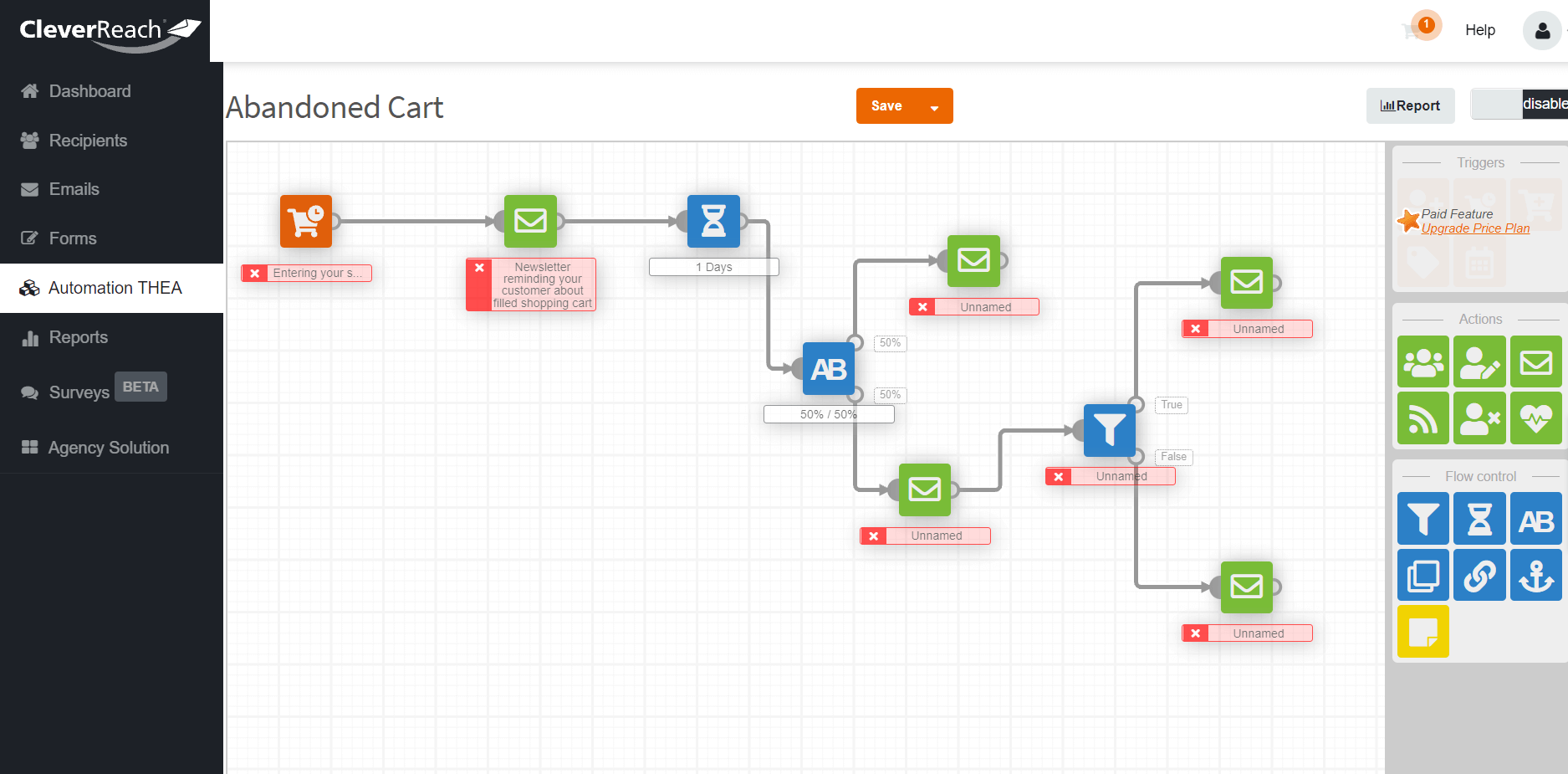 Each type of workflow comes with a range of pre-made templates to get you started. Once you click on a potential template, you'll be taken to a drag-and-drop environment, where you can choose a trigger, add an action, and control different aspects of the workflow.
For instance, your trigger could be an abandoned cart. The "flow control" features are where you add in elements like A/B testing, or timing requirements. You can also tag your recipients to send them more targeted content, and progress strategies based on user behavior. 
Overall, it's a very comprehensive automation solution that's quite easy to use – though once again, you'll need to learn how everything works. 
Forms and Lead Generation
Before you can interact with your leads, you'll need to capture them. 
Forms and lead generation are common components of most email marketing solutions. If you visit the "Audience" segment in Mailchimp, you'll be able to create a signup form from within the dashboard. The form builder is somewhat similar to the email designer, with drag-and-drop functionality.
Mailchimp's form options also include subscriber pop-up forms for your website, as well as form integrations for existing online platforms. You can build entire landing pages, or just design contact forms for people to reach out to you when they need help. 
Like most things with Mailchimp, the process of building forms is straightforward and convenient. If you're comfortable building emails, you'll have no trouble with forms. However, while the fields of the form are customizable, one limitation is that the design of the forms is not as customizable. 
CleverReach also allows you to design basic forms. There's no drag-and-drop functionality here like you'd get with Mailchimp, but there are plenty of design options. You can choose the name and language of your form, the design theme, and some color schemes.
CleverReach also allows you to decide what kind of legal information you want to include on the form, making it easier to follow privacy guidelines.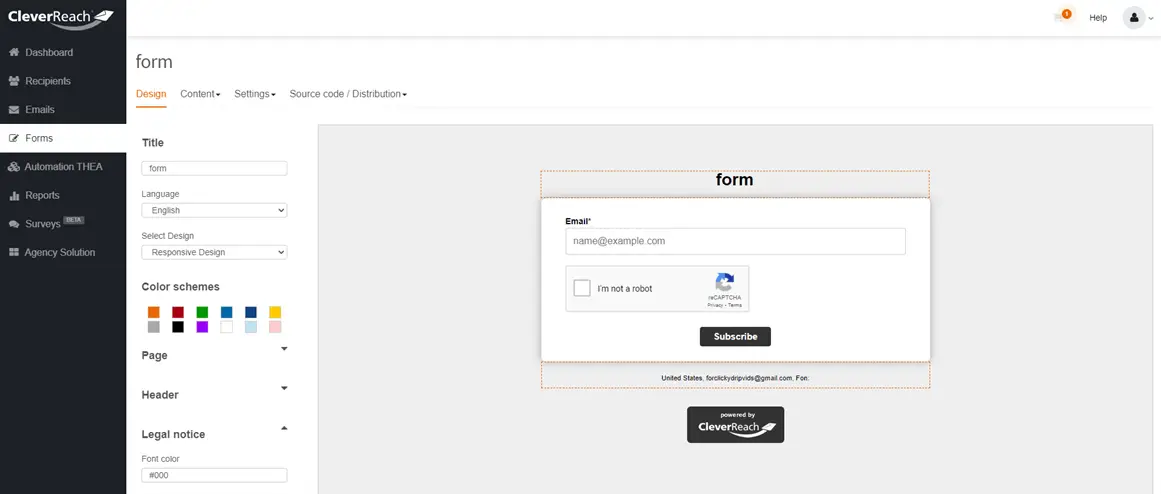 Click on the "content" tab in the form builder, and you can choose what kind of form you want to create, from signup pages to opt-in emails, unsubscribe forms, and more. There's also the option to choose if your form redirects your customer to somewhere new after they've filled it out.
Reporting and Analytics
How do you know if you're getting the best return on investment from your email campaigns?
Reporting and analytics are the answer. The more you can learn about your email engagement rates, your customers, and your subscriptions, the more informed your marketing decisions will be going forward. Both Mailchimp and CleverReach have options in place for reporting. 
If you want to check your reports on Mailchimp, you can do so in the "Campaign" tab.
Mailchimp provides the fundamental metrics for email campaigns such as open rate, click-through rate, bounces, and unsubscribes. There's even a "comparative" section where you can test the impact of one email against another. However, these are just a few of metrics you can look at to view email performance among others in the image below: 
Additionally, you can find reporting for Mailchimp's features aside form email marketing such as social media performance, landing page traffic, and surveys.
The "Reports" section is very easy to find in CleverReach, with its own dedicated tab on your sidebar. When you click in, you can filter your reports based on the group you're sending the messages to, or just see your last ten reports at once. 
CleverReach has its own campaign calendar, where you can track when your emails are going out, and how the customer response has changed over time. This is excellent if you're struggling to determine when your campaigns should be going out. 

Reports from CleverReach cover the same fundamental metrics as Mailchimp including open rate, CTR, unsubscribe rate and bounce rate. You can also track the relationship between emails and new sales. CleverReach also makes it easy to analyze the results of different emails side by side with A/B testing, and export reports to share them with your colleagues in Excel, PDF, and CSV format.
Pricing
How much can you afford to spend on your email marketing?
Mailchimp has a few email marketing plans that you can choose from. Fortunately, one of these plans is the free version of the product, which allows you to send emails to up to 2000 contacts each month. In this free package, you'll also get a generous range of features, including a website builder, creative assistant to help build your emails, CRM, and landing pages.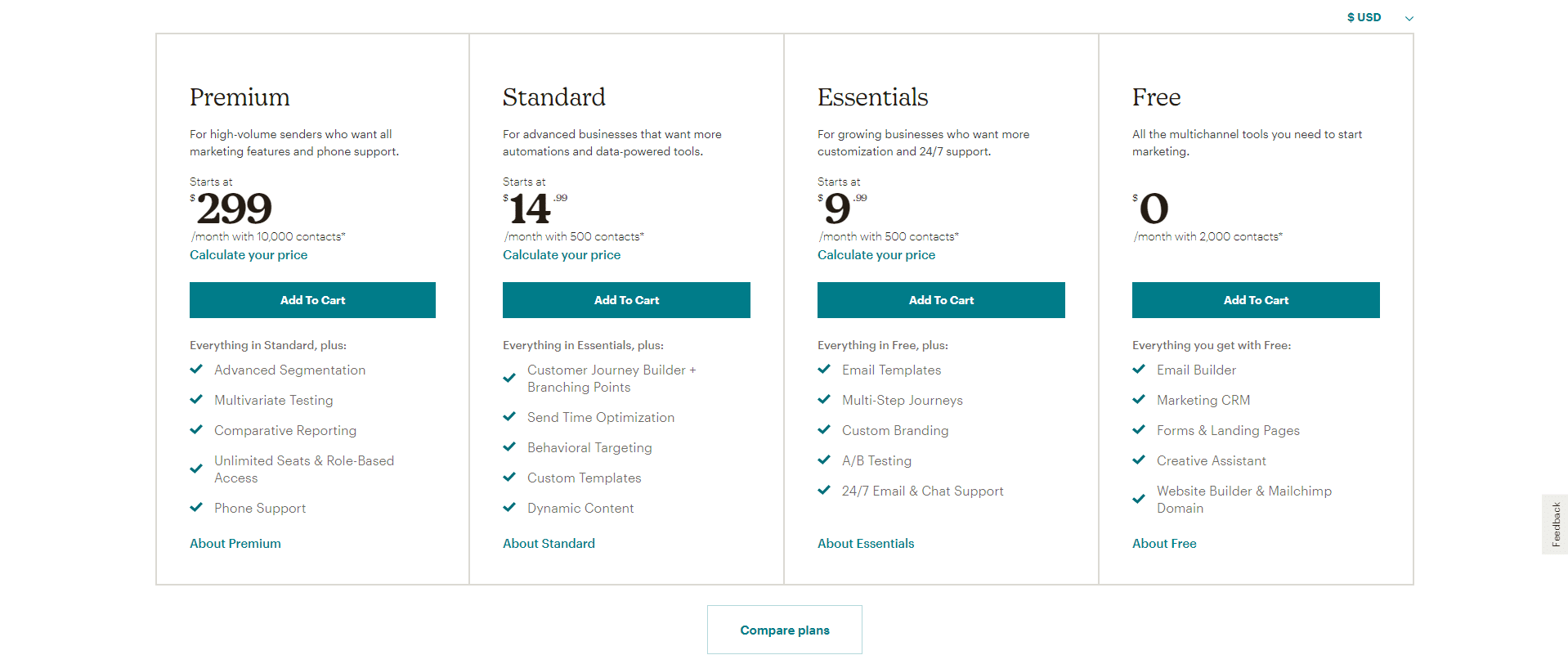 When you decide to upgrade from the free package, you'll have a few options to choose from:
Essentials:

$9.99 per month: This includes all the features you get in the free package for up to 500 contacts, with custom branding (no Mailchimp logo), multi-step automation, email templates, A/B testing, and extra customer support.

Standard:

$14.99 per month: Featuring all the capabilities of Essentials, Standard comes with branching points in your customer journey builder, custom templates, behavioral targeting, dynamic content, and send-time optimization. 

Premium:

$299.99 per month: This features everything in the Standard package, as well as advanced segmentation, multivariate testing, unlimited role-based access, and even phone support from the customer service team.
CleverReach's pricing is a little bit confusing to understand at first.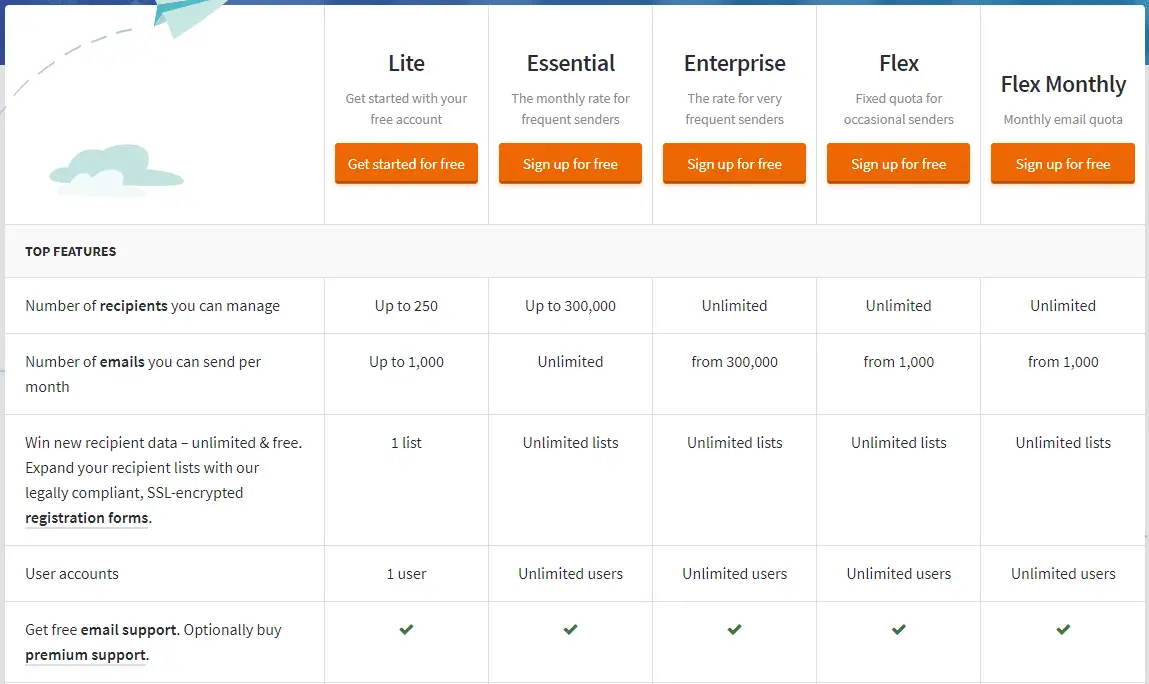 You start by signing up to the software for free, then purchase a flat-rate monthly fee depending on the number of emails you want to send, and the number of recipients you have. Options include:
Lite:

$10.00 for up to 250 recipients and 1000 emails. You get 1 SSL encrypted list, free email support, CMS and CRM connectivity, email marketing THEA automation, REST API access, Affiliate program access, GDPR-compliant marketing, 1 data-protection compliant form, email drag-and-drop design, and all the basic features of an email marketing tool. 

Flat rate:

Starting at $10.00 per month, depending on the number of recipients you want (up to 125,000). You'll get all the features of Lite, plus unlimited lists, user accounts, emails, and campaigns. Advanced reporting is enabled, as well as the option to set specific times for email deliveries. You'll also get access to the autoresponder system. 

High Volume:

Starting at $300.00 per month for up to 300,000 emails. This package comes with unlimited recipients, and all the features of the "Flat Rate" plan. 

Prepaid:

Starting at $125.95 per month for all the features of "High Volume", and an unlimited number of recipients (but only 1,000 emails). 

Monthly prepaid:

Starting at $125.95 per month, with all the features of Prepaid, but the emails you don't use won't expire. The emails you don't use simply roll over to the next month.
There are also extra add-on fees for CleverReach, like Premium Support, or Email Design and Spam testing. You can access spam and design testing starting from $17.70, and premium support starting from $27.09 per month, with personal phone support, a response within 24 hours, and preferential ticket support.
Ease of Use
Both Mailchimp and CleverReach are designed to be straightforward and intuitive.
Mailchimp's individual features such as the email editor, automation, landing page builder etc, on their own are easier to use than CleverReach's comparable features. Everything you design with Mailchimp comes with convenient tools, like drag-and-drop editing. Plus, you get the extra benefit of things like an AI creative assistant to inspire you in your initial creations. However, given sheer amount of features, the platform might feel a bit overwhelming to navigate at first. 
CleverReach is also pretty easy to use, with a clean and simple layout that's a delight to work with. Everything is easy to find, and you'll have no problem creating basic automations with the comprehensive THEA software. However, you might find a few things a little more difficult than others – like building sophisticated automated workflows. 
Either tool should be pretty simple for beginners to grasp, even with minimal prior knowledge.
Deliverability
Deliverability is often difficult to measure comprehensively because different factors can contribute to a company's success rate. The Email Tool Tester Deliverability report has listed Mailchimp as a competitive choice, with the following scores:
Main Inbox: 68.79%

Missing: 2.93%

SPAM: 28.27%
CleverReach also has a presence on the "Email Deliverability Report", which ranks quite well. The scores include:
Main Inbox: 76.16%

Missing: 1.96%

SPAM: 21.87%
In this review, CleverReach seems to benefit from a slightly higher deliverability rate, and a much better performance in terms of SPAM and missing emails. This could be because the platform has a built-in quality assessment option to help you check the potential of your emails before you send them.
Integrations
Being able to integrate your email marketing solution with the other tools used in your business is an excellent way to maintain a great flow of data. Mailchimp has a directory full of apps and tools you can connect to your email. There are around 290 integrations to choose from, including links to Adobe Photoshop, Stripe, Drupal, and Squarespace.
Integrations and plugins for CleverReach come in various categories, from ecommerce software connections to CRMs and CMS. You can link to things like WooCommerce, BigCommerce, and HubSpot, or Microsoft Dynamics CRM. There's also a comprehensive API environment for building your own integrations. 
Customer Support
If you're struggling with any aspect of your email marketing strategy, it's helpful to know that someone will be on hand to help. Mailchimp makes it easier to find answers to your questions with a comprehensive knowledgebase of tutorials and guides that you can access with any plan. Depending on which paid plan you go with, you can get email, phone chat, and/or live chat support.
CleverReach has customer support by email for every account – including the Lite package. However, unless you pay for priority support (at an extra fee), then you'll have to wait up to 72 hours for a response. With premium support, you can get immediate answers to your questions via phone in 24 hours or less. 
For both services, there are valuable FAQ and help center articles available, so you can usually overcome common problems on your own. 
When to Choose Each: Mailchimp vs CleverReach
So, which is the best email marketing tool?
Mailchimp stands as one of the better-known tools for email marketing in the industry today. While navigating the platform might feel overwhelming at first due to the many features, all the features are relatively easy to use once you get acclimated to the platform. 
Mailchimp makes it easy to experiment with automation, and you can even link in your audience insights with the built-in CRM or design your own website through Mailchimp's website builder. The features are always evolving, so you're sure to end up with a pretty scalable email marketing service if you choose Mailchimp. The platform is great for any small business or entrepreneur. 
CleverReach is also an intuitive tool for the most part, however, the platform isn't quite as refined as Mailchimp. That being said, for beginners, it might be a little bit more difficult to set up complex email automation. Nevertheless, in terms of email marketing features and functionality, CleverReach is on par with Mailchimp. Additionally, while CleverReach may be slightly more expensive, you do get slightly better deliverability with the platform as well. 
You can see how other email marketing tools stack up to Mailchimp in the following comparisons:
Mailchimp vs Vertical Response
https://www.forbes.com/sites/markmurphy/2016/09/18/the-way-you-check-email-is-making-you-less-productive/?sh=6b6e843637e3
https://techcrunch.com/2019/05/13/mailchimp-expands-from-email-to-full-marketing-platform-says-it-will-make-700m-in-2019/#:~:text=Mailchimp%2C%20a%20bootstrapped%20startup%20out,%2C%204%20billion)%2C%20and%20is