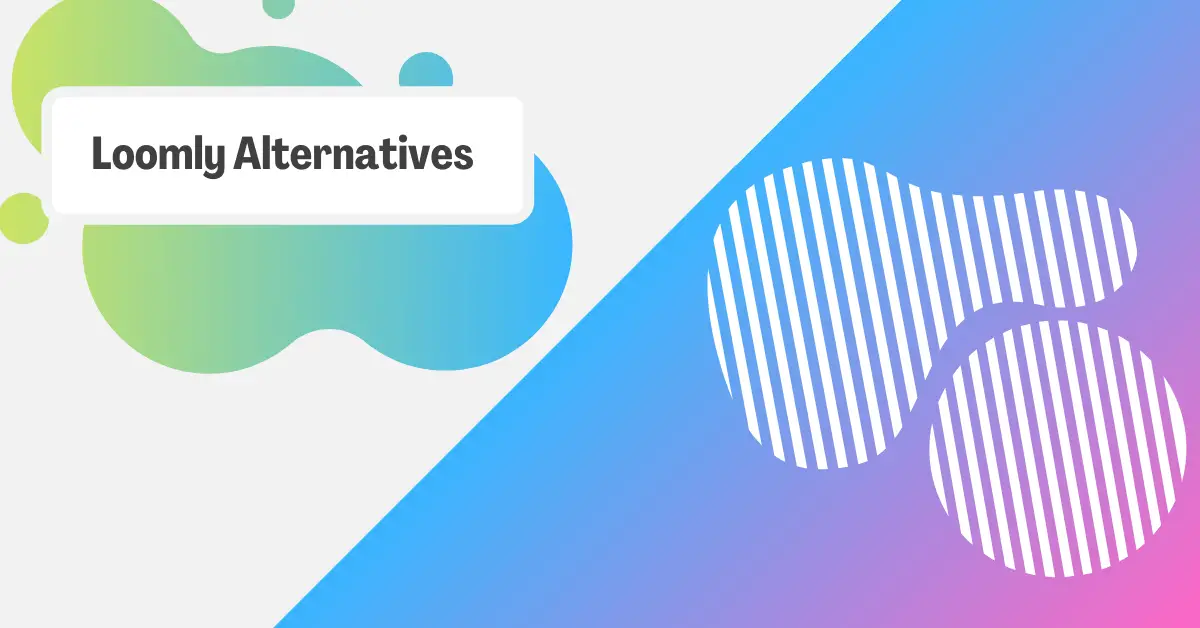 Social media is fundamental to many modern marketing initiatives and strategies. Rarely will you find a business that isn't using social media to some degree, even if only for customer service issues.
Because social media has become so prevalent, a wide variety of tools have been developed to help marketers and businesses to manage their social media accounts and ensure they're posting high-quality content at the right times to the right people.
Loomly stands out as one of the best social media management tools on the market, but it may not be right for your business for one reason or another. Fortunately, there are many alternatives on the market to consider.
In this post, we'll discuss the best Loomly alternatives in terms of price, features, and user experience.
Hootsuite

Hootsuite is possibly the most well-known social media management tool. It's one of the earliest entrants into the space, and many businesses have used it for as long as it has been around. With over 200,000 customers, it's hard to argue with their success.
Hootsuite covers all the major social media platforms except for TikTok, and it allows for everything from scheduling and calendar views to media editing (with previews) and interaction management.
Hootsuite vs Loomly
The two platforms are very similar and have almost all the same features. The only standout difference is that Loomly has a live optimization tip wizard that helps you craft your posts in real-time, a feature Hootsuite lacks. Hootsuite also has the ability to set up social listening feeds, which Loomly lacks.
All the other features are available with both platforms, though many comparable features are only available for the more expensive plans. They rank similarly in terms of UX, given that they both have modern and clean user interfaces. 
For more on the differences between the two platforms, see this Loomly vs Hootsuite analysis.
Hootsuite Pricing
Hootsuite has 4 plan tiers:
Professional

Team

Business

Enterprise
At $49 for the professional plan, it's a bit on the expensive side, and for the lower plans, you get a little more about of Loomly vs Hootsuite. However, once you get into the more expensive plans, Loomly definitely gives you more bang for your buck.
Later

Later supports all the major social media platforms and includes one standout — TikTok — which is a major difference between Later and Loomly. However, it's important to keep in mind that Later came to the party a lot later than many other social media platforms — and it was only a social media management tool for Instagram originally.
Later vs Loomly
As mentioned, it's support for different platforms that sets these two apart. Loomly doesn't support TikTok, and Later doesn't support Snapchat. However, given that Snapchat isn't a hugely popular platform to advertise on, this isn't as big of a win for Loomly as it might seem.
Loomly has a great user experience and has clearly spent time on UX, and Later's user interface is intuitive as well, so the two are even in that respect. However, Loomly is more feature-rich.
Later Pricing
Later has a free version, which by itself sets it apart from Loomly in terms of price. However, because Loomly gives you a free 15-day trial, and given that the free version of Later isn't the best in terms of features, the two balance each other out.
Otherwise, with the highest-tier plan (Advanced) being only $40/month, Later comes out on top in terms of affordability.
For more on the differences between the two platforms, see this Loomly vs Later analysis. 
Sprout Social

Sprout Social is another beast in the social media management space, and it boasts some impressive awards and impressive customers. It calls itself the "leader in usability, customer support and satisfaction, ROI, and user adoption," which is quite the claim.
Sprout Social vs Loomly
Sprout Social's major feature that Loomly doesn't have is social listening. Social listening is simply when a piece of software combs the net for mentions of your brand or other keywords. Sprout Social supports YouTube, which Loomly doesn't, and Loomly supports Snapchat, which Sprout Social doesn't.
Both platforms are simple to use and have a great user experience.
Sprout Social Pricing
Sprout Social offers a 30-day free trial, but the standard plan starts at $89/month, which is decidedly more expensive than Loomly at $26/month. However, Sprout Social caps out at $249/month for the top plan while Loomly's top plan is $269 (or more for an enterprise plan).
Buffer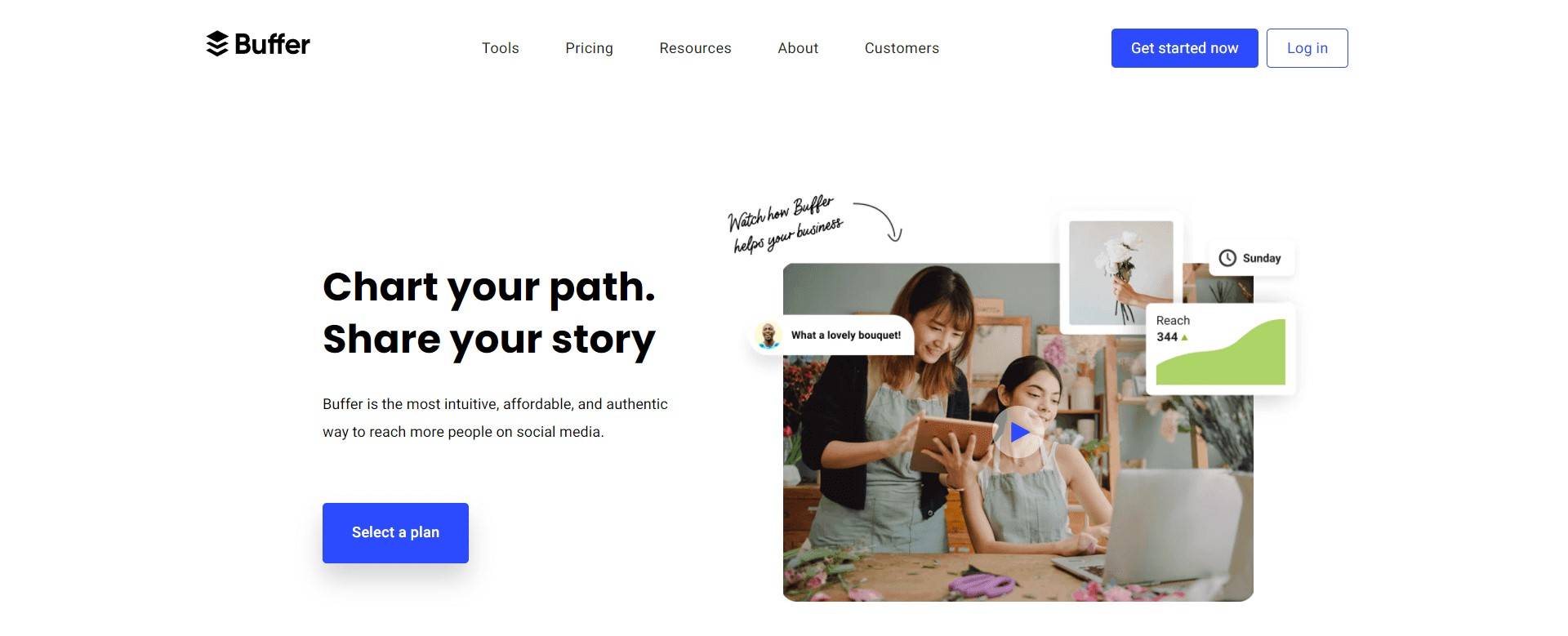 Buffer, like many of the platforms on this list, is a high-quality product that supports most major social media platforms except TikTok, YouTube, or Snapchat. However, it does support Shopify, which few products on this list do, so if you're looking for tools for that specific platform, Buffer is the way to go.
Buffer vs Loomly
Despite the differences in features, Buffer is one of the big players in the space for a reason. Both products have a great user experience. Buffer does have a social listening feature, which Loomly doesn't, so if that's a must-have feature for you, Buffer is the way to go.
Buffer also has a link shortener, a nice feature, but something that can easily be supplanted with other platforms. They both have a great user experience.
Buffer Pricing
Buffer offers a free plan, unlike Loomly, and while Buffer does cap out at $5/month, to really get the most out of the platform, you'll have to purchase some add-ons. It's a great platform for SMBs who want to test out a social media management platform to see if it's for them.
Agorapulse

Agorapulse boasts that it's been voted the #1 social media management platform, beating out Hootsuite and Sprout Social (and supposedly Loomly), but given how many platforms will make such claims, it's hardly enough to set it apart.
However, they do have a quick response time for issues and high user satisfaction ratings, but again, you have to consider that many platforms will make similar claims.
Agorapulse vs Loomly
Agorapulse offers social media listening, which Loomly lacks, but otherwise, the features are just about the same. User experience is great for both given that both are professional platforms.
Agorapulse Pricing
Both platforms offer a 15-day free trial, and both of them allow you to save money by paying annually. However, Agorapulse offers a free plan that is great if you're just trying to test out the platform and see if it's for you.
Paid plans start at $79/month and go up to $159, with a customized pricing option for enterprises. This is more than Loomly on the low end but more expensive on the high end.
Sendible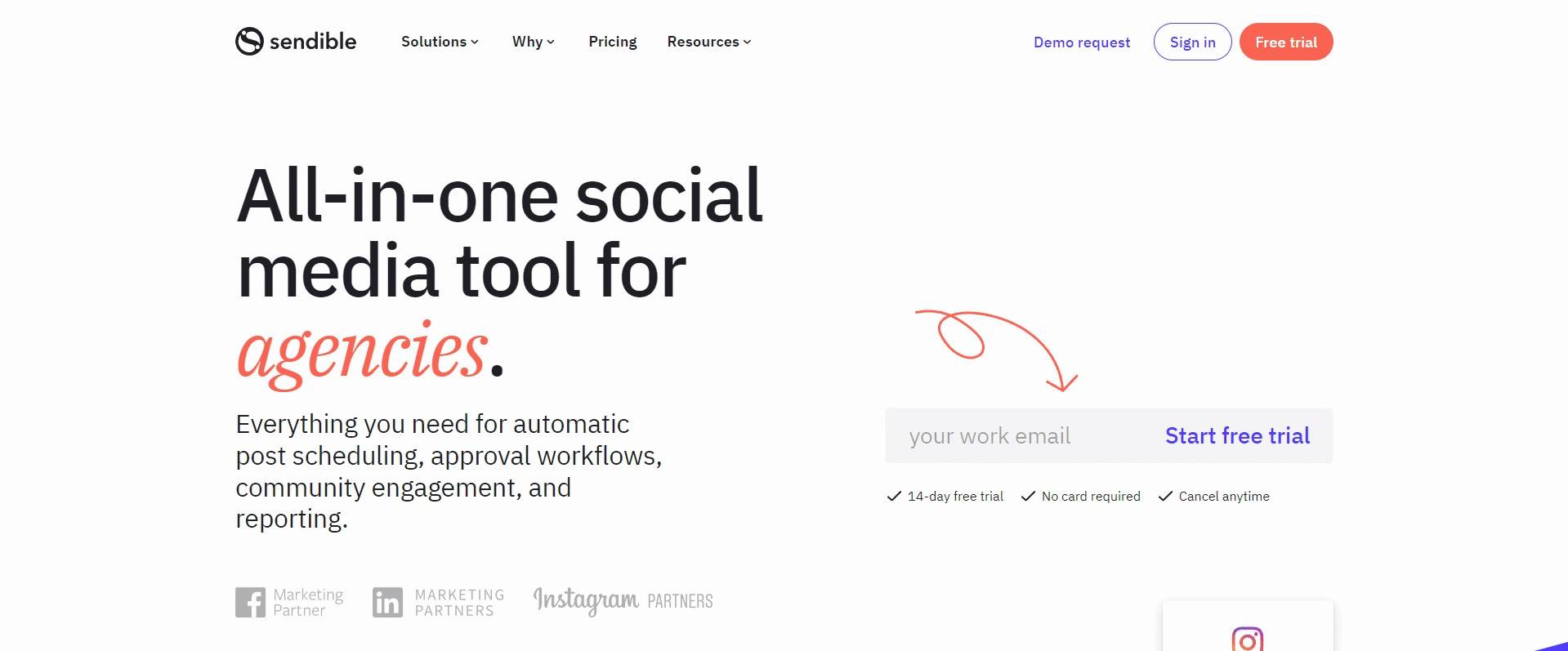 Sendible bills itself as a single platform to manage all your social media platforms in a single place. However, it doesn't support YouTube or Snapchat, so if those are platforms you're focused on, you'll need to keep this in mind.
They boast some big customers, like Expedia, but compared to the other platforms on the list, it's about the same in terms of features.
Sendible vs Loomly
Like other platforms on this list, Sendible has a social listening feature, and otherwise, it has all the other features that Loomly has. It's hard to choose between the two on the basis of features because they're so similar.
Both platforms have a good user experience, so it comes down to which social media platforms you need support for and if you want social listening or not.
Sendible Pricing
Sendible has a 14-day trial and saves you 15% if you pay annually, so pretty similar to Loomly in that respect.
Sendible starts at $29/month, so very comparable to Loomly, and on the high end, it's $399/month, which compared to custom pricing for the top-tier for Loomly, is likely going to be the less expensive option.
Zoho Social

Zoho Social offers best-in-class features that you've come to expect from all of these platforms. You'll get analytics, social listening, scheduling on an intuitive calendar, and more. It's used by many large brands around the world, and it has excellent user reviews.
Zoho Social vs Loomly
Zoho Social tends to be a go-to solution for medium-sized or enterprise businesses. Given that Loomly is best for entrepreneurs and small businesses, the platforms are different in terms of their customer base. 
The big difference between the platforms in terms of features, as with many on this list, is the social listening feature. If this is something you're wanting in a platform, as many enterprises or medium-sized businesses likely will, then Zoho Social is the way to go.
Otherwise, they offer many of the same features, and they both allow you to post to all the same platforms (except Snapchat, which is exclusive to Loomly in this case). They both provide an excellent user experience.
Zoho Social Pricing
Zoho Social offers a 15-day free trial just like Loomly does, but the pricing is much different, with Zoho Social starting at $10/month and going up to $40/month, a significant difference compared to Loomly's most expensive plan.
However, if you want to get the most out of Zoho Social, you'll have to purchase add-ons, which can jack up the price. $19.50 for each new brand added and $10/month for each team member can build up quickly for agencies or larger businesses.
Metricool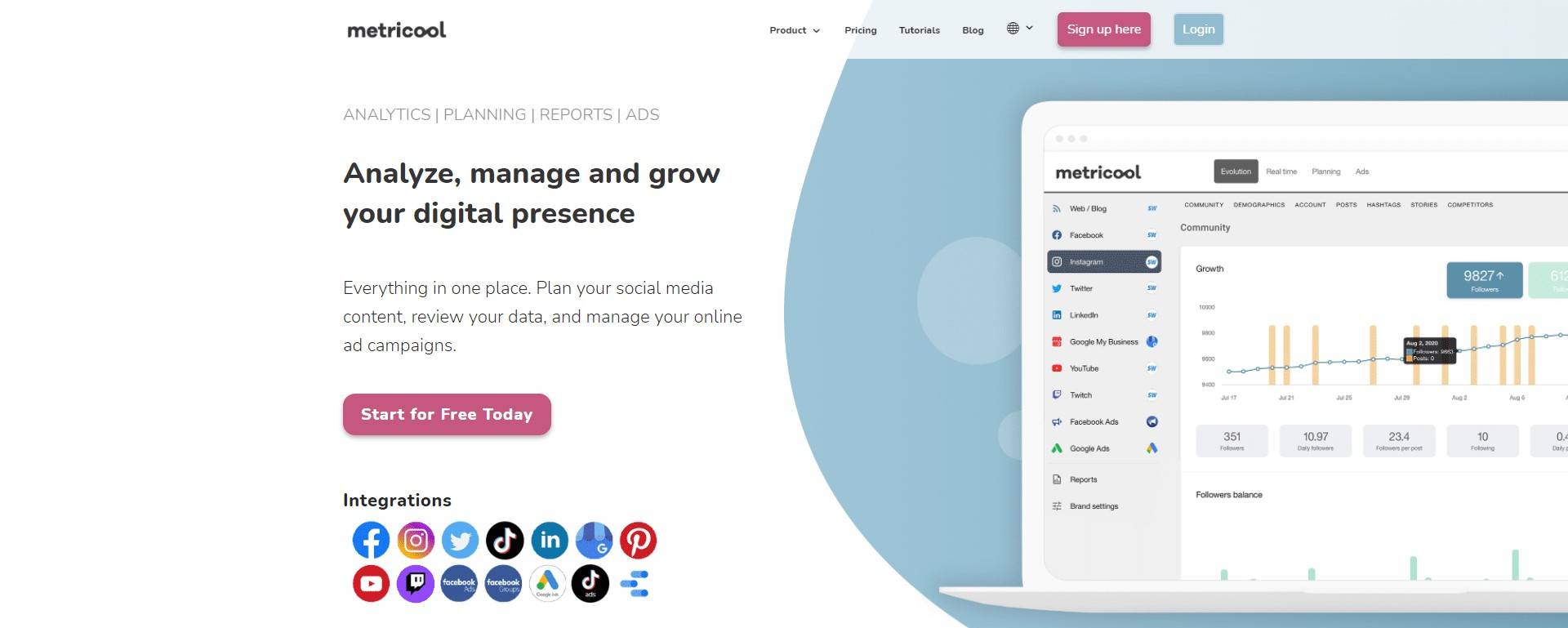 Metricool is based in Europe and focuses on the analytics it provides in its offering. It has a number of features that are mostly for agencies, like the ability to customize reports, create report templates, and access your reports from anywhere.
It also has a large list of high-profile clients, like Peugeot, and unlike many of the other offerings on this list, it's available in 8 different languages. Metricool is a platform that's best for agencies given its focus on reporting.
Metricool vs Loomly
Metricool dominates Loomly in a number of ways, starting with the number of platforms it covers. Other than Snapchat, and Shopify, Metricool covers every major platform, including Twitch, which no other platforms on this list support.
It has a decent user experience, just like Loomly, and other features like RSS feeds and Hashtag Search Engines. It auto publishes and gives you the best times to publish, and essentially does everything you'd expect out of social media management software.
Metricool Pricing
Metricool has very reasonable pricing, starting with a free version and working its way up to $119/month for the enterprise-level offering. If budget is an issue, Metricool may be the way to go.
Planoly

Planoly is very different from the other platforms on this list. It was initially created solely for Instagram, and so far is still focused on that platform. Though it does now support Pinterest, Facebook, and Twitter, if you're looking for an all-in-one platform, this isn't it.
Planoly vs Loomly
Planoly is for brands focused on visual social media. It's simply not an all-in-one platform. It just can't hold a candle to Loomly. That being said, it's partnered with Instagram and Pinterest, so it's not in any way low-quality, it's just a very specific offering for a specific platform focus.
It has a great UI, and it's very simple to use.
Planoly Pricing
Planoly offers both a free plan and paid plans, though the free plan only supports Pinterest and Instagram. The paid plans cap at $29/month, so it's way more affordable than Loomly, but of course, it doesn't have nearly as many features.
Choosing the best Loomly alternative for you 
Ultimately, you need to choose the right software for your organization. It has to fit your budget and your needs, and it also depends on what type of organization you are. What an agency needs and what a Fortune 500 needs are going to be very different.
Fortunately, there are many Loomly alternatives available that are designed for companies of all sizes. The social media management software industry has many players. Try testing out a few to see which choice is best for you.