It's easy to get overwhelmed when looking for a new email marketing platform, regardless of how much experience you have. With hundreds of platforms out there, it can be tough to narrow down the selection.
If you're here, you're likely looking for an easy-to-manage email marketing tool that offers basic automation. Both AWeber and MailerLite are among the largest email marketing providers in this category.
With free plans and relatively low startup costs, these tools are most popular for small businesses, freelancers, and entrepreneurs.
This feature-by-feature comparison of Aweber vs MailerLite will help you decide which platform is best for you given your budget and goals for your business. 
About AWeber and MailerLite
Founded in 19981, AWeber is one of the oldest email marketing platforms. It has grown to millions of customers and offers a general one size fits all email marketing solution. While AWeber has offered the same core features since its inception, it was one of the first to offer autoresponders, which was a revolution in email marketing at the time.
MailerLite is newer, but still an established company. It was founded as a web design agency in 2005, but pivoted to offer email marketing services, focusing on simplicity and automation. In 2019, MailerLite was named the 5th fastest growing SaaS in the world and now serves over 1 million customers.2
Features
Email Templates and Editor
AWeber has a bit of a dated design for its email editor, but its core functionality is solid. You can drag and drop several different blocks into an email (e.g. Headline, paragraph, image), and even add personalization depending on what information you collect from your subscribers.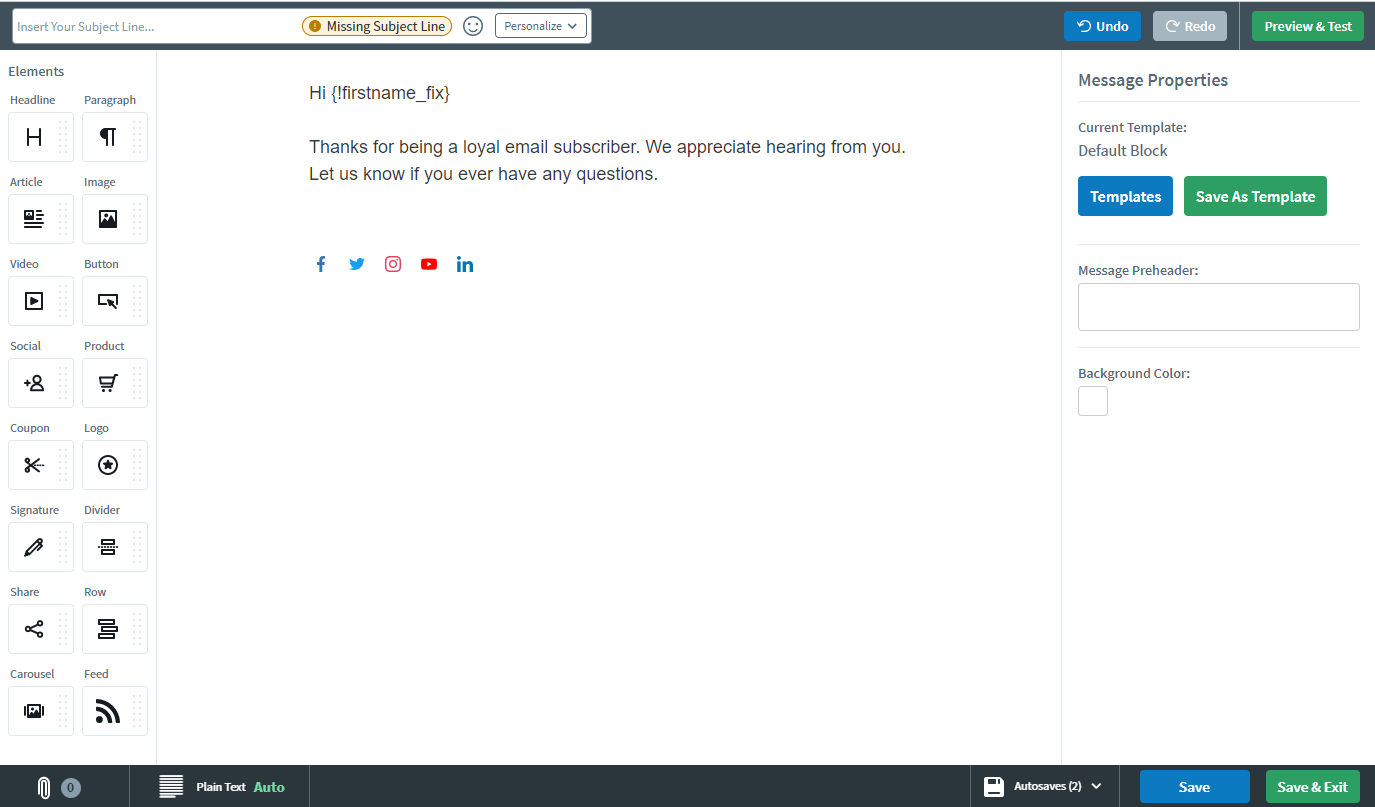 The templates on AWeber are a mixed bag. Many of the newer ones feature clean modern designs, but there are also templates that seem to have been designed from over a decade ago that probably should be avoided. 
Note that all templates are available on AWeber's free plan, while no email templates are available on MailerLite's free plan.
Let's take a look at MailerLite's email editor. It also features a drag-and-drop builder, but instead of individual elements, it uses blocks. These blocks are combinations of elements, like 3 columns of text, or an image plus text, and so on. It will take some time to learn which blocks you like, but overall they make editing emails easier because you don't have to worry about finicky layout issues.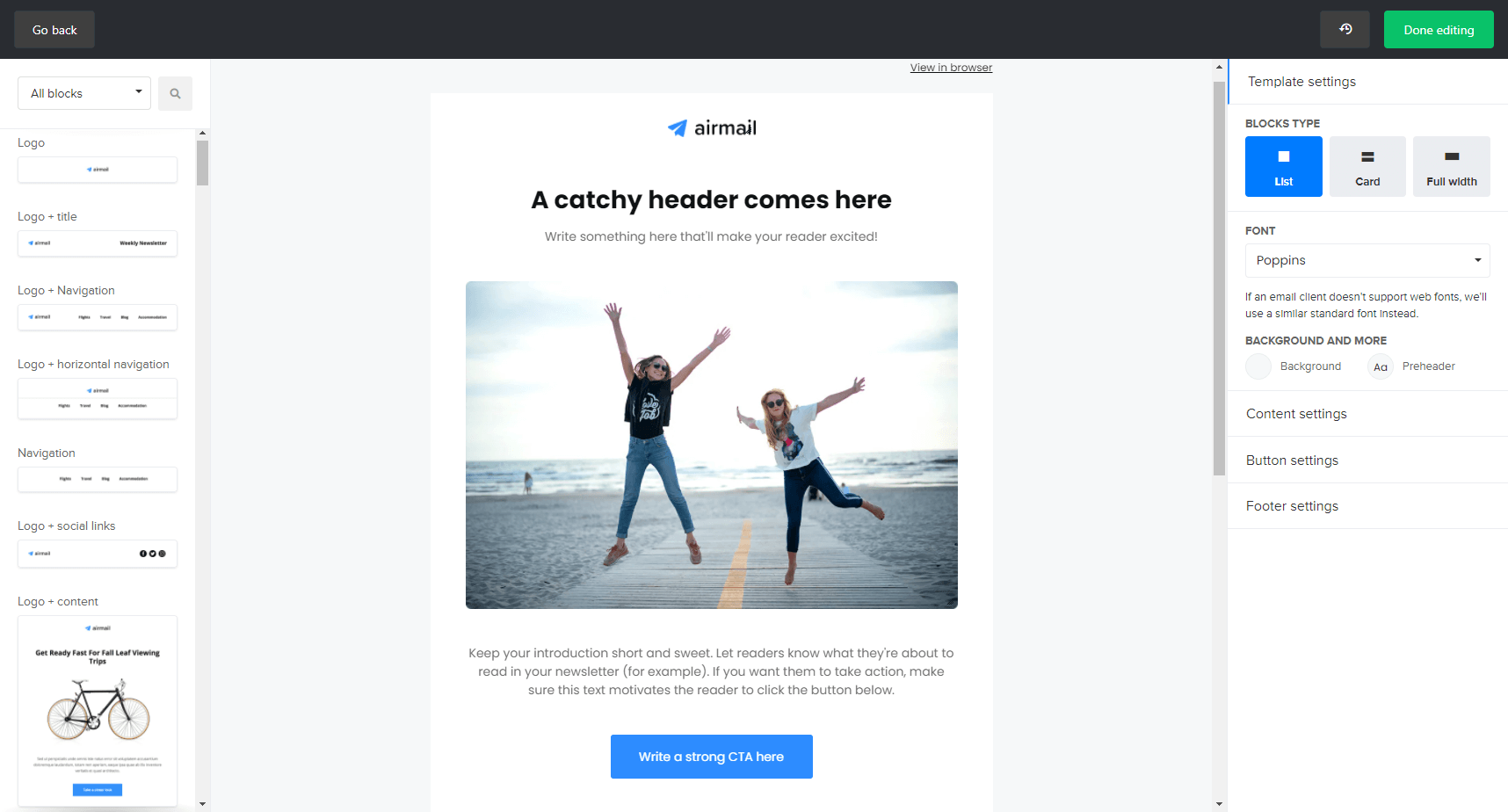 Templates on MailerLite are only available on paid plans. While you don't necessarily need templates because the blocks are relatively efficient to build an email with, templates do save time.
List Management
Creating a list is simple on both platforms.
Once you have a list of subscribers, there are different ways you can segment it to improve your email marketing results.
On AWeber, you can filter your list subscribers by a wide variety of metrics (e.g. date joined, IP address, etc.). This allows you to segment your list based on demographics or activity, and then you can tag those subscribers, which will allow you to send them more targeted emails.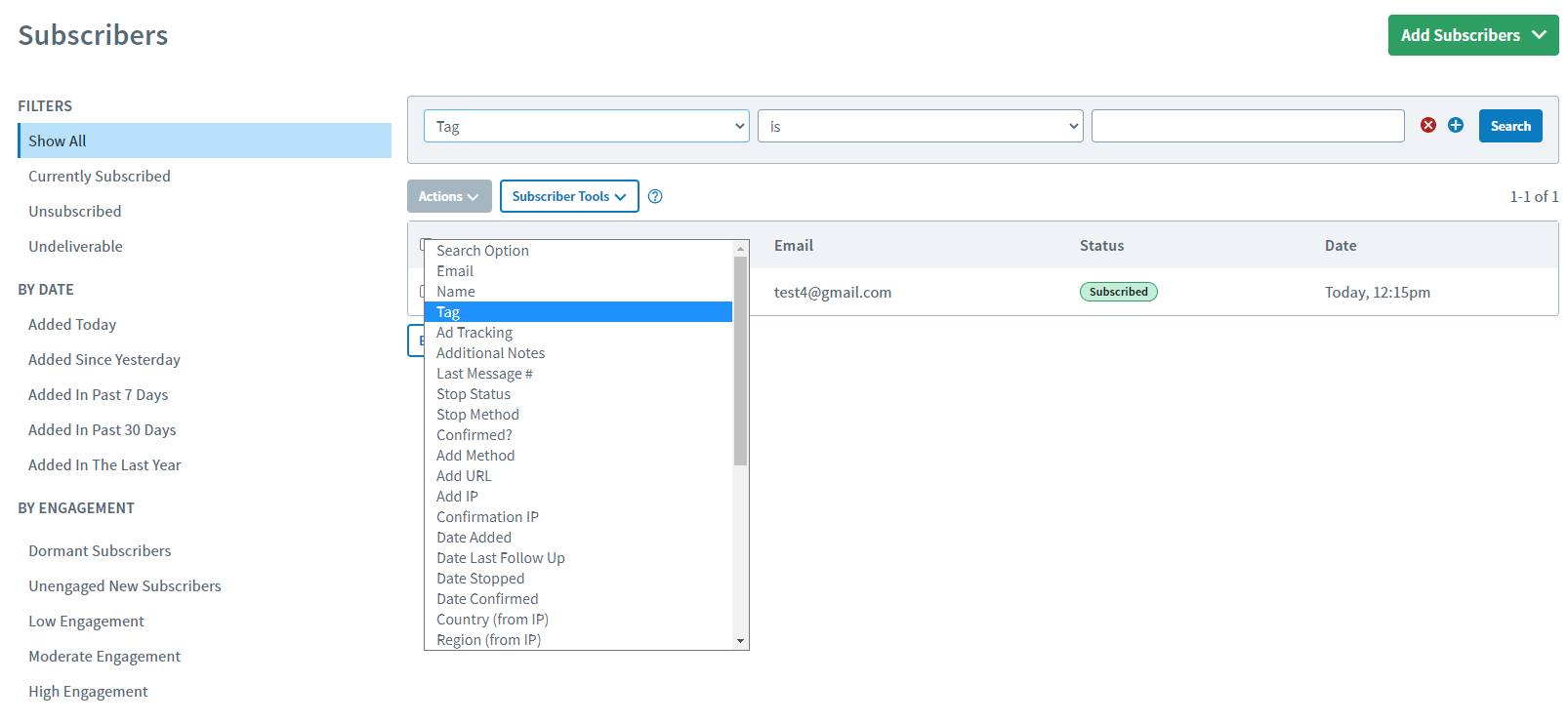 AWeber also provides a few nice predefined filters to let you see your most active and least active subscribers. This will allow you to do things like run re-engagement campaigns for low activity subscribers, or simply prune them from your list.
MailerLite offers a similar interface for interacting with your lists. Again, you can filter by several different metrics. The big difference is that you can combine filters to create more specific segments. For small lists this isn't a big deal, but if you have several thousand subscribers it can be worth running campaigns to niche segments of a list.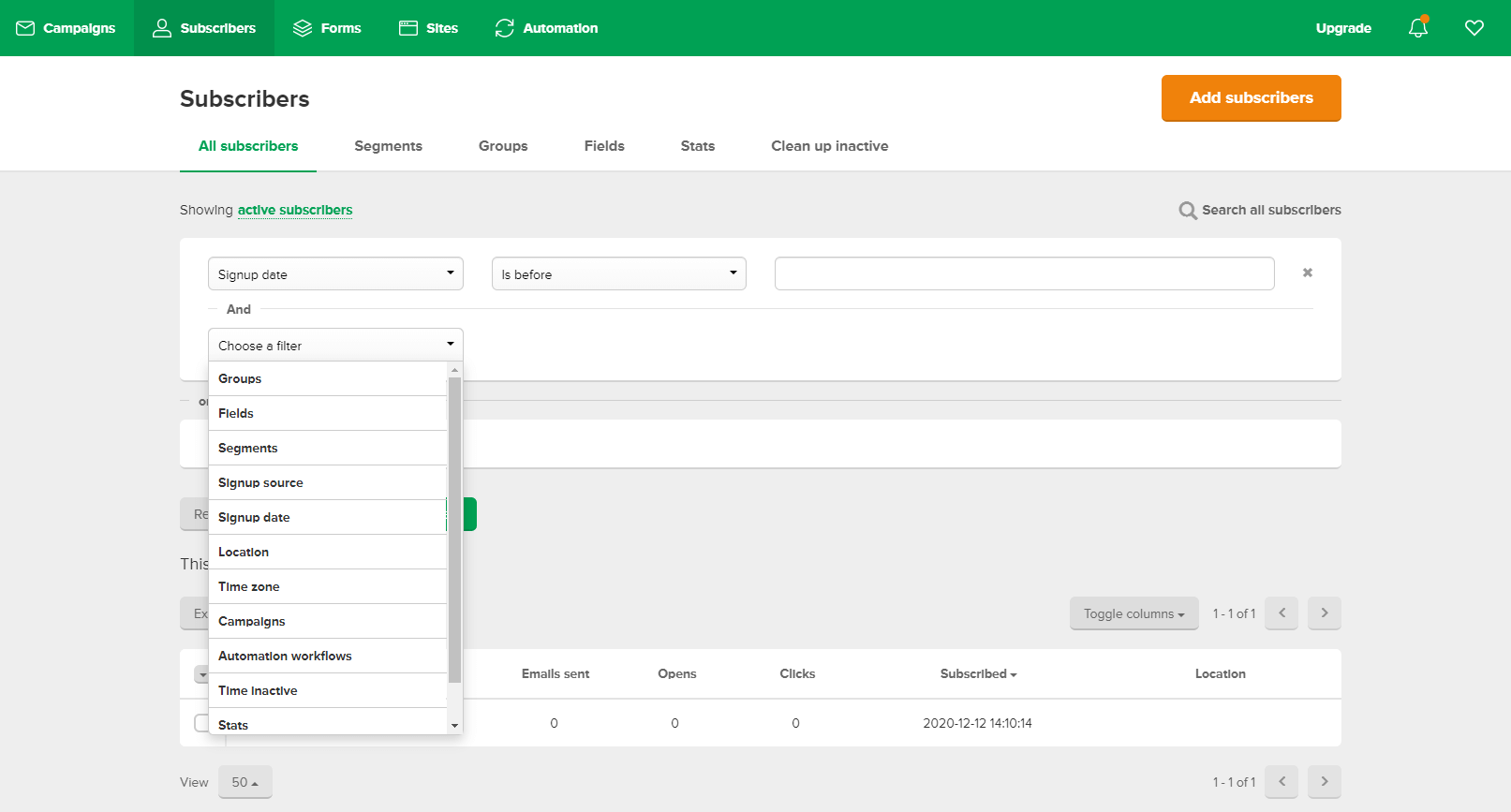 Marketing Automation
Like most email marketing tools, AWeber offers autoresponders that allow you to set up automated email sequences for your subscribers. You can also set up basic automation to send out emails when website visitors fill out forms on your site. 
More recently, it's also added tag automation features.
Before you schedule an email, paid users have the ability to add or remove tags based on the actions that a recipient takes. For example, if a subscriber clicks a particular link in the email, you can add a custom tag.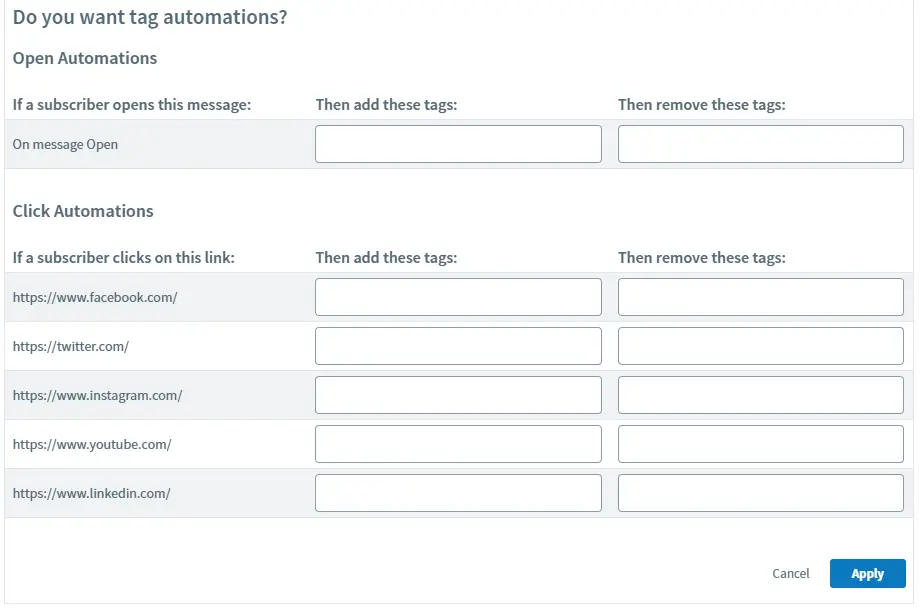 It's a good starting place for basic automation, and enough for most small businesses. 
MailerLite takes automation to the next level, but it comes with a learning curve. Automation in MailerLite is controlled by making a workflow, which combines triggers and actions in a visual builder to create complex email funnels.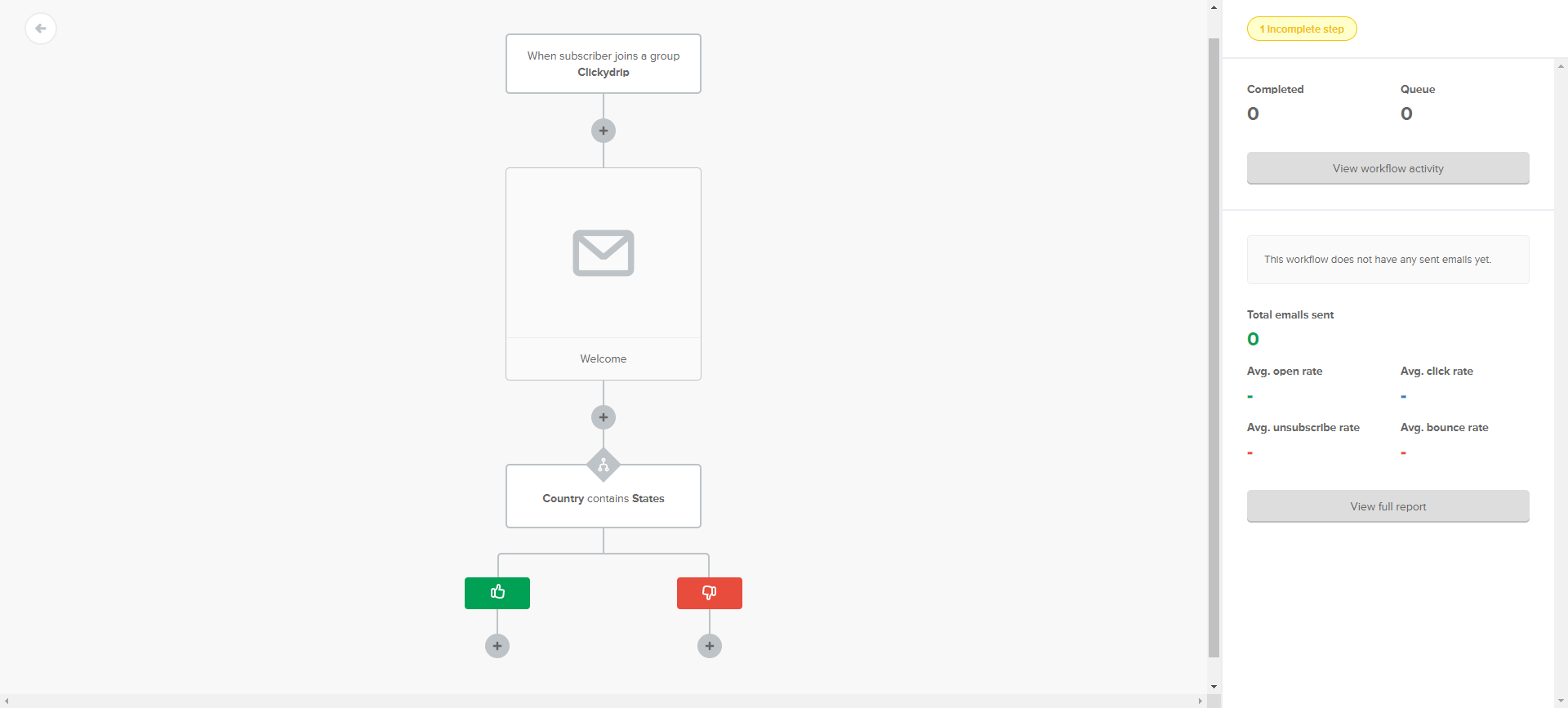 If you haven't used something like it before, it can be overwhelming, but it's powerful once you get used to it. On top of things like segmenting your list based on a link click (like in AWeber), you can also automatically segment your actions based on a wide variety of demographics or behavior (e.g. visits a page on your website, has a certain open rate, etc.).
You can do most of these things manually in AWeber, but its a bit more cumbersome and time-consuming without a visual workflow builder like Mailerlite's.
Forms and Lead Generation
If you're collecting email subscribers through your website, you'll need forms.
AWeber has the same form templates from over a decade ago. While one or two of these forms look clean and modern, some certainly look a bit dated. If you want a larger form selection when using AWeber, it might make sense to use a form builder plugin that integrates AWeber for you.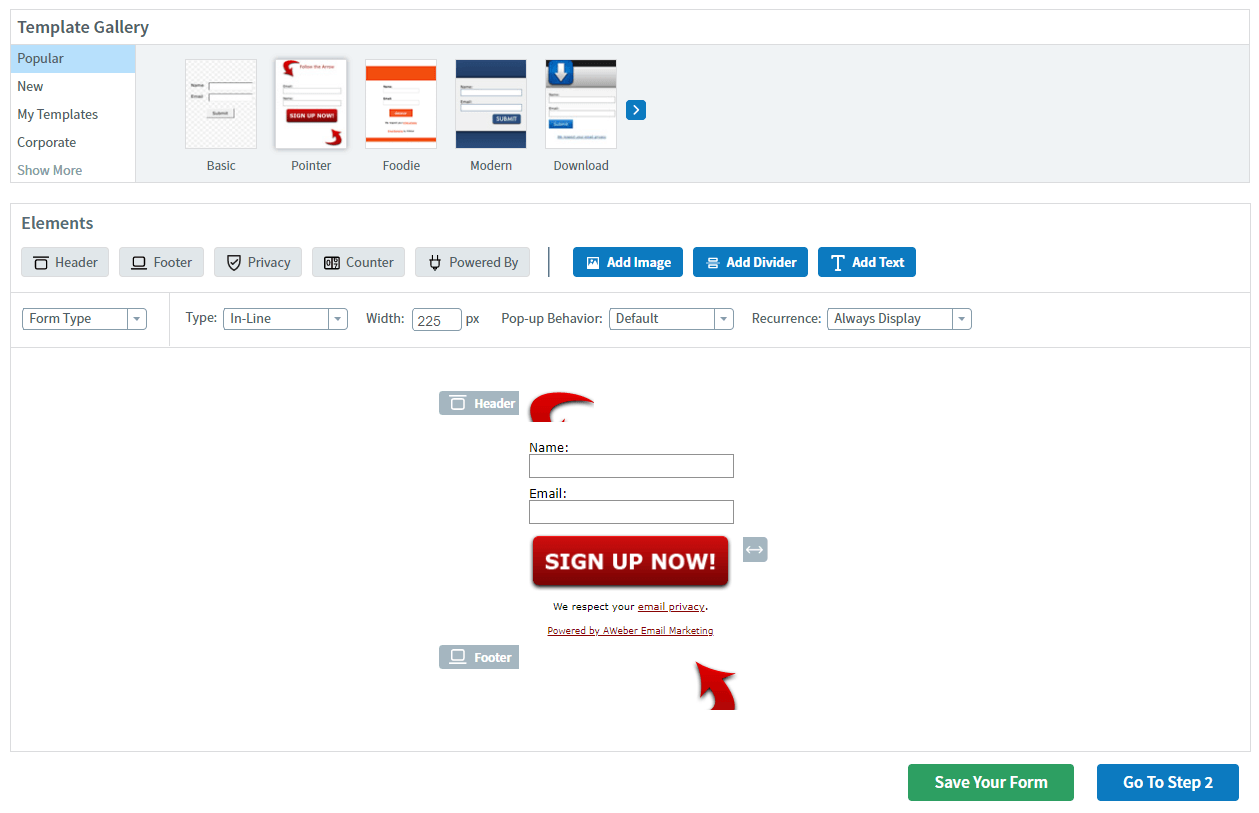 While the forms in AWeber are underwhelming, there's also the option of creating landing pages in AWeber using a drag and drop editor that's similar to the email editor. The landing templates for the most part are a bit more modern than the forms and look great.
So depending on your specific use case, the lead collection options in AWeber may be completely fine for your purposes.
MailerLite on the other hand has much better form options. You can create both embedded (inline) and pop-up forms.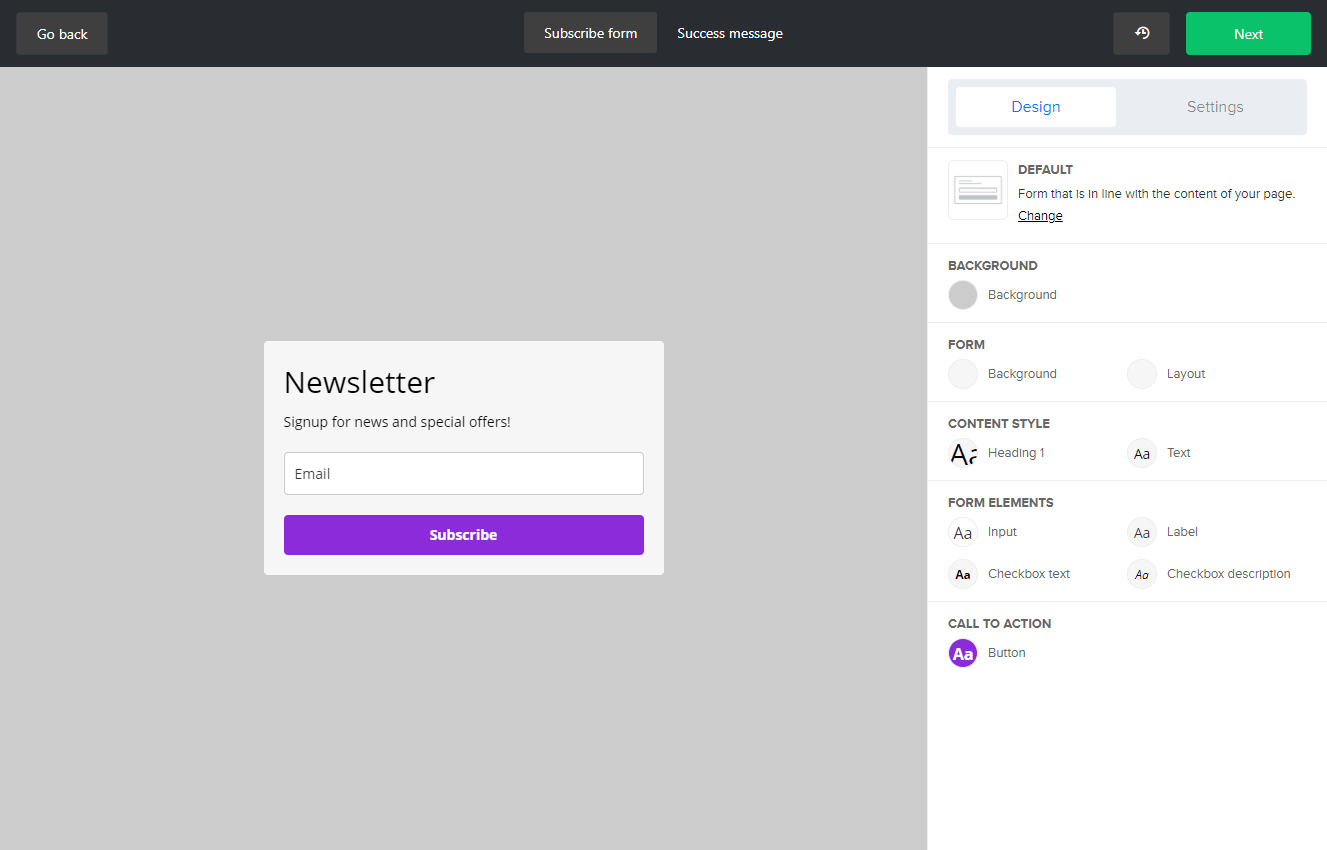 The editor is similar to the email editor. The editor is very functional but at the same time very clean and modern. 
MailerLite also offers a landing page builder that you can access through a similar type of intuitive editor. 
Reporting and Analytics
For the vast majority of marketers and business owners, a basic level of email marketing reporting is fine. As long as you have open and click rates, that's enough in most cases to evaluate your success.
AWeber offers very basic reporting on the free plan. You can see the number of emails sent and opened for a particular email you've created. On the paid plan you get access to a basic dashboard showing you a bit more detail like clicks, unsubscribes, growth of subscriber lists, and much more. You can even track the revenue that can be attributed to certain campaigns if you have this feature set up in your account. Suffice to say the reporting is detailed and insightful.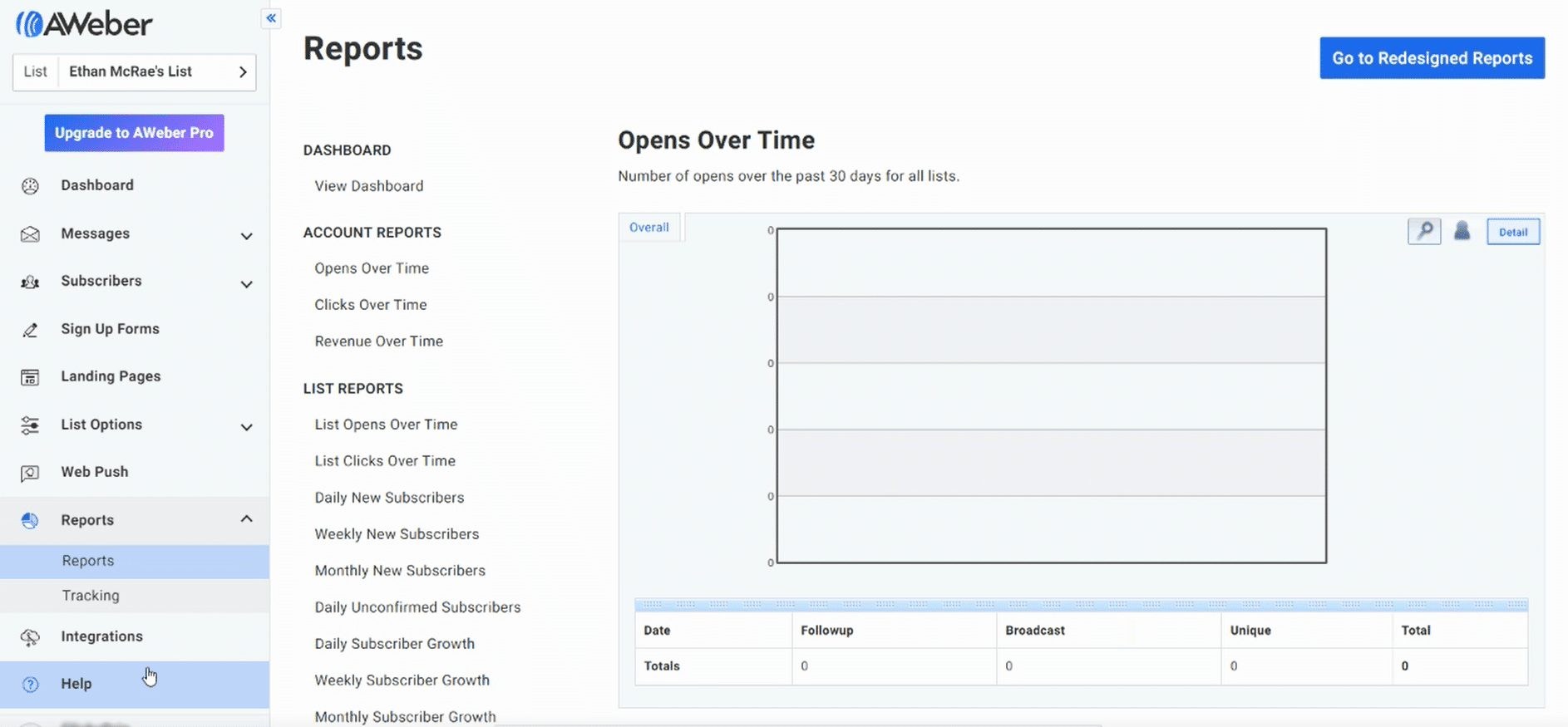 While all the most important information you get from reports is the same in MailerLite, the information is displayed in a more attractive dashboard.
On top of basic stats like opens and link clicks, you can also see device information like mobile vs desktop, and which email clients your subscribers use.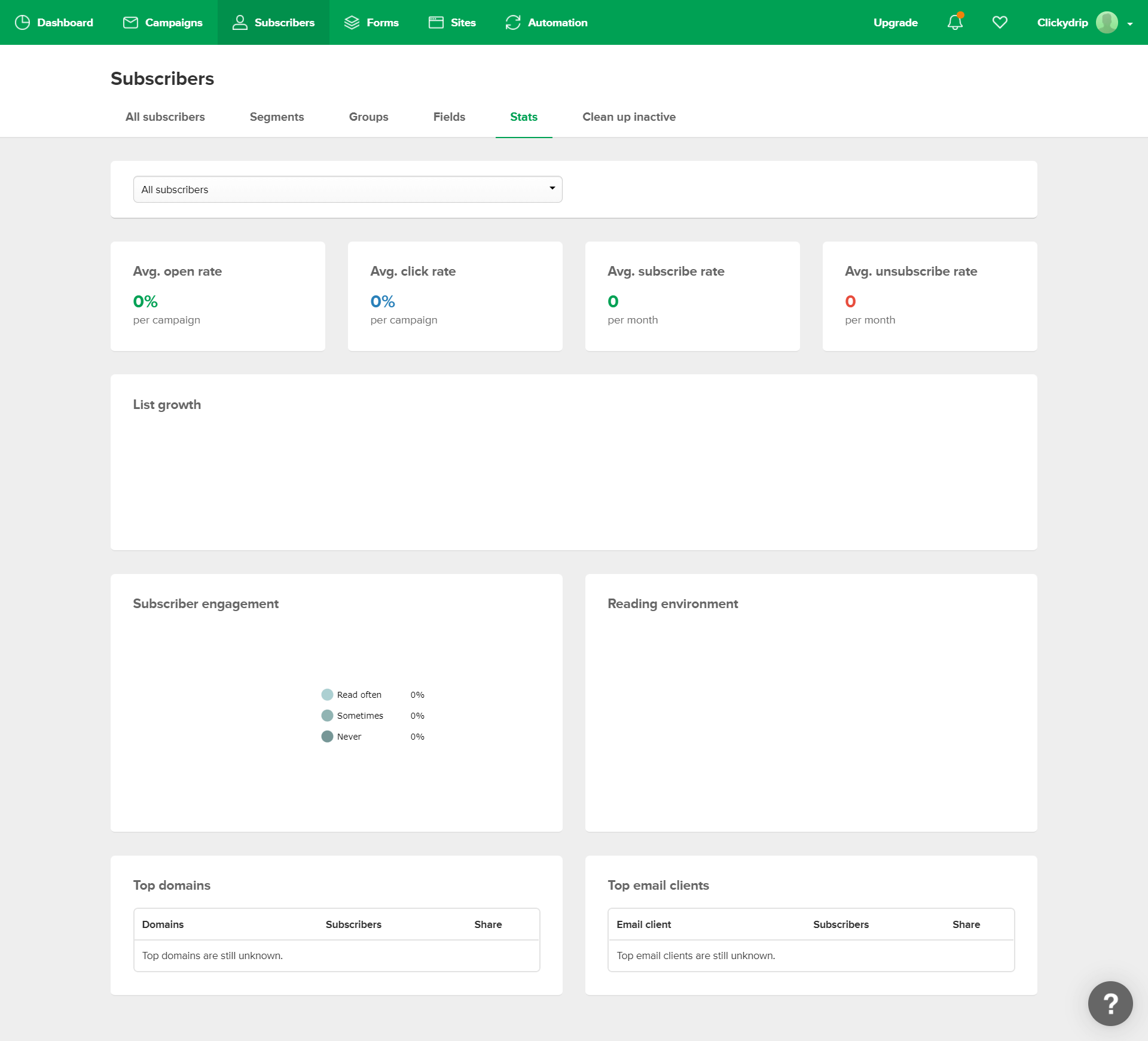 One limitation is that this stat page is available for each individual email or workflow, but there's no way to see them side-by-side to gauge any overall trends over time.
Pricing
Both AWeber and MailerLite offer free plans that are fairly feature-rich unlike many other email marketing platforms. In fact, MailerLite and Aweber are some of the few platforms with free autoresponders and landing pages.
The AWeber free plan is enough to get started and get acclimated to the software. It includes all integrations and list management features. The paid plans unlock split testing, automation, and detailed reporting, which are usually only needed with a larger list anyways.

MailerLite's free plan is even more generous in terms of how many subscribers and emails are allowed. The paid plans are a bit cheaper at every level than AWeber. In addition, MailerLite increments the cost of its plans more often, so you won't suddenly have to pay an extra $50 because you crossed a particular subscriber threshold.

On MailerLite's free plan, you still get full access to the automation features, but email templates are only available on the paid plan, as well as other more advanced features like split testing (same with AWeber).
Overall, both platforms are reasonably priced, but MailerLite is the more affordable option and offers more value for its cost for the average use case.
Refer to this guide to email marketing pricing for some of the most popular email marketing services for a more thorough email marketing pricing analysis. 
Ease of Use
While AWeber has redesigned parts of its system in recent years, it's still a bit awkward to learn to use and navigate. The user interface could really be streamlined further for simplicity.
With that being said, AWeber is overall fairly easy to use, even if it's clunky in areas. The drag-and-drop editors are intuitive for even new users.
The user interface of MailerLite on the other hand is dead simple and easy to navigate. Everything is where you would expect it to be.
The only real learning curve with MailerLite is with the automation features. If all you're looking for is a simple autoresponder, it's going to feel unnecessarily complex.
Deliverability
After doing all the hard work of getting a subscriber, it's a waste if your emails are going to their spam box or just not arriving at all.
AWeber claims that its internal deliverability metrics exceed 99%. MailerLite hasn't publicly stated its deliverability rates.
On the other hand, EmailToolTester's deliverability tests shows that AWeber typically ranges from 75 to 85% delivered to inboxes, while MailerLite achieves a bit greater than 90%.
Is AWeber lying? Likely not on purpose, but AWeber's "99%" seemingly only measures whether an email was sent or not, not if it ends up in spam.
Integrations
If you're looking to use email marketing with your blog, sales funnel, shop, or any other software that you use, you'll want to ensure that there's an integration for it.
AWeber has integrations for over 850 applications. It's one of the most complete libraries of integrations you'll find that includes every notable CMS and CRM.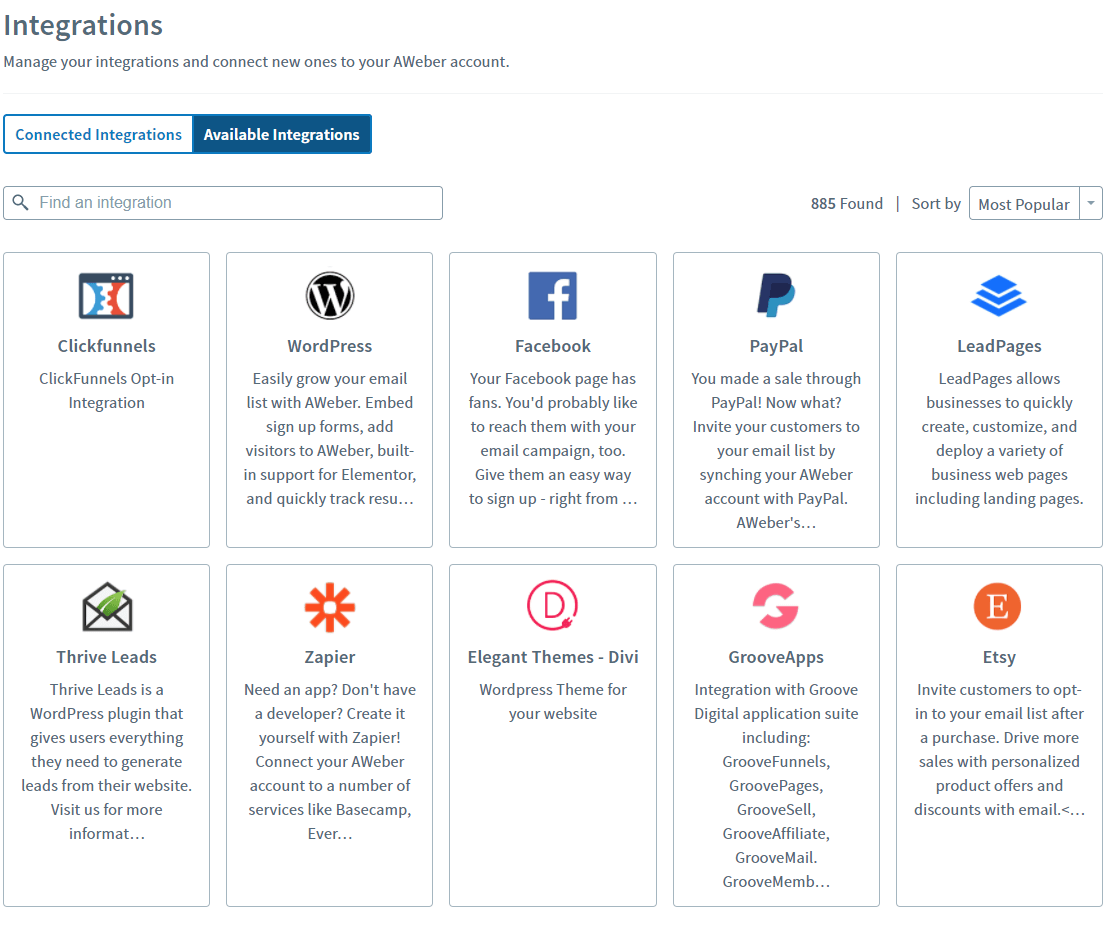 MailerLite has a library of over 120 integrations, which includes most of the major ones like WordPress, Shopify, and PayPal. However, some of the notable integrations that its missing are Clickbank, Etsy, and JVZoo.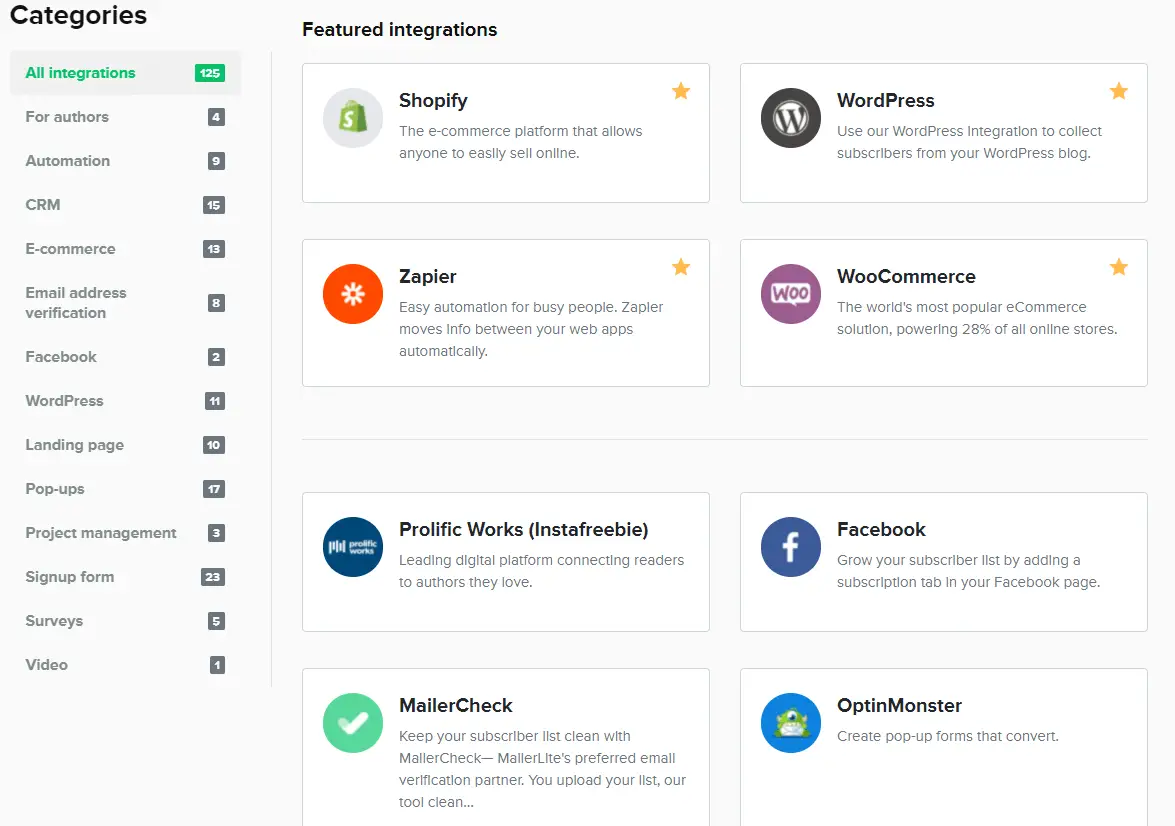 Whether or not this difference in integration options is important depends on your specific situation, just check before you sign up with MailerLite.
Customer Support
Customer support is one of the strongest areas for AWeber. It offers 24/7 phone, email, and chat support.
The knowledgebase is also comprehensive with hundreds of tutorials. While we've run into a few that are out of date, most include useful step-by-step instructions with images.
MailerLite only offers 24/7 chat support on paid plans, but you still have email support on free plans. Its knowledgebase is even more impressive. The articles offer very detailed walkthroughs, and there are also video tutorials that walk you through how to use its email marketing features effectively.
One final thing to mention is that both AWeber and MailerLite have certified professionals you can hire to run your email marketing campaigns. It's a nice option to have if you ever get overwhelmed with other work.
When to Choose Each: Aweber vs MailerLite
Overall, both MailerLite and AWeber are solid platforms for small businesses. You can't go wrong with either but depending on your needs, one might be the better choice. 
MailerLite is simpler to use overall, offers more advanced automation features, and is the more affordable of the two options as you scale. It also appears to have a slightly higher deliverability rate.
However, AWeber's long history and larger customer base comes with some advantages. There is something to be said about using a well-established platform. 
Aweber has a much larger library of integrations, and 24/7 chat support is available on even free plans. The other features such as its landing page builder complement the core email marketing nicely as well. 
You can see how other email marketing tools stack up to MailerLite in the following comparisons: