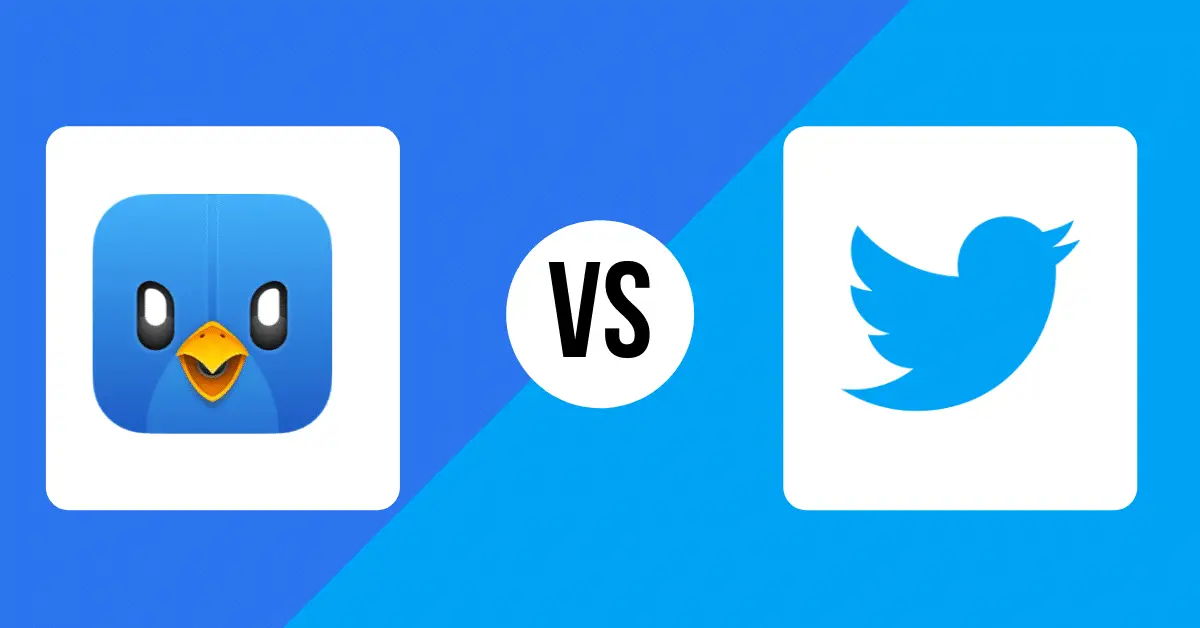 With nearly 400 million users, Twitter has become an extremely popular social media platform, to say the least. As you can imagine, there are various tools and apps you can use to improve your experience on Twitter. 
Tweetbot 6 by Tapbots happens to be one of these most popular tools. This tool has numerous features you can use to customize the way you view Twitter. 
However, most people want to know specifically what distinguishes Tweetbot from Twitter's native app. 
In this Tweetbot vs Twitter post, we will discuss the 5 key differences between the two platforms so that you can determine if Tweetbot is worth your time.
1: Timelines
Tweetbot's primary focus is improving the timeline by customizable tweets. Tweetbot's default sorting method is chronological order.
Twitter's native app decides to show you tweets based on the content you've seen before. So while Twitter has a chance to be more relevant on topics, Tweetbot offers you content from the people you follow exactly in the order in which the content is posted.
Timeline filters also allow you to narrow what you see based on various filters. These filters include the following:
Tweets with media (pictures, video, etc.)

Retweets only

Tweets that include links

The ability to create a filter based on your keywords
With two taps, you can switch between your chosen filters. While you can follow some trending topics with Twitter, there is no keyword-based filter tab.
Another plus of Tweetbot is that the tool doesn't show ads that would otherwise show up on Twitter's native app. If you like to avoid ads (like most of us do), Tweetbot is a great alternative.
2: Themes
The Twitter application enables you to switch between light and dark modes. While the desktop version of this has a dim mode and your choice between six colors, additional themes are available on Tweetbot. 
Here are your options:
Twitter Basic Desktop and Mobile
Both desktop and mobile Twitter have three brightness options:
Light (Default)

Dim

Lights Out (Dark)
The mobile version has no choice of colors. The desktop version enables you to switch between six font sizes and these colors:
Blue (default)

Yellow

Pink

Purple

Orange

Green
Tweetbot Mac and iOS
Tweetbot is limited to Mac and iOS devices with light and dark versions of the following themes:
Future / Future Light / Future Dark

Light

Console

Vintage

Dark

Pumpkin

High Contrast Dark
You can also choose between multiple icon themes to change icon types within the app:
Future / Future Noir / Future Metal

Modern / Modern Noir

Retro / Retro Noir
The "noir" themes are dark versions of the same app icons. 
3: Font Customization
Regarding font customization options, Tweetbot and Twitter are relatively similar.
Tweetbot enables you to switch between nine font sizes on the mobile version. The Mac version enables you to choose any available Mac font type and any available font size.
Tweetbot also has a solid Google Translate integration. It is one less step from the "copy and paste" transaction you need to go through usually.
Twitter, by comparison, enables switching between five different font sizes on the desktop version. The mobile version allows no font-size customization.
You cannot choose your font type on the native app (which might be an issue if you prefer sans-serif over serif fonts). Most browsers (mobile or otherwise) enable you to choose sizes and font styles, creating a natural workaround if you don't mind using Twitter through browsers.
The two are identical on desktop versions, and the mobile version of Tweetbot contains more font size options. What you choose will depend on how picky you are about your interface.
4: Notifications
Tweetbot proves itself as a low-impact version of Twitter. One of its benefits is that Tweetbot doesn't send you notifications while Twitter by default regularly sends you notifications.
Not receiving notifications can be important if you are like me and tend to get sucked into the social media typhoon. One cute cat picture can lead to you delving into the rabbit hole of animal memes.
Tweetbot is beneficial in this way, but to be fair, Twitter does give you the ability to turn off those notifications. However, with Twitter, you must manually go in and turn off all notifications. By not having any notifications in the first place, Tweetbot has a straightforward solution to preventing you from getting sucked into the platform. 
On the other hand, some people prefer to get notifications to stay in the loop. Often, those who want the benefits of Tweetbot, but still want to get notifications from Twitter will install both apps. They will utilize Twitter solely for receiving notifications and they will utilize Tweetbot to scroll through their Twitter feed. 
5: Price
Twitter is free, but Tweetbot is a subscription-based paid tool.
Those who choose to get Tweetbot while have their choice of one of two payment options:
A monthly cost of $1.

An annual fee of $6.
Tweetbot 5 had a one-time fee of $1, making the pricing for Tweetbot 6 notably more than compared to prior versions. This price increase is likely due to the various improvements in features that Tweetbot 6 users can now enjoy. 
However, as far as software goes, $1 per month or $6 per year is extremely affordable for practically everyone. Some people spend the annual fee for Tweetbot every day at Starbucks. Having a chronological timeline that is free of advertisements is completely worth the money for even casual Twitter users. 
When to Choose Tweetbot vs Twitter
Is Tweetbot worth the subscription-based pricing model of the latest version? The answer to that question depends on your priorities.
If you are tired of the continuous notifications, ads, and lack of customization from the standard iOS Twitter app, Tweetbot is a solid option. 
However, one could say that those who aren't active (and picky) social media users won't find much value out of Tweetbot. Alternatively, if you simply like the way that Twitter displays content, obviously there is no sense in using an app like Tweetbot. 
The next time you access Twitter, ask yourself if you think a change is worth it. Tweetbot could very well be worth the small price you must pay to use it.