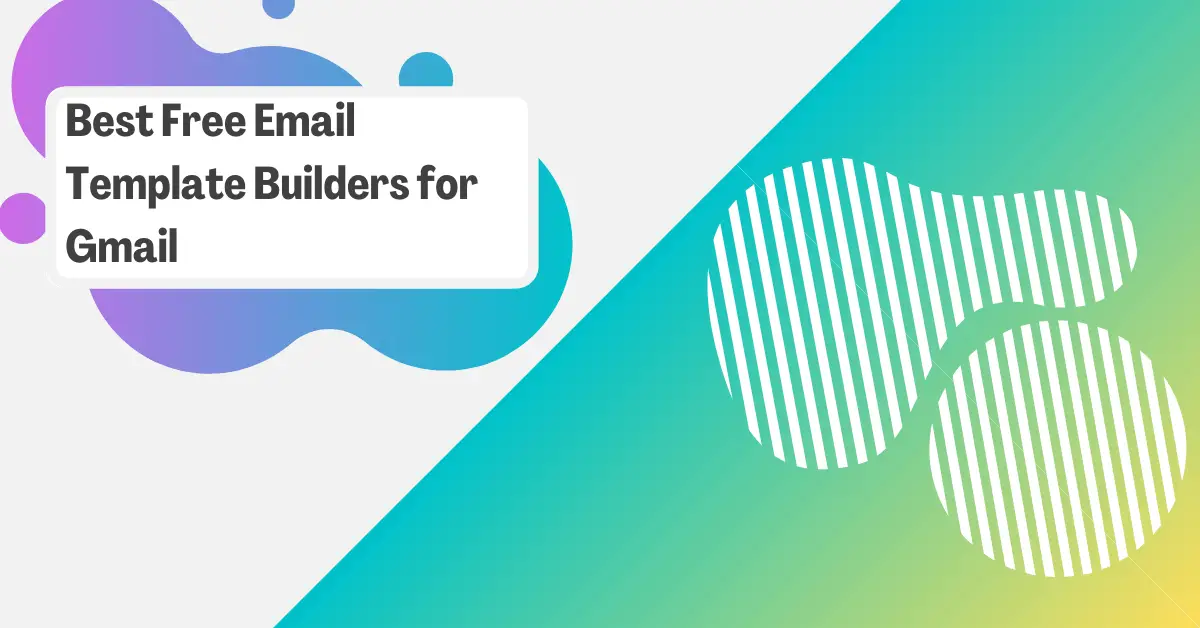 Professionally designed email templates can be a powerful way to make your emails stand out from the rest. The good news is that email template builders give you a straightforward way to create stunning emails.
Even so, not all of these tools are intended for creating email templates to be sent through Gmail. There are even fewer tools that connect with Gmail to help you transfer templates from the builder to your account. Though, there are a handful of email template builders that work great with Gmail. Better yet, you can use them completely for free.
In this post, we'll show you 7 of the best free email template builders for Gmail, and discuss the noteworthy or unique features of each.
Stripo
Stripo is a freemium email template builder with over 400 different templates to choose from. Below are just a few free email templates for Gmail the platform offers: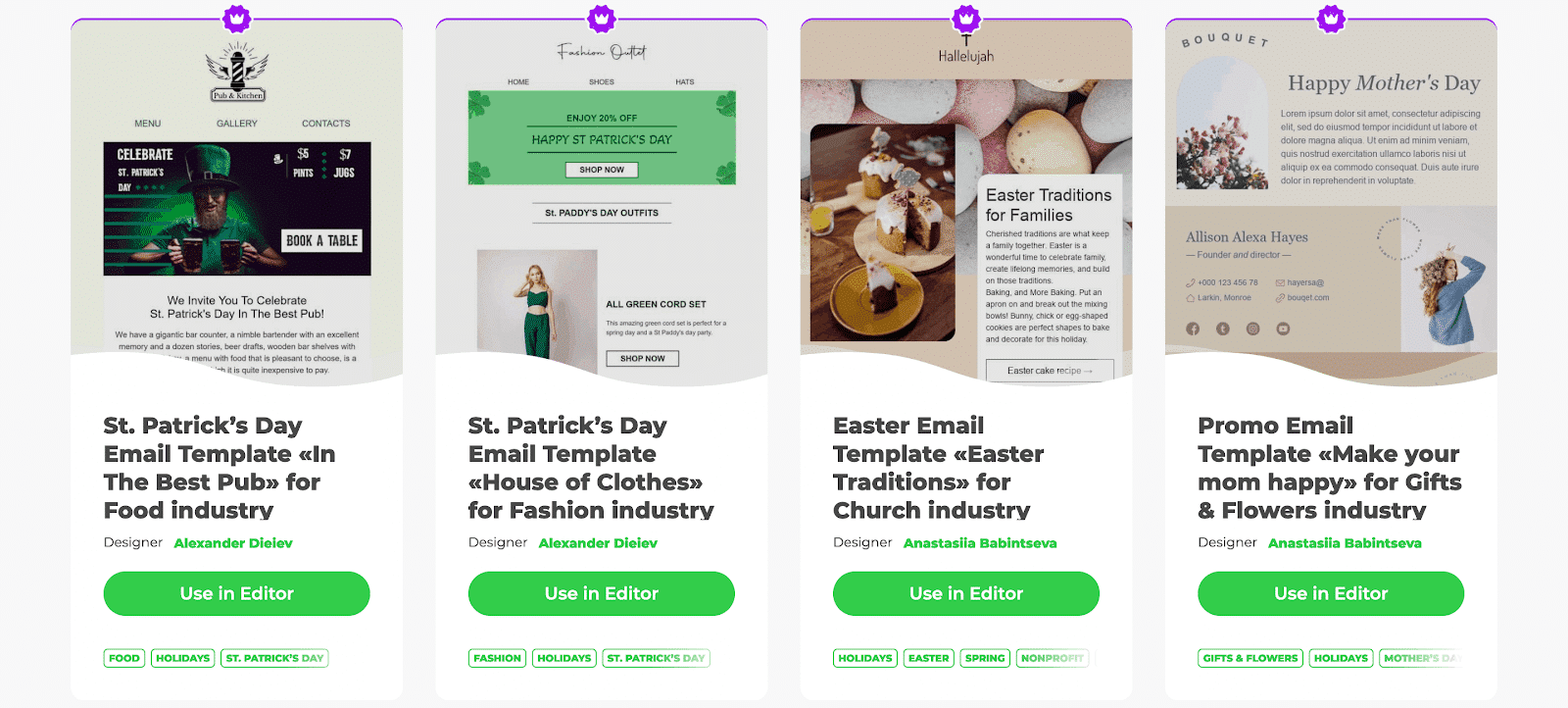 The templates cover a whole host of personal and business niches. What's more, they're also organized by the season they're associated with, the features the template has, and its type:

Stripo comes with a bunch of great features to help you create emails. For starters, there's a slick-looking builder that comes packed with blocks to add elements to your emails.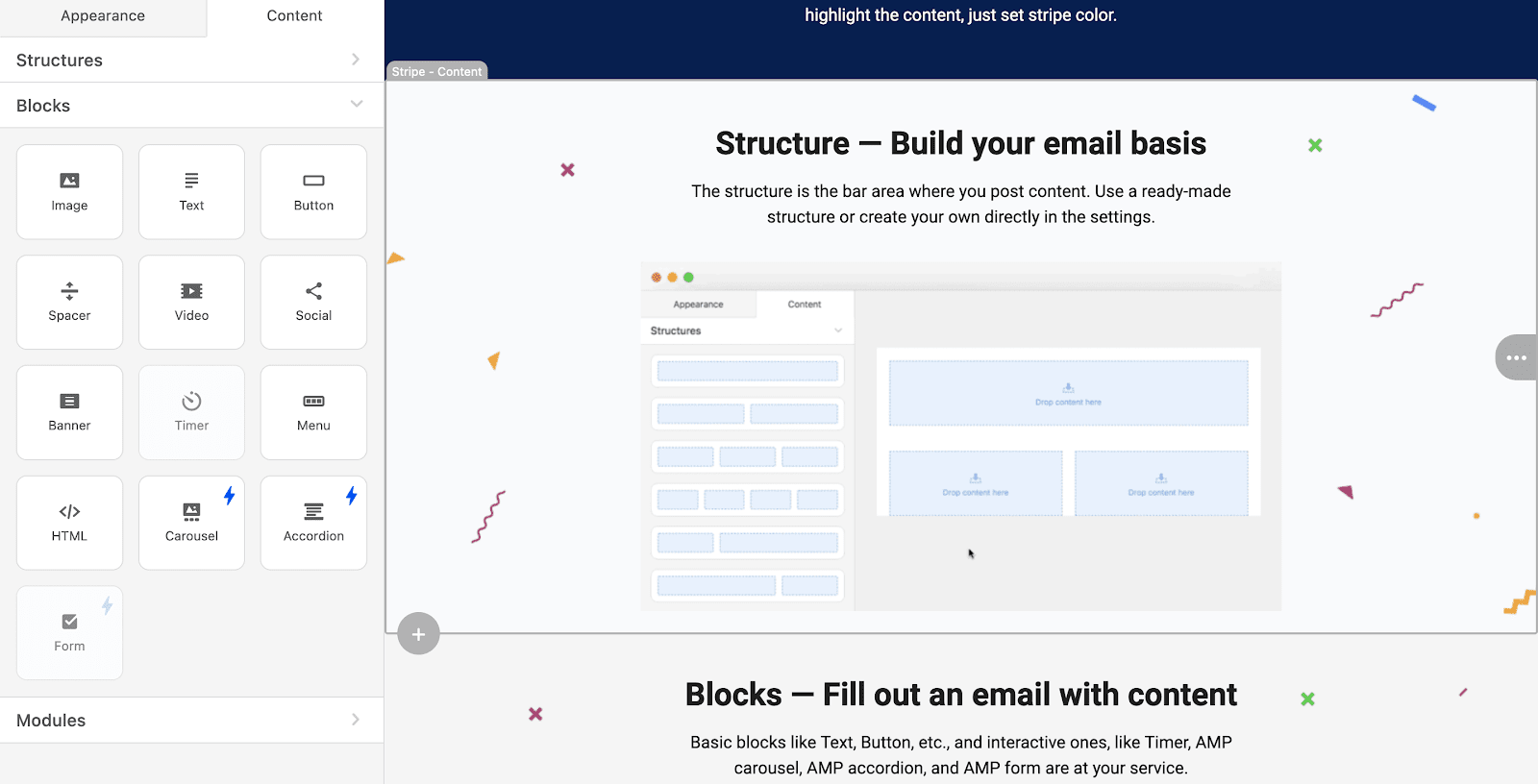 There are lots of ways to structure your emails too, using the pre-built elements for pre-headers, headers, 'info modules', banners, and more.
Stripo has a lot in the box when it comes to Gmail-specific features as well. For instance, Stripo has a free Gmail Promotion Annotations Builder to make your emails more enticing to recipients.
More importantly, however, is Stripo's ability to import email templates into your Gmail account with just a few clicks. To do this, you simply need to export your email template, and upon doing so you will be given a choice of email marketing platform. Selecting Gmail here will prompt you to link Stripo and Gmail, at which point, you'll find your email template in your Gmail Drafts folder.
This process is a seamless way to get email templates into Gmail, and its much less of a hassle than exporting and uploading HTML code into Gmail. 
BEE Free
Next, we have a tool that's billed as "free forever". BEE Free is a way to create beautiful emails, with a dedicated free tier.
There are both free and premium templates to choose from, although there's a convenient toggle switch to filter out those with a cost: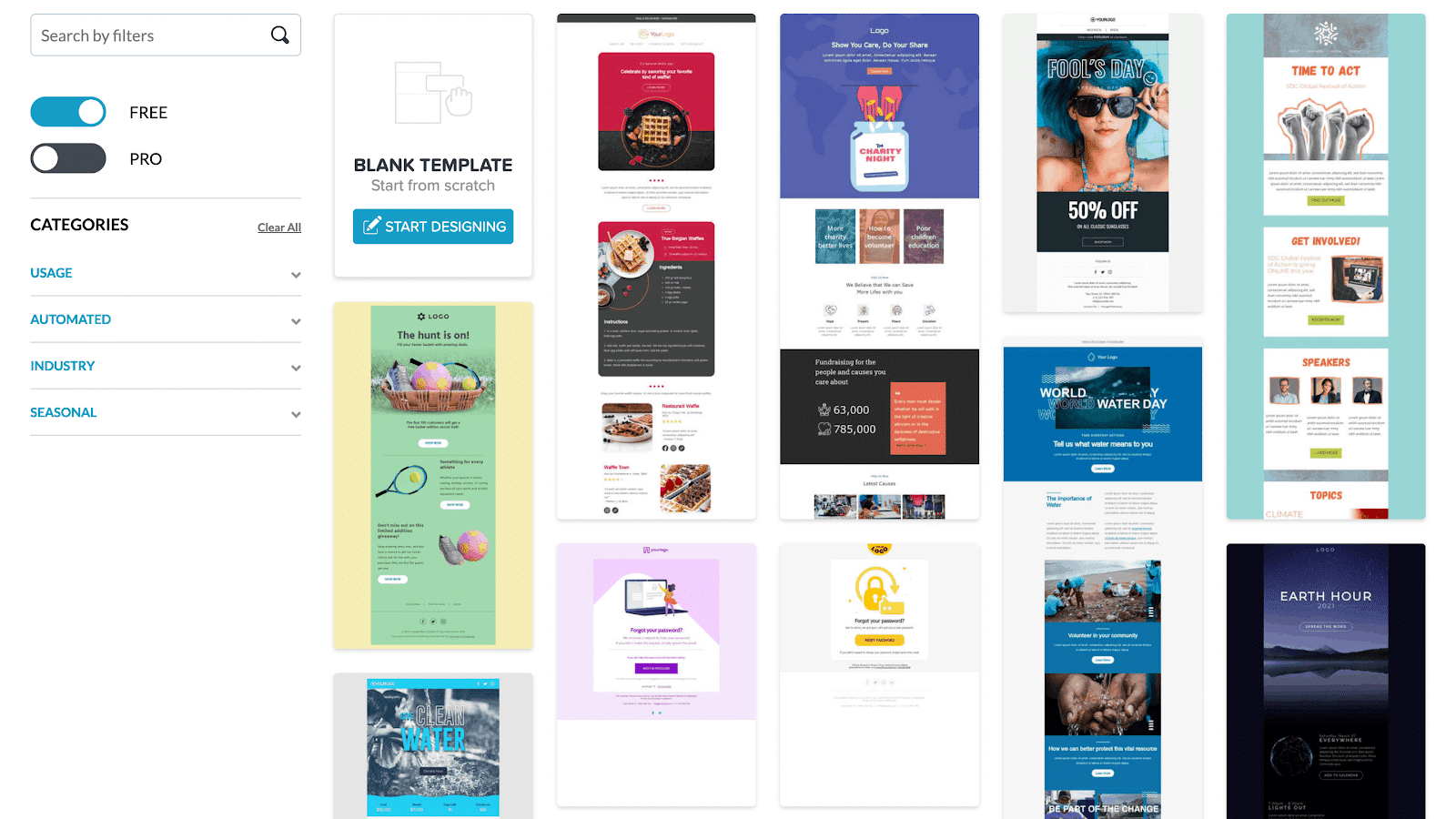 Once you choose a template, you'll find a functional drag-and-drop editor to help build your layout, although it's feature-restricted compared to higher tiers. 
Once you have designed your email, BEE Free gives you an easy way to get your creations into Gmail. The best part is you don't need a BEE account. Instead, you can transfer your emails to your Gmail account with the BEE Templates for Gmail add-on.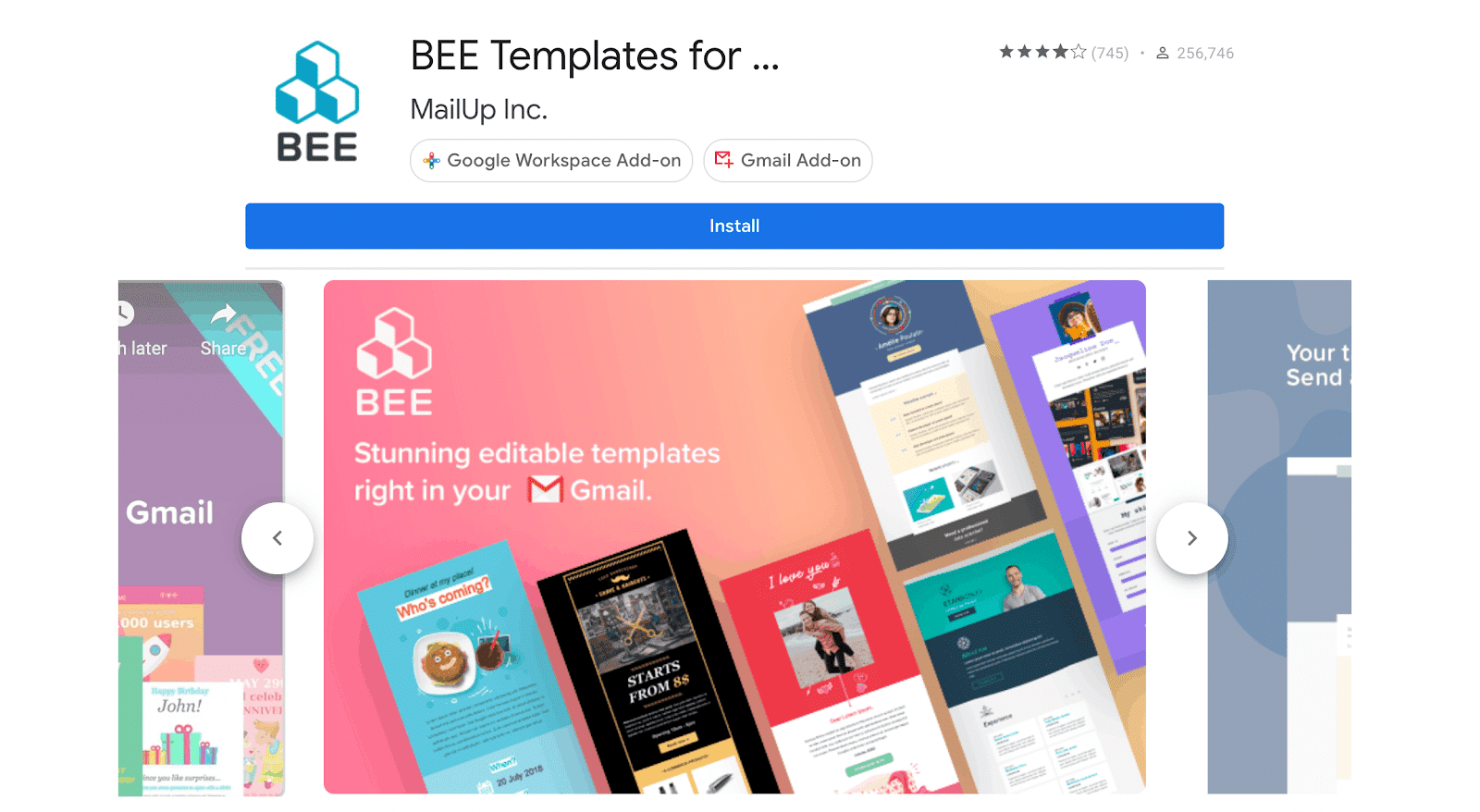 Once this Gmail add-on is installed, you can carry out the following process to import a BEE Free template of your choice into Gmail:
Open your Gmail inbox and create an email.

Select the BEE icon in the sidebar.

Choose a template for your email.
From here, you can add images and text to your email and send when you're ready.
The free version of BEE Free has a good selection of well-designed templates and makes sending emails from Gmail easy. However, keep in mind that for a wider selection of features, more customizability when designing emails, and additional features, the paid Bee Pro plan is your best bet.
TOPOL
Similar to BEE Free, TOPOL has a "free forever" tier that has some restrictions compared to its premium tiers. Unlike many platforms, with TOPOL's free plan you can create unlimited email templates using a drag-and-drop editor:
Not only does the back-end editor look modern and stylish, but the templates are well-designed as well.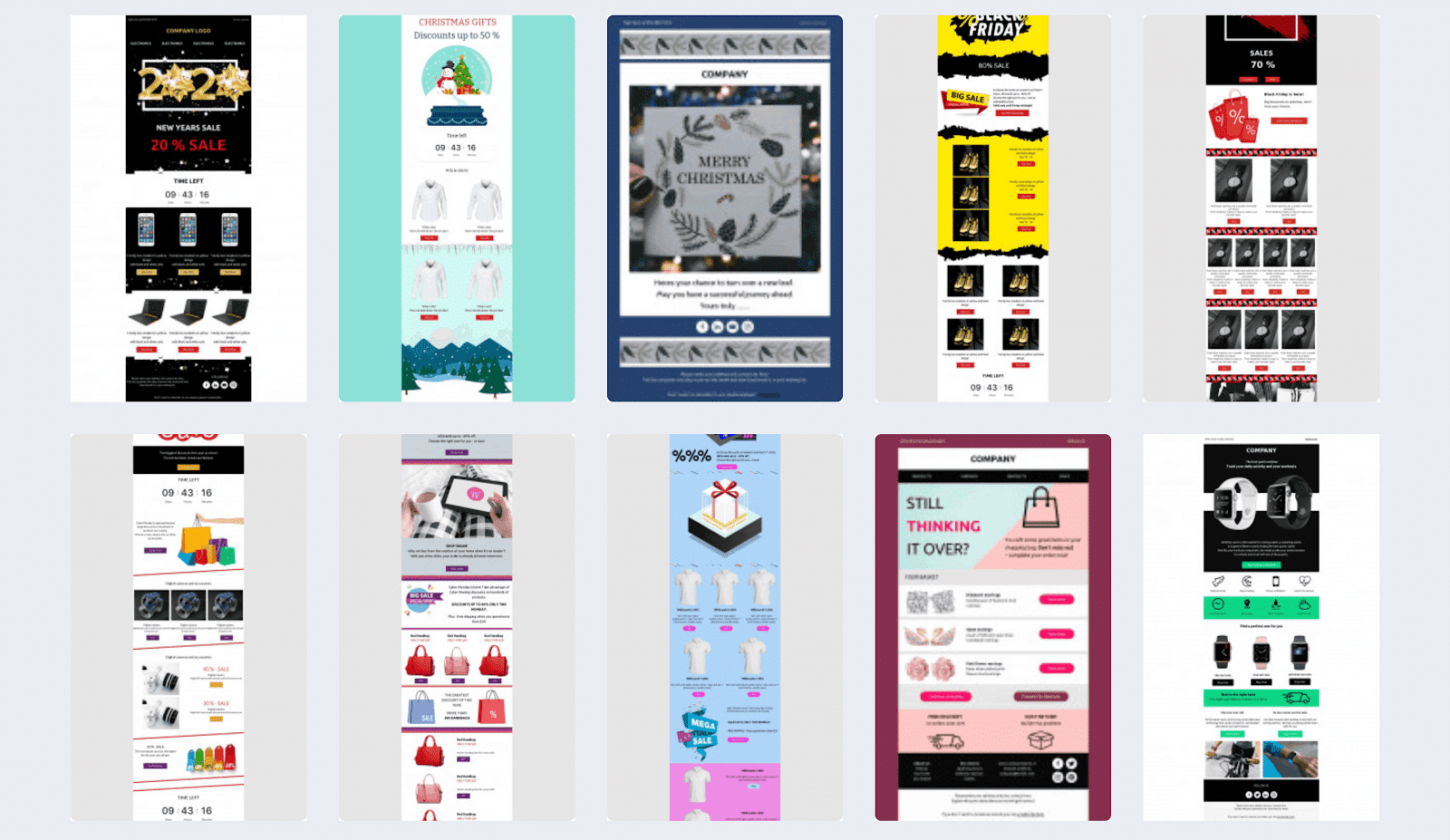 However, while the templates are stylish, there isn't a large selection of editor elements to work within the drag-and-drop editor. Basic aspects aside, there are few ways to tailor a template to your requirements:
With TOPOL's free version, the process of transferring the template to your Gmail account is a bit more involved than BEE Free and Stripo. You must download the raw HTML file for the template, and then manually add it to a Gmail email draft. Doing this isn't terribly difficult even if you don't know much about HTML code. However, the process can be cumbersome for some. 
While TOPOL offers some great basic features with its free version like many other free email template builder solutions, it's worth noting that for long-term use of the tool, it's certainly upgrading to the paid version for the more advanced functionality. Fortunately, considering the paid version starts at $10 for three users, the tool is quite affordable. 
Gmail Email Templates by cloudHQ
Unlike the other solutions discussed thus far, Gmail Email Templates is a Google Chrome extension. The Basic free version is fully integrated with Gmail and comes with over 100 pre-designed templates.
It's worth knowing that because this is integrated into the Gmail client, there's no external process for exporting emails. What's more, you install the solution from the Chrome Web Store. This means you can work with the entire suite of functionality without needing to head to a third-party website. To do this, you click the Insert Template button next to the Send button in any draft.
While this tool is relatively more simple, it does have some powerful features that make it an excellent solution of choice.
For instance, with Gmail Email Templates, you are able to duplicate any email you receive and use it as your very own template. This way you don't need to go through the time-consuming process of creating an email template from scratch. Rather you can use beautifully designed templates from any company that has sent you emails in the past with the click of a button. 
Additionally, if you enjoy using Mailchimp's email template builder (which is free by the way), with Gmail Email Templates you can import Mailchimp templates into your Gmail account in just a few steps.
On the whole, Gmail Email Templates is a simple, but highly effective free tool for building emails that work with your branding.
Mailchimp
Mailchimp is a leading email marketing service that serves millions of newsletters from thousands of companies every year. That being said, this platform is different from any other solutions discussed so far. Regardless, when used in the right way, Mailchimp can be a powerful platform for building Gmail email templates. 
Mailchimp happens to have an excellent selection of email templates included in its free plan: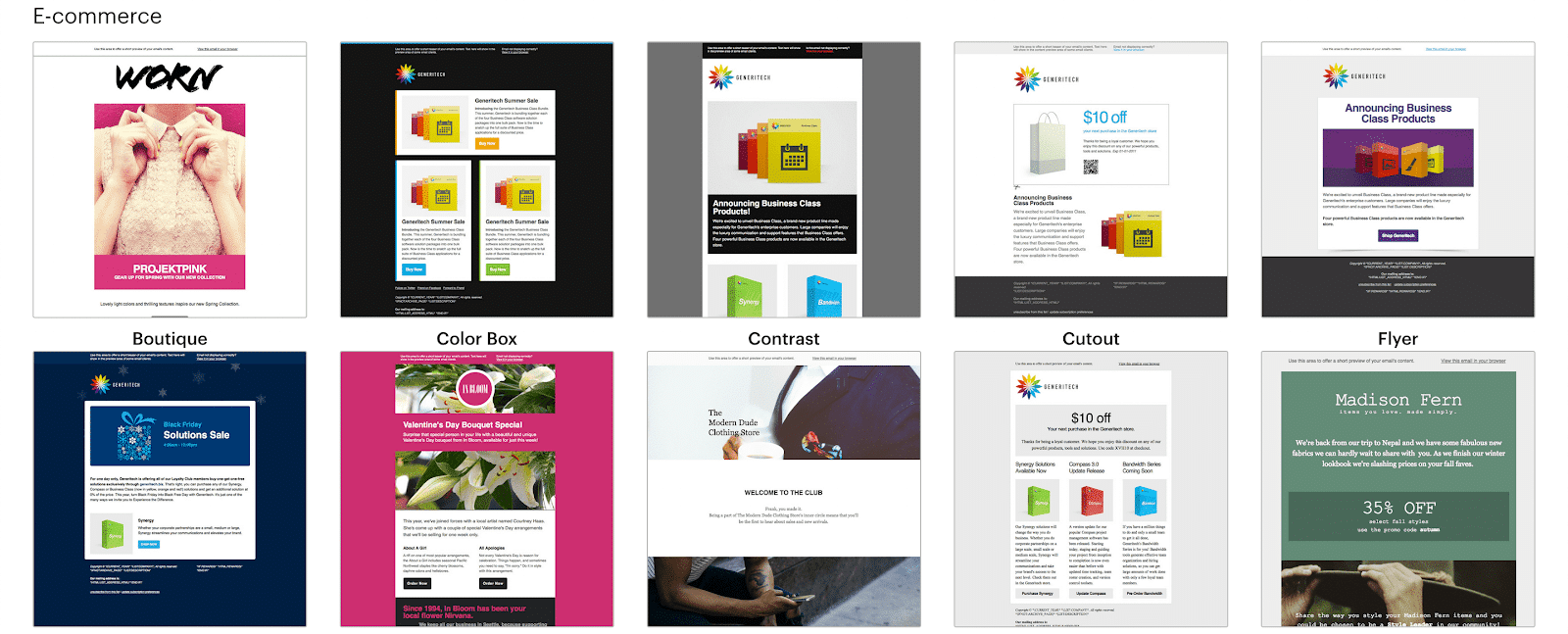 What's more, the Mailchimp editor is good-looking and intuitive, if a touch inflexible:
Once you have designed a template in Mailchimp and you are ready to use it in Gmail, you will have to do an HTML export. To do so, save your template, and once you go back to your Templates screen you can choose the Export as HTML option from the template's drop-down menu:

Once it's saved to your computer, open the HTML file in your favorite browser. From here, select all the elements, copy them, then paste them into your email. You'll notice that there are a few issues – images won't have been copied over, and some web fonts won't be available to you.
This isn't the most straightforward approach to importing templates into Gmail. However, given that Mailchimp easy to use and familiar to many, it's certainly a noteworthy Gmail email template solution. 
Unlayer
On first impressions, Unlayer has a 'Canva vibe' to it, which extends to the template editor: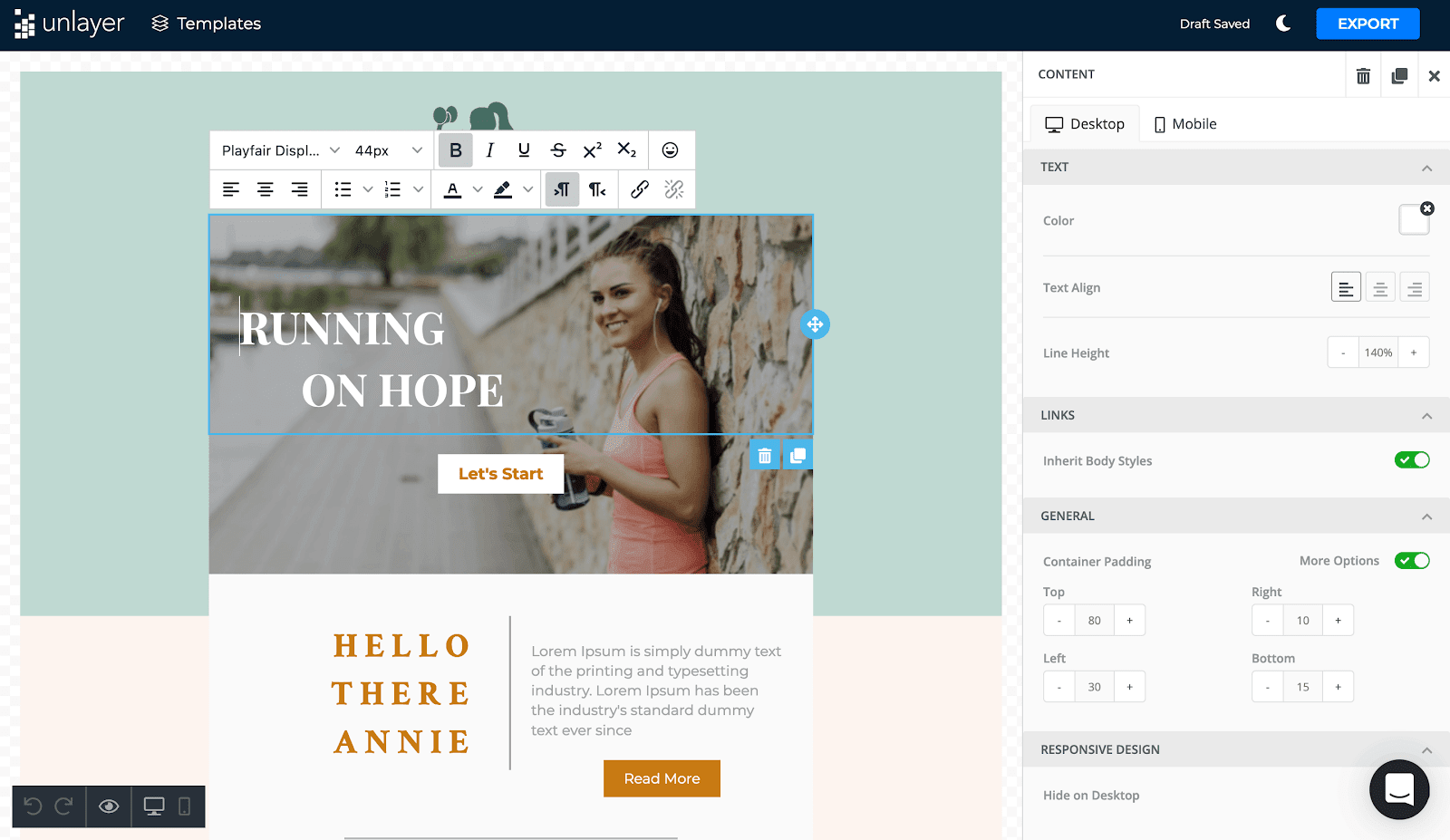 Not only does Unlayer let you create email templates but you can design landing pages too, which makes sense given the functionality of the tool. There are a lot of powerful options in the package, which makes Unlayer one of the better free email templates builders available.
The stock templates look great too – it's clear the Unlayer design team are focused on delivering quality assets for its users:
On the free tier, you also get stock images to choose from, and the ability to download your template. It's unfortunate, yet understandable that direct integration with Gmail is only possible on higher tiers. Still, you can use the Export button to download an HTML file of your email template for you to upload to Gmail.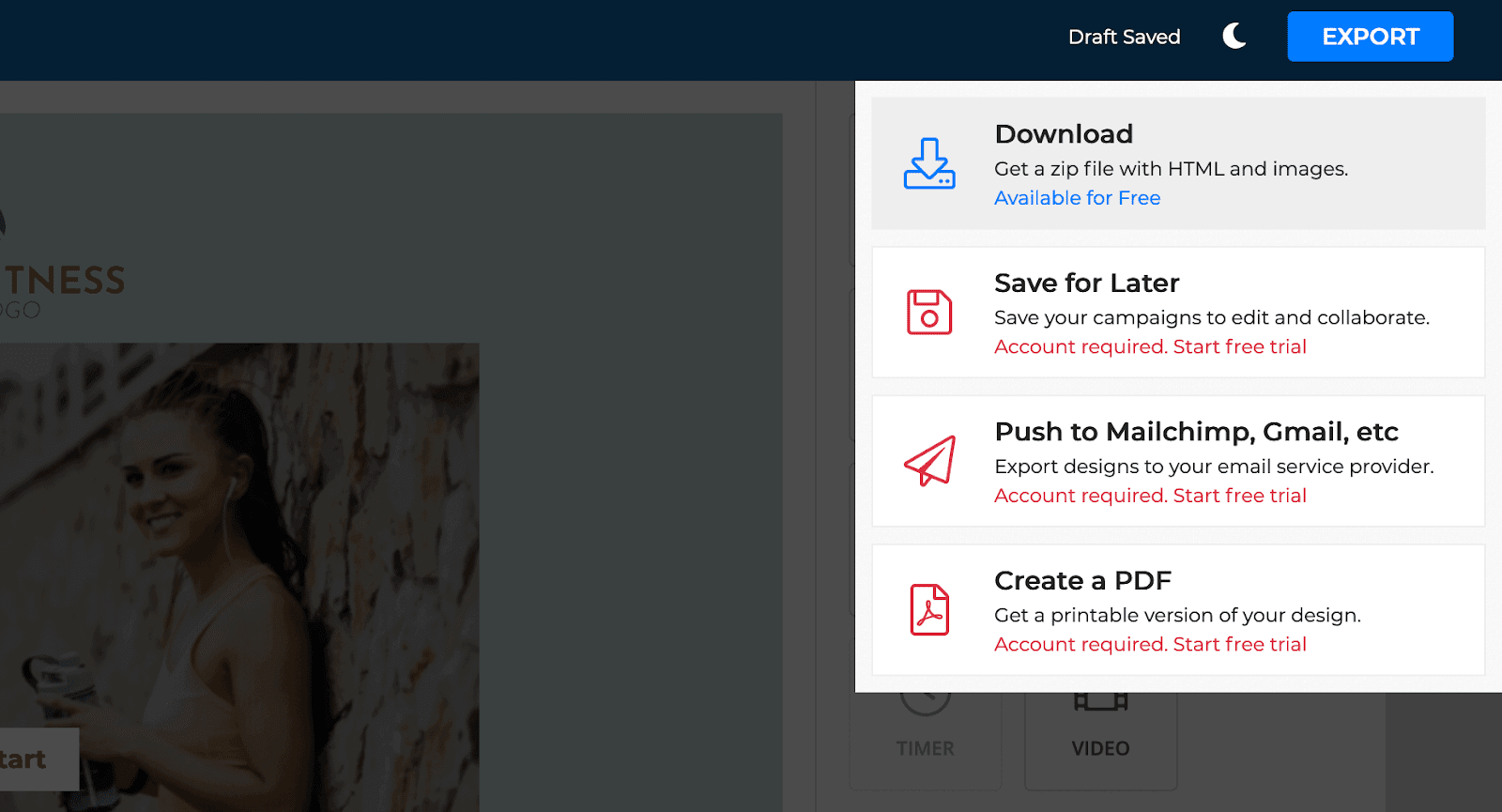 Additionally, this tool can create HTML email templates for Outlook as well. 
Liramail
Our final free email template builder for Gmail, Liramail, is another clean-looking solution that offers an amazing selection of free email templates for Gmail. However, the catch is that while the email template editor itself is free, the email templates aren't. You must purchase email templates from third-party marketplaces such as ThemeForest.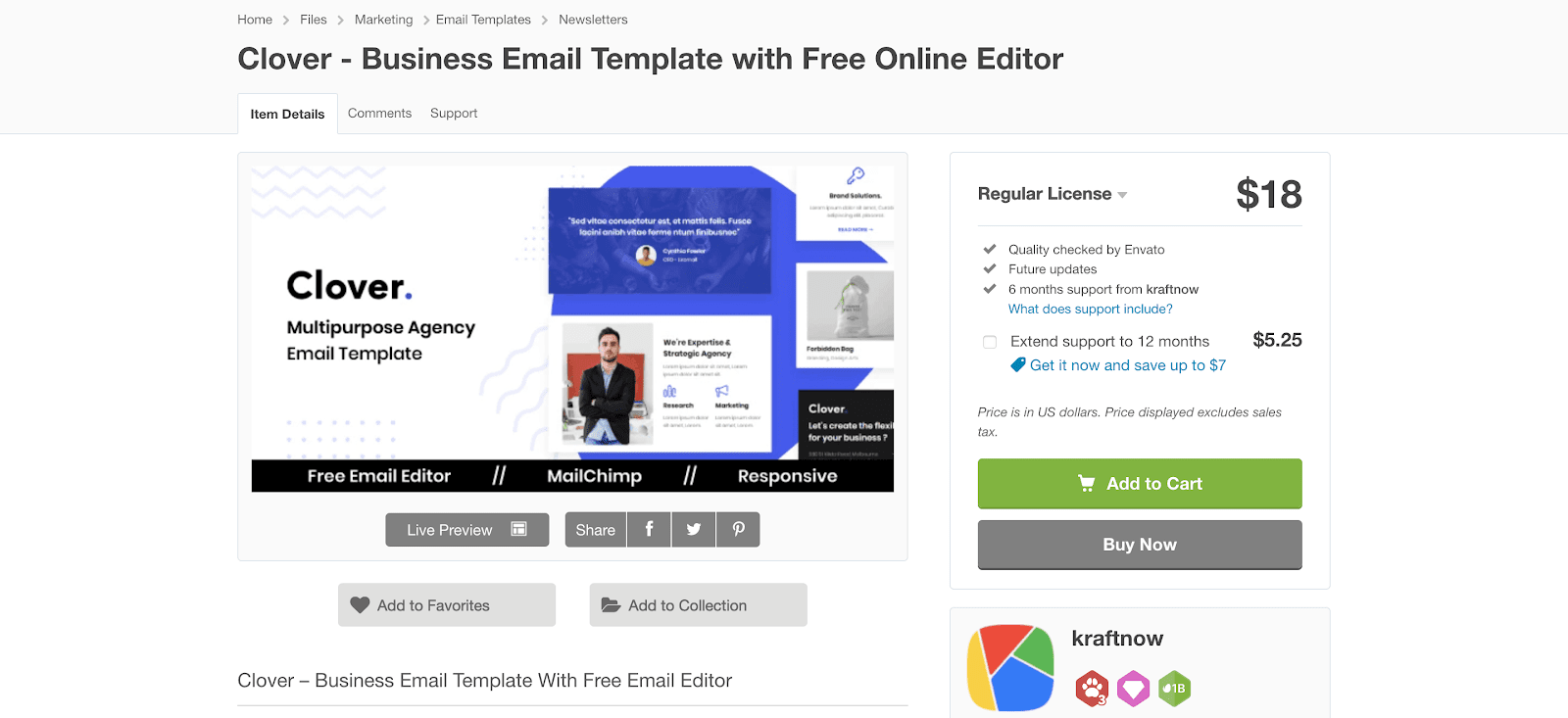 Regardless, the template editor might make up for this inconvenience given its easy to use, yet powerful interface. The email builder truly does make for a pleasant editing experience.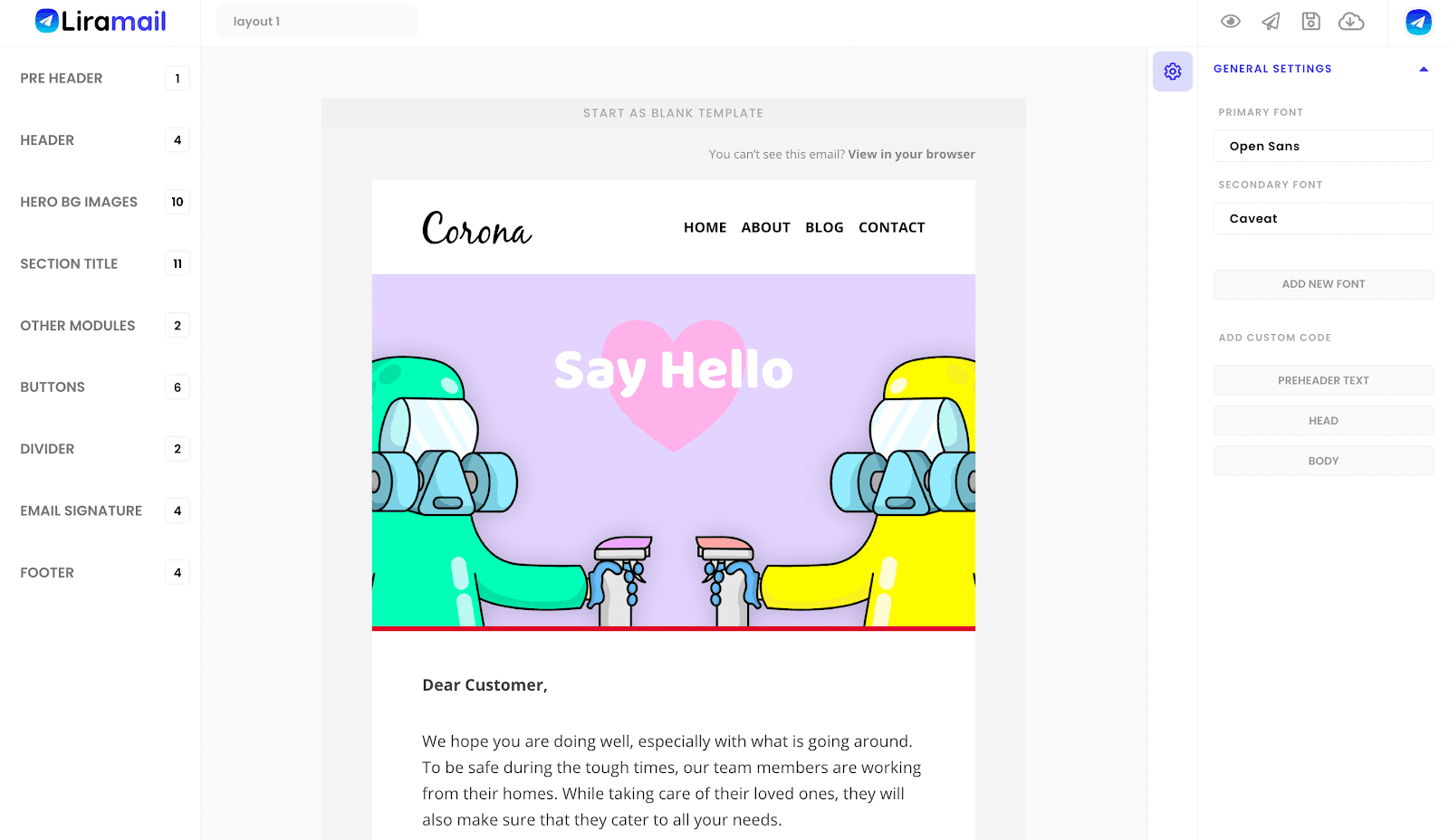 In order to transfer your templates to Gmail, unfortunately, you cant directly export templates to Gmail. Instead, you must export the raw HTML and copy it into your Gmail email. 
Final Words
Having a solid way to design the look of your emails can push you in front of others in the inbox. Gmail users have tons of functionality within the platform. Using an email template builder for Gmail will let you create emails to be proud of, that will also have your own personal touch and branding.
However, although Gmail is familiar and convenient for most, keep in mind that Gmail has its limitations. Given that Gmail limits the number of emails you can send daily, for sending emails in bulk it's better to use email marketing services rather than Gmail. Services such as Mailchimp and GetResponse would be your best bet. 
Which of these email template builders float your boat? Let us know in the comments section below!