In this day and age, a good form builder is a must for marketing campaigns.
There are many form builder options to choose from. And while there are numerous proprietary software solutions available, these form builders aren't the best fit for every business. Fortunately, there are many open-source form builder solutions as well that are great for businesses that want greater flexibility when designing forms.
In this post, we share 10 of the best open source form builders and their most notable features.
Torro Forms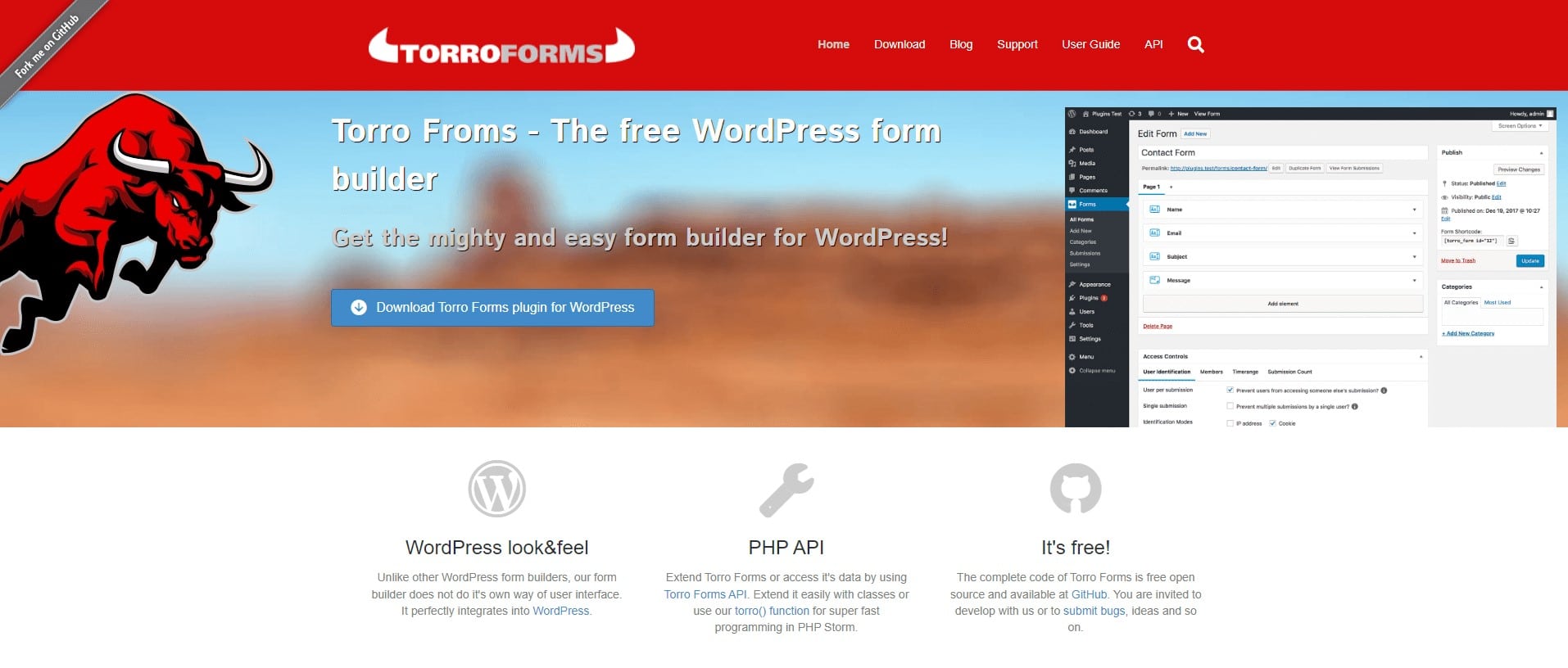 Torro Forms is a free WordPress form builder extension with the look and feel of WordPress, an easy-to-use drag and drop interface, and chart evaluation. If you're comfortable using the WordPress interface, you will be able to easily translate that experience into creating forms with this WordPress plugin. 
Torro Form is an open source form builder with database, which means that form submissions collected via Torro Forms are permanently stored for easy browsing, evaluation, and export. The chart feature allows you to evaluate every form element using helpful bar charts, helping you to better analyze all of your form submissions. Form submission results can be exported as CSV or Excel files for use in popular reporting and analytics programs.
Torro Forms was explicitly made to create simple contact forms, surveys, and polls, but its functionality goes well beyond simplicity. From complex survey solutions to internal forms that restrict specific user groups, Torro Forms is the right solution. With Torro Forms, you'll never feel as if you're boxed in thanks to the software's extendability via several Application Programming Interfaces (APIs). The Torro Forms easy-to-use Elements API, for example, allows user to enhance their forms even further by enabling the creation of custom form elements.
Administrators appreciate that Torro Forms is easy to use, while developers enjoy its extension flexibility. It's an all-around simple but powerful self hosted form builder.
Form Tools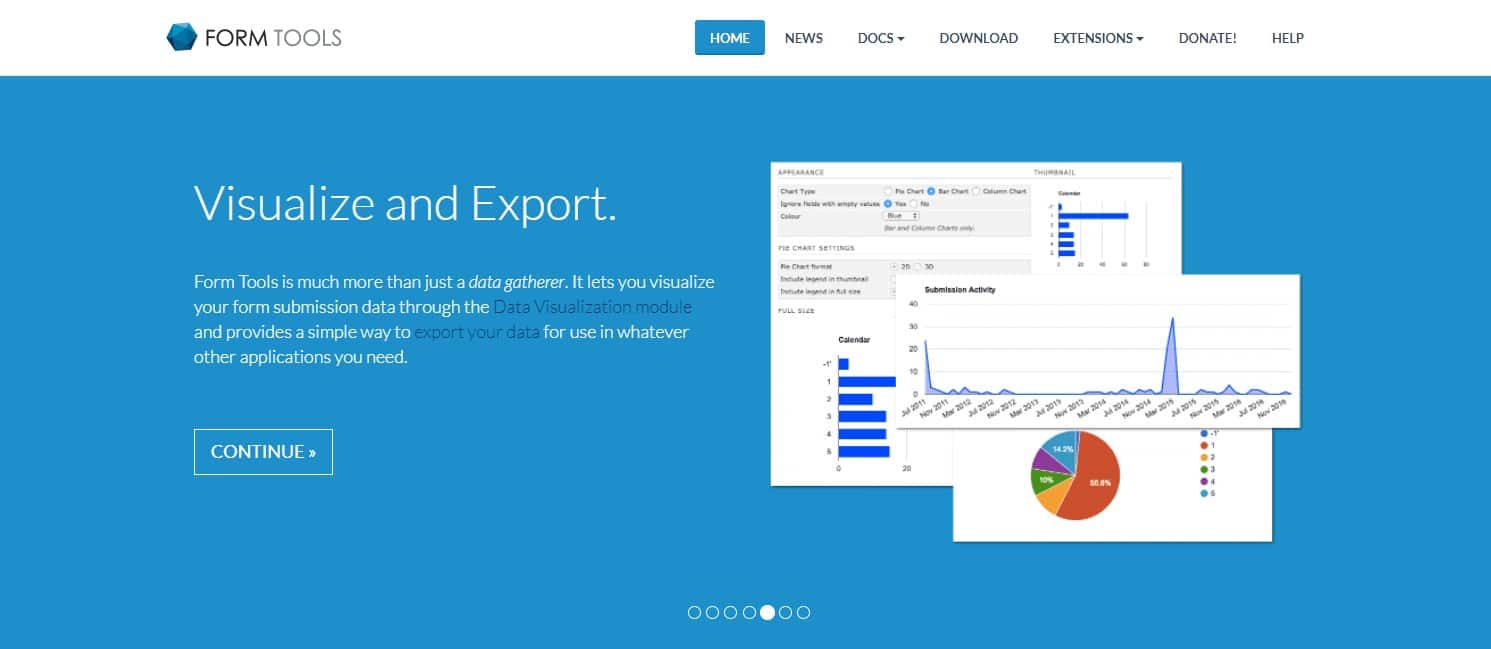 Form Tools is a free, open-source PHP/MySQL script that you install on your own website to manage forms and data. It is a flexible web form creator, processor, data storage, and access script that requires no programming knowledge. Its powerful plug n' play modules offer a range of features that allow you to customize your installation to meet your unique needs, and if the module you need does not exist, you can always write it.
With Form Tools, you can customize user accounts, create unlimited accounts, and determine which forms and form fields each user has access to. You can also control reading, writing, and data export privileges as well. You can even give each account a unique language setting. With more than 50 translations available, Form Tools allows for easy language customization.
Form Tools does more than gather data. Its Data Visualization module allows you to visualize form submission data and export it for use in other applications. There is even an available API for deeper integration.
Although this PHP open source form builder was first designed to work with any existing web forms, it has since been expanded to automatically create forms as well. It is a truly powerful solution.
Form.io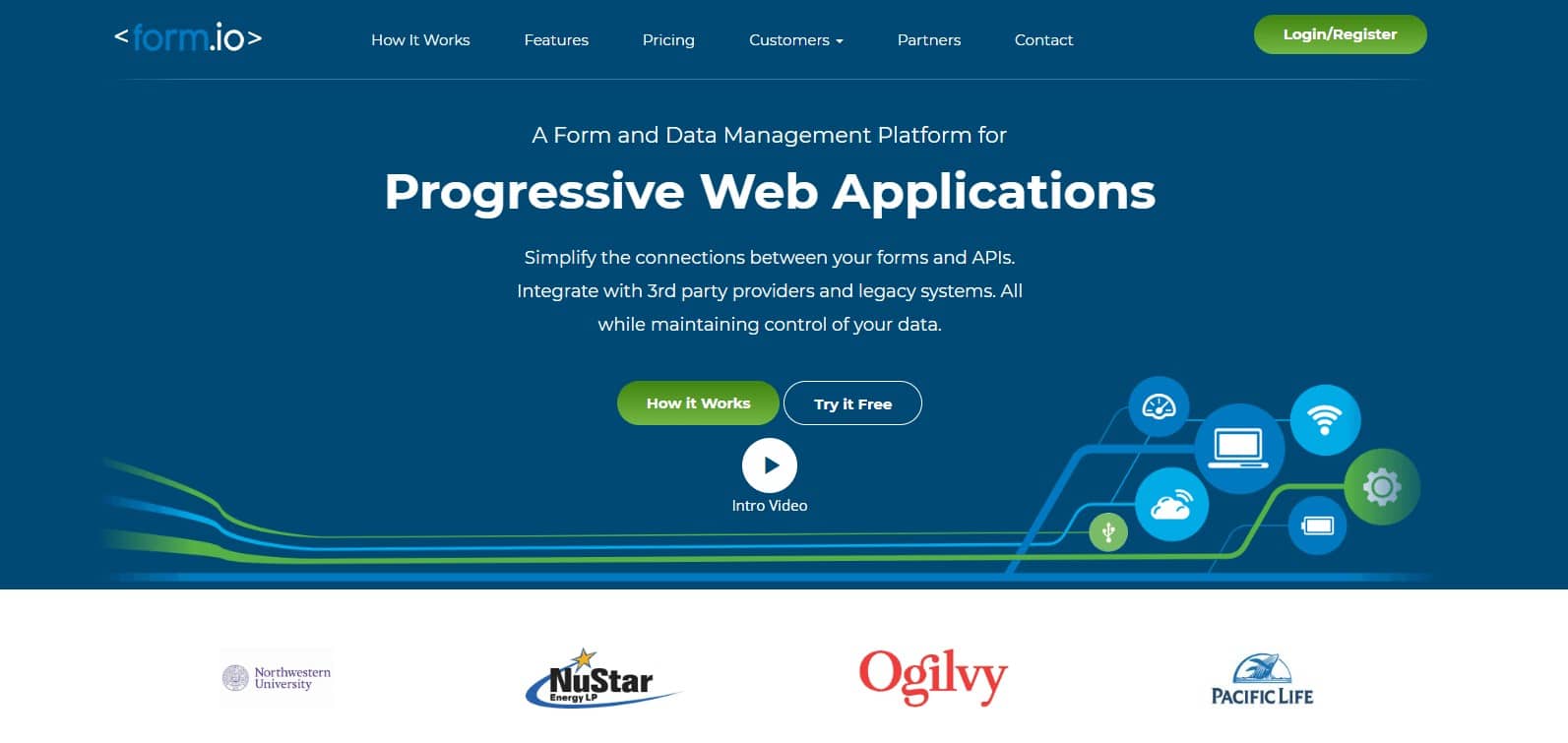 Form.io is an enterprise-class HTML open source form builder and API data management platform used to develop and deploy form-based applications quickly and affordably. This easy-to-use HTML form builder allows users of any skill level to produce even the most complex forms and integrate them into third-party applications and legacy systems. The Form.io features a drag-and-drop process enabling users to easily create dynamic forms, while the builder automatically generates the supporting APIs, streamlining the entire development process.
Form.io doesn't just help organizations build form-based applications for information gathering. It also empowers organizations to manage the data they collect through easy integration with third-party providers and legacy systems. It also addresses data security by helping your organization stay compliant with industry data security best practices and regulations.
There is a free version of the Form.io form builder and API platform with limited capability, though it is still a robust and valuable option. For advanced enterprise features, packages start at $100 per month. The company offers users a free demo to test-drive its powerful HTML open source form builder before deciding if it is right for them.
Orbeon Forms

Orbeon Forms is a free open source form builder that offers a "community edition" and a paid "professional edition." It is an in-house form building and deployment solution designed to handle large forms and complex validations with enterprise and government organizations. Orbeon Forms is used worldwide and is popular in the education, telecommunications, healthcare, banking, and government industries.
Orbeon Forms is a web-based application solution that allows you to visually design your forms using an easy, straightforward interface that will enable you to build and deploy forms within minutes, right from your web browser. There is no additional software, plugins, or experience necessary. The forms you make with Orbeon Forms are not only web-based, but they are responsive, meaning they can be accessed anywhere, from laptops, desktops, and mobile devices.
With Orbeon Forms, you can define validation rules, determine visibility, execute calculations, and create complex conditional logic rules.
This form builder is easy to use with a simple interface. Because Orbeon Forms is an XML-based form builder relying on HTML concepts, the learning curve isn't too steep for those familiar with HTML. Furthermore, Orbeon Forms is an open source drag and drop form builder which makes it easy to put together forms for those who don't want to build forms from scratch. 
OhMyForm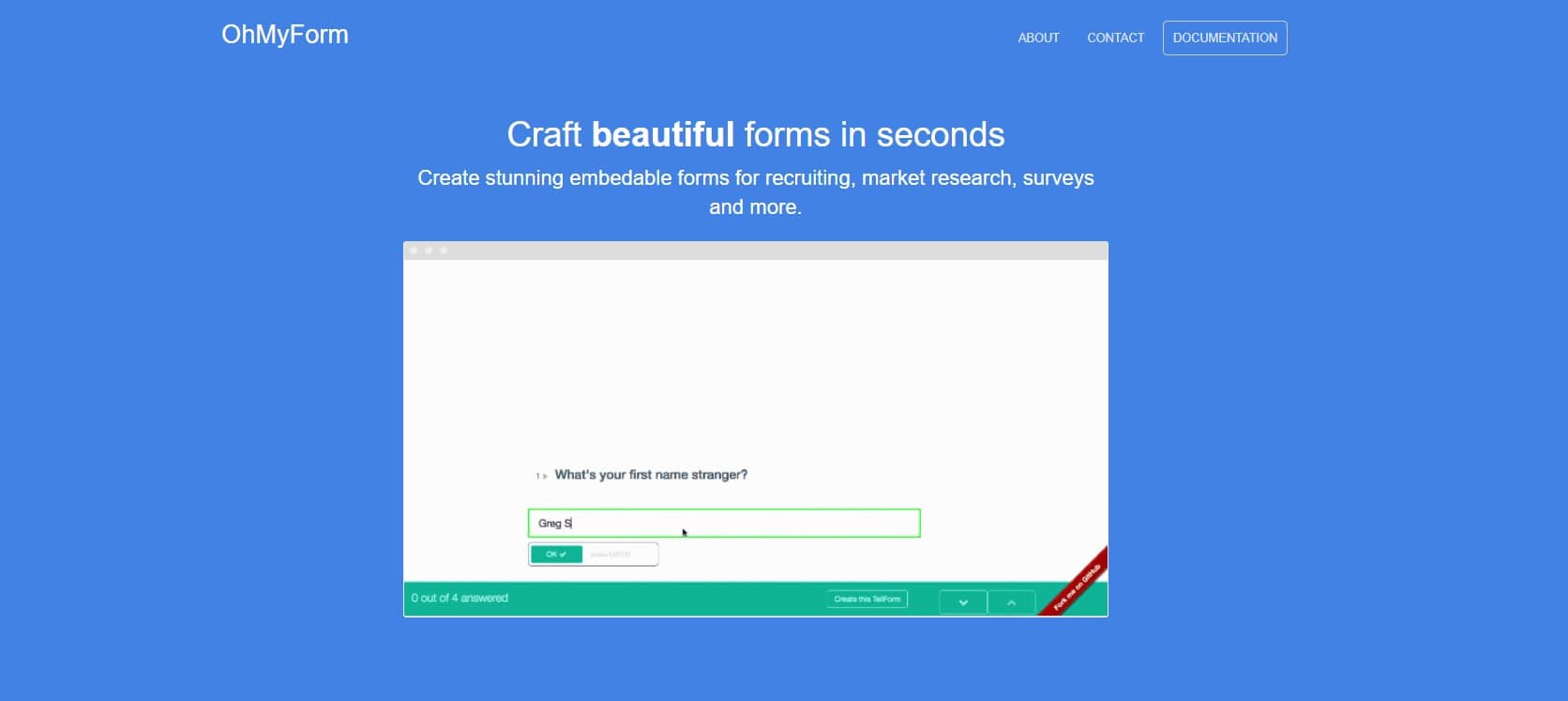 OhMyForm is a free, open-source form builder akin to Google Forms. In fact, many regard this tool as a good open-source Google Forms alternative.
From the makers of the now-defunct Tellform, OhMyForm allows users to create stunning embeddable forms in seconds, which can be utilized for surveying, polling, conducting market research, recruiting, and so much more. Best of all, this free form building software is feature-rich, providing all of the elements necessary to create, administer, distribute, and analyze your forms. Thanks to its robust open-source community, OhMyForm is continuously improving, repeatedly vetted by some of the world's top programming experts. That ensures that the form builder's code is top-notch, free from errors and bugs.
OhMyForm is 100% open-source software that businesses can use to generate professional-grade mobile-friendly questionnaires, forms, quizzes, and surveys. Because it uses standard web technologies, OhMyForm makes embedding forms on desktops, websites, or mobile applications a breeze.
The developers of OhMyForm have committed to keeping it a free open source form builder forever, which means that there are no monthly charges and no installation fees associated with the software.
Eureka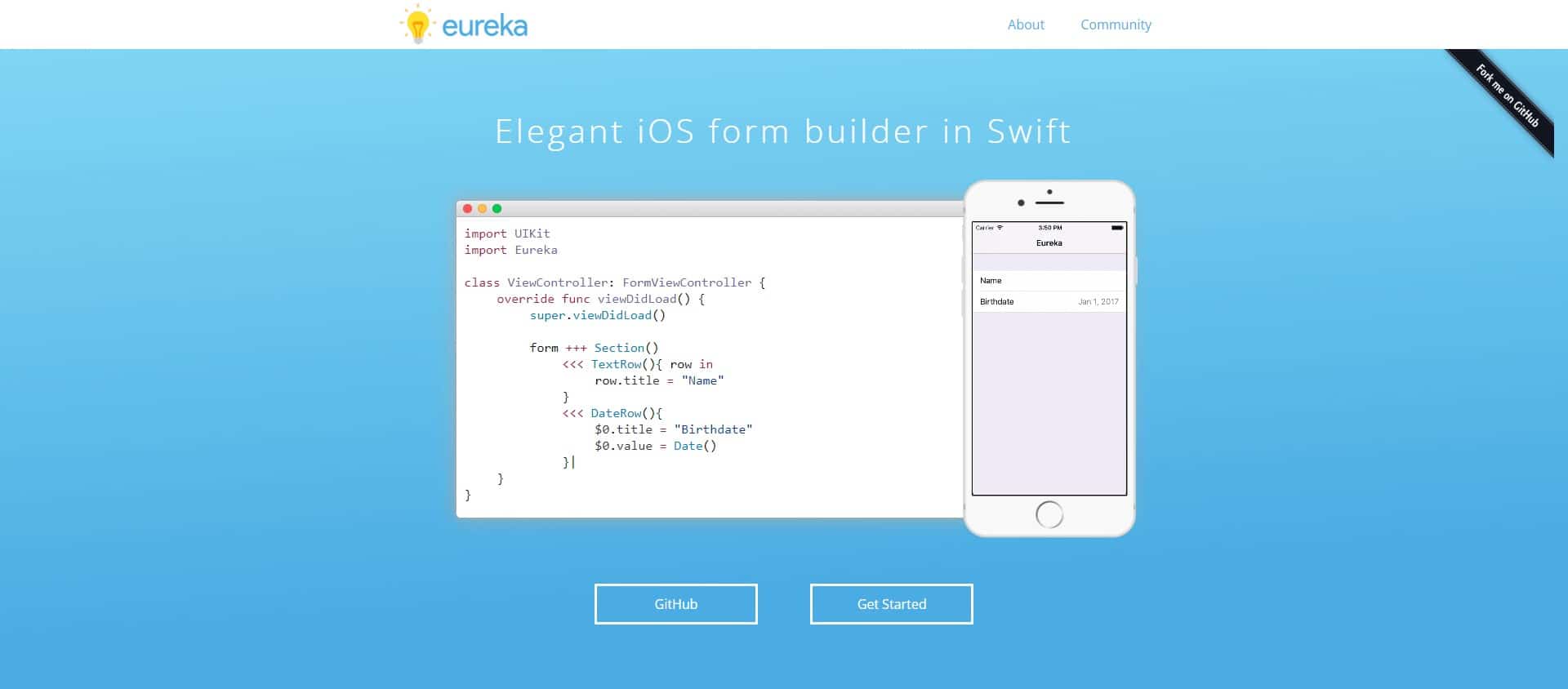 Eureka is an open source iOS form builder that uses the intuitive and intuitive Swift programming language to create dynamic table-view forms. It is a form-building tool with a robust library designed for developers looking to create apps that feature user input interfaces. Users of Eureka require the ability to be comfortable developing apps using the Swift language. Beyond that requisite, however, Eureka is a simple form development tool.  
Using high-level DSL abstraction, developers can easily create dynamic table-view forms. This DSL consists of sections, rows, and forms. Out of the box, Eureka is customizable, extensible, and flexible, with the ability to cover most use cases.
With Eureka, users can create powerful forms without dealing with complex, repetitive codes. Once your code is written, you can use it everywhere. You won't have to think about validation code and duplicated style while Eureka's abstractions power up your app.
Best of all, Eureka is supported and actively maintained by an engineering team along with a robust community of contributors and users and is currently used in more than 15,000 apps.
WPForms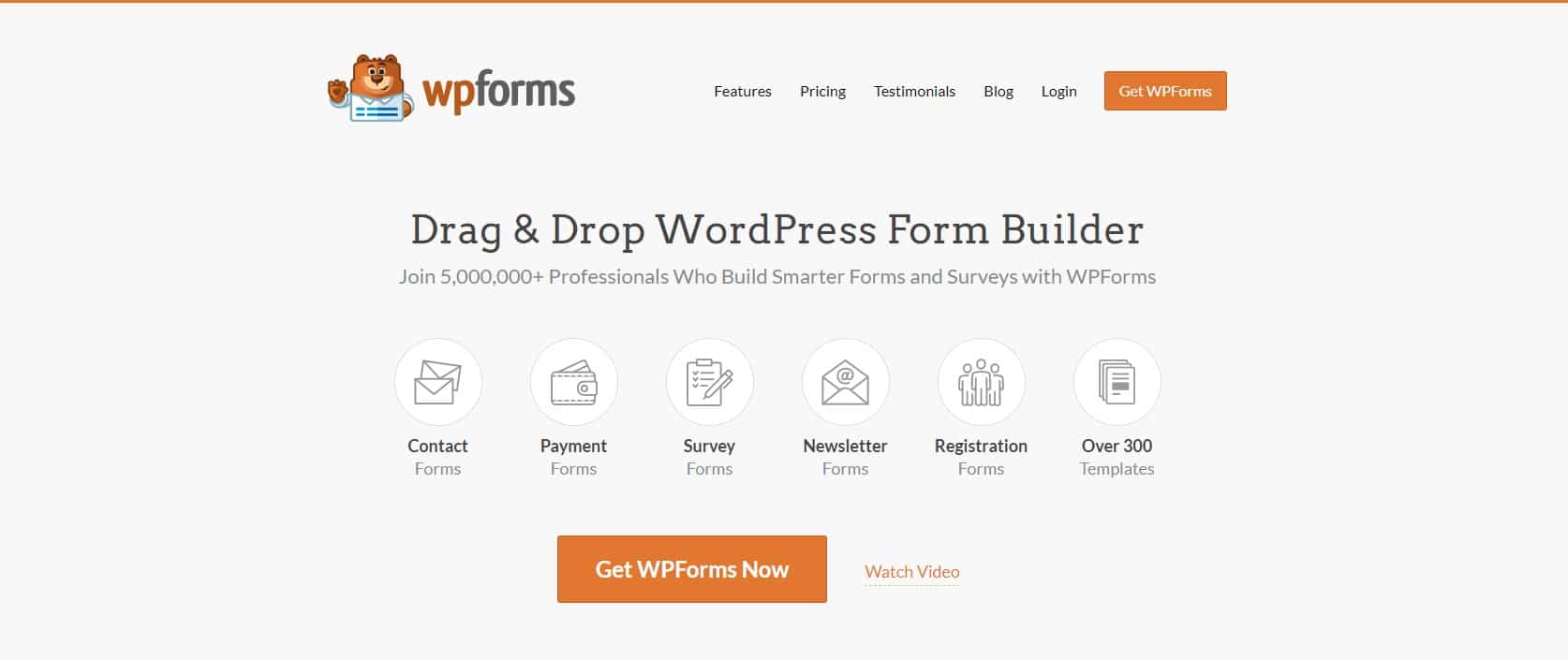 WPForms is an open source form builder plugin for WordPress. Its free version, WPForms Lite, is an affordable and powerful alternative to the more expensive form-building software solutions on the market today. WPForms allows users to easily and quickly create various WordPress forms, including online surveys, quizzes, contact forms, donation forms, file upload forms, and more through an easy-to-use drag and drop interface.
WPForms is known for its simplicity and array of features. It offers more than 300 different fully-customizable form-building templates with conditional logic, reCAPTCHA, signature collection, user submission, and payment collection features, to name a few. WPForms can also be integrated with a Form Abandonment addon to follow up with respondents who abandoned your form before completion or a User Journey plugin, which allows you to track respondents' paths. Users can even track respondents' city, state, and country.
WPForms can also seamlessly integrate with payment solutions like PayPal and Stripe and email marketing software solutions, including AWeber, Sendinblue, Constant Contact, and Drip. WPForms is one of the easiest WordPress form builder plugins for usability and one of the most popular.
Webiny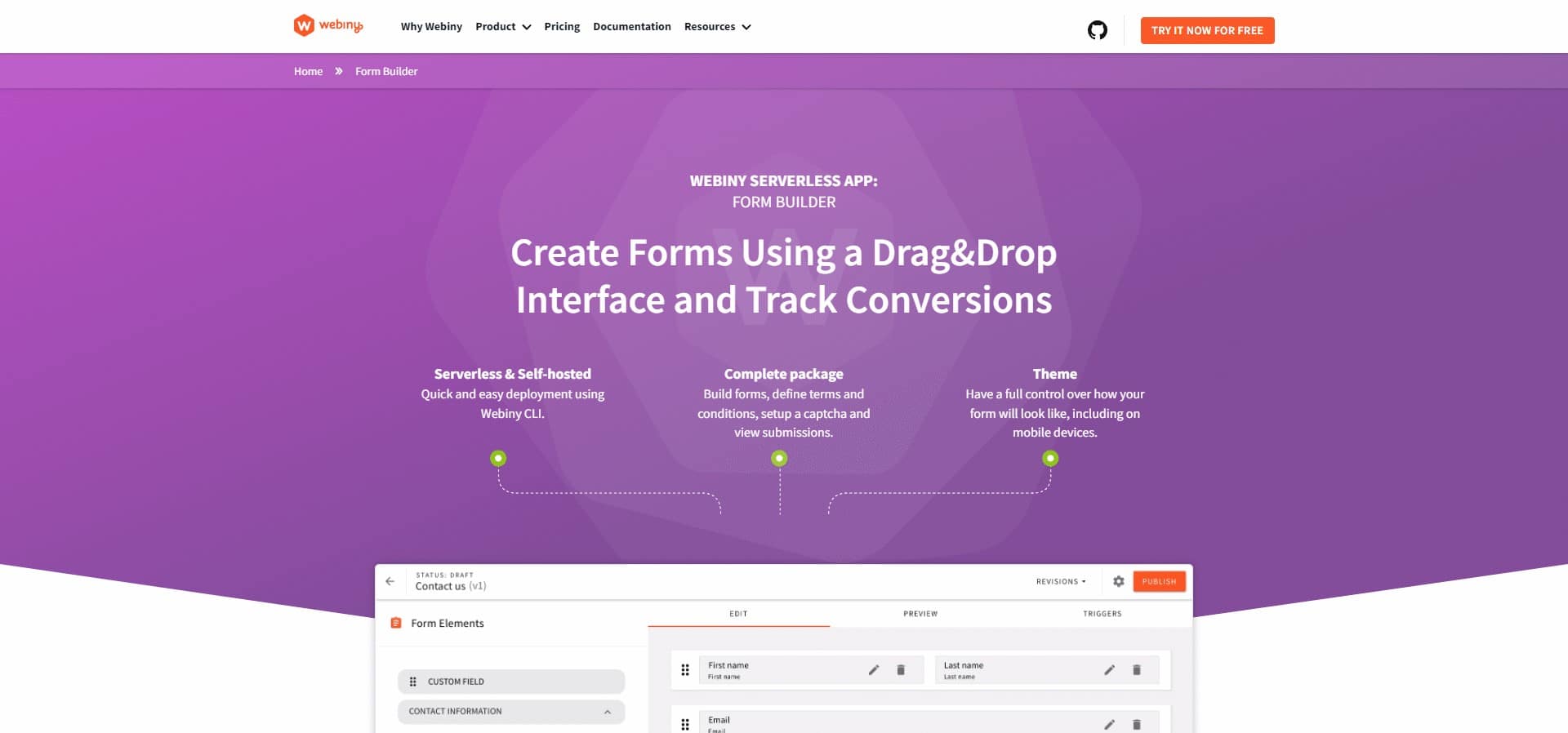 Webiny is an open-source content management system (CMS) designed for serverless web development. Webiny's enterprise CMS platform aims to empower developers to easily create serverless applications by providing them with the tools, processes, and ready-made apps needed to make that possible. One of those apps is the Webiny Form Builder, which provides users with all of the essential elements necessary to create forms, from simple to complex.
The Webiny Form Builder uses a drag and drop interface that is easy to use with no coding experience required. Webiny Form Builder allows you to create and launch countless forms quickly and easily, from simple contact forms to complex sales forms and everything in between. With Webiny Form Builder, you'll have access to all essential, necessary form elements, including basic input fields, extended text input fields, radio buttons, dropdowns, checkboxes, and hidden inputs.
The Webiny Form Builder offers complete, seamless integration with the Webiny Page Builder, allowing users to insert forms into their web pages easily. With the Webiny Form Builder, users have complete control over the look and feel of the forms that they create and the ability for full extension and added functionality. The Webiny Form Builder is only available as part of Webiny's enterprise CMS platform and cannot be used apart from that software.
Laraform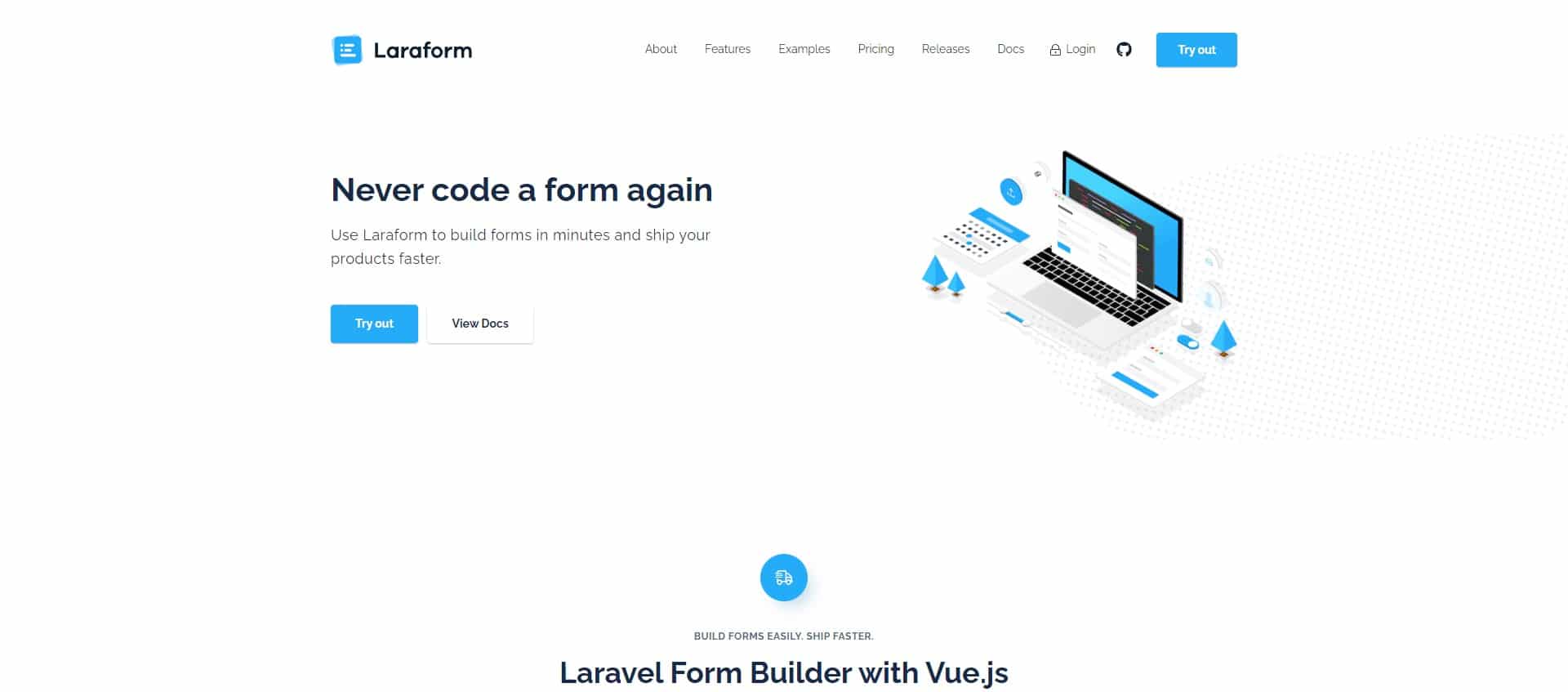 Laraform is a full-stack library standardizing and supercharging the form-building process and allowing developers to create complex forms with relative ease, using two-sided validation, object-relational mapping, nested & repeatable elements, wizards, conditional logic, file uploads, customizable components, and localization. With Laraform, you have a single library that allows you to eliminate the tedious, repetitive, and challenging form creation process.
Laraform is a form builder that uses a single PHP class to define every form aspect. With Laraform, developers can build elements, processing hooks, wizard steps, assign database models and even add  Vue.js components to extend frontend functionality.
This PHP open source form builder is designed for the developer that wants the freedom of extensibility and customization in form building. Laraform includes 34 built-in elements like nested & repeatable elements and multiple file uploads with deep data processing abilities. Laraform also supports 54 validation rules that are compatible with Laravel. With Laraform, users can create custom templates, themes, elements, validators, and so much more.
Laraform offers a free community version with limited features that meet users' needs with the most basic form-building needs. A Developer's license costs $499 annually, while a lifetime Company license, which allows for up to five developers on one account, costs $1,799.
Formoid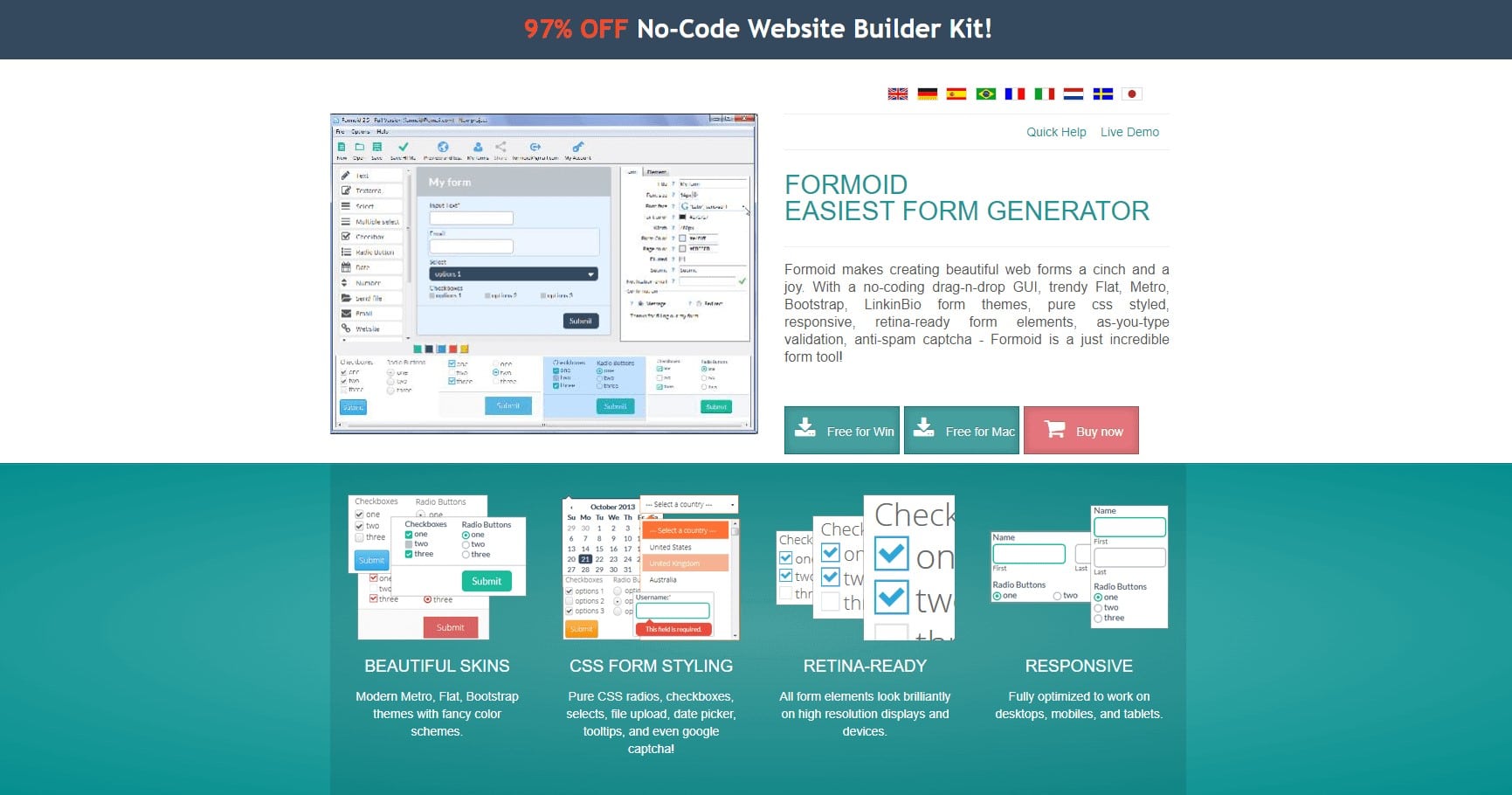 Formoid is a CSS form-building software tool that bills itself as the easiest form generator tool on the market today, which is no exaggeration. Formoid uses a no-coding-experience-required drag-n-drop user interface with trendy form themes, pure CSS styling, responsive designs, retina-ready elements, anti-spam captcha tools, and as-you-type validation. With Formoid, creating beautiful web forms is easy and pleasurable.
Formoid is a free desktop app that is surprisingly simple, powerful, and intuitive. It can be used to create order forms, surveys, contact forms, signup forms, and more. With Formoid, web form development, wireframing, and embedding are a breeze.
Formoid offers a free version of its form-building tool for Mac and Windows to nonprofit websites. All other users pay a one-time fee of $69 plus taxes and fees. The paid version allows for unlimited commercial website use, access to all themes and features, the removal of Formoid branding, and the ability to host forms on the Formoid servers.
Final Words
Forms are the core online engagement method for any business or organization and a critical component of our increasingly digital landscape. Your ability to create clean, attractive, user-friendly forms is absolutely vital to your overall success.
Self hosted form builders are ideal for businesses and developers who need increased flexibility in designing forms for all of their business needs. Thankfully, each open-source form-building solution outlined in this list offers something for everyone, from the seasoned developer to the small business owner managing their own online presence.
In the end, it will be up to you to determine which open source form builder is right for you.