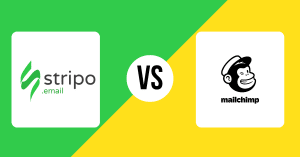 When it comes to digital marketing, there is no shortage of platforms to choose from. It can be hard to decide which platform is best for you, especially given how quickly marketing software can evolve.
Both Flodesk and Mailchimp are touted as small business-friendly options. Moreover, they offer some of the same features. However, there are key differences between those two platforms that you should know about before moving forward with one over the other.
In this Stripo vs Mailchimp guide, you'll find a detailed comparison of the two platforms' features and the most important differences between the two.
Stripo and Mailchimp: The Most Important Distinction
Stripo and Mailchimp are two fundamentally different tools.
Mailchimp is an email marketing service, which means you can utilize the tools to send marketing emails to a large audience. Mailchimp, like other email marketing platforms allows you to upload a (potentially large) list of contacts, design emails, and then launch those emails. The platform also comes with other features such as a landing page builder, form builder, CRM, social media management tools, and much more.
Stripo on the other hand is not an email marketing service. Rather, Stripo is an email marketing design platform. An email marketing design platform is capable of creating marketing email templates, but doesn't have the capability to send emails designed with the platform. The email templates designed in Stripo would be transferred to an email marketing platform (such as Mailchimp, GetResponse, Constant Contact, among others) in order to send them.
Keep in mind that Mailchimp has its own version of Stripo's core feature: the email template builder. With Mailchimp you can design emails in a drag-and-drop builder that allows you to add forms, images, text, and other elements. With Stripo you can do the same thing. However, Stripo specializes in ONLY email marketing design. That being said, Stripo is a much more developed platform in respect to email marketing template design and customization. Compared to Mailchimp, there are many more features to choose from in terms of building out your emails and far many more email templates to choose from.
Stripo would make sense for you if you were interested in a platform purely for the design aspect of email marketing and not the email sending aspect. You would need an email marketing service like Mailchimp to use the emails created in Stripo.
Shared Features
Email Templates
Mailchimp has about 100 or so email templates that you can choose from. Some of the designs look timeless but there are certainly some that look a bit dated.
Additionally, there is a collection of basic layouts that you can choose from with placeholders for text and images that you can use if you would like to start from scratch.
Stripo has a few hundred email templates that you can choose from, which makes its template library considerably more extensive than Mailchimp's. Additionally, the templates are all considerably better designed for the most part simply because they all very professionally done and modern. Again, some of Mailchimp's templates look a bit dated as if they were created pre-2010, but Stripo's templates all look very current.
Editor
You can create plain text emails in Mailchimp, or choose a layout or template if you're looking to create a more branded feel.
There are over 60 templates total, although some of them are a bit dated, so you'll want to customize the design before sending them out.
The editor is a standard drag-and-drop interface with block elements.
Mailchimp has a decent selection of elements you can add to emails, and you can add custom code if needed if you have a developer available.
Stripo on the other hand has a bit more to offer with its email editor. Here you can choose from a variety of elements that you wouldn't necessarily get with most email marketing platforms. Additionally, you get access to modules which are essentially customized pre-built blocks that you can drag and drop into place.
The editor is extremely modern and intuitive. For anyone serious about designing emails, the email editor has an amazing user experience.
Pricing
Both Mailchimp and Stripo offer free plans, which is great to get started with before having to worry about cost. You're able to send a limited amount of emails and create forms on both free plans, but not much else.
At some point, you'll get a much better ROI by upgrading to a paid plan.
On Mailchimp, the basic paid plan unlocks basic automation features, email templates, landing pages, among other features.
You can upgrade further on Mailchimp to get access to features like send time optimization and more advanced automation.
With Stripo, with the free versions you get access to the collection of free templates, you can store up to 10 templates, and you can do 4 exports per month. Additionally, with the free version you can access the platform yourself, but no other users can be added.
With the paid versions you get extra stored email template capacity, additional exports, and access to premium templates. The paid plans are ideal for teams and freelancers that need large quantities of templates designed and downloaded.
Integrations
With the impressive range of features that Mailchimp offers, it's not surprising that it can integrate with just about every other major software out there.
In total, Mailchimp has just about 300 total integrations, which includes all the popular ones like WordPress and Shopify, plus a ton of niche integrations.

If you're looking to connect your email marketing with a particular CMS or sales tool, Mailchimp almost certainly can.
Stripo has integrations with over 70 email service providers and CRMs. In other words, if you are using an email marketing service of any sort, chances are that Stripo has you covered.
Customer Support
While free users on Mailchimp only have access to the knowledgebase, paid users get 24/7 email and chat support. Users on the highest tier also get access to phone support.
The knowledgebase has hundreds of step-by-step written tutorials that are kept up-to-date, so as long as you're willing to dig a bit, you can solve most problems yourself.
With Stripo you get access to chat support, phone support, and/or email support depending on what plan you move forward with.
When to Choose Each: Stripo vs Mailchimp
Mailchimp should be your go-to choice if you need an email marketing platform for sending out email blasts in addition to designing emails. Its a great choice for both large and small teams.
Stripo on the other hand is an excellent solution if you are a freelancer or part of a design agency that creates email templates. Stripo is a great platform for anyone who wants to focus specifically on email design rather than email sending functionality.
Related: Outlook Newsletter Email Templates
Related: Stripo Review: Is it the Best Email Design Tool? 
Related: Stripo vs BeeFree: A Side by Side Comparison