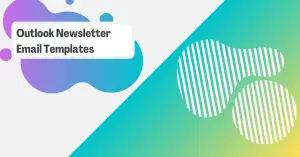 Email newsletters are a powerful way to engage your audience with your organization's most recent updates.
Moreover, there are literally thousands of email templates you can choose from as a starting point to build out your email newsletter.
However, not all of these newsletter templates are compatible with Outlook. Outlook is a bit finicky, and the email client often doesn't render code for email templates properly. And although you should use an email marketing service if you are sending your newsletters to a large audience, for those that would like to use Outlook instead, it can be difficult to find email templates that render properly on the email client.
In this post, you will discover 13 Outlook newsletter email templates that you can use for your email campaigns today.
The best part? Most are free to use!
Promo Email Template "Good Choices" for Education industry by Stripo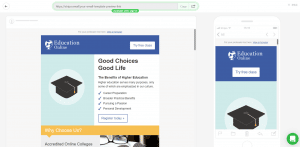 Although this template is labeled a promotional email template, the design is perfect for a newsletter template. Notice how there are a series of images and corresponding text that go all the way down the newsletter? This type of layout is perfect for showcasing a series of updates on your website's blog or newsfeed. You can simply swap out the text for two or three-sentence snippets of each update you would like to showcase along with the hero image for each.
While this template is on the long side, you can certainly delete any of the sections that you would rather not include. Stripo, the provider of this template, makes it incredibly easy to do so with its drag and drop builder.
Better yet, with Stripo's free plan, the platform offers numerous other free email newsletter templates for Outlook. A few others are featured in this post.
Simple Business Company Newsletter by Canva

This email newsletter template by Canva is relatively shorter than many other newsletter templates that require a bit of scrolling to get to the bottom. That being said, this is a great newsletter for short and straight-to-the-point updates. After all there are only two text boxes, so you can only provide two updates at a time. However, by duplicating these sections in Canva, you can expand the email template as must as you want.
With the muted, neutral colors and its basic design, this template is perfect for anyone that wants email newsletters that look clean and professional.
Not only is Canva great for building email templates but the platform makes it easy to add the templates to Outlook as well. You can simply copy the HTML code and embed the template in Outlook.
Product Update Email Template "Better Than Yesterday" for Software & Technology Industry By Stripo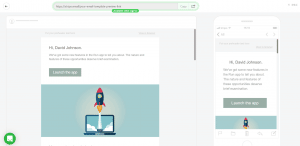 Available on Stripo, this template is labeled as a product update email template for software companies, however, the design makes it perfect to be used as a newsletter template for companies in any industry. The images followed by corresponding text makes this template ideal for showcasing recently published blog posts or news updates.
The beauty of Stripo is that the platform allows you to export templates directly into Outlook with just a few clicks. Once transferred, the templates will be saved as email drafts in Outlook for you to use later. This makes Stripo a superior solution for creating outlook newsletter email templates compared to other solutions where you must download the HTML code for the email templates, and embed it in an Outlook email. Downloading HTML code and embedding it in emails is simply a less streamlined process.
"What to Expect" by BEE Free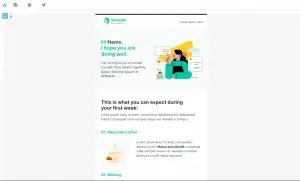 This email template is minimalistic, but at the same time moderna and stylish. The contents of the template are geared toward onboarding employees but the layout is perfect for a basic email newsletter.
Using BEE Free's email editor, you can easily swap out the text, and graphics for the text and images that suit your brand.
BEE Free is another email template designer that has a generous free version. With the free version you can browse hundreds of templates. Once done editing the template of your choice, you can copy the HTML code and embed it in Outlook. That email draft can be duplicated so that it can be used time and time again.
Blue & White Modern Company Newsletter by Canva

This canva newsletter has an excellent newspaper style layout with a main column in the center and then three text boxes on the right side. Because the design is so basic, it's incredibly versatile and could be used by churches, schools, businesses and any other organization.
Canva is a graphic design tool that can be used to design anything from landing pages to newsletters. One of the greatest benefits of Canva is it's incredibly easy to use even for beginners. The drag and drop builder is incredibly intuitive and there are hundreds of free graphics, images, and fonts that you can use to customize this email template to your liking. With a few quick edits you can easily make this template conform to your brands style guide.
Event Reminder Email Template "Simply and Beautifully" for Webinars by Stripo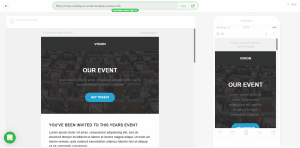 As the title indicates, this template is intended to be used as an event reminder for webinars. Nevertheless, it can most certainly be used as a newsletter email. The beauty of relatively simple templates like these is that they can be easily repurposed. Once repurposed, you can simply duplicate the edited version of the template in order to use it time and time again.
One of the best parts about using Stripo for email templates is many of these templates have been tested on Email on Acid and Litmus. These services essentially check email templates to ensure they render correctly on email clients such as Gmail, and of course, Outlook. These services also scan email templates to ensure they don't tip off any spam filters that most email clients have.
Apology for Sending Wrong Email by Unlayer
This is a clean and simple email template that can be used for practically any purpose. As a newsletter template, this template is ideal for highlighting single events, updates or news items that are worth bringing attention to. The text block is perfect for a short and sweet message and the CTA button is strategically placed to be in plain sight as soon as people click on your email.
To customize this template for your brand you would simply need to swap out the few lines of text, add your mailing address, swap out the logo, and perhaps change the background color. In less than 15 minutes, this email could be ready to send.
HR Monthly Newsletter by BEE Free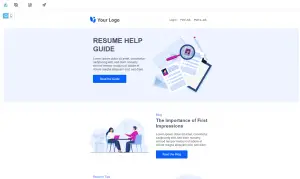 Thid monthly newsletter is advertised as an HR monthly newsletter, but with a few minor changes to the graphics and text, it can be optimized for any industry.
For any business with a regularly updated blog, this template ould be perfect. It's designed for showcasing a few blog posts every month. That being said, by just posting three or four times per month on your blog, you could fill this template out nicely. Nevertheless, if you post more or less, you can still easily edit the template to fit however many blog posts you want to showcase.
Black & Yellow Modern Company Newsletter by Canva

This free newsletter template has a sleek, modern design. The only downside for some might be the dominant yellow color. Nevertheless, you can easily change the color scheme in canva so that the template aligns with your brand.
If you are interested in quickly and easily designing newsletter templates for Outlook, Canva is a great option. However the downside of using Canva as opposed to email template builders like Unlayer is that Canva doesn't use Email on Acid or Litmus to determine if the email renders properly in Outlook. Copying and pasting the HTML code from Canva into Outlook is certainly a viable solution. However, before sending a newsletter company wide through Outlook, some would rather have piece of mind knowing that the email template has been tested for all email clients.
Event Reminder Email Template "Important Information" for Webinars industry by Stripo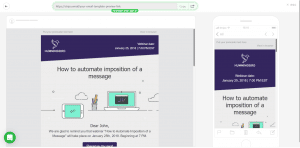 Although this is technically an event reminder email, it can be easily repurposed as a newsletter email template. With Stripo, you can simply remove the sections of this template that aren't relevant to you, and duplicate the sections that make sense so that you can extend the email.
As a rule of thumb, keep in mind that just because the email template says its for a certain purpose, like an event reminder for instance, doesn't mean it needs to be used solely just for that purpose. With just a few quick changes, this template can be used for any objective.
Blue Simple Business Company Newsletter by Canva

With its modern and professional design, this template could be perfect for any business that wants to maintain a button-up brand image.
This template is certainly visually striking given the image in the header of a beautiful piece of architecture against an open sky. However, this image can be swapped out with any other picture of your choice. When doing so, you may have to swap through a few images to find one that looks good with the rest of the newsletter.
Related: 13 Effective Promotional Email Templates (FREE)
Related: 13 Well Designed Email Template with Tables 
Related: 13 Simple Email Templates (FREE)