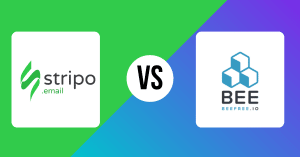 When it comes to designing email templates, there are numerous tools to choose from.
Two of the most popular email design tools are Stripo and Bee Free (beefree.io). However, although these tools are both highly regarded and widely used, there are some key differences between the two that are important to understand before moving forward with one or the other.
In this Stripo vs BeeFree guide, you'll find a detailed comparison of the two platforms' features and the most important differences between the two.
Shared Features Comparison
Email Templates
Stripo has over 1,100 email templates, which makes its template library extremely extensive compared to many other email design tools.
Many of these templates are only available with Stripo's premium plans, however, there is a slew of templates that you can use with the free version. Fortunately, the platform allows you to filter by free and paid templates.
Additionally, you can sort the hundreds of templates by industry, seasons, features, and integrations:
Industry: Choose between templates designed for specific industries such as ecommerce, church, fitness, gaming, manufacturing and more.

Season: Choose between dozens of seasoned themed templates such as templates for Christmas, cyber monday, earth day, world art day, and so much more.

Feature: Stripo's emails have often have different design features such as carousel, GIF animations, video, 3D graphics and more.

Integrations: Stripo's email templates integrate with practically every email marketing service. However, you can drill down which templates are compatible with email marketing platforms such as Mailchimp, Active Campaign, Aweber, Constant Contact and more.
From a design perspective, Stripo's templates are all modern and engaging.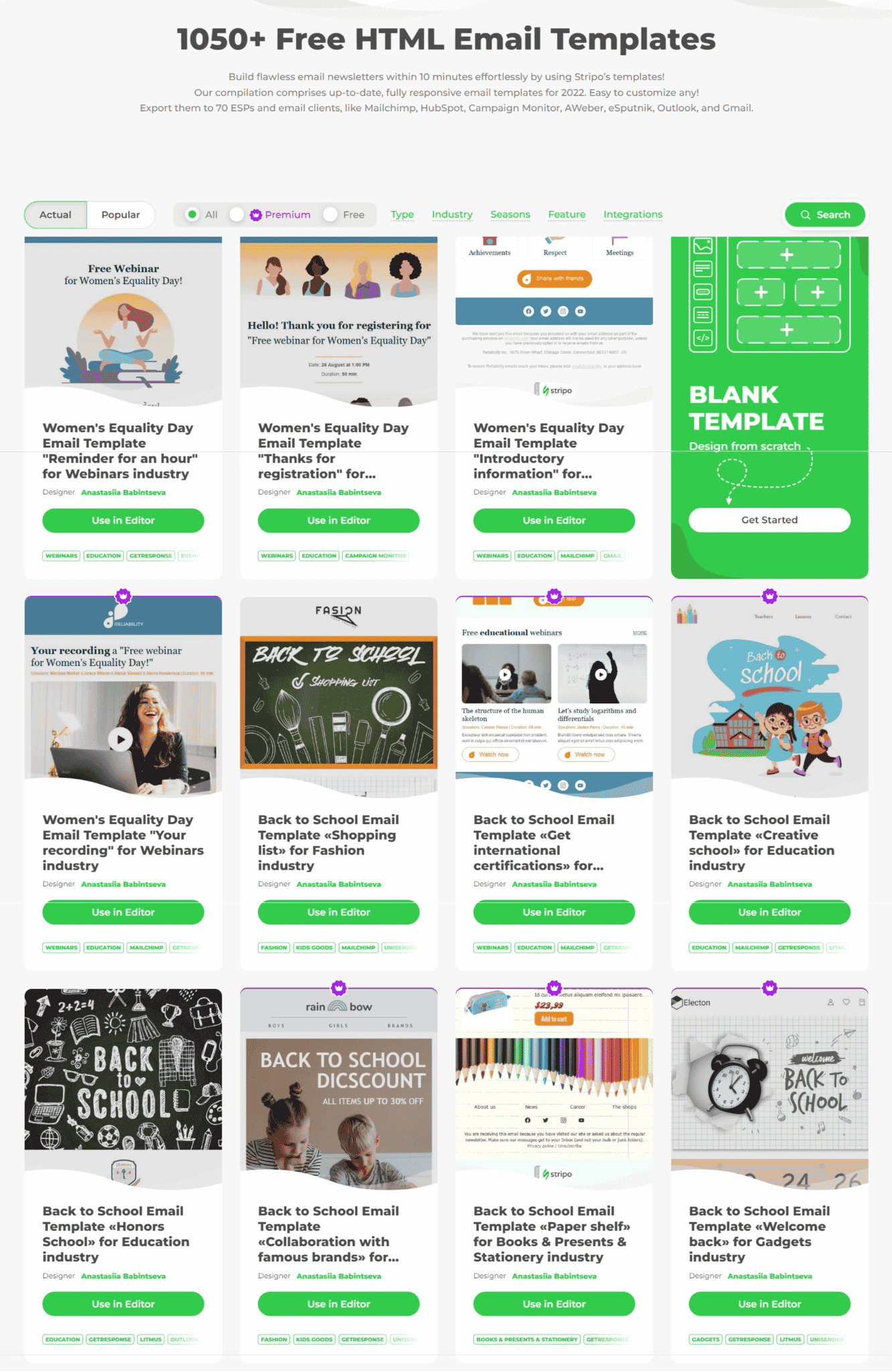 Bee Free allows you to sort templates by usage, industry, automated, and seasonal:
Usage: The purpose of the email. For instance events, fundraising, newsletter and many many more.

Industry: Art, fashion, electronics, ecommerce, non profit, etc

Automated: Confirmation, welcome, notification, etc

Seasonal: Emails specific to various seasons such as easer or valentines day
Interestingly enough you can also filter by the designers of the templates. Dozens of designers have created various templates to fill Bee Free's library and if you like the particular style of one designer, you can look for various templates that one designer has created. These designers are from all over the world as you can tell from their profiles.
In terms of how the templates of Stripo and Bee Free stack up, both have aesthetically pleasing and well designed templates. Its hard to say that one trumps the other in this aspect.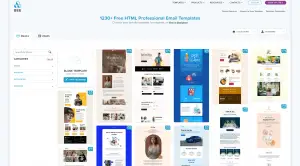 Editor
When it comes to designing email templates, Stripo is a bit more sophisticated than the email editor that you would get with common email marketing platforms such as Mailchimp, GetResponse, Constant Contact or any other platforms.
With Stripo you can choose from a variety of elements that you wouldn't necessarily get with most email marketing platforms. By dragging and dropping text, images, Gifs, and other elements into place, you can build out email templates piece by piece. Additionally, you get access to modules which are essentially customized pre-built blocks that you can drag and drop into place.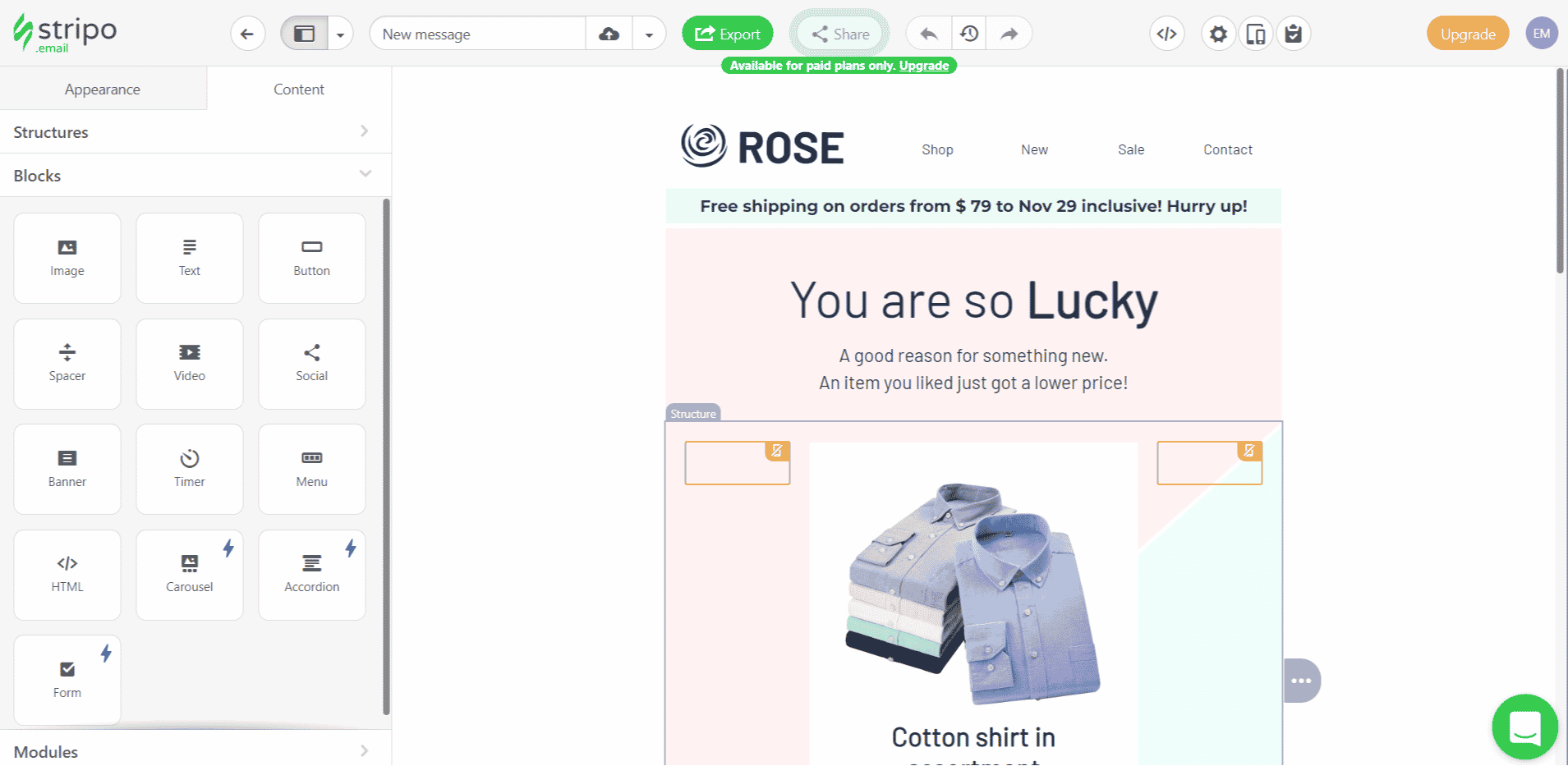 The editor is extremely modern and intuitive. For anyone serious about designing emails, the email editor has an amazing user experience.
Bee Free is similar in a sense that the email designer is more robust than that of email marketing platforms. After all, a powerful editor is the entire reason why it makes sense to use these tools in the first place.
Similar to Stripo, Bee Free is a drag and drop builder that allows you to add various blocks such as images and videos. The email editor is intuitive, although with both platforms, it may take a bit of practice to get used to it.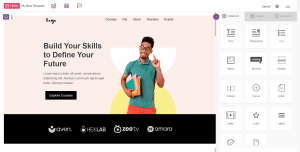 Pricing
With Stripo, with the free versions you get access to the collection of free templates, you can store up to 10 templates, and you can do 4 exports per month. Additionally, with the free version, you can access the platform yourself, but no other users can be added.
With the paid versions you get extra stored email template capacity, additional exports, and access to premium templates. The paid plans are ideal for teams and freelancers that need large quantities of templates designed and downloaded.
Bee Free also has a free version that allows you to create up to 10 email templates with as many downloads as you want.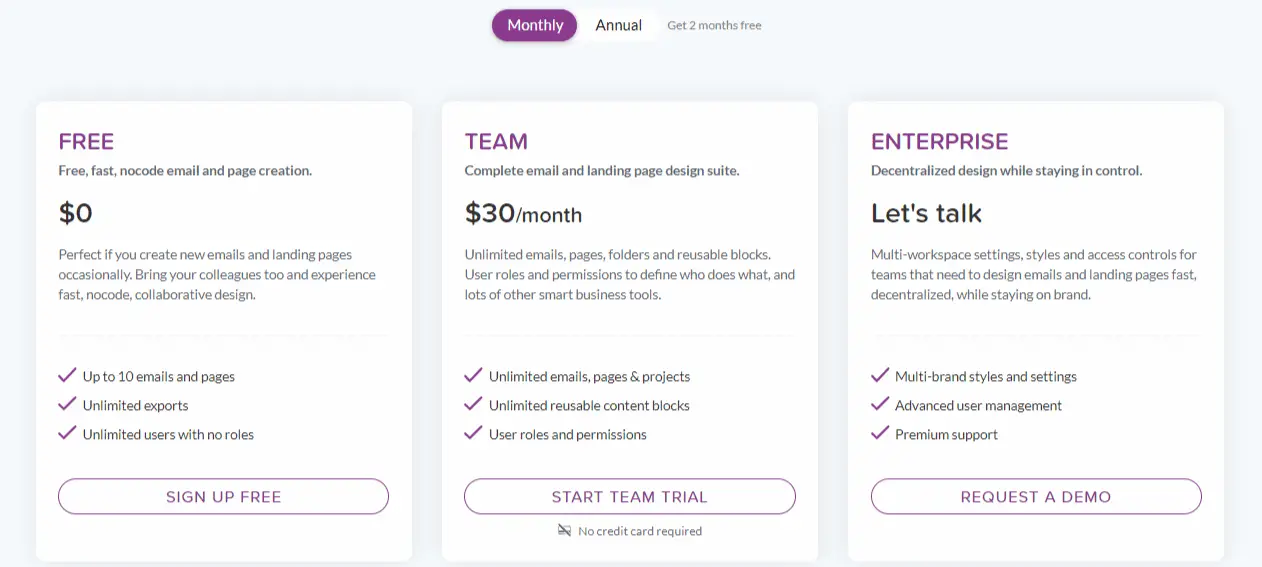 However with the paid plans you get access to a slew of features that you don't get with the free plan such as unlimited users and roles within Bee Free, unlimited email designs, and also access to certain design features only available with paid plans such as custom fonts.
Integrations
Stripo has integrations with over 70 email service providers and CRMs. In other words, if you are using an email marketing service of any sort, chances are that Stripo has you covered.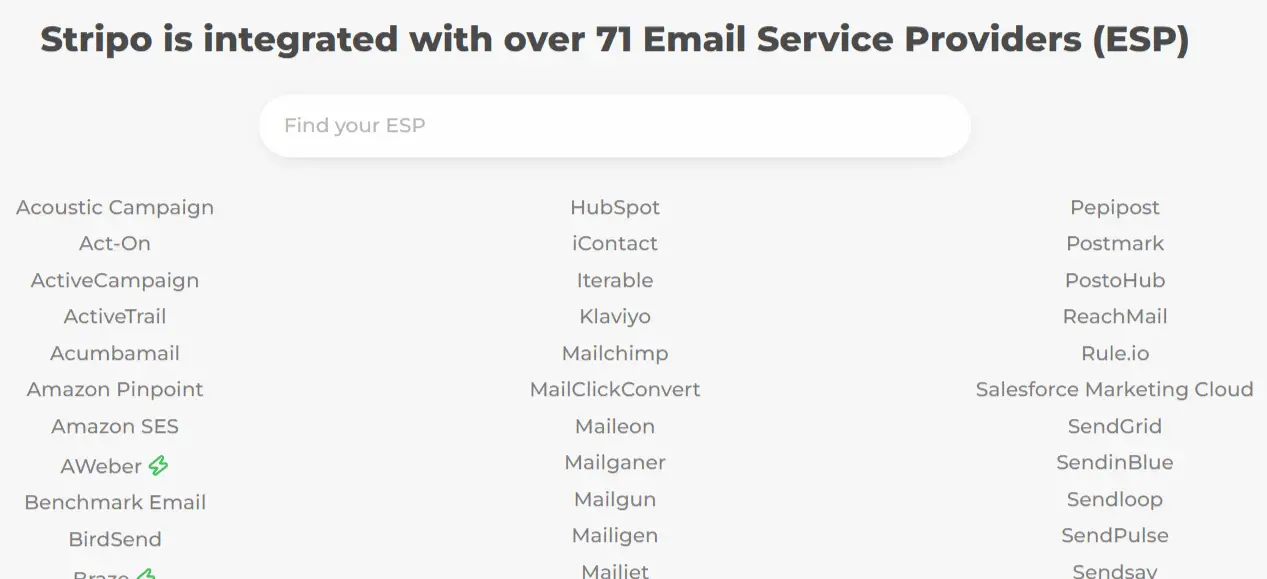 Bee Free on the other hand has relatively fewer email marketing platforms that the platform can connect to: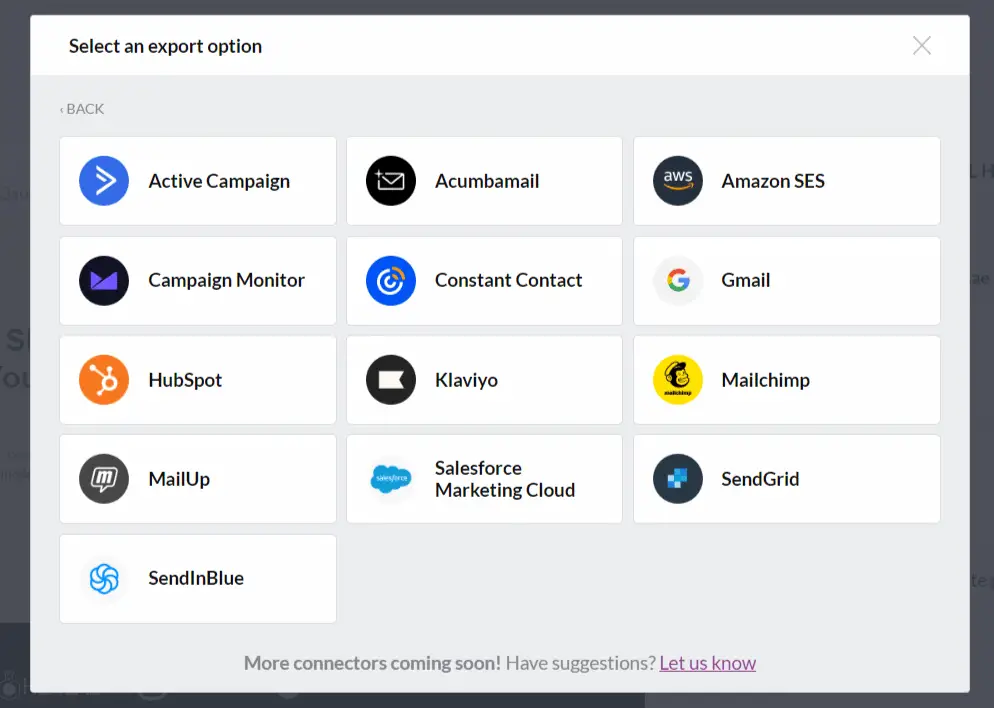 Nevertheless, you can still download email templates as html files and upload them to whatever email marketing platform you want. However, it would be nice if there were more direct integrations.
When to Choose Each: Stripo vs Bee Free
When choosing between Stripo vs Bee Free, its hard to go wrong with either solution. After all, both platforms have a wide variety of templates and a smooth email editing experience. Its hard to say that one is better than the other in this regard. Additionally, the platforms are similar in terms of cost.
That being said, to determine which platform is best for you, test out each. After all each has a free version and its incredibly easy to sign up for both. Once you sign up for each platform, comb through the available templates and try out each editor, you will have a better idea of which solutions suites your needs.
Related: Promotional email templates (FREE)
Related: Stripo Review: Is it the Best Email Design Tool?
Related: How to Make Pretty Emails in Gmail for Free!
Related: Stripo vs Mailchimp: An Inside Look