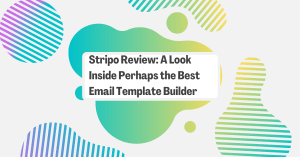 Stripo is one of the most popular email design tools. Businesses, freelancers, and other organizations large and small leverage Stripo to create stunning emails for their email marketing campaigns.
While you may have viewed reviews of Stripo that might seem pretty positive, chances are they have not provided the full picture of what Stripo has to offer and how it stacks up to its competitors. If you are looking for a detailed analysis of the tool, you have come to this place.
After extensive use and testing of this tool, we have created this Stripo review to provide a detailed overview of the platform's features and our opinion on the worth of the tool.
Let's dive in.
What is Stripo? What is Stripo used for?
Simply put, Stripo is an email design platform.
Stripo is used for designing email templates that can be used in email marketing campaigns. These email templates can be exported from Stripo and uploaded into email marketing services like Mailchimp where you can send the email templates to your audience.
Stripo is used by a variety of different users. For instance, Stripo is widely used by design agencies and freelancers that create email templates for their clients. Stripo is used by other agencies that not only design emails but execute email marketing campaigns for their clients as well.
In addition to agencies, Stripo is used by software businesses, ecommerce businesses, nonprofit businesses, and numerous other organizations.
Stripo core features
Stripo basically has three core features that define the platform: the email template library, the email editor, and email exporter.
Email template library
Stripo has over 1,000 email templates. Suffice to say that if you are looking for any sort of email template in particular, chances are that its available in Stripo.
The email template library allows you to sort through email templates in the following ways:
Type: The purpose of the email template (i.e. abandoned cart, event reminder, promo, welcome, transactional, etc)
Industry: Filter templates by the industry they are tailored to (construction, crowdfunding, ecommerce, education, gaming, nonprofit, etc.)
Seasons: Christmas, Halloween, Earth Day, Black Friday, etc.
Feature: Certain email templates have features such as carousels, GIF animations, video, AMP, etc.
Integrations: Some email templates are supported on certain email marketing platforms, and others aren't. For instancee, of all the templates available on Stripo, only 510 are supported on ActiveCampaign. It would make sense to filter your tempaltes according to what email marketign platform you need them for.
Additionally, you can filter email templates by free and paid. Keep in mind, the premium templates are not available on the free version. Nevertheless, there is still a large selection of free templates available if you are on a budget.
Practically all the templates that Stripo has to offer are beautifully designed. Given that these templates have been created by professional designers, this comes at no surprise. The platform even lists the designer of each template.
Practically all the email templates have been tested on Litmus and Email on Acid, which are services that check to see if emails render properly on email clients like Outlook for instance.
Email editor
Possibly Stripo's strongest feature is the email editor. This is where you can customize your email template of choice from Stripo's email template library.
In Stripo's editor you can choose from a variety of elements that you wouldn't necessarily get with most email marketing platforms. Additionally, you get access to modules which are essentially customized pre-built blocks that you can drag and drop into place.
The editor is extremely modern and intuitive. For anyone serious about designing emails, the email editor has an amazing user experience.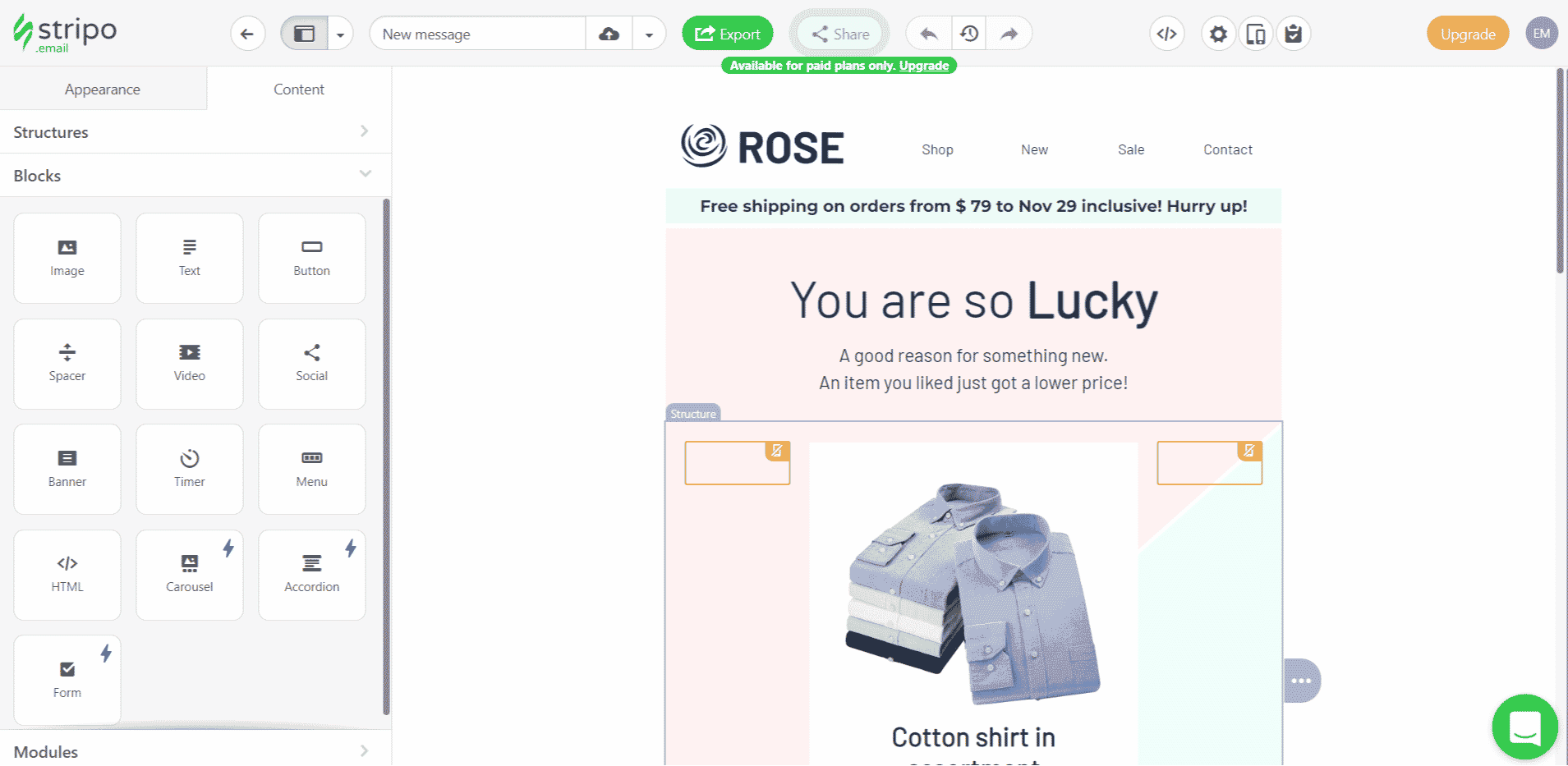 For some users, designing an email is just a matter of inserting some text, changing the header and company logo, and swapping out some images. For others, this might mean adding or removing blocks or sections to alter the entire design of the email.
No matter what you would like to do with the email template, its important to understand how to navigate and use Stripo and other email template design software that has a similar setup.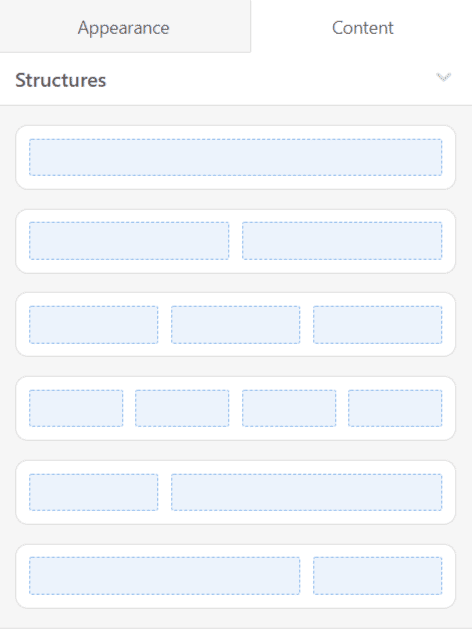 On the left side of the editor you can edit the structures in the email. This is where you can essentially create the skeleton or outline of your email template. In each box, you can add text, images, video, or any other element. For instance, if you select a structure with two boxes, one on each side, you can add a image on one side and a text box on another side.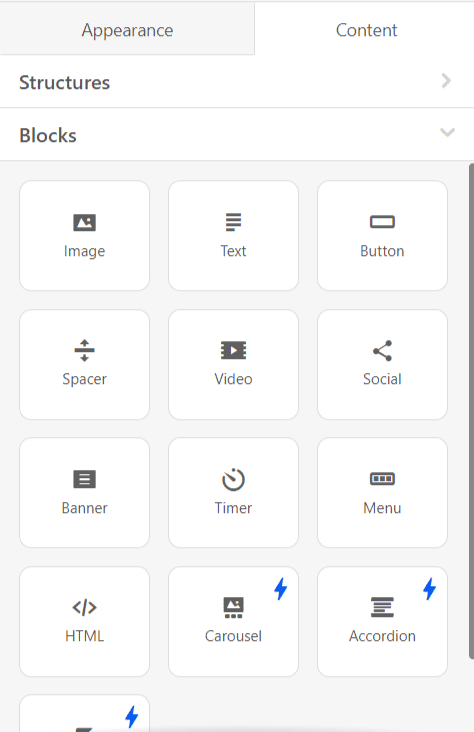 Under structures, you can find the blocks. You can insert anything from text to buttons to spacers to social media icons. Additionally, you can add HTML code blocks if you have custom HTML that you would like to add to the email. Keep in mind that some of these blocks only come witht the paid versions of Stripo.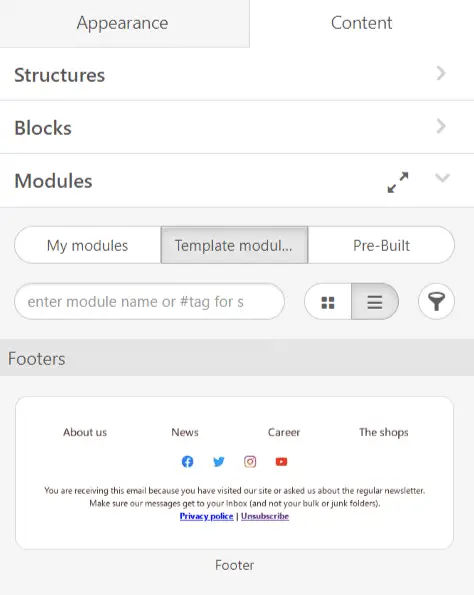 Below blocks you can find modules. Modules is where you can insert prebuilt sections of email templates. For instance, the one in the image above contains links to the company's about us page, news page, careers page, shopping page, as well as a disclaimer and social icons. Rather than building all these elements out every time you create an email, it can be easy to simply insert a module like this directly into new emails.
As far as editing the email template itself, you can click on any of the blocks in the email and you will be prompted to make adjustments to them. For instance, the image below shows how it looks when you click on a text box for instance.
Feel free to customize the email as you wish. However, keep in mind that for already beautifully designed email templates like these, you may not necessarily need to do much design work yourself.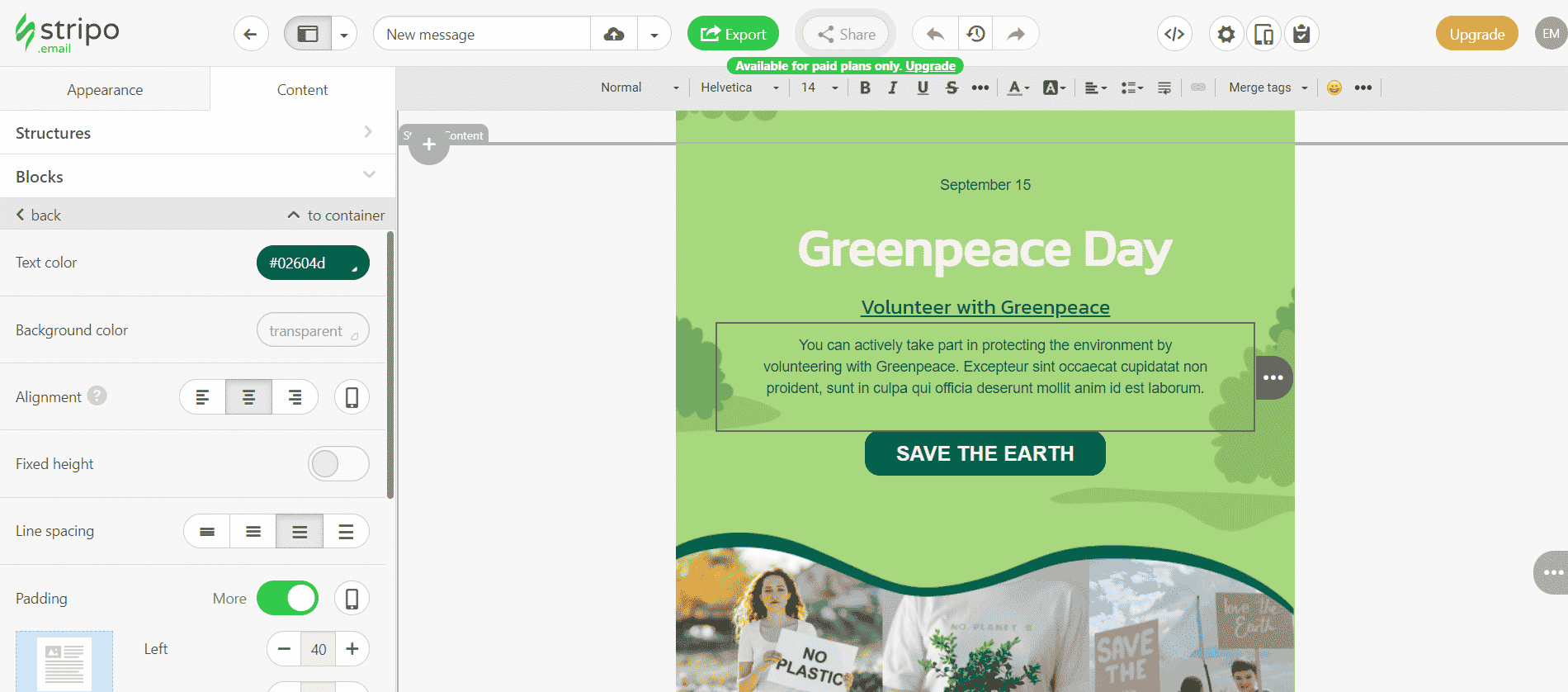 As you can see you are prompted to change text color, background color, alignment, padding, and of course the text iself. This same process follows for every block you click on the email:
Header

Footer

Text

Images

CTA buttons
Email export
Once you are finished designing your email template, you can export it from Stripo. To do so, simply click export at the top:

From here, with both free and paid plans, you can export your email template in few ways. You can export directly into gmail or outlook, you export the raw HTML code, and create an image of the email template or PDF. However, you can only export the template directly into an email marketing service like Mailchimp, you must upgrade to a paid plan.
Additional Stripo services
Stripo's email editor and templates are most certainly what the platform is best known for. However, Stripo also offers other services as well:
Email template order
Stripo has a design team that will create a custom email template for you. You can purchase email templates by sending a design file in an image format that the design team can use as reference to create the email template. Alternatively, for a higher price, you can have Stripo create an email template completely from scratch.
Stripo plugin
The Stripo plugin allows your customers or clients to create emails themselves using Stripo's email editor technology within your application.
Pricing for the plugin is contingent on how many emails are designed and downloaded with the plugin.
How does Stripo compare to its competitors?
Stripo has a few direct competitors including Bee Free (likely Stripo's most popular alternative), Camaileon, and Topol.io. These tools are similar to Stripo in that they 1. Offer libraries of email templates, and 2. Have email editor functionality within the platforms. These competitors are also very similar in terms of cost.
It's fair to say that Stripo is equally robust compared to its competitors in terms of the quality of the email template and the ease of use and flexibility of the email editor. While Bee Free might have slightly more email templates to choose from, both platforms are great choices.
Additionally, there are other software companies that indirectly compete with Stripo. For instance, there are various platforms that allow you to download email templates such as Envato Marketplace. However, these platforms don't have email editors themselves and so you can't customize email templates with these platforms.
On the other hand, email marketing services are also indirect competitors of Stripo. With Mailchimp for instance, you can do everything that Stripo can. Mailchimp has email templates, an email editor, and of course, the ability to send emails as well. The key difference is email marketing services like Mailchimp don't have nearly as many templates to choose from as Stripo and typically, the templates are outdated or not very attractive to begin with. Additionally their editors are often not nearly as sophisticated or flexible as Stripo's. That being said, in terms of email design, Stripo most certainly takes the upper hand compared to email marketing platforms.
Stripo pricing
With Stripo, with the free versions you get access to the collection of free templates, you can store up to 10 templates, and you can do 4 exports per month. Additionally, with the free version you can access the platform yourself, but no other users can be added.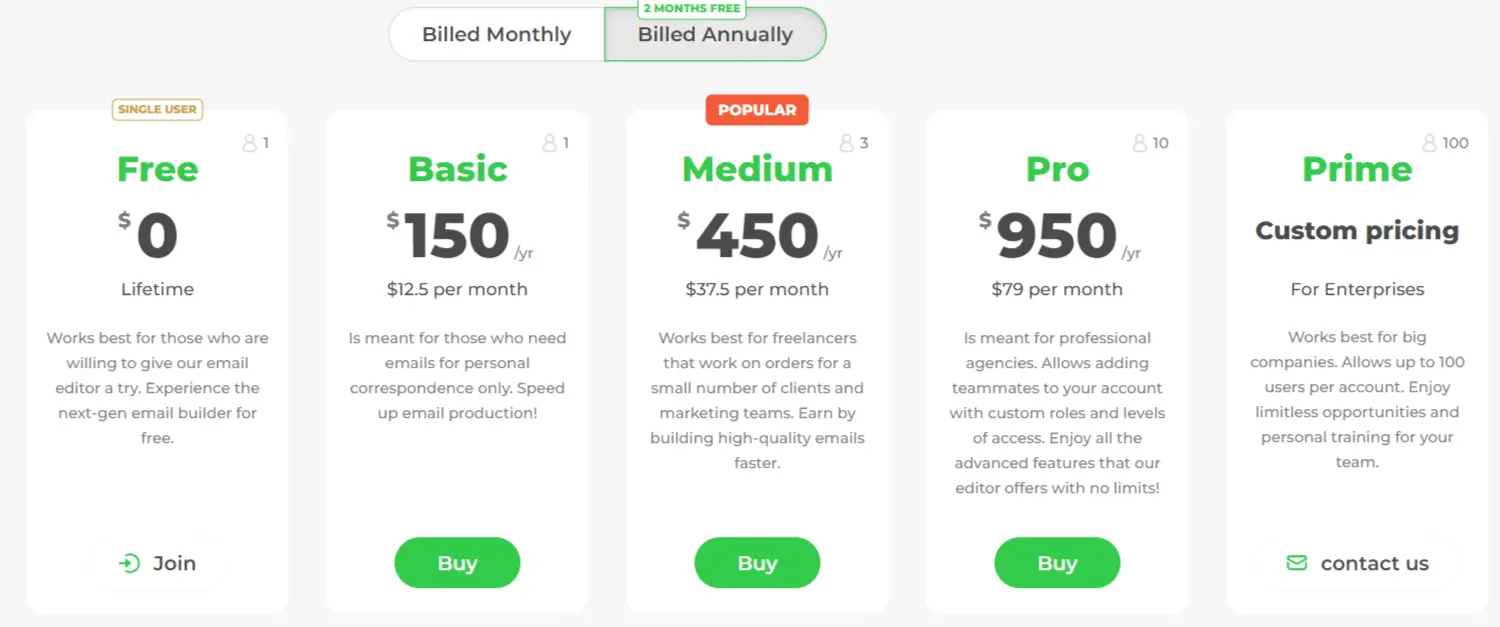 With the paid versions you get extra stored email template capacity, additional exports, and access to premium templates. The paid plans are ideal for teams and freelancers that need large quantities of templates designed and downloaded.
Final words: Is Stripo right for you?
It's important to keep in mind that Stripo is not used for sending emails, but rather just for designing email templates.
That being said, Stripo is an excellent solution if you are a freelancer or part of a design agency or large business that frequently creates email templates.
Stripo is also a great solution to use if you simply are not satisfied with the email templates that your email marketing service has to offer. If you would rather use better-designed, highly-effective email templates, Stripo is a great choice.
Related: Email templates with tables 
Related: Stripo vs BeeFree: A Side by Side Comparison
Related: How to Make Pretty Emails in Gmail for Free!
Related: Stripo vs Mailchimp: An Inside Look 
Related: Stripo Pricing Explained