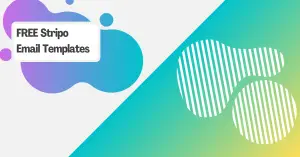 Stripo creates some of the very best email templates of all the email design tools out there. 
Amazingly, Stripo carries over 1,400 uniquely designed email templates. And on top of that, these templates are all beautifully designed, and optimized for conversions. 
Better yet, Stripo gives users the ability to rate the templates, which can give you a sense for how other designers perceive the quality of the templates. 
And the best part about Stripo's email templates? Many of them are 100% free. 
In this post, we share our thoughts on our favorite 11 Stripo email templates. 
Promo Email Template «Mountain View» for Tourism industry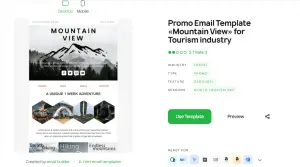 Available on Stripo, the "Nature Escape" promo email template is great for travel and tourism businesses. It has large image sections designed to showcase outdoor vacation spots. The stripo of hexagon-shaped images in particular makes this template really unique. 
The template offers multiple opportunities to add text, and images to explain and promote your services. On top of that, the template is riddled with sections for various call to actions so that you can drive visitors to your website. 
Promo Email Template «Time Sale» for Fashion industry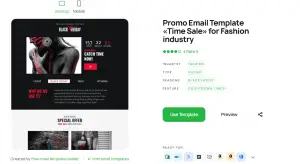 This template is a fantastic, versatile template for any e-commerce business. According to Stripo, it's technically "tailor-made for fashion industry promotions", however, it can be easily customized for pretty much any e-commerce business. 
This template is particularly good for promoting a time-sensitive sale on certain items. As you can see at the very top of the template, there is a countdown timer to indicate when a sale will end. This is a great way to create urgency, and drive clicks to your website. 
Black Friday Email Template "Flexible Prices" for Sports industry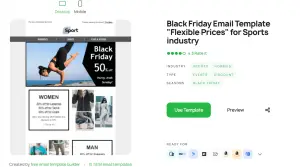 This is another versatile promotional email template that can work wonders for any ecommerce business. One aspect of this template that makes it so desirable is the design is very minimalist. That being said, a neutral design like this can complement the branding of most companies and it requires minimal editing. 
This template is also refreshingly short in height. On one hand, there isn't much space to add content or images, however, this forces you to be clear and concise with your messaging. By getting straight to the point, in a way, this template forces you to get straight to the point. Clear and succinct messaging can be the key to driving more clicks to your website. 
Email Digest Email Template «Investor Monthly Update» for Software & Technology industry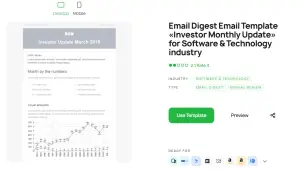 This is an excellent email newsletter template that can be used in practically any industry. 
The design itself is very minimalistic. Nevertheless, this is the whole point of newsletter templates in general: the focus of these emails is the content itself.
You can tell that there are headings within the template and blocks for images as well. As a company newsletter you can insert images of your company's latest events, graphs showing industry trends, images of new employees that have joined your team, charity events, and more. 
Alternatively, you can edit this template to remove the headings and images altogether, making this template a bare-bones, blank slate template that can be used time and time again.
Welcome Email Template «Find your agent» for Real Estate industry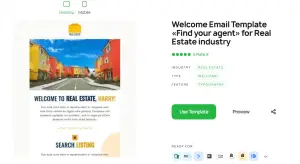 The color scheme and graphics on this template make it a fun and inviting way to welcome new team members to your company. Alternatively, it can be easily edited to be a welcome email for new clients or new email subscribers. Either way, it's an excellent way to make a great first impression. 
This template gives you the opportunity to explain your expertise and services. Additionally, there are strategically placed CTAs throughout the template that can take visitors to key areas of your website such as the about us page, product pages, etc.
Outreach email template "Get to know our product" for business industry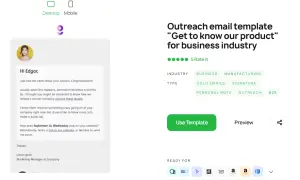 This template is unique in that it looks like a personal message directly from a salesperson. 
By importing this template into an email marketing tool, you can use a personalization token to insert a contacts first name at the beginning of your email. This way, when you send the email out to hundreds of subscribers, it will look as if each email has been sent personally by a sales rep. Although you can use personalization tokens with any template, this one in particular looks like an individual sales email. 
However, given that this template is relatively bare-bones, it can be repurposed to be a newsletter template, a company updates template, a transactional notification template, and much more. 
Promo Email Template «Сotton: feel the freedom» for Fashion industry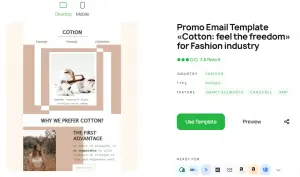 This email template is technically a promotional email template for ecommerce. 
But notice how it is made up of a few sections? 
There is the series of images, blurbs, and "read more" CTAs. Then there is a catalog (image carousel), with clickable tabs that allows you to pan through a series of images. Beneath this section there is another that showcases images in a cross design. Below this section is a blog section with a blurb from a blog post. 
The point is that although this is an excellent ecommerce template, it can also be used for other purposes. For instance, you can delete all the sections but the last one and make this a blog notification template. 
Promo Email Template "Amazing Chance" for Webinars industry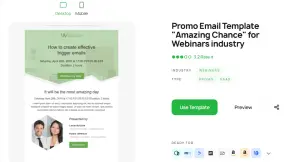 This template can be powerful for promoting events such as webinars or conferences. It's got all the right modules for this purpose including a reserve my spot CTA at the very top, a section to showcase the presenters, and an information section about the event itself. 
Stripo describes this template as having a bold, attention-grabbing design. From the little icons in the event information section to the compelling color scheme, this template is practically guaranteed to get clicks.
Abandoned Cart Email Template "Comfortable Rest" for Tourism industry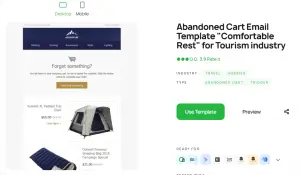 Every ecommerce business needs a good abandoned cart email template. And this one is perfect no matter what industry your ecommerce business is in. 
One thing that stands out right away about this email template is how clear the CTAs are. Interestingly, this template is designed in a way so that the CTAs pop out despite the fact that they don't have super bright colors. 
Like practically all email templates on this list, this email template has been tested with Email on Acid, and Litmus to ensure these emails render properly on all email clients. 
Promo Email Template "Good Energy" for Sports industry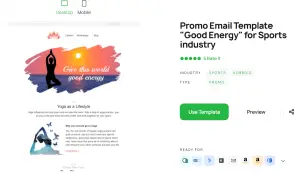 This is a beautifully designed email template. The imagery against the white background is absolutely stunning. 
Clearly this email is designed for yoga retreats, but don't be deterred if you don't own a yoga studio. You can easily swap out the images and insert your own. 
This email template is perfect for any service based business. It has great sections to showcase the benefits of your service, describe your business, and to display your team members. It even comes with a section for a YouTube video in case you have video content to share. 
Product Update Email Template "Latest Release" for Software & Technology industry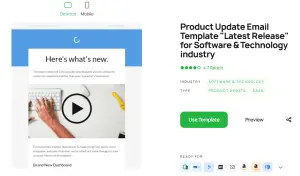 Unlike other templates on this list, this template isn't designed for any industry in particular such as real estate or ecommerce. That being siad, it might be easier to imagine how your business branding would look on a blank slate template like this. 
Technically, the template is labeled "product update template" but nevertheless, it can be used for practically anything. You really can't go wrong with a minimalist but very well designed email template.