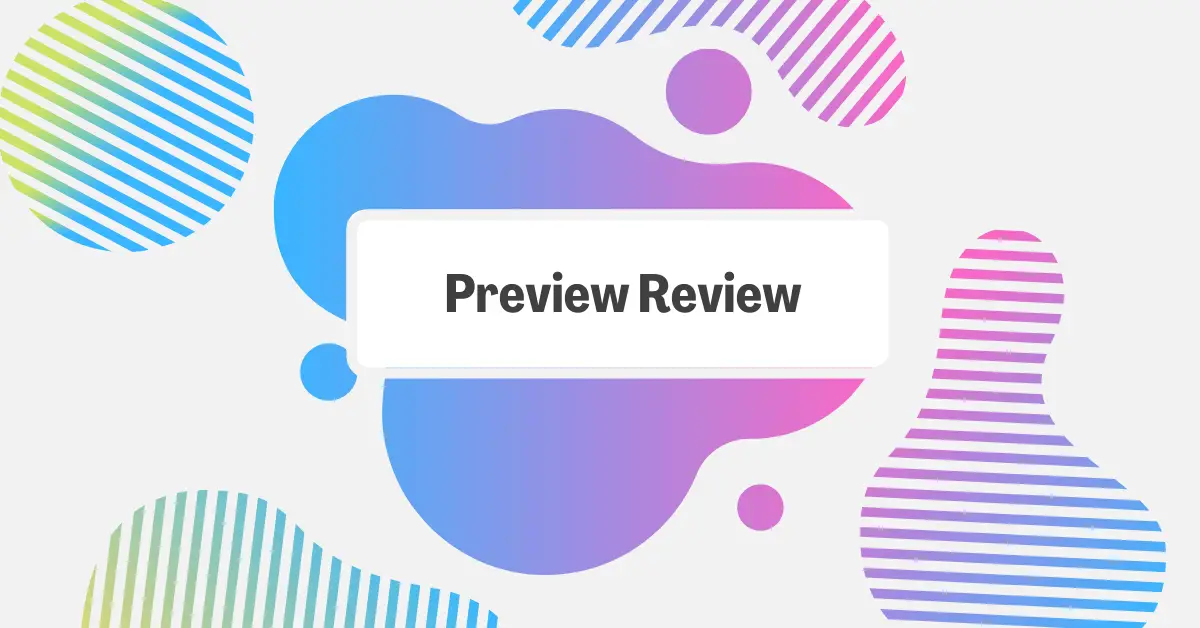 Instagram has exploded in popularity since it was launched. Today, with almost 1.4 billion users, it's a platform that just can't be ignored.
The widespread use of Instagram naturally makes it an amazing marketing opportunity for businesses large and small. 
However, managing and scaling your Instagram marketing strategy can be challenging without the help of an Instagram planner like Preview. 
Used by over 9 million businesses and content creators, Preview is one of the most popular Instagram management tools available. 
But what is the draw of Preview? In this post, you can expect to learn the answer to that question and more. 
In this Preview app review, we will cover the platform's core features, user experience, pricing, and the benefits and drawbacks of this platform. 
What Preview Is Used for
Preview is an Instagram planning and management tool—it doesn't manage any other social media platforms. With Preview, you can do the following: 
Schedule and publish Instagram posts

Plan your content schedule with Planoly's visual calendar planner 

Crop and edit images for Instagram 

Analyze Instagram account performance 
It's designed to be used on a mobile device or an iPad, but you can use it on desktop if you need or want to with the paid plan.
Is Preview Safe?
Yes, Preview is a safe app to use, both on your mobile device of choice and on your desktop computer. Preview has been reviewed by Instagram and is officially approved by Instagram. 
It doesn't get much safer than that.
Core Features of Preview
Preview has a number of powerful features that help businesses and Instagramers of all shapes and sizes to make the most of the platform and grow their audience.
Here's how they work.
Scheduling and Calendar Views
For any social media management app, scheduling and calendar views are a must. As you might imagine, Preview makes it easy to schedule your posts, and it gives you a simple, clean calendar view to see and manage your scheduled posts.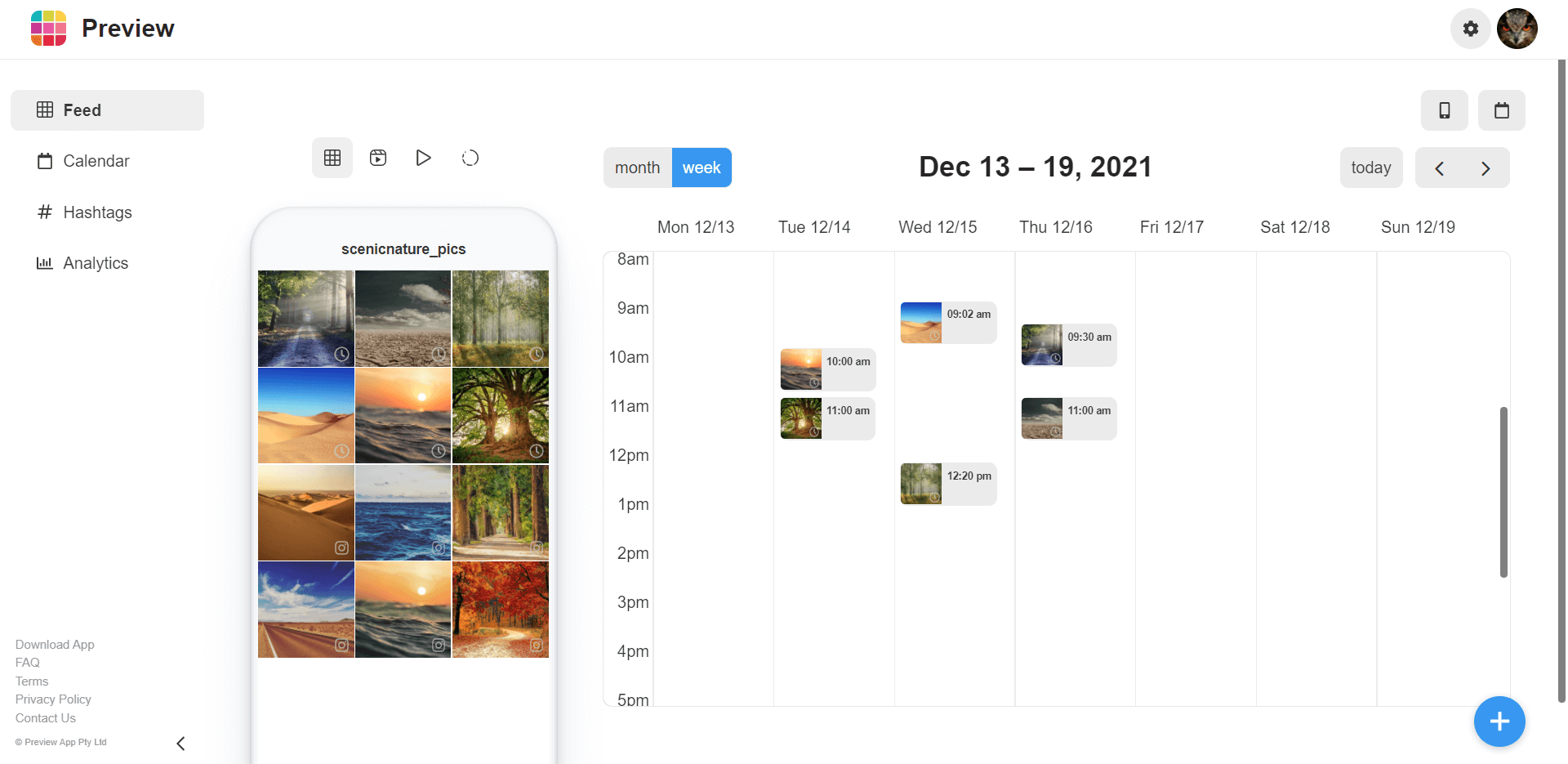 The process of posting is similar to what you would do on the Instagram app itself, but it's the additional features that make using this app really shine.
You start by adding your media, which includes access to a library of royalty-free, copyright-free photos (for the paid plan). You can choose to add media from your device's media library, and you can decide what format the post should be in (carousel or split image, for example). You can choose one image or multiple images, and the same goes for videos.
You can also regram using this app, which is great because not all apps make this possible, and there are even paid apps specifically designed just to regram.
Once you choose your media, you then can fill in everything from captions and first comment to hashtags (using the hashtag discovery tool, which we'll discuss in a minute) and more.
What's really cool is this feature called "captions" that gives you access to all kinds of pre-written caption templates that you can edit. You can also find pre-written quotes, questions, popular sayings, and captions based on your business' industry.
This allows you to quickly and easily create captions when your creativity just isn't flowing.
Once you've created your post, you can either post it immediately or schedule it for a specific date/time. With the paid version, you can set it to auto-post at the ideal times/days for your audience.
Once you've got them scheduled, the calendar view allows you to quickly see all your scheduled posts and the days/times when you have them scheduled. You can also edit them directly in the calendar view.
Actually moving posts around isn't as easy as it should be as you can't drag and drop on the mobile app, but you can just edit them directly to change the days/times — it's just not as intuitive as it could be.
Hashtag Discovery
Hashtag discovery is a great tool that allows you to quickly find hashtags and add them to your posts.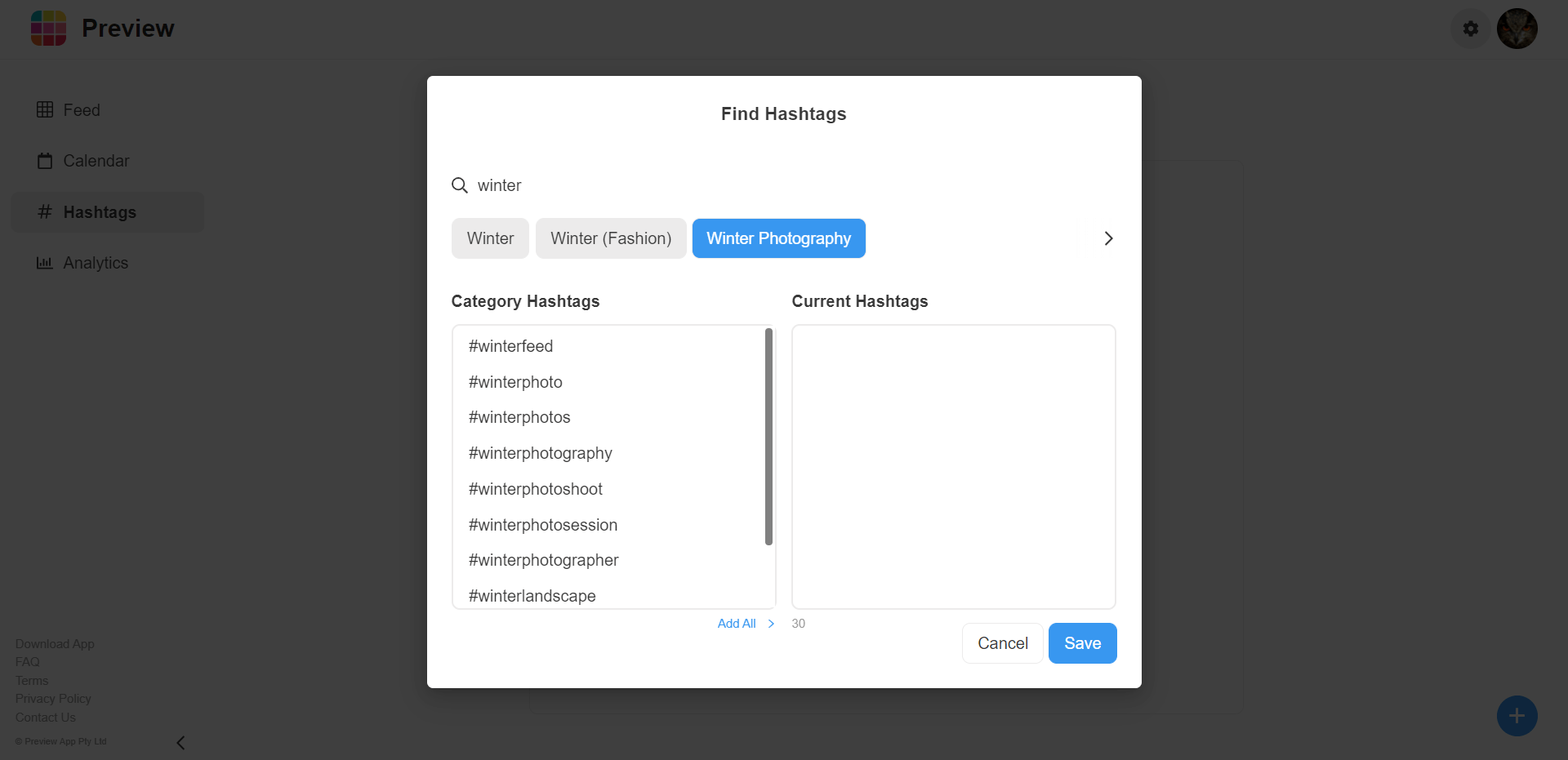 You can start typing, and you'll quickly be given a list of potential hashtags. You can also scroll through and choose from hundreds of topics or categories to find the hashtags you need.
You simply click on them to add them to a list of hashtags for the post, and you can even save them into a hashtag group that will then allow you to instantly use those same hashtags over and over again.
Media Editing
Preview has a powerful media editor that gives you some powerful photo editing capabilities.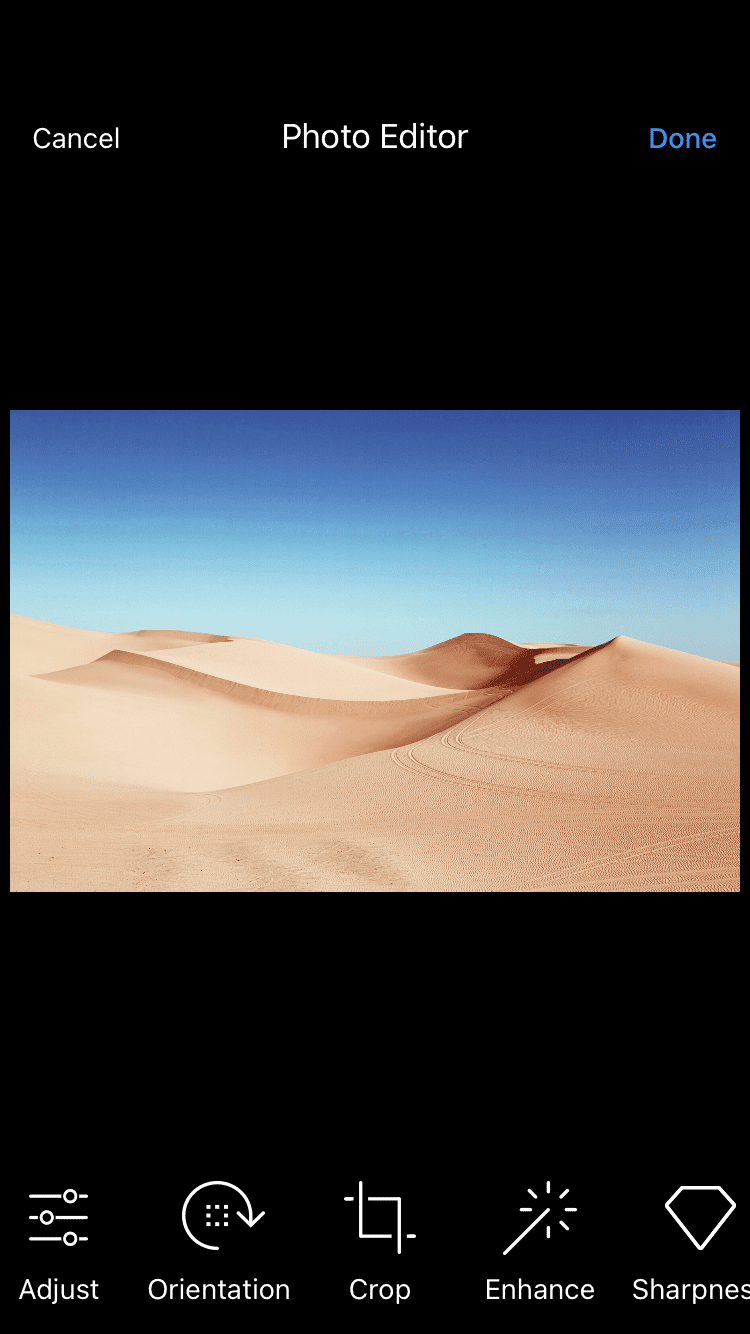 You can choose from hundreds of filters that are all neatly arranged into categories (they call them "themed filter packs"), and you can do everything to photos from cropping and changing the orientation to enhancing the photo, adding blur or focus, adding text, and more — a lot more.
Fix blemishes

Whiten teeth

Remove redeye

Fill in color

Add meme text

Draw

Add a "vignette" fading to the borders

Adjust brightness, exposure, contrast, and more
Reporting and Analytics
Reporting and analytics are simple and straightforward. You'll be able to see basic stats, like how many posts you have and how many followers you have, but you'll also be able to see how you've performed during a certain time period.
For example, you'll see your average number of likes, comments, engagement, etc, and this can be broken down by post type (photo, video, etc).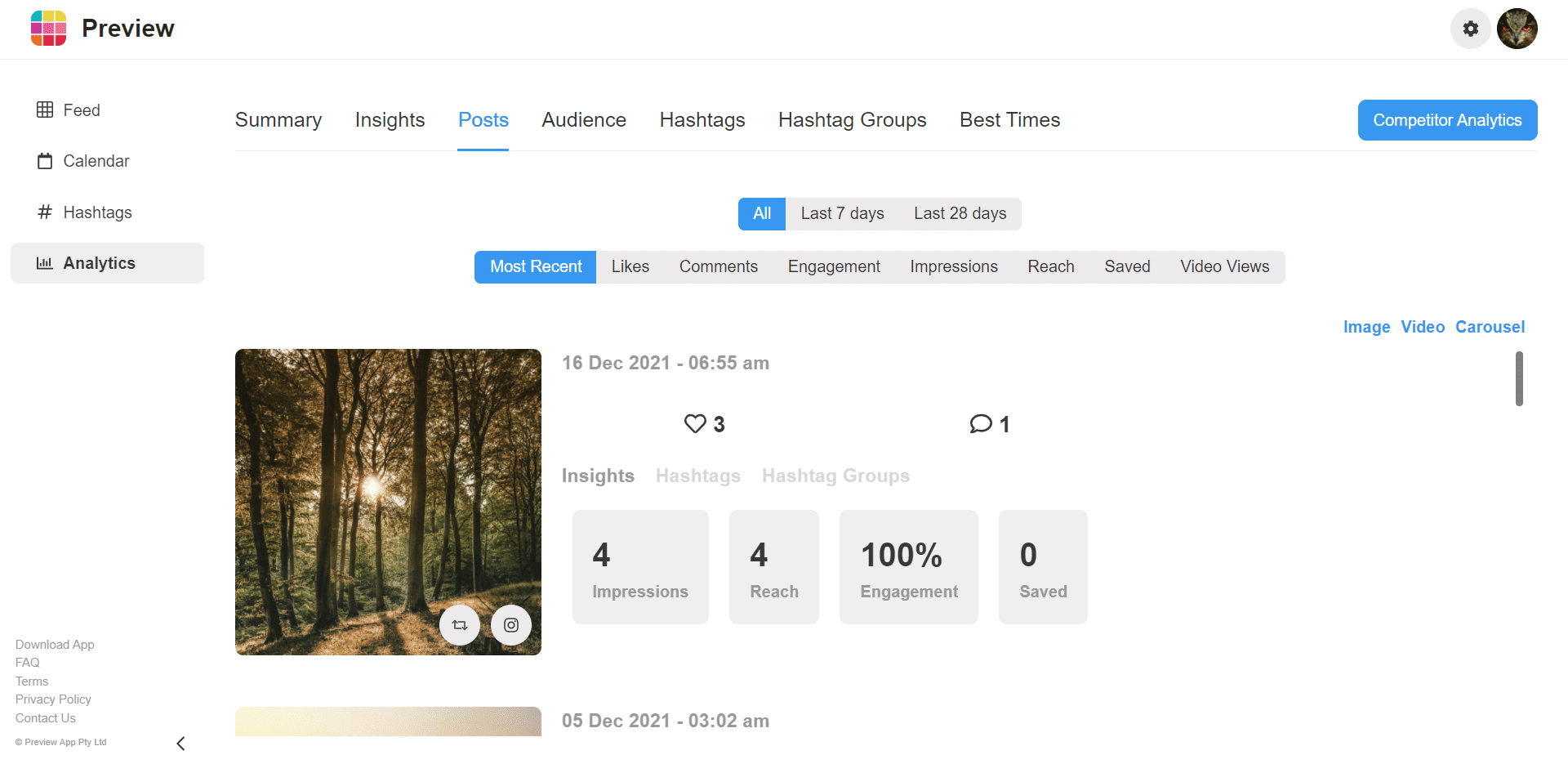 You'll also be able to see what your top hashtags are when the best-performing times are that you've been posting, and which of your hashtag groups are performing the best.
Dashboard Experience and Ease of Use
Preview has great UX for the most part. It's easy to find what you're looking for, even on the mobile app, and the experience is really clean.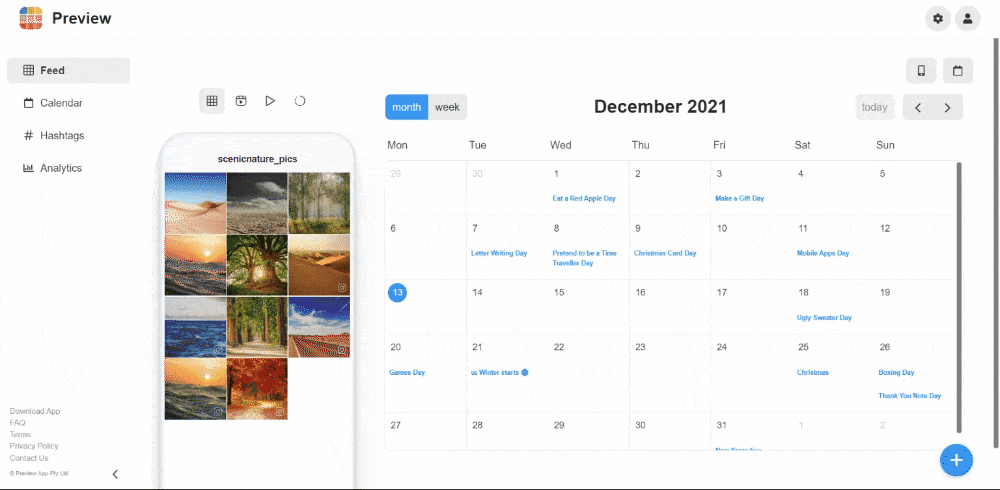 Adding posts, adding hashtags, scheduling — all of this is pretty intuitive. The only thing that could use some improvement is the calendar view.
Normally, on a mobile app, you would expect to be able to press down on a post to select it and then be able to move it around on the calendar, but you can't do that in the Preview mobile app. However, you can do this on the desktop app.
Otherwise, everything from choosing hashtags to creating hashtag groups to photo editing and more is simple. You'll be hard-pressed to find an app with such sophisticated features, yet is so intuitive. 
Pros and Cons
There are many benefits to Preview, but at the same time some notable drawbacks as well. 
Preview pros:
Intuitive user interface on both desktop and mobile device

Advanced photo editing capabilities and a wide array of filters you can use on images 

Regraming feature is available (which many Instagram management platforms don't have)

Ability to add team members and grant them permissions is a plus

Relatively affordable social media management solution 
Preview cons:
Platform supports only Instagram and no other social media. If you are only focused on Instagram, this isn't much of an issue, but if you have multiple profiles on various social media platforms that you need to manage, Preview might not be the best choice. 

Calendar view doesn't allow for simple drag-and-drop in the mobile app which takes away from the UX, though it does all for this in the desktop app.

Discovery feature is limited to just finding hashtags. There isn't an account search or a keyword search option like some platforms have. 
Pricing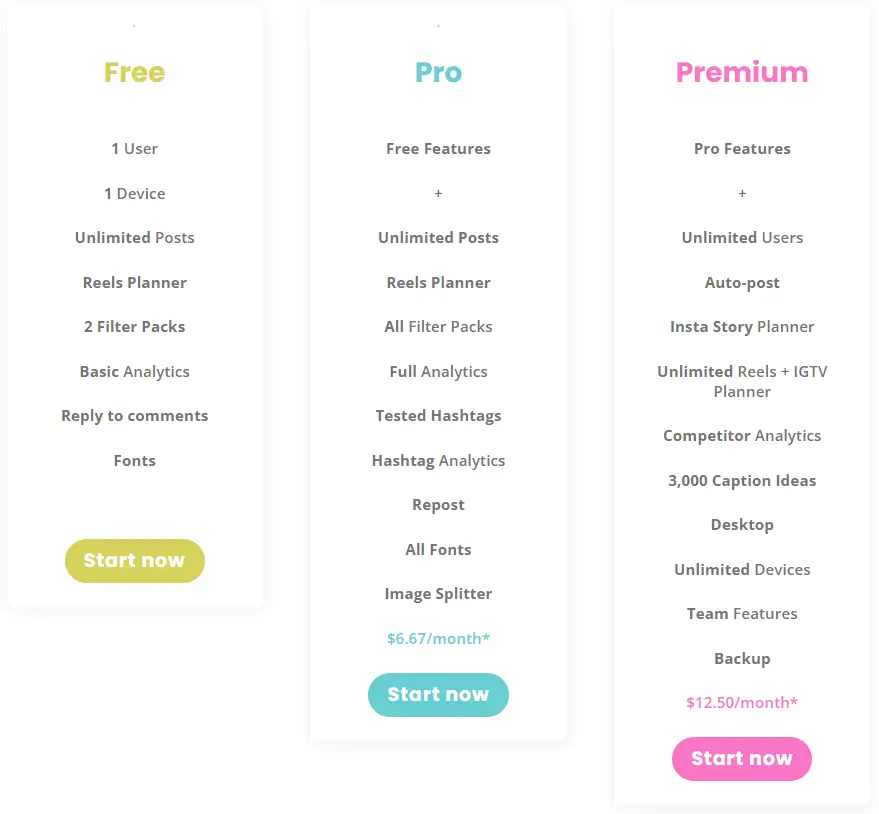 Pricing is very affordable, especially when considering comparable apps. The free version has very limited functionality, so it's really only worth it to get a basic idea of the UI and see what you can use it for.
The pro plan is $6.67/month (billed yearly), and it gives you access to basic features such as more advanced analytics, and image filters (though not to the caption ideas, which is really worth the upgrade). The Pro plan might be enough for some people, however, to really unlock the full potential of the platform, you will want to upgrade to the Premium plan.
The premium plan is only $12.50/month (billed yearly) to get access to stuff like auto-posting, caption ideas, and unlimited users and devices. With Premium you can also use the platform on your desktop. You even get a backup feature.
How Preview Stacks up to Its Competitors
While there are many social media management tools out there (Tailwind, Hootsuite, Plann, UNUM, etc.), the biggest competitor (in terms of being a social media management tool specifically for Instagram) is Planoly.
Planoly has many of the same features, as Preview. However, there are certain areas where Preview outperforms Planoly. For instance, Preview's media editing options are far superior, given that Preview has options such as crop, blur, and various filters that Planoly doesn't have. The caption ideas and hashtag grouping feature alone make Preview worth the purchase price as they make posting much, much faster, and easier.
However, Planoly allows you to post to Facebook and Twitter, but in reality, you really should be creating content for those platforms that are specific to them (rather than just reposting your Instagram content). Planoly also has post-planning options that Preview lacks. 
For a complete comparison of Planoly and Preview, see our Planoly vs Preview analysis. 
Is Preview Right for Me?
Whether you are part of a marketing team at a company or even just a casual Instagram user that wants to take account to the next level, Preview is a very affordable social media management tool for practically everyone. 
Unlike many other social media management tools, Preview is one that is designed for mobile use, which is a huge plus if you are interested in managing your account on the go. 
Fortunately, with Preview's free version, you can try out the tool yourself without paying a dime to see if this platform would make sense for you.
Hopefully, you found this Preview app review helpful. If you have any questions at all, don't hesitate to comment.