Forms are essential for collecting information from leads, employees, event attendees, or anyone else for that matter. 
Formstack is a powerful form builder, however, the platform isn't the best for everyone. For some, the platform is too expensive, and for others, it simply lacks needed features. 
Fortunately, there are numerous other form builders that are similar to Formstack. Many even have free versions that you can take advantage of to see if they are good choices for your organization. 
In this post, you can discover 9 of the best Formstack alternatives. 
PandaDoc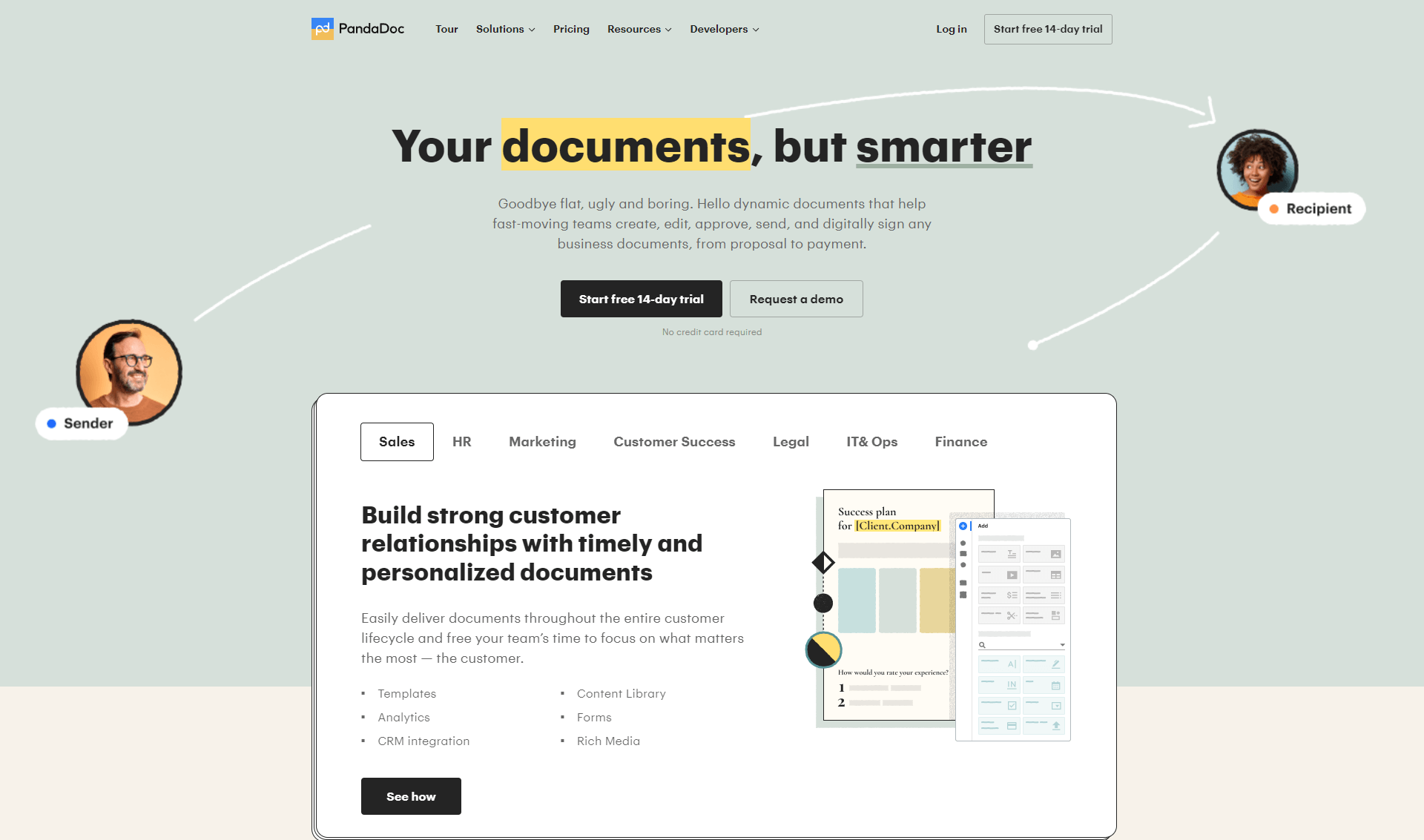 PandaDoc and Formstack are true competitors. They both offer much more than a form builder, including a document signing solution and a document creation/editing solution that pairs with the form builder, pulling in data and pre-filling forms.
PandaDoc is used by tens of thousands of companies worldwide and is designed to help you create:
Proposals

Quotes

Contracts

eSignatures

Forms
Just like Formstack, PandaDoc has tons of integrating features that make all the apps work together cohesively. Their goal isn't to sell you a form builder — they want you to buy into their whole package.
PandaDoc also has a ton of integrations — HubSpot, Salesforce, Zoho — so taking that data you're collecting and putthing them into just about any software you want to is a snap. 
As far as the form builder is concerned, it's very intuitive and simple to use, and their security is top notch. That being said, they don't have HIPPA-compliant forms available (Formstack does), so PandaDoc isn't going to be something to buy if you're in the medical industry.
PandaDoc comes in at a lower price point, but if you want all the bells and whistles, you'll have to go enterprise and get a customized quote.
Jotform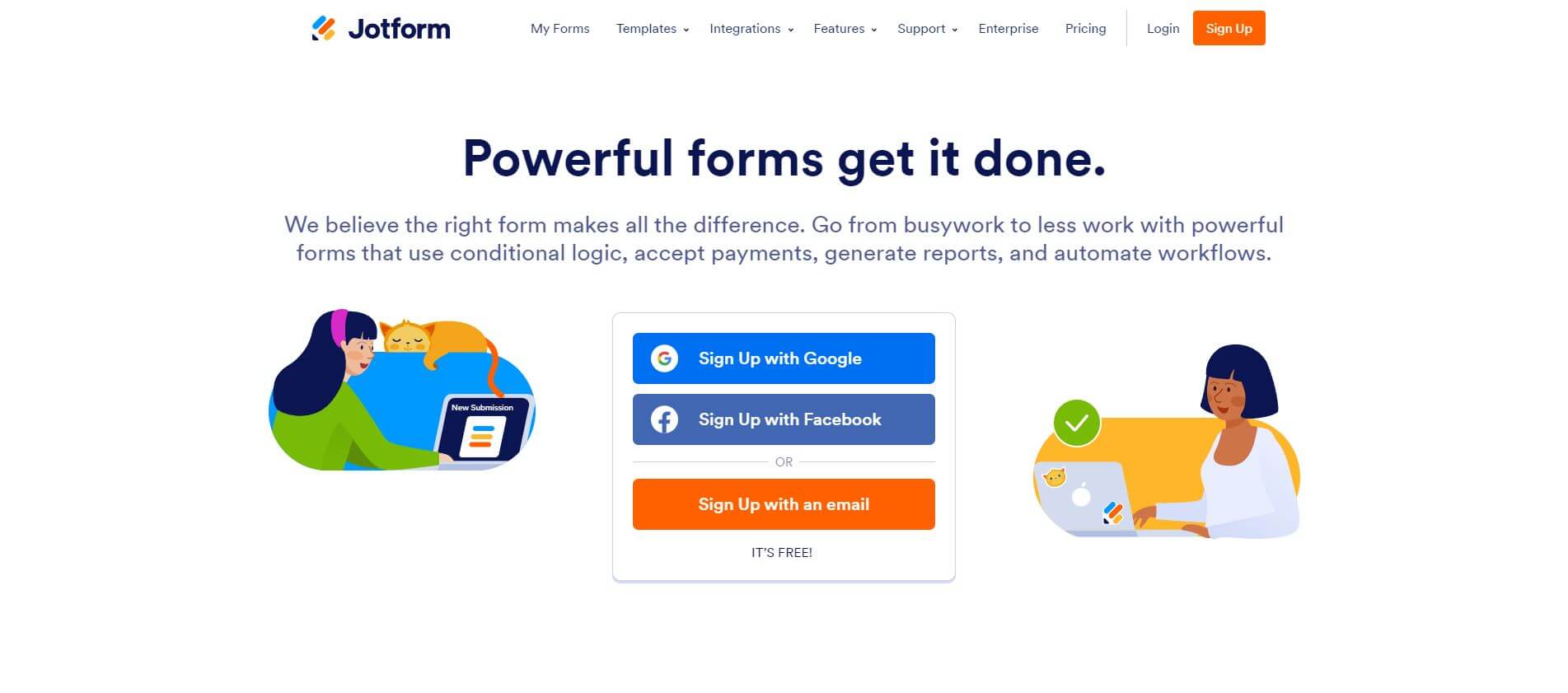 Jotform is solely a form builder whereas Formstack is a series of apps, one of which is a form builder. If all you're looking for is a form builder and you don't need all the fancy bells and whistles, Jotform is a good alternative.
Jotform has a lot going for it. It has 24/7 customer support, a 30-day guarantee, an education discount, and the ability to cancel at any time. It has a ton of integrations, so you can connect it to just about any app you want, creating automations that in some ways are superior to what Formstack can do by itself.
Being a form builder only, you would expect Jotform to have a ton of great features — and it does. One of the big standouts is the massive library of form templates — over 10k.
No matter what you need to build a form for, someone has already built it for you, and all you'll have to do is tweak it.
Pricing is much lower than Formstack, which does sell its form builder as a separate app. If all you want is a form builder, Jotform is going to be just fine.
Related: Jotform vs Formstack: A Detailed Comparison
Wufoo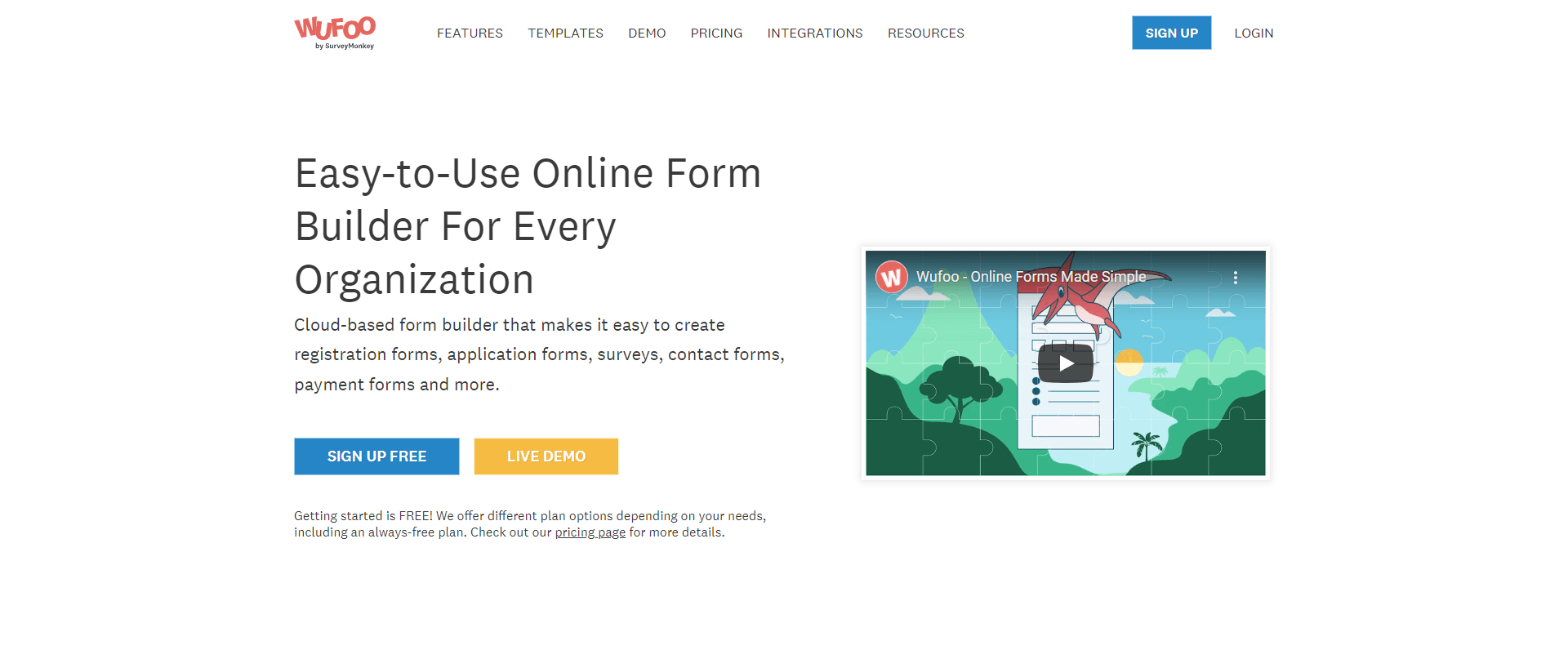 Wufoo has all the bells and whistles that you'd expect from a high-quality form builder, so really the only thing that sets it apart from Formstack is that it doesn't have all the other apps (Sign, Documents, etc.) that Formstack has.
Wufoo comes with plenty of integrations and connects to Zapier, which means thousands more integrations, so you can create just about whatever workflow you can think of with the software.
Unfortunately, Wufoo isn't HIPPA compliant, which is one of the big selling points for Formstack. It's not insecure, but it just can't be used by the medical industry.
Like most modern form builders, Wufoo has conditional logic, allowing you to streamline your forms and personalize experiences based on answers already given. You can also accept payments with the software, so using the form on your ecommerce store is a breeze.
While Wufoo has a free version, you can only collect 100 responses a month, so you're almost certainly going to have to pay for at least the starter plan. Fortunately, plans start around $15, so getting the plan you need won't break the bank.
Proposify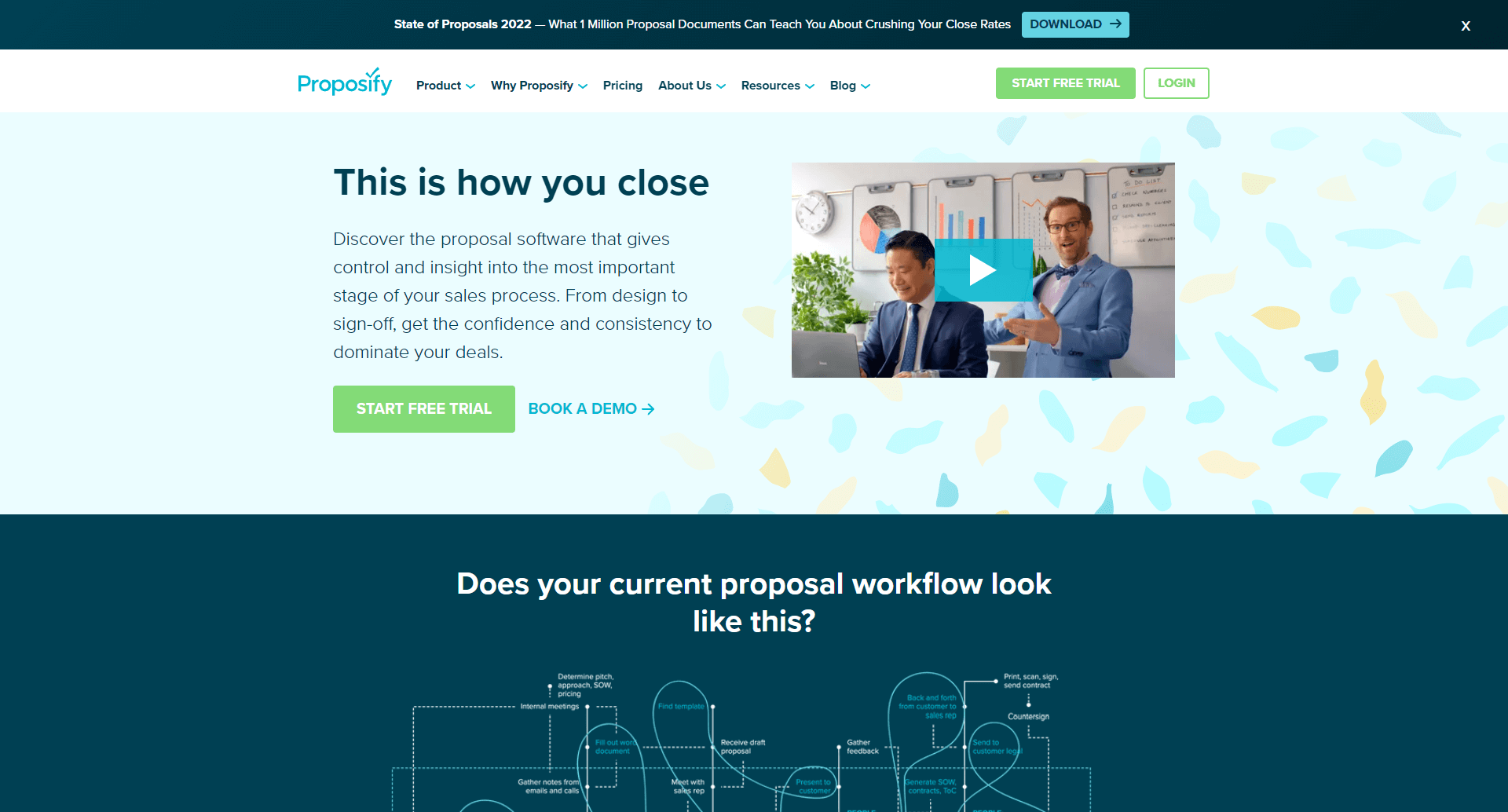 Proposify is a little different from the other form builders on this list because it's designed from the bottom up to be proposal software — not just a form builder. Similar to PandaDoc, it's an all-in-one solution that includes the ability to create and share documents, collect data on those documents, and then collect esignatures.
Proposify has a huge number of integrations, including the all-important Zapier, which connects to 4,000+ apps, making the creation of workflows using your existing apps/software very straightforward.
The proposals themselves are extremely customizable, and you can apply the same branding across multiple proposals for multiple sales reps, ensuring that branding stays consistent. When it's time to change the template, you can do it in one place and automatically update everyone's template.
Speaking of templates, there are a ton of them available right out of the box, and they all look really, really good. If you want a simple proposal solution without having to pay a designer, Proposify is the way to go.
There are only two plans, but the business plan is for businesses that have large teams (10+). For small businesses, a single user is going to be sufficient.
Overall, it's not really a direct competitor to Formstack because it's so focused on creating proposals. If you're just wanting a simple form builder, look elsewhere.
Formsite
Formsite is a robust form builder that pretty much does it all. If you want to collect payments on your form, you can. If you want to integrate your forms with other apps/software to create complex workflows (or even simple ones), you can.
Like most of the form builders on this list, Formsite integrates with big names like Salesforce, but it also integrates with Zapier, which basically means it integrates with every app on the market that someone's made a zap for.
There are also a ton of ready-made templates you can use to create and put your form into use right away. They're organized by type and industry, and they're fully customizable.
Unlike some of the other form builders on this list, Formsite is HIPPA compliant, so it's definitely a potential solution if you're in the medical industry.
Reporting is robust, with the ability to create professional reports in Word or in a PDF from the data. You can also easily share your results through different types of graphs and charts.
There's not a free version, but there is a 14-day trial available. Even with the lowest plan you'll be able to collect 500 results/month, so even teachers or students needing a form solution will find what they're looking for here.
Typeform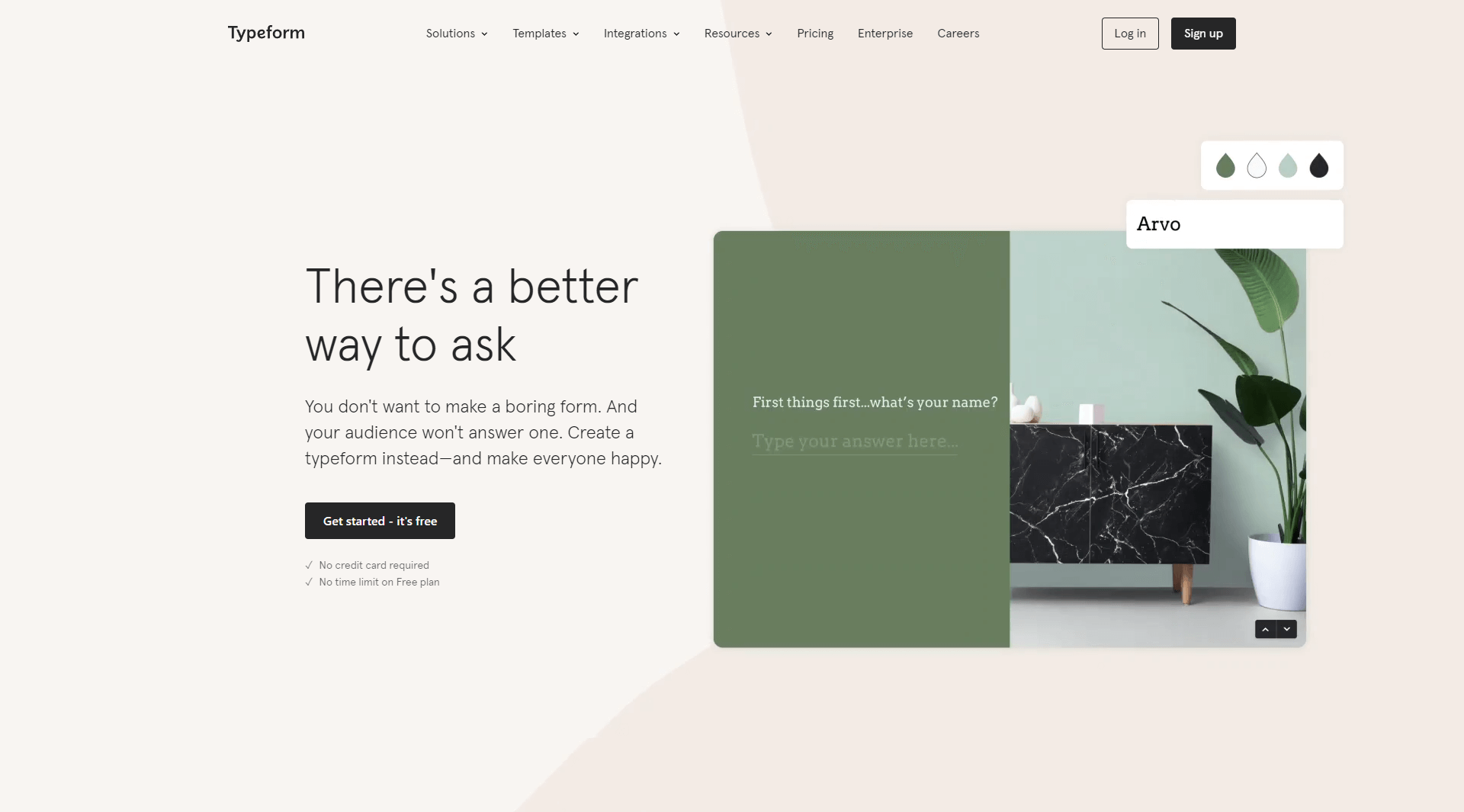 Typeform is perhaps best known for its beautiful designs and its format — asking a single question at a time on each page. The formbuilder editor is fairly intuitive and won't require you to play around with it much before you know what you're doing. The only real difficulty is getting used to the idea of having a single question on each page, but once you get that down, you'll be putting together forms like a pro.
Typeform, like Formstack and other options on this list, has conditional logic, but they take it a step further — theres a visualizer that will show you the flow of questions based on the logic. You can edit logic statements right in the visualizer too, so it's actually really useful.
There are tons of templates, and they all look incredible — probably moreso than anything else on this list. There are 10+ major categories of templates that are all fully customizable.
Typeform also has tons of integrations, including Zapier, allowing you to put together sophisticated workflows, allowing you to not just collect data but send the data to other pieces of software, like CRMs, where you can do more with it.
The limited number of responses/month that the basic plan gives you means that, for most people, the plus plan is a must. Pricing is pretty much idental compared to the starter plan for Formstack, so if you're purely looking for a form builder, you'll probably want to pick Typeform.
Related: Formstack vs Typeform: Which is Best?
FormAssembly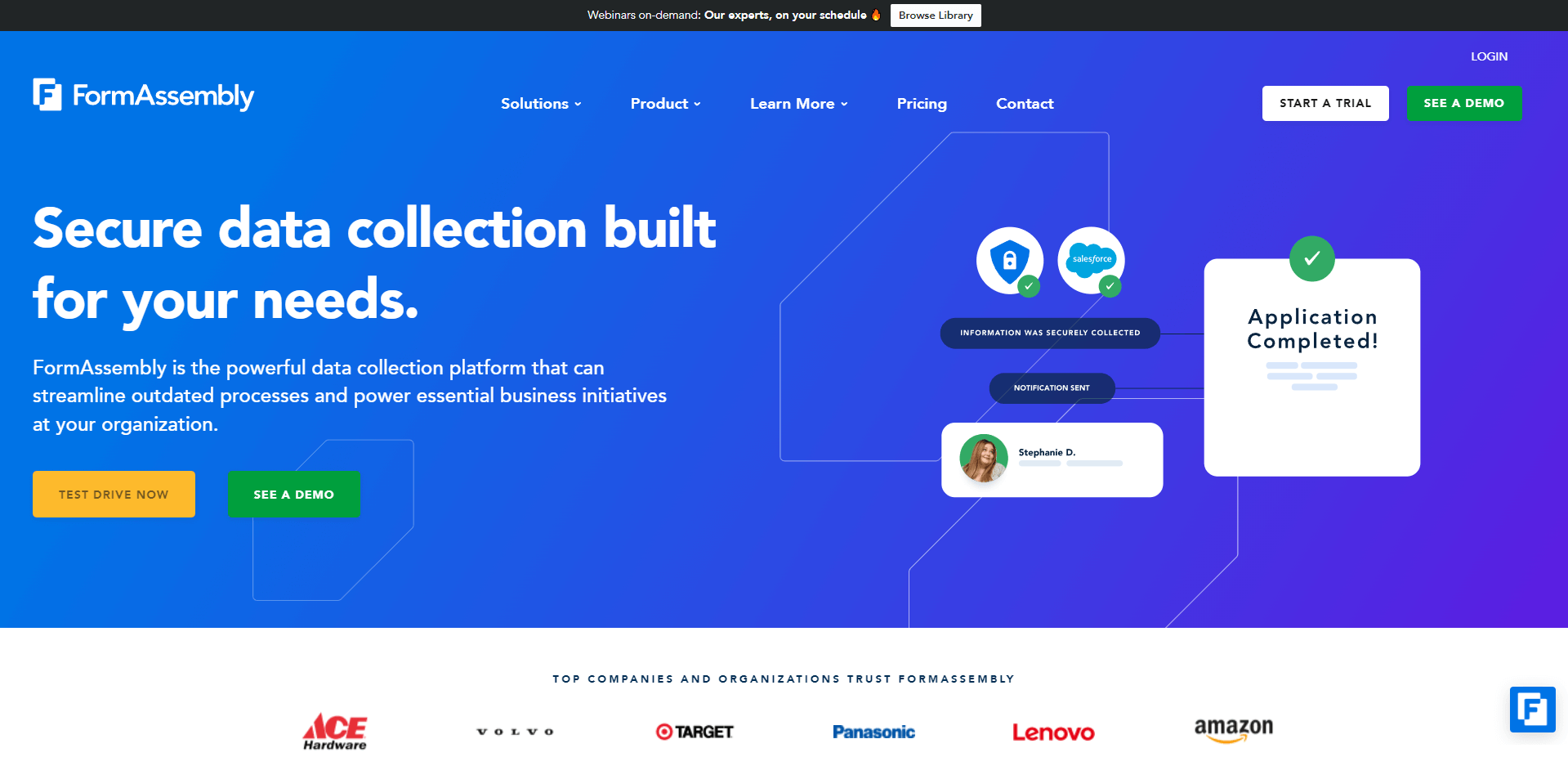 FormAssembly bills itself as a data collection platform (and not just a form builder), and to be fair, it does more than just allow you to create online forms. What makes FormAssembly really stand out is its dedication to helping you create workflows.
Basically, it has a lot of integrations and an internal program that allows you to create workflows visually by dragging and dropping components of the workflow. There's no need for Zapier in many cases — the native integrations are plenty.
FormAssembly is popular, with many big brands like Target and Ace Hardware using it. Their customer service is top-notch. They have a huge knowledge base with webinars, articles, step-by-step instructions, and more.
The forms are HIPPA compliant, so they're a great solution for healthcare and are used by some big healthcare brands, like Merck.
Basically, FormAssembly is all about making your data collection simple and using that data to fill workflows and save time. Pricing reflects this plethora of features, with the lowest-cost plan coming in at $89/month. If you want Salesforce integrations, the price just about triples.
MightyForms
MightyForms is more than your average form builder. It has everything you'd expect from a modern form builder, including conditional logic, a large number of templaters, simple drag-and-drop editor, and more.
What makes MightForms stand out a little bit is that it has an interesting feature called "Resume," which is essentially where the form builder will attempt to recover lost leads (people who didn't fill out the form completely) by sending them links periodically to try to entice them back to the form.
It's a payment solution as well, integrating with Stripe, and it has a robust quote-generation system, which you don't see too often in many form builders. It's used by some big brands, including WordPress and Shopify, and it's won some awards.
MightForms integrates with a ton of apps natively, and it also integrates with Zapier, which means it integrates with just about any app/software you can think of, including Salesforce and other CRMs.
Pricing is fairly inexpensive, with the pro plan (10,000 form submissions) coming in at $29/month, a really good price compared to some of the other options on this list.
Cognito Forms

Cognito Forms is another great form builder that focuses mostly on creating great forms and using that data, through complex workflows, to save data-entry time and time in general.
It has conditional logic like many of the form builders on this list, which means you can put together some really complex forms that split off on different paths depending on what logic statements you've set.
This allows you to craft a much more efficient and higher-quality user experience.
As far as templates go, Cognito Forms doesn't have a ton of them, but it definitely has enough for most use cases. There are plenty of categories to choose from (job applications, surveys/quizzes, contact forms, and more), and each category has up to several dozen unique templates.
You won't have to make your own forms if you don't want to as customization of each form is straightforward.
Cognito Forms connects directly to Google Analytics, creating a high-quality analytics experience, and you can download the data as a CSV file if you want to create more complex charts and graphs.
Pricing is pretty good, with only $15/month for the pro plan (2,000 entries a month), and you get a 14-day free trial to test everything out.
Final Words: What is the best Formstack alternative?
Formstack is a form solution at its most basic, but paired with its other apps, it's a real powerhouse. While there are a few Formstack alternatives that are direct competitors, Formstack stands out from the crowd.
However, if you're just looking for a forms solution, there are better (and less expensive) options out there. Only go with Formstack if you need (and are willing to pay for) all the other apps.