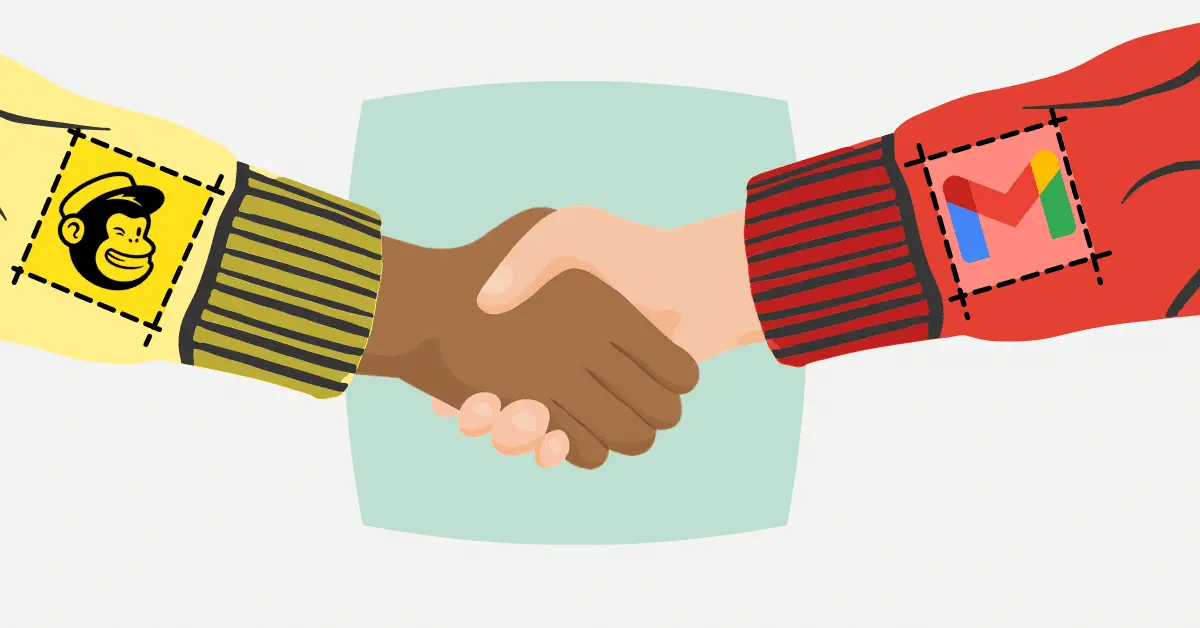 With over 1.8 billion users worldwide1, Gmail is one of the most popular email services.
While Gmail is mainly used for personal communication, it can be a powerful marketing tool as well for small businesses. However, one of the most glaring downsides of using Gmail for email marketing is you cant design eye-catching email templates. This is where Mailchimp comes into play.
With Mailchimp, you can create stunning email templates that you can easily send to your subscribers with Gmail. In doing so you can get the best of both worlds: Mailchimp's email design capabilities, and Gmail's intuitive, familiar interface.
This post explains how to use Mailchimp with Gmail to send stunning emails to your subscribers.
Benefits of using Mailchimp to create email templates 
While there are numerous email template builders for Gmail, there are a few reasons why Mailchimp in particular is an excellent choice.  
Stunning template selection: Mailchimp is known to have a stunning collection of email templates. Not only are these templates professionally designed, but there is a large selection of them. You can find dozens of templates that fall under numerous themes such as:
Ecommerce (for monthly contests, promotions, etc.)

Events (competition announcements, invitations, etc.)

Holiday (Christmas newsletters, holiday sales, etc.)

Newsletters (numerous newsletter template designs)

Notifications (appointment reminders, notes, etc.)
And much more.  
Ease of use: Mailchimp is designed for small businesses that might not necessarily be technically adept. That being said, the platform is quite intuitive.
The drag-and-drop email template builder in particular is quite easy to use. With this interface, you can simply click and drag all the elements you want to include in your landing page such as images, text, and headers, without editing a single line of code.
It's free: One of the most attractive traits of Mailchimp is that it offers many of its basic features completely for free. For instance, a handful of the email templates are free. However, if you aren't interested in the free templates you can certainly design your own templates from scratch for free as well.
Often people use templates from Mailchimp or similar email marketing service providers with Gmail for
Newsletters: You can easily send out company newsletters either internally or to external email subscribers

Sales outreach emails: Salespeople can make their outreach professional and consistent with well-designed templates

Event invitations, announcements, and holiday emails: Whether you want to send professional company webinar invitations or say happy Thanksgiving to your subscribers, templates can be used for any occasion.
Importing Mailchimp HTML email templates into Gmail
To send a Mailchimp email template with Gmail, you will need to export the template as an HTML file. The process is pretty straight-forward.
First, you will need to log into Mailchimp and create your email template if you haven't already done so. Once you are satisfied, click "save and exit" in the lower right-hand corner of your email editor interface.
Below you can see the template created for demonstrational purposes. It's a relatively basic email template for a hypothetical nonprofit company that focuses on saving endangered animals.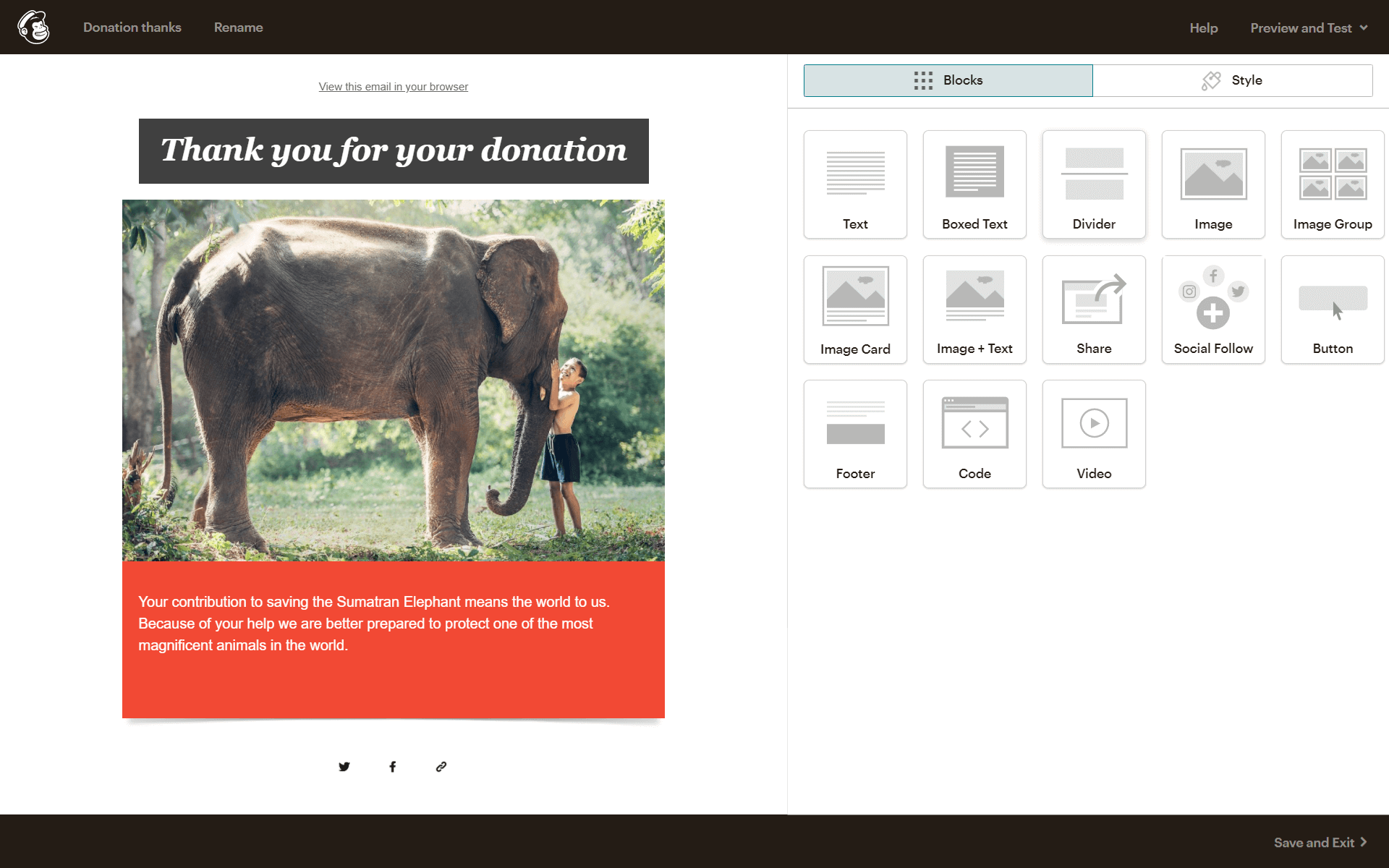 After you save the template and leave the email editor, you will need to export the email template as HTML by clicking the button below.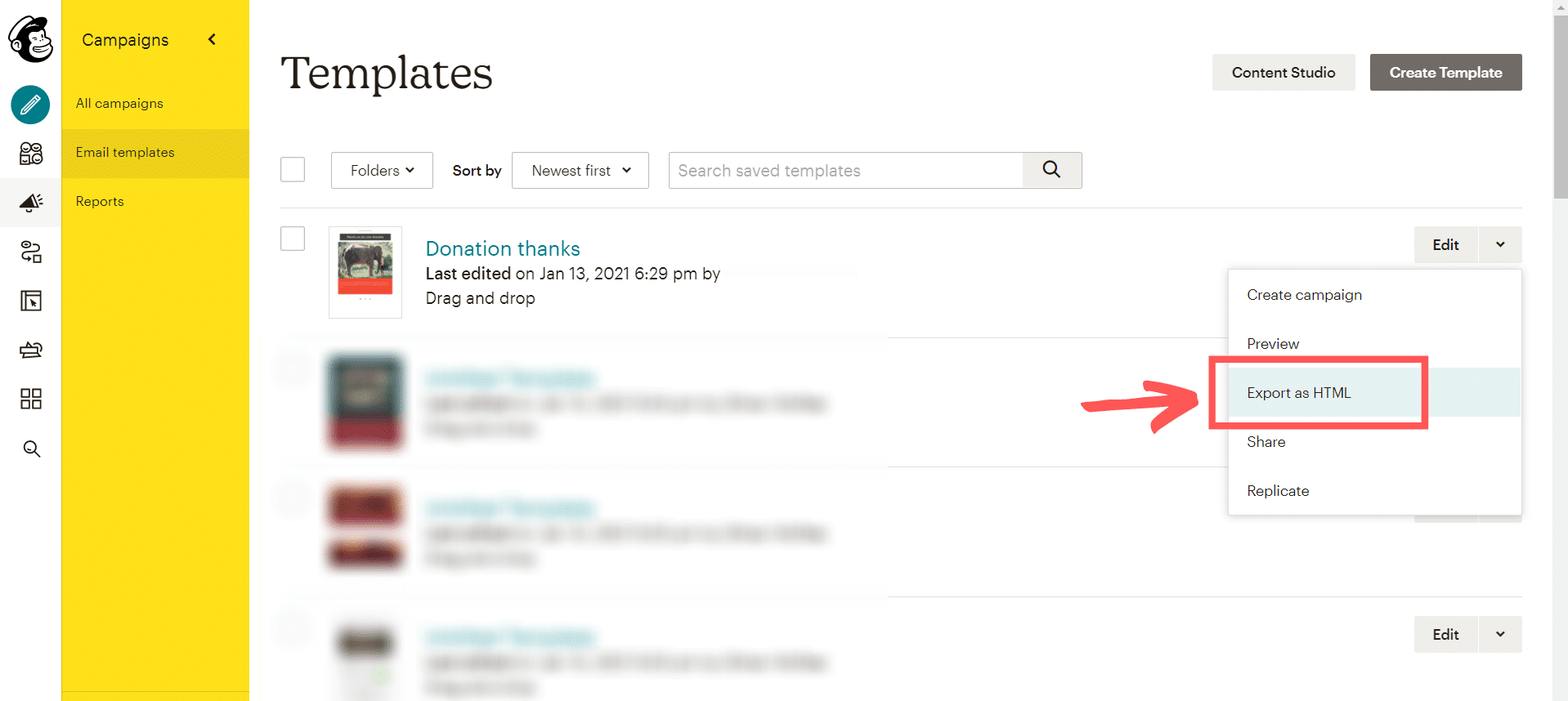 Open the file and right-click the template. Click "View page source".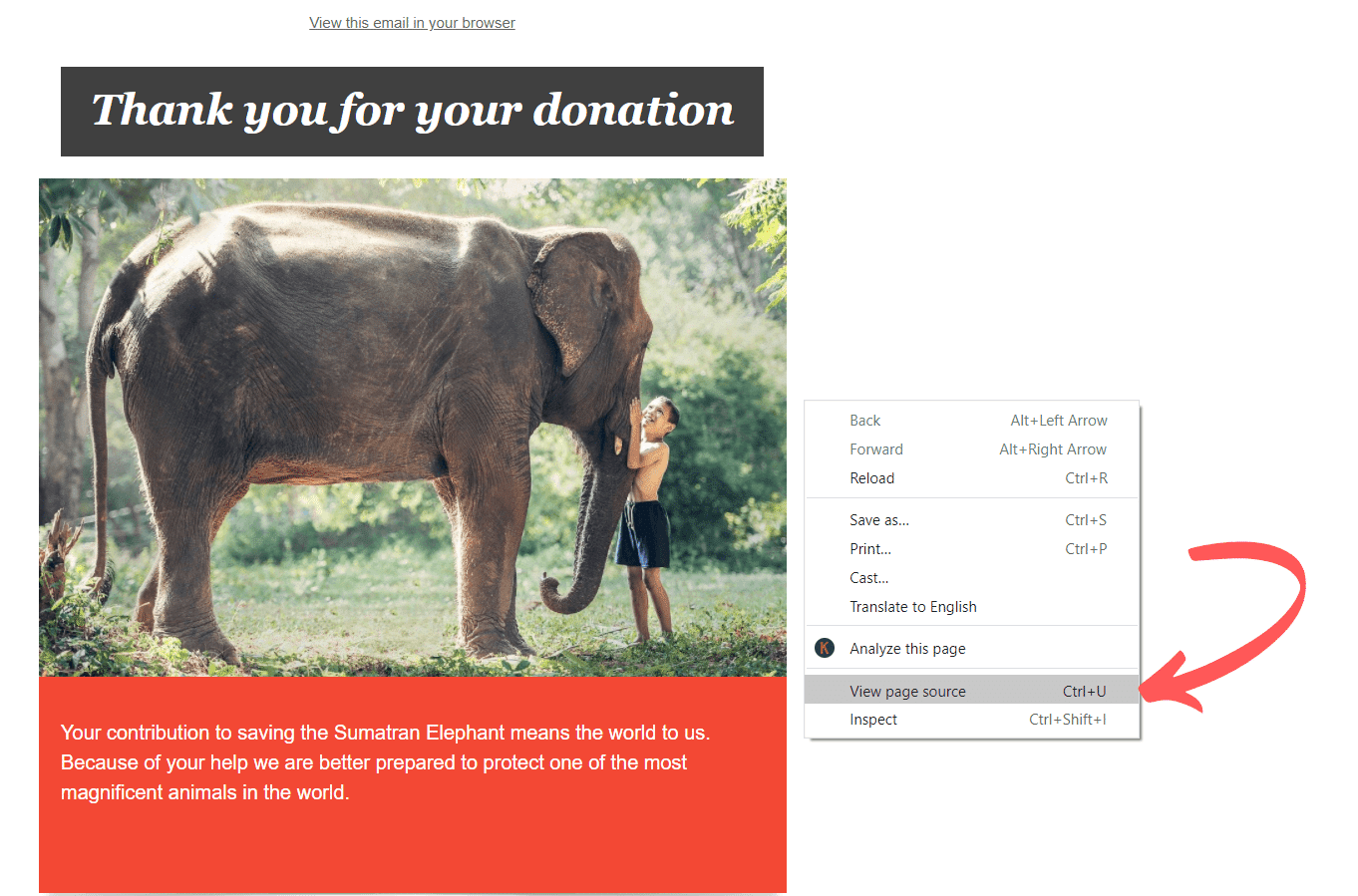 Once you click "View page source" you will be presented with a rather lengthy page of HTML code. Although it might look overwhelming, all you need to do is highlight and copy this page of code.
At this point, you can head over to your Gmail account and create a new email. Type a few letters in the body of the email: they can be completely random. For this example, we will type "XYZ".
Highlight the letters, right-click and click "Inspect". Alternatively, you can do [Control > Shift > I]. You will be presented with the developer console.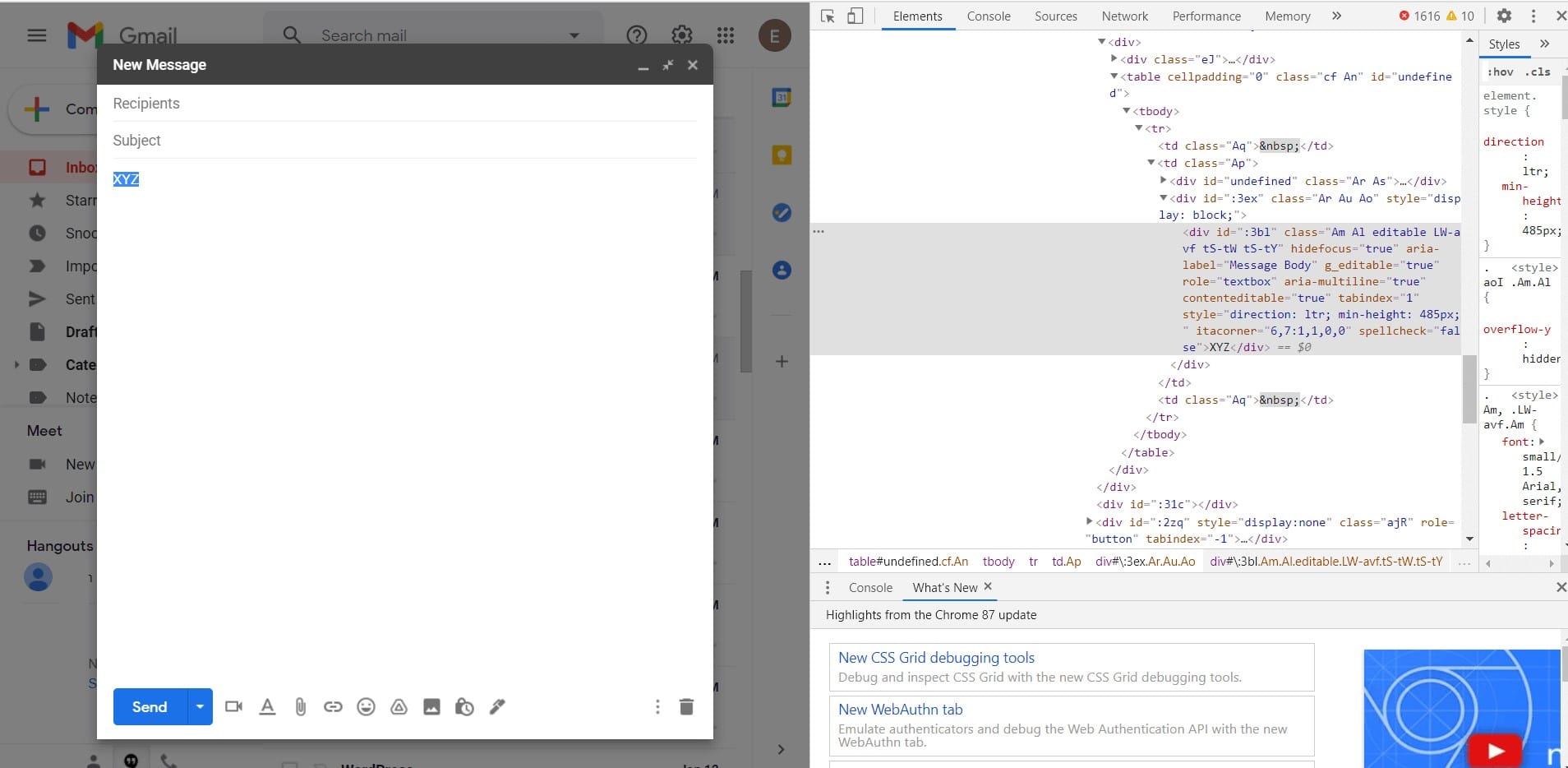 From here, right-click the highlighted piece of code in the developer console, and click "Edit as HTML".

Delete the highlighted code, and paste in the code from the email template you copied earlier.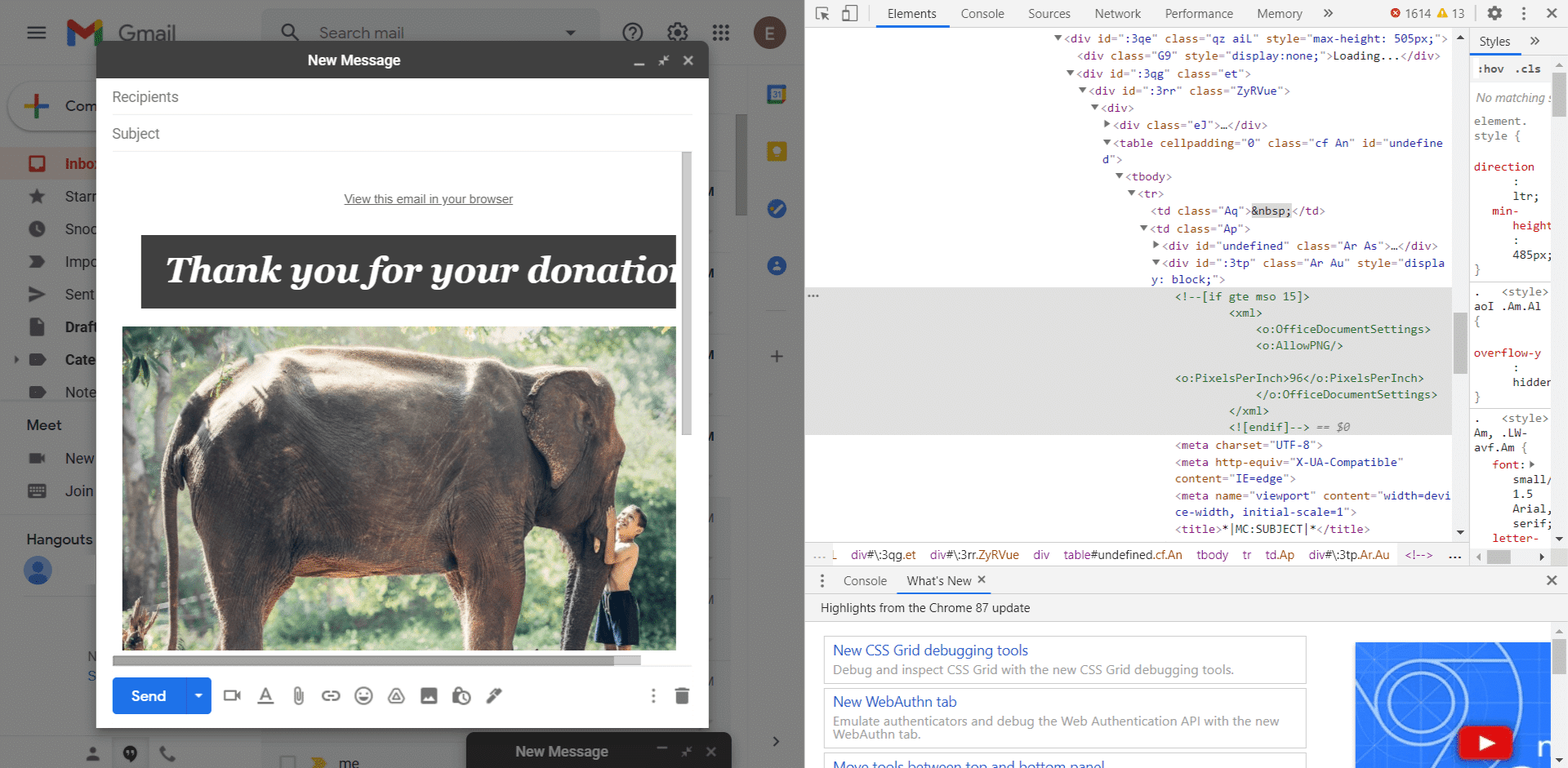 There you have it- a successfully imported Mailchimp email template in a Gmail email.
A quicker way to import Mailchimp templates in Gmail

While copying and pasting HTML straight into your Gmail email certainly works, there is a way to simplify and expedite this process. You can use the Gmail email templates browser extension by cloudhq.net. This browser extension basically allows you to connect your Mailchimp account with your Gmail account and access your existing Mailchimp template selection right from your Gmail. This way you can select and send the template of your choice without leaving your Gmail account.
Related: 8 Excellent Outlook HTML Email Template Builders 
Best practices for email marketing with Gmail
Using Mailchimp templates is an excellent way to improve your email marketing efforts with Gmail. However, there are some best practices to follow to ensure effective and dependable email outreach.
Be mindful of the limitations of Gmail
While Gmail has its benefits, there are certainly limitations to using Gmail for email marketing as well. 
If you are using a personal email address (such as one that ends in gmail.com), to mass send emails, your emails are more likely to end up in your recipient's spam folder than if you were to use a professional business email address (e.g. info@mikescampinggear.com). Google takes its SPAM policy seriously and tends to be suspicious of mass email marketing from personal email accounts. That being said, at any time Google can flag your account and direct your emails to your recipients' spam folder or shut down your account altogether. For best email deliverability, getting a professional business email address is strongly recommended.2
Secondly, Gmail has a daily email sending limit of 500 emails. After all, Gmail is intended for sending personal emails and not necessarily mass outreach. With that in mind, it's best to be selective about who to send emails to, and keep your list on the small side. If you absolutely must send an email to more than 500 recipients, stagger your outreach over a few days to avoid deliverability issues.
Design your email templates strategically 
Email template design can make or break your campaign. There are a few good rules of the thumb to follow:
Consider visual appeal: Graphics and images can be a powerful way to engage your subscribers but only when used tastefully. There are a few ways of using images that you should avoid:
Use text above or below images instead of overlaying text on top of images as the text may be difficult to read

Make sure that images and graphics are relevant to the messaging of the email.

Don't distort images by squishing or stretching them
Use sufficient white space: There is nothing worse than opening up an email only to see dense blocks of text and images smushed right up against them. Cluttered looking emails without enough white space can be very difficult to take in.
White space, or the blank area around images and text, can make your email easier for your audience to digest. Sufficient white space makes it easier for your subscribers' eyes to follow your content. Ample white space can also encourage click-throughs as well.3 
Be straight to the point with your messaging: If you're having a sale, then the first thing you should say in your promotional email is that you're having a sale. Don't beat around the bush and talk about the benefits of your product or your company's story before you mention the sale you are having.
People have short attention spans. In fact, the average read time of an email is only about 13 seconds.4 With that in mind, you only have a small window of time to catch the interest of your subscribers, and bloating your email with fluff certainly won't help your efforts.
Use email marketing tools for Gmail such as GMass
There are various email marketing tools designed for Gmail. GMass happens to be one of the most well-known of its kind. GMass is a Google Chrome extension that basically acts as an email marketing service but sends emails through your Gmail account.
The key benefit of using GMass is that you can mail merge with a spreadsheet of email addresses so that you can quickly and efficiently send emails in bulk. Without GMass you would have to painstakingly enter one by one all the emails you want to reach out in the "To" field of an email. This tedious process can be time-consuming if you have a large list. 
Although Gmass isn't as familiar to most as email marketing tools like Mailchimp for instance, Gmass is perfectly safe to use and very effective as well. Additionally, there are many Gmass alternatives that have many of the same capabilities. 
Other ways you can enhance your mass email outreach with Gmail using GMass include: 
Personalization
With GMass you can personalize your emails and have dynamic content auto insert into your emails. In plain English, with means you can automatically add information like your subscribers' first name into your emails. In addition to using your subscribers' name as a custom field, you can also use their company, birthday, or any other information you might have on your subscribers. 
Email personalization is well known to improve email engagement. According to Campaign Monitor, emails with personalized subject lines are 26% more likely to be opened5. That being said GMass's personalization feature can be a real game-changer for your email marketing efforts.
Tracking
By using tools like GMass, you can easily track your email marketing stats such as opens and clicks. With this information, you can make informed decisions on how you can modify your emails for more effective outreach.
For instance, let's say that your emails are getting opens but not many clicks to your offer. By changing the anchor text to your offer you can observe how this tweak impacts your click-through rate. If your click-through rate improves, then you are in a better position to drive more revenue.
Automation
With GMass's automation feature you can schedule emails to be sent out automatically. With automation, you can schedule a single email to be sent out in the future, or you can set up comparably more advanced automation. For instance, you can set up sequences of emails to be sent out one after the other.
The benefit of automation of course is that you can save considerable time by scheduling your email outreach rather than by manually sending emails. 
Final words
Using Mailchimp and Gmail is without a doubt a straight-forward, cost-effective way to do email marketing.
However, keep in mind that Gmail isn't necessarily designed for mass email marketing: it's intended for personal use. As a result, the platform certainly is limited in many ways such as the 500 emails/day sending limit.
As your email list grow's you may want to consider using an email marketing service like Mailchimp for both designing AND delivering your emails as well.