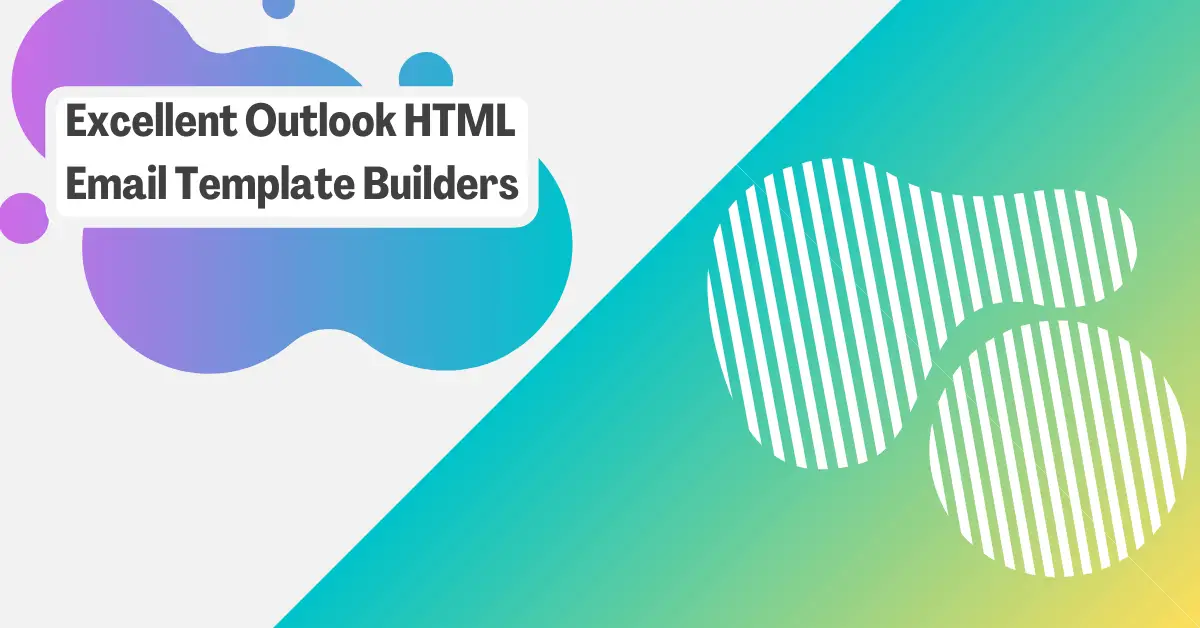 Creating great-looking email templates that work on Outlook can be difficult, to say the least. An email that displays properly on Gmail or Yahoo can look completely jumbled in Outlook.
However, given that Outlook is one of the most popular email clients, using Outlook-friendly HTML email templates is important. 
While there are numerous email template builders for Gmail, there are only a few that allow you to create templates that are perfectly responsive with Outlook. Additionally, very few allow you to easily import these templates into Outlook as well. 
Here you can discover 8 of the best Outlook HTML email template builders. Not only do these platforms create emails that render properly with Outlook, but you can also easily import their HTML templates into Outlook so that you can send emails from Outlook.
Stripo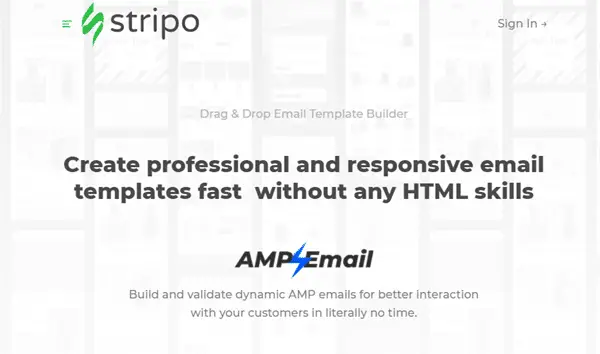 Stripo links to all major email service providers and provides a beautiful editor to create HTML emails. One of Stripo's most notable features is it presents an email testing preview prior to sending emails, giving you a view of what recipients see, considering all email clients present HTML differently. 
Stripo also includes a custom modules library filled with elements to complete your design. Save your own modules for later and drag each of them into place with the simple and intuitive online visual designer. Several automated processes reduce your workload, such as the option to automatically generate an email module with a link to some content. 
All templates created in Stripo can sync with many email service providers (including Outlook) with the HTML code included. As an Outlook-compatible solution, Stripo can prepare email templates and send them directly to your Outlook account with the click of a button. You can even download the email as a different type of file, such as PDF or OFT (the Outlook file you'll need to send the templates and save them in Outlook).
Stripo's email templates
Stripo has over 800 HTML email templates, and 553 happen to be Outlook-compatible. Many of these Outlook email templates can be accessed with Stripo's free plan.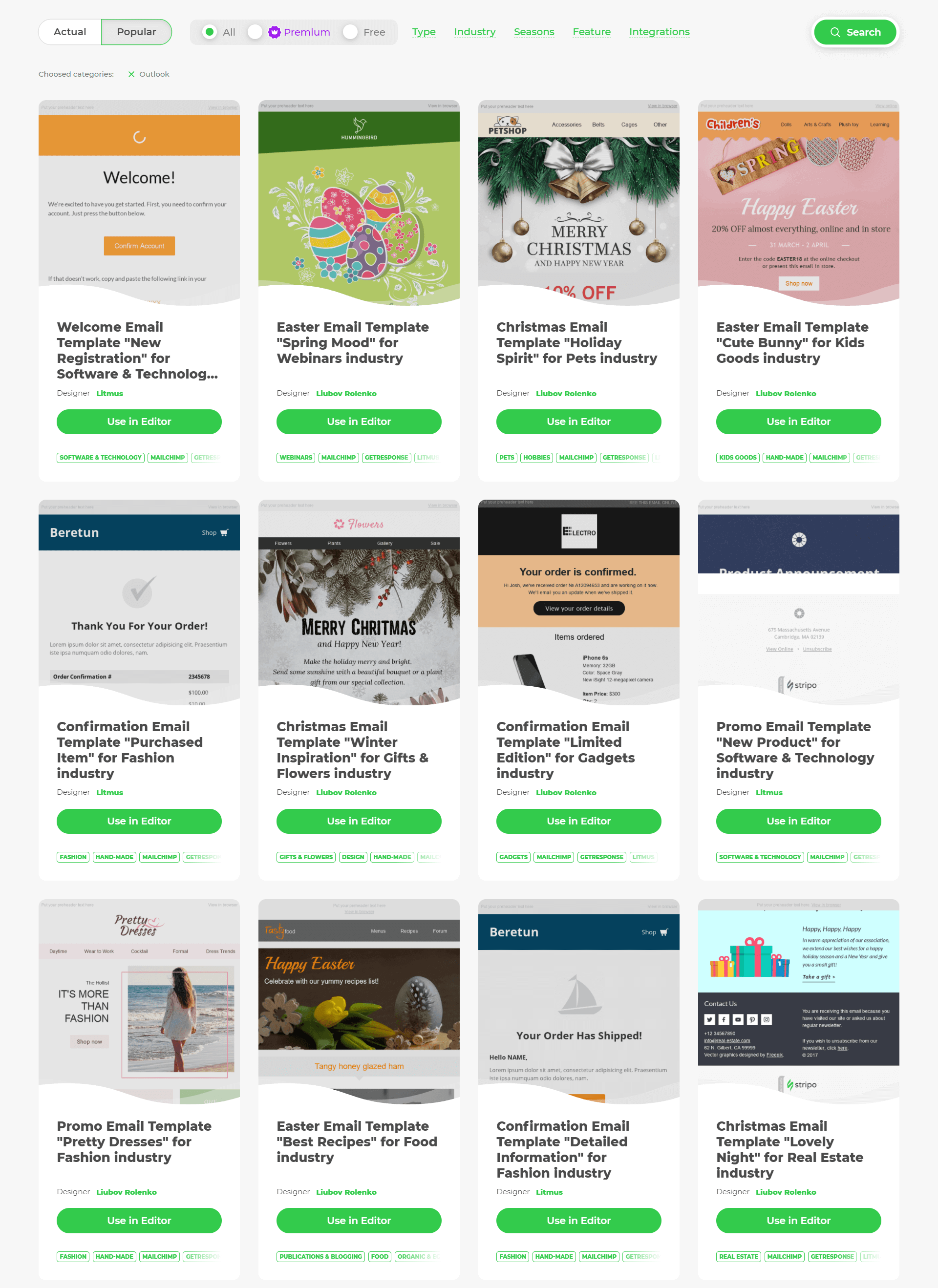 You can easily sort these templates by 
Type (abandoned cart, holiday, post-purchase, etc.)

Industry 

Season

Feature (email features like animations, image carousel, video, etc.)
Suffice to say that if there is a particular type of Outlook HTML email template that you need, chances are Stripo has it. 
Unlayer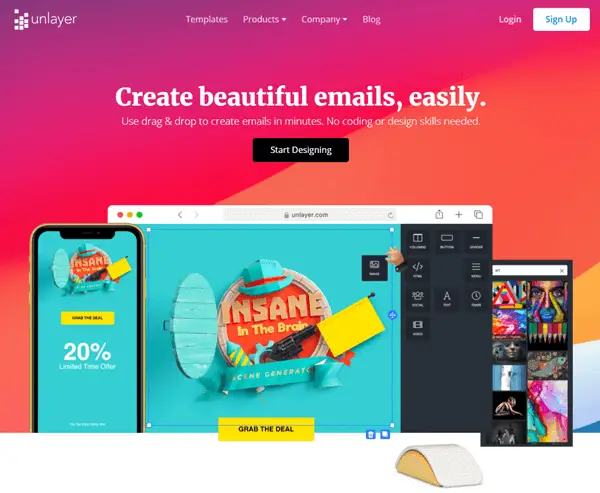 Unlayer serves as a respectable HTML email builder for Outlook for creating stunning emails without the need for coding. The drag-and-drop interface is intuitive enough so that even the least experienced designer can generate professional-looking emails.  
Other notable features include reusable custom blocks, personalized emails, and product promotion tools. In addition to Outlook, you can integrate the platform with email marketing services such as Klaviyo, MailChimp, and Constant Contact. 
The email designs from Unlayer render nicely on most Outlook versions, including Outlook.com, Outlook Express, and Outlook 2003+. The Unlayer/Outlook combination is completed with the Unlayer Embed plugin, which places the drag-and-drop editing tools into Outlook for user-friendly template management, block selection, and email sending. 
Unlayer's email templates 
As for templates, Unlayer offers a wide variety of templates designed for numerous industries such as travel, e-commerce, music, fashion, and many more. 
Unlike many email template builders that feature outdated and unattractive email templates, Unlayer offers beautiful modern templates. These are exactly the types of templates that catch the eye, and truly stand out in your recipient's inbox. Fortunately, many of these Outlook HTML templates are free.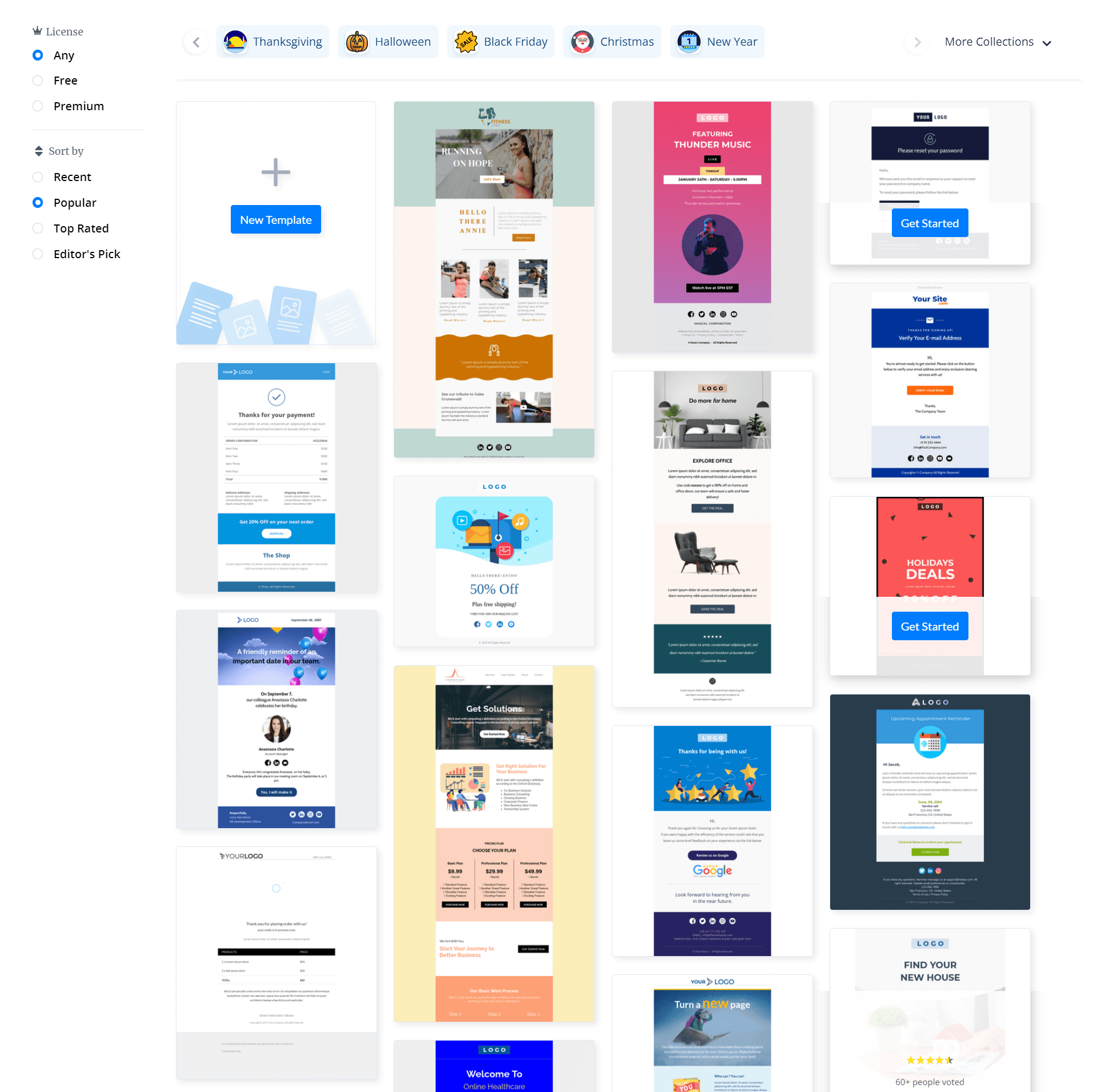 Unlayer makes it easy to share and collaborate on these templates since you can share them with other people on your team, who can then edit the templates themselves.
Postcards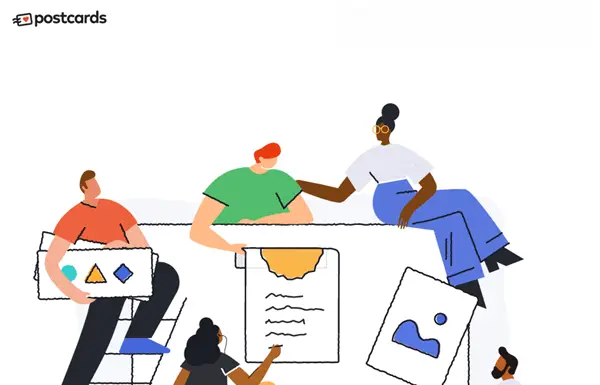 Postcards, by DesignModo, is designed for email building for teams but allows individuals to design beautiful emails as well.
Collaboration features are the primary advantage with Postcards, as it offers tools to send finished and in-progress projects to coworkers and decide what fits and doesn't. The modular system provides layers and drag-and-drop elements to stack content inside the designer, along with Google Fonts and cloud image hosting to ensure all modules show up nicely in your emails. Additionally, the designer has content blocks that are perfect for emails such as automated eCommerce messages, transactional emails, or regular newsletters.
To send HTML templates to your Outlook account, you must export the design and manually upload it to Outlook. To do this you must copy and paste the rendered HTML code from Postcards into Outlook. Supported Outlook versions include Outlook.com, Outlook Express, and every Outlook version after 2003. 
For many other popular email service providers other than Outlook, you can automatically transfer email templates with just the click of a button. For instance, Postcards has support for a myriad of other email clients like Gmail, Thunderbird, and Yahoo Mail. You can also transfer email templates to popular subscription email marketing services such as Mailchimp. 
Postcards' email templates 
Interestingly, Postcards doesn't have email templates to start the design process with like other platforms. Instead, Postcards has hundreds of email template modules within the drag-and-drop editor that are essentially building blocks for your email. 
These modules make every component of an email. A few categories of these modules include:
Header

Content

Feature 

Call-to-action
With so many styles of modules, the combinations of modules you can use to build your email are endless. Suffice it to say that although Postcards lacks email templates, it has powerful Outlook email template design features. 
Contact Monkey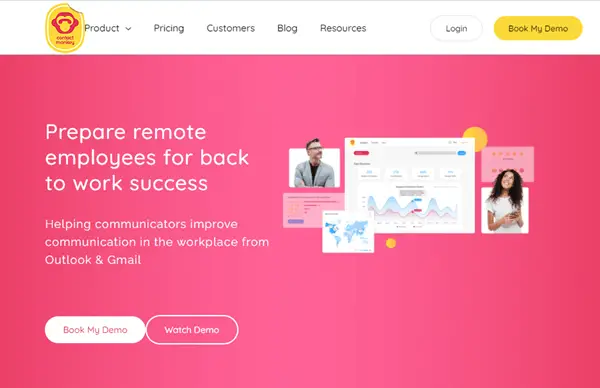 Contact Monkey delivers features for creating beautiful emails, engaging with co-workers, and sending out emails through platforms like Outlook and Gmail. It offers a solid blend of quick design tools and optimization elements, especially considering you can also measure the effectiveness of your emails with built-in tracking. 
Although Contact Monkey doesn't offer a free version, it has a 14-day free trial to test it out and see if the email builder works for your organization. Three plans are available, but it is required to contact the company for a custom quote. 
Given that Contact Monkey is an extension, the primary benefit of the platform is that you remain inside Outlook while designing and sending your emails. Contact Monkey functions somewhat like an add-on instead of a standalone solution. Therefore, you design the emails, send them through Outlook, and also have the opportunity to track the success of those emails right in your Outlook dashboard.
Contact Monkey's email templates
One would describe Contact Monkey's email templates as clean and professional-looking. Many of these templates are versatile enough to use for any type of email.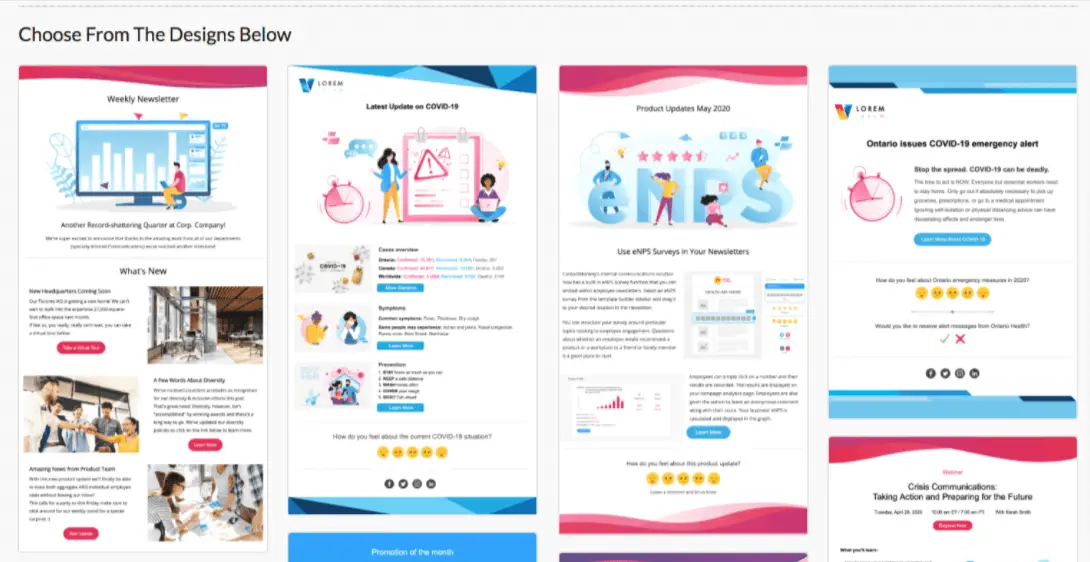 Contact Monkey even has an email template design service that you can take advantage of if you aren't interested in designing emails yourself.
EDM Designer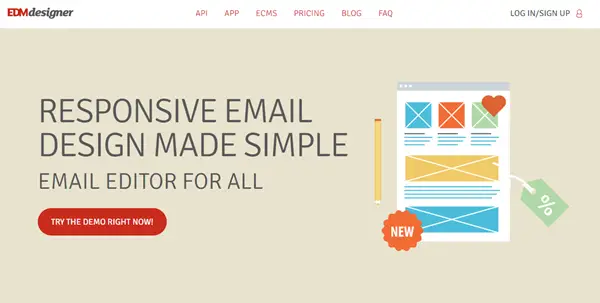 EDM Designer is marketed as an email editor for all, and it lives up to that phrase since it integrates with a wide range of email service providers and clients. The editor instantly creates responsive emails that look great on all devices. It uses a drag-and-drop interface without HTML coding. This is done to not only improve your email delivery rates but to make for a stronger mobile experience. You can save your email templates within the EDM editor and use them over and over. The same can be said for your favorite block elements, headers, and other items you use on a regular basis. 
EDM Designer is a reputable Outlook HTML email template builder since it's highly compatible with Outlook along with various other email service providers. For instance, EDM Designer works with all versions of the Outlook desktop client, the mobile Outlook app, and Outlook.com.
Additionally, you can embed the software into Outlook, allowing you to design and send emails all from Outlook. It's also possible to export your HTML designs and simply copy them into Outlook. 
Aside from Outlook, Gmail, Apple Mail, and a long list of other providers are also supported by this Outlook email designer. 
EDM Designer's email templates
As far as EDM Designer's Outlook HTML templates go, the selection features some good-looking modern designs. 
However, it's worth noting that the platform's email template editor is a stronger feature than its selection of templates. That being said, if the capabilities of the email editor are more important to you than the templates the platform offers, this could be a good choice for you.
Mail Designer 365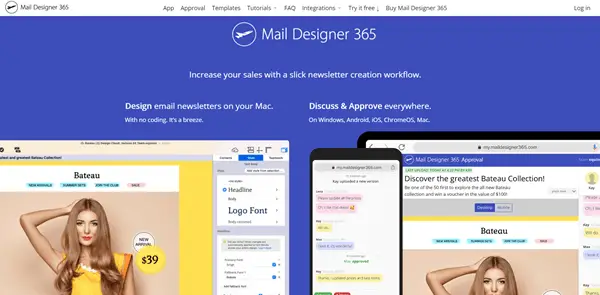 Even though Mail Designer 365 doesn't have a free version, it's reasonably priced and offers a powerful Outlook integration. The codeless email designer offers an interface to generate newsletters in rapid succession. It provides collaboration tools for discussing changes on all devices, along with design templates for things like travel, events, and reports. All emails are optimized for mobile devices, and you can sync and send the emails to email marketing software like MailChimp and Campaign Monitor. 
The one-click direct sending feature automatically transfers templates to email marketing services like MailChimp, but you can also export each design from Mail Designer 365 and upload it to any other client like Outlook or Apple Mail. However, this process is a bit more cumbersome than the competition since you also have to save and upload the photos from your email design. On the flip side, once you get it into Outlook you can reuse those templates again, making it a rather desirable Outlook HTML email template builder. 
Mail Designer 365's email templates
Mail Designer 365's templates are refreshingly modern. You can choose from dozens of templates that are designed for specific objectives and tailored to specific industries.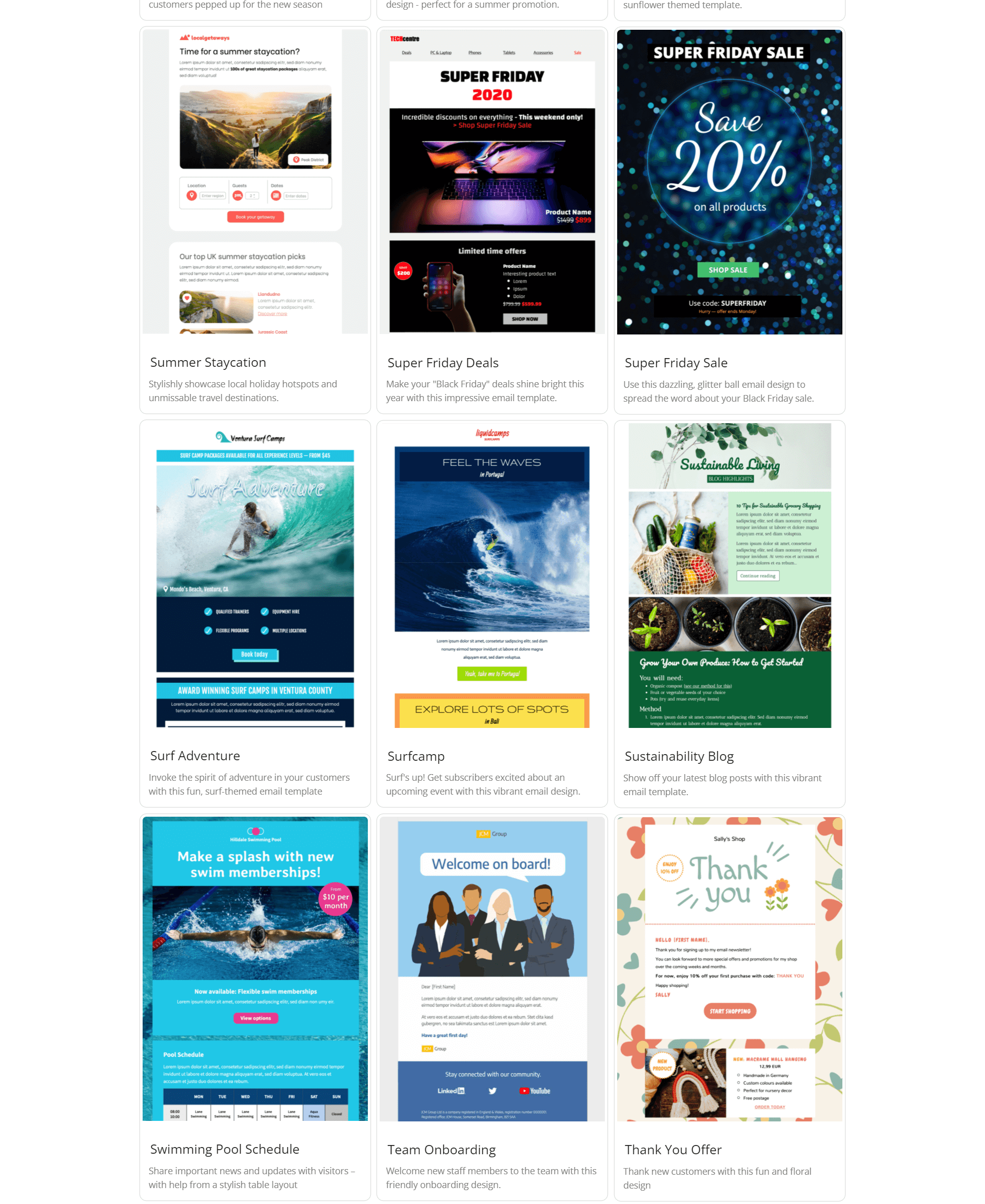 Few other platforms have so many unique, beautifully designed templates to choose from.
CoffeeCup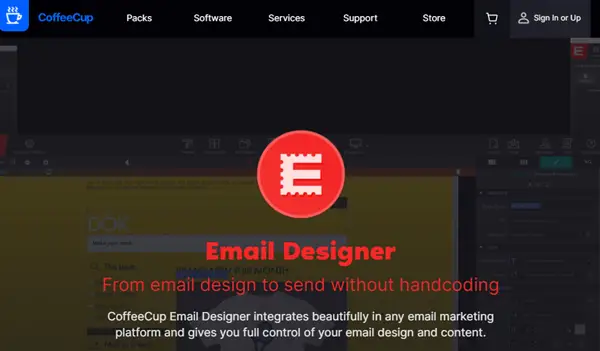 CoffeeCup has a suite of tools including an HTML editor, web form builder, and email designer. The email design module does the trick for producing slick HTML emails without any coding of your own. It integrates with numerous email marketing platforms and uses a grid-based design with web fonts for the ultimate professional look. The email design module even provides some unique features like a magic slider for resizing and an email inspector to quickly change specific elements. 
In general, CoffeeCup caters to Outlook users and provides functionality you can't find anywhere else. For instance, it has a tool to show specific design elements on all Outlook versions, helping you get past some of the image limitations set by the default Outlook client. It even lets you build an email version just for Outlook. That way, you're not spending time designing an email with all sorts of visuals that may not show up in the recipient inboxes. 
Besides that, it appears that CoffeeCup works well for all versions of Outlook. Unlike some tools, you can't design the emails inside Outlook, but you're able to export and embed your creations for later use. 
CoffeeCup's email templates
As far as Outlook HTML email templates go, CoffeeCup offers standard templates with basic designs that can be quickly designed for practically any type of email campaign. On the other hand, CoffeeCup offers various "themes" which are professionally designed templates that are a bit more colorful and serve specific purposes. 
CoffeeCup doesn't offer as many email templates as other solutions such as Stripo or Unlayer, but the super flexible email editor might make up for this downside.
Mosaico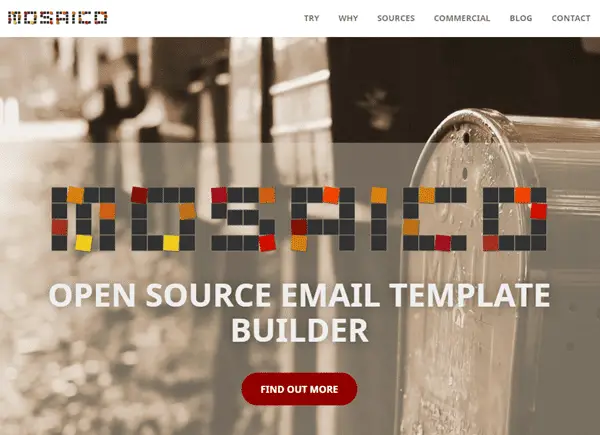 Mosaico lacks a direct integration with Outlook, but it does have a rapid and flexible HTML email builder that you can use to export and potentially embed the designs into Outlook. This is a free, open-source project that you can download from Github. With that setup, Mosaico makes the most sense for more tech-oriented users like developers and designers. 
Having said that, the email designer supports custom template creation for building email designs and saving them to use later. Mosaico also offers a few integrations with email marketing services if you plan on sending automated drip campaigns or newsletters to customers.
Mosaico's email templates
Unlike the other email template builder solutions, Mosaico doesn't offer a wide selection of email templates. Instead, you can choose from one of the two base templates: one with color and one without color.
It's worth noting that people use Mosaico purely for its design and editing capabilities and not to take advantage of its template selection (or lack thereof). That being said, if you move forward with this solution, your plan should be to build your very own email template from scratch.
Given the responsiveness and overall flexibility of the designer, it's clear Mosaico is an excellent solution for technically adept users who aren't afraid to get their hands dirty.
Final words
Many of these tools have free versions or free trials that you can take advantage of before you decide on a tool to use for the long term. It would probably behoove you to take advantage of the free plans of a few of these tools so that you can see which one suits you the best. 
Go through the motions of sending test campaigns by emailing a personal email account of yours with a few of these platforms. Performing this basic task may be all it takes for you to come to a decision on which tool is best for you.