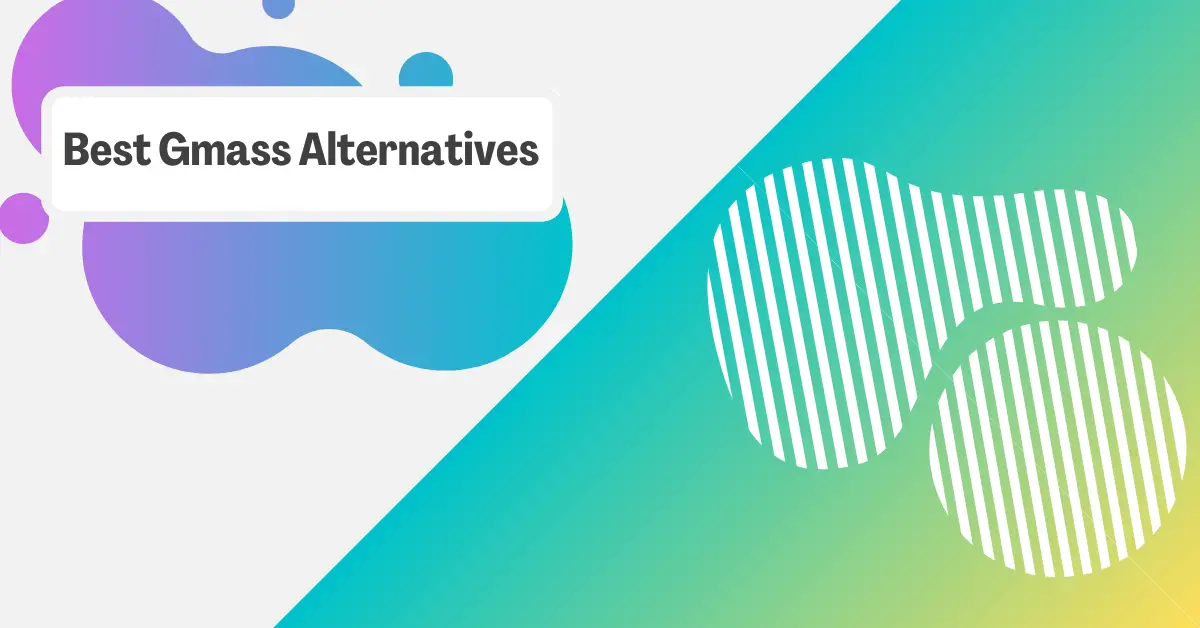 Gmass is without a doubt one of the most popular mail merge and mass email tools for Gmail. After all, the platform is affordable, easy to use, and most importantly, effective.
However, it's not necessarily the best solution for everyone. Fortunately, there are numerous platforms similar to Gmass.
Here you can discover 9 of the best Gmass alternatives you can get started with immediately.
Mailshake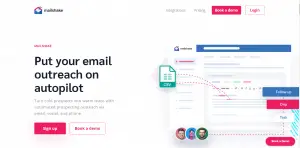 Mailshake is one of Gmass' most popular alternatives. If you are comparing Gmass vs Mailshake, you will quickly find that the two platforms share many of the same capabilities and features. 
Mailshake is great for sending personalized emails at scale. However, Mailshake was designed with salespeople in mind and has features that cater to that audience. It integrates with CRM software such as Salesforce and Pipeline.
With Mailshake, you can:
See your best and most engaged leads at a glance

Test multiple variations of each outreach email

Reach your leads on the right platform at the right time thanks to multi-touch outreach
Mailshake offers two pricing plans, Email Outreach which starts at $59/mo, and Sales Engagement which starts at $99/mo. 
If you're looking for a Gmass alternative for Outlook, Mailshake is worth exploring, especially if you want to integrate social selling into your outreach campaigns. It's worth mentioning that Mailshake also works with SMTP email addresses.
Mailmeteor
Mailmeteor allows you to send up to 1500 emails per day with Gmail. It offers a free plan that lets you send 75 emails per day with Gmail, preview emails, and manage unsubscribes. Mailmeteor also integrates with popular CRM software like Salesforce and Hubspot.
An interesting feature that Mailmeteor offers is the HTML templates for Gmail. You can import any HTML template and use it to send branded and unique-looking mail merges.
With Mailmeteor, you can: 
Track emails in real-time and share the stats with your team

Schedule mail merges in advance 

Send mail marges with attachments including PDF, Word, and Excel

If you're using multiple email address, send from an alias
It's a decent free Gmass alternative but if you want more advanced features, you'll need to upgrade to the paid plan. The paid plan starts at $8.99/mo or you can pick up the yearly plan for $49.99 or the lifetime plan for $199.99.
SalesHandy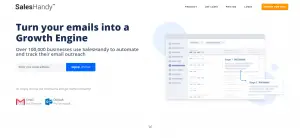 SalesHandy caters to many different industries. It touts itself as a tool geared for salespeople, marketers, HR recruiters, and even bloggers. SalesHandy offers a free plan that offers unlimited email tracking and real-time desktop notifications. However, the free plan is limited to 5 email templates and 15 recent contacts. 
With that said, SalesHandy offers a pretty standard set of features. With SalesHandy, you can: 
Create email campaigns and keep track of the open rate 

Automatically follow up to individual emails

Schedule emails in advance to go out when they're most likely to be read

Save frequently sent emails as templates and reuse them whenever you need
  SalesHandy is another good Gmass alternative for Outlook. SalesHandy also offers 3 paid plans, starting at $9/user/mo, paid annually. This makes SalesHandy one of the pricier options on this list. It's also worth mentioning that each paid plan offers a free 14-day trial. 
Gumbamail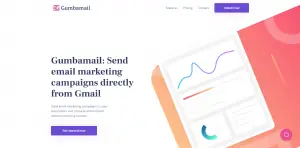 Unlike the other tools on this list, Gumbamail allows you to send emails directly from Gmail. This sets it apart and makes it more similar to Gmass. It's another good free Gmass substitute. 
With Gumbamail, you can:
Send as many email campaigns as you need 

Manage your list directly in Gmail

Create responsive email designs that can be fully customized to your brand

Use premade free templates for your emails
Aside from the free plan, which allows you to send 100 emails per day, Gumbamail offers 3 pricing plans. The pricing plans start at $9.66/mo and include no daily or recipient limits. You can also choose the yearly plan. It's worth mentioning that the Free and Basic plan will include Gumbamail's logo in your emails. 
Yet Another Mail Merge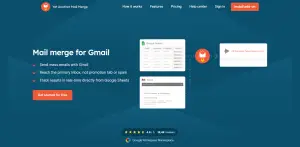 Yet Another Mail Merge is similar to Gmass. You'll need to prepare your list in Google Sheets, create a template in Gmail, and then return to Google Sheets and launch YAMM to send your campaign. 
With YAMM, you can:
Track email open rates, clicks, replies, and bounces 

Schedule mail merge campaigns to go out at the right time

Send PDF, Word, and other files as attachments from Google Drive

Create email surveys and track the results in Google Sheets. 
YAMM also allows you to use filters in Google Sheets to segment your contacts and you can also add unsubscribe links in the footer of each email to stay compliant with the laws. 
YAMM offers a free plan with all features except scheduling. However, you'll be limited to 50 recipients/day. The paid plans start at $20/year for personal Gmail accounts and $40/year for Google Workspace accounts.
Woodpecker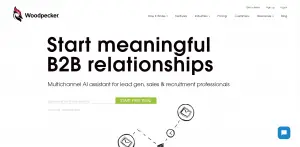 Woodpecker markets itself as the AI assistant for lead generation, sales, and recruitment professionals. It serves B2B industries such as SaaS companies, consultants, and digital agencies. Woodpecker allows you to reach out to leads on multiple channels. 
The AI-powered technology will analyze the email replies and give you a clear overview of how many positive replies you got. This allows you to see how effective your marketing and sales efforts are.  
With Woodpecker, you can:
Send mail merges in Gmail, Outlook, and any IMAP email 

Send up to 7 follow up emails

Verify email addresses in real-time
Woodpecker also offers features tailored for agencies which include a company dashboard, single-click company login, customized notification emails, and single-click company activation and deactivation. In other words, you can easily manage mail merge campaigns for your clients. 
Woodpecker offers a 14-day free trial. It has a different pricing structure than other alternatives on this list. You pay for the features you want and the number of emails you plan on sending daily. Pricing plans start at $49/mo/slot. 
Mailking by cloudhq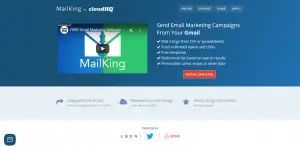 If you're looking for a simpler Gmass equivalent, Mailking could be the tool you're looking for. Mailking is a Chrome extension that's integrated into Gmail. It allows you to create mail merge campaigns from CSV files as well as a spreadsheet. 
Mailking works with both Gmail and Google Workspace accounts. You can send mail merge campaigns to more than 500 (or 2,000 for Google Workspace users) people at a time. The emails will be sent over multiple days to prevent violating the default Gmail limits.
With Mailking, you can:
Use and customize free email templates as well as create your own

Import Mailchimp templates

Track unlimited emails and link clicks

Clone mail merge campaigns

Set up reminders for unopened emails so you send a timely follow up
Mailking offers a free plan that offers the same features as their paid plan. However, you'll have their logo in all the emails you send and there is no email or phone support. Paid plan is available for $14.99/mo.
Contact Monkey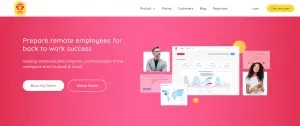 Contact Monkey is an interesting choice as it's tailored for internal company mail merge campaigns. It's a good choice if you want to gather employee feedback and create an internal communications strategy. 
With Contact Monkey, you can: 
Create engaging mail merge campaigns

Gather employee feedback

Track open and click-through rate, read time, opens by device, and more
If you're looking for a Gmass alternative that offers HTML email templates for Outlook, Contact Monkey could be the tool for you. It offers a drag and drop email builder so you can create visually engaging campaigns. 
The builder includes standard blocks such as text and images; as well as more advanced blocks such as survey blocks, video, and more. The emails are also fully responsive and work with both Outlook and Gmail.
Contact Monkey doesn't offer a free plan. What's more, their pricing is not publicly listed. In other words, you'll need to contact them to get a quote. That said, you can book a demo on their website and after that, get a free trial. Their website also states that pricing plans are billed on an annual basis.
Pigeon for Gmail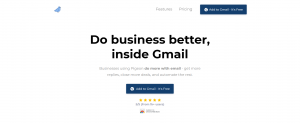 Pigeon for Gmail is a powerful tool that markets itself as a complete CRM for Gmail. This tool allows you to track and send mail merge campaigns as well as create automated email follow up sequences. 
It's geared for small businesses, freelancers, startups, and bloggers; designed to help you close more sales. In addition to that, Pigeon for Gmail offers keyboard shortcuts so you can process your emails faster.
With Pigeon for Gmail, you can: 
Turn Gmail into a full-fledged CRM and keep track of your leads through various stages

Create templated response emails to save time

See when your emails have been opened and clicked

Send basic and advanced automated sequences
Pigeon for Gmail has a free plan that offers basic CRM, mail merge, and email tracking features along with 5 templates. Paid plans offer automation, saved views, email batching, analytics, and alias support among other features. The pricing for paid plans starts at $29/mo. You can also pay yearly.
Final words
Gmass is without a doubt one of the most popular Gmail extensions out there for salespeople and marketers alike — and for good reason too. It's a powerful tool without a doubt. 
However, Gmass is just one of the many tools that you can use. There are many other Gmass alternatives that have the same capabilities. 
When evaluating these tools, keep in mind that if you are interested in email marketing with Gmail (by sending many emails at once) you probably should consider an email marketing service such as Constant Contact, GetResponse, or Mailchimp.
There are many ways in which Gmass is different from Mailchimp or other email marketing services, however, the most notable distinction is that these platforms are designed for high-volume sending of emails which isn't as practical through the Gmail platform itself.