Email templates with tables are widely used, and for good reason. These templates are logically laid out and make it easy for users to digest the content in the email.
And while there are many email templates out there, not all have this classic style.
Fortunately, if you are looking for an email template with rows and columns for text and images, you are in luck.
In this post, you can find 15 well-designed email templates with tables.
Promo Email Template «Comfortable Style» for Fashion industry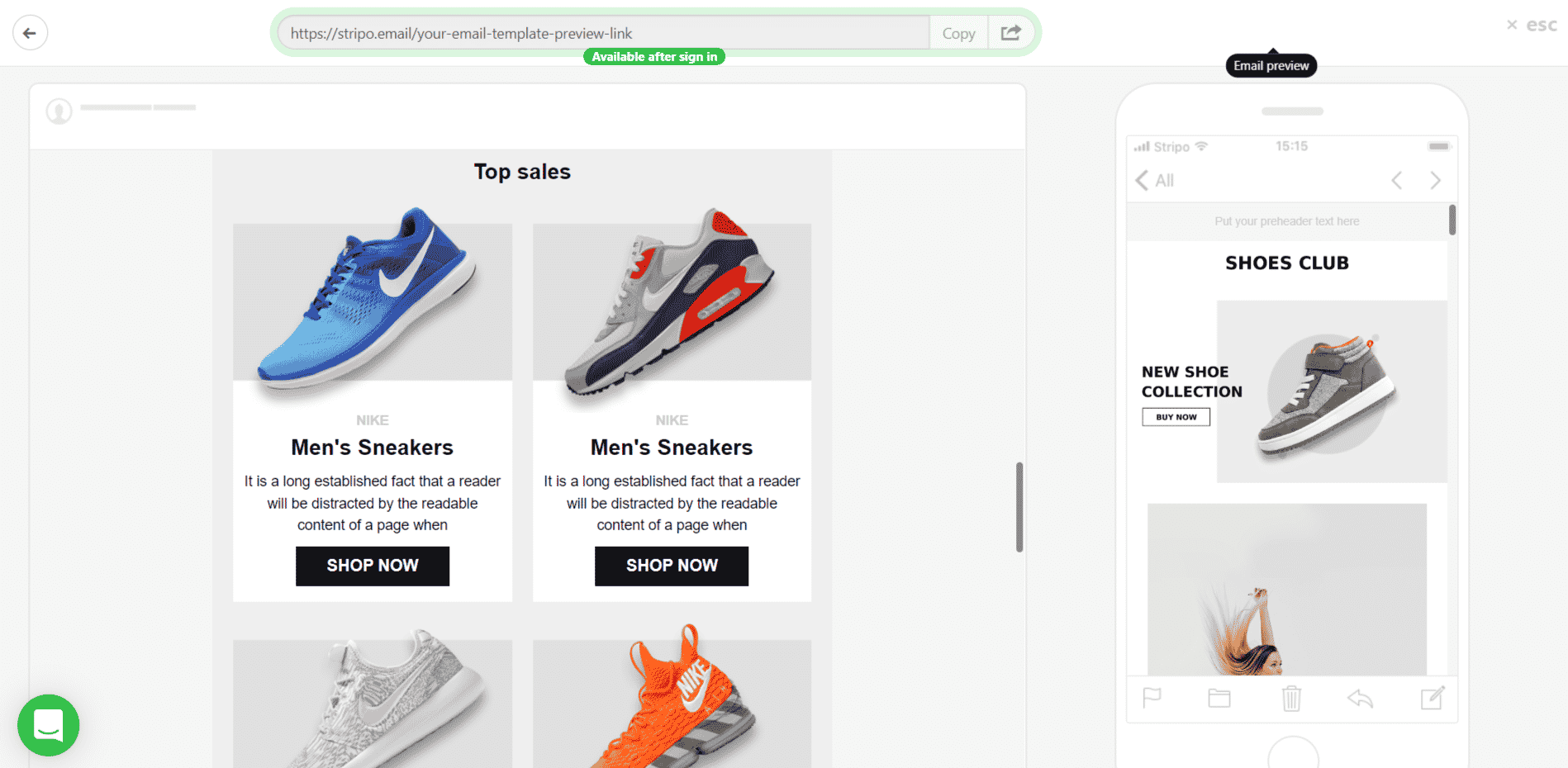 This email template is perfect for ecommerce companies looking to showcase their products. It alternates between blocks that extend the width of the table and double column blocks that distinguish products, images and chunks of text.
Stripo, the provider of this template, makes it incredibly easy to customize the template to suit your brand. With the intuitive drag and drop builder, you can easily move blocks around, swap out images and text and much more. Better yet, this is one of Stripo's 1,100+ free email templates.
Promo Email Template "Tea Shop" for Beverages industry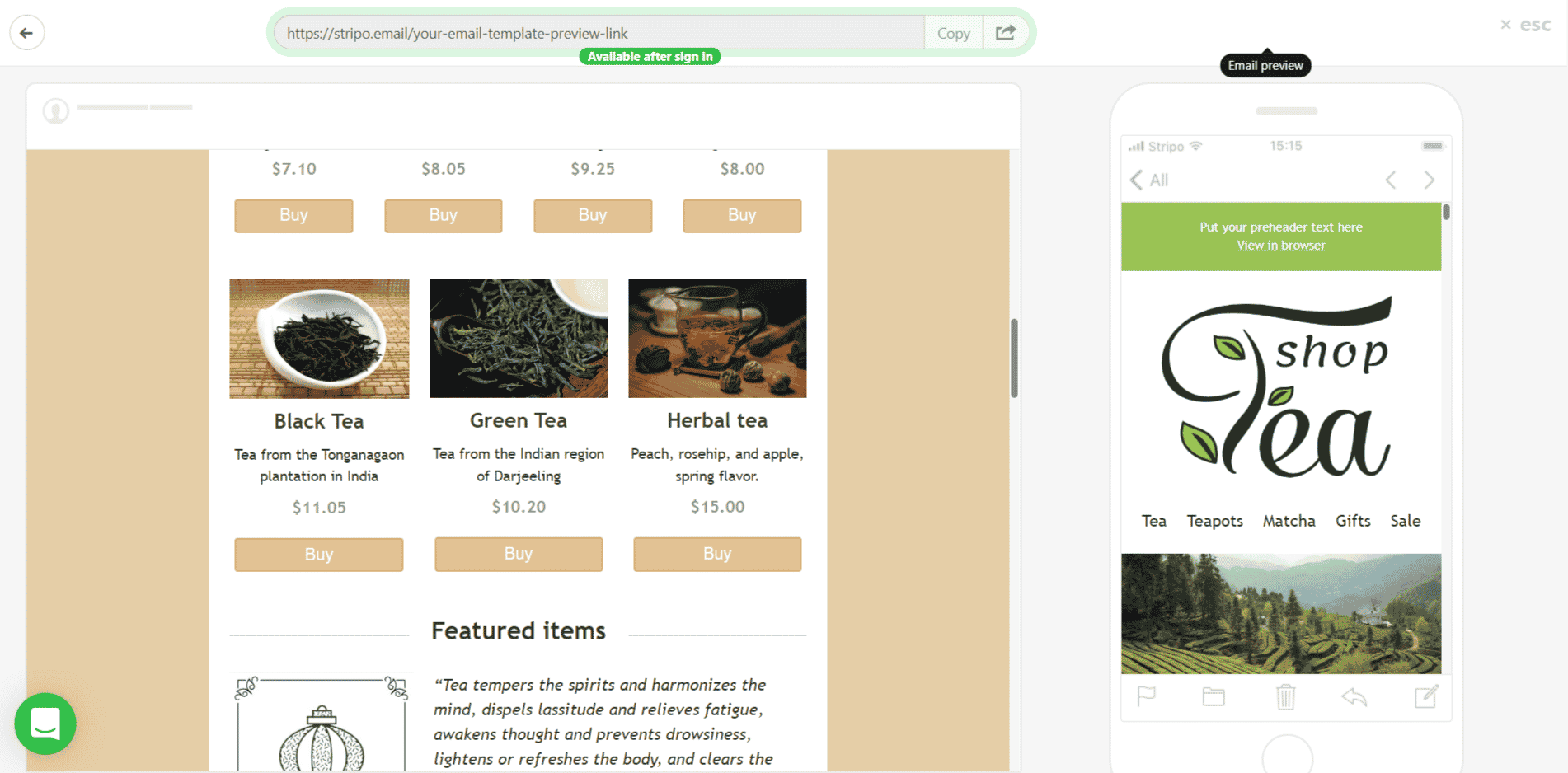 This template features various table cofigurations. It features a row of four cells followed by a row of three cells as you can see in the image above. The template is broken up into various other configure as well.
As you can probably tell, this email template is ideal for ecommerce table setups to display however many products you want in your email. It makes the email almost like an extension of your store.
Stripo, where you can get this email template, also provides many similar promotional email templates like this one that are good for ecommerce.
Nevertheless, if you are interested in using the email template for other purposes, you can certainly customize it to suit your needs.
Redlock Properties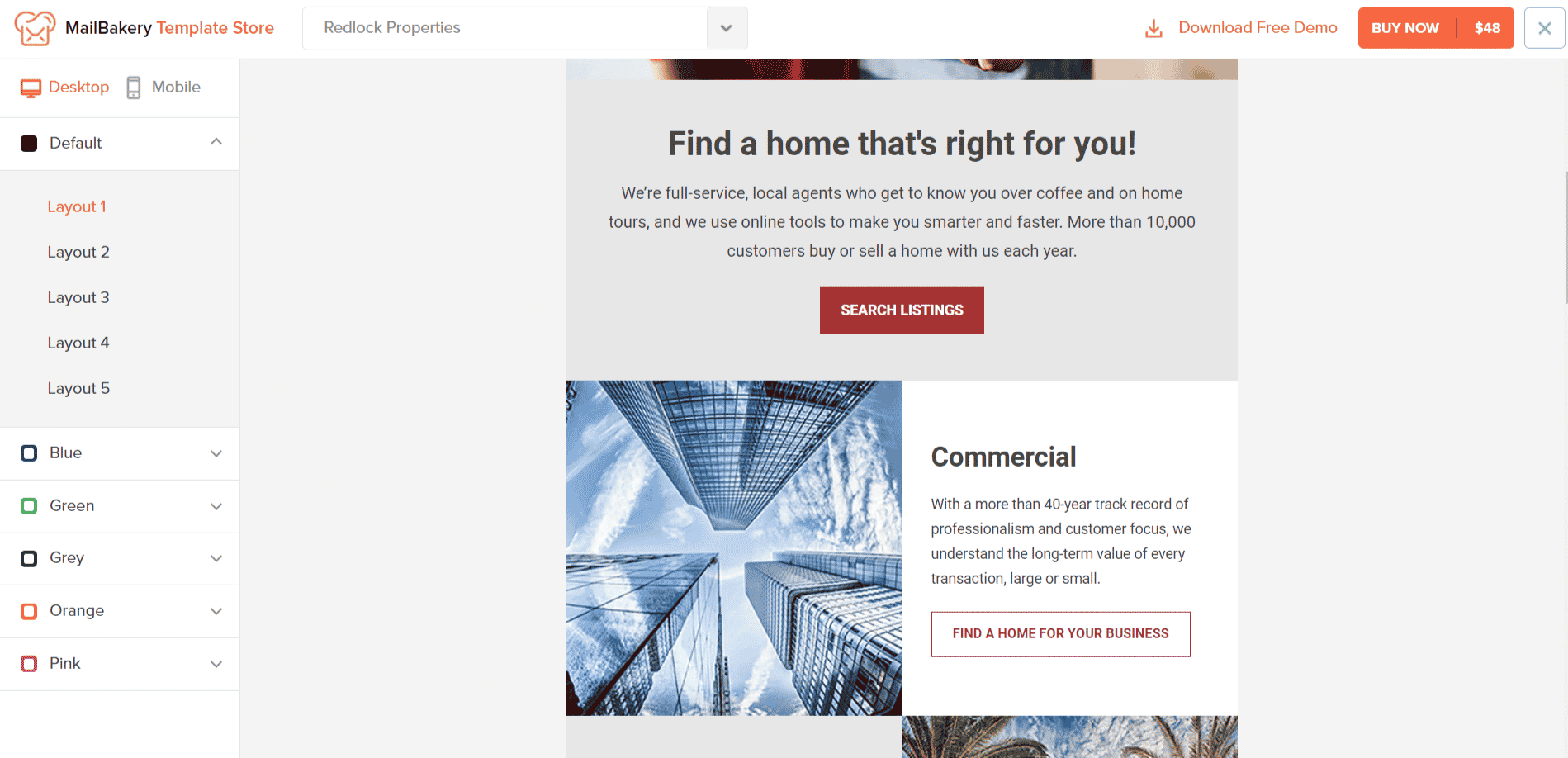 This email template features a clean, grid like layout. It is intended for real estate but you can use it for practically any industry by simply swapping out the images and the text.
This template is beautifully designed, however, when you purchase this template, you have to download the template as a design file, and use make edits to it in a different platform. Unlike email template builders like Stripo and Bee Free, Mailbakery doesn't have a platform that you can use to build out and customize email templates. 
Hiring Cloud Template – Email Template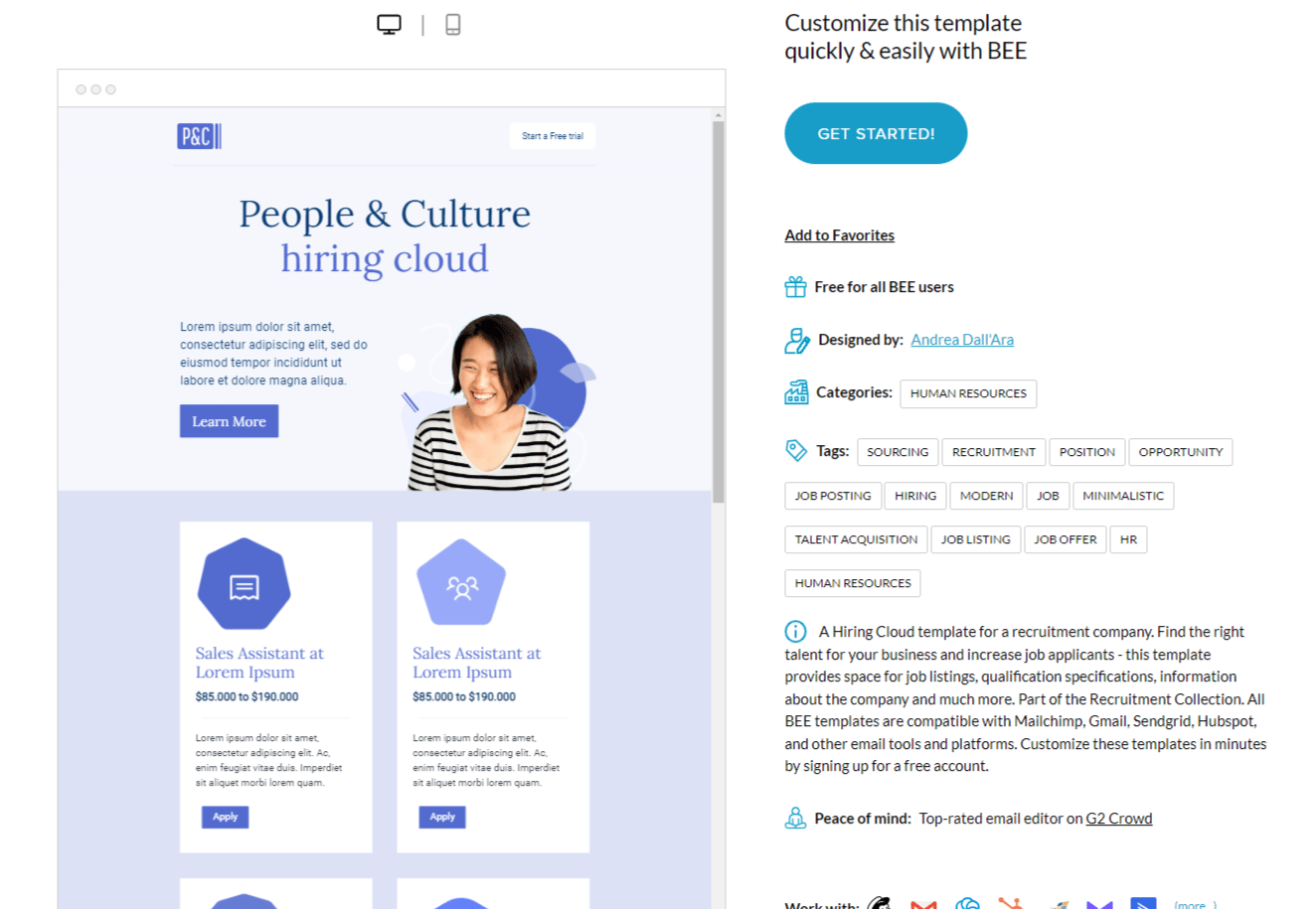 This template is provided by Bee Free which is an email template provider and email template builder that allows you to export email templates into email marketing services like Mailchimp.
This template has a classic table build with evenly spaced out boxes that can be filled with text, images, or perhaps even ecommerce products if you wanted to use the boxes that way.
This template actually is laid out in two columns pretty much all the way down, although the second half of the template has some slightly different graphics from the top part.
Pet Insurance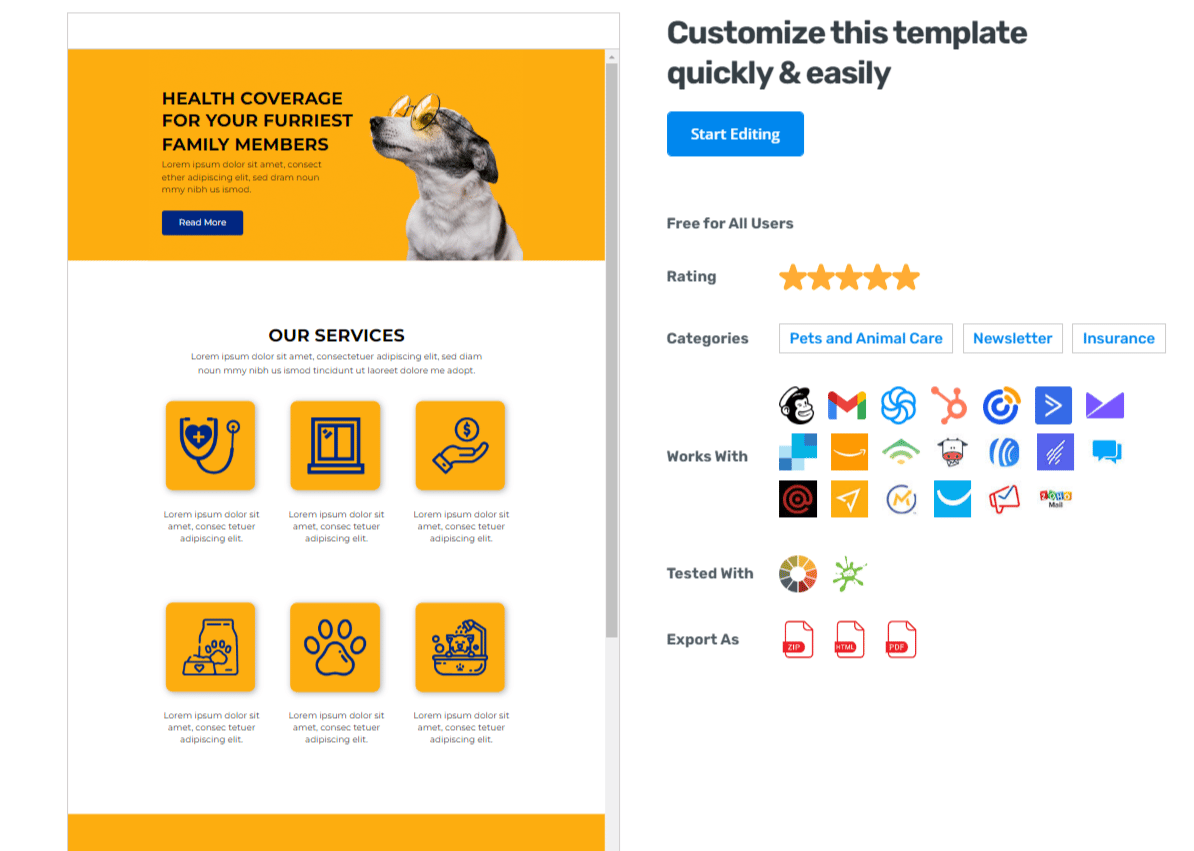 This template is different from many other tabled email templates in that there are three columns in this particular template.
This template would be great for showcasing particular services or a series of product features. Small blocks like these
Similar to Bee Free and Stripo, you can get many emails like these on Unlayer for free. Additionally, Unlayer has a sleek email editor that you can take advantage of to customize the email template as you would like. The email template is simple enough so that it can be easily customized for any industry.
Natural – Responsive Email Template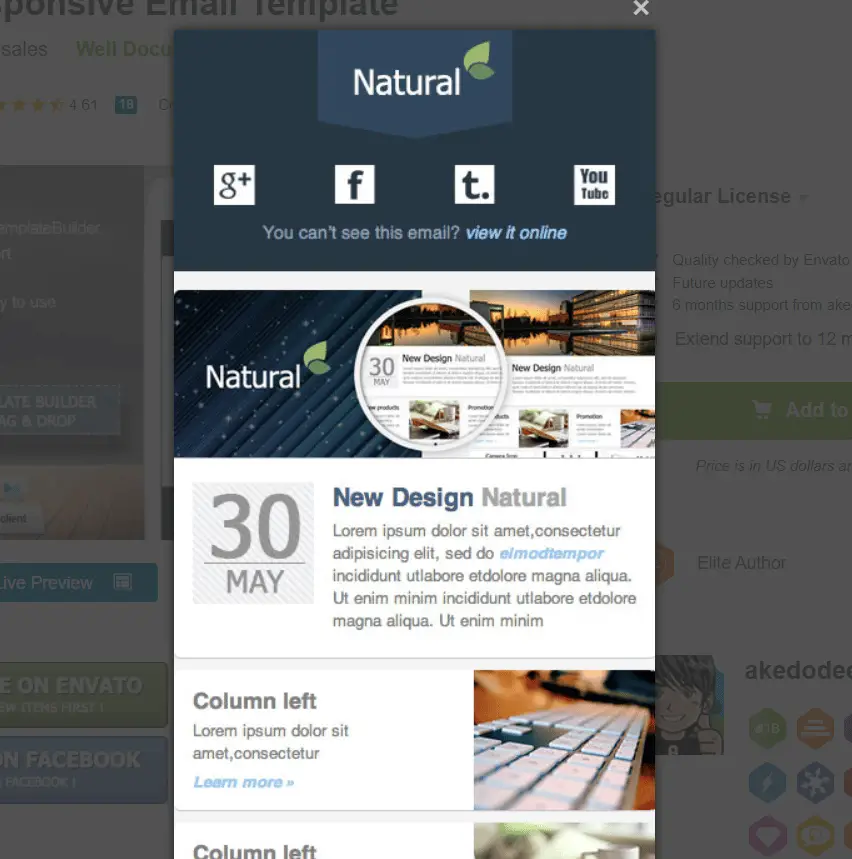 Available on Envato Marketplace, this is a lengthy template with sections. Nevertheless, sections can be you can always remove sections to shorten the email template. Alternatively you can expand the template by duplicating the sections you like.
In the image above you will notice how there are sections that are comprised of images that take up about a third of the space on the right side and text that take up the remaining two thirds on the left side. An email made up of these rows would be the perfect makeup for a newsletter template. A layout like this is an easily digestible way to showcase recent blog posts, or news updates.
Promo Email Template «Home Comfort» for Ecommerce industry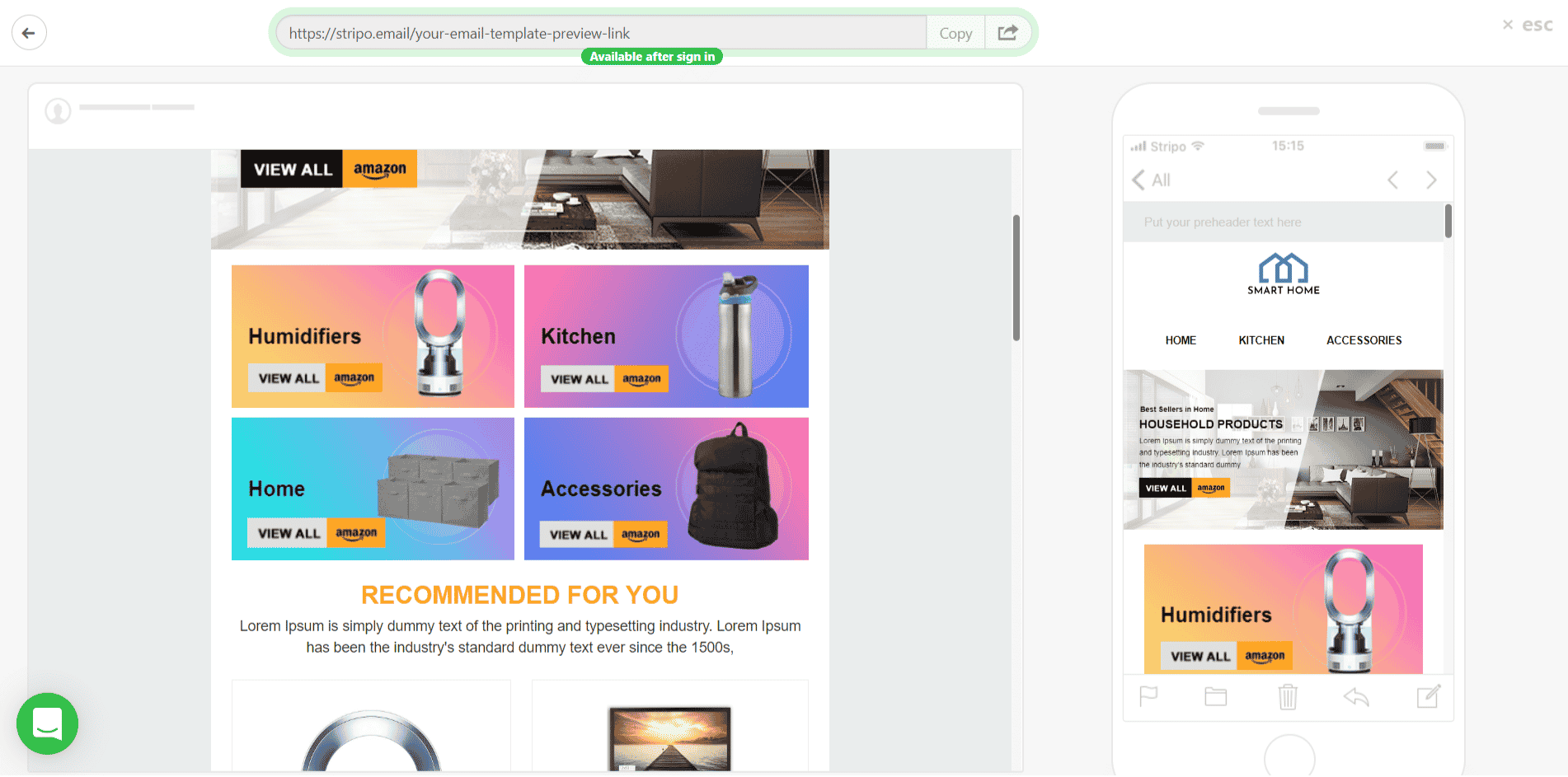 This free tabled email template is perfect for any ecommerce business. Unlike many other very minimalistic and simple email templates, this one stands out. It has a vivid color schemethat not only makes the email engaging and eye catching, but it makes your products eye catching as well.
However, because of the color scheme, it probably would be best to only showcase product images in these colorful cells. It might be too difficult to read dense text in these cells against such colorful backgrounds.
Promo Email Template "Good Choices" for Education industry by Stripo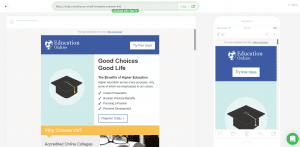 Although this template is labeled a promotional email template, the design is perfect for a newsletter template. Notice how there are a series of images and corresponding text that go all the way down the newsletter? This type of layout is perfect for showcasing a series of updates on your website's blog or newsfeed. You can simply swap out the text for two or three-sentence snippets of each update you would like to showcase along with the hero image for each.
While this template is on the long side, you can certainly delete any of the sections that you would rather not include. Stripo, the provider of this template, makes it incredibly easy to do so with its drag and drop builder.
E-legance
Provided by MailBakery, this email template has another great set of tables with squares of text and images.
One of the greatest things about MailBakery is that you have the ability to see all the different layout options the email has. There are 5 different layouts for this particular template in the following colors: teal, green, fulvous, coral, blue, or default (purple).
Like other templates provided by MailBakery, this is a paid template. However, given that you have the options to choose between various colors and layouts, the template might be worth the price.
DONATE TODAY – Email Template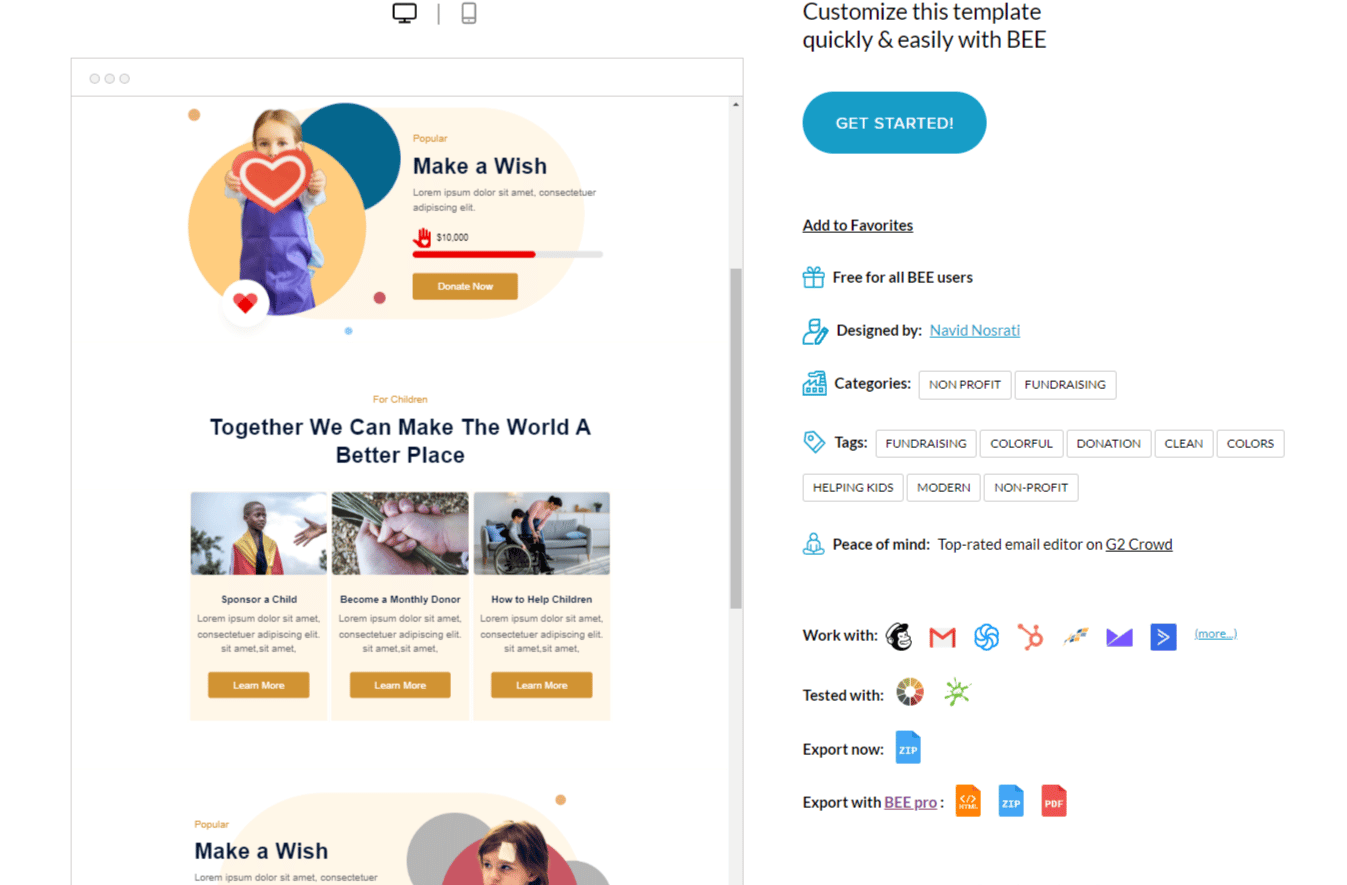 Clearly this is a great email template for any nonprofit. However, keep in mind that just by swapping out the images and tweaking the copy slightly, you can transform the email template. In the BeeFree editor you can also change the color scheme relatively quickly.
This could be an excellent template to use for showcasing blog posts. Notice how there is a row of three columns- by featuring the hero image of each blog post and a snippet of the introduction, you can really attract clicks to your posts. Alternatively you can showcase various landing pages on your site, company pages, or any other content really.
Phishing Awareness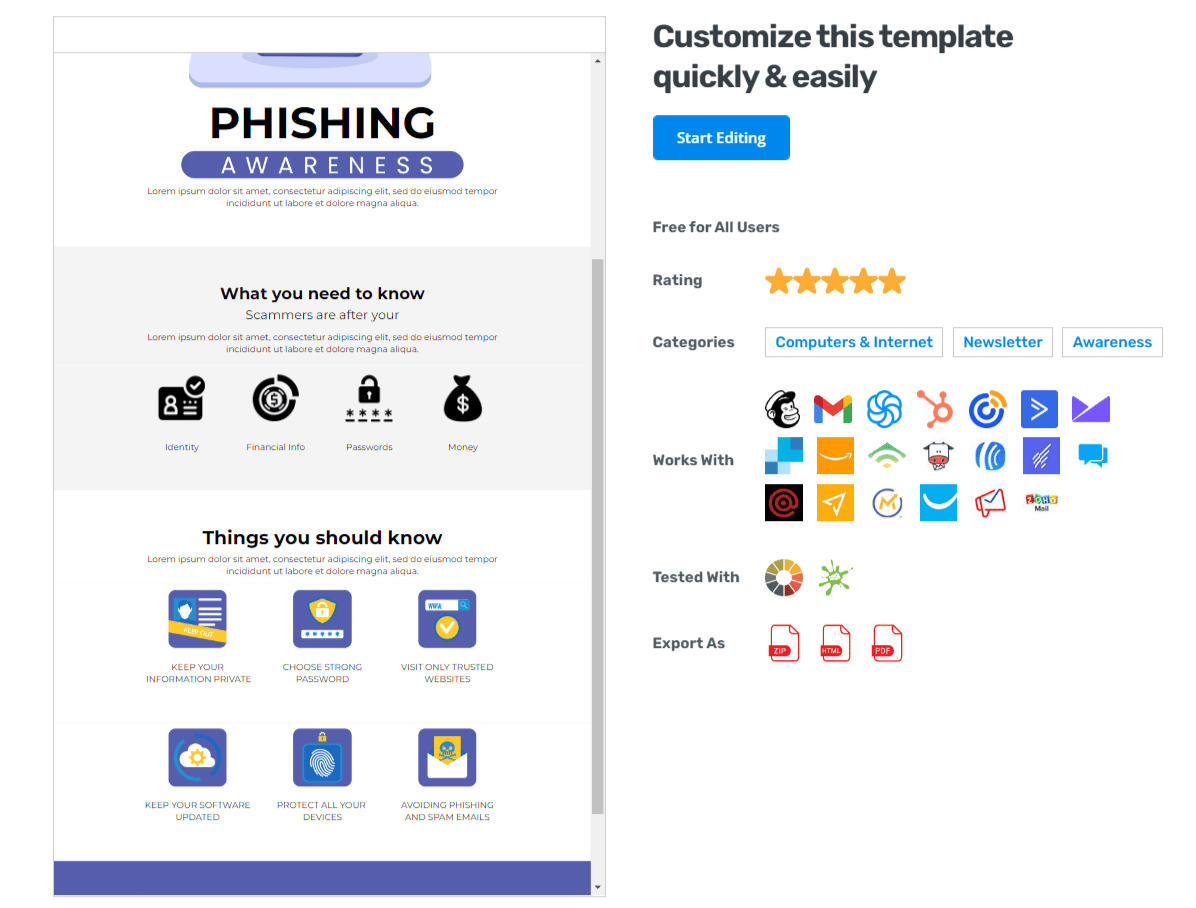 This free email with tables has a classic first row of four followed by another section of two by three templates. Its great for showcasing small square icons or images followed by bits of text.
One of the great part about email design platforms such as Unlayer, Stripo, Beefree and others is that they test all their emails on Email on Acid and Litmus, which are third party tools that verify that emails render properly on all email clients such as Outlook and Gmail. Additionally you can see the ratings for each template that users have submitted.
Warner & Spencer Business Real Estate Agency Newsletter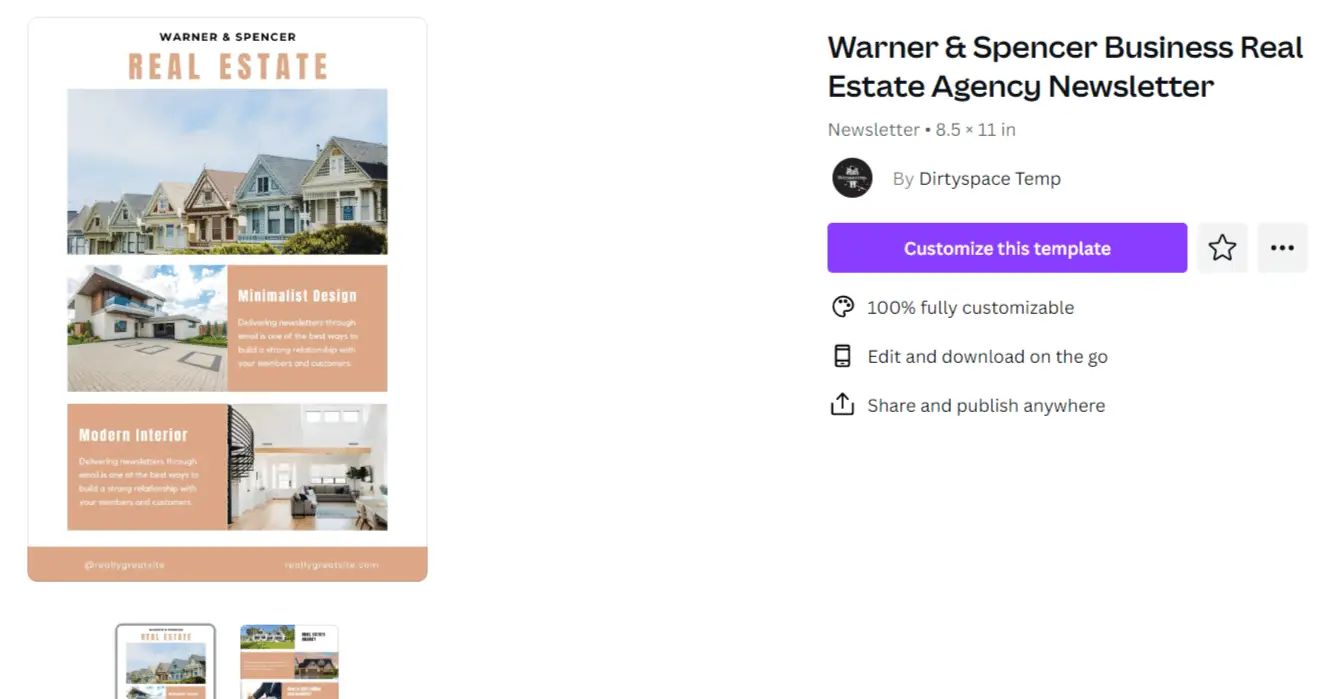 This template has an aesthetically pleasing series of rows that are divided by blocks of text and images.
Available on Canva, this template can be easily customized. The beauty of Canva is that it has an extremely easy to use but powerful editor. It has hundreds of graphics, fonts, images, and modules that you can use to customize email templates.
Additionally, although the brown might be a nice handsome design, for some businesses it might not be the right fit. Fortunately you can quickly switch the color scheme in the editor.
Blue Simple Business Company Newsletter by Canva
With its modern and professional design, this template could be perfect for any business that wants to maintain a button-up brand image.
This template is certainly visually striking given the image in the header of a beautiful piece of architecture against an open sky. However, this image can be swapped out with any other picture of your choice. When doing so, you may have to swap through a few images to find one that looks good with the rest of the newsletter.
Related: 13 Effective Promotional Email Templates (FREE)
Related: 11 Outlook Newsletter Email Templates 
Related: 13 Simple Email Templates (FREE)
Related: Best Free Email Template Builders 
Related: 11 Amazing Stripo Email Templates