HTML email templates can be a lifesaver for email campaign development.
Finding a good-looking design can save you hours building an email template from scratch. However, finding the right email template design can be a time-consuming challenge in and of itself. There are thousands of email templates out there that look great, however, many have excessively stylistic or artistic designs. Simply put, these designs just don't jive well with most brands.
The benefit of minimalistic and simple email HTML email templates is that they are incredibly versatile and can be easily altered to your branding guidelines.
The best part? Many of these email templates are free.
In this post, you can discover 15 simple free HTML email templates that you can edit and download today.
1. Welcome Email Template "New Registration" for Software & Technology Industry by Stripo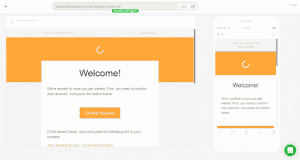 This simple HTML email template is one of Stripo's hundreds of free templates. The design is very clean and simple but still looks very professional.
Although the text by default in this email template is tailored for follow-up post-account creation, this email can be used for practically any purpose. By simply changing the email copy and CTA button text, you can use this email template as a welcome email for new subscribers, a blog notification email, a weekly announcements email, an ebook promotional email, and more. The basic design makes this email template extremely versatile.
Available with Stripo, this template is free to download. WIth the free version of Stripo you can download 4 email templates per month, which is perfect for anyone who only needs just a few email templates at a time. You can also edit templates and save up to 10 designs per month with the free version.
2. It's the Season of Giving by Beefree.io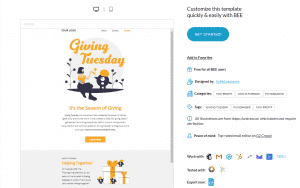 This simple email template comes with copy and graphics tailored for nonprofits and fundraisers. However, like the other email templates in this post, you can easily swap out the graphics and copy to suit your needs. What's important is that the layout of the template is aesthetic and versatile.
BeeFree has a free plan that allows you to create up to 10 emails. Additionally one of the most alluring aspects of the free version is that you can add unlimited users to the account and download unlimited emails as well. This makes this solution one of the best free email template builders for individual users as well as teams that have a tight budget.
3. Basic Email Template by Brevo (formerly SendInBlue)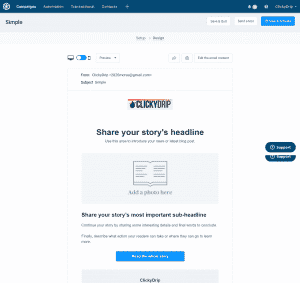 If you are looking for bare-bones email template that is well designed but unstylistic, this is the email template for you.
This is one of Brevo's (formerly SendInBlue) basic templates. It acts as a starting point for which you can make branding and design changes. To access this template, you would simply sign up for Brevo for free and select this template as you create your email campaign. Brevo's drag-and-drop email editor makes it extremely straightforward to customize this template.
The only downside is that you can't download this template once you create it. To use this template for email marketing, you will need to need to send it with Brevo. However, given that Brevo is such a powerful email marketing platform with a generous free version, this limitation might not be such a bad thing for those looking for an email marketing platform.
4. Alerts & Notifications Email Template "Simple Decision" for Fashion industry by Stripo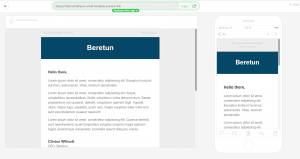 It is interesting that Stripo labels this template a design for the fashion industry. Frankly, this email template is so minimalistic that it can be used for just about any industry. It could be great for building newsletters, or educating an audience with great content. The point is, if you want the copy of your email to be the focus rather than the design, this email template is perfect.
If you want to make some tweaks to the design of this email template, Stripo makes it incredibly easy to do so. What makes Stripo's email editor so powerful is the numerous features and settings to customize the design. However, although Stripo makes its email templates extremely customizable, the editor is still easy enough to use even if you don't have a design background.
And as mentioned before, you can use Stripo for free.
5. Forgot Password Template by Unlayer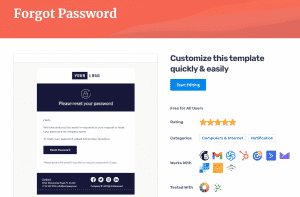 Like many of the other email templates featured in this post, this email template is intended for a specific purpose given that it's a password reset email. However, it can be easily modified to be used for whatever objective. Simply change the header text and body text and you have yourself a simple, responsive HTML email template. With Unlayer's free plan, you can download this template without paying a dime.
Additionally, this email template (as well as Unlayer's other email templates) has been tested by Litmus to ensure that all the elements work correctly and that the email is properly formatted. Additionally, the template has been tested by Email On Acid which is a similar third-party service to Litmus that verifies that the email will display properly on all browsers and devices, among other quality assurance checks.
6. Free Responsive HTML Email Template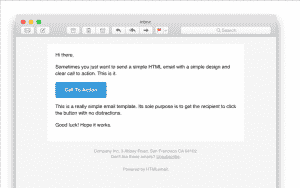 This email template is about as minimalistic as it can get. The template features text placeholders, a CTA button, and that's it. It's the perfect starting point if you want a minimalistic email.
This email template is available on Github. The cool part about Github is that the online developer community has tried and tested many of the email templates available, including this one. You can see screenshots of how this email template renders on Gmail, Outlook, AOL and other email clients.
Additionally, the creator of this template has provided developer instructions on how to upload this template to an API service like SendGrid or email marketing services like Mailchimp.
To get access to this template, you simply need to copy the code from Github. And of course, the template is free to download.
7. Job Opportunity Listing by Beefree.io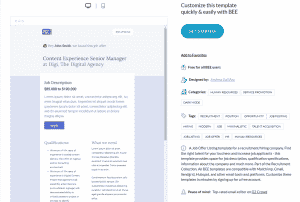 This template is a bit more involved than many of the other templates featured in this post. There are more sections in the layout, and there is a more complex color scheme. Nevertheless, the design itself is still clean, minimalistic and modern. You can easily delete any of the sections in this template that might not be relevant to you.
One cool aspect of this free template on Beefree.io is that the template is compatible not only with email marketing services like Mailchimp, Sendinblue, HubSpot, and Contant Contact, but you can also use it with developer tools like AWS and SendGrid. The template can even be used in Gmail.
8. Cold Emails Email Template "New Partner" for Finance industry by Stripo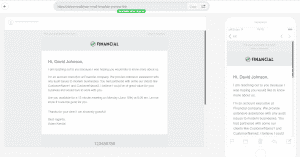 Although this email is labeled a "cold email", or in other words, an email specifically for one on one sales communication, this is an email template that can be used for email marketing as well.
The design of this template is very straightforward: there a section for the email header, the body for content, and then the footer. That's it. The template is not far from being a blank canvas for which you can customize to your liking.
Better yet, this template is compatible with 71 different email marketing solutions. Needless to say that if you are using an email marketing tool of any type, chances are that this HTML email template can be uploaded.
To get started with this template, sign up for Stripo for free. 
9. Free Drink Email Template by Unlayer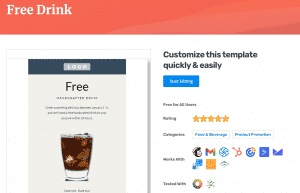 This email template could be great for ecommerce companies that want to show off a particular product. By swapping out the shot of whiskey for a product you want to showcase, you can drive sales through your ecommerce store. The best part is that this minimalistic template leads you to focus directly on the product at hand due to the lack of distractions such as ornamental design.
However this simple html email template can be also used for other purposes as well. For instance, simply be deleting the image, and aligning the text to the left side, it could be a perfectly good template for a newsletter as well.
10. Responsive HTML email templates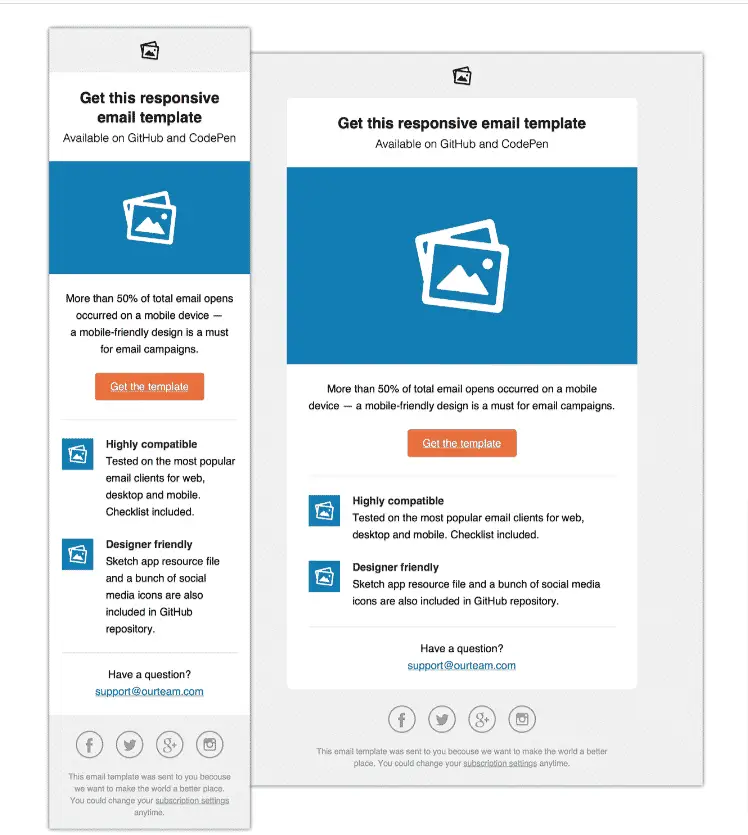 Provided by Github, this image above is one of three email templates. The first email template (the one in the image above) is white with blue accents, the second is a similar template but in a dark gray version, and the third is blue template with white accents.
These templates all have relatively basic designs. Each has room for an image, some text and a few icons. They are all compatible with almost all email clients including:
Apple Mail (Mac OS, iOS iPhone/iPad)

Microsoft Outlook (2013 Win, 2011 Mac, iOS, Android, Outlook.com)

Google Gmail (Web, Android, iOS)

Google Inbox (Android, iOS)

Yahoo Mail (Web, Android, iOS
11. Product Update Email Template "Better Than Yesterday" for Software & Technology industry by Stripo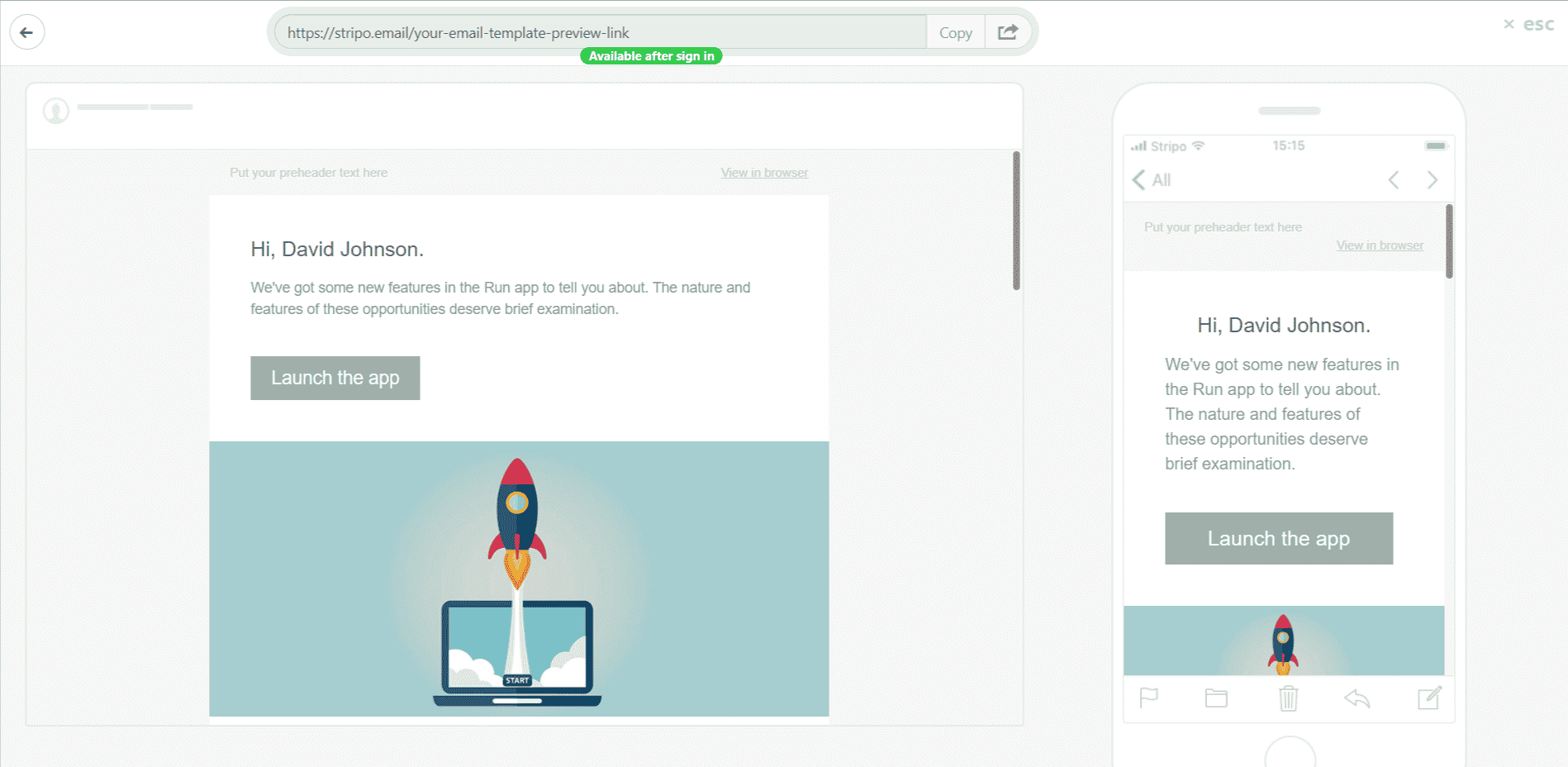 This is an excellent minimalistic email template for a blog news feed. It is essentially a series of text boxes and images such as the rocket ship image above, one after the other. However, you can reduce the size or continue the pattern by editing the email template in a matter of minutes within Stripo's email editor.
One cool aspect of Stripo's template library is that you can see the ratings of templates based on real user reviews. This particular template is a 5 star template given its robust design, it makes sense why.
12. Mosaico Starting Templates
Mosaico is a HTML email builder that gives you some very basic template choices.
Unlike the other email template builder solutions, Mosaico doesn't offer a wide selection of email templates. Instead, you can choose from one of the two base templates: one with color and one without color.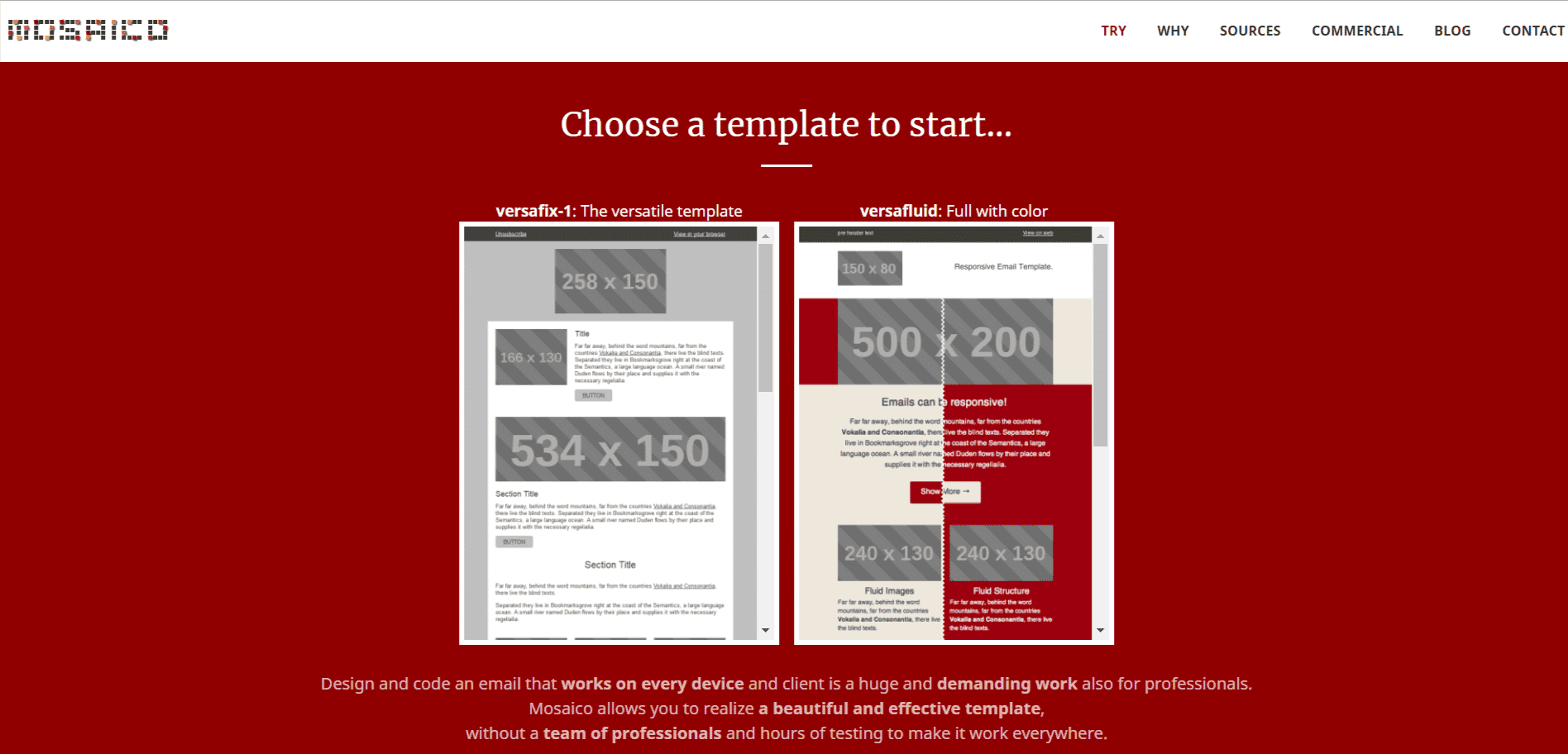 It's worth noting that people use Mosaico purely for its design and editing capabilities and not to take advantage of its template selection (or lack thereof).
Nevertheless, the templates the platform provides you can be tweaked and then downloaded from the site and used elsewhere.
13. Shipping Confirmation Email by Unlayer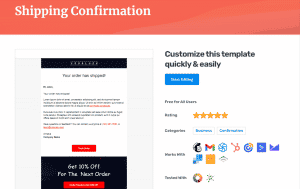 This is an excellent minimalistic email template that can be used not only as shipping confirmation emails but for practically anything.
Although this email is relatively simple, and there are not many design elements to begin with, there are still a few changes you might want to make to this one before you download. To do so, you can use Unlayer's email editor, make a few quick fixes and then download the email or connect with your email marketing platform.
Additionally, Unlayer tests all of its emails with Litmus and email on acid to ensure their quality.
Final words
Most of these free simple html email templates are extremely versatile and more or less ready to be used, you may want to amke a few slight tweaks to their designs before moving forward.
That being said, when choosing the right site to download your template from, consider if that site is an email editor as well as a HTML email template vendor. If the site has an email editor with the templates, it can save you a ton of time and hassle to simply edit the template within the editor before downloading it if you wnat to make slight changes.
Best of luck.
Related: 13 Effective Promotional Email Templates (FREE)
Related: 11 Outlook Newsletter Email Templates