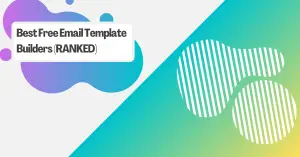 Email template builders can take your marketing email creation to the next level. 
While email marketing platforms are strong at delivering emails, their email templates and email template editors are often lacking. Email tempaltes from Envato Marketplace or Themeforest might be strong, but these platforms don't come with robust email editors. 
Email template builder tools are essentially the happy medium. They typically come with a range of professionally built, well-designed email tempaltes and powerful email editors to customize them. Once you design your emails you can import them into your email marketing platform, and send away. 
And the best part? Some of these email design tools are 100% free. 
In this post, you can discover the best free email template builders to elevate your email design game. 
1. Stripo 
With over 1,100 email templates, Stripo's template library is quite extensive compared to other email design tools. 
The best part? Many of these templates are available for free. In fact, Stripo boasts that it has over 1,400 free HTML email templates. Suffice to say if you are looking for a certain style, chances are you can get it for free. 
Premium templates are available for those who want particularly well-designed templates.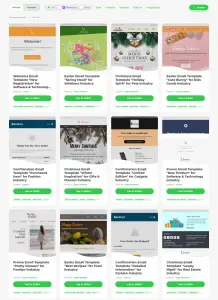 You can sort email templates by industry, seasons, features, and integrations:
Industry: Choose between templates designed for specific industries such as ecommerce, art, church, book promotion, business, and more. 

Season: Choose between dozens of seasoned themed templates such as templates for practically any season you can think of

Feature: Stripo's emails have often have different design features such as video, 3D graphics, and more. 

Integrations: Stripo's email templates integrate with most popular email marketing services. However, Stripo indicates which email marketing services each template integrates with so that you can know with confidence that a template is right for you. 
Stripo's email template editor is arguably the platform's greatest feature. With Stripo you can choose from a variety of elements that you wouldn't get with other email marketing platforms.
Check out this live Stripo demo to see what the editor looks like in action: 

Our take on the email editor
I have tested Stripo's email editor extensively, and I'm a huge fan. It's unique in that you have a high degree of customizability of your email templates and yet, the software is intuitive and a breeze to work with. Its smooth, flexible and has numerous modules, and blocks that maneuvered and configured via drag-and-drop. 
However, that isn't to say there's no learning curve if you aren't familiar with email design tools or email marketing tools. It does take some playing around with to get the hang of. But once you become comfortable with the editor, the possibilities are endless. 
Pricing
Stripo's free version gives you access to free templates. You can do 4 exports per month, and you don't have the ability to add any other users to the account. You also get a limited use of many of the premium features.
The paid plans are ideal for freelancers, agencies and other businesses that need large quantities of templates designed and downloaded. With the paid versions you get extra exports, and access to premium templates, amongst other benefits. 
2. Beefree
Similar to Stripo, Beefree offers hundreds of free templates. In fact, the company claims to have over 1,500 free templates, meaning it offers slightly more free templates than Stripo. 
Beefree allows you to filter templates by usage, industry, automated, and season:
Usage: The purpose or goal of the email. For instance some of the templates are for webinar promotion, fundraising, ecommerce promotion, monthly newsletters, and more. 

Industry: Dozens of industries such as ecommerce, education, heath, photography, real estate, and more. 

Automated: For automated emails such as notifications, welcome emails, thank you emails, etc

Seasonal: Emails for various seasons such as Christmas, Easter, Valentines Day, and more.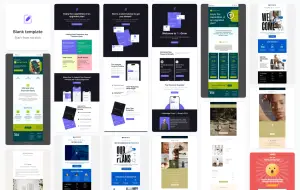 One aspect of Beefree that sets it apart from other email template builders is the ability to filter templates by the graphic designers that created them. 
Beefree's templates have been created by dozens of expert graphic designers from all over the world. That said, if you find a template that piques your interest and you want to find similar templates, check out all the templates created by that designer. Chances are you will find at least a few stylistically similar templates that you can experiment with. 
Bee Free's email editor is more robust than most email marketing platforms. After all, a powerful editor is the entire reason why it makes sense to use these tools in the first place.
Check out this live Beefree demo to see what the editor looks like in action: 
Our take on the email editor
Beefree's email editor is very similar to Stripo's, however, it's arguably more minimalistic. This could be a benefit or drawback depending on the amount of customizability you want in an email editor. 
The editor is incredibly easy to use. You seamlessly drag elements into place and customize your email as you see fit.
One unique benefit is the ability to turn on the email structure to see exactly where all the sections start and end. 
Pricing 
Beefree's free version is great for any casual email builder who just needs a few email templates at a time. With the free version, you can create up to 10 email templates.
With the paid version, you get access to unlimited emails and unlimited reusable content blocks, and you can add multiple users to the platform to build templates out at scale. It's perfect for any agency or small business that wants to add multiple designers and QA specialists to the platform. You also get full access to design features such as custom fonts. 
3. Topol.io
Topol.io is another incredible email design platform with a generous free version. However, it doesn't contain nearly as many templates as its competitors such as Stripo and Beefree. It only has about 150 or so templates.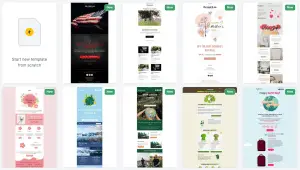 Nevertheless, what the platform lacks in quanitity of templates, it might make up in other areas. 
For instance, you can create reusable custom template blocks which can make developing emails much more efficient. Additionally, although the email editor doesn't require any coding, it's very easy to add your own custom blocks of code as needed. 
Additionally, like many email editors, you can add personalization tokens throughout your email. For instance, you can use a first name token at the very beginning of emails as an easy way to make emails more tailored to each contact. 
Topol.io also has a plugin you can integrate as a white label feature for your app. This is a great way to offer email design features to your apps users without developing editor code from scratch. 
Check out this live Topol.io demo to see what the editor looks like in action: 
Our take on the email editor
Topol.io's email editor is sensibly laid out and refreshinghly minimalistic. It has all the editor design features you need without any excessive bells or whistles. 
It's very modern and quite smooth to work with. The drag and drop experience is seamless unlike some of the more outdated, clunky HTML email editors out there. 
Although this might seem like a minor benefit to some, I think that the dark editor control panel to the left and above the light colored email preview makes it really easy on the eyes to build emails. Having that contrast might not seem important, but after hours on end of creating emails, you might appreciate it. 
Its also great that you ca easily pan between the preview on mobile vs the preview on desktop. 
Pricing
Topol.io offers a free plan, a Pro plan at $10 per month, and a Team plan at $15 per month. 
The free plan, of course, offers limited features. However, unlike other free html email template builders, Topol.io's free version allows you to build unlimited eamils. 
The paid plans include additional features and restrictions on the free features are removed. You get access to premium templates, you can add other team members to the platform, and you can integrate Topol.io so you can upload emails directly into email marketing platforms of your choosing. 
4. Tabular email 
Tabular email is a relatively new email marketing design tool. It offers clean and modern templates that blow most templates offered by email marketing tools out of the water. 
The platform doesn't offer a massive selection of templates, but the ones it does provide are sleek and very well-designed. The platform seems to offer plenty of ecommerce email templates in particular. That said, if product promotion is top of mind for you, Tabular email might be the way to go.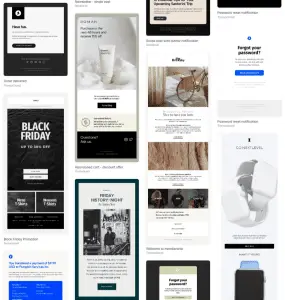 The platform also allows you to export templates to over 50 ESPs (email service providers). That said, no matter what email marketing platform you're on, chances are that Topol.io can connect with it. 
Check out this live Tabular demo to see what the editor looks like in action: 
Our take on the email editor
On one hand, the email template builder is sleek modern, and quite easy on the eyes. It's also quite easy to use. 
However, the caveat is it's easy to use partly because it's so minimalistic. The temple offers bare-bones insertable sections and elements (text blocks, image blocks, video blocks, etc). Fortunately, you can create your own email sections (for footers, headers, or sections within emails), and save them for repeated use for future emails. 
One cool aspect of these savable sections is your team members can also access them. That said, you're entire team can be aligned on the stylistic elements that embody your company's brand (or your client brands). 
All in all, the email template editor works great. It's just a little underwhelming in terms of the customization features it offers. As mentioned, its pretty bare bones and if it was a bit more sophisticated it would be much closer to a 5/5. 
Pricing
Tabular's free version allows you to create up to three custom emails, and two PDF/HTML email downloads per month. You can also send 4 email previews per day. 
You can also upload your emails directly to 9 email marketing platforms with the free version. These include popular platforms such as HubSpot and Mailchimp. 
With the pro version, you get the following benefits: 
Create unlimited custom emails 

Unlimted HTML/PDF downloads

Access to all email templates

Unlimited email previews per day 

Add team members to the platform 

Connect with all supported email marketing platforms
The paid version is only $14 per month (annual billing).
5. Postcards 
Postcards is a powerful email template builder. The editor is smooth and intuitive, making email development extremely efficient. 
However, unlike other email template builders that carry hundreds of even thousands of predesigned email templates, Postcards doesn't carry any templates. The platform is purely an email editor. 
That said if you are interested in browsing a library of templates and choosing one as a starting place for your email marketing campaign, this tool isn't for you. That is unless you don't mind downloading another template from a free template builder such as Stripo, and importing it into Postcards to work on. 
Nevertheless, the platform still has all the other essential features of a typical email template builder such as the ability to import templates into ESPs, and download email template files. 
Check out this live Postcards demo to see what the editor looks like in action: 
Our take on the email editor
Going to the email template editor in Postcards is sort of like approaching a blank canvas for the first time as an artist. The editor will present to you a totally blank outline of an email. 
To the left you will find a tool bar with the following sections listed: 
Menu 

Header

Content

Feature 

Call to action 

Ecommerce 

Transactional 

Footer
You can click on any of these sections and add any of the available modules within each section. 
For instance, if you click into the Header section, you will see dozens of email header modules with different designs and styles. You can drag and drop one of your choice into your email. 
That said, what the email template builder lacks premade templates, it makes up for in modules. By clicking and dragging a few modules into place, you can essentially build out the structure of your email in just a matter of minutes. 
Initially, the lack of email templates might be a bit off-putting, but seeing how efficiently you can create emails with the predesigned modules (see video above), you might warm up to the idea of creating emails completely from scratch. 
However, to completely build emails from nothing, at the very least you should use an existing template as inspiration or for reference. Creating emails based on nothing can be challenging unless you're a seasoned designer. 
Pricing
Postcards offers three plans: 
Free 

Business: $17/month 

Agency: $29/month
The free version gives you basic features and allows you to use 10 customizable modules. 
The business plan gives you all the features in the free plans, plus a few others. You can also export your emails. 
The agency plan gives you advanced features and most importantly, allows you to add 5 users to the account. 
6. Unlayer 
Unlayer has hundreds of templates, many of which are free. 
You can sort through these templates by 
Collections: For instance, 4th of July, super bowl, Thanksgiving, Cyber Monday, etc. 

Usage: Ecommerce, fundraising, notification, product promotion 

Industry: Business, education, fashion, real estate, sports, sales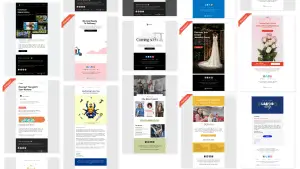 One feature that makes Unlayer different than many email design tools is its templates can be rated by Unlayer users. As you scroll through rows of templates, you can see how many ratings each one has received and a star rating out of 5 for each template. 
Naturally, any of the templates with lots of votes and high average ratings would probably be good choices. To find these templates, Unlayer allows you to filter templates by popularity and average rating. 
Check out this live Unlayer demo to see what the editor looks like in action: 
Our take on the email editor
Unlayer is an excellent email design tool for beginner designers who want a basic email editor.
Unlayer offers basic content blocks such as rich text, image, video, divider, HTML, etc. The platform comes with sections to configure the content on your emails, and settings to adjust text, color scheme etc. 
There is also an image feature that allows you to add creative common images to your emails. A in-app search engine allows you to look through images pulled from Unsplash, Pixabay, Pexels, and other free image sites. 
There is also an AI Image generator feature that sets Unlayer apart from many of its competitors. This tool allows you to type what you want your image to be, and generate AI images based on the description. You can use these images in your emails however you want. 
The editor is easy to work with. However, some of its competitors have slightly more modern editors that make the experience of building emails smoother. Unlayer may have a slightly dated editor. 
Nevertheless, its relatively basic features and editing experience is perfect for beginner designers who just want a straightforward editor. 
Pricing 
This email template designer comes with a free version, a designer version at $15/month billed annually, and a team plan at $30/month billed annually. 
The free version gives you the ability to use the drag-and-drop builder to create emails and download them, but you can't import them into ESPs. 
The Designer plan gives you custom templates and the ability to import template into ESPs. 
The team plan basically allows you to add team members to the account. 
7. Canva (BONUS) 
Canva is an outlier among the email template builders on this list. Technically, Canva isn't an email template builder specifically, but rather it's a graphic design tool that can be used to build email templates. You can download email templates and upload them to your email service provider.
It's one of the most popular graphic design tools for a few reasons: it's incredibly easy to use and it's completely free. 
Canva offers over 500 email templates and many of them are completely free.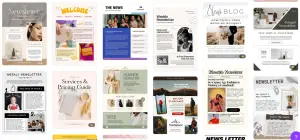 You can find templates for a variety of purposes including newsletters, and ecommerce/product promotion. These templates also are tailored for a variety of industries including real estate, non-profit, health and beauty, fashion, interior design, cooking, and much more. 
Canva has the ability to connect to popular email marketing platforms like Mailchimp. You can import templates into your email service provider and send them out to your audience. However, it doesn't connect directly to nearly as many email marketing platforms as email template builder tools. 
Check out this live Canva demo to see what the editor looks like in action: 
Our take on the email editor
The "email editor" is really just Canva's design editor that you can use to configure email templates, as well as other types of templates. 
Canva's editor is extremely flexible and gives you free rein to place text, images, video, shapes, and other elements wherever you want on the page. There is no grid framework or structure to email templates that limits where you can and can't place elements like text or images. Simply click an element and move it wherever you want. 
However, note that with great flexibility comes more room for error. If you want to fundamentally change the design of your email templates, you open yourself up to accidentally making a poorly designed email. If you don't have an artistic eye and a bit of design experience under your belt, making good looking emails can be a bit of a challenge. 
The drawbacks of using canva are it doesn't have features other email design tools have like an email tester, email preview tool, the ability to save email modules, and more.
Pricing 
Canva's free plan gives you access to hundreds of email templates and the most important design editor features. 
The paid version gives you access to additional premium templates that are arguably better designed or more aesthetically pleasing. The team plan gives you the ability to collaborate extensively with users on the platform and comes with more storage capacity as well. 
Final words: using email marketing software to build templates
Email marketing software practically always comes with at least a few dozen well-designed email templates. Naturally, email marketing tools are a one-stop shop for selecting great-looking templates and building emails as well. You can even export email marketing templates designed by one email marketing platform to another. 
However, not all email marketing tools are the same. Some have outdated email marketing templates that look like they were constructed in the early 2000s. Others have sleek and modern email templates. 
Some of the email marketing tools with the best email templates include GetResponse, Mailerlite, and Moosend.