Promotional emails are one of the most effective ways to drive traffic to your offer. Whether your are an e-commerce company that wants to promote a sale or a service business interested in highlighting how you help your clients, promotional emails can work wonders.
However, while sending emails might be easy, finding the right promotional email template can be a challenge. With a bit of digging you can find gems among numerous other types of email templates. Some of them are even free.
In this post you can find 13 high-effective free promotional email templates that you can download and customize today.
Promo Email Template «Black Friday Is Coming» for Fashion industry
Available on Stripo, this promotional email template is excellent for bringing awareness to an upcoming black friday sale. Nevertheless, it can be repurposed to be used to promote practically any upcoming sale. The artful design and fun graphics make this template captivating for anyone that lands on it.
In addition to this template, Stripo has 177 other free promotional email templates that you can choose from. One of the greatest strengths of Stripo compared to other tools is its vast selection of templates.
International Day of Families Email Template "New furniture" for Furniture, Interior & DIY industry
This is certainly a more simple HTML email template, however, this template certainly aligns with the branding of some businesses. In terms of design, certain businesses certainly want to keep things minimalistic but artful at the same time.
The beige background and earth tone give the email a warm and inviting feel for recipients. It would certainly be a good email to promote if you are trying to showcase your products in a somewhat artistic way and also in a way that's not over the top and obnoxious.
Purple Modern Minimal Beauty Makeup Promotion Email Newsletter
Although fun graphics and animation on an email can make it eye catching, they can also be extremely distracting. Fortunately, this email template doesn't have many flashy graphics of the sort.
This promo email template has a relatively basic layout, however, the large header image, bright purple color, and bold text really make the message of the email stand out as soon as you open it.
One of the best parts about promo email templates on Canva is that Canva has an amazing design experience. The editor is very easy to use, yet, it's extremely flexible and allows you to create very customized templates.
MailBakery Theta – Free HTML Email Template
This free promotional email template is sure to stand out in your recipients' inbox. The bold red background color starkly contrasts with the white and black element, and really makes the email hard to ignore.
This email template could be perfect for promoting a particular product, however, it also has a section for bringing to attention upcoming events.
The provider of this template, MailBakery, is a bit different from other email design tools like Stripo or BeeFree because MailBakery only provides email templates and design services and doesn't have an email editor in platform. To edit the template you will have to do so outside of MailBakery.
Promo Email Template «Summer Mood» for Fashion industry
This email template is built with a series of strategically designed tables. The alternating images, text, and bright colors is an engaging way to keep the recipients' attention as they scroll down the email. If this fashion industry email looks good to you, you're in luck because Stripo offers many others that are similar.
One of the coolest parts of Stripo is the platform displays the designer of each of its templates. That way, if you really like the particular design of a template and would like to see templates that are designed in a similar way, you can easily view all the templates created by one particular designer.
Martin Luther King Jr. Day Furniture Sale
While this template features products for a furniture store, this is a great template to be repurposed by any businesses that sell physical products. Simply swap out the images of the couches, and change dark purple secondary color to your brands color, and you will have made the some of the most important changes to this template to customize it for your brand.
Additionally, this email template (as well as Unlayer's other email templates) has been tested by Litmus and Email on Acid to ensure that all the elements work correctly and that the email is properly formatted. These third-party services verify that the email will display properly on all browsers and devices, among other quality assurance checks.
Green Lined Elegant Skincare Sale Email Newsletter
Of all the free promotional email templates featured in this post, this template is likely the most elegant of the bunch. This template is artfully designed and could most certainly be eye-catching for the beauty industry audience.
However, stylistic elements aside, this template could be highly effective for promoting offers given that there is minimal text and graphics. Your attention gets drawn to the SHOP NOW CTA.
Although Canva has a huge library of paid templates, this is on of the better free templates the platform has to offer.
Burgers Delivered To Your Door – Email Template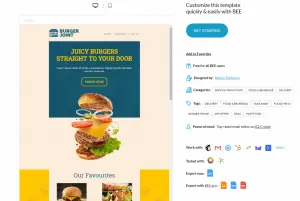 This is an excellent template for any business in the restaurant industry. However, even if your business isn't in the restaurant industry, keep an open mind- with a bit of creativity, you can easily customize this template so that it reflects your product or service. For instance, the table in this template that features food items can be easily customized so that it displays various items from your ecommerce store.
Similar to Stripo, Bee Free, the provider of this template, has an extremely intuitive drag and drop email editor that you can use to modify the hundreds of templates Bee Free has to offer. Bee Free offers 141 templates labeled as service promotion and another 70 labeled as product launch. Suffice to say, the platform has a lot to offer.
Promo Email Template «Stats Apps» for Software & Technology industry
Unlike many of the free promotional email templates featured in this post that are geared to the ecommerce and fashion industries, this template is tailored for the software industry.
If you are part of a SAAS company and you are offering a promotional deal on your technology, or simply want to integrate a promotional email into your email workflows, this template is a great starting point.
Available for free on Stripo, this email template can be exported to over 67 email marketing services including Mailchimp, GetResponse, Constant Contact, and more.
Shopilicious – Free HTML Email Template by MailBakery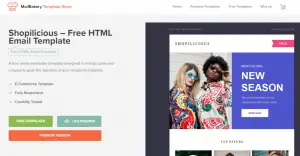 This ecommerce email template is designed with a simple layout and can be easily customized for your business. For the vast majority of businesses, this free template is suitable, however, the premium version has a bit more to offer on MailBakery. The premium version is available in five different color variations, and it's available in five slightly different layouts. Additionally, with the premium version, the MailBakery team can make customizations for you.
Again, while the free version of this template is excellent, there is certainly some added value that comes with the premium templates for those who are willing to pay for it.
Naomi Promotional Email Set and Email Builder by Envato Elements
Available on Envato Elements, this is a package of 6 promotional emails rather than just one. Each template has a slightly different layout and each template is intended to used in a different situation. For instance, one of the six templates has very prominent "30% Off" messaging while another offers a gallery view of different ecommerce items.
With Envato Elements, to get this template for free, you would simply sign up for a 7 day free trial.
View template in Envato Elements
HigherEd Admissions Email – Email Template by Bee Free
Unlike promotional email templates for physical products, this email template is really designed for promoting university courses. However, this email template can most certainly be repurposed to promote online courses for businesses, video series, or any other educational content in any industry. Additionally, you can use this person to promote in person events.
As far as the design goes, some users might prefer if the image of the young woman was removed. Fortunately its easy to swap this image out with another with a bit of design work.
Natural Products Promotion by Unlayer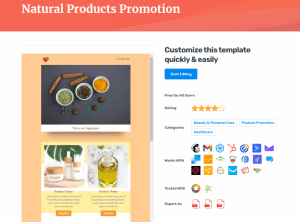 This template happens to have a beautiful color scheme. The light orange shades and the yellow accents really make this template visually engaging.
Because of this light and welcoming color design, this could be the perfect for any ecommerce companies in the health and wellness, natural medecine, yoga, or organic foods industries. Of course, if you don't like the color scheme, you can certainly change the color scheme to shades of purple and blue or any other color pairing really.
Related: 13 Well Designed Email Template with Tables 
Related: 11 Outlook Newsletter Email Templates 
Related: 13 Simple Email Templates (FREE)