Kartra is undoubtedly one of the most popular all-in-one digital marketing tools out there.
This isn't surprising given how robust the platform is. However, while Kartra can be super effective for some businesses and entrepreneurs, it certainly isn't the best tool for everyone. For some businesses, Kartra simply wouldn't be a good use of time and money.
So "who uses Kartra?", you might ask…
This post aims to answer that very question.
Here you can discover 7 types of businesses that Kartra is perfect for.
But first, it's important to understand why businesses use Kartra in the first place.
Why businesses use Kartra
Although a wide array of businesses benefit from Kartra, they use the platform for generally the same reasons.
Carrying out effective marketing campaigns in-house
Kartra is incredibly easy to use. The platform allows you to build out effective marketing campaigns without any technical knowledge at all.
Since Kartra is designed to be extremely user-friendly, the platform is excellent for businesses that want to build out marketing campaigns themselves instead of hiring a digital agency to create campaigns for them.
That being said, the common types of businesses to utilize Kartra are either small teams or single-person businesses.
However, while Kartra is designed to be incredibly intuitive, if you need help utilizing the platform you can request service from Kartra experts in Kartra Marketplace.
Lead generation and selling products/services
Kartra is extremely effective for capturing leads and selling your products or services.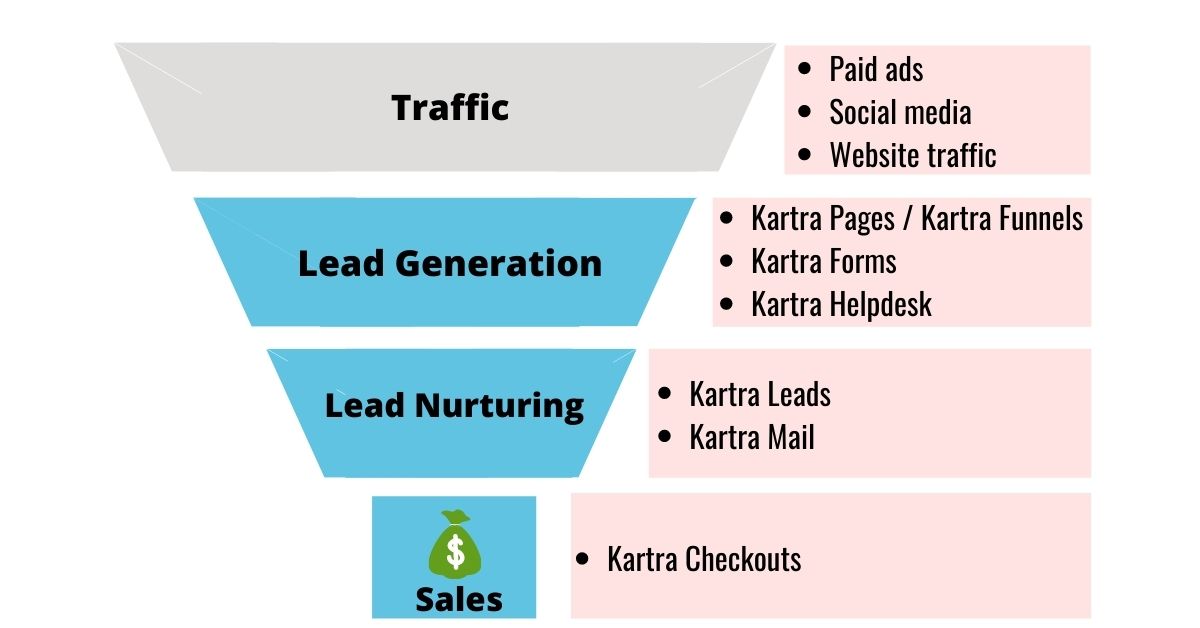 The platforms offers numerous lead generation features such as the page builder (great for creating landing pages or sales funnels), forms, and a helpdesk. Additionally, the Kartra Leads feature is basically a CRM (customer relationship management) that allows you view your leads all under one central location.
Kartra's email marketing feature allows you to effectively nurture your leads and prompt them to purchase your product or service.
Kartra Checkouts facilitates those sales transactions. 
There are a few ways that businesses generate traffic to Kartra's platform in order to capture leads and drive sales. Some of these common methods include:
Running paid ads

Social media channels

Leveraging website traffic
Centralizing marketing tools under one central platform
One of the most common challenges small businesses face is juggling multiple disparate marketing tools.
Working with multiple platforms can make marketing efforts unorganized, and inefficient. What's worse is that it can be tough to gauge the results of your marketing efforts when information isn't compiled under one platform.  
Fortunately, one of Kartra's greatest benefits is that it's a very comprehensive marketing solution. The platform provides businesses practically all the necessary tools to sell your product or service under one platform.
That being said, you might benefit from Kartra if you are using multiple tools for the following features listed below:
Checkout forms

Landing pages

CRM

Sales funnels

Email Marketing

Membership portals

Video

Helpdesk

Appointment scheduling

Forms

Affiliate management
7 types of businesses that Kartra is perfect for
While there are many businesses that can benefit from Kartra, the following 7 types of businesses, in particular, are great fits for Kartra. Fortunately, there are many examples of Kartra websites for these businesses that you can use for inspiration.
Consultants
Numerous consultants find amazing success with Kartra. Freelance consultants or small consulting agencies can benefit from advertising their services on Kartra pages. Typically, when creating sales pages consultants will give an overview of the services, pricing for their services, and testimonials as well.
One Kartra feature that is extremely beneficial for consultants (or anyone that meets with clients regularly) is Kartra Calendars. Through Kartra calendars consultants can easily set up scheduled one-on-one sessions with clients.
Online fitness trainers
Online fitness trainers can help their clients in numerous ways with Kartra.
For instance, one Kartra feature that fitness trainers may find to be beneficial is the Kartra video feature. Kartra video can be used to demonstrate proper form and technique for various exercises that they would recommend for their existing clients. Alternatively, personal trainers can easily put together slideshow videos of past clients' progress to promote their services. 
Ecommerce companies
While many consultants, coaches, and trainers that offer services through Kartra, the platform is also excellent for ecommerce companies.
Kartra isn't a platform to host ecommerce sites on. However, ecommerce companies can utilize Kartra for practically all marketing efforts. For instance, with Kartra Pages you can create beautiful, high-converting landing pages to capture leads and direct traffic to your ecommerce store. You may then use Kartra Mail for email marketing to connect with your captured leads. However, these features only scratch the surface of how you can use Kartra for your ecommerce store. 
Tutors and online educators
Kartra is an excellent platform for academic tutors to promote themselves and showcase their areas of expertise.
One of Kartra's features that can be extremely beneficial for tutors is Kartra Helpdesks. With Kartra Helpdesks you can set up support ticketing which can be very helpful for students or parents of students who frequently inquire about tutoring services.  
Tutors can also utilize Kartra video to demonstrate how to go about answering test questions. For instance, video content of how to do math problems step by step can be extremely helpful.
Startups
Kartra can be the perfect all-in-one solution for startups. One way that startups effectively utilize Kartra is by setting up the platform for product launches or a new service. You can easily use the platform to create a product page to promote a new offer, capture leads, and then promote your product through Kartra's email marketing feature.
Additionally, Kartra can be an affordable solution for startups that often don't have huge budgets. An all-in-one solution can be much more cost-effective than investing in a landing page builder, a form builder, an email marketing tool etc.
Personal coaches
There are numerous types of personal coaches that specialize in areas such as relationships, finance, mental health, life, and spirituality. Many personal coaches utilize Kartra to market themselves.
Aside from using Kartra to promote their services, personal coaches may find Kartra's membership feature to be beneficial. Often professionals in the self-help space have followers that appreciate ongoing content and communication. That being said, setting up an exclusive membership portal where subscribers pay a recurring fee for service might make perfect sense for personal coaches.
Instructors
By instructors I mean generally anyone who is knowledgeable about a certain topic and wants to share their expertise.
You can offer training for practically any niche such as…
Coding

Parenting

Chess

Pottery making

Rollerblading marathons (yep… it's a real thing)
As long as there is an audience that would be interested in your content, you're golden.
It's extremely easy to create amazing training material in Kartra by building courses on the platform. You can create online courses with Kartra that are easy to navigate and look aesthetically pleasing. Kartra allows you to build out multiple parts of your courses with subsections as well.
Kartra for agencies
Kartra can be an extremely powerful tool for agencies. However, agencies tend to use Kartra slightly differently than the types of businesses listed above.
In a nutshell, Kartra's agency feature allows agencies to better manage their clients.
Kartra Agency allows you to do the following:
Track analytics of clients such as revenue generated, website visitors, new leads, sales and rebills

Access all your client accounts in one central portal

Charge clients through one unified billing profile

Allow clients to co-manage their accounts by giving them restricted access with custom permission

Easily generate personalized reports for each client
There are two ways that agencies can utilize this feature.
You can buy new Kartra accounts in bulk for your clients at 40% discounts. Then you can charge your clients whatever price you see fit to cover the cost of the accounts and your ongoing services.
Alternatively, as an agency, you can link your clients existing Kartra accounts and manage them as a contractor. From here you can manage your clients' accounts until you have completed the work you were hired for. 
Final words: Is Kartra right for me?
If your business isn't exactly like the ones listed in this post, don't fret! Keep in mind that this post doesn't off an exhaustive list of absolutely every type of business that can benefit from Kartra; only some of the most common businesses that use Kartra.
There are numerous other businesses that make good use of the platform from SAAS companies to nonprofits.
That being said, if just a couple of Kartra's features might be valuable to your business, it might be worth trying out.
Alternatively, if you think that Kartra's pricing might be a bit too steep for you, there are a few free tools that can serve as a free Kartra alternative when used together.