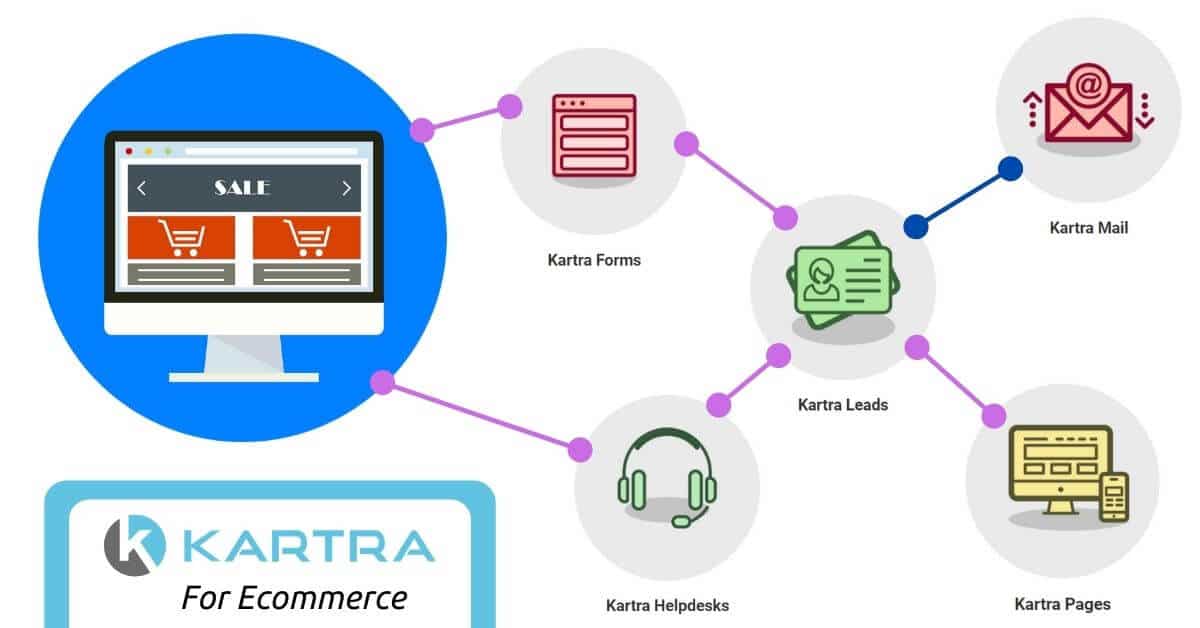 Kartra is an extremely versatile tool and a wide variety of businesses benefit from the platform as a result.
But is the platform worth investing in for ecommerce businesses specifically?
After all, ecommerce platforms like Shopify are already extremely robust and feature-rich. It's worth asking it makes sense to add Kartra to your tech stack. 
Ultimately, Kartra can be a powerful tool for your e-commerce store whether you have a well-established business or if you are just starting out.
This post explores exactly how Kartra can make your ecommerce store more profitable.  
How to use Kartra for your ecommerce store
Generally speaking, Kartra can be very effective for capturing leads, promoting ecommerce products, and facilitating sales. In short, Kartra is a powerful all-in-one marketing and sales tools for ecommerce. 
Lead generation
Kartra has a few key features that make it a powerful lead generation tool.
Kartra Pages: Kartra allows you to build out beautiful pages easily with the drag-and-drop builder. There are a few ways you can use Kartra pages to your advantage specifically for ecommerce.
For product pages, you can include elements such as product features, pricing tables, testimonials, and more to convey the value of your product. For some inspiration, check out Bike Gallery's product page built with Kartra (click to enlarge):
You can just as easily build out high converting landing pages to collect leads by including opt-in forms in your pages.
With Kartra's beautifully built ready-to-go sections you can design the perfect landing pages to put in front of your paid traffic and social media audience. Furthermore, with Kartra's A/B split testing capabilities you can improve your landing pages over time for a higher conversion rate.
Kartra Forms: With Kartra you can create beautifully designed forms that you can embed in your ecommerce store.
There are numerous ways you can customize your forms in terms of the types of fields and form design. Kartra also gives you the ability to tag subscribers which can be convenient for targeting subscribers through email marketing campaigns.
Experiment with different approaches to getting more opt-ins from your forms. For instance, try offering exclusive deals, running sweepstakes, and offering gated content like ebooks.  
Kartra Helpdesk: Kartra has a fully customizable helpdesk feature that allows your ecommerce store's visitors to chat with you in real-time or submit support tickets. In a few steps, you can embed your helpdesk in your ecommerce store.
While helpdesks are great for answering questions about products and building relationships with prospective customers, they are also excellent for capturing leads as well. Just like Kartra forms, you can tag subscribers and add them to certain lists so that you can target these leads through email marketing.
Nurturing your leads
All the leads you have collected from your landing pages, sales funnels, helpdesk, and forms created with Kartra are stored in Kartra Leads.
Kartra Leads is more or less a CRM (Customer Relationship Management) where you can view all the leads you have collected in one central location.
With this feature you can manage and organize your leads for more effective outreach. 
…and that's where Kartra Mail comes into play.
Kartra Mail is a robust email marketing tool that you can use to engage your leads and prompt them to purchase your ecommerce store's products.
A few key features of Kartra Mail include:
Stunning templates that you can customize with Kartra's drag-and-drop editor

Behavior-based automation that allows you to segment subscribers based on links clicked, emails opened, and much more

Split test email subject lines and contents to determine the best converting emails
Keep in mind that this is just scratching the surface in terms of Kartra's email marketing capabilities.
Selling your products
The last and probably most important Kartra feature for ecommerce businesses (as well as other types of businesses that use Kartra) is Kartra Checkouts.
Kartra Checkouts facilitates sales transactions. In other words, this feature is an order form that allows you customers to fill out their billing and shipping information in order to purchase your product. The appeal of Kartra Checkouts is that these order forms are aesthetically pleasing and designed to make the online shopping process quick and easy for your customers.  
In addition to using Kartra Checkouts for selling physical products, this feature can be used to sell online courses with Kartra as well as other digital products. 
Benefits of using Kartra for your online store
Kartra gives you powerful marketing features. However, you can get many of the same features through popular ecommerce platforms like Shopify and BigCommerce. These platforms have marketplaces where you can subscribe to apps for landing pages, forms, helpdesk etc. With WooCommerce, you can get plugins that can do the same things. 
So the question is: why use Kartra instead of just subscribing to various marketing tools within your ecommerce platform?
The benefit of using Kartra is that platform provides all the marketing tools you need in one central location. You can manage all aspects of your marketing efforts with this all-in-one tool instead of bouncing between multiple applications. This can keep you much more organized and efficient. 
Another huge advantage of Kartra is that the platform's CRM (Kartra Leads) gives you insight into which sources your leads have come from.
Since all of Kartra's lead generation tools are unified under one platform, you can see how many leads were generated from your helpdesk, specific landing pages, forms etc.
These insights are extremely valuable. With this information in mind, you can personalize your outreach and drive more sales from your ecommerce store as a result.
For instance, let's say you generated a handful of leads from a landing page that offers a 30% discount on your products. By knowing which leads were collected from this landing page, you can target them in your email outreach by reminding them of their discount. Highly targeted personalization like this often results in more clicks to your store. 
Does Kartra integrate with Shopify? What about other ecommerce platforms?
Kartra has a handful of integration options, but unfortunately, Shopify isn't one of them. In fact, Shopify nor any other popular ecommerce platforms like BigCommerce can integrate directly with Kartra.
However, you can still connect Shopify and other ecommerce platforms to Kartra with Zapier.
Zapier is a third-party platform that basically integrates platforms. While using Zapier to connect platforms isn't as straightforward as directly linking platforms together, it's the next best thing. Fortunately, you can start using Zapier for free as well.

Zapier is great for aligning Kartra Mail with your ecommerce store orders. You can create an action in one platform when there is a trigger in the other. For instance, you can easily kick off an abandoned cart email sequence in Kartra when someone abandons their cart in Shopify like so: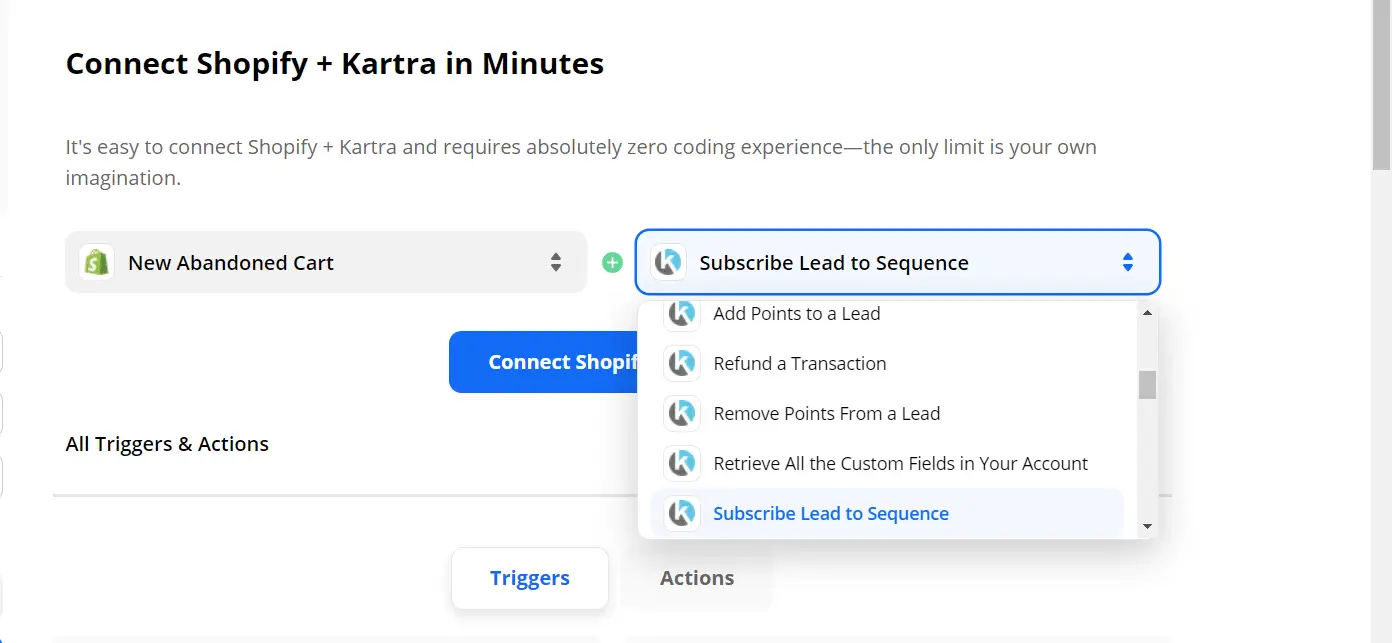 Additionally, you can set Zapier up to send a follow-up Kartra email after a customer purchases an item on Shopify, or cancels an order. You can also set up an automated welcome email for when a customer purchases an order for the first time on Shopify.
Limitations of using Kartra for ecommerce
Kartra is an amazing marketing platform for your ecommerce store. That being said, there are various aspects of running a successful ecommerce store where Kartra wouldn't fit in.
For instance, it wouldn't make sense to try to host a large ecommerce store with dozens of products on Kartra. While you can sell physical products on Kartra, the platform simply isn't designed to display large catalogs of products the way that traditional ecommerce platforms like Shopify are. Kartra is much better for selling one or just a few products rather than dozens or hundreds of different products the way that Amazon and similar ecommerce businesses do.
For hosting numerous ecommerce products, using a dedicated ecommerce store builder such as Shopify is a much better choice. On the backend, Shopify and other ecommerce platforms have powerful functionality to process large numbers of sales transactions and effectively manage inventory as well. Additionally, there are numerous applications you can also use to handle shipping and tax for all your sales.
Additionally, you may realize that you don't necessarily need all of Kartra's features for your ecommerce store. You may only need one or two Kartra features. In this case, using only one or two of Kartra's features probably shouldn't justify Kartra's cost. Fortunately, there are various free tools that can replace Kartra's features. For some businesses, these free alternatives would be a more sensible choice.