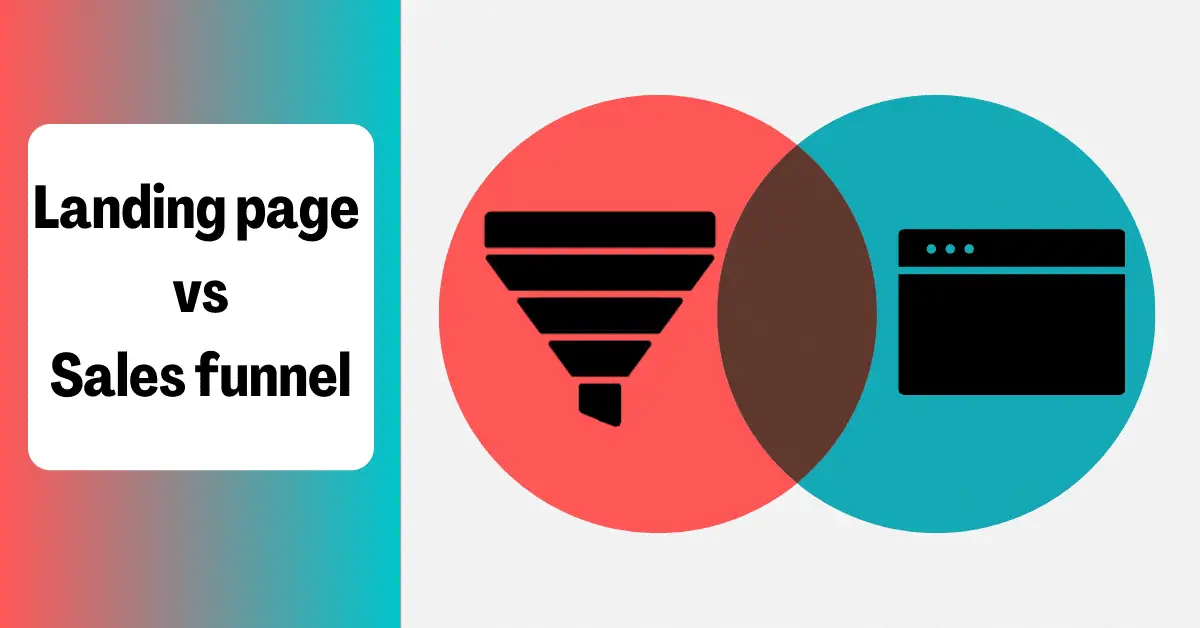 Since landing pages and sales funnels are similar in many ways, marketers understandably confuse the two. However, these approaches are fundamentally different. 
The key difference between landing pages and sales funnels is the design of each. Landing pages consist of a single web page designed for one marketing goal, while sales funnels consist of multiple web pages that guide prospects through the buying process.
This important distinction, however, only scratches the surface of what differentiates landing pages and sales funnels. Not only are these methods different in terms of design, but also the purpose and ways these methods are used are different as well.
This post explores the important differences between landing pages vs sales funnels so that you can best decide which approach is best for you.
Landing pages
A landing page is a standalone web page created for one specific goal. Landing pages are where visitors are directed to or "land on" after clicking a link (ad, link on website, link on social media, etc.).
There are a few ways you can host a landing page. Likely the most popular way is by using a landing page builder such as Leadpages or Unbounce. Alternatively, you can host landing pages on a website with a CMS (Content Management System) like WordPress. 
What landing pages are used for
Landing pages are designed to drive conversions. For instance, this could mean prompting prospects to
However, regardless of what's being offered on the landing page, the goal of landing pages is often to collect leads. By capturing the email addresses and other relevant information from visitors that land on your landing pages, you have the opportunity to reach out to them and prompt them to purchase your product or service later on.
That being said, if you think about the customer's journey from the point where prospects are first introduced to your brand to when they purchase your product, landing pages typically fall right in the middle.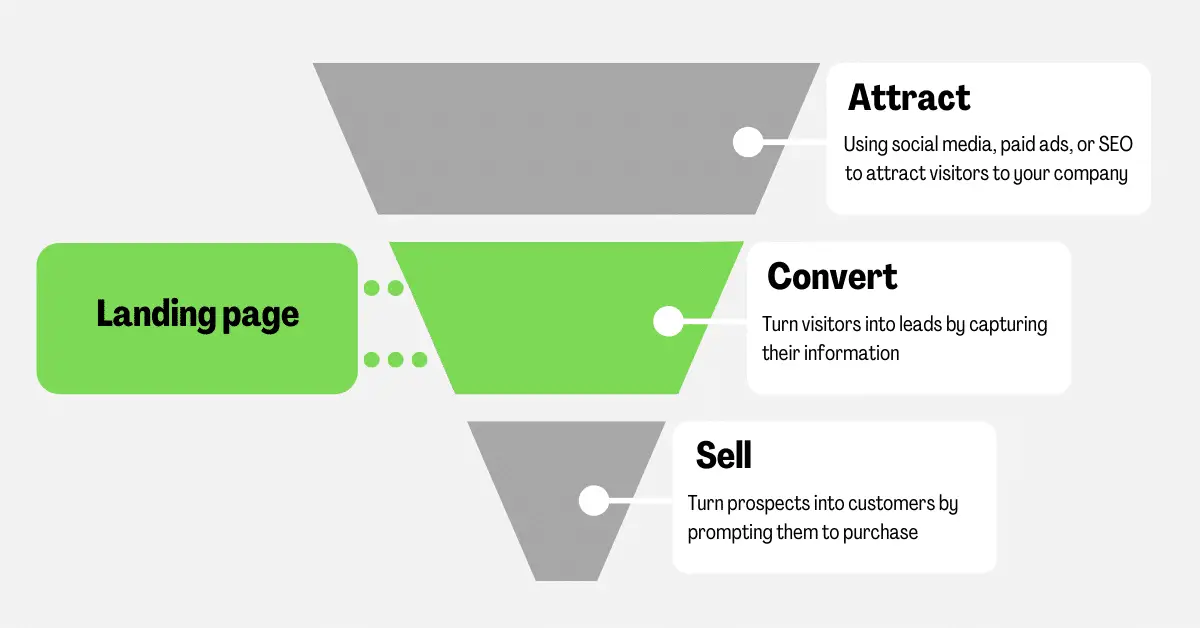 The anatomy of a landing page
While landing pages can look completely different depending on the industry, design, and goal, all well-built landing pages have the same core elements.
Typically landing pages include the following:
Header: A brief statement that defines what the landing page is all about
Image or video: Something to engage your visitors
Copy: Typically landing pages include some text to sell what you are offering on your landing page
Form: A place where prospects can enter the information you require
CTA: Button that prospects click to submit their information (convert)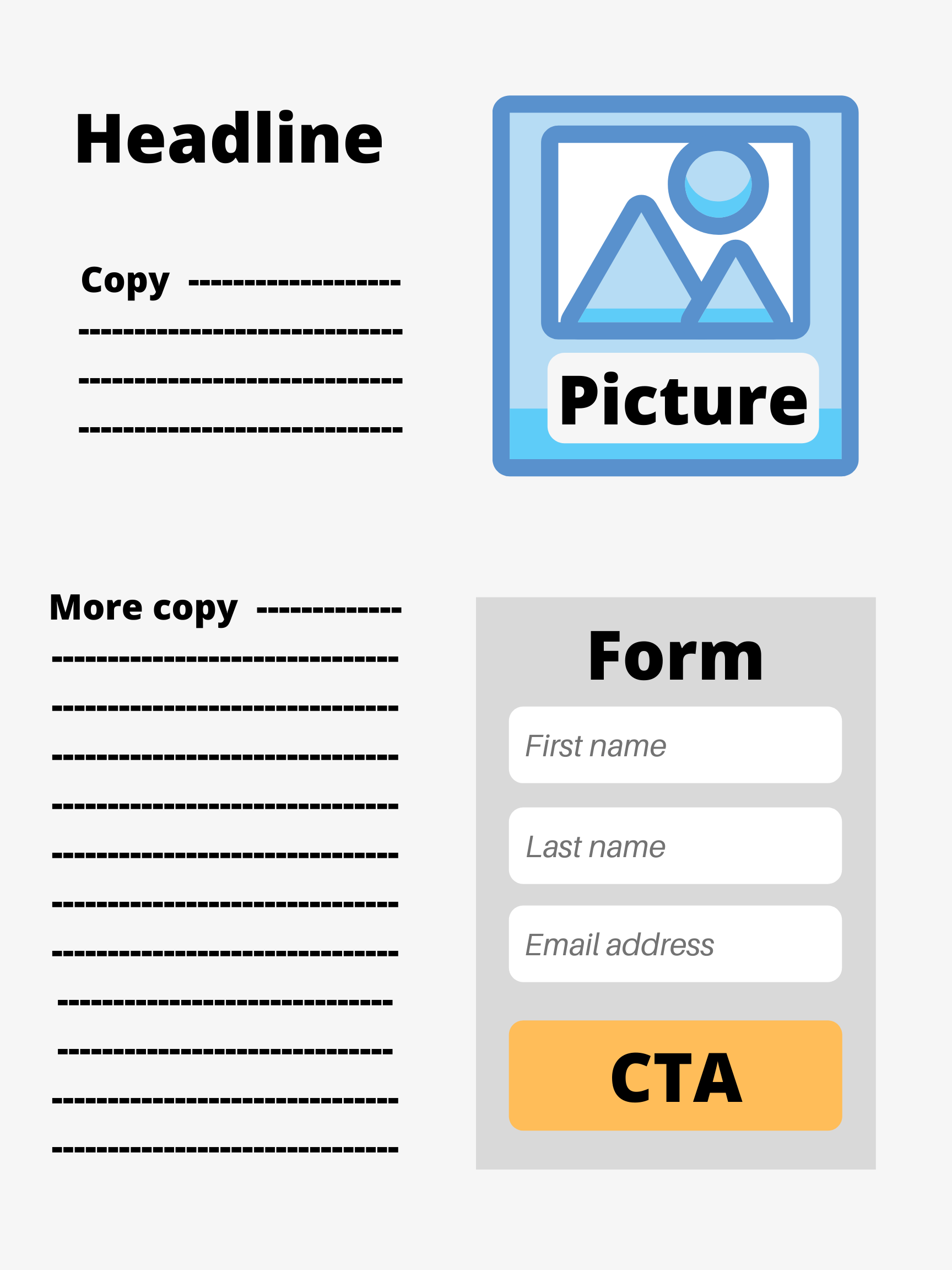 By including these core elements you are well on your way to effectively driving conversions.
Landing page use case example
The concept of a landing page might seem abstract at first. However, seeing how companies such as Cisco use landing pages gives you a better idea of how to use landing pages for your business.
Cisco is a well known IT and cybersecurity company that uses paid search advertising to drive traffic to its landing pages.
One of the target audiences that Cisco tailors its marketing to is businesses in need of malware software. Naturally, Cisco sets up Google Ads for keywords businesses would search if they are researching malware attack prevention. Notice how Cisco's ad popped up when "how to prevent malware attacks" was searched in Google:
This ad is relevant to anyone doing research on malware since the ad is offering an informational resource: The Free Threat Report.
When prospects click on this ad, they get taken to the following landing page.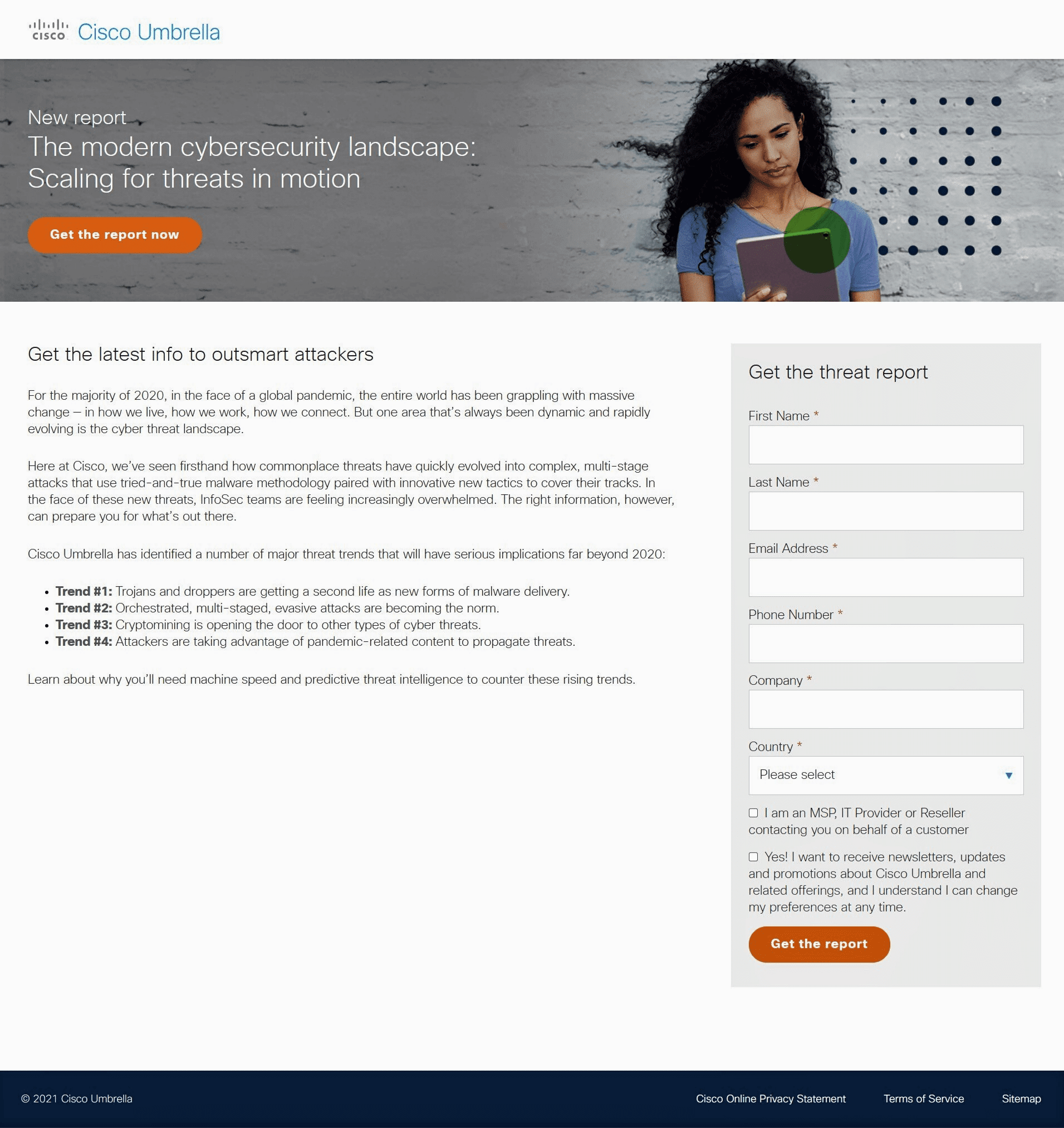 Prospects can fill out their information in order to receive their free report via email. Once prospects convert, Cisco will be able to follow up with prospects via phone and email and hopefully make sales.
Keep in mind this is just one landing page strategy. There are numerous other marketing channels to promote landing pages on, and there are many other types of lead magnets companies use to incentivize prospects to submit their information.
 Recommended Landing Page Builder for 2022:

Sales funnels
A sales funnel can be defined as a sequence of web pages that guides prospects to purchase your product or service. Unlike landing pages that are designed with one specific goal in mind, sales funnels are a bit more involved.
What sales funnels are used for
All sales funnels are designed to sell a product or service. However, sales funnels often have other pages that are designed for different purposes.
For instance, sales funnels often have an opt-in page before the sales page in order to collect leads. Some sales funnels host webinar replays to educate an audience and develop interest before the sales page. Some sales funnels have up-sell pages or cross-sell pages in order to sell additional products.
If you think about the customer's journey from the point where prospects are first introduced to your brand to when they purchase your product, sales funnels would fall in the middle to the end of the buyer's journey depending on the type of sales funnel used.
For instance, a sales funnel that strictly sells (e.g. sales page > order page > thank you page) would fall at the very end of the buyer's journey. On the other hand, a sales funnel that both collects leads and sells (e.g. opt-in page > sales page > order page > thank you page), would touch on the middle and end of the buyer's journey.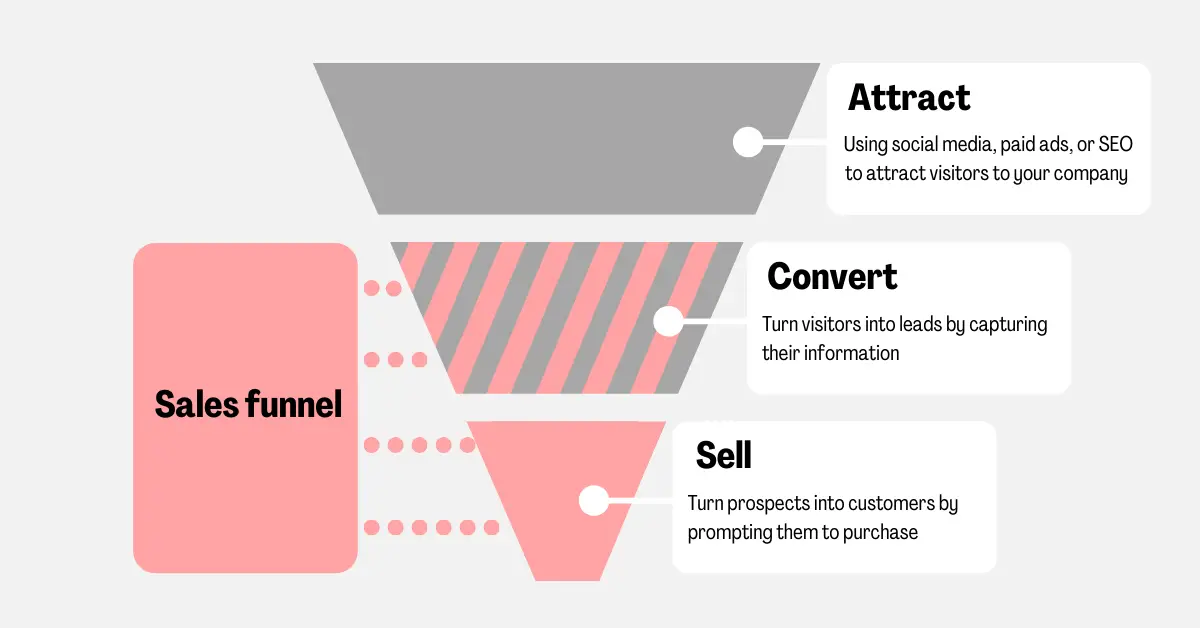 Sales funnels can be used to sell or collect leads AND sell depending on the type of sales funnel
The anatomy of a sales funnel
Again, there are many ways you can build sales funnels depending on your goals. However, lead generation sales funnels are one of the most common types of sales funnels. You can see how a basic lead generation sales funnel is broken down below.
Opt-in page: A web page where a free resource (such as an ebook, guide, or checklist) is offered in return for your prospects' information.

Sales page: A page where you would sell your product or service. This can be done with sales copy or a prerecorded sales video

Order page: Where prospects complete their purchase of the advertised product

Thank you page: Verification that the order successfully went through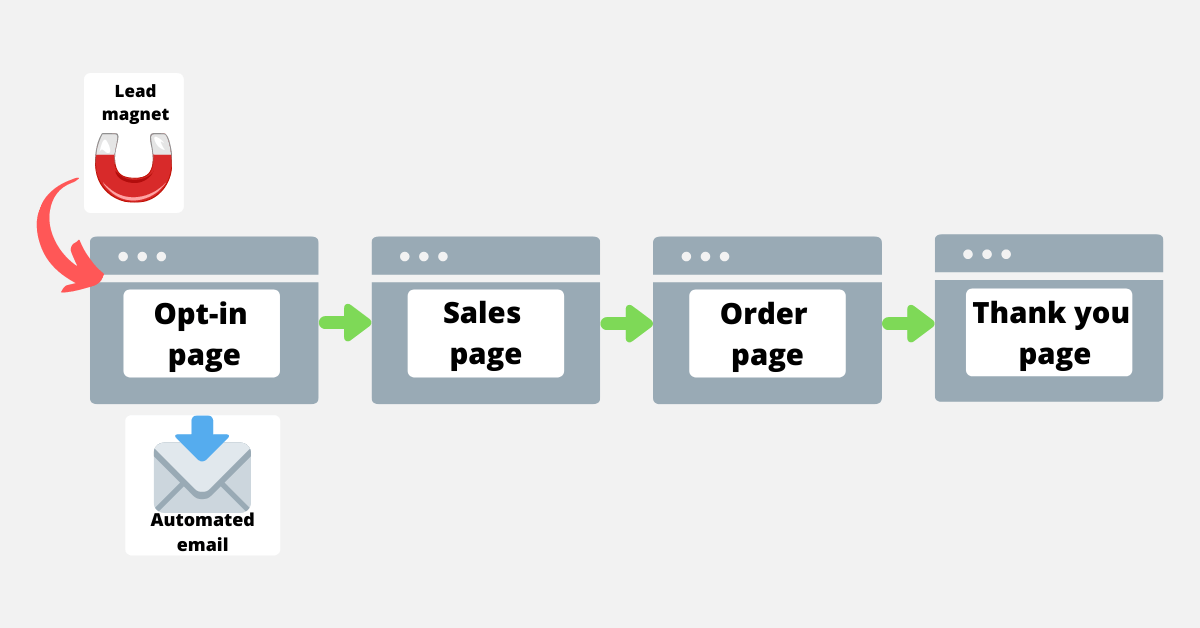 The advantage of this type of sales funnel is by capturing leads upfront, you have the opportunity to continue to promote your product through email to the leads that didn't end up purchasing.
Sales funnel use case example
Understanding how sales funnels work is much easier by seeing a live example. Fortunately there are many sales funnel examples you can refer to in practically every industry. 
Take Trifecta Nutrition for instance. This company sells meal plans for those who want to lose weight, gain muscle, or just live a healthier lifestyle.
Trifecta Nutrition uses Google Ads to target people looking into meal prepping. In turn, the company bids on keyword phrases such as "meal prep for bodybuilding" as you can see below.
Upon clicking this ad, prospects get taken to a series of pages as shown below.
This series of pages serve as a lead generation sales funnel of sorts.  
The stages of this sales funnel go as follows:
Opt-in/sales page (page 1): The first page of the sales funnel has two purposes: to sell products and to collect leads. The sales copy and the "order now" CTAs are intended to sell products. On the other hand, to collect leads, the page offers $40 coupons in return for prospects' email addresses.
Order page (page 2): Once prospects click the "order now" CTA in the previous page they get taken to the second page of the funnel: the order page. Here prospects can build their own customized meal plan.
Checkout page (page 3): Upon completing building their meal plan, prospects get taken to the checkout page where they can fill out their billing details to complete their purchase.
You can create sequences of pages like these with sales funnel platforms such as Kartra, Simvoly, or Clickfunnels. These tools are powerful tools when used to their full potential. 
For a more affordable (but not as robust) option, there are free sales funnel builder alternatives as well. 
What landing pages and sales funnels have in common
While the objectives and designs of sales funnels and landing pages are often different, there are some commonalities between them.
For instance, the way businesses generate traffic to a sales funnel vs a landing page is often similar. To generate traffic, businesses often use the following marketing channels
Paid ads: Whether it's paid search or paid social media advertising, using paid ads can be an effective and scalable way to drive sales and generate leads.
Social media: Active and sizable social media followings are perfect opportunities are perfect for driving traffic to web pages.
Organic search: It may be difficult in some cases to rank landing pages and sales funnels for keywords in Google. However, if you have an active blog that gets organic traffic from search engines, you can direct that traffic to your landing page or sales funnel.
Final words: Which is right for you?
Ultimately, deciding which method (landing page vs funnel) is best for you really depends on what your goals are. For instance, if you are solely interested in generating leads for your business, building a landing page might be your best bet. Alternatively, if you are focused on driving sales and potentially other objectives like collecting leads or cross-selling customers on complimentary products, sales funnels might be your best bet.
Depending on what your goal is, perhaps you can try both methods and compare results.
If you are interested in testing out landing pages, Unbounce and Leadpages are good tools to look into for paid solutions. Free landing page builders exist as well for businesses on a budget. 
As for sales funnel software, software such as Clickfunnels or Kartra are excellent paid choices. However, you can also build free sales funnels with Wix and Mailchimp as well.