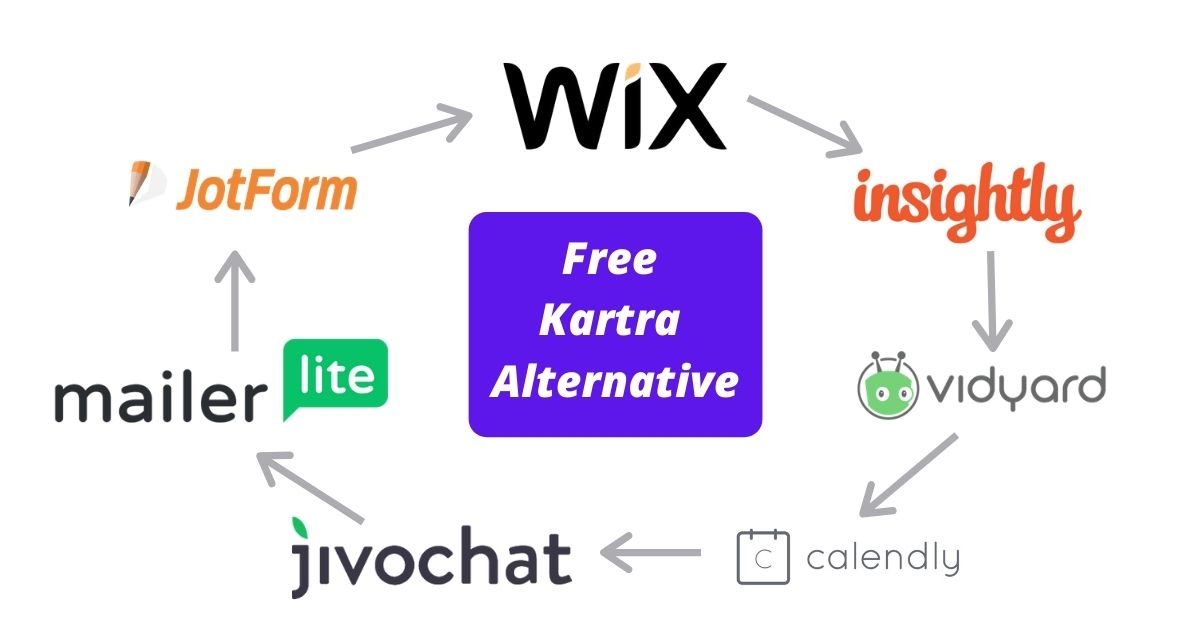 Kartra has many benefits. It's great for centralizing your marketing tools under one platform and it's quite robust.
However, one of the tool's biggest drawbacks for some… is the price.  
The most affordable plan is $99 dollars per month, and the plans become increasingly more expensive as you add more features. Suffice to say that for many small businesses, Kartra is too expensive. Unfortunately, there aren't any all-in-one tools quite like Kartra that you can use for free either.
But don't fret just yet… there is a solution.
This post covers how you can use free tools to get all the benefits of Kartra's comprehensive platform.
7 free tools to replace Kartra's most valuable features
Kartra offers 13 core features which make it an extremely versatile tool. Nearly all of those features can be replaced with free tools. When used together, these tools essentially create a free Kartra alternative. 
1. Wix

Wix can replace three of Kartra's core features:
Kartra Pages (web page builder that allows you to build out landing pages, blog posts, and anything in-between through a drag-and-drop editor)
Kartra Funnels and Campaigns (used to create multipage sales funnels to convert leads into customers)
Kartra Memberships (create membership portals for gated access to courses, training, or other content)
Wix is an excellent free website builder. Given that Wix is also a drag-and-drop builder it's very similar to Karta in terms of ease of use and flexibility. Wix's free website builder comes with some great features such as SEO tools and even an online store builder. Additionally, Wix is a powerful free landing page builder. 
Suffice to say that you can use Wix to build out web pages for numerous purposes. In this respect, Wix is very similar to Kartra Pages.  
Additionally, you can build a Wix sales funnel simply by creating a series of landing pages and interlinking them. Wix is one of the few free software that can build sales funnels. 
Not only can you create a free website with Wix but you can create a membership area completely free as well. You may set up password-protected pages exclusively for your members. The only downside is that with the free version you don't have access to payment processing features. However, you can work around this by integrating Wix with a free checkout form like Jotform.
2. Jotform

Jotform can replace two of Kartra's core features:
Kartra Checkouts (a checkout form creator for both PayPal and credit card)
Kartra Forms (allow you to build out aesthetically pleasing forms with tagging and automation rules)
Jotform allows you to create a variety of form designs. In fact, JotForm has over 10,000 online form templates to choose from. The free version allows you to use 5 forms at once which is sufficient for many small businesses.
Jotform also allows you to create checkout forms specifically. These form templates are designed to be aesthetically pleasing for an excellent user experience the same way Kartra Checkout forms are designed. The only catch is that you can only receive 10 payment submissions a month before upgrading.
3. Insightly

Insightly can replace Kartra Leads. Kartra Leads is more or less a CRM or Customer Relationship Management system. You can use it to organize your leads to plan your outreach strategy. 
The platform is designed to incredibly easy to use and doesn't require any advanced technical expertise to set up. With Insightly you can manage contacts, create deals, tasks, and more.
4. Vidyard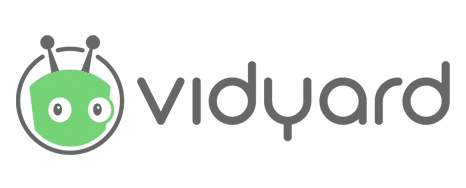 Vidyard can replace Kartra Video. Kartra Video allows you to create marketing videos with some bells and whistles such as pop-up offers mid-way through for instance.
Vidyard is an amazingly simple free alternative. With Vidyard you can easily create a screen-share video or record yourself presenting. Simply sign up, install the chrome extension, and then record yourself from your browser with the click of a button. Alternatively, you may upload prerecorded videos to Vidyard as well.
5. MailerLite

MailerLite can replace Kartra Mail which is one of the most valuable features for the types of businesses that use Karta. Kartra Mail is an email marketing feature that you can use to build advanced behavior-based automation, personalize messages with custom tags, and more.
MailerLite is an affordable, yet powerful email marketing solution. Unlike many email marketing tools, MailerLite gives you powerful features even with the free version such as advanced segmentation, A/B testing, and embedded signup forms.
6. Jivochat

Jivochat can replace Kartra Helpdesk. Kartra Helpdesk portal has support ticketing and live chat. It even lets you set up canned responses.
Jivochat is a popular livechat tool that offers unlimited chats and 24/7 customer support even with the free version. The chat widget also has 20 language options. Not a bad deal for a free tool.
7. Calendly

Calendly can replace Kartra Calendars. Kartra Calendars serves a very simple purpose: booking meeting times. It's a nice touch to Kartra's portfolio of features.
Calendly serves the same purpose. This free tool is wildly popular and for good reason. It's incredibly simple yet effective and can integrate with Google Calendar, Office 365, and Outlook so that you can set up meetings with people on your calendar of choice.
NOTE: If you plan to use a couple of these free tools (or all of them), you might want to consider Zapier. This tool allows you to integrate platforms so that information can flow between them seamlessly. Oh and like every other tool listed… you can also use Zapier for free.
Kartra Affiliates and Kartra Agency: Is there a free alternative? 
Kartra Affiliates
i
s a feature that allows you to create an affiliate program, enroll affiliates, and track their performance.
Kartra Agency is a feature that generally enables agencies to better manage their clients. For instance, with this feature, you can track your client's campaigns and generate reports for them all through Kartra.
These are both advanced features and unfortunately, there aren't any completely free alternatives that can do exactly what these features can do. There are free tools that serve similar purposes but don't quite have the same capabilities that you get with Kartra.
Final words 
Free is great. However, just keep in mind that using a handful of free tools to replicate Kartra can come at a cost.
When you have multiple tools linked together it can be easy for data to fall through the cracks. Integrations are great, but they often aren't perfect. Data often doesn't flow as seamlessly between integrated tools as it would if the tools were under the same platform. Not only that but a single tool's update can break an integration.
Two or three integrations might not be problematic. However, linking together a handful of tools can be a real headache. At this point, you may want to consider investing in an all in one platform like Kartra to make your life easier