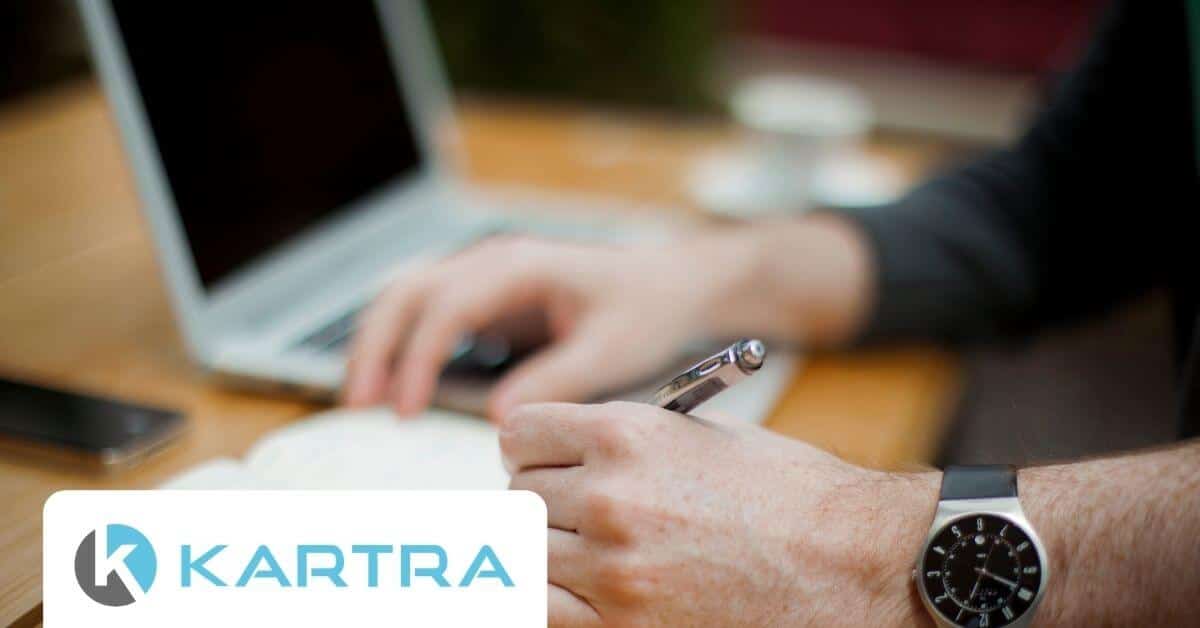 While Kartra has many features, there are a few capabilities that really make the platform stand out of the crowd.
Kartra's ability to build online courses is one of them.
The concept of an online course is nothing new. However, they have become an increasingly popular way for small businesses to sell educational material. From personal trainers to business consultants, there are numerous types of businesses that can benefit from sharing their knowledge in a neat digital package. Many of these businesses happen to be using Kartra. 
This post details the benefits of using Kartra for online courses and how to build your own online course with the platform step by step.
But first, let's delve into why you should consider building an online course in the first place.
Why build an online course?
There are numerous benefits to building an online course. The most notable benefit is that online courses are a relatively hands-off way to drive revenue for your business. By selling online courses you don't need to trade time for money like you would by providing a service. This makes it much easier to scale your businesses.
However, putting money aside, there are other compelling reasons to build an online course. For instance, by taking the time to create a comprehensive course you can develop a much deeper understanding of a topic. The expression "the best way to learn is to teach" might sound cliché, but there is real truth to it. By the time you have completed your course, you without a doubt will be more knowledgeable about the topic than before.
Additionally, if your course is extremely informative and helpful, you can position yourself as a thought leader in the minds of your followers. You can become the go-to resource in your niche or area of expertise. As a result, you can establish an extremely loyal following of customers that may buy other products or courses from you later on down the road.1 
Related: 11 Kartra Website Examples for Inspiration
Benefits of building an online course with Kartra
There is a huge upside to building an online course. However, it's no secret that there are numerous course building tools out there. So why might Kartra be the best option?
Fair question.
First and foremost, Kartra makes it incredibly easy to build out online courses. Kartra's drag-and-drop editor makes it super simple to create aesthetically pleasing courses by adding professionally designed content blocks. No coding or other advanced technical work is needed. 
However, Katra's course building capabilities only scratch the surface of what Kartra can do. 
Perhaps the greatest benefit of Kartra is that it is a comprehensive solution for not only building and hosting your courses but selling them as well. Kartra has all the necessary features for selling your courses including:
Sales funnels: Using sales funnels is a great way to generate leads and sell your online course.
How you can use them…
There are numerous ways you can use sales funnels to your advantage. One way would be by creating an initial landing page that offers a free report or some other valuable free resource in return for an email address. The next page of your funnel could be a sales page for your course with a checkout form included.
The logic is that even if your customers don't purchase your course, you can still follow up with them through email outreach to sell your product.
CRM (Customer Relationship Management): Kartra's CRM (Kartra Leads), is an excellent feature for managing the leads you gain as you sell your course.
How you can use it…
There are many ways you can utilize Kartra Leads to drive more revenue. However, one of the most valuable features of this tool is lead scoring. Lead scoring gives each lead a score that is calculated based on interactions they have with your emails, and web pages. This way you can target certain leads based on how interested and likely they are to purchase your course.
Email Marketing: By using Kartra Mail you can nurture leads and prompt them to purchase your course later on.
How you can use it…
Not every visitor that goes through your sales funnel will end up completing the checkout page and purchase your product. Inevitably, some will click off. However, by capturing email addresses in the second page of your funnel as mentioned before, you have the opportunity to re-engage your leads by promoting your course.
Checkout forms: Kartra Checkouts allows you to facilitate sales transactions.
How you can use it…
You can set up Kartra Checkouts so that your customers can easily purchase your course. One of the benefits of Kartra checkouts is that you can automatically tag the leads that don't finish completing their purchase. This way you can prompt those customers to finish checking out through email marketing.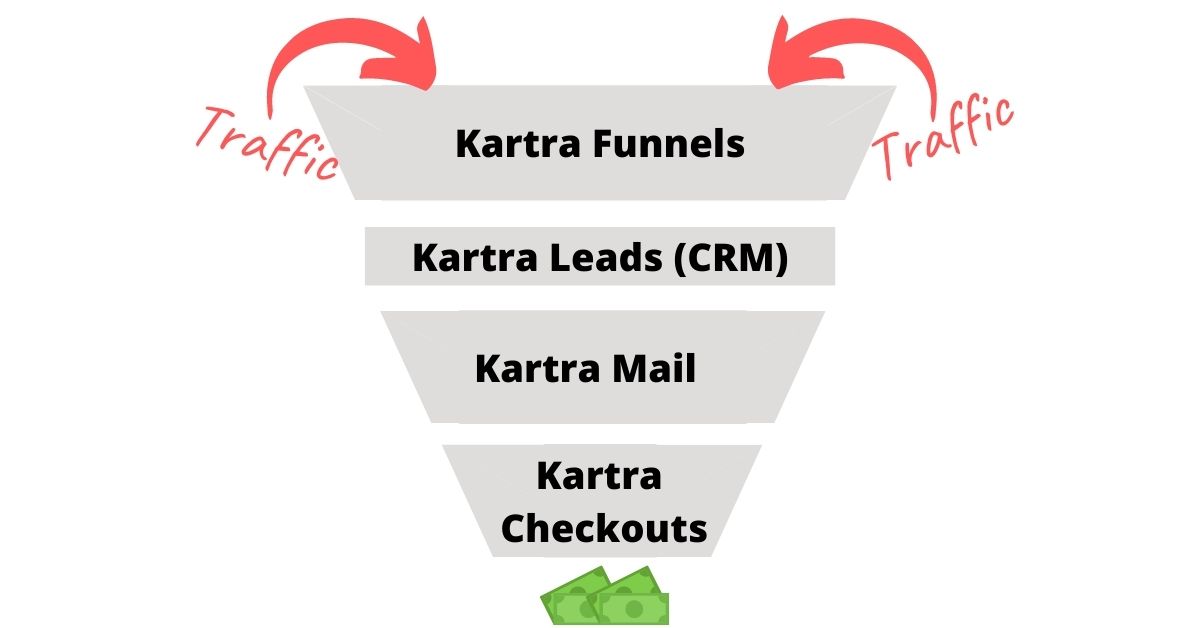 It's extremely advantageous to have all the tools listed above under one platform. Without using Kartra, you would need to utilize multiple tools for the same effect. Juggling multiple tools for selling and hosting your online course can be problematic for a few reasons.
For one, it can be extremely difficult to stay organized and efficient when juggling multiple marketing tools. Trying to integrate multiple marketing tools can be like putting together a jigsaw puzzle. Because integrations often aren't perfect, information can fall through the cracks as well. 
Secondly using multiple platforms can be quite expensive.
To put things in perspective, the prices of a few popular tools for course builders, landing pages/sales funnels, CRM, and email marketing, are listed below.
Thinkific (for building courses): Starting at $39/month

Clickfunnels (for landingpages/sales funnels): Starting at $97/month

Pipedrive (for CRM): Starting at $12.50/month

Constant Contact (for email marketing): Starting at $20/month
TOTAL: Starting at $168.50/month. 
Kartra (which has all the capabilities as the tools listed above): Starting at $99/month 
Suffice to say that Kartra is certainly a more affordable alternative.
Building an online course in Kartra step by step
Building an online course in Kartra is pretty straightforward once you are familiar with the inner workings of the platform. 
Step 1: Create a sales page for your online course
To build an online course with Kartra, you first need to build a sales page to promote it. Kartra requires you to have a sales page before you publish your course so it makes sense to create one initially. 
To build out your sales page, click on "My Pages" on the left sidebar and select a template of your choice. There are a variety of options but I would recommend something using a "Long Sales Page" or "Blank Canvas". For instance, in the video above I use the Blank Canvas option.
From here you can add template blocks to your page such as content sections, CTAs, images, videos, and more. Simply drag the elements you want to include in place.
You can design your sales page any way you see fit. However, there are some important elements you should include for selling a course. Namely, you should have a description of what your course includes and a CTA button. Later on, you will configure your CTA button so that it links out to a checkout page where visitors can purchase your course. More on this to come…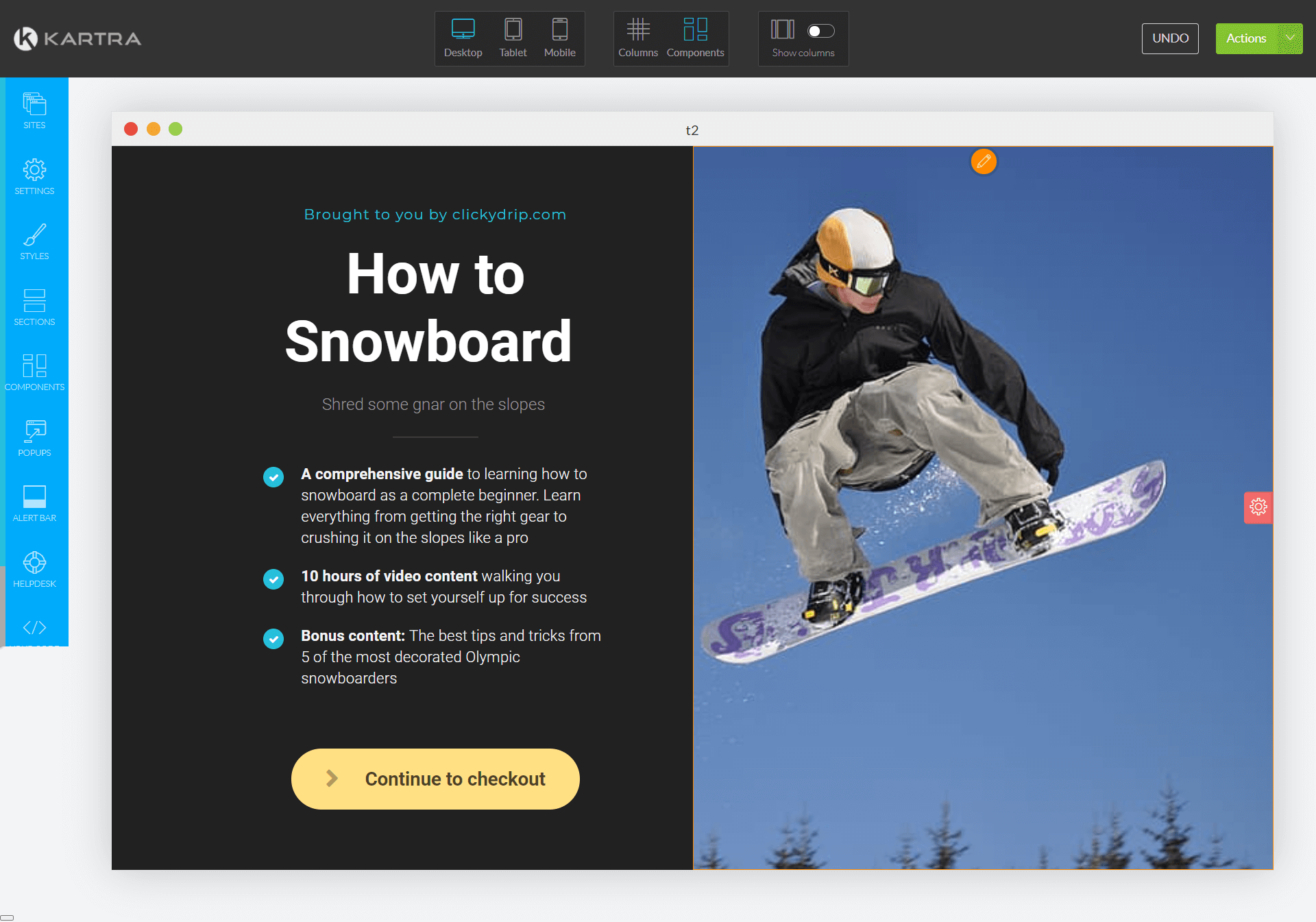 Once you have created your sales page, you can also create your thank you page as well. This is simply the page that a new customer will be taken to after they complete a purchase of your course. It doesn't need to be anything too fancy.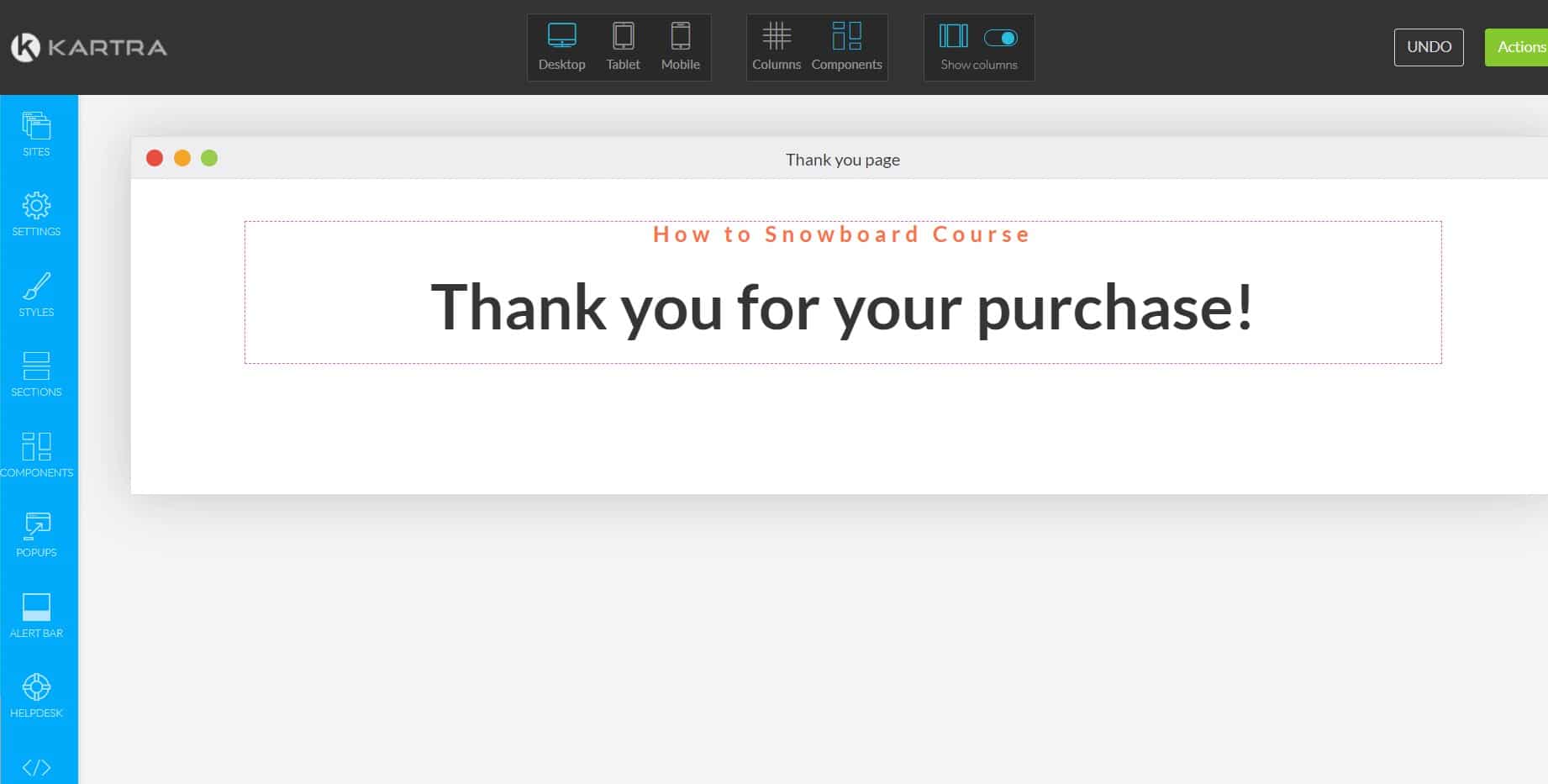 Step 2: Creating course content
Once you have saved your sales page, click out of the editor and go to "My Memberships" on the left sidebar. Kartra's online membership builder feature allows you to build online courses in addition to membership sites.
At first, you will be prompted to fill out basic info such as your course's name and description. You must also add your sales promotional page for your course (which you created in the last step).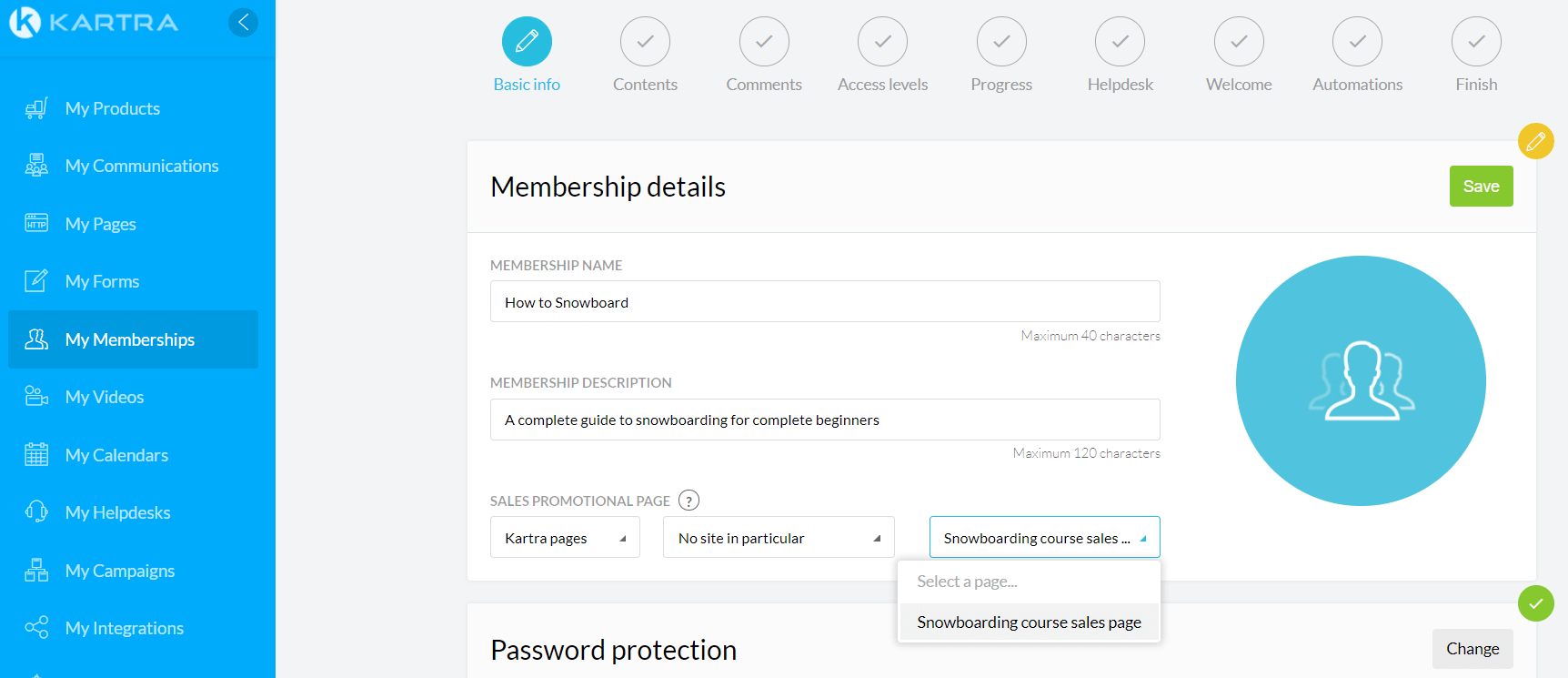 Once you get past the basic info segment, you will move on to the contents section where you can launch the builder. This is where you can build out your actual course.
To build out your course you may want to start by adding all the categories and subcategories first and then filling in the content of your course after.
Categories would be considered lessons, or chapters of your course. The subcategories would just be different parts of your lessons. For instance, in the video above I explain how if you were to create a course on how to snowboard, the first category might be "Getting the right gear" followed by subcategories such as "choosing a snowboard", "proper clothing", "helmet and goggles" etc.
Just like building out your sales page, you can add all sorts of content blocks you want. You can choose from videos, text, images, audio playlists, and more. It really depends on what you think might resonate with your audience the most.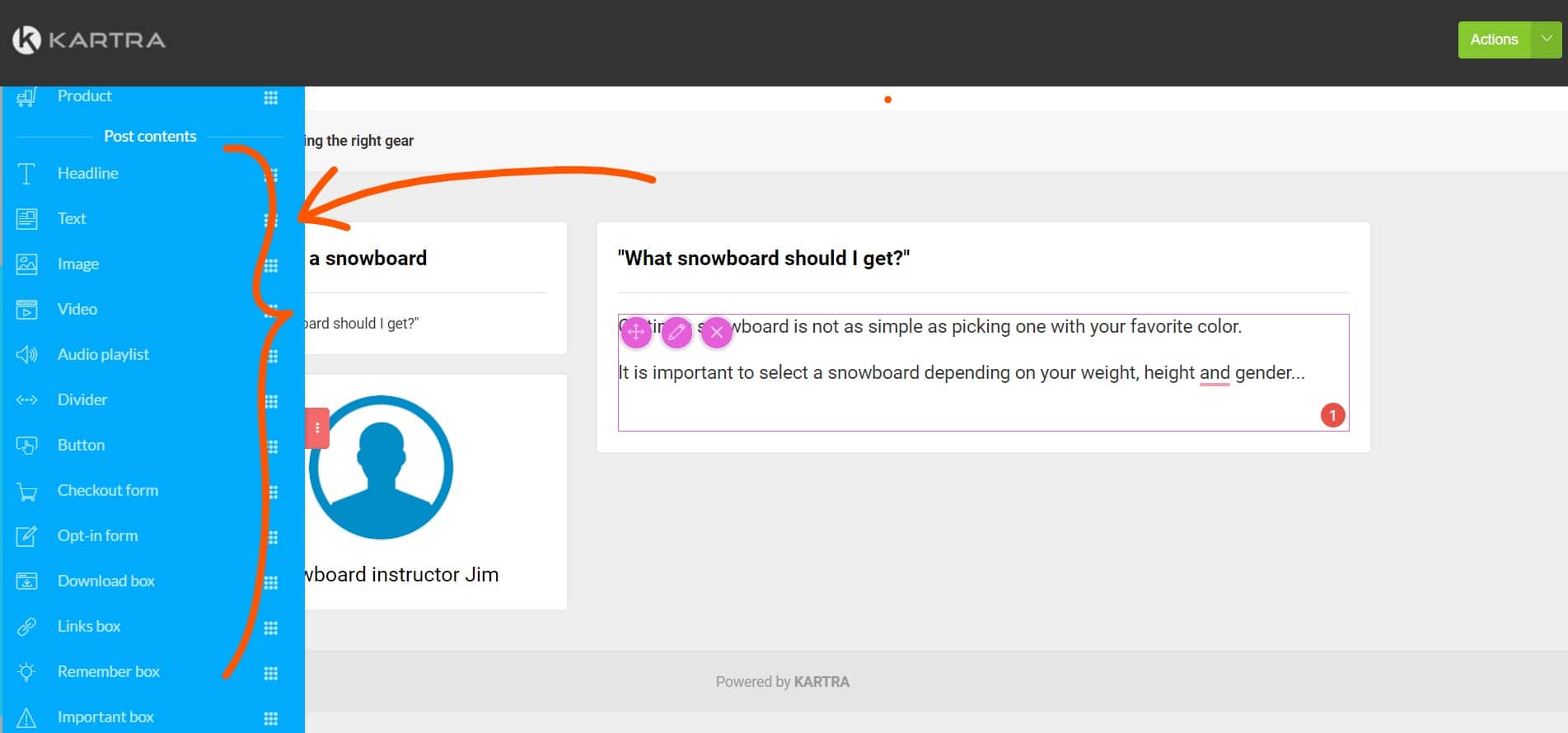 Step 3: Adjusting settings for course
Once you build out the content for your post, save, and then click out of the editor. From here you will be prompted to make the following adjustments:
Comments: Adjust which posts allow for comments

Access levels: You can choose to add multiple access levels to your course and upcharge customers for that material.

Progress: Option for using a progress bar to indicate how far along in your course your members have gone

Helpdesk: Option for implementing Kartra's helpdesk on your course

Welcome: Configure an automated welcome email whenever a customer buys your course

Automations: Set up advanced email automations to engage customers of your course
Once you get to the finish stage, you can complete the next step by linking the membership portal to a product. Click "Go to my products".
Step 4: Setting up the sales process
At the "My Products" tab you will need to configure the setting for actually selling your course.
You will be prompted to make the following adjustments to the following settings:
Basic info: Indicate the name of your course again, and set up the payment processing (select either PayPal or one of the listed third party payment gateways for credit cards)

Pricing: Choose how much you want to charge for your course.

Pages: For the product page, select the sales page you created in the first step. As for the thank you page, select the thank you page that you also created in the first step. 

Checkout: Set up your checkout forms fields and appearance.

Post sale: Set up various post-sale settings such as customer tagging and advanced automations.

Affiliates: If you want to set up an affiliate program for your course you can adjust settings for it here
Once you set up the affiliates section, it's time for the final touches.
Step 5: Reconfiguring your sales page
The final step is to simply link your sales page for your course to your course checkout.
To do so, simply go back to your sales page editor. Click to edit the CTA button you created before and select "Link" and then "Pop a product checkout".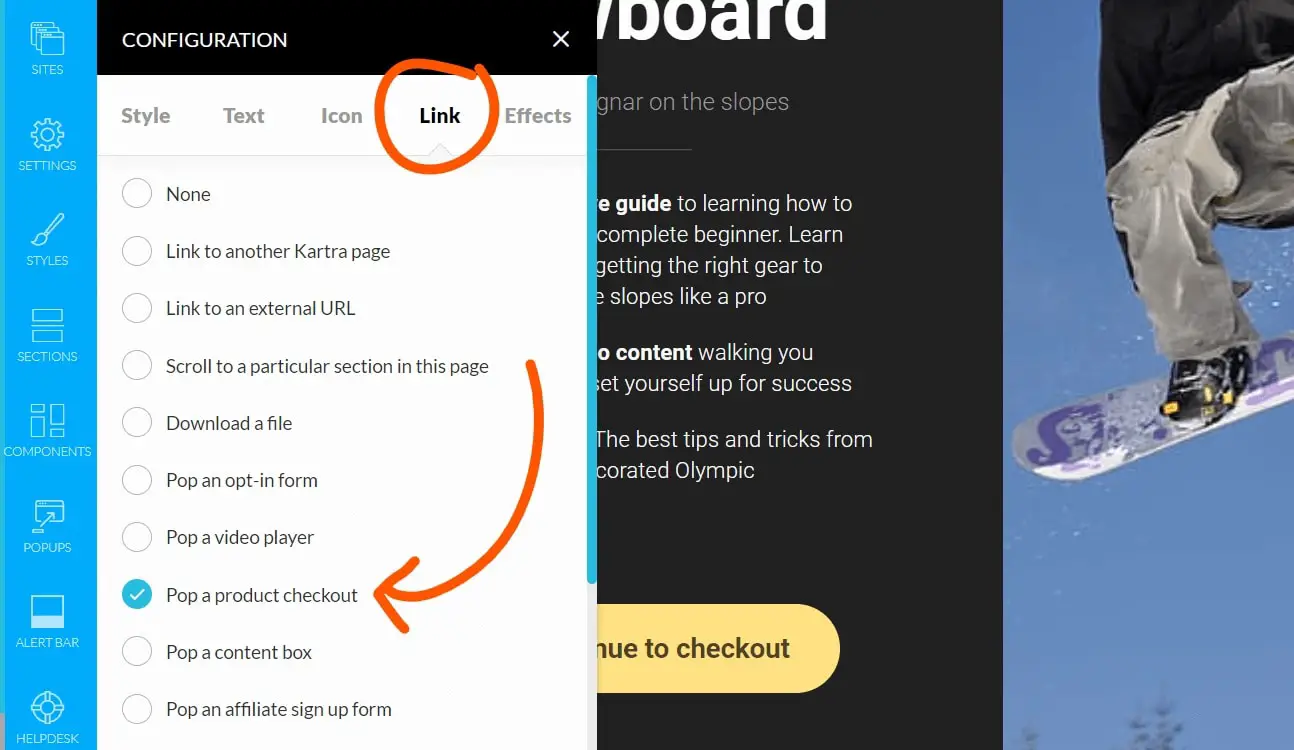 From here you can select the recent membership course you built and the corresponding price point that you set for it. Once you are all set up, click "Apply" and you are good to go!
Now when someone lands on your sales page, they can click through to the checkout form for your course!
Best practices when building courses with Kartra
Hopefully, by now you have a solid understanding of the process for building a course in Kartra.
But building out your course is just half the battle. Marketing your course and making sure that your course content engages your audience is just as important.
Figure out the best way to deliver content
It's important to have a really deep understanding of your target audience and what type of content will resonate with them the most.
For instance, if you want to create a course on advanced yoga routines, it would probably be best to add video content to demonstrate how to do various yoga positions. At the very least you will need pictures.
On the other hand, if you are offering an educational course on the history of Rome then textbook style writing might be best.
If you are offering a course on how to create EDM music then maybe audio samples would be appropriate.
You get the picture.
Fortunately, Kartra allows you to build out your courses with a variety of content elements in an aesthetically pleasing way that makes for a great user experience.
Collect leads
You can have the greatest course in the world but your efforts to build it will mean nothing if you can't market your course effectively.
One of the best ways to sell your course is by collecting leads and then promoting your course to them through Kartra's email marketing tool. Often people might be interested in your course but might not be interested enough initially to pull the trigger and buy right away. Nurturing your leads through email marketing can be extremely effective for driving sales.
You can collect leads a few different ways. One easy way is by offering free content to your subscribers in return for their email addresses. For instance, you can offer the first lesson of your course for free, or provide a free summary of your course.
Track your results
Once you have finished creating your product, Kartra will give you a tracking code that you can insert into your sales page for your course.
With this tracking code in place, you can A/B split test variables on your sales page to figure out how to sell your course most effectively.
For the best results, you might as well test every component of your sales page from the wording of the content to the images, to the color of the CTA. Even the smallest changes can make a big difference in terms of sales generated.