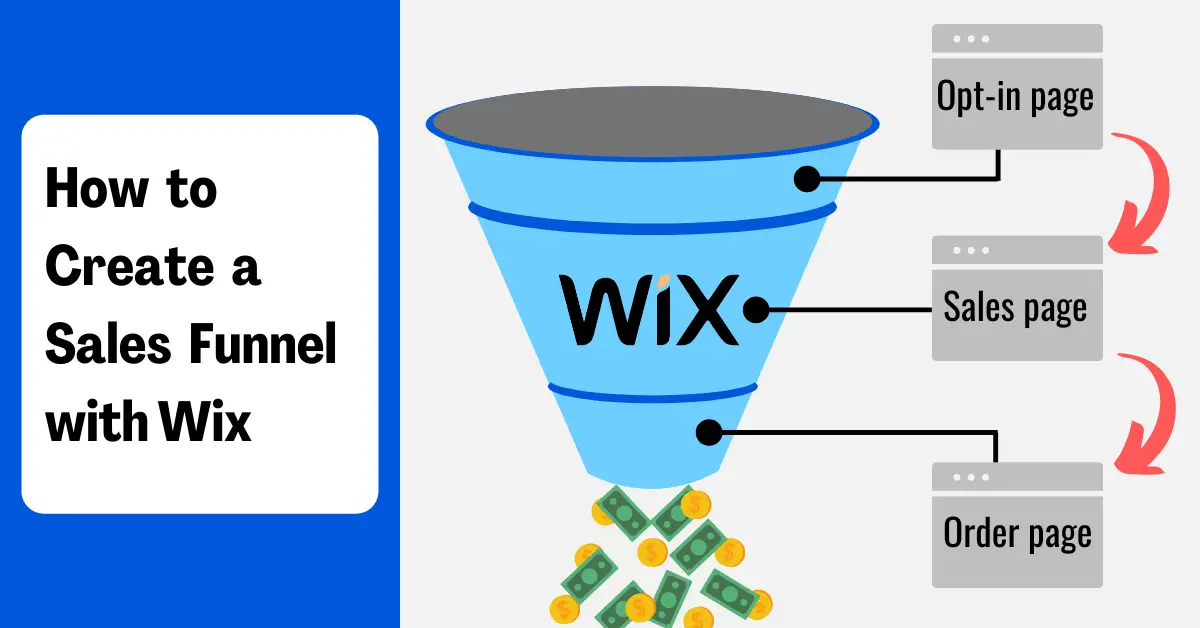 Sales funnels are a powerful way to convert web visitors into paying customers.
However, building sales funnels can seem tedious and complex. Moreover, after doing a few minutes of research on popular sales funnel software you might think you need to pay a hefty monthly fee to build out simple sales funnels.
Luckily, building sales funnels doesn't need to be complicated nor expensive.
With Wix, you can easily create professional-looking, high converting sales funnels completely for free.
This post covers how to build a Wix sales funnel step by step.
But first, its important to understand exactly what a sales funnel is in the first place…
What is a sales funnel?
Generally speaking, a sales funnel is the path a potential customer goes through to purchase your product or service.1
Typically interested prospects move through multiple stages of a sales funnel to become a customer: awareness, interest, decision, action. Each of these four stages represents your customer's mindset as he or she moves through your funnel.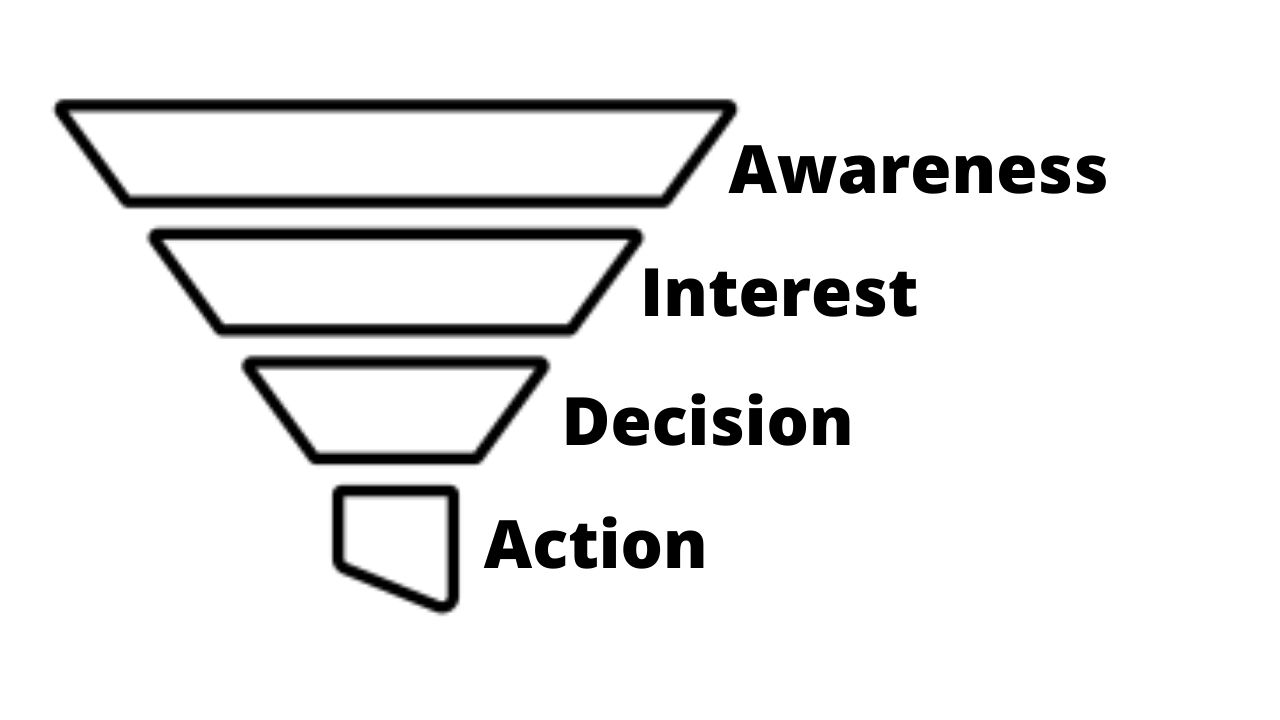 More often than not sales funnels start with a large number of visitors and end with just a fraction of converted customers. Naturally, as prospects move through your sales funnel some will click off and won't purchase your product at the bottom of the funnel.  
Many marketers build out sales funnels with a series of web pages. There are literally dozens of ways you can do this. However, most sales funnels involve a landing page for collecting leads and then a subsequent page for selling your product. Sometimes sales funnels even include pages for upselling or cross-selling customers as well.
Why use Wix to build a sales funnel?

There are numerous marketing tools out there that you can use to build sales funnels.
So why use Wix?
One of the biggest benefits of using Wix is that the platform gives you the features you need to build a highly effective sales funnel. These features include
Page builder (for landing pages and sales pages)

Forms (for collecting leads)

Email marketing and automation (for following up with leads)

Checkout forms (a premium tool for facilitating sales transactions)

Analytics (for tracking leads and optimizing your sales funnel)
It's extremely advantageous to have all these features under one platform instead of subscribing to multiple marketing tools for the same effect. Bouncing between disparate systems can be horribly inefficient and make it difficult to analyze your customers' journey through your funnel.
Secondly, Wix is incredibly intuitive. The platform has a drag-and-drop page builder that allows you to easily configure each page of your funnel exactly the way you want. 
Oh, and as previously mentioned, Wix is completely free. The platform is actually one of the few free tools you can use to build sales funnels. Some more advanced features such as checkout forms come with paid business plans, but the free version gives you everything you need to build out basic sales funnels.
How to build a sales funnel with Wix (step by step)
There are numerous sales funnel variations. However, this tutorial walks you through how to build an opt-in lead generation sales funnel which is a relatively simple but powerful sales funnel.
This sales funnel is designed to collect leads at the beginning of the funnel through the opt-in form and then immediately convert leads into customers in the second half of the funnel.
The funnel is typically set up in the following stages:
1. A lead magnet (a free ebook, free report, free guide, etc.) attracts visitor into your sales funnel
2. Your visitors land on an opt-in landing page where they submit their information for the free offer
3. Your visitor lands on a sales page where you promote a product
4. Your visitor lands on the order page for the product you are promoting where they can buy
Inevitably, many of the leads that make it to the sales page of your funnel won't purchase your product. Fortunately though, since this funnel is designed to collect leads on the front end, you have the opportunity to follow up with them through email to sell your product.
To build this sales funnel with Wix, you will need the following before you get started:
A lead magnet

A product or service to sell
For this demo sales funnel, we will promote an affiliate product. However, this funnel works for whatever product you want to promote whether it be an affiliate product or your own product or service.
Sign up for Wix
First, sign up for Wix here. You can get started 100% for free.
Create a landing page
Once you have signed up, create a new site and choose a template. Wix has numerous templates to choose from. Many of the landing page templates are good for building out sales funnels.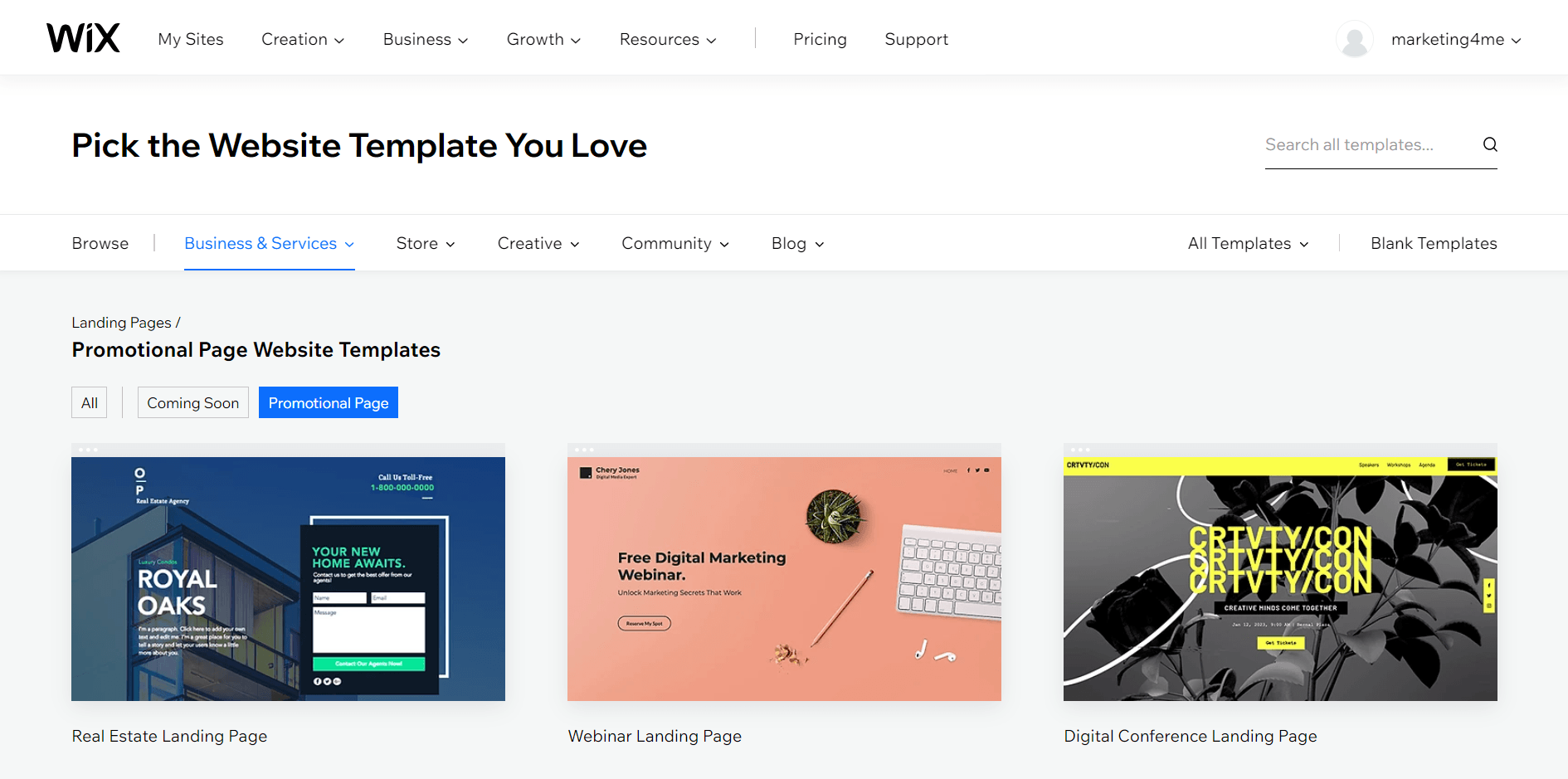 However, for this sales funnel example, we will build out a sales funnel from scratch using a blank template. Sometimes simple landing pages without distractions make for the best conversion rates.
Once you have selected your template, you will get taken to the landing page builder where you can build out your page. First, create an opt-in form. For most op-in landing pages it makes sense to just add fields for the name and email address. 
For this sales funnel, we will be promoting an affiliate product called the Plant-Based Cookbook. As the title suggests, this is a vegan cookbook. The lead magnet for this funnel is a free report on the 10 benefits of becoming vegan.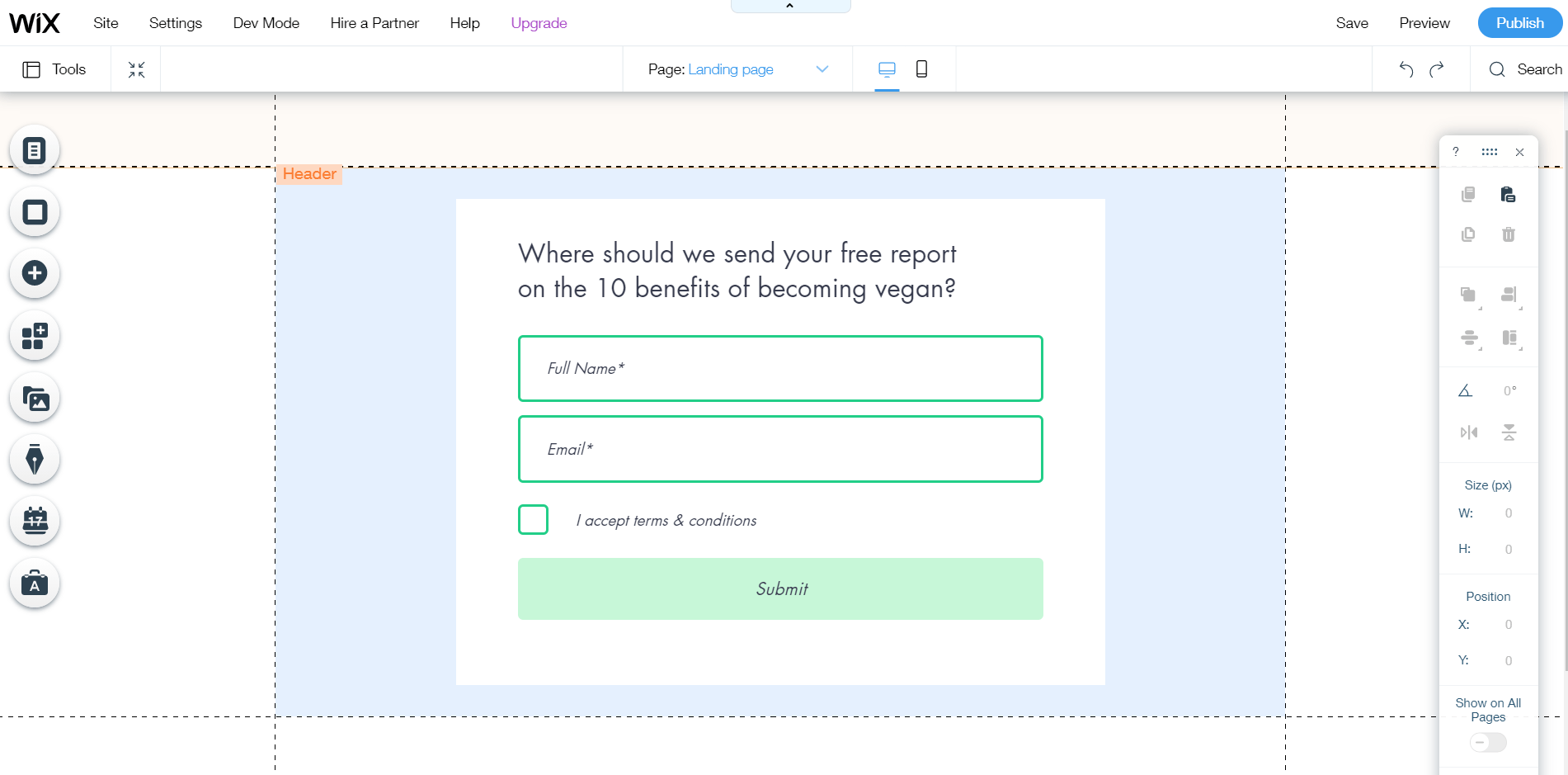 Create your sales page
Once you have created your initial landing page, you can now create a sales page.
On this sales page, you should initially give some sort of confirmation that the free report has been sent to the prospect's inbox (we will talk about how to set up email automation for this in a second).
After that, you can go into a sales pitch for the product you wish to promote. Perhaps you may wish to add a promotional video, or just do basic copywriting. Wix gives you lots of flexibility in terms of what sort of elements you want to include in your sales page and how to configure them.
Lastly, you need to have an eye-catching CTA to direct visitors to your product page.
You can see the simple sales page created for the affiliate product down below.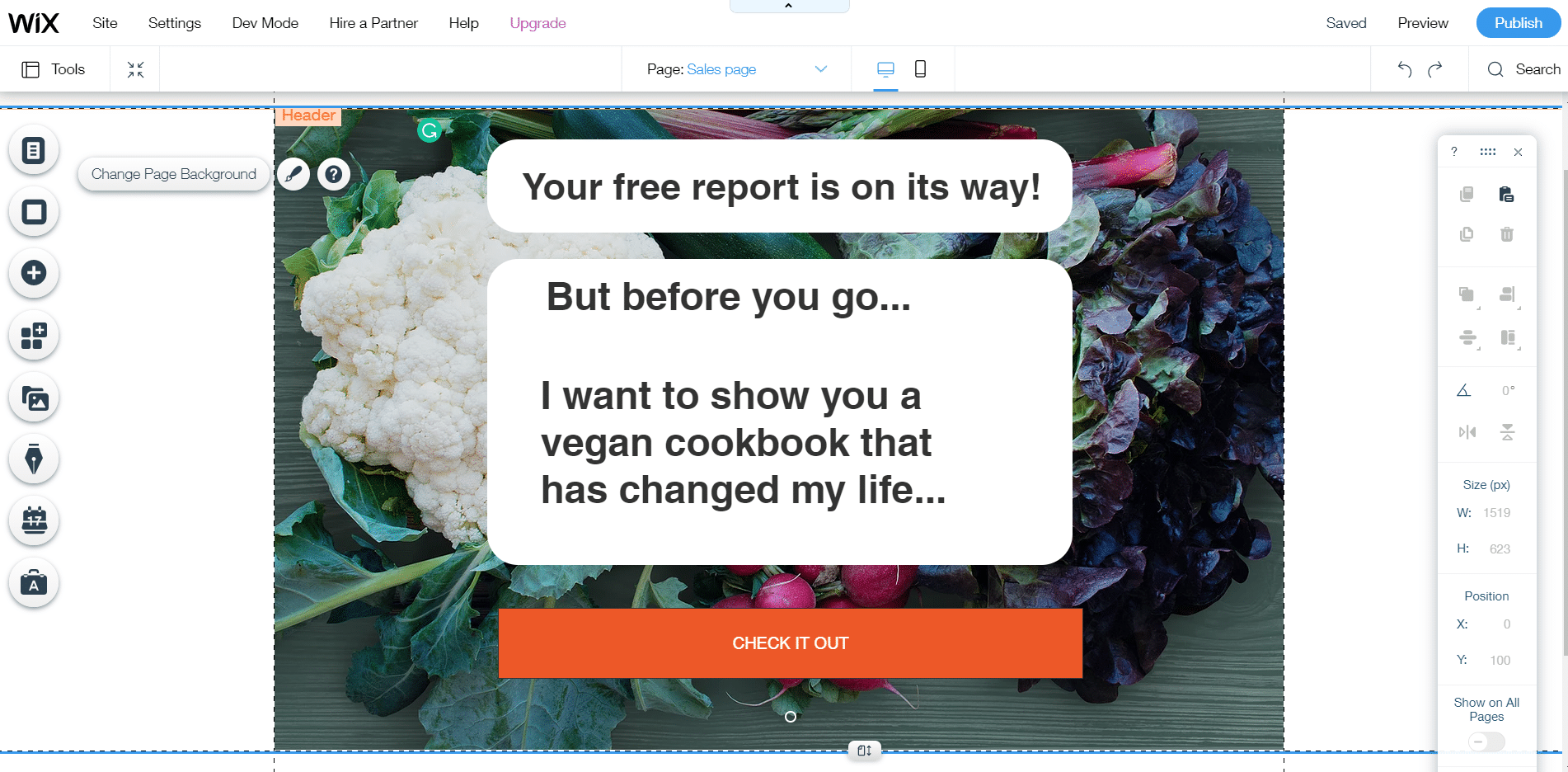 Connecting your pages
At this point, you need to link all your pages together.
You can have the CTA on your sales page link out to the URL of the product you are promoting. For this example, the CTA links to the affiliate product.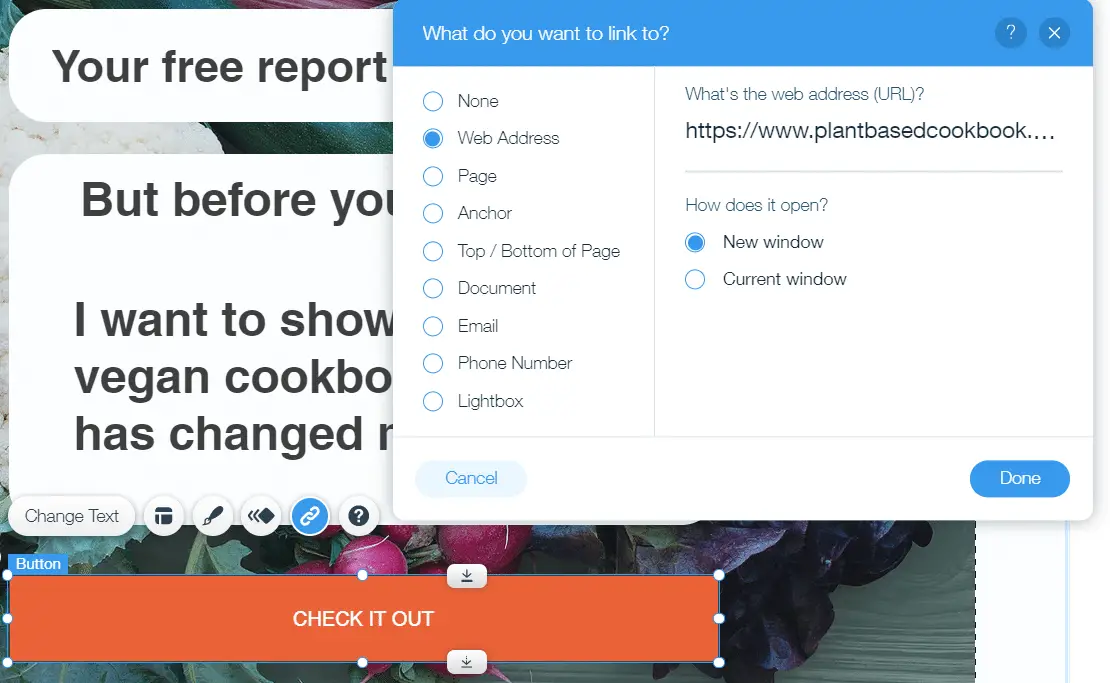 Once you have saved your sales page, click back to your landing page. Click the CTA and have it direct to your sales page.
At this point, all the stages of your funnel should be linked together and ready to go.
Setting up the autoresponder
Once you have saved your progress, click out of the page editor.
At this point, you will need to set up Wix automations so that every lead that opts in will receive your lead magnet through email.
Add a new automation and configure the automation so that an email is sent whenever a visitor submits the specific form that you created for your sales funnel.
You may also customize your email template in the same sort of drag-and-drop editor that you used for your pages. More importantly, be sure to include the lead magnet that you promise to your leads in the email.
Lastly, set your email up to send immediately after your leads submit their information.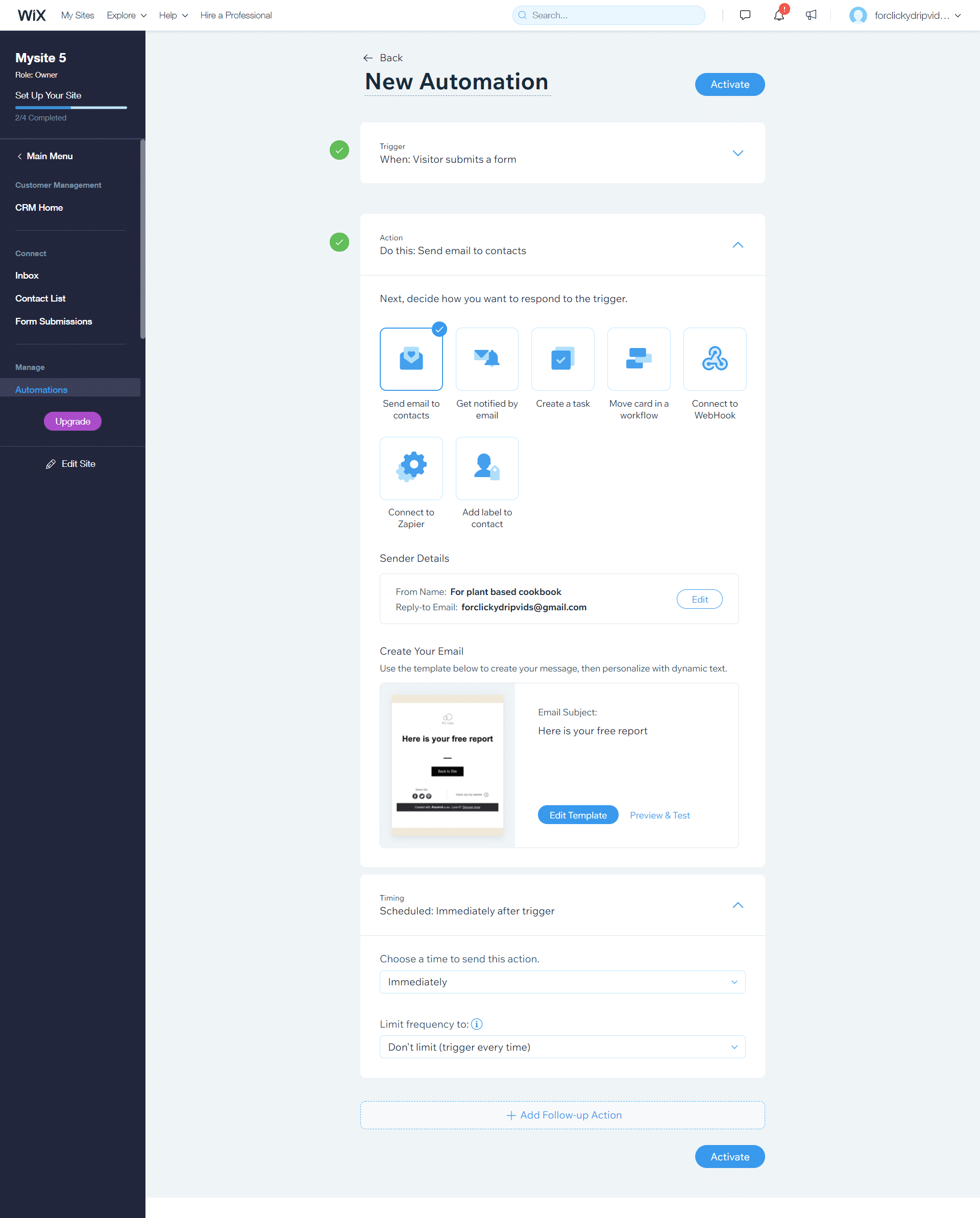 At this point, you should be ready to start sending traffic to your Wix sales funnel!
Nurturing your leads with Wix email marketing
As alluded to before, many of the leads that pass through the funnel will opt-in for your lead magnet and then will click off without purchasing your product. That being said, it's likely that the majority of your sales will come through email marketing.
Wix's free plan allows you to set up one automation, which we already set up for the sales funnel. For sending email campaigns, you will need to upgrade your Wix plan from the free version.
With Wix Ascend Basic you can create 5 campaigns per month and can market to up to 9,500 recipients per month. This plan is 10 dollars a month.2
While you might be tempted to repeatedly send emails promoting your product to your subscribers, this isn't necessarily the best approach. It can come across as spammy and it can quickly lead to a high unsubscribe rate.
As a general rule of thumb, you want to find a good balance between providing helpful (free) content for your subscribers and promoting your product. In the subsequent emails after you send your initial free lead magnet, nurture your leads further with case studies, videos, relevant articles from your blog, or any piece of content that your leads can benefit from.3
Analytics and A/B testing
Once you start sending traffic to your sales funnel it's important to analyze your results. This way you can tweak your sales funnel to improve conversions.
Wix also has an excellent reporting feature that presents data in aesthetically pleasing, easy to understand charts.
There are a few ways you can utilize Wix analytics to improve your sales funnels performance. For example:
Measure how many people landed on each page of your sales funnel. With this information in mind, you can tweak each page of your funnel and see how those changes affect your click-through rate.

Analyze how much traffic various sources sent to your funnel. For instance, you can see how much traffic was sent from a Facebook advertisement vs an email campaign and then measure what traffic converted most effectively from each channel.4
You can also do A/B split testing with Wix. A/B split testing allows you to test two similar but slightly different pages in your sales funnel to see which one performs the best. This way you can make changes to your pages based on data collected to improve conversion rates and click-through rates.
However, in case you prefer Google Analytics over Wix analytics, Wix allows you to easily place a Google Analytics tracking code on your site.
Selling products directly through Wix
For the sales funnel created for this post, we promoted an affiliate product. That being said, there is no need to set up a payment form for the product since the affiliate vendor handles the billing. 
However, you can certainly sell a product you created through Wix as well. By upgrading to Wix's Business Basic for $23 per month, you can set up payment forms so that you can sell your product on the last page of your funnel. Wix allows you to take payments from popular credit cards and PayPal as well.
Wix's Business Basic plan is excellent for creating an ecommerce store or selling digital products. The platform allows you to do everything from managing inventory to calculating taxes on sales.
Drawbacks of using Wix for sales funnels
Although Wix is an excellent website builder, there are some disadvantages to using Wix for sales funnels.
Unfortunately, Wix doesn't have any templates (or series of templates) specifically for sales funnels. If you already know how to design high converting pages for sales funnels, maybe this isn't so much of an issue for you. However, if you aren't the best at design or if you would prefer to save time and just use a prebuilt template specifically for sales funnels, this might be an issue for you.
Secondly, although using Wix 100% for free is a huge benefit, the downside is that Wix displays ads on your site with the free version. Advertisements can be extremely distracting and can negatively impact your sales funnel's conversion rate. However, by upgrading you can get rid of these advertisements.
Lastly, Wix is notorious for slow loading web pages.5 Slow-loading web pages can be a huge issue since visitors are much more likely to bounce from your pages if they don't load quickly. Every fraction of a second of additional load time can mean losing hundreds of potential sales.
Ultimately, it is certainly possible to build functional sales funnels with Wix. However, the platform isn't designed specifically for building sales funnels. If you are interested in a more robust platform with features specifically for building sales funnels, ClickFunnels and similar platforms might be your best bet.
---