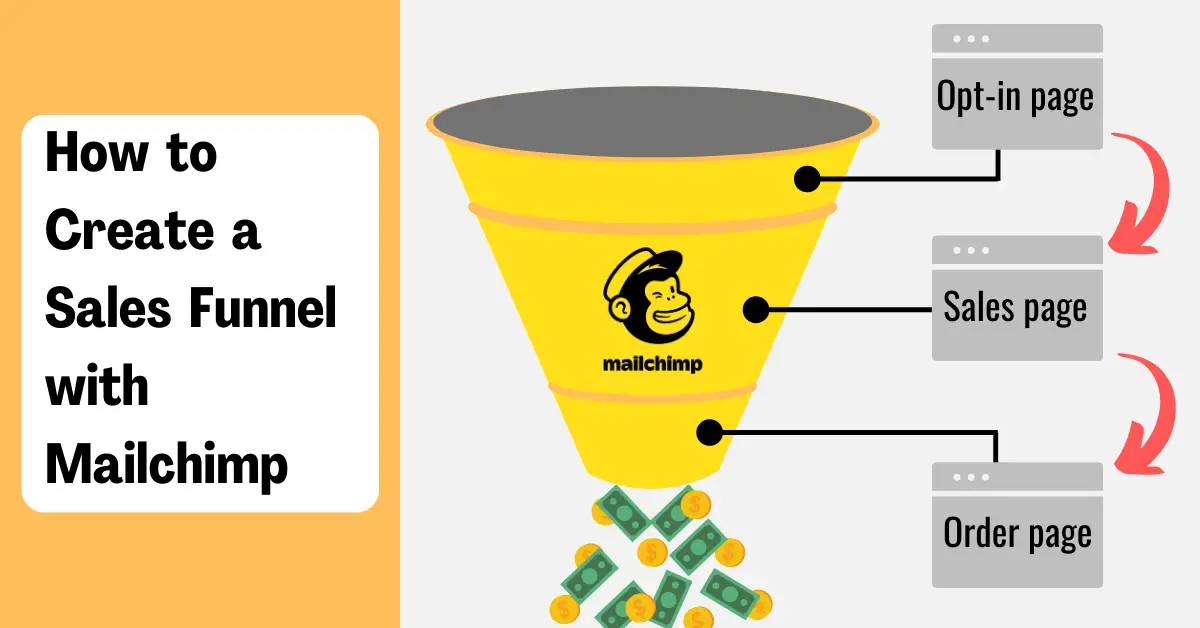 Mailchimp is one of the most versatile marketing platforms out there.
While the software is best known for its email marketing capabilities, Mailchimp also allows you to create landing pages, manage social media, build websites, and much more.
Given Mailchimp's numerous features and flexibility, the platform is excellent for building highly effective sales funnels.
This post walks you through how to create a sales funnel with Mailchimp step by step.
Why use Mailchimp to build a sales funnel
There are numerous sales funnel builder tools available. The question is "why use Mailchimp specifically?".
There are a few reasons why Mailchimp is a powerful tool for building sales funnels.
1. It's free
Like other platforms that can build sales funnels such as Wix, Mailchimp is well known to be extremely generous in terms of features offered in its free plan. With Mailchimp's free plan you can build forms, landing pages, websites, and send emails to up to 2,000 subscribers before needing to upgrade to a paid plan. Fortunately, the free plan's features are all you need to build powerful sales funnels.
Paid sales funnel builders on the other hand can cost hundreds of dollars per month. For instance, ClickFunnels starts at $97 per month. For many marketers, paying thousands of dollars a year for this type of marketing software simply isn't feasible.
Note: For other free sales funnel builders see this post here! 
2. Ease of use
While the sheer number of Mailchimp features may seem overwhelming at first, the platform is relatively intuitive. After all, the platform is designed for small businesses that might not have advanced technical expertise.
That being said, after familiarizing yourself with the user interface, building a sales funnel is pretty straightforward.
3. An all-in-one package
Given that Mailchimp is an all-in-one tool, the platform gives you all the features needed for both building sales funnels and following up with leads via email as well. Not only that but with all your marketing data in one place, you can easily track all the metrics throughout the buyer's journey. Simply put, solutions like Mailchimp make your marketing efforts organized and efficient.
On the other hand, various other sales funnel tools require you to integrate with other platforms in order to capture leads, nurture them through email campaigns, and make sales. However, juggling multiple marketing tools can certainly complicate your marketing efforts.
How to create a Mailchimp sales funnel
Sales funnels are typically built out with a series of web pages. There are numerous types of sales funnels, however, this tutorial will walk you through how to create a simple lead generation sales funnel.
This sales funnel is structured to collect leads early on in the funnel and then sell your product or service in the back half of the funnel.
This funnel is set up in the following stages:
1. A lead magnet (free offer for your prospects in return for their contact info) attracts visitors into your funnel.
2. Your prospects land on a landing page they have the opportunity to opt-in to your mailing list to receive your lead magnet. Once they opt-in, they are automatically emailed the lead magnet promised in the landing page. 
3. After your prospect submits their info, they land on your sales page where you promote your product or service.
4. After your prospect clicks through your sales page to purchase your offer, they land on the order page where they can complete the transaction.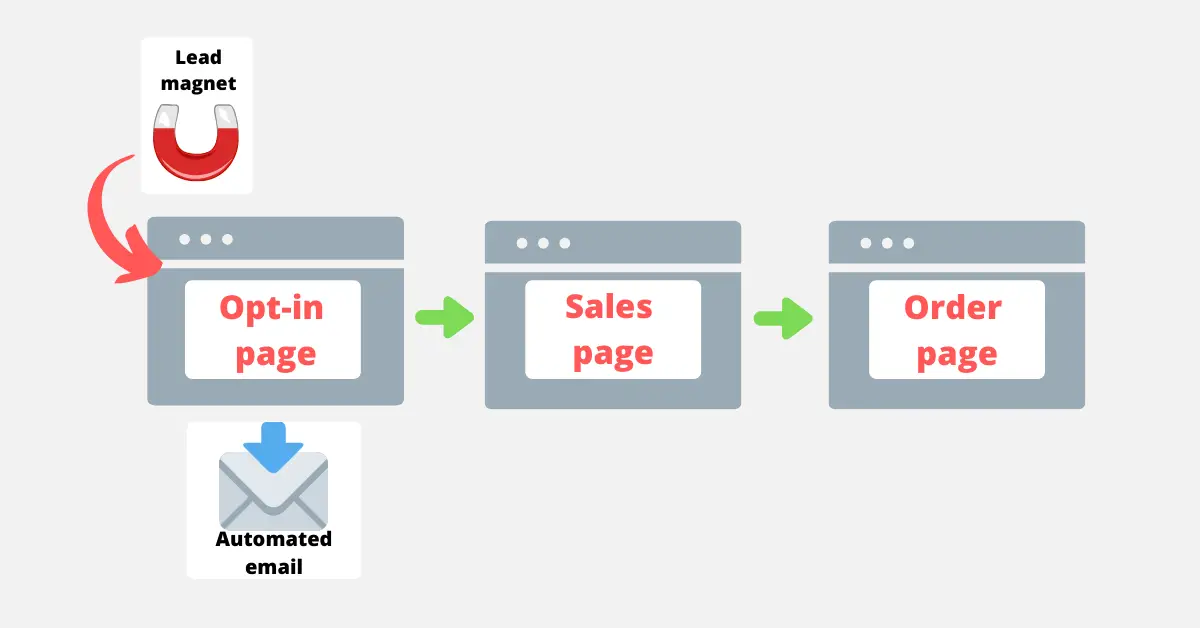 Inevitably, many of the prospects that opt-in to receive your lead magnet won't purchase your product or service right away at the end of your funnel. However, the benefit of collecting leads early on in the sales funnel is that you have an opportunity to nurture prospects into purchasing your product later on.
Keep in mind that before you create this sales funnel, you will need to create a lead magnet. While there are numerous types of lead magnets, ebooks, guides, and checklists are quite common. Fortunately, there are various tools for creating lead magnets: many of which are free. 
Additionally, you can even use Mailchimp to create simple written lead magnets.
Sign up for Mailchimp 
First, go to mailchimp.com and create a free account to get started.
Create a landing page
Start off by creating a landing page (Create>landing page). This landing page will be the first page of your sales funnel.
There a few template options to choose from and many of which have very visual designs. However, given that the goal of the landing page is simply to capture email address by promoting your lead magnet, the design doesn't need to be too fancy. For this demo, we will select the "Grow Your List" landing page.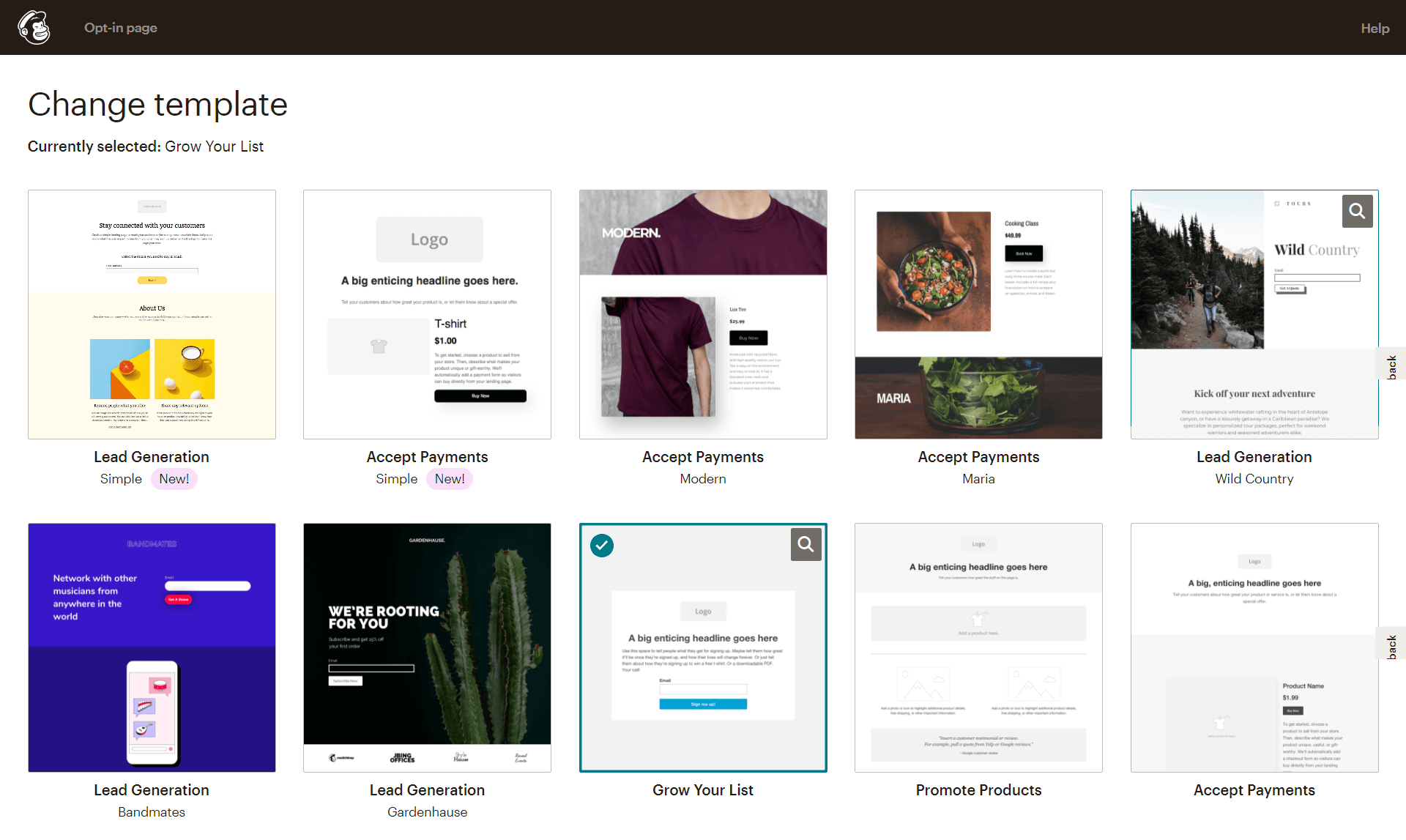 For demonstrational purposes, we will be building out a sales funnel promoting an online stock trading course. The lead magnet we will be using is a free ebook titled "Top 17 Chart Patterns For Day Traders".
If you chose a landing page without an opt-in form, you will need to drag and drop an opt-in form into place to collect email addresses.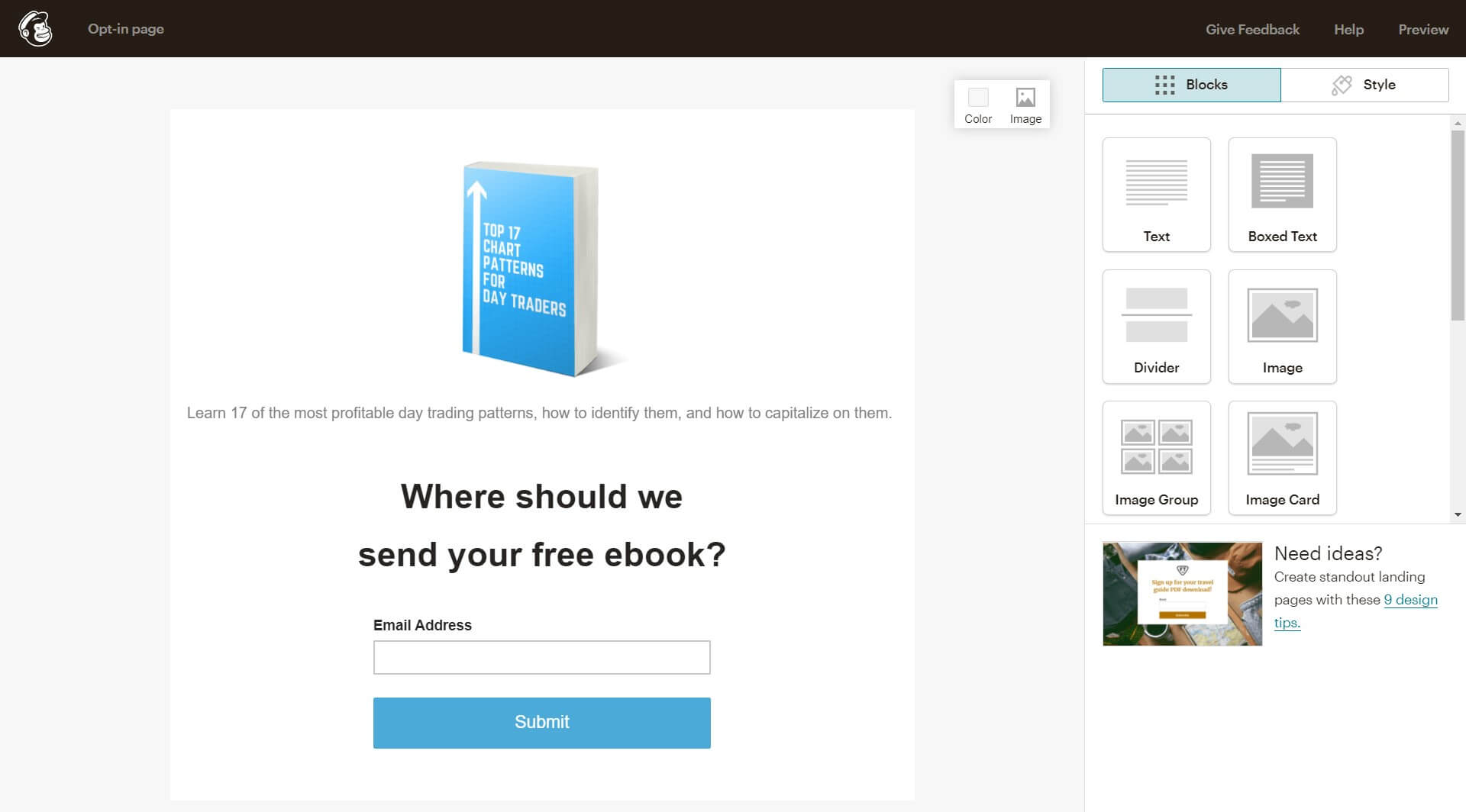 After you have created your first landing page, save and publish the page.
Create your sales page
Start another landing page: this will be your sales page. Naturally, for this demo we will select the "Promote Products" landing page.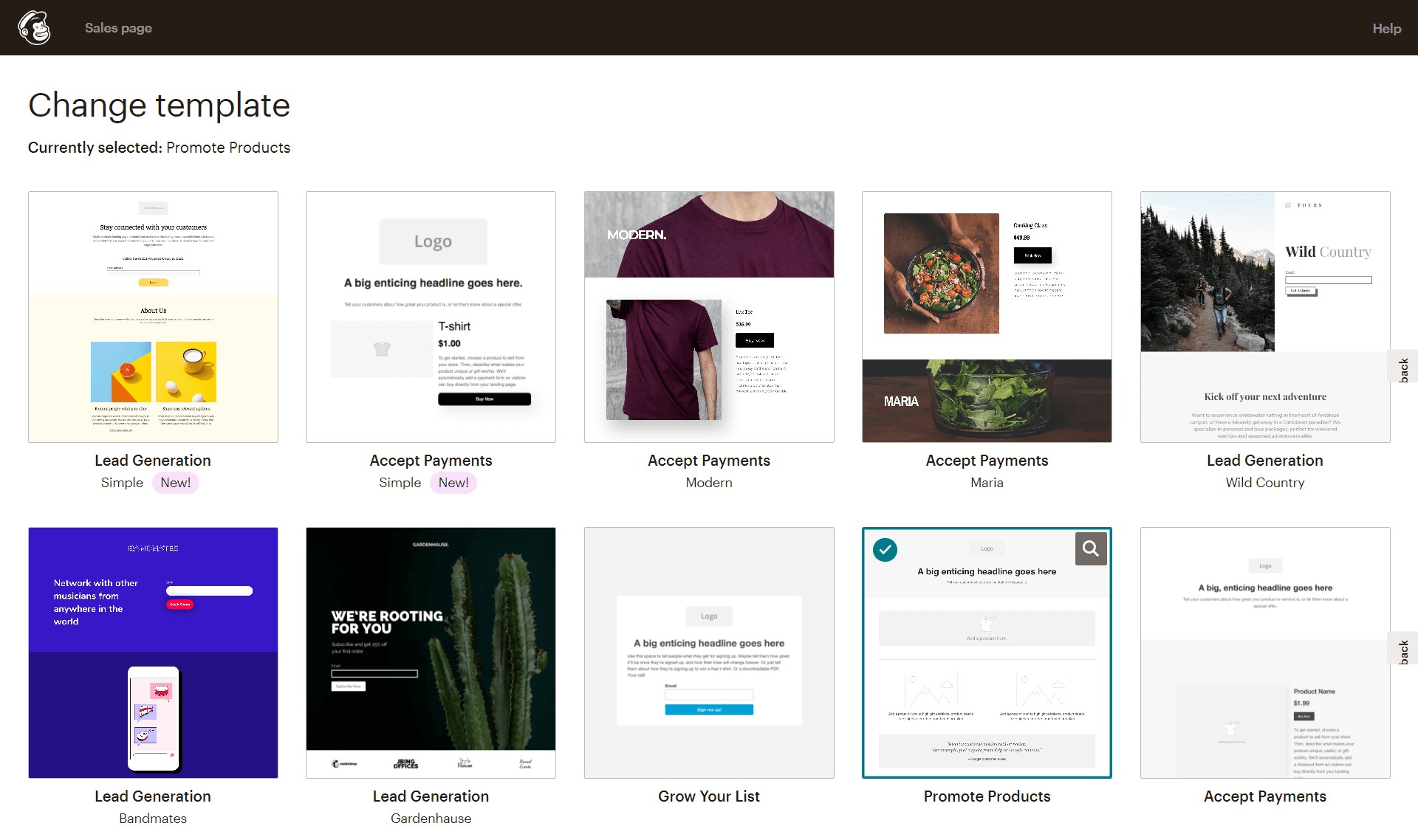 On the sales page, in the first headline, it's good to confirm that the ebook has been delivered to your prospect's inbox (we will talk about how to set up the email automation for this later).
After this initial headline, you can go on to promote the product or service you are trying to sell. You can do this by writing some basic copy, and using visuals or video. You can simply drag and drop the elements (images, video, text) you want to include.
Additionally, you should add a CTA button somewhere on your sales page to prompt visitors to purchase your product.
You can see the sales page for our hypothetical course below.
After you have created your sales page, click save, and publish.
Create your order page
There are a few ways you can create an order page for your product or service. 
The first would be to use a third-party form builder that is capable of creating payment forms. Using third-party payment form builders can be advantageous because you can customize your forms depending on what exactly you are selling (physical products, services, subscriptions, digital products, etc.)
JotForm is an excellent choice. This platform can integrate with 35 of the most popular payment processors like Stripe, Square, and PayPal. Additionally, you can accept up to 10 payment submissions per month before needing to upgrade to a paid plan.
By using platforms like JotForm, you can create order forms that your prospects would be directed to after they click on the "Buy now" CTA on your sales page.
The second way would be by adding Mailchimp's payment block to your sales page. With this feature, you can essentially create landing pages with payment gateways. 
When you add the payment block to your page, it will allow you to add a product title, image, description, and it will include a "Buy Now" button. When prospects click this button, they will be taken to the following order form:
This payment block integrates with Square and Stripe; two of the most popular payment solutions.
However, these forms aren't nearly as customizable as third-party form builders. That being said, this order form option is a bit more limited than third-party form builders like JotForm.
Connecting your pages
Once your pages are created you will need to link them together so that prospects can move through your funnel. Keep in mind that the order your prospects will move through your funnel is:
Initial landing page (opt-in page) > Sales page > Order page
For your first landing page (opt-in page), you will want visitors to be directed to your sales page after they submit their email address to receive your lead magnet. You can set this up like so:

If you have set up a JotForm order page, you will want your "buy now" CTA on your sales page to direct to the URL of that order page.
Setting up the autoresponder
After you have linked all your pages together, you will need to set up an email autoresponder to deliver your lead magnet when your prospects opt-in to your mailing list.
Go to Mailchimp's main dashboard and create a "Welcome new contacts" automation (Dashboard > Automations > Welcome new contacts).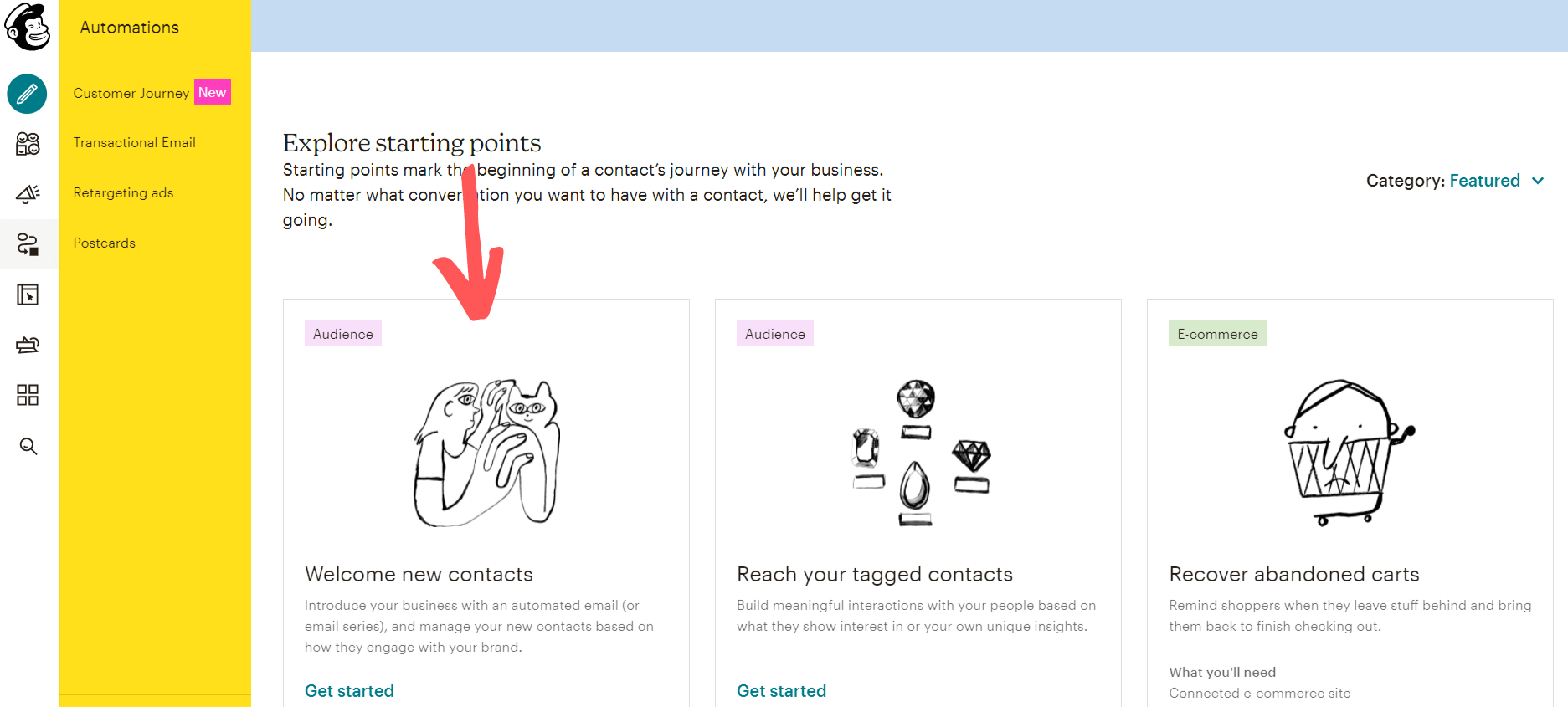 Create a single email, and name your campaign something like "Lead magnet email".
Next, you will want to go in and edit the content of the email.
The content of the email doesn't need to be anything special. Keep in mind the purpose of this email is simply to allow prospects to download their free resource you promised on your first landing page. That being said, if your lead magnet is a file such as the PDF ebook in this tutorial, you will want to link the button to this particular file like so:
Save your email and finalize your automation set up.
Note: This automation is set up so that anyone who joins your mailing list will receive your lead magnet. However, if you already have a Mailchimp account and have multiple active email opt-in forms, you probably want this email to only be sent to those who have opted into the specific form you set up on your initial landing page. If this is the case, then you would want to use tags so that only prospects that opt-in through this sales funnel will receive your lead magnet. You can configure tags in advanced settings.
Using Mailchimp to its full potential
Once your Mailchimp sales funnel is set up you can further utilize the email marketing platform to drive more sales for your business.
Create and manage ads
Mailchimp's marketing platform allows you to create and manage both Facebook and Instagram ads. With this feature, you can manage the ads for your sales funnel and host your sales funnel all under the same platform. Given that Facebook ads sales funnels are commonly used, this feature can be quite convenient for many companies. 
Analyze results
Mailchimp's analytics and reporting allow you to view important data collected from the landing pages that make up your sales funnel including visits and clicks. Additionally, you can easily integrate Mailchimp with Google Analytics if you prefer to view data on this platform instead.
Nurturing leads with email marketing
While Mailchimp has numerous features, it's important to note that email marketing will likely always be Mailchimp's most powerful feature. Mailchimp has advanced segmentation and automation capabilities that allow you to effectively nurture your leads. However, for automated email workflows, you will have to upgrade to a paid plan.
Drawbacks of using Mailchimp for sales funnels
There are numerous advantages to using Mailchimp to drive sales for your business. However, there certainly are some notable disadvantages as well.
One drawback is that the platform doesn't offer a huge variety of landing page templates. Mailchimp has a few templates that are conducive to building sales funnels, however, given the lack of options, you very well might need to design your funnel pages from scratch.
Additionally, while Mailchimp offers A/B split testing for emails, the platform doesn't have A/B split testing for landing pages. That being said, without the ability to split test, it can be difficult to determine how to improve the pages of your funnel.
Final words
Ultimately, Mailchimp is an effective and extremely affordable tool for building sales funnels. If you are still on the fence about Mailchimp, you might as well create a free account and try it out for yourself to see if it meets your needs. After all, the process of how to create a sales funnel in Mailchimp isn't overly complicated, and in just a few minutes you can have a free sales funnel ready to try out.