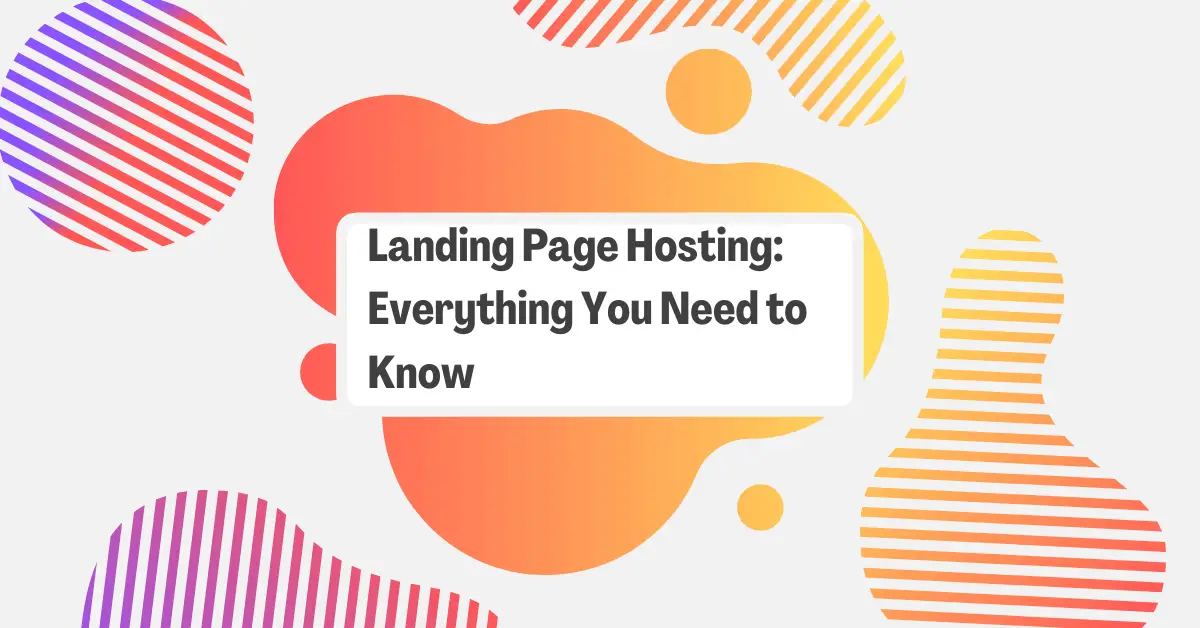 If you are putting together a digital marketing plan for your company, chances are that you will need to use landing pages at some point.
When that time comes, landing page hosting is a consideration that must be made. 
Ultimately, there are multiple ways to host a landing page and numerous platforms you can use to do so. Choosing the best method for your business depends on your goals, your budget, and your current digital marketing strategy. 
This post covers everything you need to know about landing page hosting. Here you can discover the different ways you can host landing pages and the important considerations you should make before choosing a provider. 
However, before we dive in, let's cover what hosting for landing pages actually entails, and why you need hosting in the first place. 
Landing page hosting basics:

Do you need hosting for a landing page?
Often when people are just starting to do their research on landing pages they will ask if they need hosting for their landing pages. The short answer is yes. If you want to have a live landing page, it needs to be hosted somewhere. Fortunately, there are many hosting options that you can choose from. We will take a deeper dive into these options later on. 
Web hosting is essentially an online service that allows you to store all the files and data that make up your landing page(s) on a server. A server is a computer that runs constantly to ensure that your landing page stays up all the time for web users to visit. Whenever someone types in the URL of your landing page in the search bar, your host pulls up all the files needed to display your landing page, typically in a fraction of a second. 
Often people liken web hosting to a house. Your landing page is made up of a bunch of files and data that need to live somewhere, and web hosting is essentially a house or a place where those files can live. The URL of your landing page is like a house address. It's a way for people to identify and find your landing page. 
3 ways you can host landing pages
"Ok, ok… hosting is a must… but where do you host a landing page?"
Ultimately, there are a few types of platforms where your landing pages can live, and each has its own unique benefits and drawbacks. 
Landing page builders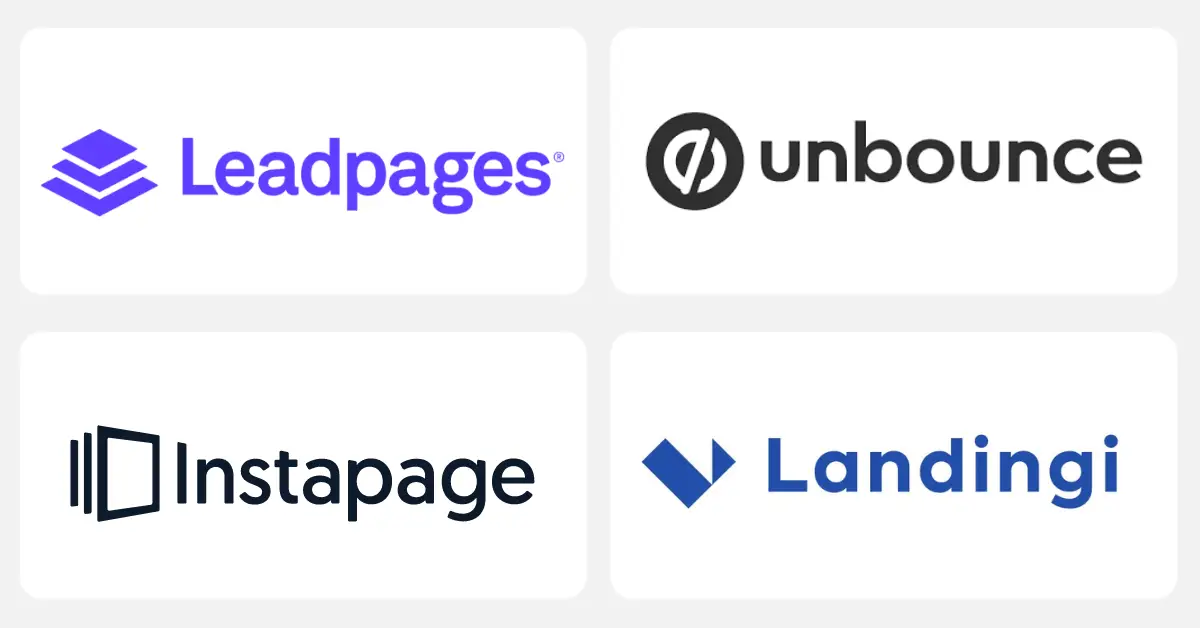 Landing page builders are software that's designed for…. you guessed it. Building landing pages. 
The best part about landing page builders is that with these tools, not only can you create landing pages, but you can also host your landing pages on these software servers as well. These solutions take care of hosting for you behind the scenes so that you don't need to worry about the technical process of setting up hosting yourself. All you need to do is sign up for the landing page builder of your choice, design your landing page, click publish, and your landing page will be set live instantly. 
Speaking of designing landing pages, landing page builders typically have drag-and-drop editors that you can use to create your landing pages. While these drag-and-drop editors may come with a learning curve, they are typically intuitive enough so that you can create landing pages without any technical experience. 
Aside from the drag and drop editors, a few features that you typically get with landing page builders include:
Template libraries: Dedicated landing page builders often have libraries of dozens or even hundreds of professionally designed landing page templates. No matter what industry you are in or what your goal for your landing page is, chances are that premium landing page builders have the perfect template for you. 
Design features: The drag-and-drop editors of these landing page builders offer numerous design elements. Add media such as images and video, edit the layout of your landing pages, and add elements such as forms, popups, countdown timers or even add payment gateways.
Split testing: With A/B split testing you can improve your landing pages conversion rate dramatically. Landing page builders make doing split testing a breeze. 
Analytics: With analytics features, you can track the performance of your landing pages by studying important data such as the number of website visitors, and conversions. Some landing page builders even have heat mapping that allows you to see where on your landing page visitors are clicking the most. 
Subaccounts: With subaccounts, you can share access to these platforms with your team and clients as well. Subaccounts make it easy to stay organized when building out landing pages with multiple people. 
There are numerous landing page builders out there. Some of the leading landing page builders include:
Leadpages ⭐ Our Recommended Solution

Unbounce 

Instapage

Landingi 
Alternatively, there are many website builders that are capable of building stand-alone landing pages as well. A few of these solutions include Wix, Ucraft, and Squarespace. 
Lastly, there are numerous email marketing platforms with landing page builder features as well. For instance, GetReponse has an excellent landing page builder. A few others include SendinBlue, Aweber, and Convertkit. 
Web hosting service and a CMS (such as WordPress)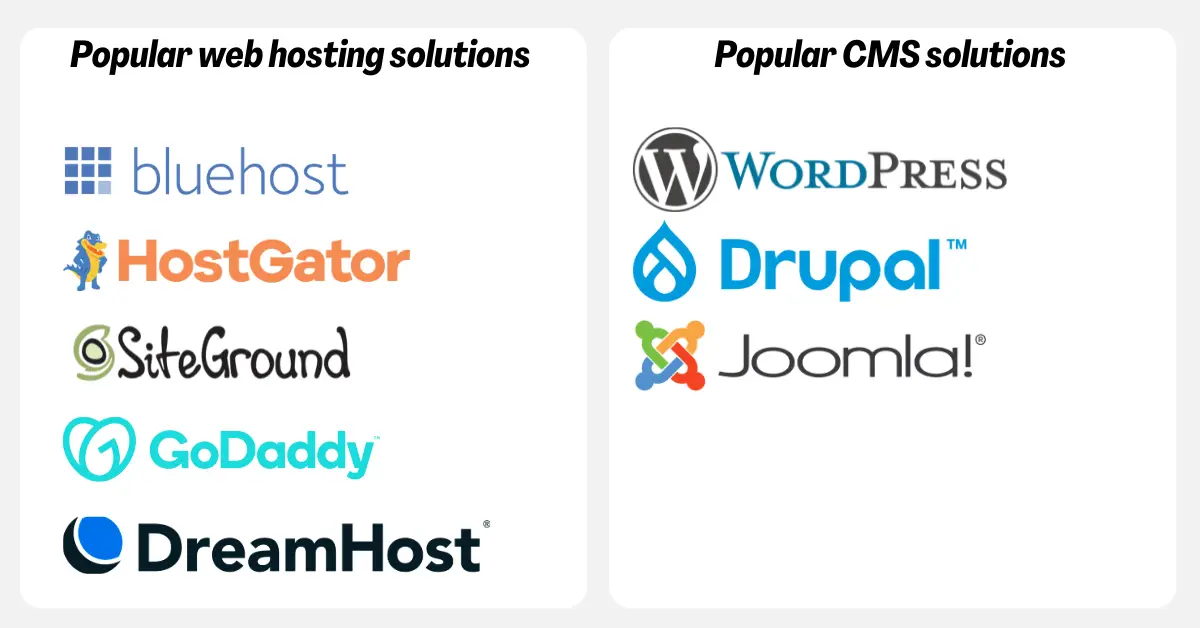 The first option would be to use a web hosting service with a content management system (which is the platform used to actually create the landing page itself). 
There are various web hosting services that you can choose from including:
Shared hosting: Where your website (or landing page in this case) is hosted on the same server as multiple other websites. This tends to be one of the more affordable options.
Dedicated hosting: Where your landing page is hosted on a server dedicated to just your landing page.
Virtual private server hosting: This option gives you some of the control you get with dedicated hosting with some of the benefits of shared hosting like affordability. 
Managed hosting: Here the hosting provider looks after the day-to-day management of your hosting and provides technical services such as software setup, maintenance, and technical support.
Cloud hosting: With cloud hosting, the landing page isn't hosted on a single server but rather a network of connected cloud servers for greater scalability and flexibility. 
Discussing the benefits and drawbacks of each of these types of hosting is beyond the scope of this post, however, the point is there are many options out there, each with its own unique benefits. 
With any of these solutions, you would use a content management system (CMS) to create the actual landing page and manage all the content and media used for that landing page. 
One of the most popular content management systems is WordPress, which powers over a third of websites on the internet. However, while WordPress is widely used, there are other CMS that you can use to host a landing page such as Joomla and Drupal to name a few. 
You can build a website on WordPress for the purposes of hosting a single webpage, which would of course be your landing page. 
Often, if people have a website already built with WordPress with many pages, it can be incredibly convenient for them to build a landing page on the same website. You would simply need to create a page of your website that would serve as a landing page. 
WordPress has hundreds of plugins you can use to design captivating landing pages. The best part is that many are designed to be easy to use even if you don't have a technical background. With drag and drop builders, you can design stunning landing pages relatively easily and efficiently. 
Some of these plugins include:
Elementor

Divi

OptimizePress

SeedProd

Beaver Builder
Alternatively, you can purchase a landing page template from an online vendor, upload code for the landing page to WordPress, make any edits to customize the landing page, and then publish. This solution is much faster and efficient, however, you have more ability to customize landing page design by building landing pages yourself with a plugin. 
Social media (Facebook)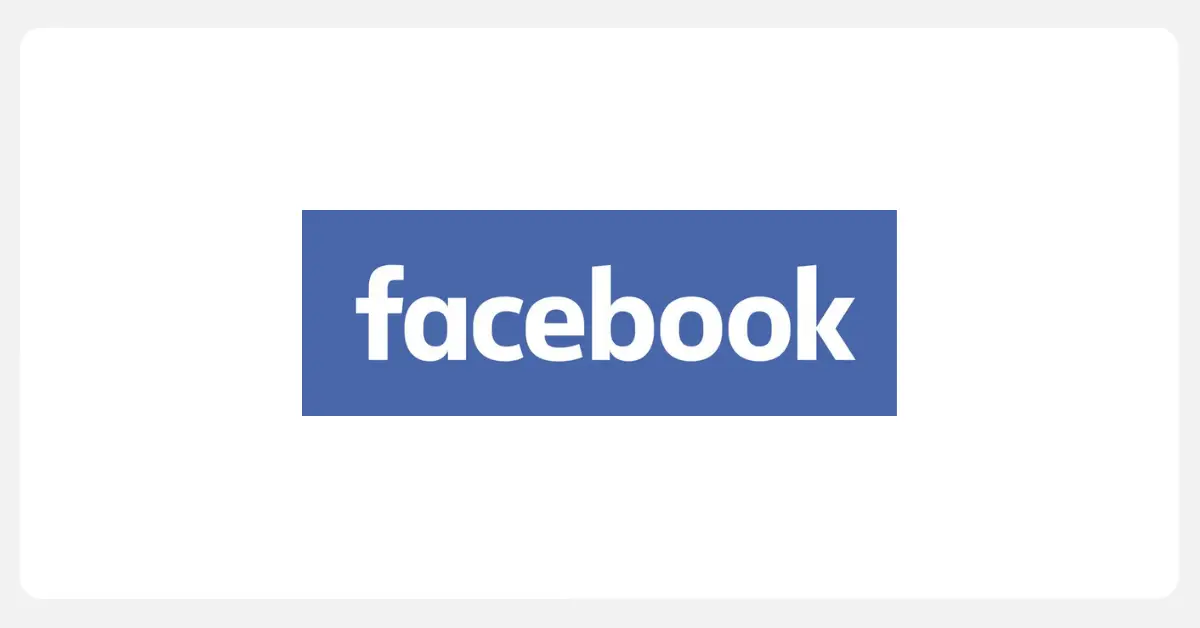 The third way to host your landing page would be by publishing it on Facebook. This option isn't nearly as popular and practical in most cases as hosting your landing page on your website or simply through a dedicated landing page builder. However, hosting your landing page on Facebook is a possibility nevertheless. 
Landing pages hosted on Facebook can be ideal for Facebook advertising. If you are running a paid Facebook advertising campaign, using a Facebook landing page might be a good idea. People on Facebook often are reluctant to leave Facebook to unfamiliar external websites. By hosting landing pages on Facebook itself, you won't have to worry about this issue. 
To host your landing page on Facebook, you would first need a Facebook business page. Your landing page can live in a standalone page on Facebook or within a tab of your Facebook page. Secondly, you will need to use a landing page builder that can publish landing pages to Facebook. You will be able to create landing pages with these tools and then publish them directly to Facebook.
Pricing for hosting a landing page
How much does it cost to host a landing page?
The cost to host a landing page depends on many factors such as the platform you are using to host your landing page. 
By using an affordable shared web hosting company coupled with a free CMS like WordPress (which would be used to build your landing page), the cost of web hosting could be anywhere from $2.49 to $15 per month. 
On the other hand, by using a dedicated landing page builder, the cost could be a bit higher. Depending on what service you go with and the plan you subscribe to, the price could be anywhere from around $10 to $100+ every month. 
You can see the starting prices for popular landing page builders below: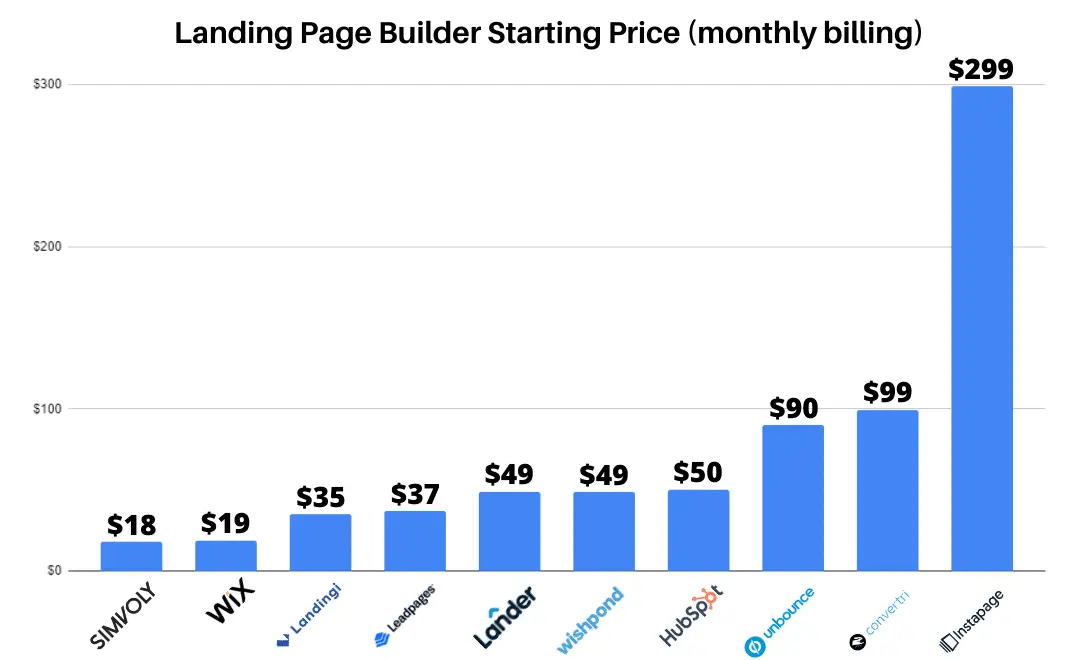 As you can see, the differences in starting prices are pretty drastic. For instance, the starting cost of Wix is significantly less than that of Unbounce. 
However, it's important to note that there are certainly powerful features that you get with the relatively expensive solutions that you don't get with some of the cheaper options. Some of these features include:
Artificial intelligence recommendations for copywriting

A/B split testing

Access to large image libraries and font options

Dynamic text replacement

Advanced analytics features (such as heatmaps that show where visitors have clicked the most on your page)
How can I host a landing page for free? 
Landing page builders are often paid subscription services. However, there are a few platforms that have free versions, allowing you to host landing pages without paying a dime.
The same popular landing page builders have either free plans that include landing page hosting:
| | | |
| --- | --- | --- |
| Landing page builder | Starting price | Free version? |
| Simvoly | $18 | ❌ |
| Wix | $19 | ✅ |
| Landingi | $35 | ❌ |
| Leadpages | $37 | ❌ |
| Lander | $49 | ❌ |
| Wishpond | $49 | ❌ |
| HubSpot | $50 | ✅ |
| Unbounce | $90 | ❌ |
| Convertri | $99 | ❌ |
| Instapage | $299 | ❌ |
Other marketing software that offer free plans with landing page builders include:
Weebly

Ucraft 

involve.me

MailerLite

Woorise

Mailchimp 

Strikingly

Convertkit

Carrd

Aweber

Convertflow 
These free versions naturally have limitations of course. For instance, these plans may be limiting in terms of:
The number of landing pages you can build

The number of features or the extent to which you can use features to build landing pages

The selection of landing page templates you can choose from

The amount of traffic or conversions per month

The integrations with other marketing platforms (such as email marketing tools)

The ability to add JavaScript, CSS, and HTML

Publishing your landing page on your own domain name
Nevertheless, free landing page hosting plans can be great for beginners that just want to whip up a simple landing page or two. 
Popular landing page builders (and their hosting services)
Typically, landing page software will use third-party web hosting services to host all the landing pages that customers publish. Amazon Web Services and Google Cloud are two of the most popular solutions. You can see the web hosting services that popular landing page software use below:
| | | | | |
| --- | --- | --- | --- | --- |
| Landing page builder | Hosting service | Uptime | Number of landing pages per plan | Number of custom domains per plan |
| Instapage | Amazon Cloud Services | 99% | 30 – unlimited | Unlimited |
| Unbounce | Amazon Web Services | 99% | 75 – unlimited | 1 – 15 |
| Leadpages | Google Cloud | 99% | Unlimited | 1 – 50 |
| Simvoly | Amazon Web Services | 99% | 20 – unlimited | 1 – 10 |
| Landingi | Amazon Web services | 99% | Unlimited | 10 – 30 |
| Wix | Wix Servers | 99% | Unlimited | 1 |
| Ucraft | Google Cloud | 99% | 15 – unlimited | 1 |
| HubSpot | Amazon Web Services | 99% | 15 – 10000 | 1 |
Unbounce
Unbounce is one of the original landing page builders on the market. The platform is geared more towards experienced marketers and offers drag-and-drop controls, templates, and integrations with almost any marketing automation or CRM tool out there. In addition to that, it also integrates with Zapier so you can easily connect it to any tool you need. 
Unbounce uses Amazon's CloudFront for its hosting which means your landing pages will load quickly from any location thanks to the Unbounce Content Delivery Network (CDN). It also offers the ability to connect unlimited domains to your landing page hosting. You can create between 75 and an unlimited number of landing pages. Plans start at $80/mo.
Instapage
Instapage claims to have the best landing page builder on the market. While they used to be similar to Leadpages, nowadays, Instapage caters more towards larger businesses and enterprise customers. They have a strong focus on conversion optimization. 
Instapage uses Amazon Cloud servers for their testing domain while the platform itself and live landing pages are hosted on Google Cloud, ensuring fast load times.
You can connect an unlimited number of domains to your account which makes Instapage the perfect solution if you have multiple sites you need landing page hosting for. However, the number of published landing pages is limited to 30 at a time. Plans start at $299/mo.
Leadpages
Leadpages is a cost-effective landing page hosting solution, suitable for small and large businesses alike. The platform offers a large number of mobile-friendly templates so you can rest assured your landing pages will look good on small screens. 
Leadpages is powered by the Google App Engine. The benefit of this is fast load times and high availability which can help increase your conversion rates. Another benefit of using Leadpages is that you can create an unlimited number of landing pages and get unlimited traffic, something other landing page builders charge extra for. Plans start at $27/mo paid annually. 
Simvoly
Simvoly touts itself as the all in one platform for your business. It allows you to build landing pages as well as websites, send email marketing campaigns, manage contacts in their CRM, and more. It also offers drag and drop editing experience and premade templates. 
What sets Simvoly apart is the fact that it integrates with various payment gateways so you can easily accept payments on your site. In addition to that, it offers a white-label option so it's an attractive choice for designers and agencies. Depending on the plan, you can connect between 1 and 33 domains and have between 20 and an unlimited number of pages. The plans start at $12/mo paid annually.
Landingi
Landingi allows you to build an unlimited number of landing pages. It offers more than 400 landing page and popup templates and an easy to use, drag and drop builder. Landingi also integrates with all other major marketing platforms as well as Zapier. 
Landingi offers the ability to white label the platform which means you can easily use it if you're a designer or agency working with multiple clients. Pricing starts at $55/mo billed annually.
Wix
Wix uses a drag and drop builder to make it easy to build your landing pages. You can also expand your landing pages later on by adding a store and accepting appointment bookings directly on your landing pages. The platform offers more than 500 unique templates. You can also optimize your landing pages for SEO. 
Wix uses its own hosting for the platform which offers 99.9% uptime and advanced security monitoring. They also use a global content delivery network (CDN) to ensure your site loads faster for everyone, everywhere. Pricing starts at $4.50/mo but this plan will display Wix ads on your landing page. 
Ucraft
Ucraft is a free landing page builder which sets it apart from the rest. You can create a single landing page and connect a domain to it at no extra cost. This is a great choice if you're on a limited budget or just getting started. The platform uses a drag and drop builder and has plenty of templates to choose from. 
Ucraft uses its own solid hosting platform that allows you to connect a single domain. As such, this platform might not be the best fit for someone with multiple sites. However, the hosting is reliable and secure. Plans start at $10/mo paid annually.  
HubSpot
HubSpot is a well-known marketing platform that allows you to easily build a great-looking landing page without any coding required. The platform offers a number of premade templates as well as a drag and drop page editor to build your landing pages. In addition to that, you can personalize landing pages to each visitor as well as test and analyze the performance of each landing page. 
As far as hosting goes, the HubSpot platform relies on Amazon Web Services (AWS) which guarantees fast load times and high availability for your landing pages. You can get started building your landing page for free. More advanced features are available with paid plans starting at $45/mo billed annually.
Final words
Where there are many options for landing page hosting, it's important to assess your priorities before choosing a solution. If you are interested in an easy and straightforward solution for hosting your landing page, a landing page builder may be the way to go. On the other hand, if you already have a website that you manage through a CMS, it might make sense to build a landing page off of your existing website. 
Which approach is best for you? Let us know in the comments!