Every business needs a way to organize and manage its business relationships. CRM systems are one of the best ways to do so.
However, with hundreds of CRM systems on the market today, it can be difficult to keep track of which marketing technology has a CRM feature and which ones don't.
Naturally, many small businesses ask if Constant Contact is a CRM when looking into the platform.
Constant Contact is an email marketing platform with a range of complementary features such as a landing page builder and social media management. Nonetheless, Constant Contact technically isn't considered a CRM.
HOWEVER, Constant Contact has contact management features that give the platform some of the same capabilities as traditional CRM systems. For many businesses, Constant Contact's contact management features are all that's necessary.
What defines a CRM?
Simply put, CRM or customer relationship management is software for managing your company's relationships with leads and customers.1 By using a CRM, your business can be more in tune with your contacts throughout the entire customer lifecycle.
There is a wide array of CRM systems, and given the growth of the industry, it seems as though new systems are popping up every day. However, there are certain qualities that define CRM systems.
According to Capterra 2, there are 3 core traits that "make or break a system's inclusion in the CRM category":
1. Contact management
The ability to store contact information such as names, email addresses, and phone numbers in a searchable database is a paramount feature of CRM systems. Any reputable CRM should make it easy to input, find, and track information on any contact.
2. Interaction tracking
CRMs allow you to see the history of conversations with specific contacts. Ideally, a CRM should allow every department involved in the customers' journey to see previous interactions with contacts. For instance, it would likely behoove your sales team to see how leads were acquired by your marketing team. Alternatively, it would benefit your customer service team to learn about customers' businesses through previous conversations with sales.
3. Lead management
Lead management involves scoring leads as you move them through your sales pipeline. Scoring leads means assigning a value to leads based on how likely they will become customers. This process can help sales teams prioritize their outreach and more effectively drive sales as a result.
Additional features that most reputable CRMs have include:
Workflow automation: Tools for automating repetitive tasks
Quote and order management: Allows salespeople to create quotes that can be revised to meet customers requirements
Reporting and analytics: Reports of sales rep performance at every stage of the sales process
Email integration: Sending emails through a CRM can help salespeople track conversations with prospects and stay better organized
Forecasting: Create predictions for revenue based on trends in collected data
Why Constant Contact isn't a CRM…
There are various email marketing tools with a built-in CRM. However, Constant Contact is not one of these platforms. Given that Constant Contact simply doesn't meet all of the criteria of a CRM (as previously discussed), Constant Contact technically isn't a CRM. 
Although Constant Contact has contact management features, Constant Contact's interaction tracking features are limited. You can basically see which contacts have been part of certain email campaigns with the use of tags, but you certainly can't see the history of sales teams' interactions or customer service teams' interactions with the contacts in your database like you would with a true CRM. With Constant Contact, you only have insights into the relationship between marketing and your leads and customers. 
Additionally, Constant Contact doesn't have any lead management features that are at the heart of true CRMs. In other words, there is no lead scoring feature with Constant Contact and so there is no way to automatically qualify and prioritize certain leads over others. Constant Contact also doesn't have the advanced workflow automation, quote and order management, and forecasting features that reputable CRMs typically have. 
More generally speaking, another important distinction between Constant Contact and traditional CRM systems is that Constant Contact is mainly a customer-facing marketing tool while CRM systems are strictly for internal use. Additionally, while Constant Contact is mainly used by marketers, CRMs are not only accessed by marketing teams but they are largely used by sales teams and customer service teams as well to keep track of one-on-one conversations with prospects and customers.
Why doesn't Constant Contact have a CRM feature?
Email marketing and CRMs go hand in hand. In light of this, the obvious question is "why doesn't Constant Contact have a CRM?". There is a simple explanation: 
Typically when you have a CRM full of contacts and you are ready to send messages to those contact in bulk, you would export them to an email marketing tool. Naturally, CRMs tend to have integrations with numerous email marketing tools. These integration options are essentially free advertising for email marketing tools and an excellent way for email marketing tools to gain new customers. That being said, for Constant Contact and other email marketing platforms, gaining more business through various CRM partners makes more sense than establishing a CRM within Constant Contact and potentially forgoing new business from other CRMs. 
Constant Contact's contact management features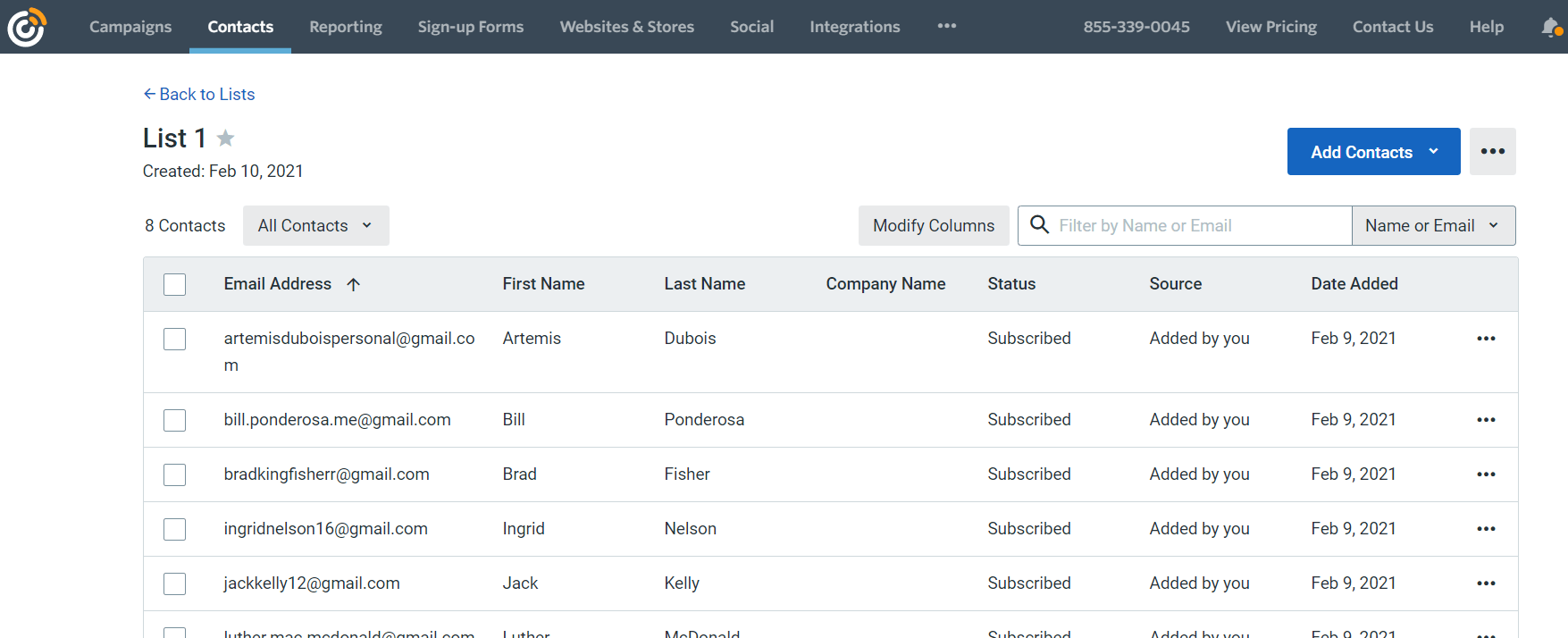 Although Constant Contact isn't technically a CRM, it does have various contact management features that are similar to most CRMs. For some businesses, these features may be sufficient for managing contacts.
These contact management features include:
Custom fields: Constant Contact allows you to store as much info on your contacts as you want with custom fields. Some of the typical fields businesses store include name, phone number, website, etc. However, you can store any other information that might be relevant to you such as favorite color for instance.
If you have a list of email subscribers and corresponding information on them, Constant Contact allows you to easily mail merge, so that you can easily personalize your emails.
Segmentation and tagging: With segmentation and tagging you can divide your email subscribers into smaller segments based on commonalities between subscribers. For instance, you can send emails based on the time subscriber joined your list, how they signed up for your email list or location. There are hundreds of possibilities.
Tracking and analytics: With Constant Contact, you can track which of your contacts have opened and clicked in your emails in visually pleasing graphs. Additionally, you can segment your email outreach based on how your subscribers have engaged with previous email campaigns.
Is a CRM necessary for your business?
Depending on your business, you may not need a CRM at all. Constant Contact's contact management features might meet your needs.
If you have a business that doesn't require ongoing interaction between salespeople and prospects to generate business, a CRM might not be necessary. For instance, if you have an ecommerce business where customers purchase products without needing to speak with a representative, using a CRM might not make sense. All you may need is a powerful email marketing tool like Constant Contact to generate sales.
On the other hand, if you have a business where ongoing communication between salespeople and prospects (as well as customer support and customers) is necessary, a CRM would be greatly beneficial. For instance, a CRM would behoove software companies where a sales process takes place over the course of months.
Fortunately, if you are interested in investing in a CRM solution AND Constant Contact, you can integrate Constant Contact with numerous CRM systems including
Zoho CRM

Bullhorn

Dynamic 365

Results CRM

Highrise

SugarCRM

RedHorse

Pipeliner
…and many many more.
Final words
Although Constant Contact isn't a CRM, its contact management features may be all your business needs. To see for yourself, Constant Contact has a generous 60-day free trial so you can try the tool risk-free. Additionally, there are various other free alternatives to Constant Contact that might pique your interest as well if budget is a concern.