Landing pages are powerful tools for capturing leads. 
However, while landing pages are most often used merely for lead generation, you can also use landing pages to collect payments as well.
Whether you want to sell physical products from your ecommerce store, or digital products such as online courses, landing pages are an excellent way to facilitate sales. You can even use multiple landing pages together to upsell prospects on additional products.
However, while there are numerous landing page builders, only a select few have payment gateway and checkout form features.
Here you can find 9 powerful landing page builders with payment gateways.
| | | | | |
| --- | --- | --- | --- | --- |
| Landing Page Builder | Free version? | Starting price | Pros | Cons |
| Simvoly | ❌ | $18.00 | Intuitive platform with great user interface and white label features as well. | Somewhat limited selection of integrations available |
| Leadpages | ❌ | $37.00 | Excellent conversion and optimization tools to help improve results of campaigns over time | Can't set up payment gateways with the standard plan. You must upgrade to pro for this feature. |
| Convertri | ❌ | $99.00 | Super fast-loading landing pages can help to improve conversions | Editor is limited in certain areas such as customizing fonts |
| Wix | ✅ | $19.00 | Extremely flexible drag-and-drop page builder | Premium plans are single site only |
| Kartra | ❌ | $99.00 | Versatile all-in-one solution for selling digital products and services | Not an ideal solution for selling physical products |
| Clickfunnels | ❌ | $97.00 | Powerful solution for sales funnels (sequences of landing pages) | Relatively expensive starting price |
| Woorise | ✅ | $29.00 | Great selection of well-designed order and payment forms. Forms are highly customizable | Limited selection of landing page templates |
| involve.me | ✅ | $25.00 | Powerful tool for building quiz funnels | The high customizability of the templates means there is a learning curve |
| Mailchimp | ✅ | $9.99 | Simple and easy to use landing page builder | Landing page builder isn't nearly as flexible as stand-alone landing page builder solutions |
1. Simvoly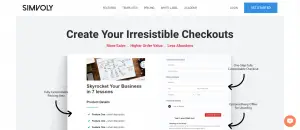 Though Simvoly doesn't have as much market presence as Leadpages, it's still a compelling product with a lot of features to offer. Simvoly is an easy-to-use landing page builder that allows you to create product pages and landing pages in seconds. You can sell everything from services and digital products to physical subscriptions and memberships.
Simvoly is particularly appealing to companies keen to offer their customers plenty of choices. Unlike other services, Simvoly integrates with many popular payment processors, including PayPal, Klarna, and Stripe.  
More than just a landing page creator, Simvoly is a comprehensive tool that's excellent for eCommerce, offering everything from tax and shipping rules to discount codes. With this user-friendly software, you can quickly create eCommerce pages and one-step checkouts. Other features include:
     

Responsive checkouts that work on any device

     

Customer profiles for customers with subscriptions

     

Customizable checkout design for branding

     

Sell subscriptions and memberships

     

Academy for learning and support
Not only is Simvoly an excellent landing page builder but it also allows you to build entire sales funnels as well. With Simvoly you can link together multiple landing pages for upselling customers on multiple items or for capturing email addresses initially before directing them to your sales page. 
Pricing: Simvoly gives you an unlimited free trial to get you started, but you will need to create a paid account to publish your landing pages. The personal account starts at $12 per month, with 0% transaction fees for all packages.
2. Leadpages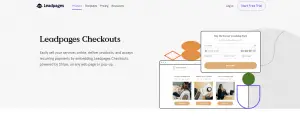 Leadpages is one of the most popular landing page tools on the market. This industry-leading software offers plenty of advanced functionality for designing compelling pages, complete with checkout functionality.
"Leadpages Checkouts" is this platform's checkout form feature. Typically, customers embed Leadpages Checkouts forms on their landing pages, however, these versatile forms can be used on any webpage or popup. 
Leadpages Checkouts are simple, effective, and brandable. They're perfect for selling services online, as well as products (digital and physical). You can even implement recurring payments if you're planning on selling subscriptions or memberships. Features include:
     

Support for all kinds of credit cards

     

Secure payment processing compliant with SCA regulations

     

Custom form fields with shipping fields

     

Automatic receipt delivery for customers

     

Refund processing functionality

     

Third-party integrations

     

Customizable appearance to suit your brand
One of the factors that make Leadpages particularly compelling, is that it's powered by Stripe. After PayPal, Stripe is likely the best-known payment processing solution on the market. You can rest assured that you'll be able to take all kinds of payments through your Stripe-powered service and keep your customers secure too.
Pricing: Leadpages Checkout is a widget within Leadpages that you can access through your paid plan. Pricing for Leadpages starts at $27 per month for the standard plan, but you'll need at least the Pro package at $59 per month to access online payments.
3. Convertri

Convertri is a landing page builder intended to help companies capture leads and generate sales. It's a fantastic payment landing page solution. 
This company's claim to fame its lightning-fast loading pages. In fact, Convertri is bold enough to claim that its accelerated page technology builds the fastest landing pages on the web. 
Although page load speed is important, it's worth noting that you get an excellent payment gateway solution too. You can create a site or product page, and easily connect your payment processor to facilitate sales. Convertri supports Stripe for payment processing, making it a reliable choice for transactions. Some of Convertri's most notable features include:
     

Simple landing page builder and editor

     

Drag-and-drop design functionality

     

Adjustable mobile editing view

     

Various interaction options

     

Content blocks that you can save as a collection

     

Speedy loading times on any device

     

Countdown timers
When it comes to creating a landing page with checkout functionality, Convertri makes the process easy. There's even a comprehensive step-by-step guide for setting up the payment gateway on the website.
Pricing: Convertri can be a little expensive compared to some of the other landing page solutions on the market, with pricing starting at $75/month if you pay for an annual subscription. However, there is a free trial to help you explore the possibilities of this product.
4. Wix

Just about every business owner today has heard of Wix. Perhaps one of the simplest site-building tools around, Wix allows you to build a compelling landing page with payment gateway functionality in no time. Not only does Wix simplify the process of building and customizing your perfect landing page, but you also get access to a huge range of payment processing solutions too such as Stripe, Affirm, PayPal, Square, and dozens of others.
Designed to provide an all-in-one experience for companies creating an online presence, Wix is simple and accessible. You can even create an entire Wix sales funnel to guide your customers through their purchasing journey from start to finish. Features include:
     

Easy drag and drop page editing

     

More than 30 templates to choose from

     

Fantastic range of payment processors

     

Support to create an entire website

     

Recurring payment and subscription options.
Additionally Wix's landing page builder makes landing page design easy. It has a drag-and-drop editor that's not only extremely flexible but intuitive as well. 
Pricing: Wix has an excellent free version. The free plan has many powerful features and you can use it to get started building landing pages for free. However, you will need to start with a paid e-commerce plan if you want to accept payments. That said, you technically can't build a free landing page with payment gateway functionality with the free Wix plan. 
The cheapest plan e-commerce starts at $23 per month and gives you unlimited bandwidth, the option to remove Wix ads, customer accounts, and much more.
5. Kartra

Kartra offers a variety of features including landing pages and checkout forms that customers often use together.
This powerful checkout solution can completely replace the checkout of any WooCommerce or Shopify e-commerce website, making it easy for customers to complete their purchase. One of the most notable aspects of Kartra is the platform makes it incredibly easy to control your pricing structure for whatever you wish to sell. 
You can sell unlimited products from digital and physical backgrounds, as well as individual memberships and subscriptions. There's the option to set multiple price points for different products and set up one-click transactions for customers in a hurry. Some features include:
     

Stunning checkout page design

     

One-click transaction functionality

     

Upsells, down sells, and order options

     

Automatic buyer tagging
Kartra doesn't just sell checkout functionality for your landing pages. Additionally, with Kartra you get website hosting for up to 100 pages, email marketing, live chat, and more. You can even create online courses with Kartra just on the Starter plan.
Pricing: A little more expensive than some landing page with payment gateway options, Kartra starts at around $99 per month, with a discount for those paying annually. If you want to upgrade in order to collect more leads and for additional features, you'll need to spend anywhere between $199 and $299 per month. There's also a much larger agency package for $499 per month.
6. ClickFunnels

ClickFunnels stands out among the most popular sales funnel software packages on the current market. This platform is a comprehensive set of tools intended to help you attract leads and convert them into sales.
Responsible for about 8.4 million sales funnels so far, ClickFunnels supports the creation of everything from upsell pages, to membership areas, sales pages, and landing pages. You can also collect payments right from your landing page. Features include:
     

Comprehensive sales funnel technology

     

Drag-and-drop page editor

     

1 click upsell functionality

     

Email and Facebook marketing connectivity

     

Simple dashboard for organizing your campaigns

     

Follow-up funnels for abandoned carts
To set up a payment gateway for your ClickFunnels landing page, all you need to do is visit the Payment Gateway menu. You can access APIs for leading payment options like Stripe, Keap, PayPal, and Recurly. In fact, this payment landing page solution has a wide array of compatible payment processor options. There are also various third-party integrations with tools like ClickBank.
Pricing: ClickFunnels pricing can be a little expensive if you're just looking for a landing page with payment gateway solution. Prices start at $97 and go up to either $297 per month, or around $2,497 per month for the full agency experience. However, as part of this pricing, you do get all kinds of extra features to support the development of your sales funnel(s).
7. Woorise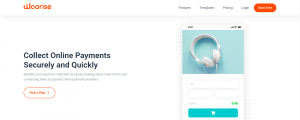 Woorise is all about simplifying your ability to collect and manage online payments. You can use the service to create simple pages and collect payments either for one-time purchases or subscriptions. To boost your chances of conversions, Woorise conveniently integrates with all of the leading payment gateways on the market, including Stripe, PayPal, and Square.
Combine a range of payment gateways with multi-currency functionality, and beautiful order form and checkout pages that you can customize to suit your brand, and you can skyrocket your revenue. You can even add rewards and incentives to your lead pages to encourage more sales.
Woorise is absolutely packed full of features to improve your online conversions. Some of the notable features include:
     

One-time purchase or subscription payments

     

Drag-and-drop interface

     

Mobile responsive performance

     

Data exportation

     

Embedding functionality for any site

     

Multi-language and multi-currency

     

Integration with various payment systems

     

Analytics and reports

     

Privacy and GDPR features

     

Two-factor authentication
Better yet, you can even embed your Woorise solution on any website (not just Woorise landing pages).
Pricing: You can use Woorise for free and collect 500 entries per month. However, you'll need to upgrade to £23 per month for things like priority email support or £39 for integrations and email notifications. The Pro package at £79 removes Woorise branding.
8. Involve.me

Not as well-known as ClickFunnels or Kartra, involve.me is a growing solution for landing pages and payment management, offering an easy way to build custom payment pages.
If you want to sell online without a full website, you can rely on Involve.me as your landing page with checkout form solution. There are integrations available with PayPal and Stripe and website embedding functionality. You can even recover data from partial submissions.
The drag-and-drop interface makes designing beautiful pages a breeze. Other features include:
     

Quiz/sales funnel builder 

     

Website embedding

     

Drag and drop page building

     

Design from scratch options

     

Social links

     

Workspaces and team members additions 

     

Stripe and PayPal integrations
Involve.me is one of the most feature-rich page builders on the market right now, making it easy for business owners to create unique experiences, even without access to a full website. Additionally, the platform offers many third-party integrations with other popular marketing software.
Pricing: There's a free version of Involve.me available to get you started, but it limits you to only 100 submissions per month. This package offers basic features and partial submissions, but it's feature-rich enough to act as a free sales funnel builder. If you upgrade, you can choose the Starter pack for $19 per month, Professional for $49 per month, or Business for $149 per month. Special quotes are available for enterprise companies.
9. Mailchimp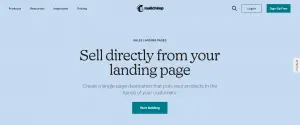 MailChimp is one of the most recognizable email marketing solutions available. This software giant has been offering excellent service for more than two decades. 
Although Mailchimp is most well known for email marketing, it also offers a range of other valuable tools. MailChimp is a great choice for building landing pages with built-in payment gateways. 
With Mailchimp, you can design landing pages with the same drag-and-drop functionality for creating email marketing campaigns. Along with blocks for adding text, images, and videos, there is also a payment section option as well. In that payment section, you can handle transactions through Stripe and Square.
Mailchimp's features include:
      Easy-to-use

landing page builder

       Numerous p

age templates and themes

     

Multiple custom form fields

     

Easy payment block integration
Even without a full website, you could use MailChimp to build landing pages, take payments, create sales funnels and create email marketing campaigns for your customers. It's one of the easiest ways to get started, thanks to its clean and intuitive interface.
Pricing: There's a free version of MailChimp available for up to 2,000 contacts, and this comes with the basic features of your multi-channel marketing service. Upgrading to Essentials will cost $9.99 per month, while the Standard service is $14.99. The Premium package is $299 per month for over 200,000 contacts. All in all, this is one of the more affordable solutions. 
Which solution is best?
How do you choose the best landing page with payment gateway options among the contenders we've covered here?
The answer comes down to your needs. Every solution has different features and benefits to offer and some are certainly more affordable than others. 
Fortunately, many of the payment gateway landing page solutions available today come with either free trials or free packages. With that in mind, you can easily test out multiple platforms before you decide to invest in a solution.