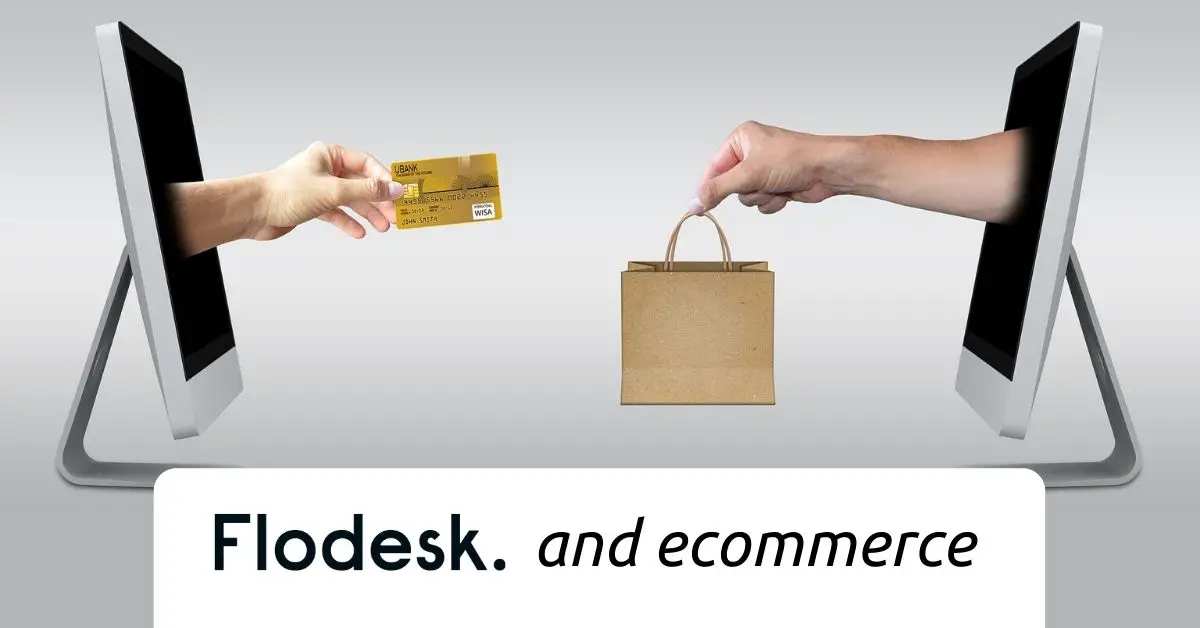 Your email marketing tool can mean the difference between a highly profitable ecommerce store and one with underwhelming results.
Given that email marketing has an incredibly high return on investment, this shouldn't be much of a surprise. However, it's important to find the right email marketing tool for your ecommerce store.
Flodesk is a relatively new, but effective email marketing tool that you can pair up with your ecommerce platform.
This post discusses how to effectively use Flodesk for ecommerce. Learn how to set connect Flodesk with your ecommerce platform, and put together a winning email marketing strategy for your business.
Is Flodesk right for my ecommerce store?
Flodesk's newsletter templates are one of Flodesk's biggest strengths: these templates are a big reason why people choose to use Flodesk.
That being said, if you are interested in designing beautiful, tasteful email newsletters then Flodesk is an excellent choice for you. However, although I think it's clear that Flodesk's newsletter templates look good before you get started with Flodesk it's just good to make sure that these templates reflect the style your ecommerce store well.
You can see a few of these newsletter templates below (click to enlarge pictures). 
If you think these templates go well with the style of your ecommerce store, and you are satisfied with the functionality of the tool in general, Flodesk is a great choice.
To learn more about the benefits and drawbacks of Flodesk click here! 
Connecting Flodesk with Shopify
Shopify is widely popular these days. Fortunately, Flodesk allows you to directly integrate with your Shopify store. In fact, Shopify is the only platform that Flodesk can integrate with as of now. Given that Flodesk is still in the beta phase, it's understandable that the tool doesn't have a large selection of integrations. Or at least not yet anyway… 
To integrate Flodesk with Shopify, complete the following steps:
1. Log into your Flodesk account, hover over the icon in the upper right-hand corner, and select "integrations"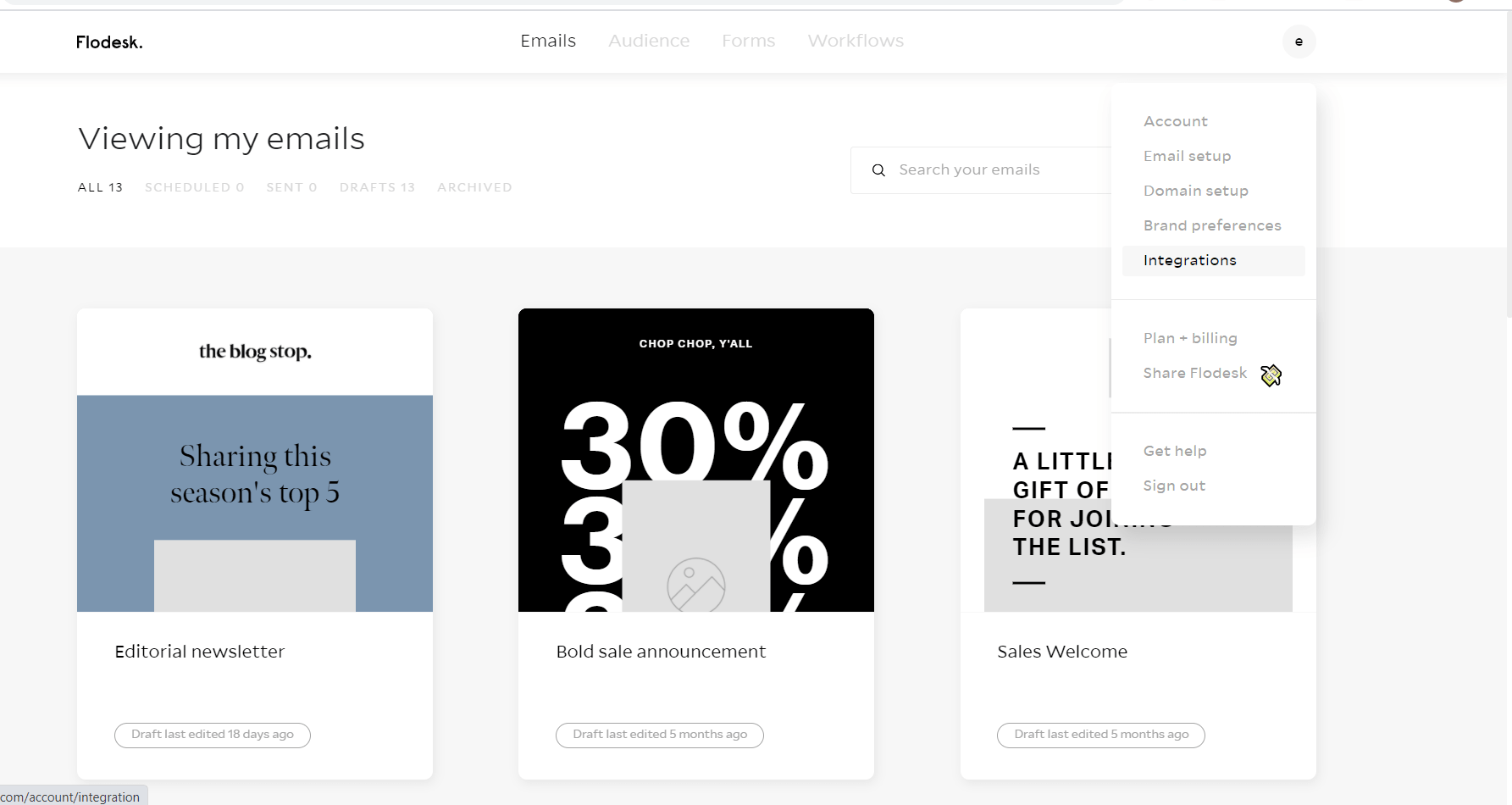 2. Click "connect to Shopify"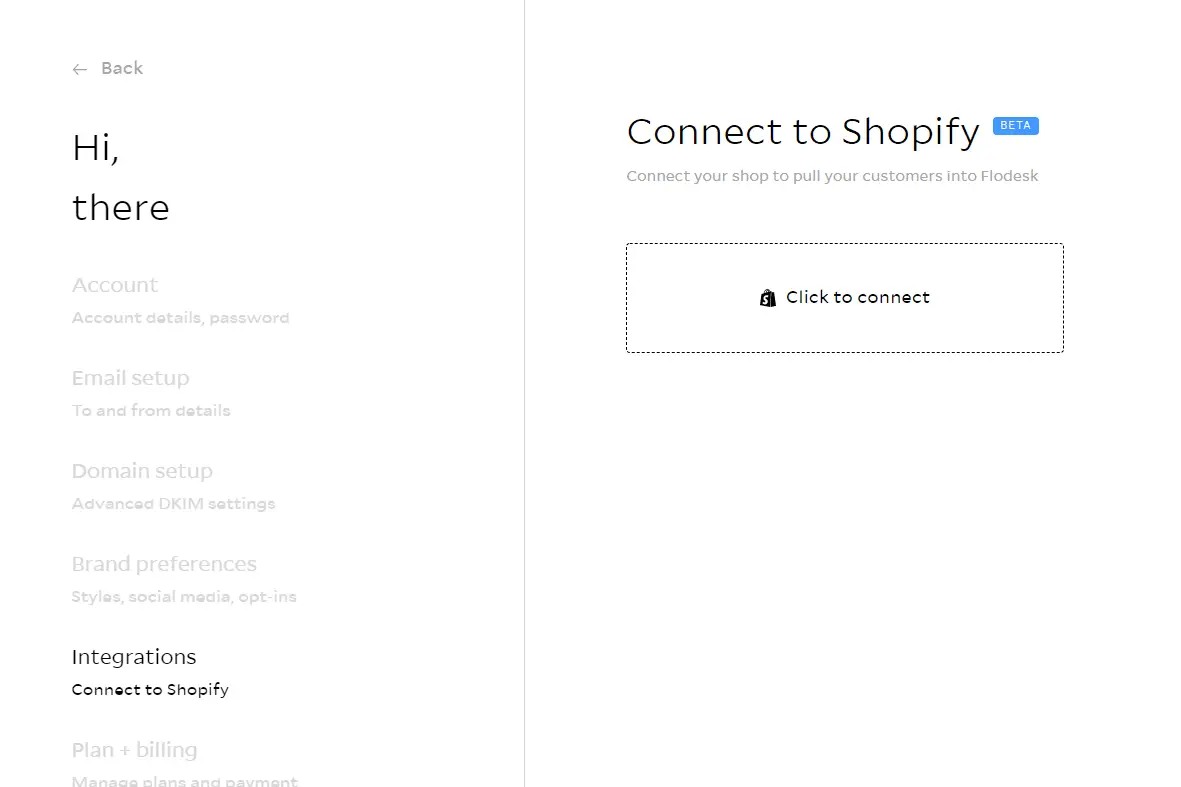 3. Copy and paste your Shopify store's URL.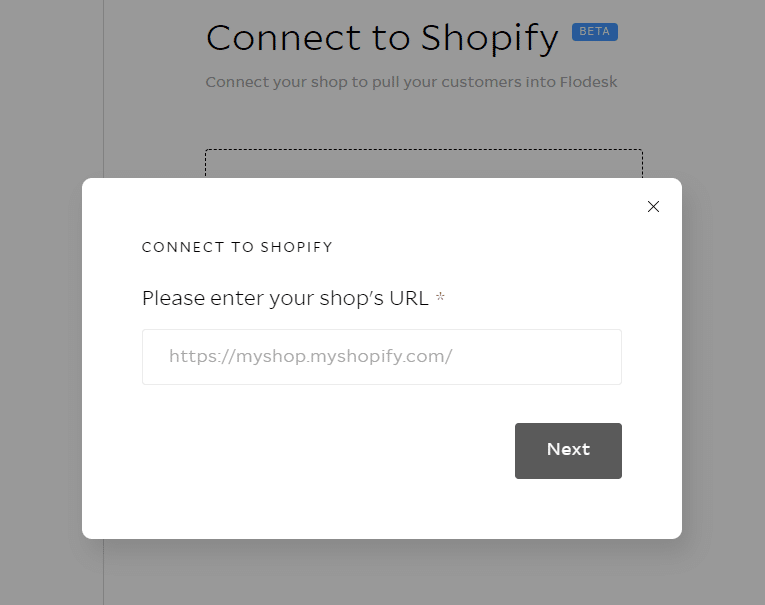 Once you do so and click "next" you will be taken to a Shopify page that just asks to verify that you want to install an unlisted Shopify app. After you click "install unlisted app" you are good to go. 
Related: Flodesk vs Mailchimp: An Inside Look 
Connecting Flodesk with your ecommerce store (not Shopify) 
Although Flodesk only has a direct integration with Shopify, there is still a way to integrate Flodesk to other e-commerce platforms including BigCommerce, Magento, and WooCommerce for instance.
To integrate with these platforms must use a third-party integration tool called Zapier. Don't worry though! This might be easier than you think.
Zapier allows businesses to integrate hundreds of applications so that information can be seamlessly be shared between platforms of your choice.
To walk you through how to use Zapier to connect Flodesk to an ecommerce platform I will use WooCommerce as an example. To set up Flodesk with Zapier, simply go to Zapier.com. Sign up for free. From here under "connect this app…" type in and select Flodesk, and under "with this one!" type in and select WooCommerce. From here you can choose any trigger that you want from one application to result in an action from the other.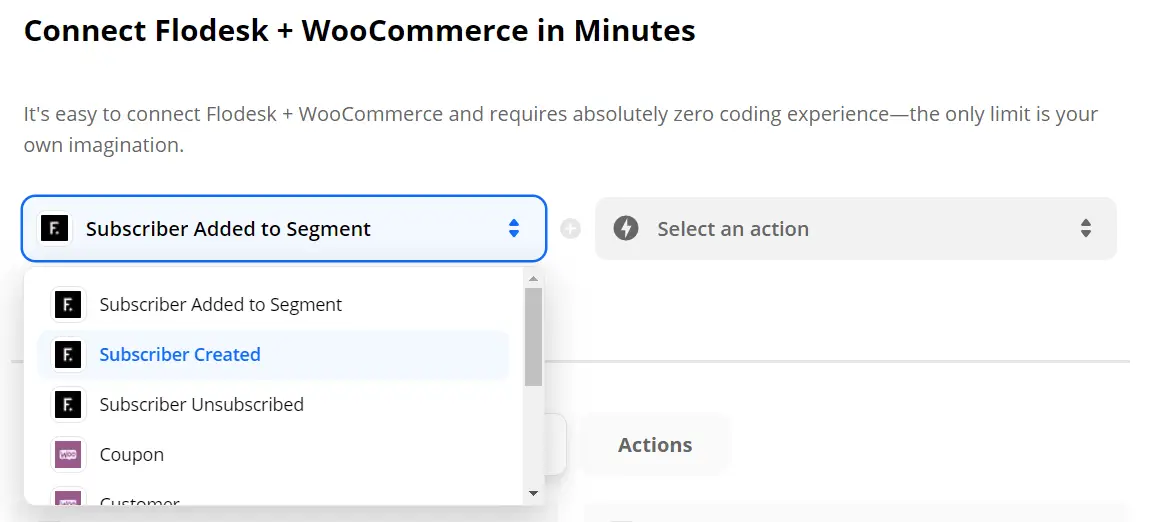 For instance, you can specify that for every new order that is made through your WooCommerce store, the Flodesk subscriber that made that purchase will be updated to a "past customer" segment in your Flodesk email list. 
However, this is just one of the many ways in which you can have the two applications communicate with each other: there are many other things you can do. Although the many combinations of triggers and actions between the apps might seem overwhelming at first, once you play around with Zapier a little you will get the hang of it in no time.
Related: Flodesk Pricing Explained: Is it Worth the Cost?
How you can use Flodesk with your ecommerce platform
Flodesk has excellent features for both growing your ecommerce store's email subscriber list, and sending emails to your subscribers.
Using forms to build your email list
Putting various forms on your website is an excellent way to gain email subscribers. With Flodesk you can create three types of forms:
Pop ups

Inline (forms embedded within your website's content or sidebar)

Full page (essentially a landing page)
With the exception of full-page forms, each of these forms have two templates you can choose from: with an image and without an image. To read more about Flodesk's form templates and the form builder click here!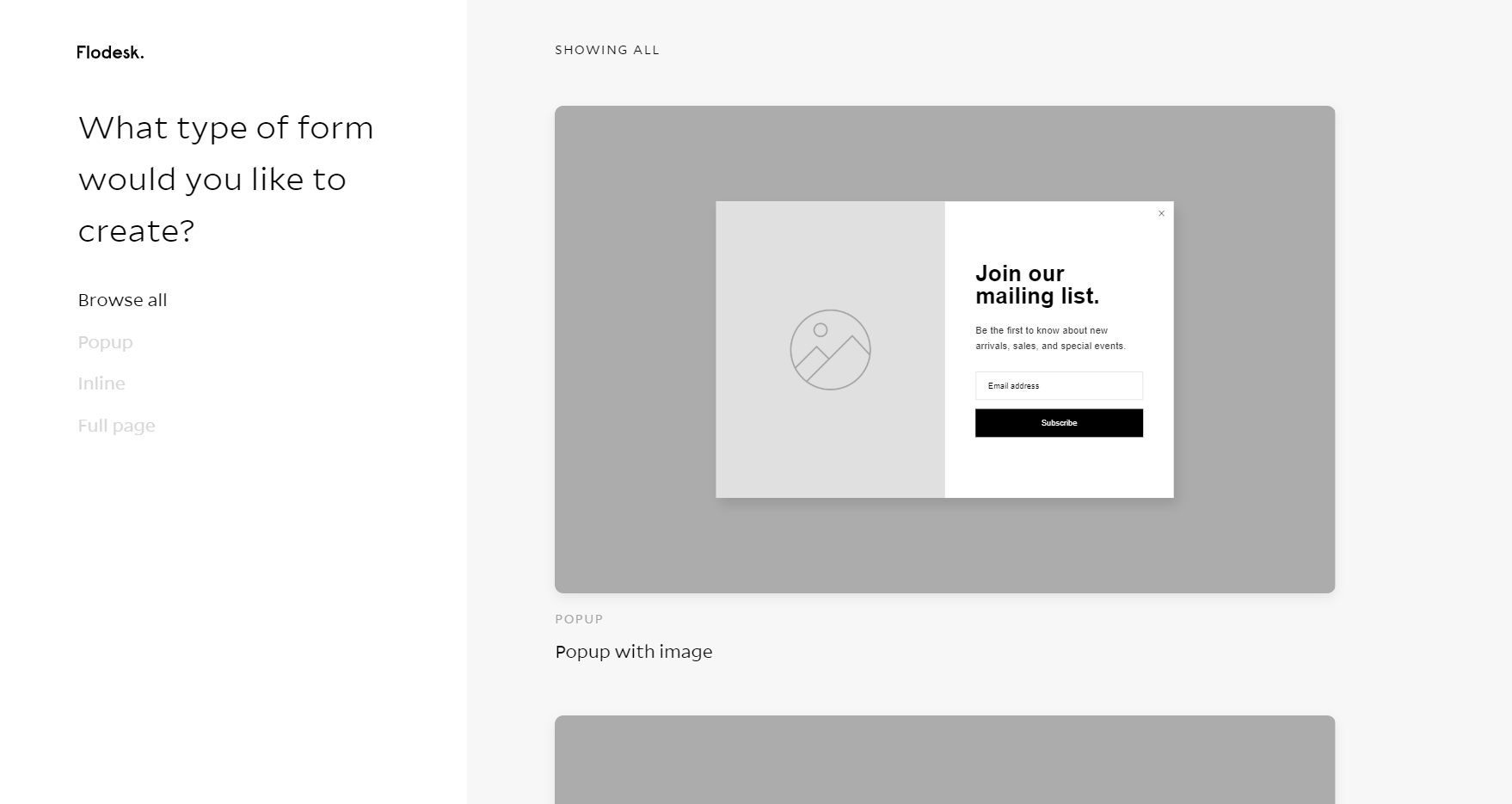 There is a time and place for each form type for your ecommerce store:
Pop ups are a more aggressive way to gain email subscribers. Pop ups take up your visitor's entire screen, and they force visitors to either opt-in to your email list or close out. These forms are definitely a sure-fire way to catch your visitor's attention.

Inline forms are a bit less attention-grabbing than pop ups, but if their message is intriguing, they can be quite effective especially if they are on every page of your ecommerce store.

Full page forms are often used with paid advertising to collect emails. Alternatively, you can direct traffic from your ecommerce store to these full page forms.
Automated email campaigns
Automated email sequences should be a central part of your ecommerce store's email marketing strategy. There are a few basic sequences that you should set up to gain new subscribers and keep them coming back to your store:
Welcome email: Your welcome email will be the first set of emails you send to your new subscribers, so it's important to make a good first impression! The purpose of the welcome email is to confirm that a new subscriber has successfully opted into your email list through a form on your ecommerce site. This email is an opportunity for your to thank your new subscriber for joining the mailing list, to provide some brief info on what emails they can expect to receive in the future and to even offer them a discount, free trial, or other nice little bonus for signing up.
Nurture series: Shopify claims on its blog that about 47% of your email subscribers aren't ready to buy now but they will at some point later down the road.1 By building a relationship with these subscribers based on trust, you will be more likely to sell them in the future. That being said, you don't want to shower these subscribers with discounts or promotional emails but find other ways to provide value without selling. Think outside the box: you can provide educational content relevant to your subscribers or provide information about your company and its values for instance.
Promotional emails: Promotional emails have one purpose: to get subscribers back on your ecommerce site to buy your product. There are many ways in which you can go about creating promotional emails. You can automate personalized product recommendations based on the items your subscribers have checked out. Alternatively, you can send a sitewide time-sensitive discount on all products to all your subscribers.
Abandon cart follow up: With Shopify specifically, you can set up automated abandon cart follow up emails for your store with Flodesk. Abandon cart emails follow up with certain leads that have filled up their shopping cart and then clicked off your store before purchasing. These prompt visitors to go back and complete their purchases and you can drive significantly more sales as a result.