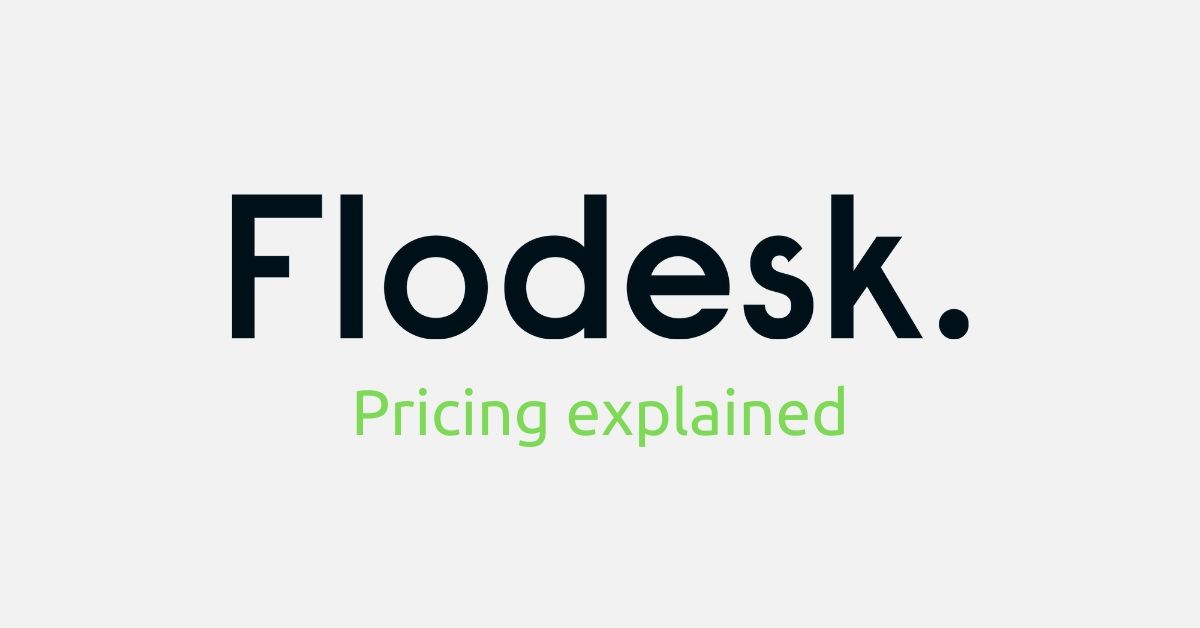 There are dozens of popular email marketing tools out there that have seemingly complex pricing structures.
Take Mailchimp for instance. Just looking at Mailchimp's pricing chart can be overwhelming given that there are multiple plans with different pricing depending on their features. For each plan, your exact monthly price for each plan is calculated by how many subscribers you have. On top of that, there is a separate pay-as-you-go option. Figuring out what plan meets your needs at a price you can afford can be a headache.
Flodesk, on the other hand, has an extremely straight-forward pricing structure compared to its competitors. At just one price fixed price, you can send emails to as many subscribers as you want. Here you can find a comprehensive overview of Flodesk's pricing, and how affordable Flodesk is compared to its competition. 
Flodesk pricing basics
Flodesk's pricing structure is extremely simple: You can use Flodesk for a fixed cost of $38 a month. By using my discount you can get 50% off and use the tool for $19 a month, every month. 
To get this discount simply sign up for Flodesk through this link here!
At this fixed price, you can send unlimited emails to unlimited subscribers. Additionally, all the features that the tool has to offer are included in this one fixed price.
In addition to Flodesk's month-to-month pricing, Flodesk offers annual billing as well. Flodesk offers pricing at $418 per year which saves you $38 annually. 
Related: Flodesk vs Mailchimp: An Inside Look 
Does Flodesk have a free version?
Free plans, also known as "freemiums" are sometimes offered by marketing software. Often these free plans have limited features to incentivize users to upgrade for additional paid features. 
Flodesk doesn't offer a free version of the platform. However, Flodesk gives you a 30-day free trial of the tool. The free trial is great for experimenting with the platform, getting acclimated to it, and determining for sure if its right for you.
Why Flodesk's pricing plan is so unique…
Flodesk's pricing structure is unique mainly because very few other email marketing platforms charge the same flat price regardless of how many subscribers you have. 
Typically, the more subscribers you have, the more costly the marketing tool is. Additionally, unlike Flodesk some platforms have tiered plans that include more and more features as you upgrade your plan. That being said, the pricing of some email marketing tools can become complicated.
Simplicity in terms of pricing is one of the key reasons why Flodesk is appealing to many. No upgrades that you might need to pay extra for later down the road. No limitations of features. Just $19 per month (with my discount), every month, no matter what. 
Is Flodesk worth what it costs?
Ultimately whether or not Flodesk is worth its price is subjective. A person who absolutely loves Flodesk might say that its worth so much more than just $19 a month while another person who is frustrated with the tool might think otherwise.
That being said, the value of Flodesk to you should really depend on 2 things: how many subscribers you have, and how much you value Flodesk's features. 
The size of your subscriber base 
Keep in mind that at one fixed price you can send unlimited emails to as many email subscribers as you want. Most other email marketing platforms become increasingly expensive as you add more subscribers. 
That being said, if you have thousands of email subscribers, there is a good chance that Flodesk may be significantly more affordable than other email marketing platforms. Depending on the size of your subscriber list, you could end up paying hundreds of dollars more every month with another email marketing platform.
To put things in perspective, if you have 10,000 subscribers you can send emails to them for $19/month with Flodesk, but you would have to pay $74.99/month to send emails with Mailchimp.
On the other hand, if you are just starting out and have little to no email subscribers then $19/month might actually be a pretty steep price to pay. It can take some time to build up a subscriber base and learn how to communicate with them effectively. That being said if you are just starting out, it could be a while before you see a return on that $19/month investment.
The value of Flodesks key features
What Flodesk is worth to you depends on how much you value its greatest features.
"What are Flodesks greatest features?" you might ask. Flodesk seems to have two key features that make it stand out of the crowd the most: its intuitive user interface and stunning newsletter templates.
As for Flodesk's user interface, in general, the platform is set up in an extremely logical way that makes it incredibly easy to use. Flodesk also doesn't include any super-advanced settings that can only complicate things. It only gives you the basic functionality you need for effective email marketing. Sometimes minimalism and simplicity is more important than the bells and whistles touted by other email marketing platforms. 
As for Flodesk's newsletter templates, this is one of the platform's greatest draws. Flodesk's newsletter templates are chic, modern, and artsy. These memorable designs are eye-catching so that your emails can stand out in your subscriber's inbox. For many, these templates are a breath of fresh air considering most other email marketing platforms' genic looking templates.
Down below are just a few of Flodesk's dozens of aesthetically pleasing templates 

Ultimately, if you are in need of an easy-to-use platform and you want to send beautiful emails, then Flodesk very well might be worth the money.
Other Flodesk features that really make Flodesk stand out include:
Newsletter builder: While Flodesk's newsletter templates are stylish, the super easy to use newsletter builder makes designing your emails a breeze. 
Subscriber segmentation: Easily segment your email list based on shared characteristics
Form builder: Create pop up forms, inline forms and landing pages to capture email addresses and build your subscriber base 
Workflow editor: Create simple or complex workflows that can be tailored to your subscribers based on their actions. 
Analytics: See stats such as open rates and clicks to gain insight into your subscribers' behavior 
To learn more about Flodesk's features click here!
Flodesk's pricing compared to competitors

The chart above shows the price per month for Flodesk and 16 of its most popular competitors. 
As you can see, if you don't have many subscribers, many of Flodesk's competitors are simply more affordable than Flodesk. However, as you gradually increase the number of subscribers, at 5,000+ subscribers Flodesk clearly becomes the more affordable option. That being said, if you don't have many subscribers but you are quickly growing your subscriber base, Flodesk might be the more affordable option in the long run despite its relatively high starting price. 
To see 7 of Flodesk's most similar competitors check out this post here! 
Final words: Things to consider other than price
Keep in mind that price is just one way you should compare Flodesk to its competitors when deciding which email marketing tool is best for you. 
It's important to note that there are various features that Flodesk's competitors have that Flodesk simply doesn't. That being said, the downside of Flodesks minimalistic platform is that it's relatively more limited compared to some of its competition. A few examples of these advanced features include split testing, integrations, customer support, lead scoring, geolocation, and conversion tracking.
Advanced features like these can be beneficial for well-established businesses that already have a large subscriber base. If this sounds like you then it might be worth considering a few other more robust email marketing tools in addition to Flodesk. 
However, for many businesses on the small side, these features might not be necessary. These features are especially unnecessary if you are just starting to build your email list. 
Either way, no matter the size of your subscriber list, there is no harm in trying Flodesk for free to see for yourself if the platform is right for you.