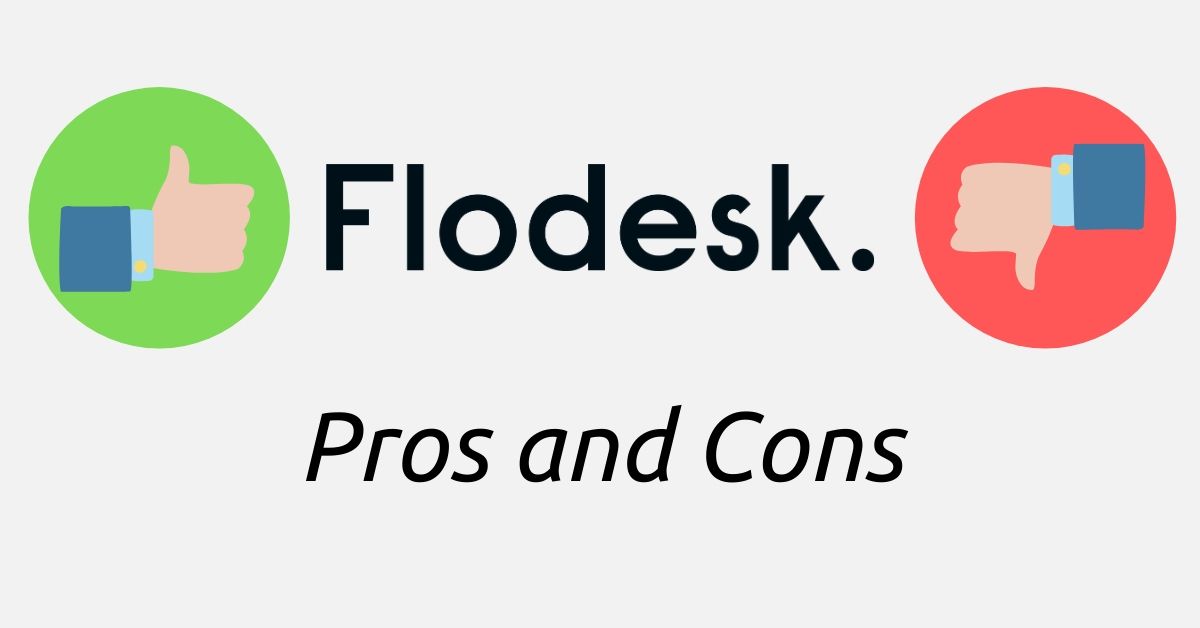 Not too long ago Flodesk made a splash in the email marketing industry.
This email marketing tool is praised for its simple user interface and beautiful newsletter templates that set it apart from most other email marketing tools. Many other features make this tool worth looking into.
However, just like any other email marketing tool, Flodesk certainly has its drawbacks as well as its benefits. Flodesk definitely has limitations to be aware of if you planning on taking your email marketing seriously.
This post delves into Flodesk's pros and cons so that you can know if this tool is best for your business's needs.
Pros
Easy to use
One of the biggest drawbacks of other email marketing tools is that while they are effective, they can be a headache to try to figure out. If you don't have much experience with these tools, you can very well spend hours pouring over tutorial videos before figuring out how to use them effectively. 
One of Flodesk's greatest strengths is that it is VERY easy to use. Flodesk's platform is designed to be as intuitive as possible and doesn't include any unnecessary fancy features that can only complicate things. No coding or technical experience is required.
That being said, if you are looking for an email marketing tool you can get acclimated to quickly, Flodesk is a great choice. 
Beautiful templates
I would argue that Flodesk's newsletter templates are where the company shines the most. With Flodesk you have access to dozens of stunning, professionally designed templates. These templates are all chic, modern looking, and even artistic, unlike many of the generic, dull templates that you get with other email marketing platforms.
The beauty of using these templates is that because they already look good, you only need to take the time to edit the text, perhaps add a few images and include your logo. You don't need to spend hours tweaking the layout and design of these templates to make them look good like you would with other email marketing tools.
Simple pricing structure
One thing that really sets Flodesk apart from other companies is its extremely simple pricing structure. While many companies have multiple plans with different features and bill you depending on how many subscribers you have, Flodesk has one plan and charges the same fee no matter many subscribers you have.
Better yet, Flodesk's pricing is much more affordable than many other companies if you have lots of subscribers. If you have thousands of subscribers, you could potentially have to pay hundreds of dollars every month with another email marketing platform. With Flodesk, even if you have 100,000 subscribers you will still pay 19 dollars a month (discount included) no matter what.
For more on Flodesk's pricing and how it compares to competitors click here!
Affiliate marketing and MLM friendly
Unlike most email marketing platforms, Flodesk is affiliate marketing and MLM friendly.
As long as you follow the following requirements, you are free to do affiliate marketing and MLM through Flodesk:
Include all required legal disclaimers

You don't use "shady" affiliate or MLM programs that sell material related to adult entertainment, cryptocurrency, gambling services, or illegal goods
If you are unsure if Flodesks will be accepting of a specific affiliate or MLM program that you have in mind, you can certainly reach out to customer support and ask.
Also as a general rule of thumb, it's best not to constantly spam your subscribers with promotional offers but rather to have a healthy balance of quality content and promotion.
Cons
Arguably simplistic
Flodesk is for sure an intuitive and easy to use platform. However, its ease of use comes with a cost. The platform simply doesn't have many advanced features, nor is it as flexible as many of its more powerful email marketing competitors.
A few features that Flodesk doesn't have that many other email marketing platforms DO have include:
Advanced segmentation

Advanced workflow triggers

A/B split testing

Dynamic content

Media library

SMTP relay
Generally speaking, the features that Flodesk does have are relatively basic. For instance, while the form builder can be used to create beautiful forms, it's not very flexible. You don't have much freedom to reconfigure the blocks the way you would like.
Pricing can be a bit steep for those just starting out
$19/month (discount included) for unlimited subscribers and emails might seem like a pretty good deal if you have thousands of subscribers. However, if you are just starting out and you don't have many subscribers, $19/month can be quite expensive. It can take a good while before you build up a large enough subscriber base to make a return on this $19/month investment.
Many other popular email marketing tools offer much more affordable pricing for those who are just starting to build a subscriber base. Better yet, many also offer free versions, that you can use to get your feet wet and experiment with email marketing without paying a dime. MailerLite is a great example of an email marketing platform that has a free version and a relatively inexpensive paid version starting at just $10/month.
Limited customer support
Many email marketing companies offer live customer support whether it be through chat or phone calls. Flodesk doesn't offer this level of customer support. To get in touch if you have a question or problem, you can contact customer support through email and you will get a response within two business days.
For a faster response, the company seems to encourage users to join its Facebook group where other Flodesk users converse about the tool. Hopefully, someone in the group can explain how to fix a problem or answer a question you might have.
Flodesk does have a blog that covers many of the FAQs of Flodesk users. However, it seems to be a bit underdeveloped. There have been a few occasions where I have tried to find certain information on Flodesk and couldn't seem to find answers after scouring the blog.
Integrations??
Flodesk isn't capable of directly integrating with any other marketing tools. In order to connect your Flodesk account with other internet marketing tools, you must use a third-party tool called Zapier.
Don't get me wrong- Zapier is a wonderful tool. Zapier allows you to seamlessly connect Flodesk with hundreds and hundreds of popular (and even not so popular) tools. It really is incredible. BUT… it would make things much less complicated if you could just integrate your other marketing tools directly with Flodesk.
A bit glitchy at times
It's no secret that Flodesk is the new kid on the block in the email marketing industry. Every new software inevitably will have bugs that need to be worked out, and Flodesk is no exception.
For instance, one time when I was using Flodesk the screen froze when I was building out a form. Another time, a button I was trying to click in the interface was unresponsive. Another time the platform took a while to load (this very well could have had to do with my internet connection). These issues were all easily resolved by just refreshing my screen so this really isn't a big deal in my opinion. However, the minor glitchiness is good to be mindful of.
Regardless, Flodesk is constantly updating its platform, so soon any glitchiness might be an issue of the past.
My opinion: is Flodesk worth it?
I believe that Flodesk is completely worth the money if you want to be able to send beautiful emails and don't care as much about advanced features that come with other email marketing tools.
Given Flodesk's minimalist interface, it's a great tool for anyone who is new to email marketing or anyone who isn't super tech-savvy. However, if you need a more feature-rich email marketing solution, I would definitely advise a more powerful email marketing tool.