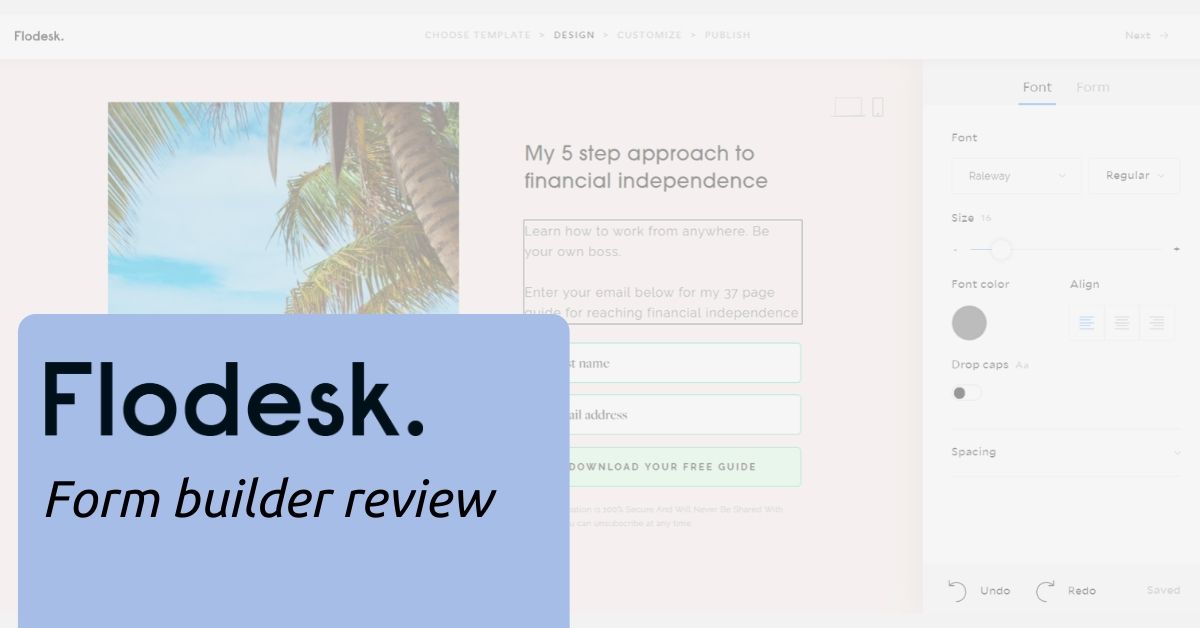 It's no secret that forms are essential for growing your email list.
Getting substantial traffic to your website is also very important for getting lots of new email subscribers through your forms. However, I would argue that making your forms actually look good is practically just as important as getting traffic to them.
After all, no one wants to submit their email through an ugly form just like no one wants to stay an ugly, outdated looking website.
Fortunately, form templates that look good happen to be where Flodesk really shines. This Flodesk form builder review discusses how Flodesk's form builder works, as well as its benefits and drawbacks.
Overview of Flodesk's form builder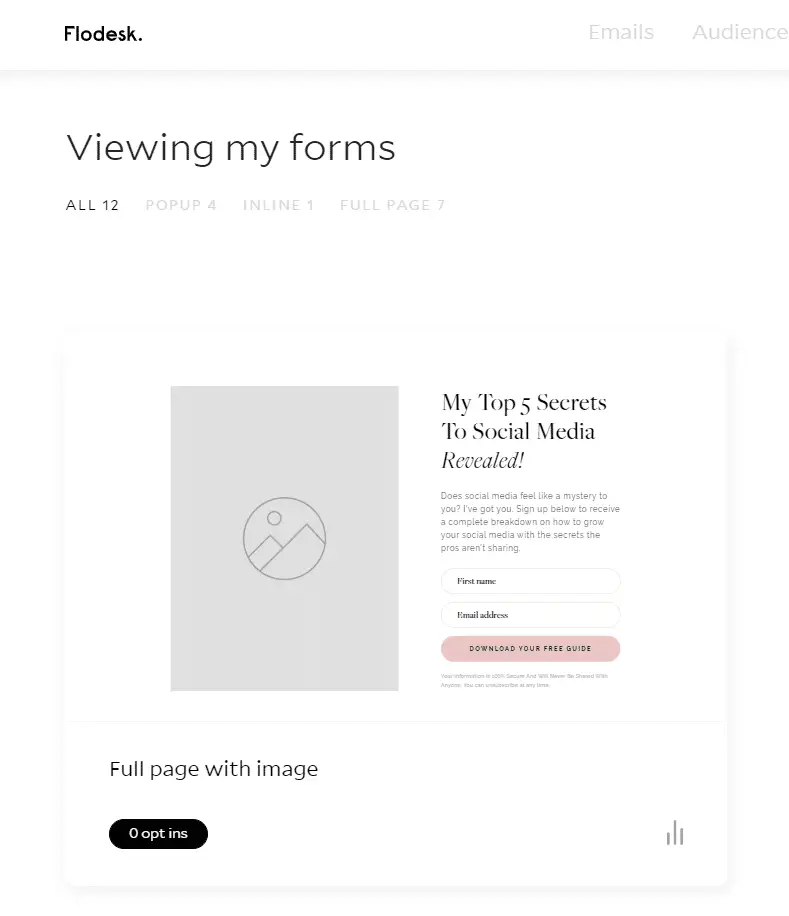 Forms are designed for the sole purpose of collecting email subscribers. Fortunately, Flodesk provides a variety of form styles that can be strategically placed on your website to attract as many new subscribers as possible.
With Flodesk you can create three types of forms:
Pop ups: Pop up forms "pop up" on the screen of your website's visitors. Once the pop up is presented, visitors either have to enter their email or close out of the pop up. The benefit of popups is that they are often the most attention-grabbing types of forms. Flodesk offers popups either with an image or without an image.
Inline: These forms are designed to be embedded directly in the content of your website. Flodesk offers inline forms either with or without an image.
Full page: These forms are essentially the same thing as landing pages. In other words, these forms are their own separate pages with the sole purpose of collecting subscribers. Typically you would run paid ads to send traffic to your landing pages or direct visitors from your website to these pages.
With each form you can make the following changes in the form editor:
Form background-color

Form width

Font, font size, font color, font alignment 

Line height and spacing

Form field/button style, color, height, width, and thickness
Related: Flodesk Review: Pros & Cons, and My Opinion…
How to build a form with Flodesk
For this demo, I will walk you through how to build a full-page form (landing page). The process of building other forms is practically the same.
1. First, before you start building your form, I recommend you create a new segment designated for the subscribers you collect with the form you decide to make. This way you can keep track of exactly where these new subscribers came from. To do this go to audience, then segments, then +Add segment. Name the segment whatever you would like.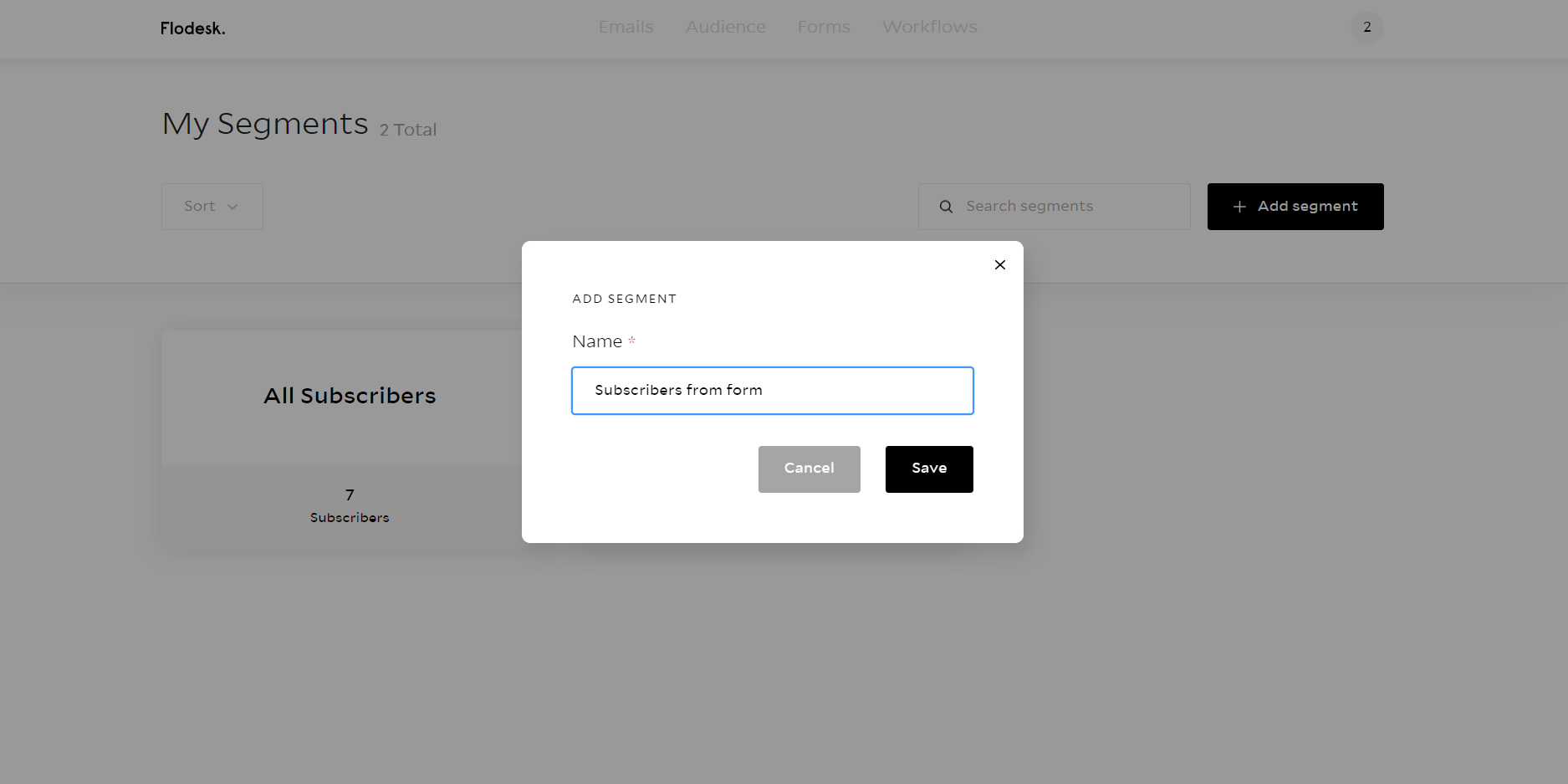 2. Next, go to forms. Click +Create new, and then select the Full page with image template. Once you select the template you will be asked which segment you would like to send subscribers to. Select the one you created in the first step.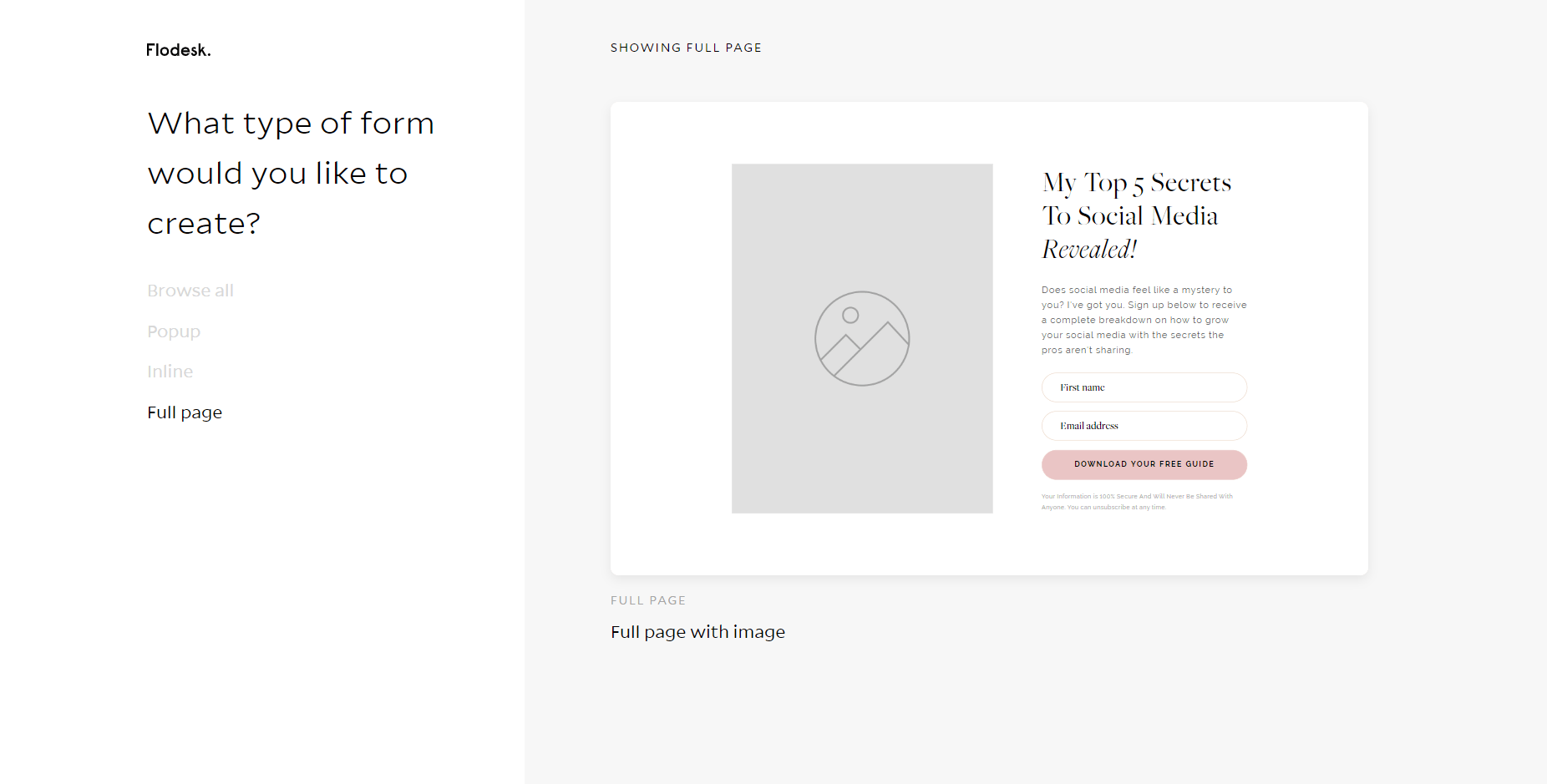 3. Once you get to the editor, you can play around and edit your form as you see fit. You can edit any element you want by just clicking on them in the editor. For mine, I changed the text and header, and I also selected a different font, changed the size, selected a different color, and played with the alignment as well. Next, I changed the color and shape of the fields. Lastly, I added an image.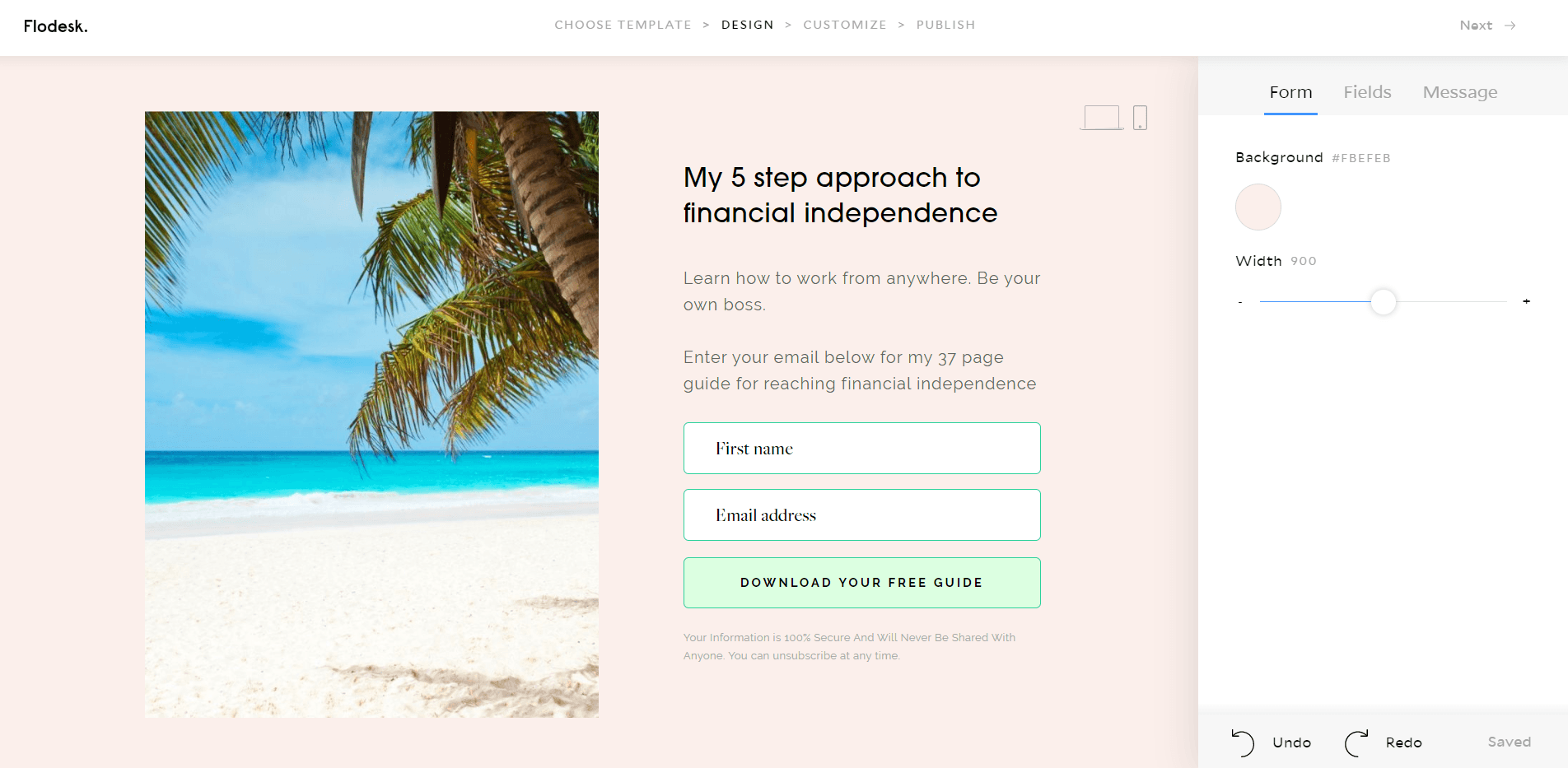 4. Once you are ready to move on from the editor, click Next. From here, you just have to check off a few settings like whether or not you want to display a success message, and if you want to be notified every time a subscriber submits their email.
5. Once you have tended to the form's settings you will be given a URL link for the published form. For forms like pop ups and inline forms, you would get a small piece of HTML code to put into your website. 
Benefits and drawbacks of Flodesks form builder
Benefits
One of the greatest benefits of the form builder is the forms are already well designed. That being said, you don't need to do too much on your end to make the forms look good. You can simply go in and change the text and header, add an image if you want, and boom- you're done. You simply don't need to worry about designing form layouts from scratch. This can save you a ton of time and makes building forms incredibly easy.
Drawbacks
Although it is an extremely straightforward process to customize forms, the ease of use of the form builder comes at a cost. You are a bit limited in how you can customize the design and layout of your forms. Unlike some drag-and-drop form builders, you cant move blocks in Flodesk's forms wherever you want. There are designated spots for each block you want to include. Furthermore, you can't really change the size and shape of most blocks.
Other drag-and-drop builders such as Landingi, give you much more freedom to customize your forms exactly how you would like.
Additionally, although Flodesk's form templates are well designed, there isn't a very large selection of form templates. You basically have the option of selecting a template with or without an image for each form (pop ups, inline, full-page).
Is Flodesk's form builder good for me?
Whether or not Flodesk's form builder will be of value for you really depends on your marketing goals.
If you want the ability to build great-looking forms quickly and conveniently, then I absolutely think that Flodesk's form builder is worth using. Being able to pump out forms for your website in a matter of minutes can be extremely advantageous if you have a tight schedule or if you just want to get the ball rolling with your email marketing plans.
On the other hand, if you want to have more control in customizing your forms, a different email marketing tool or form builder would probably be better for you. Additionally, if you just want a larger selection of templates to choose from in the first place, Flodesk might not be the best choice.
Best of luck!