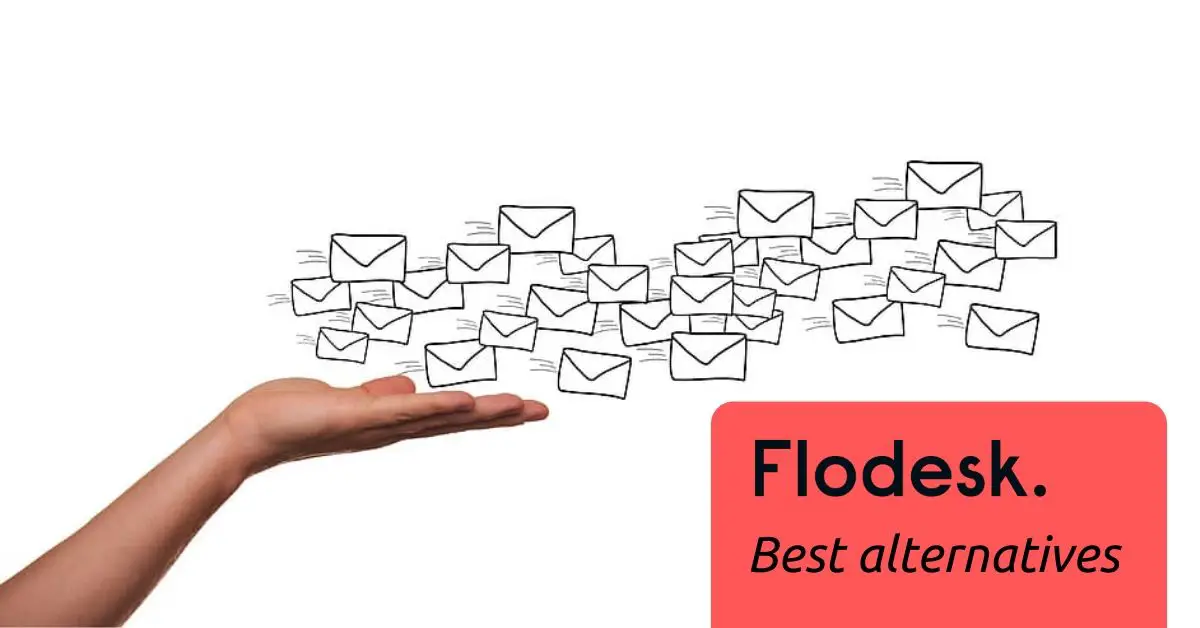 Flodesk is an incredibly unique email marketing tool. Some of the reasons why Flodesk stands out of the crowd in the email marketing industry include:
However, there are a few similar email marketing tools that you can use instead that are arguably just as easy to use and have comparable features. Better yet, many of these tools are even more affordable than Flodesk.
Here you can find the 7 best Flodesk alternatives that you can get started with today!
MailerLite
MailerLite pricing: starting at $10/month
Flodesk pricing: 19$/month (discount included)
Similar to Flodesk, MailerLite is known for its incredibly easy to use user interface. It's simple, clean, intuitive… yet powerful. Mailerlite has become increasingly popular over the years for this reason.
Additionally, like Flodesk, MailerLite also happens to have a relatively simple pricing structure. MailerLite has two plans: a free plan and a paid plan. With the free plan, you have access to most core features necessary for effective email marketing. With the paid plans you have access to all the premium features no matter how many subscribers you have. The monthly price is determined by how many subscribers you have.
You can learn more about MailerLite compared to Flodesk in this post here. 
HubSpot
HubSpot pricing: starting at $40/month
Flodesk pricing: 19$/month (discount included)
HubSpot has a powerful, feature-rich email marketing feature. However, HubSpot isn't just an email marketing tool. It includes many additional email marketing tools making it sort of like an internet marketing swiss army knife.
For instance, with HubSpot's marketing hub starter plan you have access to features such as landing pages, chatbots, live chat, forms, ad management, and much more. That being said, if you want access to multiple marketing tools for a holistic marketing approach, HubSpot might be a great choice for you. However, if all you need is email marketing capabilities, you might simply want to a platform strictly designed for email marketing. After all, at a starting price of 40 dollars, HubSpot isn't the most affordable option for just email marketing.
ConvertKit
ConvertKit pricing: starting at $29/month
Flodesk pricing: 19$/month (discount included)
ConvertKit is an excellent platform for bloggers. This platform is easy to use and has powerful features. In fact, ConvertKit has a few more advanced features that Flodesk doesn't have such as A/B split testing.
However, it differs from Flodesk the most when it comes to email design given that ConvertKit isn't as big on aesthetically pleasing, artsy looking emails. ConvertKit has templates that are great for bloggers that want to send more text-heavy emails without much focus on images or overall layout of the emails. This is not to say that ConvertKit's emails don't look good, however they just aren't stylish the way Flodesk's emails are.
Mailchimp
Mailchimp pricing: starting at $9.99/month
Flodesk pricing: 19$/month (discount included)
You cant talk about great email marketing platforms without mentioning Mailchimp, one of the most well-established email marketing companies. Over the years Mailchimp has transformed from strictly an email marketing platform to an all-in-one marketing tool. Equipped with CRM and a website builder, Mailchimp has powerful features for a reasonable price. Additionally, Mailchimp can integrate with hundreds of other popular (and even not so popular) marketing tools. Whether you want to integrate Mailchimp with your ecommerce store or blog, Mailchimp allows you to do so. Mailchimp also has an excellent free version that you can use with a generous 2,000 subscriber limit before you have to upgrade.
You can learn more about Flodesk vs Mailchimp in this post here.
ActiveCampaign
ActiveCampaign pricing: starting at $9/month
Flodesk pricing: 19$/month (discount included)
If you are looking for an email marketing platform that also has excellent CRM capabilities, ActiveCampaign is an excellent choice. Although one could argue that Flodesk has a basic CRM, ActiveCampaign has a much more practical and advanced CRM system. CRM features such as lead scoring really set ActiveCampaign apart from Flodesk and other email marketing platforms for that matter. That being said, ActiveCampaign might be more suitable if you have a sales team that manages prospects and clients.
Aside from ActiveCampaigns CRM capabilities, this company has a few other advanced features that Flodesk doesn't. For instance, ActiveCampaign's reporting is much more sophisticated given it collects data on website visitors, click maps, and even geo-tracking.
Constant Contact
Constant Contact pricing: starting at $20/month
Flodesk pricing: 19$/month (discount included)
Constant Contact is one of the oldest email marketing companies, and one of the most recognized in the industry. One feature that really sets Constant Contact apart from other its event management feature. With this feature, you can customize event registration forms on landing pages to get information specific for events (meal preferences or number of guests). You can issue tracking tickets following the event registration that attendees of your event can have on their phones. Constant Contact tracks all of this info and reports it in real-time. This feature makes Constant Contact perfect for anyone who hosts or plans events.
Keep in mind, however, that Constant Contact isn't just for event management! This is just one feature that the company is known for. Constant Contact still has all the bells and whistles you need for effective email marketing whether you work in the event management industry or not.
GetResponse
GetResponse pricing: starting at $15/month
Flodesk pricing: 19$/month (discount included)
Like Flodesk, GetResponse is incredibly easy to use, yet it has powerful features. One of these features that really stands out is its workflow builder which is particularly sophisticated. This automation feature includes contact scoring, contact ranking, site, and event tracking and more. Additionally, unlike many other email marketing platforms, GetResponse has features for building out lead and sales funnels in addition to just simple landing pages.
Oh, and if you are a nonprofit you will definitely want to know GetResponse offer an astounding 50% discount for nonprofits. A discount like this is massive compared to other popular email marketing platforms.