Where once social media was simply a way to connect with friends and family, it has now become a critical component of marketing initiatives for businesses across the world.
However, anyone who has run social media accounts for businesses knows that social media strategy needs to be more than just sporadically posting when you are in the mood like you would with your personal social media. Businesses need a systematic way to schedule posts, respond to mentions and direct messages, and analyze the results of your social media efforts. 
That being said, most businesses can benefit greatly from a social media management tool. But with so many of these tools out there, it can be difficult to determine which one is best for you. 
In this post, we will compare Buffer vs Sprout social in terms of features, ease of use, and price so that you can determine which platform is best for your organization.
About Buffer and Sprout Social
Buffer not only offers a high-quality product with a variety of features critical for brands who are serious about social media marketing, but it also bills itself as a great brand that does its best to support its customers and its staff.
Founded in the early 2010s, Buffer is a bit unique in terms of how it treats its employees, with transparent salaries, a focus on diversity, and a 4-day workweek. It's also fully remote.
Buffer boasts a wide range of big brands that use it for their social media needs, including Basecamp, Microsoft, Shopify, and Stripe.
Sprout social is very similar in terms of its commitment to its employees and has a great work ethic, focused on creating a diverse team that's won a variety of awards for both its work and for its workplace culture.
Founded around the same time as Buffer, it is used by big brands all over the world, including Subaru and Shopify. It knows its customer base well and focuses on creating products that are perfect not just for social media marketing, but also for social customer service.
Supported Social Networks
| | | |
| --- | --- | --- |
| | Buffer | Sprout Social |
| Facebook | ✅ | ✅ |
| Twitter | ✅ | ✅ |
| LinkedIn | ✅ | ✅ |
| Instagram | ✅ | ✅ |
| Pinterest | ✅ | ✅ |
| Snapchat | ❌ | ❌ |
| TikTok | ❌ | ❌ |
| | | YouTube |
| | | |
Buffer and Sprout Social are extremely similar in terms of the social media platforms they support and don't support. Both platforms support the most popular social media platforms such as Facebook, Twitter, LinkedIn, Instagram, and Pinterest. Neither social media marketing platform supports Snapchat nor TikTok, however, Snapchat and TikTok aren't super important for many marketers.
Sprout Social has a bit of an edge over Buffer in terms of integrations given that it also is Youtube and Google My Business compatible. For some businesses, these channels may not be relevant. However, for other businesses, being able to track Google My Business customer reviews while also being able to schedule social media posts is a huge bonus.
Most Notable Features
While both platforms offer a great deal in terms of features, there's definitely a difference between the two. Here are some of the most notable features.
Features that BOTH Buffer and Sprout Social Have
Both Buffer and Sprout Social have a lot of overlap with some of the core features that most people have come to expect from social media management platforms.
Multi-profile posting and scheduling
Both Buffer and Sprout Social give you the ability to post from multiple profiles.
They both also allow you to schedule social media posts out for quite some time, though Sprout Social only allows you to schedule up to a year in advance while Buffer lets you go multiple years in advance.
Posting is simple in both platforms, though Buffer's is more straightforward — each day shows multiple times where you can post.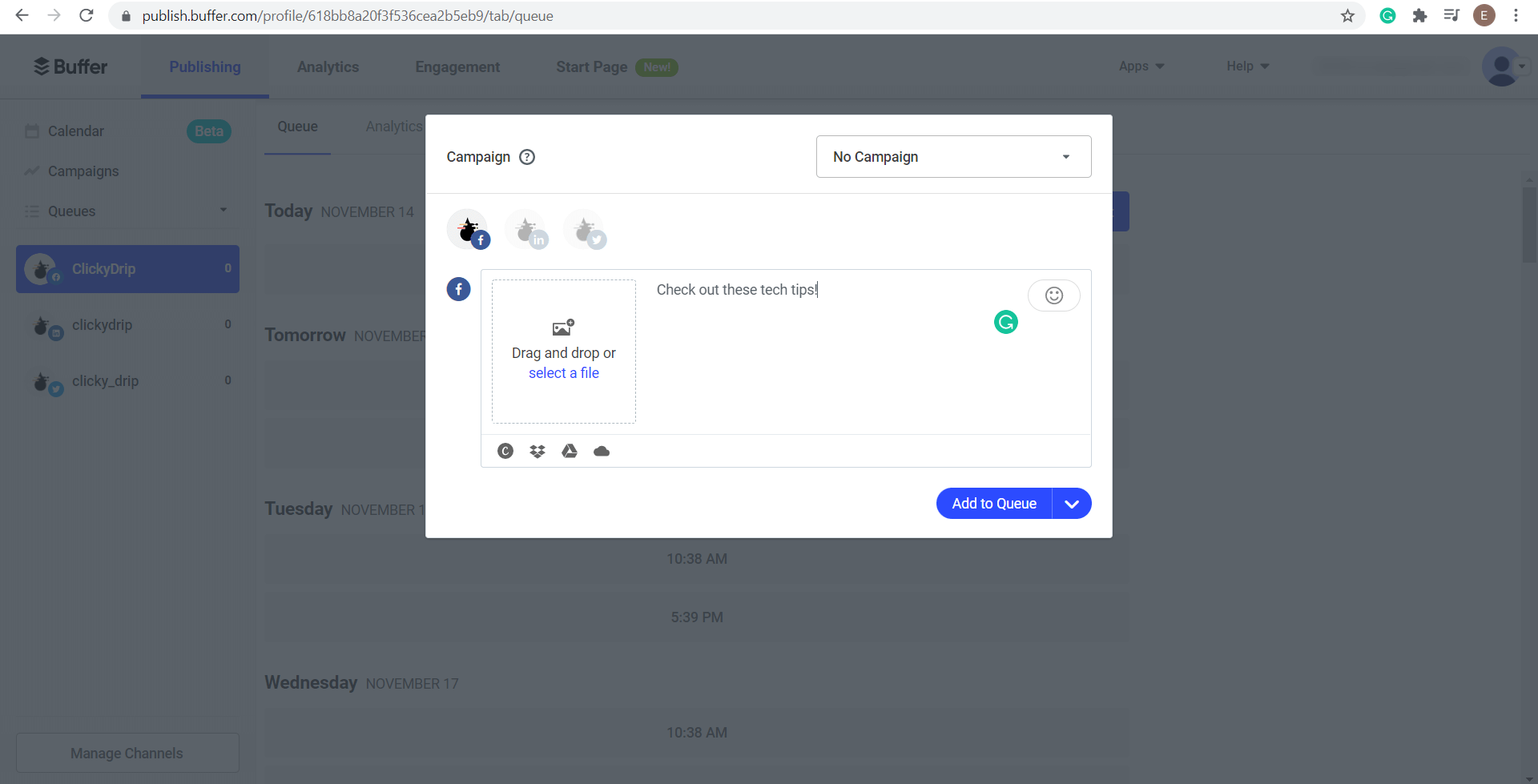 Sprout Social allows you to post using the calendar or post using the Sprout Queue, which is useful because it fills in the blank spots on your calendar with content, using analytics to send when your audience is "most engaged."
Content calendar view
While both Buffer and Sprout Social have a calendar feature, Buffer's is still in Beta, so it's not quite as robust as Sprout Social's calendar. Nevertheless, Buffer has a simpler calendar that allows you to quickly create and schedule posts as you would expect from any social media management platform.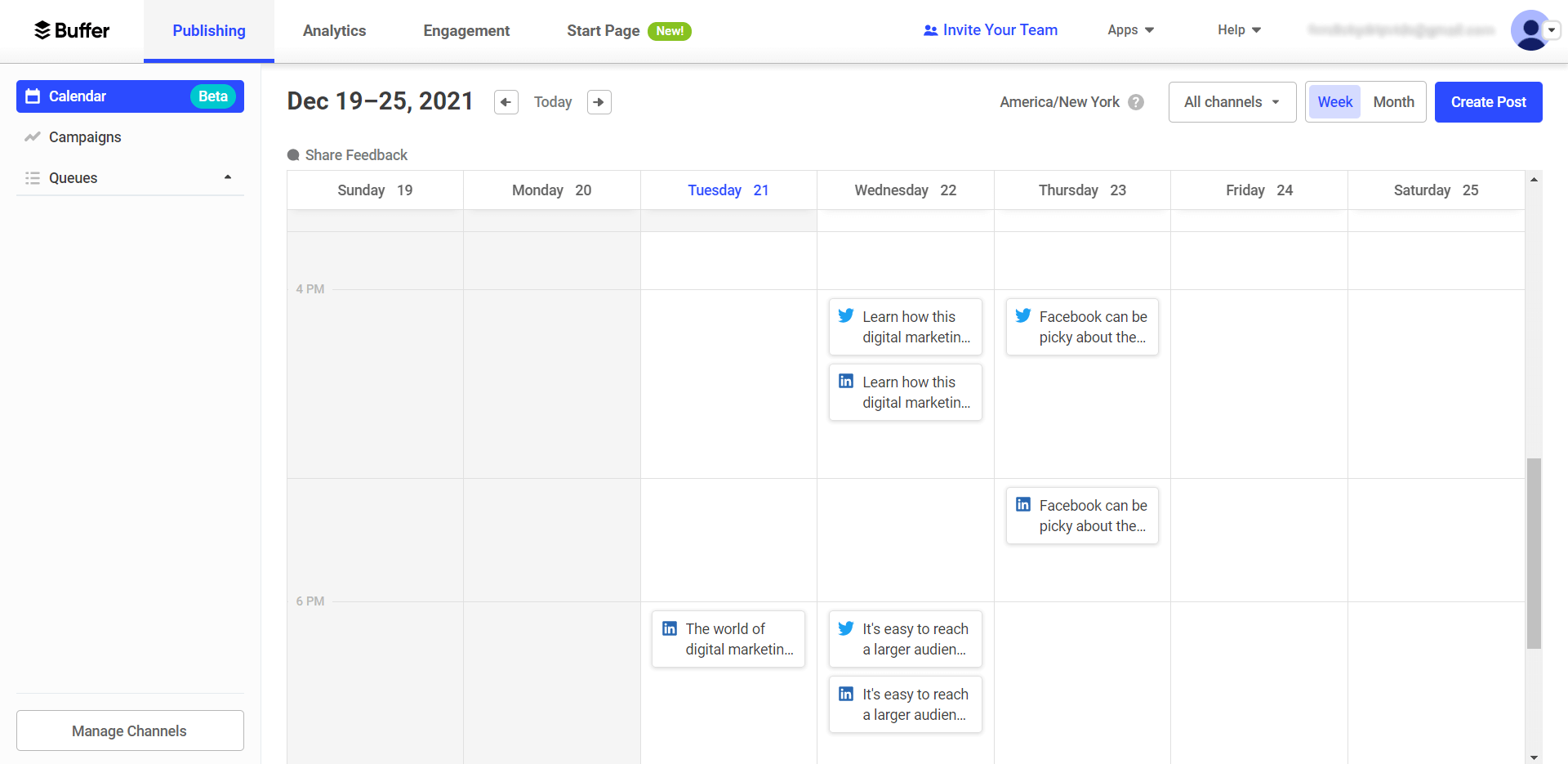 Sprout Social allows for bulk import of posts and lets you drill down by day, week, or month.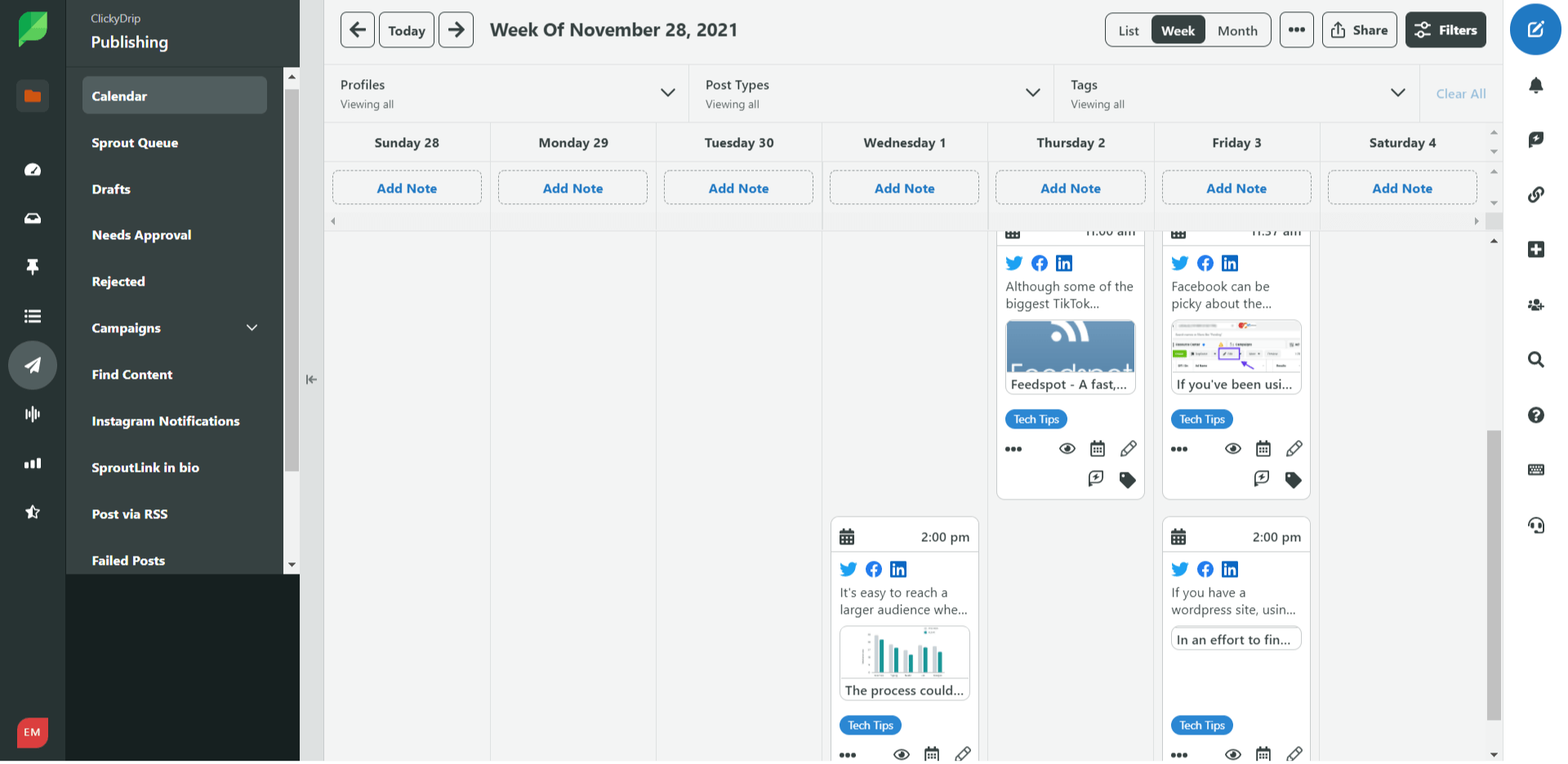 Interaction management
Both platforms allow you to view and respond to direct messages and comments.
In terms of interaction management, one of Buffer's unique qualities is it uses machine learning for detecting comments that are about sales or about unhappy customers and alerts you to them quickly.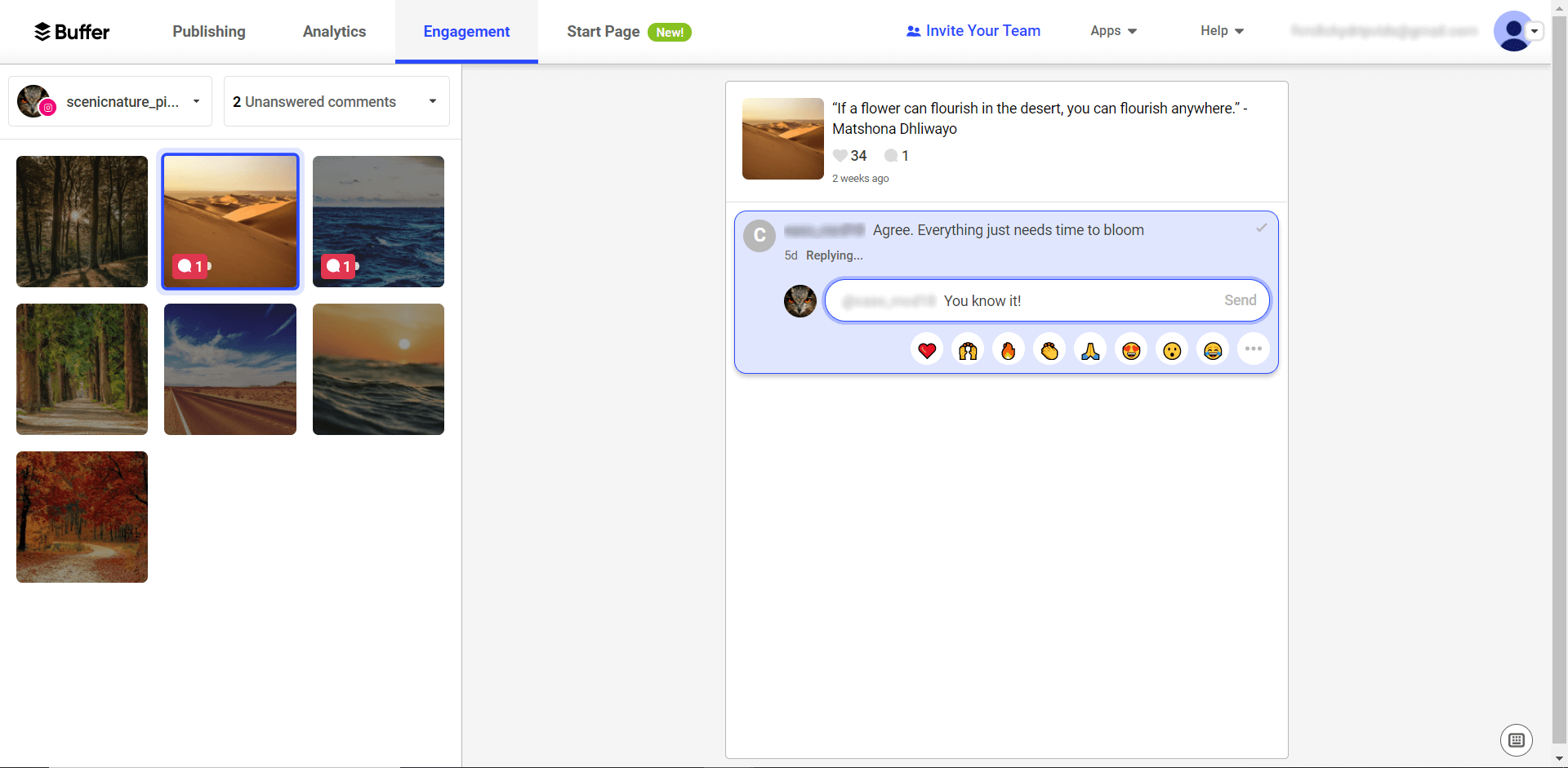 Sprout Social manages interactions through its Smart Inbox feature. Like many of its features, it's much more robust than Buffer. All your messages come into one place, including comments and other forms of engagement. You can reply to them all from a single place.
It also includes a number of filters and an export option.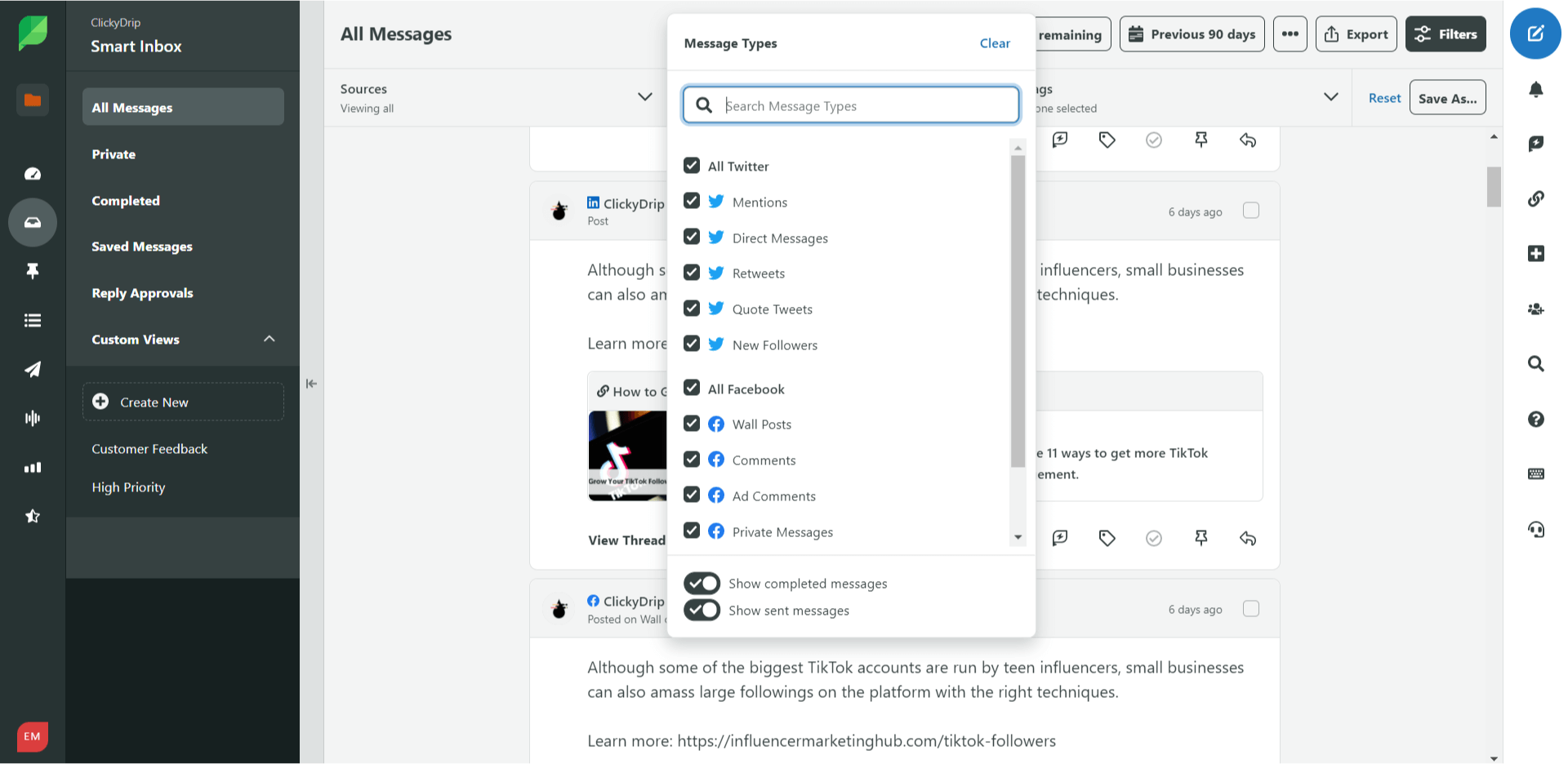 Custom workflows
Both products are great for teams because they allow you to create customized workflows to ensure everyone is working together efficiently. Approval workflows allow multiple people to view and approve posts before the last person in the chain publishes the content. 
For Buffer, you'll have to use an add-on, but it lets you manage approval workflows for your team.
In Sprout Social, you simply use the Tasks feature to coordinate and prioritize work.
Link shortener
Both products include link shorteners, and both either let you use Bit.ly's basic link shortening or customized shortened links (if you've paid for them).
Features that Buffer has (but Sprout Social doesn't)
Buffer does have a notable feature that Sprout Social doesn't have — landing pages.
Landing pages
Buffer lets you create landing pages for your brand that direct customers from social media to a page where, presumably, you'll want them to take some sort of action. You can also create shop pages that look like Instagram shop pages. Alternatively, you can use these landing pages as bio link tools to showcase various links in the bio section of your social media. 
Features that Sprout Social Has (but Buffer doesn't)
As mentioned, Sprout Social is a robust tool. It has many more features than Buffer, including some that modern businesses just can't do without.
Social listening
Social listening is when you use software to monitor certain topics or brand mentions across a variety of social media platforms. Sprout lets you monitor just about anything you want to by creating custom queries.
Employee advocacy 
This is a great feature that allows you to give employees (or really anyone) a way to share curated content to their own profiles. This is a great way to amplify the reach of your business by turning your employees into brand advocates (and making it easy for them).
Review management
This is perhaps one of the most exciting features of Sprout Social — the ability to monitor (and reply to) reviews. Because there are so many different platforms on which customers can leave reviews, it's hard to manage them all — this lets you do so in one place.
You can manage reviews from Facebook, Google My Business, Yelp, TripAdvisor, and even Glassdoor.
Tasking and social CRM tools
Sprout Social bills itself as an all-in-one platform, so it's no surprise that it includes its own CRM to help you manage interactions in a more organized way. 
Chatbots and automation tools
Sprout Social lets you create and manage chatbots for Twitter and Facebook, which is great if you have a large organization that gets a lot of direct messages.
Approach to Posting and Scheduling
Buffer
Buffer, as mentioned, focuses on simplicity, and the same can be said for the posting and scheduling features. First, you select the publishing tab, which then gives you the option of choosing between campaigns, queues, and the calendar function.
From there, it's up to you how you want to do your scheduling. The calendar function might be the easiest for most people, especially if you're familiar with other social media management platforms like Hootsuite.
You just click the, "create post" button and put your post together for your social media platform of choice. You have the same functionality in the queues section, though it's centered around individual days instead of showing you a full calendar view.
Sprout Social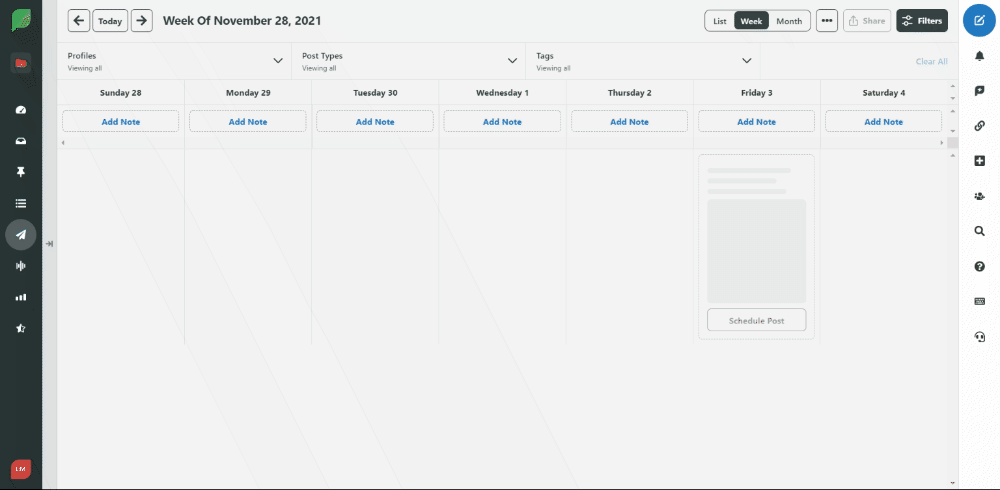 Sprout Social, as you've probably gathered, is much more robust in terms of how posting and scheduling works. Sprout Queue lets you add posts that the queue automatically sends when your audience is most engaged.
You can use the campaigns tab to look at your active campaigns, and then the calendar function is where you can see all your posts on all your platforms in a number of different views.
The calendar features are almost identical in many ways, so if you're going to mostly be using that feature, you might want to choose Buffer for its pricing, if nothing else.
Dashboard Experience and Ease of Use
Buffer's dashboard is great because of its simplicity. It's easy to find what you're looking for and easy to jump in and out from one feature to another.
The only real drawback to the user interface is that features like engagement and analytics are siloed from the campaigns themselves, so you can't drill down within each post, but rather need to find the feature (analytics, engagement) on your dashboard and then use it.
Sprout Social has a much more complex dashboard because it has a lot more features, so it will naturally take some more time to get used to. Many of the features drill down into many more features, but despite all this, it is well organized.
Reporting and Analytics
Both Buffer and Sprout Social have robust analytics, so no matter the platform you choose, you'll have plenty of data available to see what's working and what's not in your social media strategy.
Buffer has a straightforward interface that lets you choose the platform you want information on, and then an overview dashboard. You can drill down by individual posts, get audience insights, and even get insights into types of posts, frequencies, and engagement days/times that are working (or not working) for you.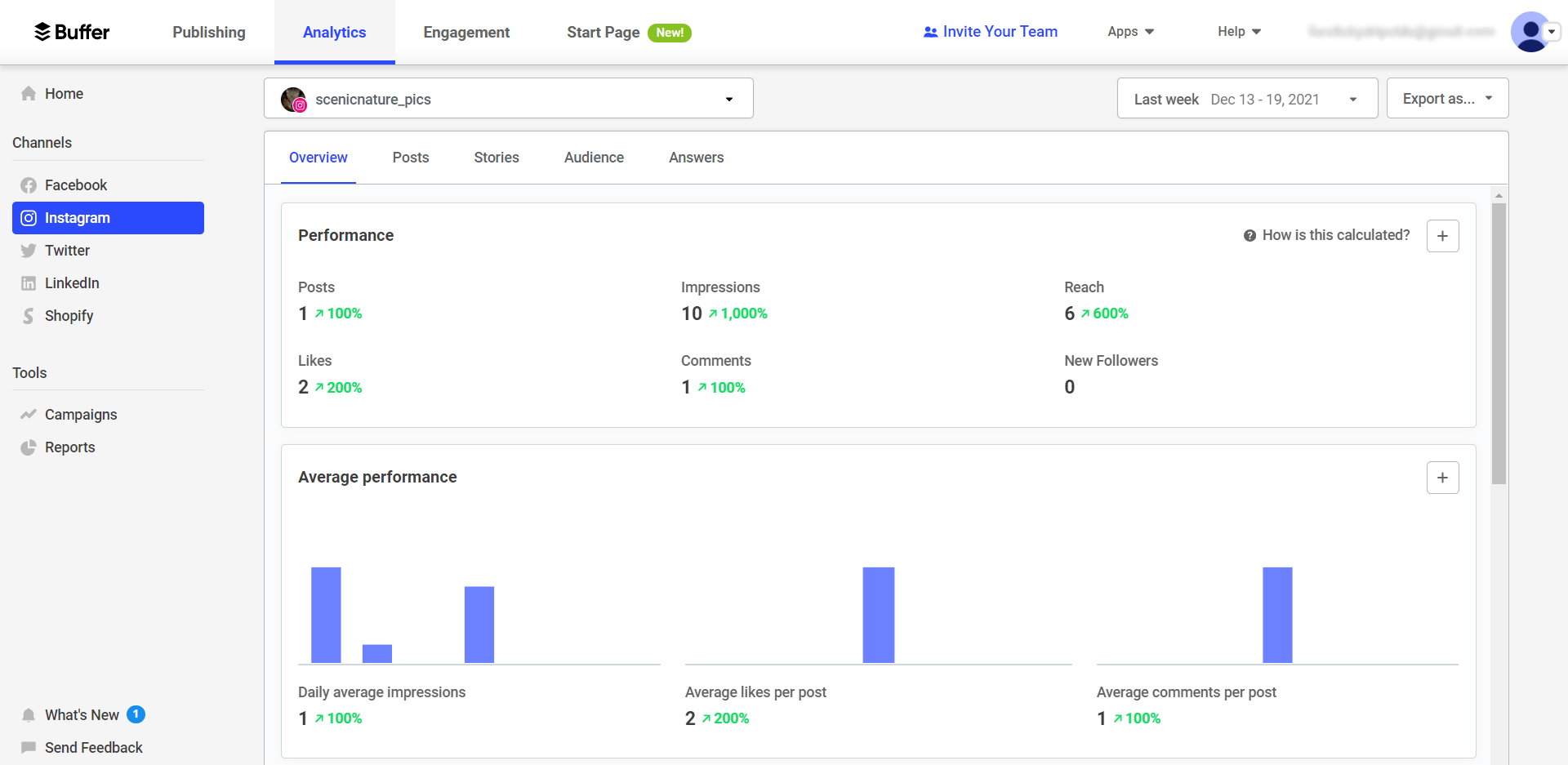 Sprout Social lets you dig much deeper, and importantly for many businesses, it gives you analytics on some paid campaigns (LinkedIn, Twitter, and Facebook).
It also gives you much more information than Buffer. While it gives you all the data that Buffer does, it also gives you data on your competitors, on the Inbox feature's performance, team performance, and even Twitter keywords and trends.
Overall, it's a much more advanced analytics suite. If you're serious about social media and are focusing heavily on social marketing, you'll likely want to go with Sprout Social.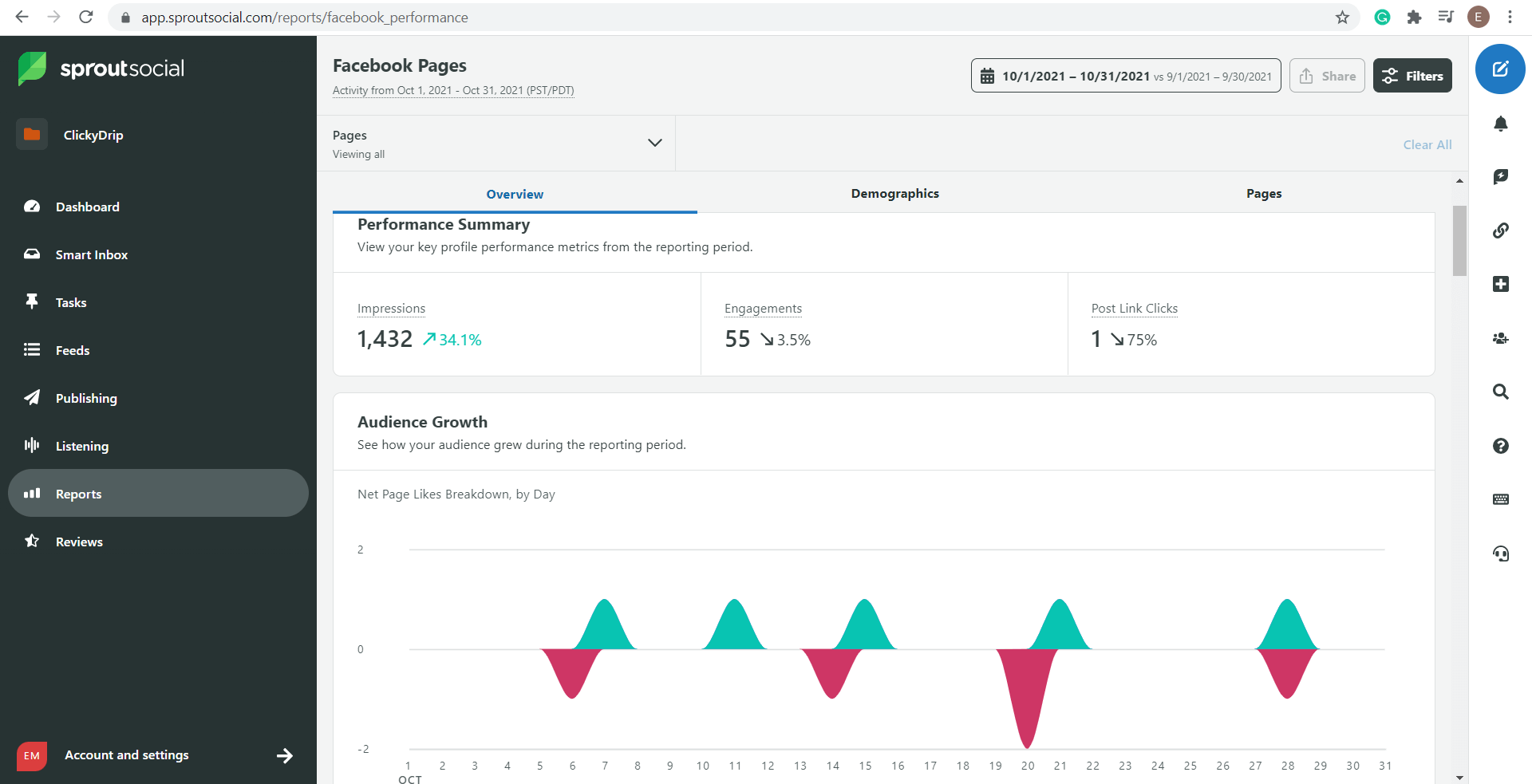 Team Management
Both platforms allow you to give access to multiple team members, and both platforms do a pretty good job of it.
Buffer does require you to buy the Essentials plan if you want to have a team using the platform, but it's likely the case you'd go with this option anyway to get access to all the features.
You'll also have to pay extra for the Team Pack Add-on, but when you get it, you can invite multiple users, set up drafting and approvals, and decide who gets access to what.
You can even give users access only to specific channels and set up workflows for larger teams. Like much of Buffer, it's simple, but it allows you to do everything you'd want to do with a team.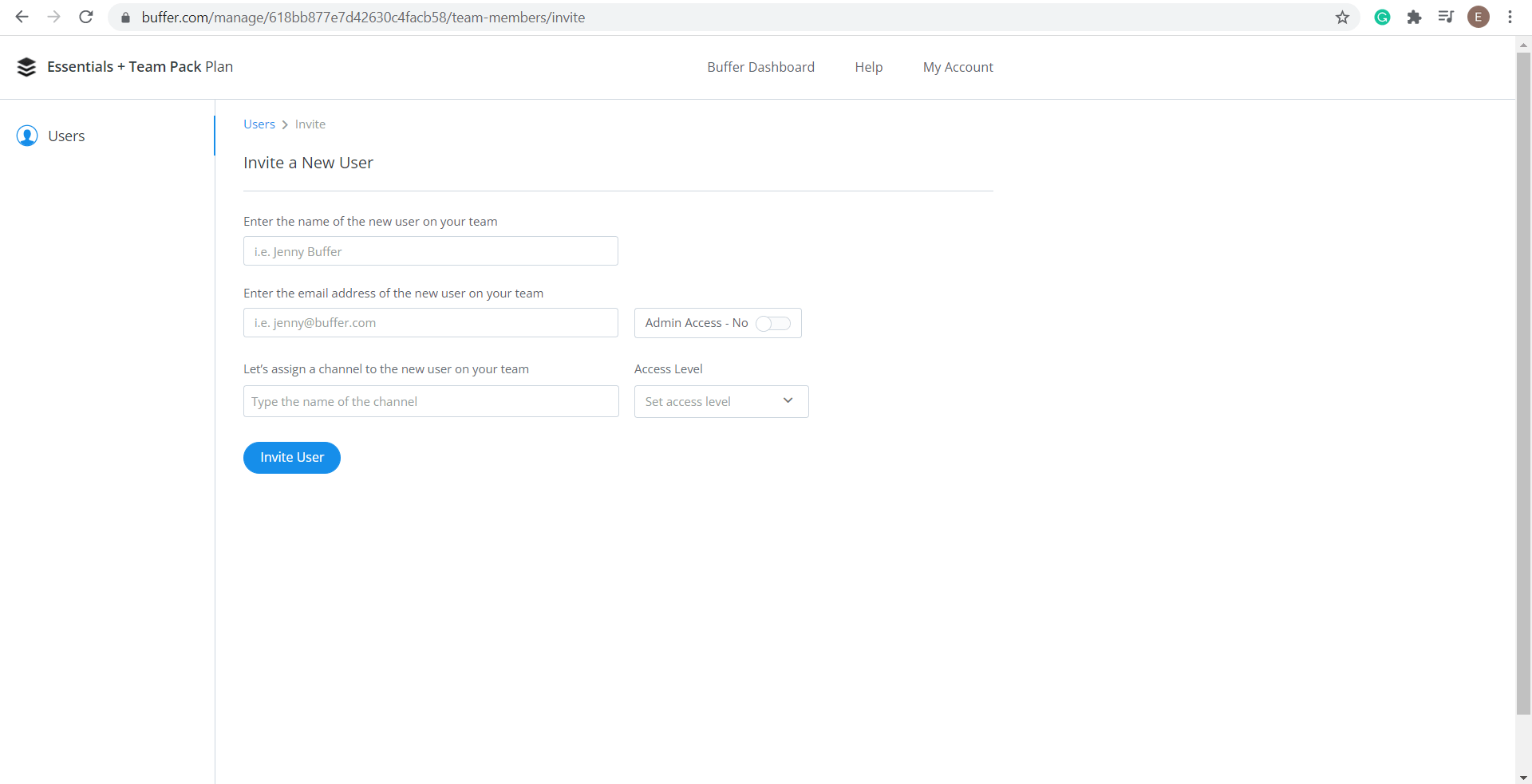 Because Sprout Social is more sophisticated, the team management features get pretty complex pretty fast. One of the main reasons for this is the smart inbox feature, which uses a customized tag system to let you divvy out work to various team members.
You can even see your teammates reacting to comments and messages in real-time, which can help you see if you need to answer a message or not. You can also audit messages to see who did what in each thread.
Just like Buffer, you can create workflows to assign tasks to different team members, but you can also analyze things like task time and availability to make sure your team stays on task.
And just like Buffer, you can give each user permissions to access different profiles and different clients.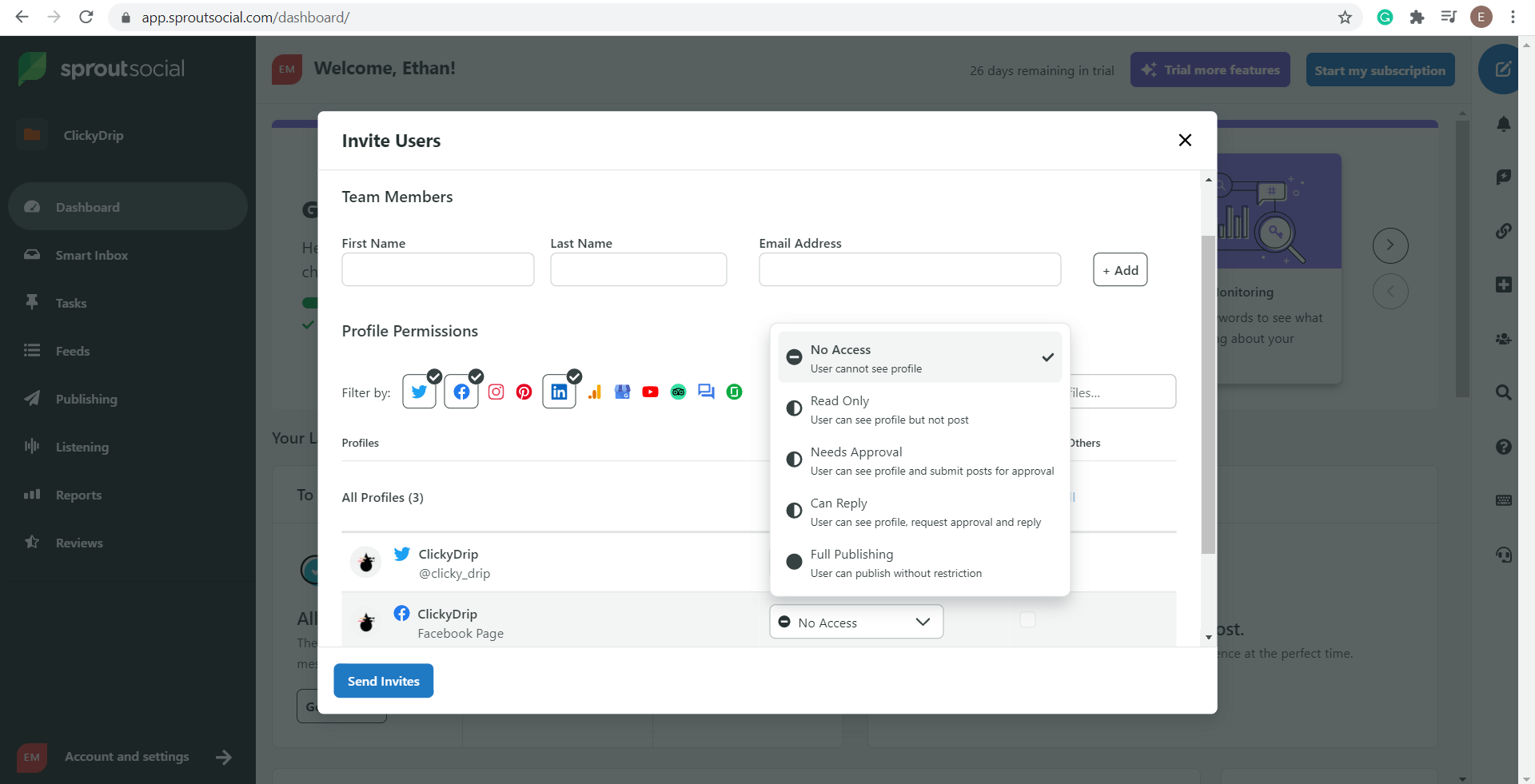 Pricing
Buffer has a free version that's geared toward individuals who just want to manage a few social media profiles, but for anyone who's serious about social media, the Essentials plan is the way to go. They have several different options — for example, if you want to add on the Team Pack, your price doubles.
Buffer charges per social channel, and that depends on whether or not you get the Team Pack — either $5/month (billed yearly) without or $10/month (billed yearly) with the Team Pack.
This price is per social profile, so your price goes up for each social profile you add. Depending on the size of your organization, this can balloon fast, so you'll want to think twice about Buffer if you're going to be managing a lot of profiles.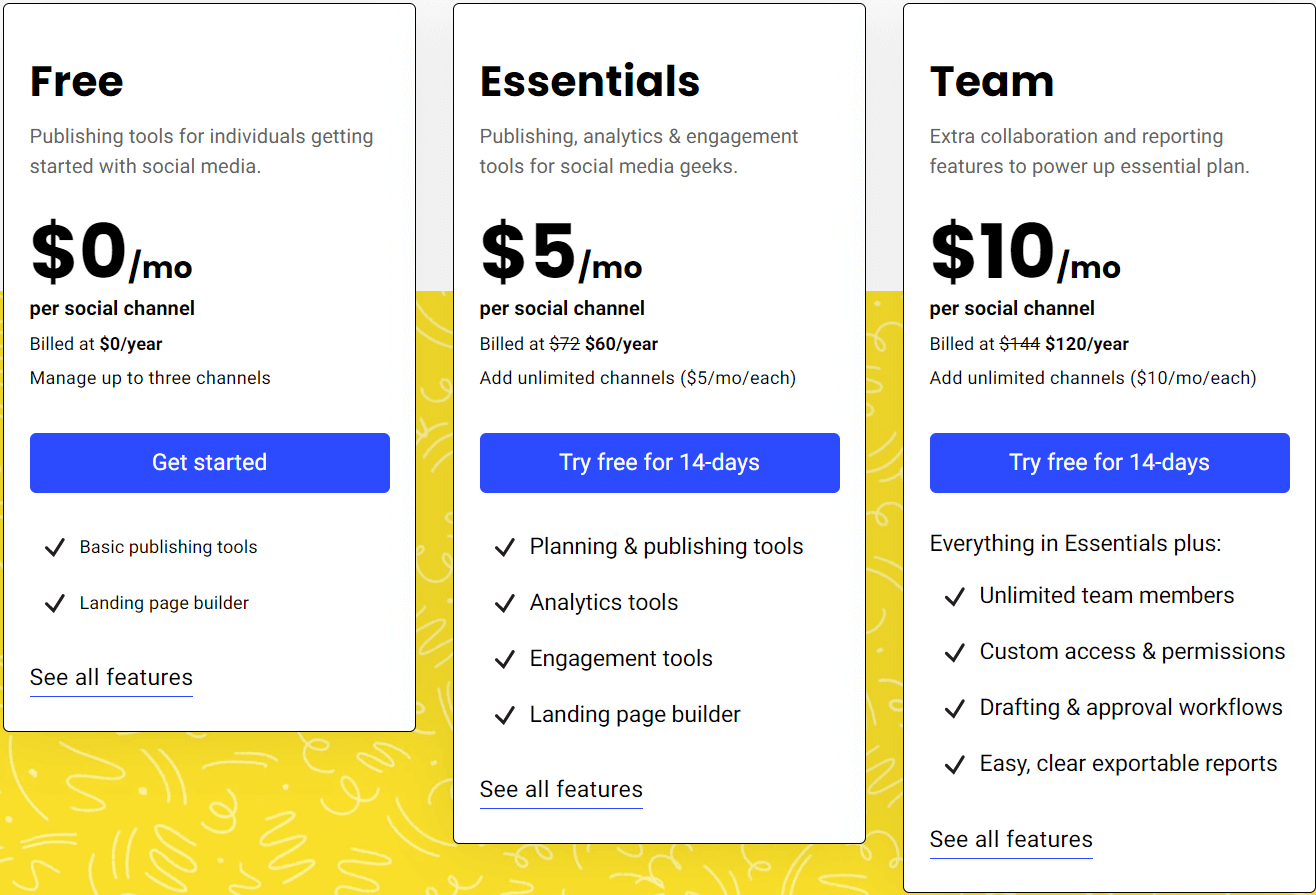 Sprout Social doesn't have a free version, but it does offer a 30-day trial. It uses a three-tiered approach to pricing, starting at $89/user/month and going all the way up to $249/user/month. 
You get anywhere from 5–10 social profiles, depending on which plan you choose, and you can add more for a "nominal fee."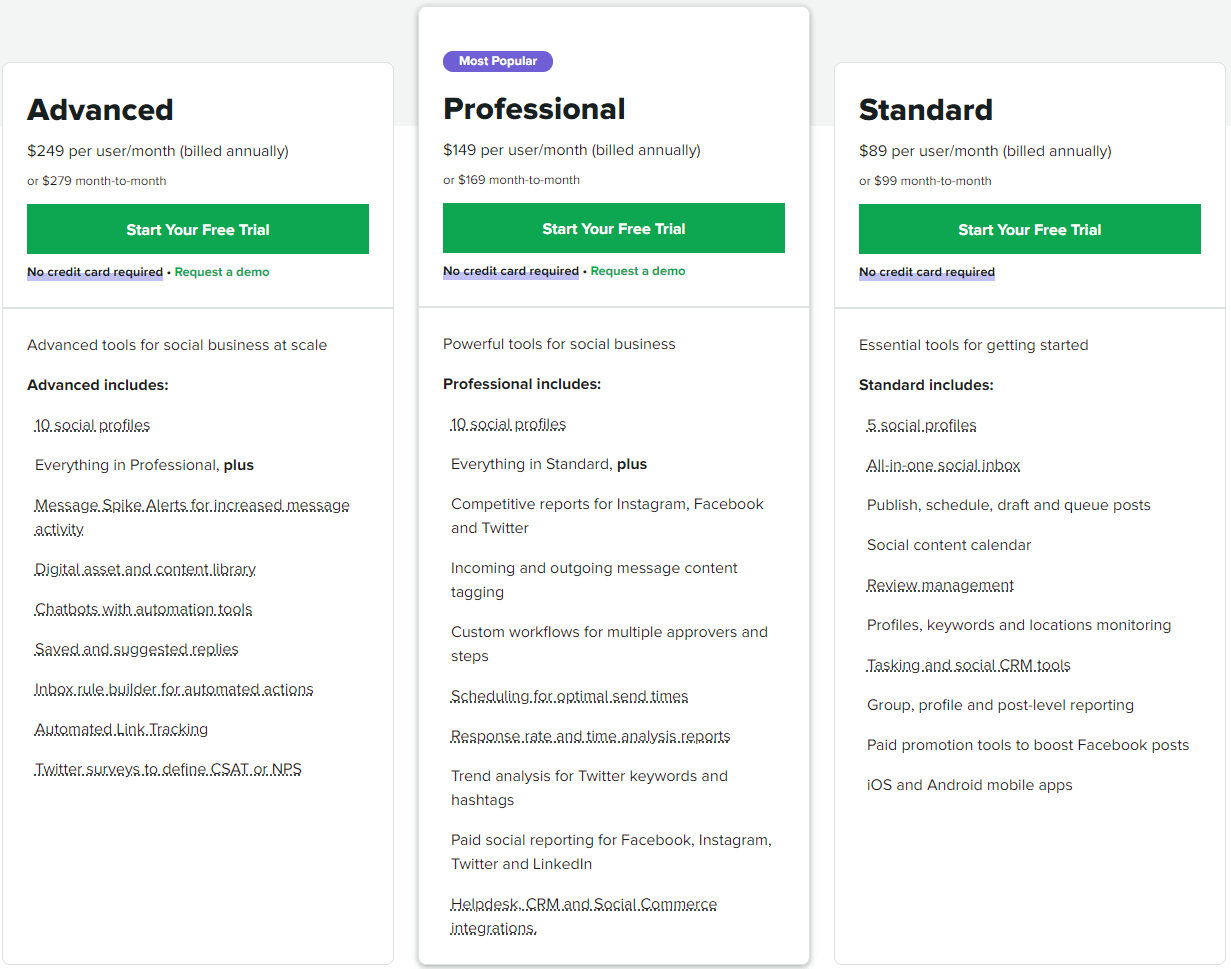 This pricing structure is a lot better than Buffer's because most social media teams aren't that big. Unless you have a huge team and tons of users, it's likely the best way to go because you can easily add lots of social profiles for less money.
You just have to look at how many users you have, how many social media profiles you're going to use, and then calculate the pricing.
Integrations
Buffer has over 30 third-party integrations, including apps like Zapier and Feedly, which can greatly extend the usability of the platform. It also integrates with Google Analytics, which is great if your goal is to increase website traffic or conversions for products on your website.
Sprout Social arguably has better integrations, depending on your goals. Because you have the review-monitoring tool, you can connect Google My Business and Trip Advisor.
The smart inbox allows you to monitor messages from Google's Business manager, and the connection to Glassdoor lets you monitor what current and former employees think of your business.
Of course, integrations with Shopify and YouTube are a huge differentiator for Sprout Social, so if you have a big video strategy, you'll want to check it out.
Customer Support
Buffer doesn't have obvious customer support options — you have to go to their help center as they don't have a clear contact button or chat option. However, in their help center, you can file a ticket or (as you might expect) contact them through Twitter or Facebook.
Sprout Social is a lot easier to get ahold of in terms of customer support. They have a simple chatbot that can quickly get you to a person, and they have 24-hour support Monday through Friday.
However, if you have a problem during the weekend, you're not going to be able to get ahold of them, so keep that in mind.
When to Choose Buffer vs Sprout Social
Determining whether Buffer vs Sprout Social is right for you should come down to how much you value advanced social media management features and the size of your team. 
If you have a mid-size to large organization, Sprout Social is a no-brainer. Because of Sprout Social's advanced team management features, and sophisticated social media management features in general, it is better suited for teams on the larger side that want to invest heavily in developing a strong social media presence. 
Whether you are a marketing agency or a company with an in-house marketing team, Sprout Social is the way to go. 
Buffer is a relatively less sophisticated platform than Sprout Social. However, this isn't necessarily a bad thing. After all, if you are interested in an affordable, straightforward marketing platform with a small learning curve, Buffer is an excellent choice. That being said, Buffer is an excellent tool for small marketing teams or individual users that want to take their social media marketing to the next level. 
You can see how other social media management tools stack up to Sprout Social in the following comparisons:
You can see how other social media management tools stack up to Buffer in the following comparisons: