Social media is a powerful marketing channel. With a strategic marketing plan, you can reach a large audience through social media to promote your business, or you can simply focus on growing your personal social media account.
However, one of the biggest limitations of social media such as Instagram is that you can only include one link in the bio section of your profile. This makes it very difficult to promote multiple links to other social media, your blog, e-commerce store, brands or other websites… unless, of course… you use a bio link tool.
Fortunately, there are many bio link tools that you can choose from. Carrd and Linktree are two of the best.
In this post, we'll compare Linkpop vs Linktree in terms of features, ease of use, and price so that you can determine which platform is best for you.
About Linkpop and Linktree
Founded in just 2022, Linkpop is fairly new to the schene of bio link tools. Linkpop is a Shopify company that was created as a bio link tool specifically for Shopify store owners.
Not only can you display links to various websites and other social media platforms with Linkpop, but you can also sell Shopify products as well from your biol link page.
In 2016 (ancient history for the internet), Alex and Anthony Zaccaria (and Nick Humphreys) created Linktree. Today, the platform boasts over 18 million users.
Today, Linktree excels in providing tools for influencers, brands, and everyone else to create a more comprehensive link profile for social media.
How Does Linkpop Work? A Brief Walkthrough of the Dashboard
Upon signing up for Linkpop by providing your email of choice you will be taken to the starting page where you can create your bio link page. Keep in mind that you will also need to sign up for Shopify if you haven't done so already to create a Linkpop page.
Once you click "Create page", you are taken to the main dashboard where you have the option to add products from your Shopify store, add links and add media (such as videos and images). On the right side, the real-time preview of the page is displayed.
Upon clicking the "Style" tab, you can change the background of your page or upload an image, change the link shape and style, and change the font of the text in your links.
Upon clicking on the bio tab, you can make edits specifically to the bio section of your page such as changing the image or adding bio text.
Clicking the analytics tab takes you to an area where you can view page visits, and link clicks. The data provided by Linkpop is relatively limited compared to other bio link page builders, but this is just the right amount of data for casual users.
How Does Linktree Work? A Brief Walkthrough of the Dashboard
Upon signing up for Linktree you are presented with the four tabs of the platform: Links, Appearance, Settings, and Analytics. You will initially arrive at the Links tab where you can (you guessed it), add your links of choice.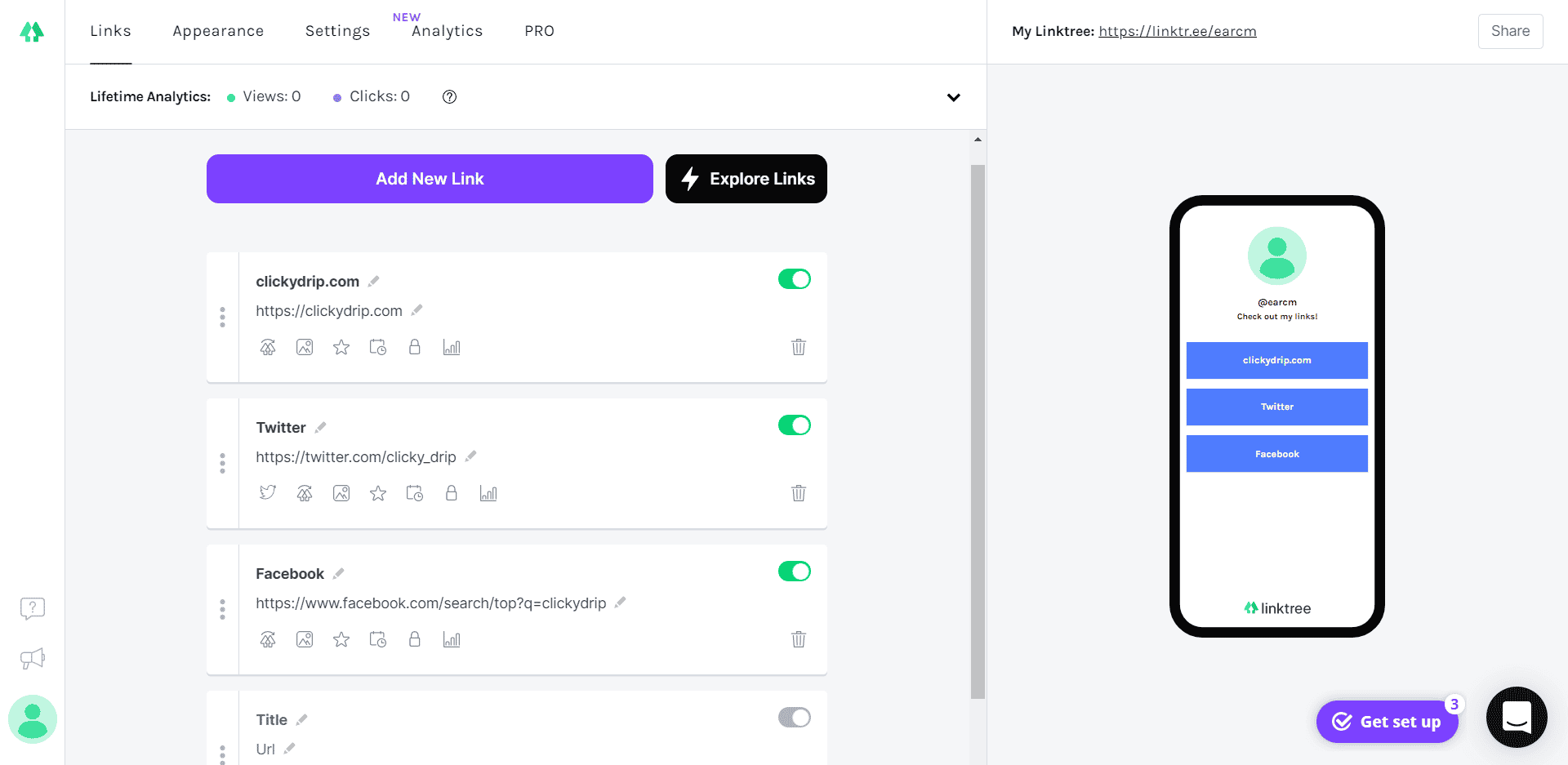 Linktree gives you the following link options:
Music links (Links to take visitors to Spotify, Soundcloud or similar platforms)

Video links (Adding videos from YouTube or other video players)

Store link (For showcasing products from your ecommerce store)

Form link (Links that direct visitors to a form to collect their information)

Support me link (Allow you to collect donations from visitors)

Request link (for taking payments from visitors)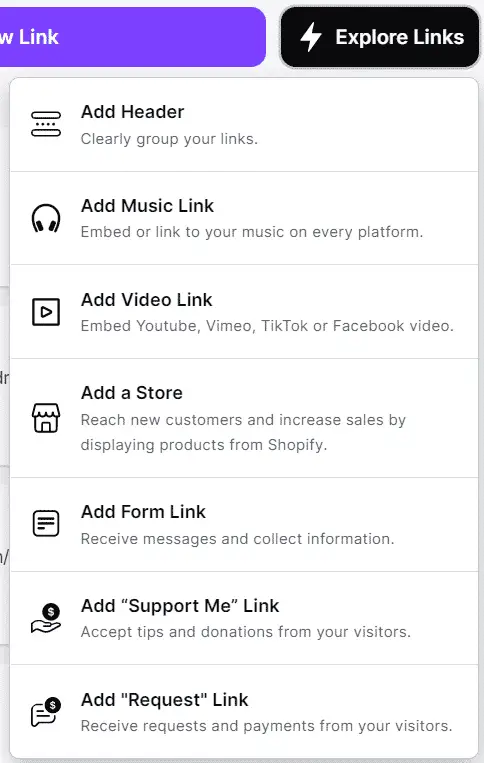 With Linktree pro, you are granted additional link options:
Leap links: These links direct visitors right to their destination while bypassing Linktree altogether.

Priority links: These links allow you to put certain links front and center that you want to showcase.

Schedule links: These links can be scheduled to go live at certain times.

Gated links: These links simply require a password in order for visitors to access the destination.
To customize your links you can add thumbnails or icons to them.
A preview of how your Linktree page will look will display on the right side of the dashboard. Changes you make will show up in real-time.
After setting up all the links of your choice, you can move on to the appearance tab.
From here you can add your bio, your profile pic, and your profile title.
At this point, you can choose the theme that you like the most. Themes are simply the background for your links and they each feature different designs, colors, and button styles for your links. There is a healthy selection of free themes and plenty of paid themes as well that you can access by subscribing to Linktree Pro.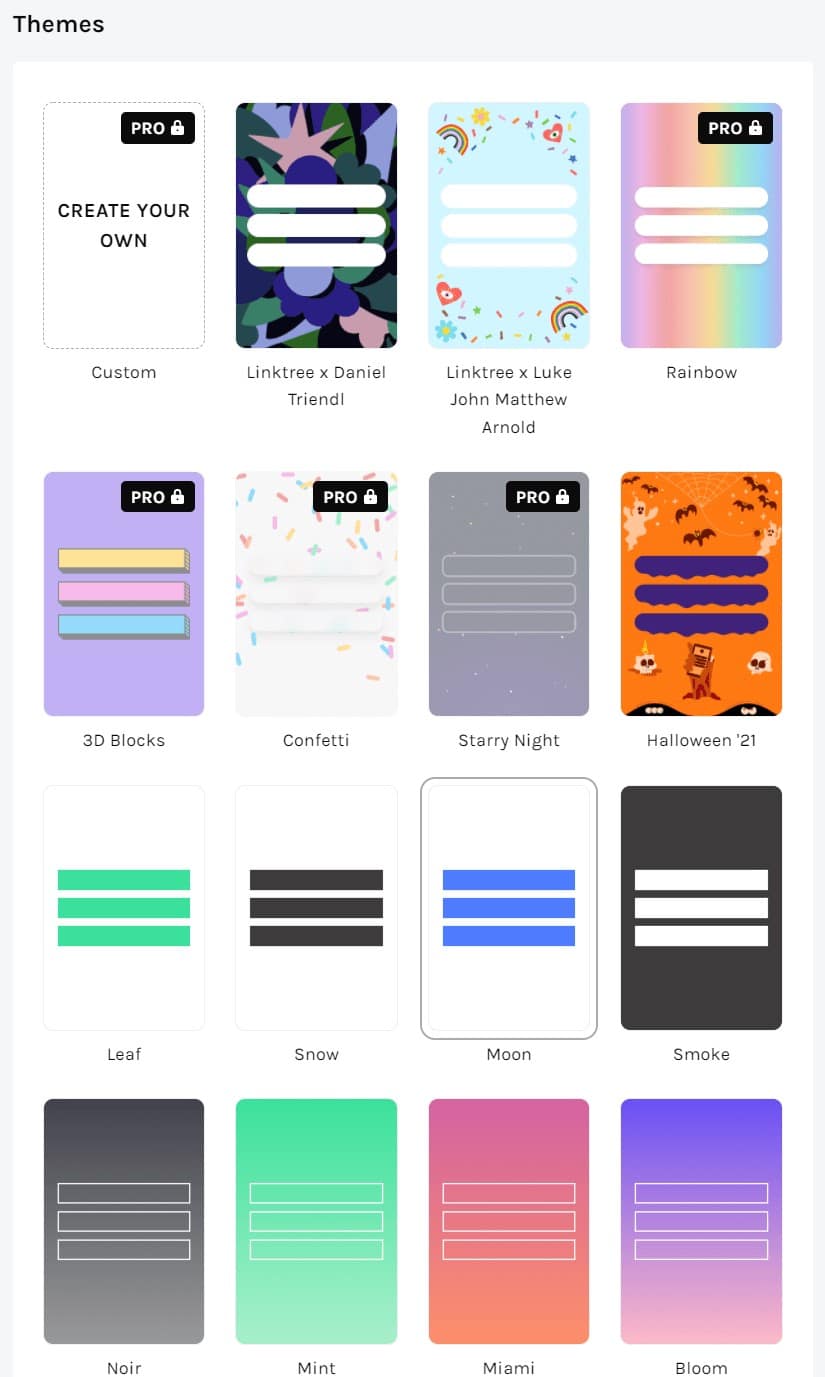 The paid version also grants you various custom button options for links and font options as well.
After you have set up the theme for your Linktree page, you can move onto the setting tab.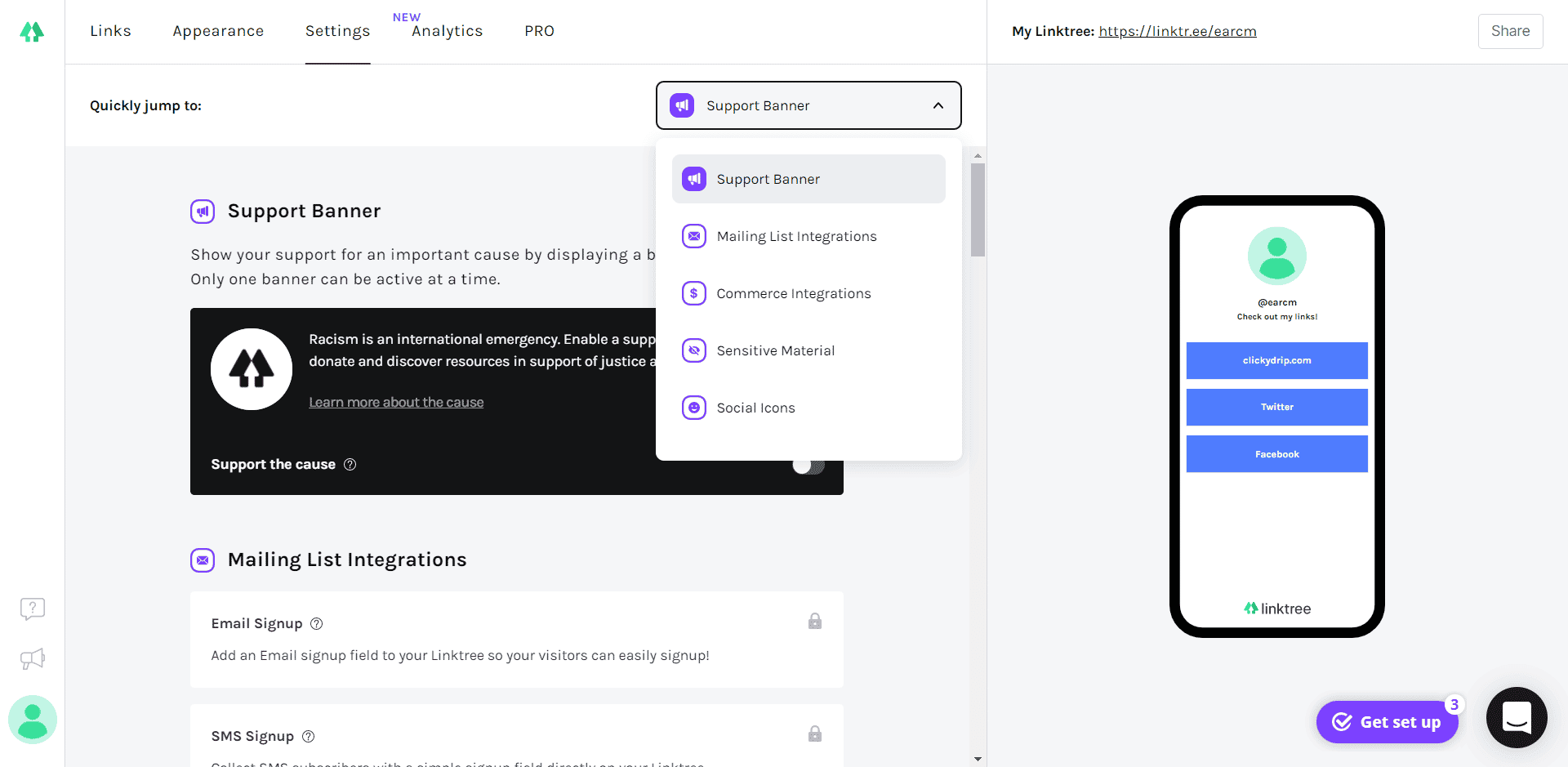 The settings tab basically allows you to integrate Linktree with various other platforms.
At any point, when you are ready to share your link, you can simply copy the URL that is displayed in the upper right-hand corner of the dashboard.
Add your Linktree link to the bio of your social media tool of choice. From there, you can monitor the performance of your Linktree page by viewing the analytics tab in Linktree. Here you can see basic statistics such as link views and link clicks, however the pro version gives you way more depth of analytics.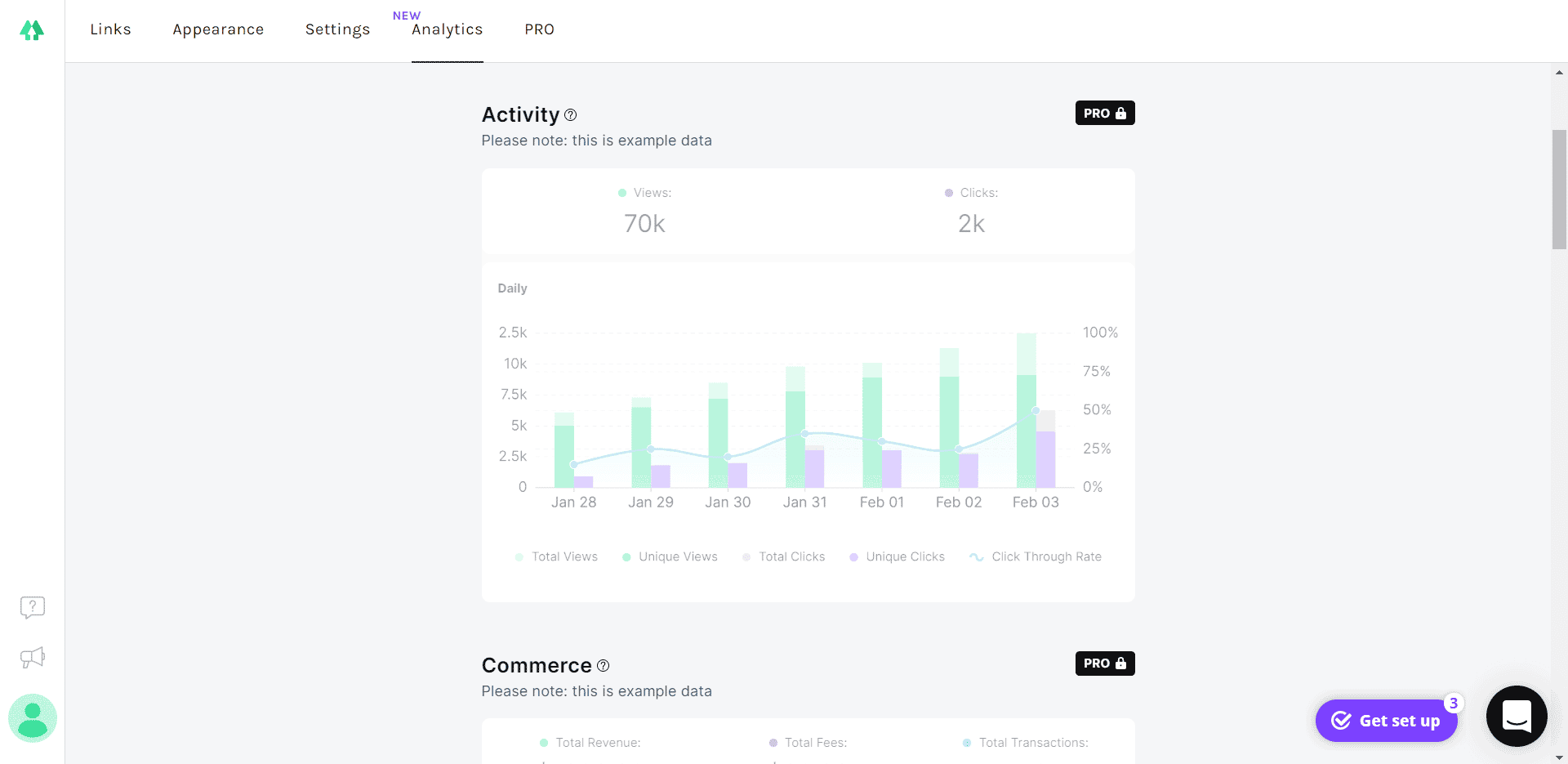 Aesthetics and Appearance
The design capabilities of a bio link tool is often one of the most important aspects that people consider when evaluating options. If someone has hundreds or thousands of followers, chances are they want to display their links with some style.
In terms of templates and design customization features, Linkpop is very limited. With Linkpop, you can change the color of page background or upload an image, you can change the style of the link blocks (square, rounded, etc.), and you can change the font. However, that's about all you can do to customize the design.
The simplicity of the design features is not to say that the pages don't look stylish. There is something to be said about the aesthetics of a relatively clean and simple design. Nevertheless, if you are interested in a platform with more flexibility in terms of design and style editing, Linkpop is not for you.
In terms of customizability of design, Linktree definitely has the upper hand over Linkpop. With Linktree you can choose between dozens of professionally designed themes. Additionally, the page editor has many more features for editing the design of the page itself (more font options, button design options, etc.) It is important to keep in mind, however, that many of these customization options come with the paid version.
To see how Linktree users can take advantage of the platform's themes and customizability, check out these Linktree examples.
Pricing
As far as the cost of Linkpop vs Linktree, Linkpop is by far the more affordable solution.
Linkpop is a completely free tool. In fact, there isn't even a paid version that you can upgrade to. All the features that the tool has to offer are available for free.
Linktree offers four plans:
A free version 

Starter: $5/month 

Pro: $9/month

Premium: $24/month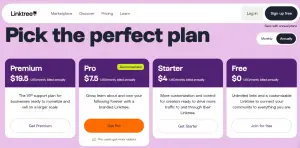 The paid plans give you additional features such as access to different link types, custom background, integrations with other marketing platforms, advanced analytics, the ability to add other admins, and more. 
All in all, Taplink's plans are slightly more affordable than Linktree's comparable plans. 
Linkpop vs Linktree: Which is Best for me?
Ultimately, whether you should move forward with Linkpop vs Linktree comes down to the features that you value.
If you have a Shopify store or if you are considering starting a Shopify store in the near future, you should strongly consider Linkpop. The tool is designed for selling your products on your Shopify store. If you have a decent social media following, this tool can make a massive difference in terms of sales for your store. The best part is that you don't need to pay a dime to use the platform.
Additionally, if you don't have an ecommerce store, and you are just interested in a relatively simple solution, then Linkpop might be a good choice for you. Its super easy to navigate the tool given how simple the interface is and you can launch a page in a matter of minutes after signing up for the tool without much effort.
Linktree on the other hand is an excellent solution for influencers and brands who might not necessarily be interested in using their bio link tool to sell ecommerce products, but rather want to promote their other social media profiles, support a cause, host YouTube videos, provide some background on who they are, and more. The fact of the matter is that Linktree is a much more versatile tool than Linkpop. Additionally, it comes with way more bells and whistles. Linktree is about as feature-rich as you can imagine for a bio link tool.
Related: Stripo vs Mailchimp