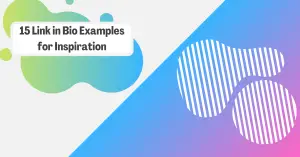 On Instagram, you are limited to including only one link in your instagram bio. And with availability for just one link, influencers and brands must choose their one link carefully. 
If you're taking your Instagram game seriously, you might be curious to know what types of links are commonly added in Instagram bios and how these links are promoted in Instagram bio sections. 
If this sounds like you, you're in luck. 
In this post, you will discover 15 link in bio examples from celebrities, brands, and small-time influencers.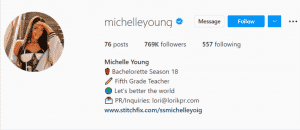 Michelle Young is a television personality that starred on the show, The Bachelorette. In many of her posts on Instagram, Michelle refers her followers to the link in her bio, which (as of now) is the link to the clothing company Stitch Fix.
Like numerous other influencers, Michelle is affiliated with this company, and she refers her followers to the link in her bio as a way to generate business for Stitch Fix, which will then translate to money earned for herself. This practice is one of the easiest ways for influencers large and small to earn income. 


Jerry Saltz is a Senior Art Critic for New York Magazine. While Jerry has enough followers on instagram as some of the most well known influencers, unlike most influencers, Jerry doesn't include a link in his bio for the sake of monetizing his Instagram. Rather he has included a link in his bo to one of his latest articles he has written. Jerry is an example of how can use a bio link to amplify the reach of your content.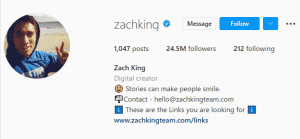 Zach king is a content creator known for his use of optical illusions and creative filming to create his videos. Like many creators, Zach links out to his personal website from his bio link. The page on his sight he links out to contains links to various videos he wants to showcase and his social profiles. 
Interestingly, while so many Instagram users bio link tools like linktree, Zach has decided to use a full blown website to accomplish what bio link tools accomplish.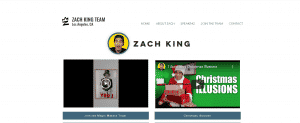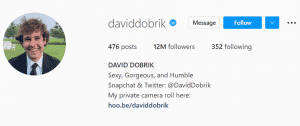 David Dobrik is an internet personality known for his hilarious YouTube videos and vlogs. 
David has included a bio link to a page that showcases his latest YouTube videos, links to his recommended supplements, his perfume line, and more. This bio link page is built on a tool called Hoo.be. What makes this bio link tool unique is that you need to apply to use it and the company only accepts those with substantial following and good engagement on their accounts.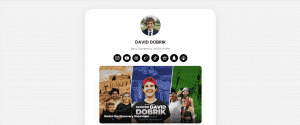 Simeon Panda is currently one of the most well-known bodybuilding and fitness influencers. He includes a link in his instagram bio to a bio link tool called Tab Bio. This page builder displays links to his recommended supplements, and workout plans.
Additionally by swiping through, you can find his latest videos on one page, and latest tweets on another. He truly uses this bio link tool its full potential.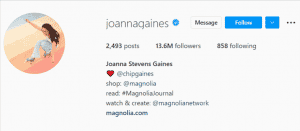 Joanna Gains is known for her successful show, Fixer Upper, where she renovates dilapidated homes with his husband. 
Joanna's bio link takes you to her business's website where you can purchase furniture, rugs and other goods for interior design. Notice how in addition to this link, she also provides handles to her TV network Instagram and her ecommerce store's Instagram. Clearly, she uses her bio to its full potential to route followers. 


Julia Barretto is an actress who has starred in numerous romantic comedies. Unlike many of the other instagram accounts features in this post, Julia's bio takes you to another instagram account as opposed to her own personal website, a bio link tool like Linktee, an affiliate product or another website. 
The Instagram account Julia links out to is the juju club: an ecommerce store that sells clothing and jewelry. The lack of text in her instagram bio truly makes this handle to her store stand out and enticing to click on.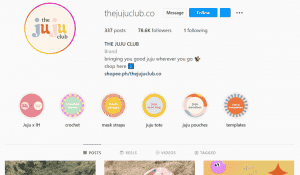 James Charles is a makeup and fashion influencer known for his makeup tutorials on YouTube. 
Naturally, James links out to his YouTube channel from his Instagram bio. Many other influencers as well known as James will use bio link tools like Linktree to monetize their Instagram with links to affiliate products or their very own product lines. However, James keeps it relatively and directs users to the platform where he hosts his most popular content. 


Victoria's Secret is one of the most popular brands on Instagram. And with an account frequently updated with stunning pictures of some of the most beautiful people in the world, it's no secret why. 
This account has a bio link that takes you to a LikesShop page. LikesShop is a bio link tool that ecommerce brands leverage to direct followers to their websites. This LikeShop page features links to all the clothing items featured on the Victoria's Secret main Instagram account. 
For ecommerce brands, this can be a highly effective way to promote specific items.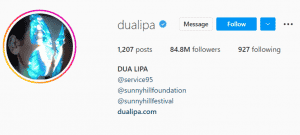 Dua Lipa is pop singer with a sizable Instagram following of over 80 million. 
Her bio link takes followers to her official website. Currently her site features a recent music video that was published on her YouTube account. From initial website page, you can buy her tour tickets, listen to her music on various streaming platforms, and of course enter her full website. Although bio link tools like Linktree are great for Instagram, sometimes a traditional website makes sense as well.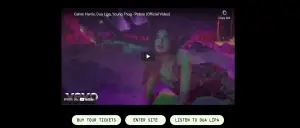 Chris Brown is one of the most recognizable pop and R&B singers today. 
The artist has a somewhat unique bio link. Chris brown links out to web page promoting his new NFT that he has created, The Breezyverse. No matter where you stand on the polarizing topic of cryptocurrency and NFTs, we can all agree that promoting your very own NFT in your Instagram bio is a new phenomenon. 
Nevertheless, its not surprising that those that partake in the crypto currency community put similar links in their Instagram, Twitter, and even TikTok bios.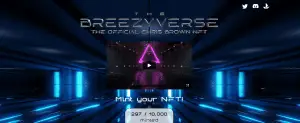 Kylie Jenner is one of the most followed Instagram accounts. Known for her makeup, regular appearances on the Kardashians, and her family of other celebrities, Jenner is practically a household name. 
Given Kylie owns a business, Kylie Cosmetics, it makes sense that she puts a link to her company's website. With a following on Instagram of over 300 million, Kylie probably gets tens of thousands of visitors from Instagram to her website every day. 


Dwayne "The Rock" Johnson is one of the most well known actors in the world. He has appeared and starred in dozens of movies. 
The Rock has a Linktree in his Instagram bio that contains an interesting mix of links. He links out to a Spotify playlist, an energy drink he sponsors, and a tequila company that he founded. It's clear that the Rock uses his Linktree to monetize his Instagram. Interestingly enough, he changes up his Linktree fairly often with new content from his YouTube channel amongst other media.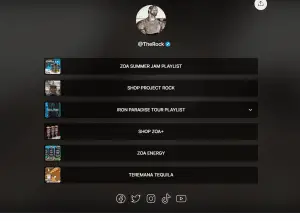 Danielle Gray is an influencer that is known for her content on skin care. She has a sizable Instagram following for someone who didn't have nearly as many followers a few years ago. 
Interestingly enough, Gray doesnt use an official linktree or other bio link tool to display links. Rather she uses a website with a page that displays links in the same way. When you land on her site you have the ability to search around by clicking on the navigation bar links to her tutorial content and recommended products.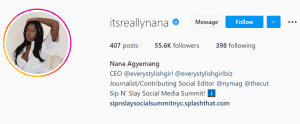 Nana Agyemang is the CEO of her company and a journalist. Not to mention an influencer with a sizable following on her Instagram. 
Nana uses her bio link space on her Instagram to promote a social media summit event. 
Not too many influencers promote events. Typically its products or content on other platforms so that the person never needs to interact with their followers in person. However, Nana promotes an event that she will be personally attending and she will be meeting in person likely many of her followers. This is likely an approach that is best for social media users that don't have followings of millions, but for those who have a few thousand to a few tens of thousands, this can be an effective strategy.

Final words 
As you can probably tell at this point, although there is only space in an Instagram bio for one link, there is a wide variety ways in which influencers and brands occupy this space. 
However, to make the most out of this space, you may want to consider using a bio link tool. Bio link tools are essentially a cheat code for Instagram that allow you to essentially fit as many links as you want in your Instagram bio. Check out these free bio link tools for more info!
Related: 7 Best Free Linktree Alternatives