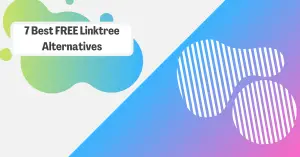 Linktree is by far the most popular bio link tool.
And for good reason too: it has a plethora of powerful features to display links of your choice, there are numerous themes to choose from, the pages you can create are incredibly customizable, and you can even use Linktree to monetize your social media.
However, there is just one major drawback to Linktree for many people. It can be a bit expensive.
Sure there is a free version. However, compared to other bio link tools, Linktree isn't super generous with its free version. The free version lacks some of the features that other bio link tools include for free.
In this post you can discover 7 of the best free linktree alternatives that you can get stared with today.
1. Tap bio
Compared to Linktree, Tap bio is comparably a simpler solution. There aren't as many bells and whistles for customizing the design of your bio link page, but this makes the solution much easier to work with.
Tap bio allows users to create "cards", which are the platform's version of Linktree's landing pages.
A card is basically a web page designed for a certain purpose. The available cards include:
Simple: A card with one link for promoting a single call to action

Links: This card allows you to add multiple links to your social media, blog, ecommerce store, or any other websites of your choice

Email collection: Collect email addresses and grow your mailing list (once you have integrated with Mailchimp, Constant Contact, or another email marketing platform)

Twitter: A card for displaying your Twitter posts with links

YouTube: A card for featuring YouTube videos from your channel

Image Gallery: A card featuring images and gifs with links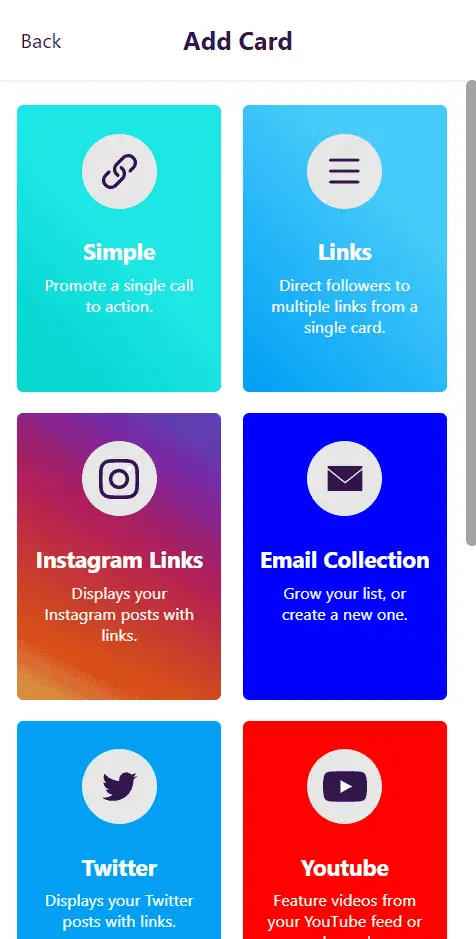 Tap Bio's Basic plan is free and allows for one account and one additional card. For most casual users, the free plan's features are perfect. However, if you want to take advantage of the reporting and analytics features, upgrading to the paid version might make sense.
2. Campsite
Campsite is great for those who want some solid theme options and design customizability without needing to pay for the Pro version. In many ways the platform is similar to Linktree.
Take the dashboard and editor for instance.
The dashboard is incredibly similar to Linktree's, with the ability to add links on the left side. Meanwhile, any changes you make are those you can see on the right side of the screen in mobile format.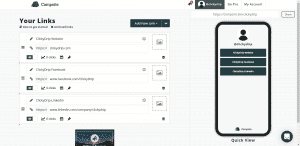 Most users take advantage of standard links, which are just basic links directed to other websites. Campsite gives you access to two advanced link types with the free version:
Carousel link: A cluster of multiple links through images in a carousel format (you scroll left or right between different photos). Carousels enable you to embed banner images (1300 x 900 px), which can be great for advertising, but you'll need to pay for pro access.
Embed link: A link allowing you to embed your Facebook page, Spotify music, Twitch profile, Vimeo link, or YouTube page.
Unlike Linktree, Campsite makes all its themes available on the free version. However, there are noticeably fewer themes that you can choose from.
There are 13 default themes available. However, there are plenty of ways you can design and modify these theme. Custom themes allow you to control the following:
Font family (both buttons and general)

Background color and text color (within buttons and outside of buttons)

Showing the top border and choosing its color

Displaying the profile image border and choosing its color

Font weight of buttons

Image size (between large and small) and style (square or circle)

Background and border colors (with mouse hovering and not hovering)

Carousel background color and loading icon color

Social accounts standard color and hovering color

The position (top or bottom) of your social accounts
All in all, Campsite's customizability coupled with the fact that you can display unlimited links makes Campsite's free version very appealing.
3. Carrd
Although Carrd technically is a website builder rather than a bio link tool, users very often use Carrd pages the exact same way.
If you are looking for a great free Linktree alternative, Carrd is a great option if you want a more flexible solution that's more customizable and offers more templates.
Once you sign up for Carrd, you can start building your page by choosing a template. Fortunately, as you can see below, there are various "profile" templates that look more or less the same as Linktree's standard bio link page templates: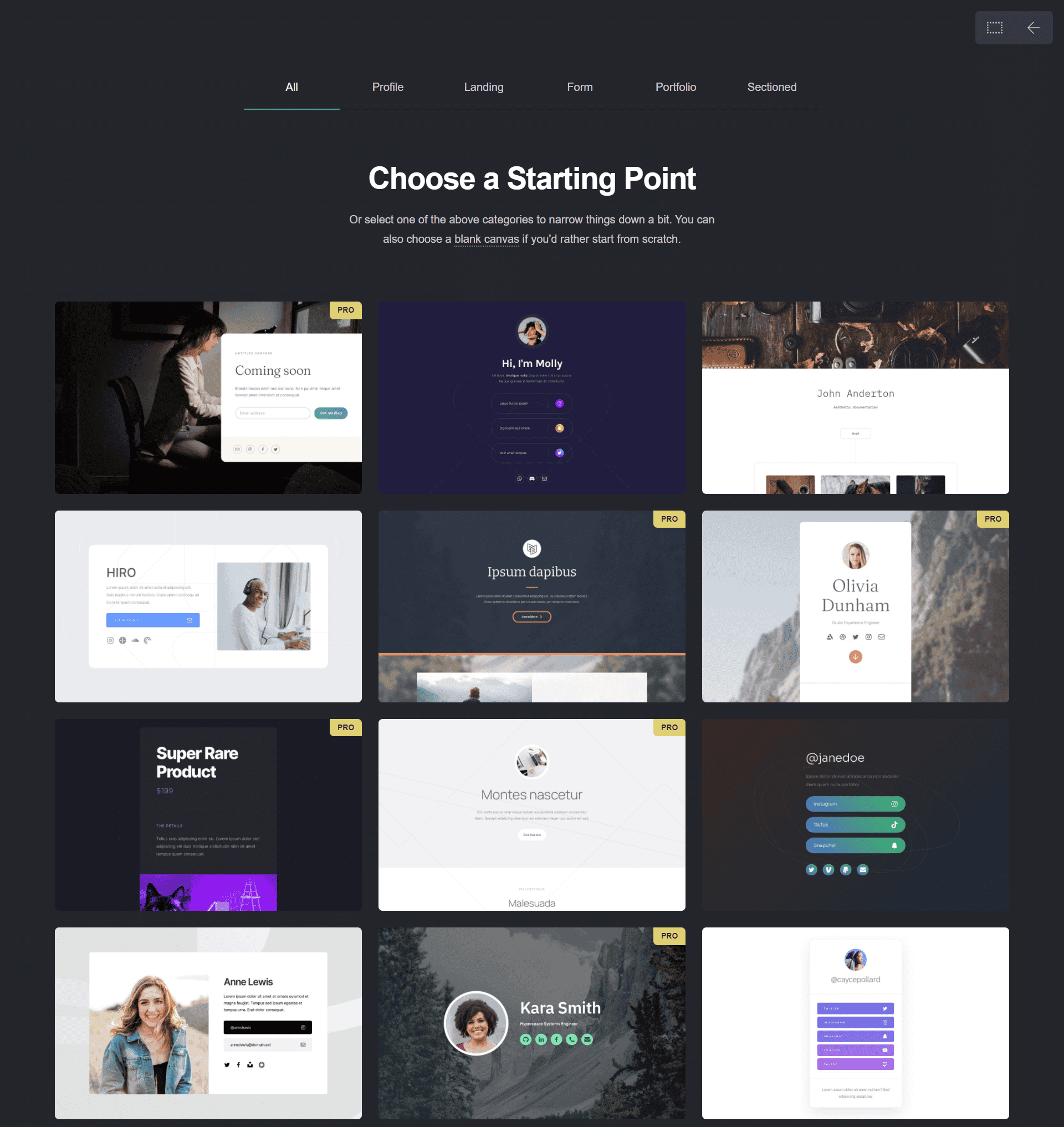 Once you've chosen a template, you'll be able to start customizing your design. The dashboard has a very clean and simple look. You can add and customize various elements to your page, including:
Text

Images

Video

Links

Buttons

Icons

Tables

Timers

And more
Given that card is technically a website builder, you all of these design elements are extremely customizable.
Carrd's free plan gives you access to all of Carrd's core features and allows you to build up to three sites, which is useful if you have multiple brands to promote.
4. Milkshake
Milkshake is excellent for social media users who prioritize design and aesthetics of bio link pages over everything. The platform really stands out from all of the other bio link tools in terms of the chic look of the templates it offers.
When building out a card with Milkshake you are first prompted to pick the type of card you would like to use. There are five options you can choose:
About

Links

Top Picks

Splash

YouTube
The purpose of each card is illustrated so that you can choose the one that suits you best: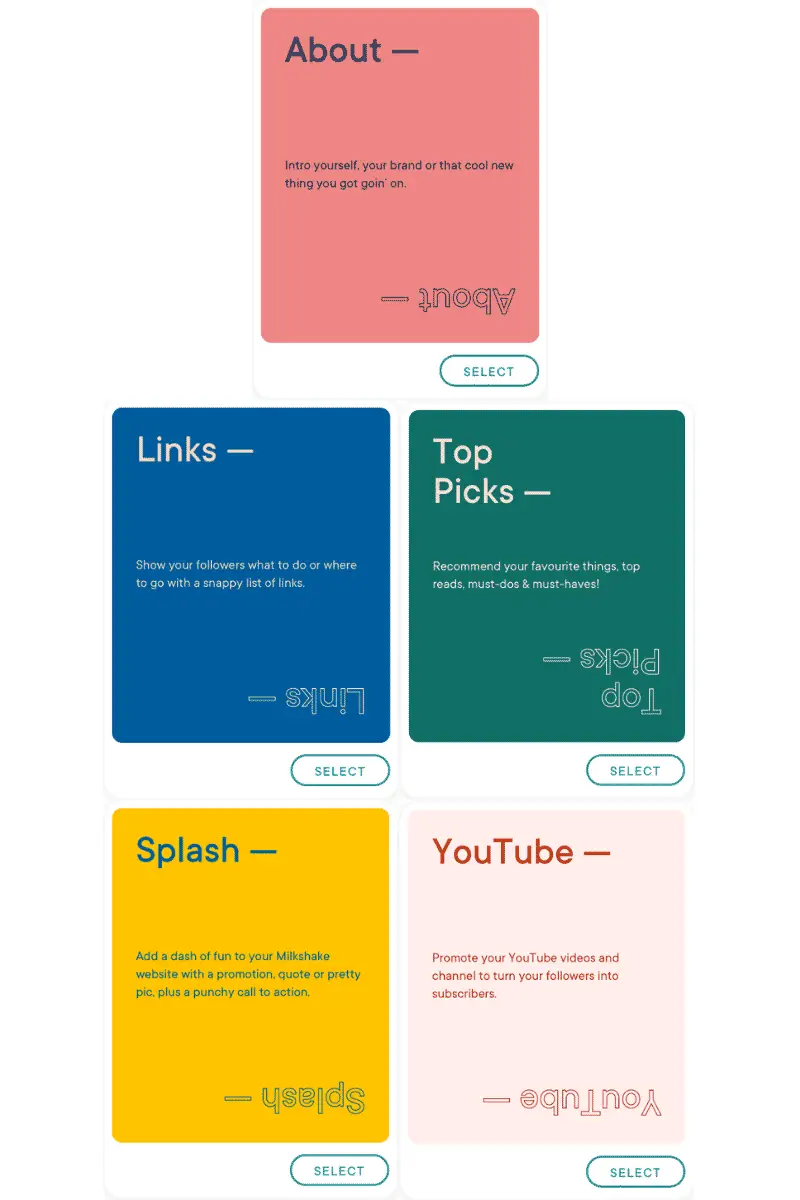 Once you pick the card type that looks good to you, you will have the to option to choose the template of your choice. You can see a glimpse of the selection of templates Milkshake offers for Link cards in particular below: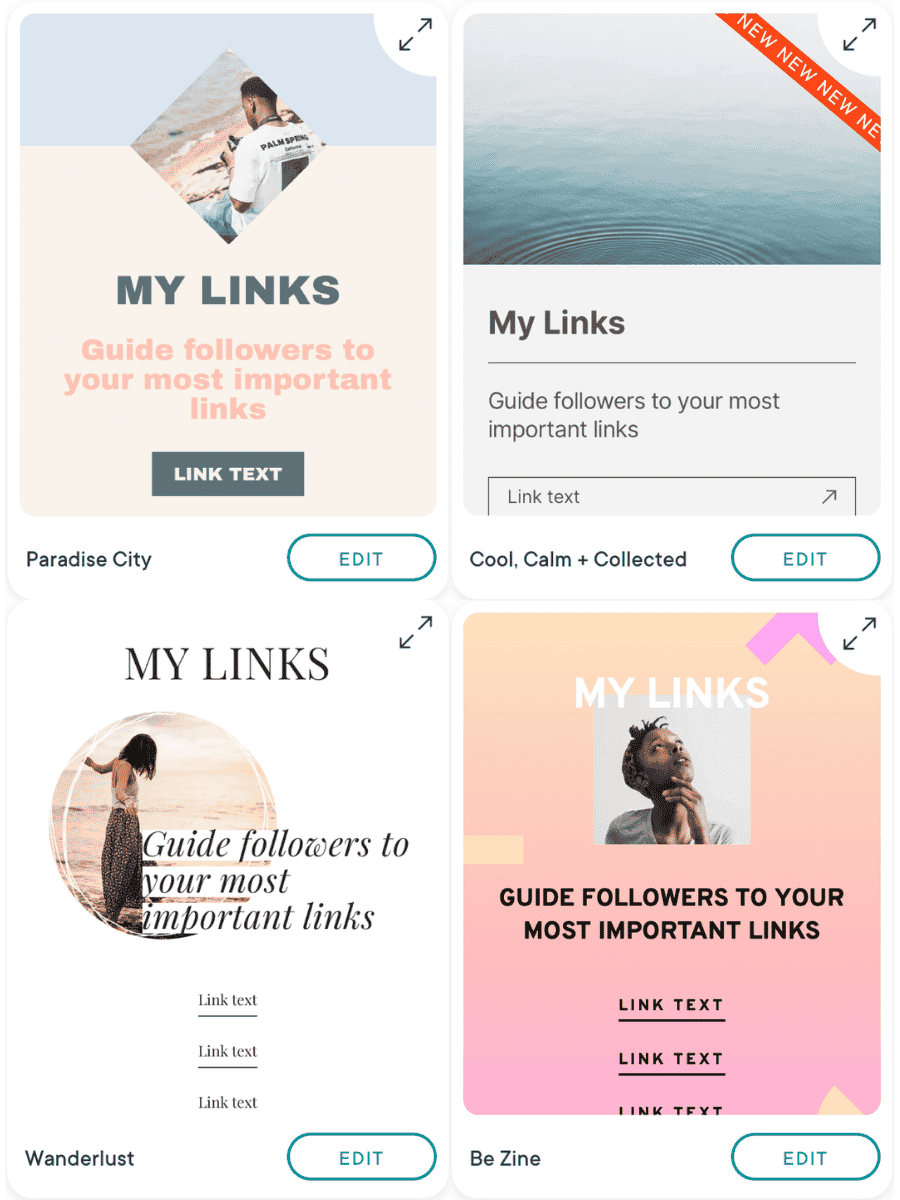 Milkshake is unique because the design options are a bit more stylish and chic compared to Linktree's options. The design options that Milkshake offers are perfect for those that want more than just a simple page with links, but rather a page that looks more artistic with more visual appeal. Fortunately, Milkshake offers 17 different default themes which is generous for a free tool.
The beauty of Milkshake is that the free version gives you almost all the features that the tool has to offer. Unlike Linktree, Milkshake doesn't limit the features you have access to with the free version. The only benefit to upgrading to the paid version is to remove the Milkshake branding that shows up on published pages with the free version.
5. Taplink
Compared to Linktree, all in all, Taplink is a more affordable option, and the platform perhaps gives you a bit more control over the design of your pages. Founded in 2017, Taplink was founded just one year after Linktree and is one of the oldest bio link tools.
One of the greatest aspects of Taplink is the sheer number of templates. While the 100+ templates can be overwhelming to sift through, fortunately, the platform allows you to filter through the templates by design (abstract, blur, waves, etc), occasion (Valentines Day, Christmas), or by use case (business, services).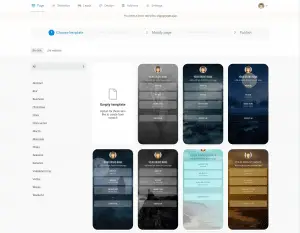 When editing your Taplink page you can also add blocks such as a video, image carousel, map, and more.
In terms of customization, Taplink gives you tremendous control over how your page looks. You can customize everything to background color, to font, to layout in the same way you can with Linktree.
Taplink's free plan gives you all the basic features that most casual users need. It even comes with analytics, which is a paid feature for many bio link tools.
6. Beacons
If you are an influencer who is focused on monetizing your social media accounts, Beacons is an excellent tool. The platform is designed for influencers and has powerful functionality for selling products, taking donations, setting up membership communities and more.
Additionally, the platform has themes that are certainly more appealing to some users than Linktree's themes.
The user experience and editing process of Beacons is very similar to that of Linktree. Once you go through the initial setup process you are presented with the main dashboard: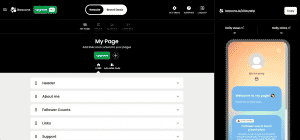 The "My page" area is where you can edit the blocks of your page. From here you can edit your link page by clicking the drop-down arrows to edit the following blocks:
Header: Edit the top area of the page and add your profile picture as well as any text you want.
About me: This is the initial message of the page. In the picture above this is the section with the text "Welcome to my page!"
Followers count: This block indicates how many followers on each of your social media profiles that you have set up with your account. Typically people add their Instagram profile, TikTok profile, and/or Twitter profile to their Beacons account.
Links: This block allows you to add as many links as you would like blogs, ecommerce stores, or any other website.
Support: This block allows you to collect donations from your followers.
Email and SMS: The Email and SMS block allows you to capture email addresses from your followers and add them to your mailing list so that you can keep them up to date with a newsletter. Alternatively, you can collect phone numbers for SMS marketing.
Of course, you can add, remove and reorder these blocks as you go.
Unlike Linktree, you can actually add a second page from this dashboard as well.
Although Beacons has a paid plan, the free plan is very generous in terms of features offered.
7. Direct.me
Direct.me is a fantastic solution for those who want a free bio link that is full of powerful features.
The platform really does pride itself in offering free features that are typically paid features on other bio link tools. If this resonates with you or if you don't have the budget for a paid tool, this might be the tool for you. However, the downside is that the design features of Direct.me aren't quite as strong as Linktree's design features. For starters, Direct.me's themes are lackluster in comparison.
However, Direct.me certainly has its strengths. For instance Direct.me has various apps that you can download to enhance your page. You can browse through various Direct.me and third party apps: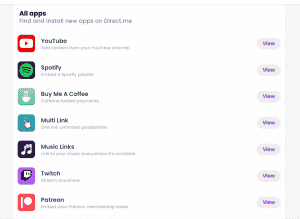 These apps can be a great way to customize your page. For instance, with the Spotify app you add a special link to a Spotify playlist. With the Buy Me A Coffee app you can enable your followers to support you by paying a small tip that you can use to buy yourself a coffee. There are many possibilities. Although this is a feature that Linktree also has, it's somewhat rare among other bio link tools.
Arguably the best part about Direct.me is that it doesn't even have a paid version. Thus, there are no hidden features: everything it has to offer is on the one and only free version.