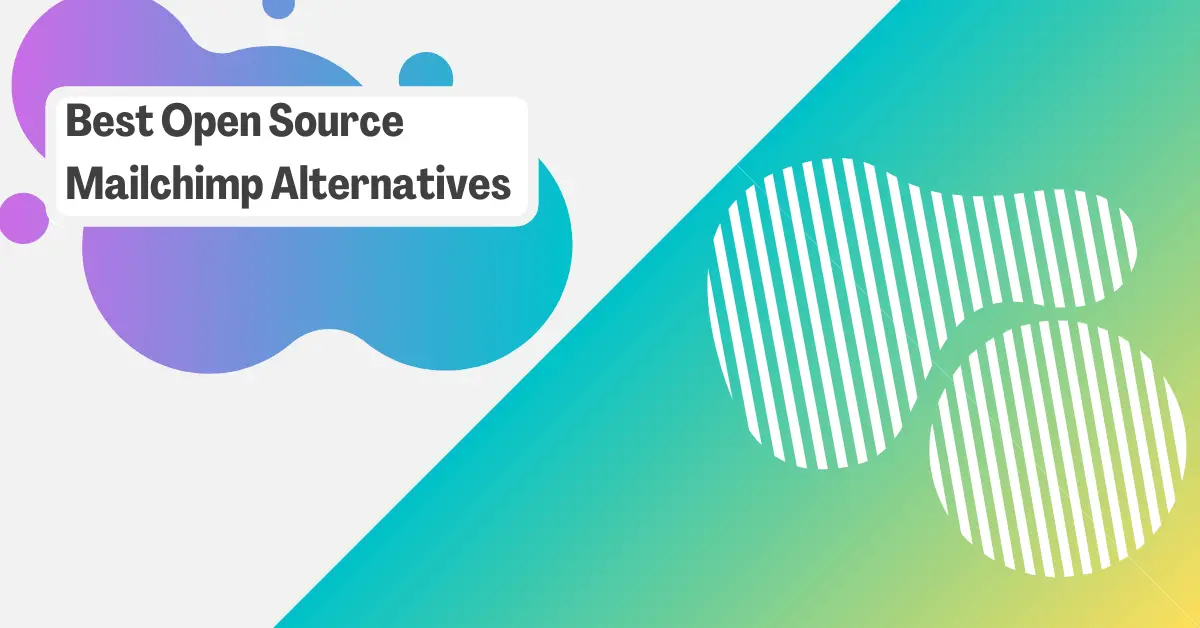 Mailchimp is arguably the most recognizable email marketing solution. However, despite its popularity, the platform certainly has its drawbacks.
For one, Mailchimp's plans can become quite costly for businesses with large email subscriber lists. Not only that, but the platform itself can be limited in some respects compared to other solutions.
Suffice to say that Mailchimp certainly isn't the best tool for every business. Fortunately, for those who are technically inclined, there are a handful of excellent self-hosted substitutes.
This post covers 7 of the best open source Mailchimp alternatives.
But first, what are the advantages of using an open source email marketing solution over Mailchimp in the first place?
Advantages of open source email marketing software
Aside from the fact that self-hosted email marketing software gives you full control over your data, as opposed to the data limitations from popular email services like Mailchimp, you also gain from the following advantages:
Flexibility with integrations and more potential for growth
Open source email marketing software is less limited in some respects than subscription services like Mailchimp and Constant Contact. Open source solutions offer easy integration options as your brand grows, allowing you to link with other systems, even those that aren't produced yet. For example, you can link to hosting platforms or inexpensive, reliable email sending services. Many open source tools also integrate with content management systems, website builders, and other software. 
Knowledge and Assistance
Open source means open development, excited communities, and extensive documentation on the internet. Many open source Mailchimp alternatives are great for those who want to obtain knowledge about the email marketing software through their own research by taking advantage of forums, blog posts, and other online resources. The key is to find a vibrant community where you can chat with other users and figure out the best ways to utilize an open source solution. Options like Mailchimp have their own support resources and documentation, but nothing matches a group of fans and users and developers who work together to manage and improve an open source software. 
Cheaper Email Marketing Altogether
Open source software is usually free on its own, yet you still have to pay hosting fees. However, the open source email marketing options generally remain much cheaper compared to the all-in-one subscription services that charge you every month and continue boosting the price as your company grows. In addition, with open source email marketing, there usually aren't fees for any templates, plugins, or integrations you want to use. 
Related: How to use Mailchimp with Gmail
Best Open Source Mailchimp Substitutes 
Mautic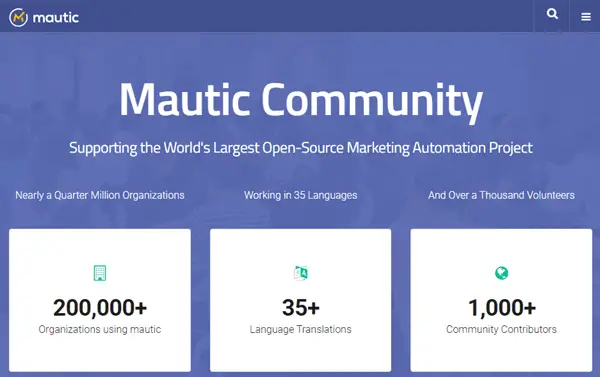 The Mautic marketing automation project primarily focuses on full email automation, helping you configure things like drip and lead capture email campaigns without having to edit them after initially launching. Mautic, one of our favorite MailChimp open source alternatives, offers themes, integrations with any software, and actions to fuel your automated emails. These actions and events provide the foundation for the automated system to improve customer touchpoints and nurture users through the entire customer lifecycle. 
The clean user-interface highlights company leads and utilizes elements like landing pages, built-in asset management, and social media connections, all without having to pay a dime for extra extensions. What's most interesting about Mautic is that you have the option to either self-host the email marketing system or opt for free hosting, making it a rather affordable way to attract leads and keep in touch with customers.
Related: 10 Open Source Landing Page Builders for Techie Marketers
OpenEMM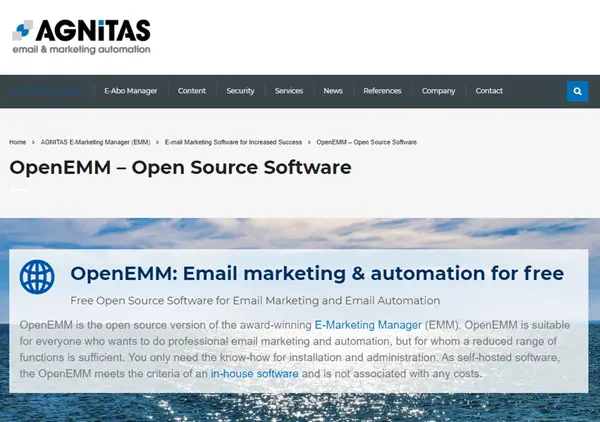 OpenEMM, by Agnitas, is an open source email marketing manager with support for standard emails, web push notifications, and SMS sending. In addition to standard newsletters, OpenEMM provides features for automated messaging like transactional and date-driven emails. You're able to generate multi-stage campaigns and manage your leads all from one place. It's also available as a commercial version if you ever decide to upgrade for more features. 
The web-based interface has a beautiful and quick view dashboard for seeing stats and recent mailings. You can schedule emails into the future and configure actions and target groups to reach those in specific categories. What's more is that you receive support for unlimited emails, automations, and contacts, showing the power of OpenEMM next to the many other email platforms that charge as your list grows. 
Sendy 
Sendy takes advantage of Amazon SES (Simple Email Service) to drive down the usual pricing of email marketing and offer a high delivery rate to keep in touch with customers. It's particularly useful for agencies or companies with multiple products to market, seeing as how you can whitelabel several accounts and separate the campaigns into their own sections. As for the interface, we enjoy the sleek and in-depth reports, along with the quick tools for list segmentation and subscriber management. 
Sendy has a more modern design than many open source email marketing competitors. It's also easy to locate features for custom fields and custom domains, both of which improve upon your personalization options and ability to brand your emails. All integrations go through Zapier, meaning you can pretty much integrate with anything. It's also great for cleaning up your contact list, since Sendy provides a one-click button to remove emails you don't need anymore. 
Mailtrain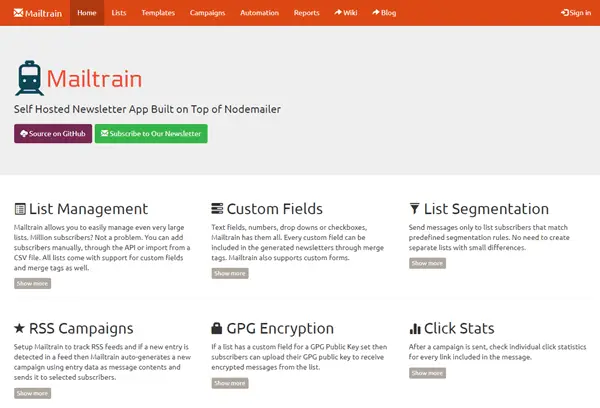 With list management, a template library, and advanced automation, Mailtrain comes out as an impressive open source email marketing tool, especially considering you can send your emails to any provider. It all starts with the list management, with its import/export features and quick management for massive email lists. You can also add your own custom fields and merge tags, both of which improve upon your personalization within the campaigns. 
Some unique features include the RSS campaigns and the GPG encryption. In short, Mailtrain tracks the RSS feed of your choice and sends emails when new feed items are detected. The GPG encryption offers the opportunity to encrypt messages for some of your lists, making them more secure. Finally, Mailtrain includes templates and automation campaigns so you rarely have to start from scratch when building your emails and configuring actions. 
Octeth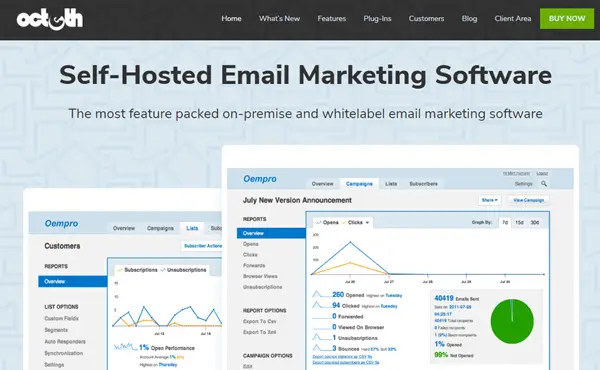 When it comes to open source Mailchimp alternatives, Octeth presents a suite of tools for you to replicate what you would find in MailChimp, from the easy-to-use dashboard to the auto-responders and smart segments. As an open source solution, Octeth integrates with the top email hosting providers like AWS and Google Cloud. It also allows you to upgrade your marketing efforts with the help of premium plugins for smart subscriptions, landing page building, and more. 
It's also worth noting that Octeth links with your own SMTP or the more reliable third-party email servers. Choose from options like SendGrid, Amazon SES, and MailGun. From an email campaign perspective, Octeth has options for A/B split testing, email marketing reports, and recurring email campaigns. Furthermore, it provides a subscription form designer to rapidly develop your forms and place them anywhere on your website. 
MailWizz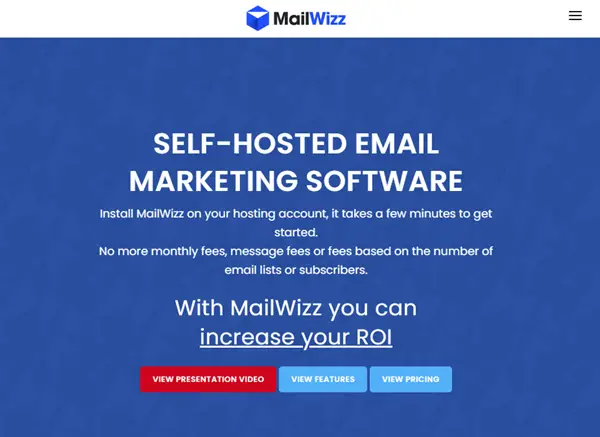 With MailWizz, you receive a full-service email marketing platform with options to integrate with Linode, DigitalOcean, Google Cloud, and many other hosting solutions. Although MailWizz does have a small one-time fee, that doesn't even touch the monthly fees required from email services like MailChimp. Yet, it still brings together a full suite of marketing features for making user groups, creating advanced campaigns, and completing more unique projects like surveys for your customers. Along with direct targeting, MailWizz has something called "suppression lists," which remove certain groups from your mailings instead of adding them. 
The design modules make MailWizz stand out in the email marketing world, seeing as how you receive email templates for a wide variety of industries. You can also design your own templates and save them for later. The final reason MailWizz makes so much sense is because of its superior tracking and management capabilities. Everything from logins to messages, and emails to customers get logged and shown in the dashboard. Not to mention, MailWizz supports tracking domains that you can mask so that they're less cluttering and noticeable when placed in emails. 
PHPlist
PHPlist has a forever-free plan and a premium package if you're interested in paying for hosting through PHPlist. Regardless of your choice, PHPlist excels in deliverability, utilizing advanced security measures and IP sending strategies to make sure your emails hit inboxes. It's truly one of the best open source MailChimp alternatives due to the segmentations and autoresponders. Overall, PHPlist allows you to specify subscriber attributes to always hit the right targets. Furthermore, the drip campaigns and autoresponders run in the background after you've set them up. 
The insights from PHPlist are rather impressive as well, with detailed subscriber insights and real-time data that helps with adjusting email content in the middle of a sending process. You learn quite a bit from the large PHPlist community and can even utilize the dedicated customer support. From permission marketing to flexible integrations, and rich design features to scalable automations, you can't go wrong with PHPlist.
Final words
When evaluating these options, it can be helpful to list various features or capabilities of tools that you require for your business before looking at the options. Find the platforms that have all the features you have listed out to narrow down your search. 
Also, while there are many open source email marketing options to choose from, also consider subscription "closed source" email marketing software other than Mailchimp perhaps. While there are certainly drawbacks to using these tools rather than their open-source alternatives, it's important to consider the benefits as well.