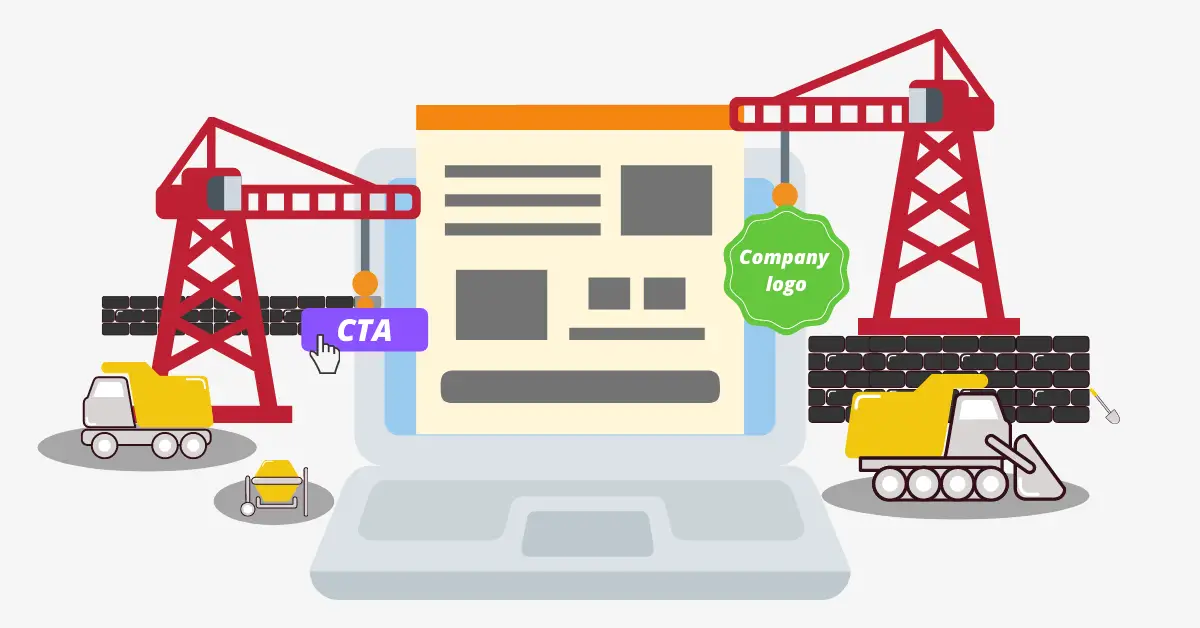 Landing pages are a powerful way to connect with your target audience. By setting up a well-designed landing page, you can start generating high-quality leads instantly.
However, if you are in the process of planning out your landing page strategy, you might be curious to know if you can build a landing page without a website. 
Ultimately, it is completely possible to build and host a landing page without a website. In fact, this is a strategy that's quite common among businesses.
However, the question is whether or not this approach is advisable. Really, whether you should build a landing page without a website or build a website first really comes down to your marketing needs…
Pros and cons of creating a landing page WITHOUT an existing website
Building landing pages without an existing website has its own unique advantages and some considerable drawbacks as well.
However, before we get into the weeds its important to know the difference between landing pages and website since marketers often confuse the two:
Landing pages are standalone web pages designed for one specific marketing goal. Often this goal is to collect leads. Websites one the other hand aren't necessarily designed for one specific goal and are intended for user exploration. For instance, websites often have many pages: some may be blog posts, one might showcase a companies products, one might be an about page, etc.
The most obvious benefit of building out JUST a landing page is that you wouldn't need to go through the hassle of setting up a website. While setting up a website isn't terribly difficult, the process can be burdensome for those who have never done it before. Additionally, getting a website up and running comes at a cost. Without the commitment of establishing a website for your company, you can easily whip up numerous landing pages.
However, there certainly is a downside to following this approach. Without connecting a professional custom website domain to your landing page builder, your landing page builder may generate a landing page URL for you. This URL can look unprofessional, to say the least.
This URL could be something like emailsubscribepage.com/g4r3h7u9do39dki9. On the other hand, by connecting a professional website domain to your landing page builder, your landing page URL could look something like pages.ryansconsultingbusiness.com. Most would agree that this URL looks MUCH more professional.
While the URL of the landing page might seem trivial, its actually very important. A clearly autogenerated URL that doesn't match your brand can come across as tacky or unprofessional to prospects. Others might simply be confused as to why the URL doesn't match your brand. Either way, having a URL like this can be a big turn-off for prospects and can certainly hurt your conversion rates.
Ultimately, deciding which approach is best for you depends on your personal preferences. If you really value a clean professional look for landing page, you may want to consider creating a website first. On the other hand, if you just want to dive in head-first without worrying about details like URL, maybe it wouldn't make sense for your to build a website initially.
How to build a landing page WITHOUT an existing website 
As mentioned, the process of building a landing page without connecting it to an existing website domain is relatively easy and straightforward. First things first, your landing page need to be hosted somewhere, and a landing page builder is a great approach. 
The first step of the process is to sign up for a landing page builder. More specifically, you need to get started with a landing page builder that doesn't require you to connect with a professional website URL.
Choosing a landing page builder
Some tools allow to build landing pages without needing to connect a professional website URL. Better yet, many of these tools allow you to do so completely for free. A few examples include:
Mailerlite

Mailchimp

Weebly

Convertflow

Convertkit
For demonstrational purposes, we will be using MailerLite: a free, easy-to-use email marketing tool that has a landing page builder feature.
Build your landing page
To get started, we will go ahead and sign up for MailerLite on the company website.
Once you create a free account, you will be prompted to go through Mailerlite's approval process, which involves providing some details about your business. However, this process isn't necessary unless you want to send emails with MailerLite in addition to building out landing pages.
Next, navigate to "Sites" in the top menu and click "Create landing page".
Once you name your landing page (for internal use), you will be prompted to select a template for your landing page. Mailerlite gives you a generous array of free templates to choose from.
Select a template that fits your needs. For instance, if your goal is to generate leads, then select a template designed for generating leads.
After you have selected your template, you will get taken to the drag-and-drop editor where you can design your landing page. Once you are satisfied with the design, you will be prompted to configure the publishing settings.
Without connecting a professional website domain to the tool you will have to use MailerLite's generic landing page url, subscribepage.com/. However, you can upgrade to a paid plan (starting at only $10 per month) and connect your MailerLite account with a website domain.
Once you have published your landing page, you can put it to use by promoting it on your social media or sending paid traffic to it.
How to build a landing page WITH an existing website
If you already have a website, it would make sense for you to configure your website's URL with your landing pages. Again, a professional website URL (as opposed to an autogenerated landing page URL) makes your landing page look much more official.
This process is a bit more involved but could very well be worth it.
Additionally, if you want to go this route you may want to reconsider the landing page builder you go with.
Choosing a landing page builder
Any reputable marketing tools with a landing page builder should allow you to build landing pages on your website's domain.
That being said, MailerLite is a perfectly fine tool for building landing pages for your website. However, Mailerlite's core feature is email marketing and the landing page builder is relatively limited.
If you really want to take your game to the next level you may want to consider dedicated landing page builders. Dedicated landing page builders have advanced features for building landing pages, testing, and tracking performance. A few dedicated landing page builders include:
Unbounce

Leadpages

Instapage
Build your landing page
No matter what landing page builder you go with, the process of designing your landing page is more or less the same as with MailerLite. However, connecting your domain with your landing page builder is another process in and of itself.
The process is a bit technical but relatively straightforward. First, you should create a subdomain before connecting your domain to your landing page builder.
If you have an existing website, and you want to build your landing page on the website's domain, it's best that you create a subdomain instead of using the naked domain.
For instance, if your naked domain is ryansconsultingbusiness.com, consider creating the subdomain pages.ryansconsultingbusiness.com or info.ryansconsultingbusiness.com.
Subdomains like the examples mentioned are basically their own standalone sites that are ideal for building landing pages. Attempting to build out a landing page on your naked domain could be problematic because you would be replacing your home page with a landing page. Doing this could mess up your site structure and for that reason, it's not a recommended approach.
To create a subdomain, you will first need to log into your domain registrar. Each domain registrar's user interface looks slightly different. For instance, GoDaddy's interface looks different from Namcheap's interface. Regardless, the same general process applies. You will need to manage DNS records, and add a CNAME record. You can add a new subdomain here.
From here, you can go to your landing page builder and start the process of adding a custom domain. Most landing page builders will give you step-by-step instructions on how to do this which makes the process relatively easy.
Once you have configured your subdomain, you will be ready to design your landing page.
Best practices for landing page design
Regardless of whether you want to build your landing page on a website domain or not, there are some good rules of thumb to follow when designing your landing page.
Include basic design elements: Landing pages come in all different shapes and sizes and are used for different purposes. However, all well-designed landing pages have the following basic elements at a bare minimum:
Header: A brief statement that highlights what your landing page is about

Copy: Text that provides detail on your product, service, or offer

CTA: A button that a user needs to click in order to take the action you want them to take (e.g. to sign up for a free trial, download a resource, sign up for a newsletter, etc.)
Keep the design clean and simple: Sometimes simple is better. Overloading your landing pages with images, animations, and excessive text can make for a poor user experience. Prospects can easily get lost if there is just too much going on.
That being said, make sure your copy is concise and that your images are relevant. Having sufficient white space can help users more easily navigate your landing page as well.1
Remove unnecessary links: Remember that the goal of your landing page is to get visitors to click your CTA. Links to other pages on your website such as posts, your about page, or even your home page will only serve as distractions. 2 
Add images or video: People are visual creatures, and there is no better way to captivate your audience than by using alluring imagery and video. As long as this media is well designed, relevant, and isn't super invasive, it can have a powerful impact on your conversion rates.  
Make sure it's mobile-friendly: According to Statista3, mobile users make up about 50 percent of global website traffic. Suffice to say that making sure your landing page is mobile responsive should be a priority.
Final words
While there is much to consider before you create your landing pages, the most important thing to consider is arguably your landing page's domain. While it may seem insignificant, your domain can have a massive effect on conversions.  
That being said, if you are interested in using landing pages for a long term marketing strategy, you would probably be better off using a professional subdomain for your landing page. There are a few more steps involved to set this subdomain, but for the best results, it could certainly be worth the extra effort.