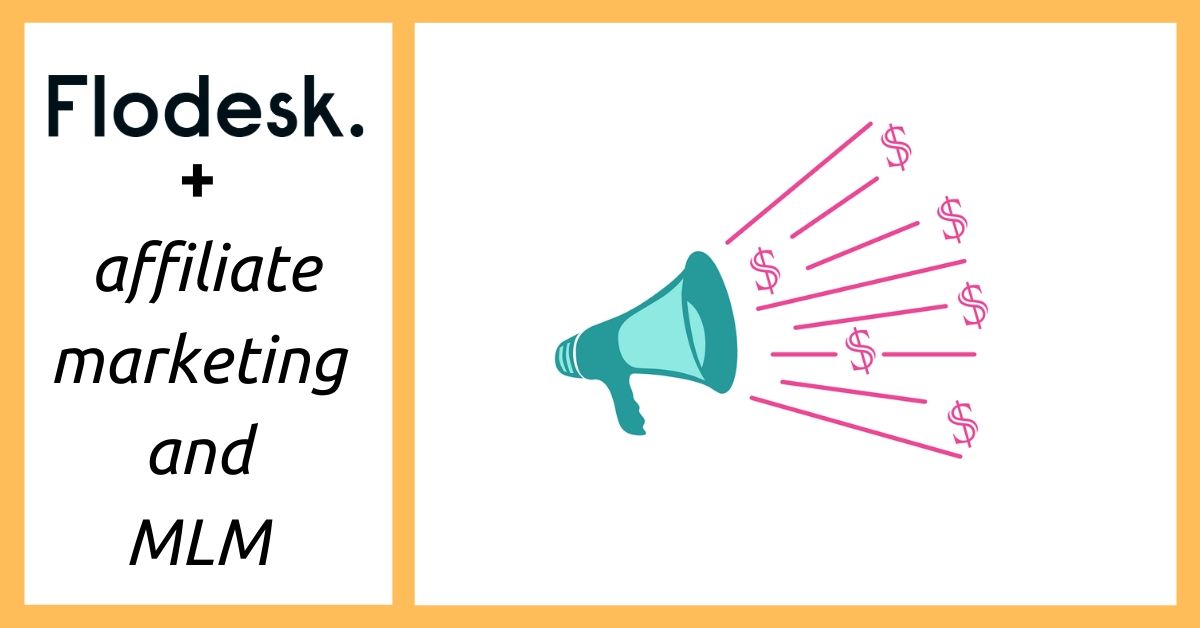 Both affiliate marketing and multi-level marketing are tried and true ways to make a nice side income or even full-time salary.
However, numerous email marketing tools condemn these practices. Many of these companies outright say that your account will likely be shut down if you partake in these marketing practices. Other companies are a bit more vague about their stance on these marketing practices but commonly shut down accounts that practice affiliate marketing and MLM regardless. 
That being said, if affiliate marketing or MLM is an important part of your business, it's important to find an email marketing tool that will accommodate these marketing practices.
This post covers Flodesk's stance on affiliate marketing and MLM, as well as how to use Flodesk effectively for these purposes.
What is affiliate marketing and MLM?
Before we talk about doing affiliate marketing and MLM with Flodesk specifically, it is important to understand what exactly these marketing practices are.
Simply put, affiliate marketing means referring people to a product in return for a commission if people purchase that product.
MLM or multi-level marketing is when you can earn income by referring people to a product in return for commission (like affiliate marketing) AND earn a commission from the sales generated by MLM participants that you have recruited to the MLM network. In other words, you can make money from people that have joined the program through you.
Flodesks stance on affiliate marketing and MLM
Flodesk happens to allow affiliate marketing as well as MLM, however, the company does provide a few guidelines.
I emailed customer support to confirm and I got the following response: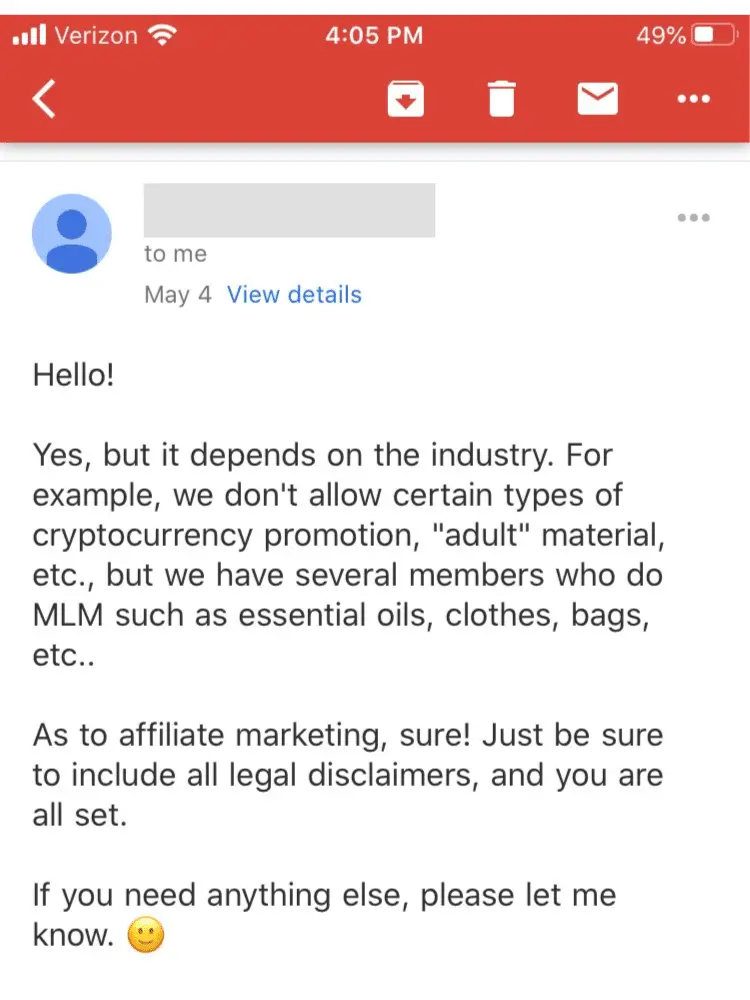 As mentioned in the response, email affiliate marketing is perfectly fine as long as you include all required legal disclaimers. Generally, as long as you aren't super spammy with your affiliate program promotions, you shouldn't have any trouble with Flodesk in doing affiliate marketing.
As for MLM, Flodesk generally accepts these practices with the exception of certain "shady" MLM programs.
Flodesk appears to generally not be supportive of MLM programs that sell the following material:
Adult entertainment

Crypto and virtual currency

Bogus weight loss pills or shakes

Gambling services

Illegal goods or services 
Basically you should use your best judgment. If you come across an MLM program that seems a bit shady, you don't believe in the product and you can't imagine using it yourself, you probably shouldn't promote it with Flodesk. In fact, you probably shouldn't get involved with it in the first place.
Flodesk will use its own discretion to terminate your account and it has the right to do so at any time. That being said, if you are unsure if Flodesk will allow you to advertise for your MLM program, it wouldn't hurt to reach out to Flodesk and ask if the program is acceptable before you sign up with Flodesk.
On the other hand, Flodesk seems to accept MLM programs in the following industries such as
Makeup and cosmetics

Essential oils

Skincare

Supplements

Clothing

Jewelry

Handbags and other fashion accessories
Related: Flodesk Review: Pros & Cons, and My Opinion…
Why other email marketing companies don't allow affiliate marketing and MLM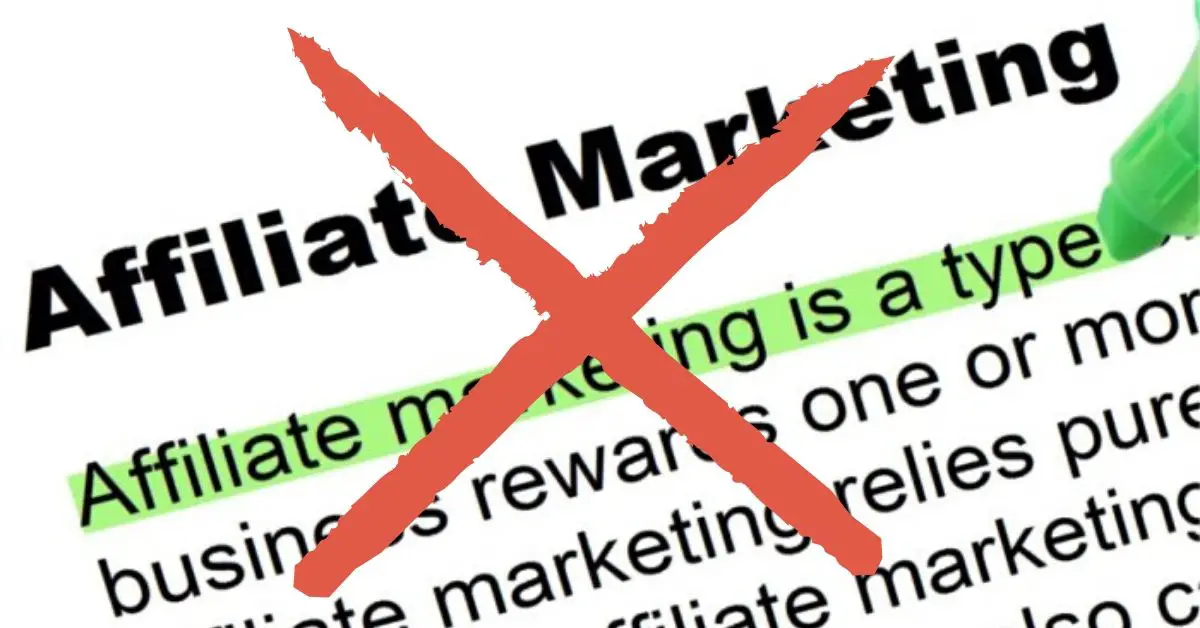 Frankly, the fact that Flodesk is affiliate marketing and MLM friendly makes Flodesk incredibly unique. Obviously this makes Flodesk particularly attractive for anyone who is involved with these programs.
After all, there are only a handful of email marketing software that allow affiliate marketing. Most popular email marketing companies such as Mailchimp don't allow these practices at all.
As stated in Mailchimp's acceptable use policy, the affiliate marketing and MLM industries have higher-than-average-abuse complaints which can hurt deliverability.
Email deliverability is the ability to successfully send emails directly to your subscriber's inbox.1 Good email deliverability means a high percentage of emails sent actually make it to your subscribers' inbox instead of bouncing or getting rejected. 
Email services like Gmail and Yahoo Mail often recognize MLM and affiliate marketing emails as spam, and in turn, these services often reject these emails. That being said, in order for email marketing companies like Mailchimp to maintain their high deliverability rates, they ban MLM and affiliate marketing practices altogether. Flodesk just happens to be a bit more lenient.
Best email marketing practices for affiliate marketing and MLM
If there is one rule that you should follow when using Flodesk for affiliate marketing and MLM, it should be to not spam. And by "spam", I mean you shouldn't send 5 emails a day to your subscribers in an effort to get them to buy whatever product or service you are promoting.
There are a few reasons why you shouldn't promote products or services super actively like this.
The first would be that it can hurt your deliverability of course. Sending numerous promotional emails every day is a surefire way to have your emails sent to your recipients' spam folder. And what good are your emails if your subscribers can't see them?
Secondly, there is a good chance if you partake in these practices that Flodesk will terminate your account. Flodesk and other email marketing companies hate spam just as much as your subscribers.
Lastly, sending emails like this is just flat out indecent. Don't be that person.
If your business does affiliate marketing and MLM, it is important that you have a healthy balance between sending your subscribers' promotional content and other valuable content that your subscribers can benefit from. For instance, you can send your subscribers free ebooks you have created, share informational content from your blog, do tutorials or host webinars. The point is to provide genuinely helpful content for your subscribers. Do so, and you can have an everlasting business relationship with them.
Not only will your subscribers appreciate you and your business for email marketing like this but you will likely be able to generate more revenue from your subscribers over the long run. Maintaining a long term business relationship with your subscribers based on trust is much more profitable than just spamming your subscribers over a short period of time to earn a quick buck.