A few of the most well-known landing page builders include Unbounce, Leadpages, and Instapage. While these are extremely powerful solutions for building high-converting, beautifully-designed landing pages, there is one glaring downside to using these tool… the cost. 
Take Unbounce for instance. Starting at $80 dollars a month, this solutions isn't exactly affordable for many businesses—especially small businesses on a budget. 
However, although the most popular landing page builders can be expensive, its entirely possible to build a landing page for free. To do so, you just need to think outside the box and explore some of the lesser-known (but wayyy more affordable), landing page builders. 
Here you can discover how to build a landing page for free.  
But first… what tools and platforms can you use to create free landing pages in the first place? 
Choosing a Free Landing Page Builder
There are various platforms (some you might not expect) with free versions that allow for making landing pages. Generally these platforms fall into three categories: 
Website or landing page builders 

Email marketing software 

"all-in-one" marketing platforms 
Website or Landing Page Builders 
Landing page builders, of course, are intended for making landing pages. No secret there. 
Many website builders can be used to create landing pages as well. 
For most marketers these platforms are the obvious choice given that these tools have a slew of templates and features specifically for building landing pages. A few examples of these platforms that offer free versions include: 
Wix

Strikingly

Convertflow 

Woorise 

Carrd

Site123

Weebly 

Ucraft 

Sunny landing pages 

Google sites 
Additionally there are various free wordpress plugins such as Elementor that you can use to build landing pages. However, these plugins are third-party extensions rather than page building platforms that are completely independent from your website like the previous solutions discussed. 
Email Marketing Tools 
You might be surprised to know that there are numerous email marketing tools with landing page builders. 
However, given that capturing email addresses and emailing leads go hand in hand, it makes perfect sense this is such a common feature. Fortunately, many of these platforms offer this feature in their free plans. 
Some of these most notable email marketing tools include: 
Mailchimp

Mailerlite

ConvertKit 

Aweber
One of the greatest benefits of these platforms is they are essentially free landing page builders with autoresponders. In other words, not only can you use them to create pages but you can follow up with leads as soon as you capturing them, all with one tool. 
"All-in-One" Marketing Tools 
Any marketing tools that have a handful of core marketing capabilities (such as form building, social media management, paid ad management, email marketing, SMS, marketing automation etc) can generally be considered all-in-one marketing tools. 
However, given that these platforms have so many features (and offer immense value to users as a result), its rare that you will find platforms like this with a free version. 
One of the few platforms that's an exception is HubSpot. 
HubSpot is a marketing platform that happens to offer a slew of powerful features in its free plan including forms, ad management, live chat, and most importantly… landing pages. 
Although the free tools are certainly limited, they are a great place to start. 
How to Build a Landing Page for Free (Step by Step)
Now that we have covered the various free options available, lets dive into how to create our free landing page. 
For this example we will be using Wix. There are a few reasons why Wix.
First, the landing page builder is extremely flexible. Unlike most other platforms that have predesigned placeholders for elements such as text and images, with Wix you have complete control over where you  want elements to go. Additionally you have complete control over the size and design of elements such as forms. All in all, these flexibility of Wix allows for unparalleled customizability. 
Secondly, wix offers a VAST selection of templates. The company offers hundreds of templates and many of them happen to be landing page templates. By selecting one of these, you can save yourself a ton of time. 
Lastly, for what its worth, the platform is extremely easy to use in general. Its rare that you will come across a platform that allows for so much customizability but at the same time is incredibly intuitive as well. 
Without further ado, lets dive right in.
1. Create an Account
First things first, you will need to create an account. Simply submit your name and email and you can get started. 
2. Choose a Template
At first you will be prompted a series of questions about your business, your goals for your business, how many employees you have, etc. However, going through this process isn't necessary for building a single landing page so you may be better off just hitting "Skip" on the right hand corner for each question and moving on to the next step.
Upon hitting "Skip" (or after just going through these questions) you will be prompted to use Wix ADI (Artificial Design Intelligence) to build a website for you. However, for building a single landing page, you would be better off just picking template that appeals to you. With that in mind, simply click the "Choose a Template" option. 
From here you are presented with a wide selection of website templates:
Although there are many templates to choose from, not all of them are good for landing pages. 
Fortunately, to narrow your search you click on "Business & Services" and then on of the two landing page options. 
In the landing page category you can find a handful of beautifully designed templates for building landing pages of all kinds. 
You can find many types of landing pages such 
Lead capture landing pages

Sales page/product pages

Coming soon pages 
Alternatively, if you don't like any of the designs and you want to build a page from scratch, you can choose a blank template as well. 
For this demonstration, we will be moving forward with the "Webinar landing page" as we will be creating a landing page for our company.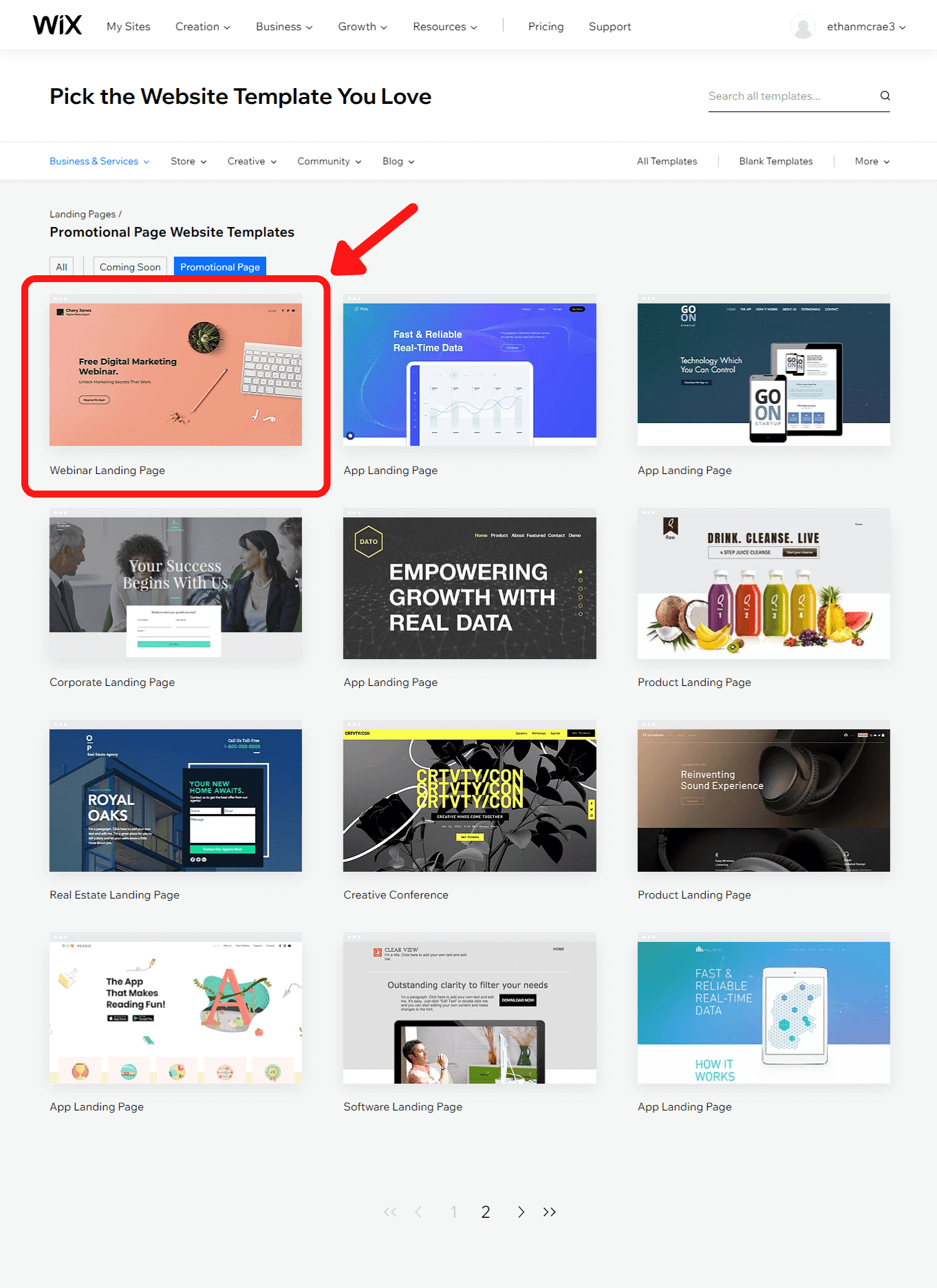 3. Design Your Landing Page
Now comes the fun part—designing your landing page. 
Ultimately, creating a good looking landing page is a bit subjective. Its more of an art than a science. However, there are a few design directions that are good to follow when building a landing page. 
First, remove any navigational elements from the landing page, if the template comes with these elements. 
The whole point of a landing page is to get visitors to convert, whether that be by clicking through to a website, downloading a lead magnet, etc. That being said, the last thing you want is for your visitors to explore other pages.
It may be best to delete any distracting social media elements as well for the same reason.  
Secondly, in order to make sure the landing page reflects your brand, its important to remove any dummy branding that the landing page may have come with, and replace it with your businesses branding. This landing page will be designed for a fictional marketing agency called "Screwball Marketing".
For this landing page, the company name at the top was changed and the image below of "Chery" as well as the text was removed. 
Fortunately, if you are interested in changing up the images, Wix has a ton of stunning images that you can choose fromin the "Media from Wix" area. Alternatively, you can pick image from Shutterstock, Unsplash or upload your own. For this landing page, we went with an image of a few professions that was found by searching "team" in Wix's media library. 
By adding a new image, a header, and some copy, we are off to a good start: 
Next, we will add a sign up form for our webinar. As you can see, Wix has a wide variety of forms you can choose from (in addition to its numerous other content elements). A few of these forms include contact forms, donation forms, job application forms. Additionally you can add payment forms, since Wix is a landing page builder with a payment gateway. 
For this landing page we will be using a simple sign up form. We started off by adding a generic Wix form, and then we tweaked the color scheme and design to match the style of the rest of the landing page. 
Lastly an anchor link was added to the "Reserve My Spot" CTA at the very beginning of the landing page so that when visitors click the button, they will be taken to the bottom where they can submit their information. 
…and voila! In about 20 minutes we were able to quickly put together this landing page.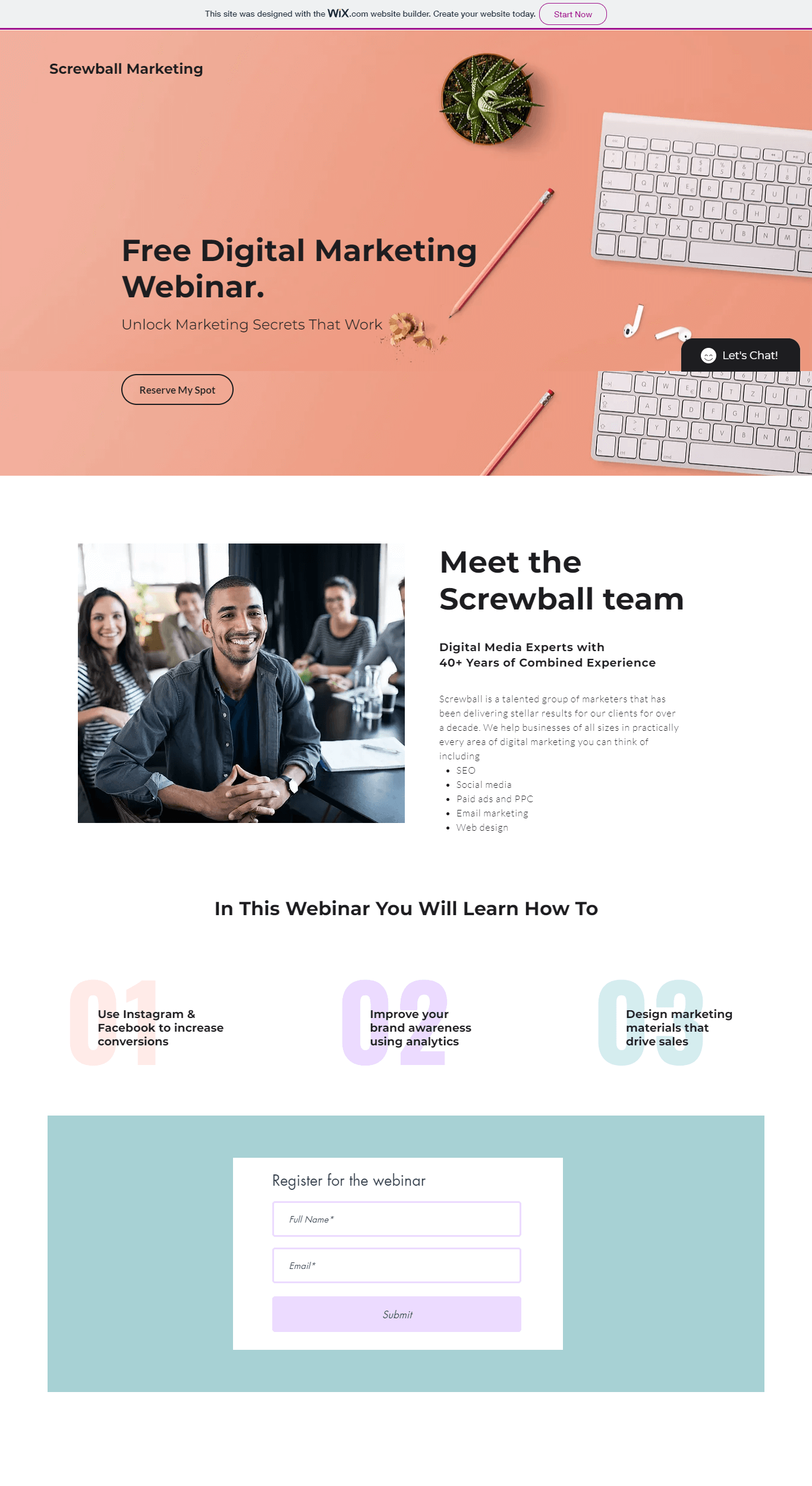 Downside of Building Landing Pages for Free
Obviously the biggest benefit of building landing pages for free is that… well… you don't need to pay anything. However, there are some considerable drawbacks of making landing pages free that are worth noting. With these drawbacks in mind, using a paid landing page builder plan may be your best option after all. 
Limited Features 
The most glaring downside of free landing page builder plans is the lack of features. For instance, free plans might lack
Design and editing capabilities that allow you to create your landing page exactly how you want

Access to add code for further customizing your landing page design

Integrations with other marketing platforms such as email marketing software for instance 
Other platforms, such as Wix for instance, displays ads on free websites which can be extremely distracting for visitors. 
No Custom Domain Name
Most free plans don't allow you to set up a custom domain. For instance when creating a free wix landing page, the domain you will get will be www.mywebsite.wixsite.com rather than a nice clean www.mywebsite.com. The wixsite.com domain extension can look unprofessional and tacky for the visitors coming to your website and could result in lower conversion rates. 
Limits to Number of Landing Pages
Often free plans don't allow you to create as many landing pages as you want. Instead, you might be limited to designing just one landing page. 
This is find for people that are only interested quickly creating a landing page for a one-time campaign. However, if you are interested in building out multiple landing pages for different campaigns, this limitation can obviously be problematic.  
Final words
Landing pages are extremely versatile. Whether you are building a landing page to showcase a product, capture leads, promote an affiliate product, or simply to notify your website visitors that your website is coming soon, there are many use cases for them. 
Free landing page builders are a great place to start. However, keep in mind that there are drawbacks to creating free landing pages. For taking your marketing seriously consider upgrading to a paid plan for a more feature-rich design experience.