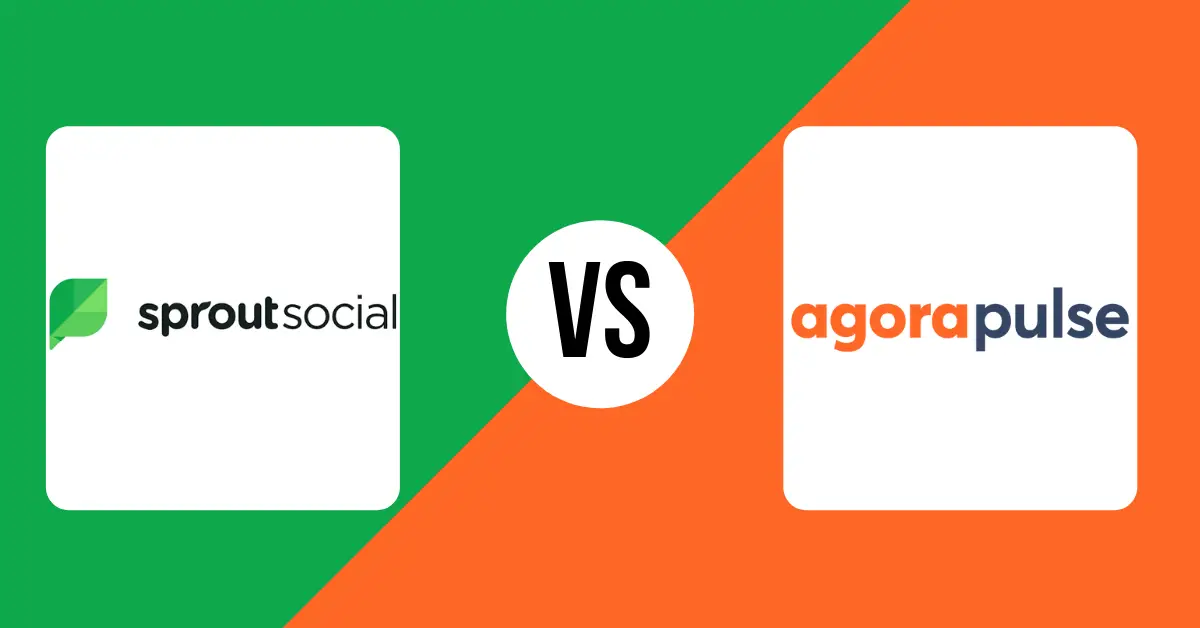 Given how powerful social media is as a marketing channel, it makes perfect sense that there is a plethora of software designed to help you publish and schedule posts on various social media channels seamlessly. 
While it's great that there are numerous options to pick from, on the other hand, it can be very difficult to narrow down the social media management tools that are best for you. 
Sprout Social and Agorapulse happen to be two incredibly popular social media management tools. While they are similar in many ways, there are also a few key differences everyone should know about before choosing one over the other. 
In this post, we will discuss Sprout Social vs Agorapulse in terms of features, pricing, and overall user experience. 
About Sprout Social and Agorapulse 
Sprout Social's mission is to "help organizations of all sizes become better marketers and create the world's most beloved brands", according to the company's CEO, Justyn Howard.
The company started with initial funding of $1 million in 2010. After a company redesign and a public release, the sprout's mission hasn't changed much despite the various changes to the platform itself. 
Founded in 2000, Agorapulse has been around a bit longer than Sprout Social and over the years has attracted 11 thousand customers. While it has the same core capabilities that Sprout Social has, it is slightly less sophisticated than Sprout Social, as you will soon discover.
Supported Social Media 
| | | |
| --- | --- | --- |
| | Agorapulse | Sprout Social |
| Facebook | ✅ | ✅ |
| Twitter | ✅ | ✅ |
| LinkedIn | ✅ | ✅ |
| Instagram | ✅ | ✅ |
| Pinterest | ❌ | ✅ |
| Snapchat | ❌ | ❌ |
| TikTok | ❌ | ❌ |
| Other Channels | Youtube | Youtube |
| | Google My Business | |
Agorapulse and Sprout Social support practically the same social media platforms with the exception of Pinterest. Sprout Social supports Pinterest while Agorapulse does not. For many marketers, this isn't necessarily a deal-breaker, but if you have an active Pinterest account, this limitation on Agorapulse's end might be a concern for you.
Sprout Social also connects with a few bonus platforms that Agorapulse doesn't such as Glassdoor and TripAdvisor. This can be beneficial if you are really focused on reputation management in addition to social media scheduling.
Key Features
Both social media management companies have several core features worth talking about. But the bulk of those features are broken down into three areas:
Post scheduling

Managing interactions

Monitoring social media channels
Here is what we can expect from these companies:
Scheduling and Posting
Both companies allow you to schedule posts across multiple platforms.
As far as scheduling social media posts goes, the process is incredibly similar between the two companies. However, Sprout Social has a few scheduling features that make Sprout Social a bit more sophisticated in this respect. The ability to add tags to posts, assign posts to campaigns, and to create workflows for scheduling posts for certain team members makes Sprout Social's scheduling features a bit more advanced.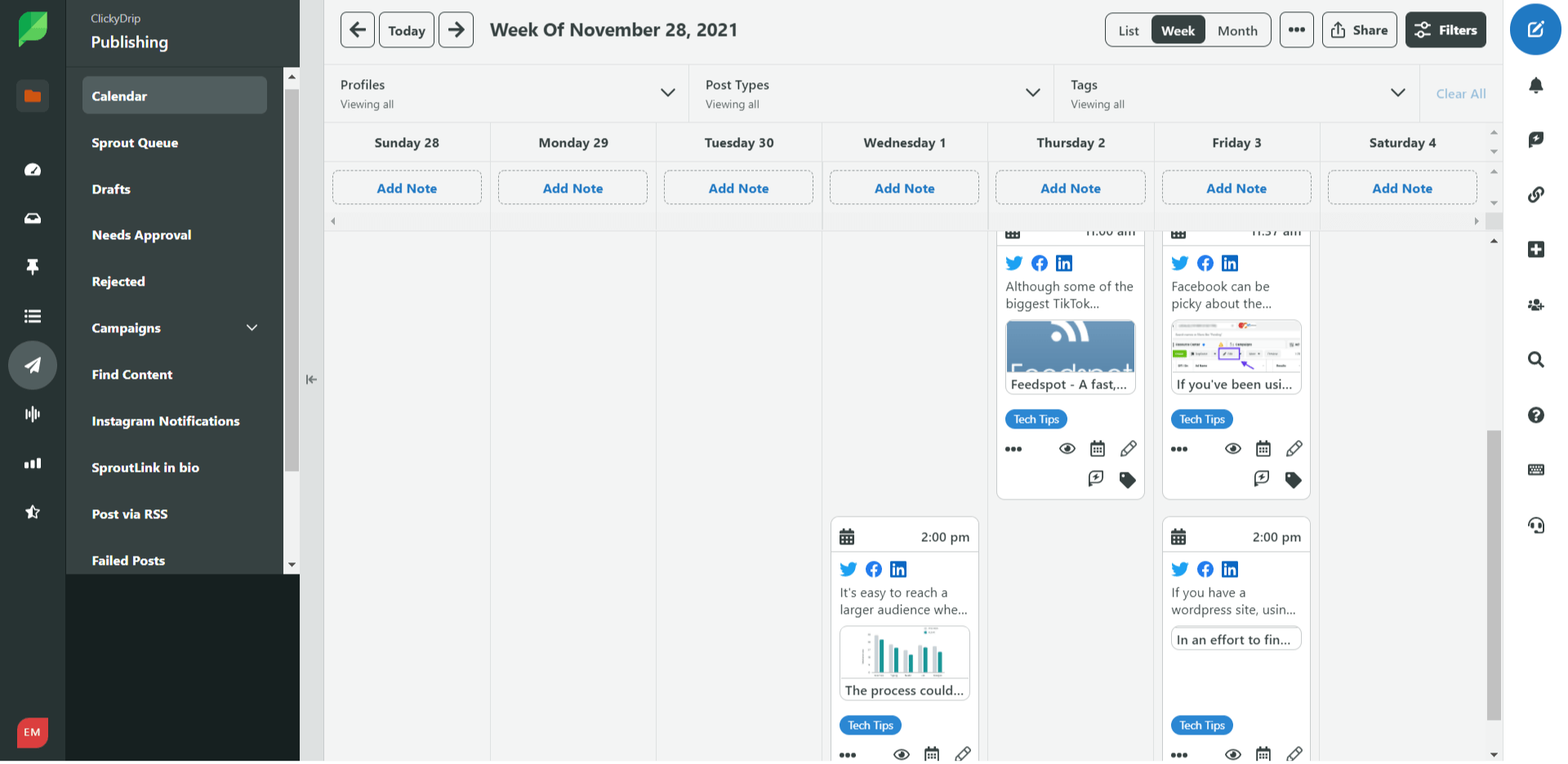 On the other hand, there is something to be said about Agorapulse's clean and modern scheduling dashboard that makes it very appealing to some users. The intuitive interface makes for a great user experience for many. 
Interaction Management
Both companies utilize a "social inbox" to collect all direct messages on social media. Both enable you to switch views of messages by date range, and social media sources. Sprout Social calls this the "smart inbox."
Compared to Agorapulse's interaction management feature, Sprout Social's Smart Inbox is far busier, as it includes all social communications like direct messages, comments, retweets, and recognition of new followers. You can choose to check and uncheck these boxes under the "message types" dropdown menu.
Tags fulfill the same need as labels and you are allowed to sort by sourcing. One area that Social Sprout excels in this category is the creation of VIP contacts.
If you have a particularly important client you want to keep an eye out for, you can label them. This can be important if you have clients who love to interact with you.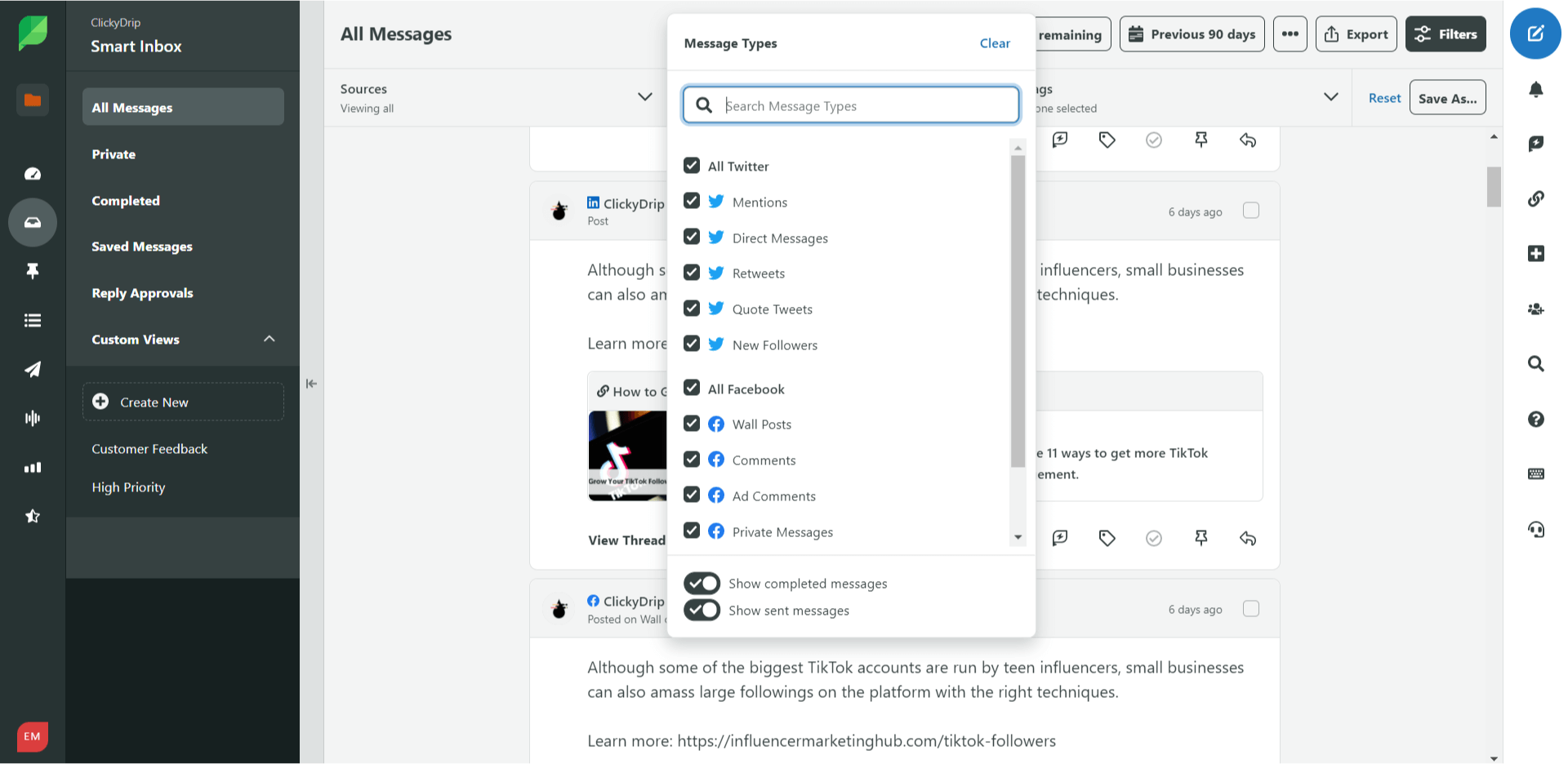 Agorapulse focuses more on public comments, enabling you to easily sort by what you need to review and what you've already seen. You can also assign comment response duties to different members of your social media team.
You can also sort your comments by labels. For example, if you were to get a complaint on a topic, you might want to sort all complaints under a label to seek out trends.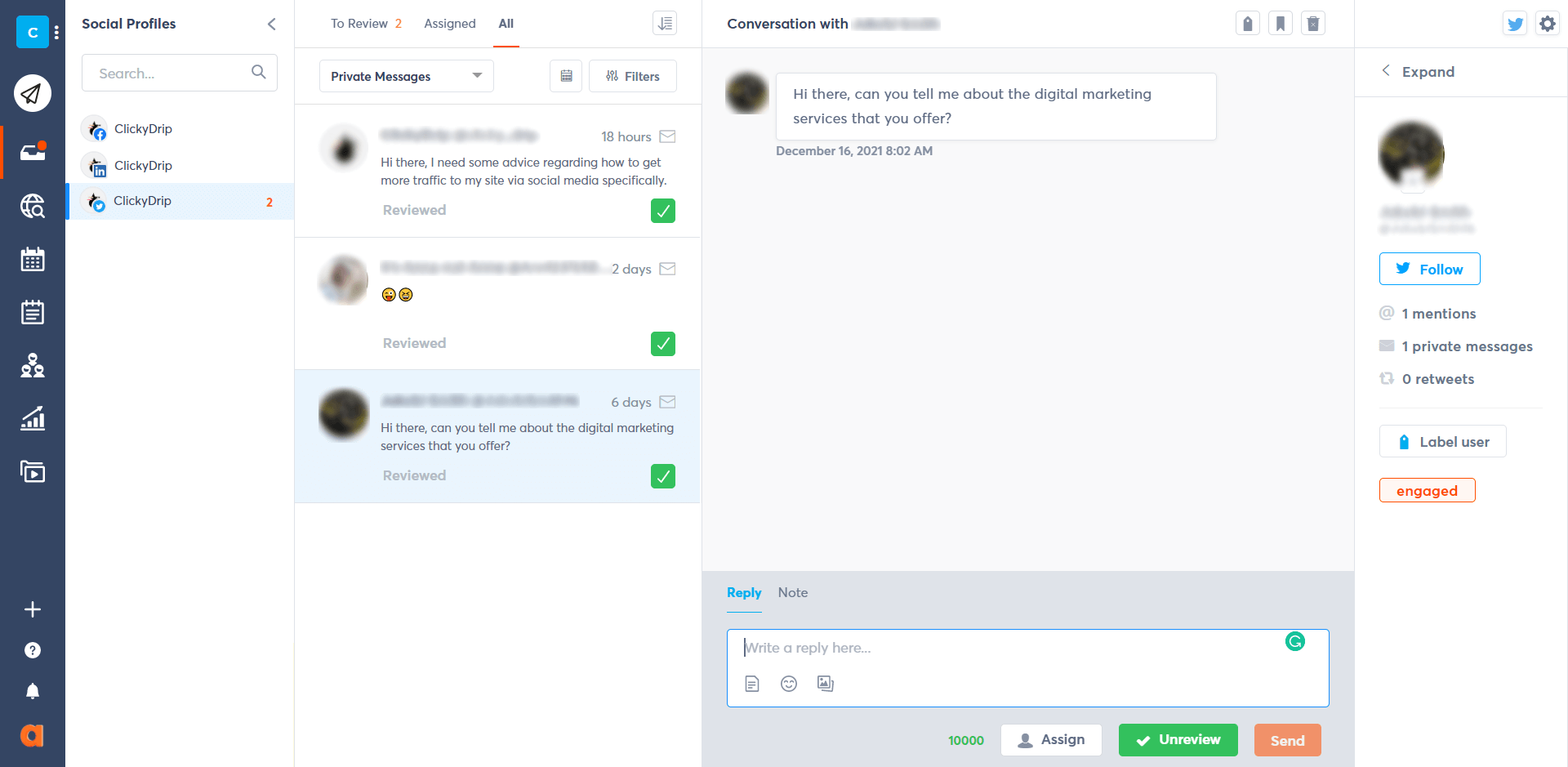 Social Media Monitoring
Using many of the elements listed above, you can track important messages directly to yourself. However, social media monitoring also includes mentions, which come in the form of the "listening" tab for both companies.
Sprout Social includes five different listening templates for tracking common issues, making their offering a bit more robust on this front than Agorapulse. You can easily track a specific topic and keep up with how often that topic is mentioned on social media, hashtags related to that topic, which social media channels are most active in terms of mentions for that topic, and much more. You can get an idea of the types of insights you can glean from Sprout Social's preview of the topic "espresso" below: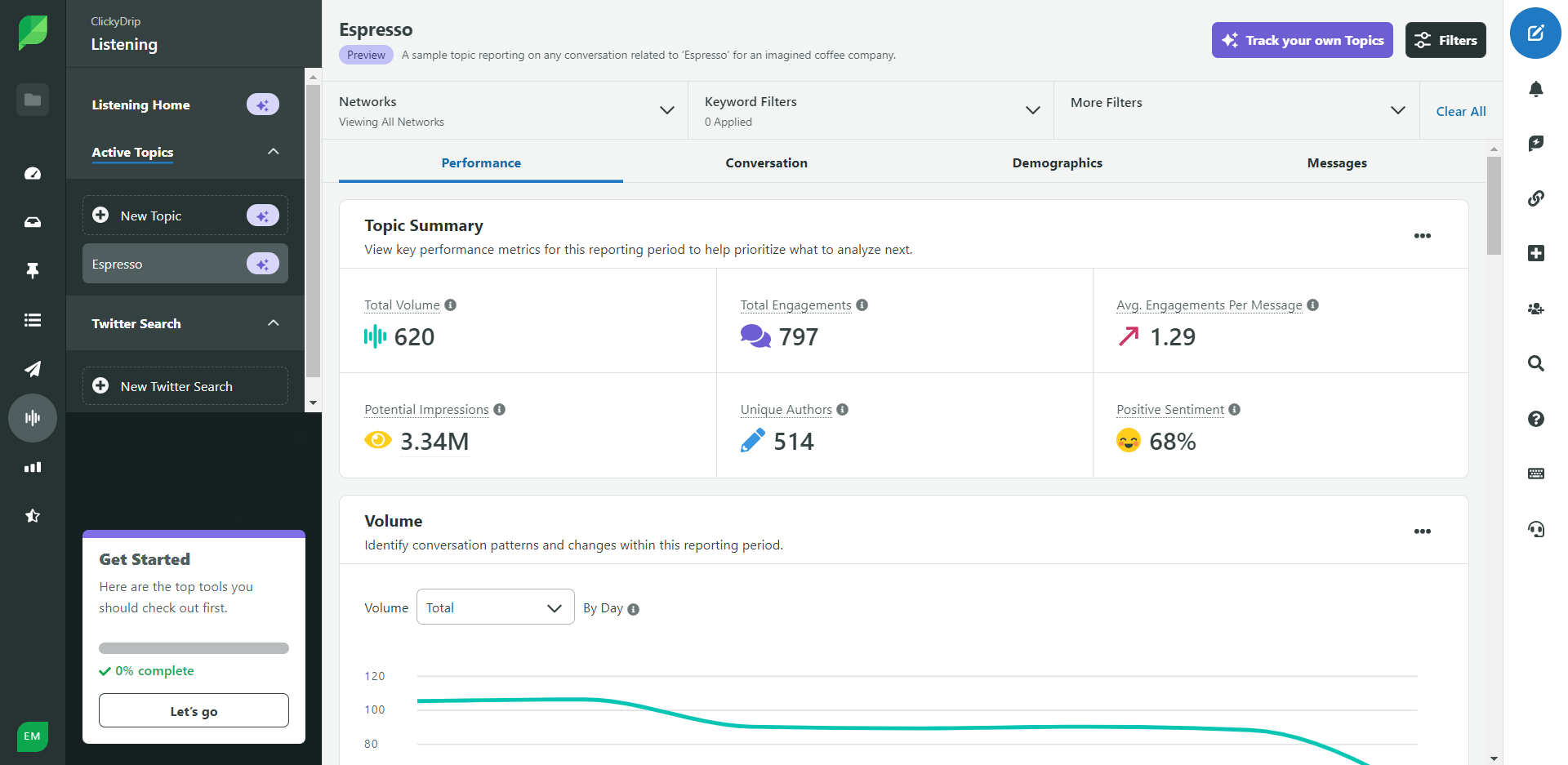 On Agorapulse, the interface is a bit less intuitive, but you can choose to create a moderation rule tracking specific words to mention. For instance, Agorapulse pulled up the following posts created by various accounts for the term "Marketing technology":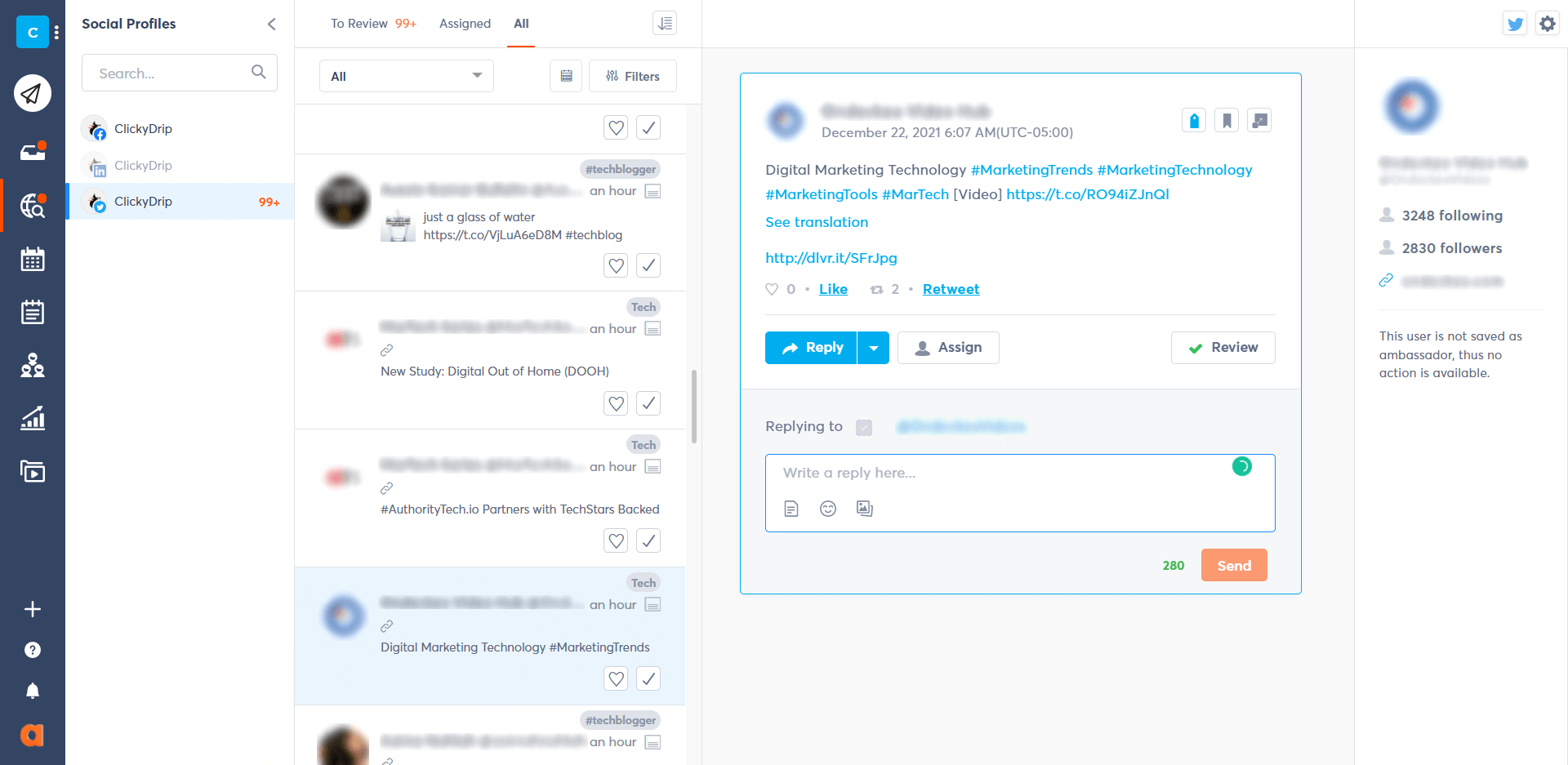 For example, web hosts might track the word "is down" to address when their servers aren't working for someone. This feature enables quick responses when people take to social media to announce complaints.
You can also listen for general messages where someone talks about topics adjacent to your business. For example, you can track whenever someone complains about their frustration with lousy coffee. If your company sells coffee, you can offer a free sample of your product to compare.
Approach to Posting and Scheduling
Sprout Social's posting button is clearly marked in the top right of the software, which you can access no matter where in the software you might be.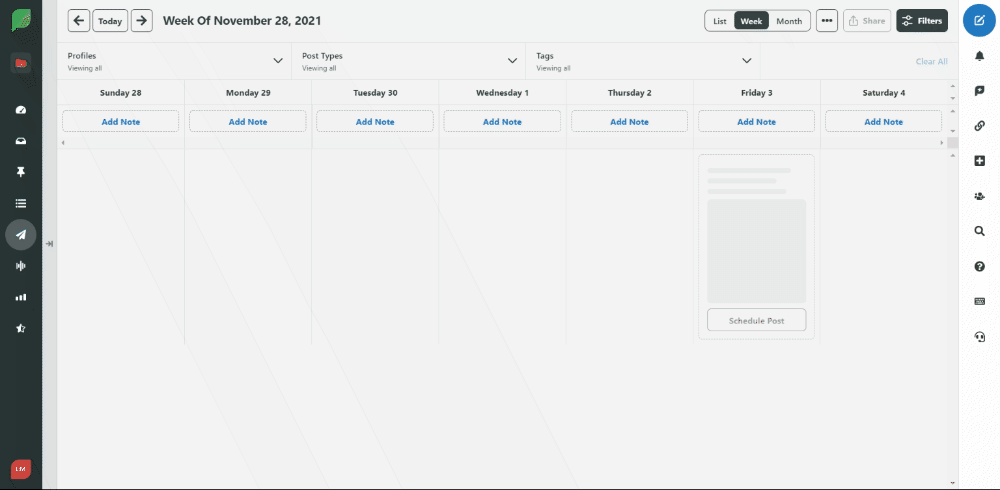 The next page enables you to see the posting details on the left and the network preview on the right. There is also an approval workflow process if you want one or more members on your team to approve a post before you set it live. 
You can select one or many profiles from the dropdown menu on the top of the new post page. Below that is the text box containing what you plan on posting. Instead of tracking the per-social page character limit, the limit is based on the smallest amount of available characters, which is usually Twitter.
Sprout tags are built right onto this page so you can add labels for different post types. You can also associate them to different campaigns, which seek to group posts in a different category.
If you have people working with you, selecting the "this is a draft" tab will enable you to save it. This allows social media managers to get approval before uploading information.
You can use this to ensure you don't have other queued posts, ensuring you don't make multiple posts on top of each other. Sprout Social also includes bulk scheduling that you can upload using a .csv file.
Agorapulse makes it far easier to schedule, putting the "make a post" button on the upper-left-hand corner of your dashboard. From there, you can simultaneously post it across multiple social platforms.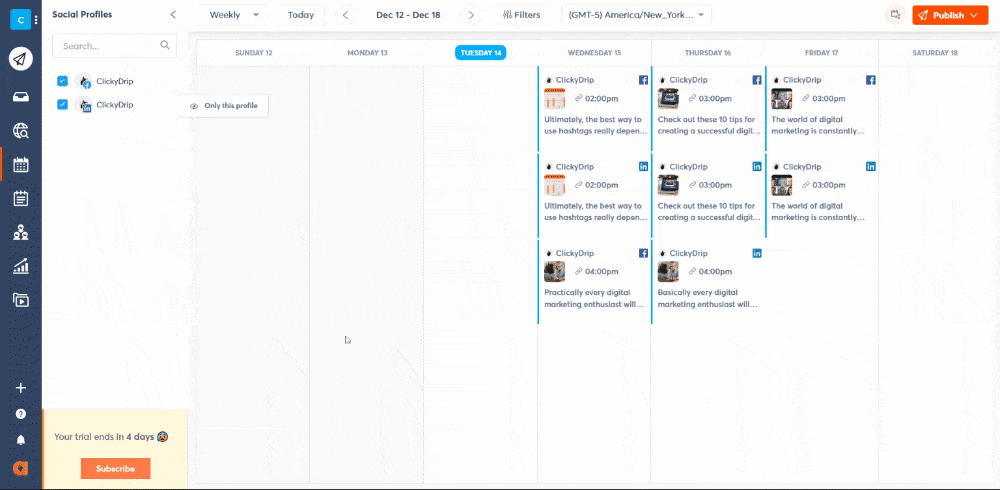 The far left section enables you to select one (or many) profiles to post on.  The middle area is where you type your post, include links, add pictures, and add emoticons. The far-right section enables you to preview how it will appear across these platforms:
Facebook

Instagram

LinkedIn

Twitter

YouTube
The location button enables you to tag important locations you'd like associated with the post. This option can be great if you are holding an event somewhere. The country-targeting tab is for selecting associated countries.
You are given three options from the bottom-right-hand corner:
Publish now

Add to queue

Schedule
The add to queue selects a preset time based on Agorapulse's preferences. The schedule button enables you to see a calendar, select a time, and select a date. You can also choose to republish this regularly (once a week) or schedule a few additional times. 
Clicking on "Assign to" enables you to inform your staff of needing to write a post during this date and time.
Dashboard Experience and Ease of Use 
When it comes to the main Dashboard, Sprout Social is the only one with a dashboard link. This board includes important team tasks, performance analysis, and pending approvals. This is often the first page you use when logging in on Sprout Social.
Agorapulse makes up for this by making an interface that is less busy. There is a good deal of white space with a healthy portion of your tools under the gear in the upper-right-hand corner. Although Agorapulse may be less feature-rich than Sprout Social, it is certainly more intuitive. 
Both companies have the majority of the dashboard on the left-hand side. Sprout Social has a secondary menu on the right side.
Reporting and Analytics
Both Sprout Social and Agorapulse have a report link nearing the bottom of each menu.
Sprout Social's default page starts with a cross-network overview that measures the number of impressions, engagements, post-click links, and the percentage change of each stat. Clicking on "profiles" enables you to break this down by social account.
Scrolling down enables you to see the audience growth both in numbers and percentage format. You will also find different sections:
Impressions

Engagement

Video views
You can also track performance by posts, tags, or paid ads.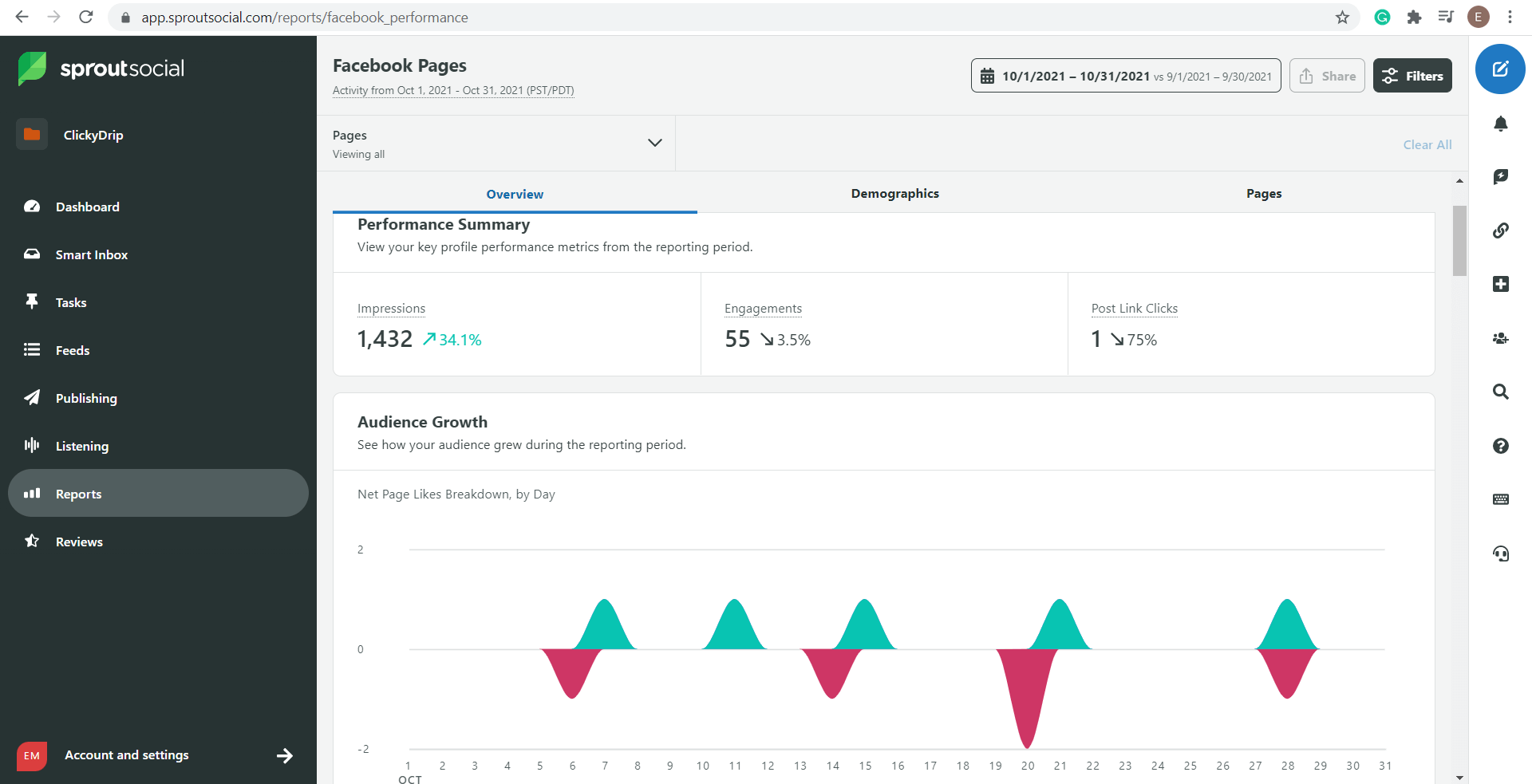 Agorapulse allows you to see a change in fans, engagement, impressions, and brand awareness tracking at the start of the report page. The brand section is for tracking the number of social shares you get.
Scrolling down will reveal various line graphs showing changes over time. Agorapulse also makes it easy to break this down by specific posts through "content" on the top.
The "community management" tab enables you to track replies and engagements while the "competitors" tab enables you to see different social accounts.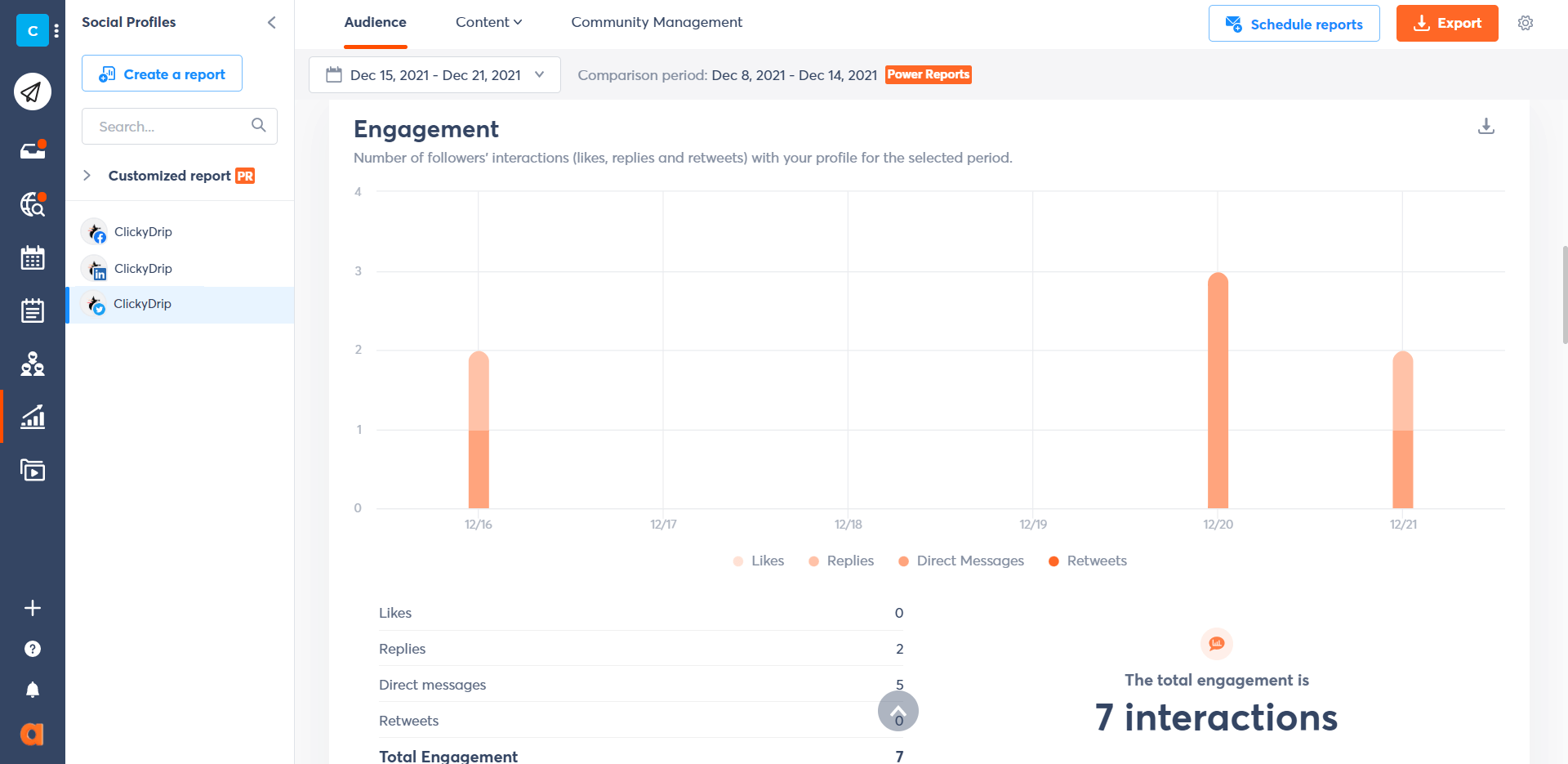 Team Management
Sprout Social has powerful team features with easy invitations. The right dashboard has a series of people that allow you to invite a team member.
From the addition page, you can assign them to specific social pages and give them permissions that go from submitting drafts to approving other team members.
Assigning these members to specific workflows will enable you to limit team communication and edit requests by different brands or page categories.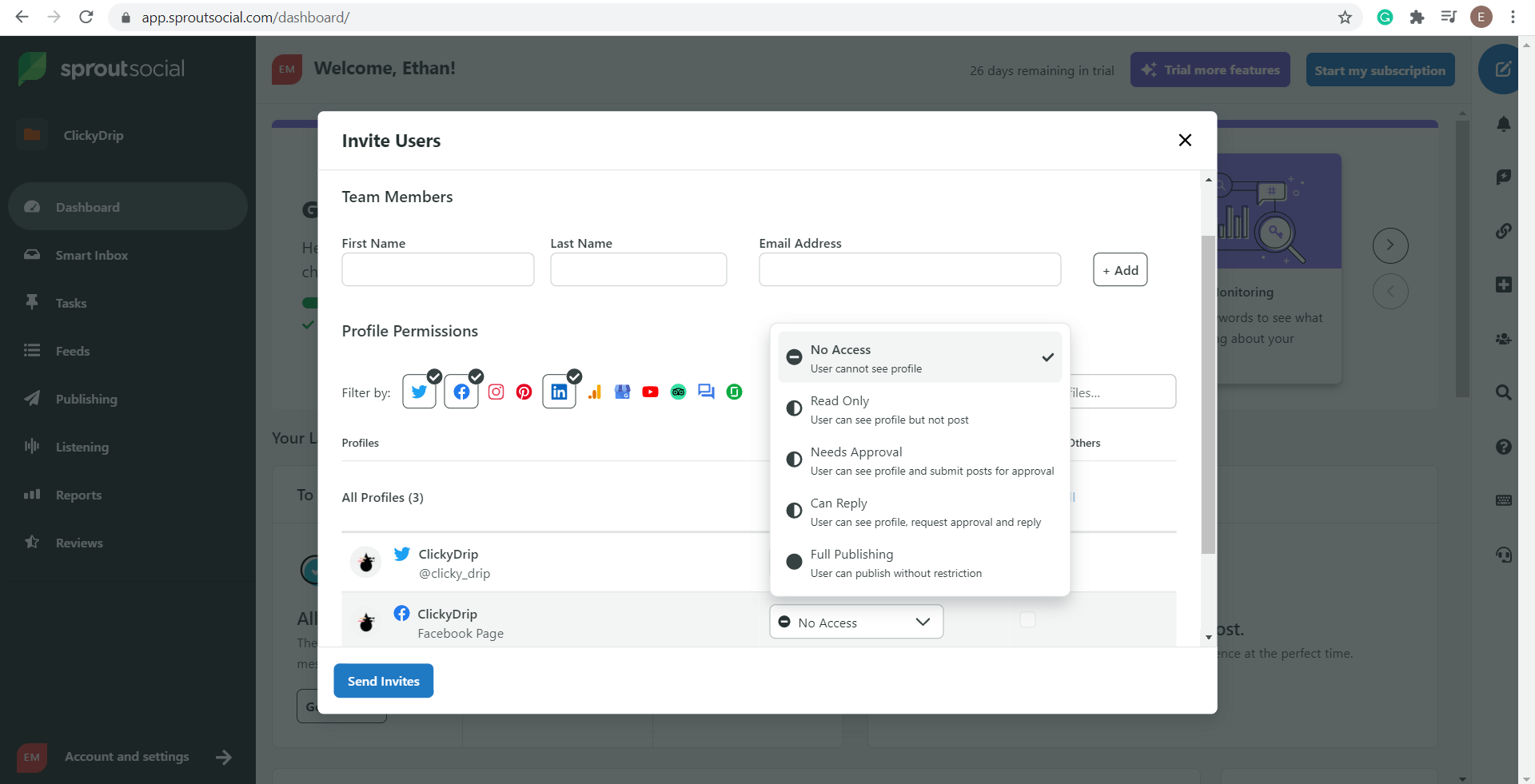 Agorapulse also enables solid team management features. Similar to Sprout Social, you can easily add team members by simply inputting their emails and names. Agorapulse team members fall under four categories:
Guest – For people who want to look around

Moderator – For those who have permission to approve and interact with customers

Editor – Those who have permission to edit other people's posts and submit their own posts

Admin – Those who have control over most functions

Manager – All functions including the invitation of additional team members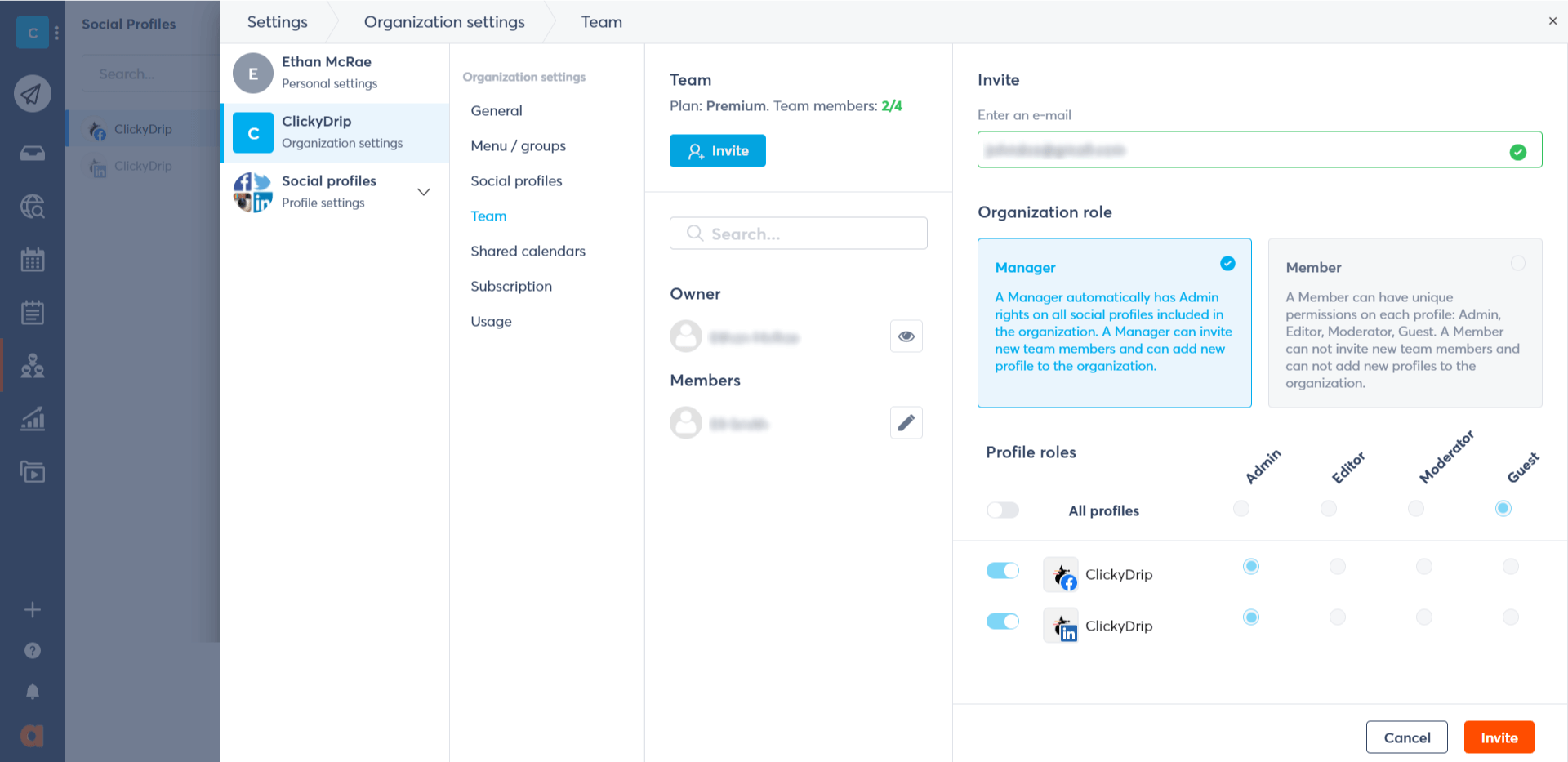 Pricing Comparison
Both companies have similar pricing. Here is how Sprout Social prices its product:
Standard:

$99 per month ($89 /mo if annually billed)

Professional:

$169 per month ($149 /mo if annual)

Advanced:

$279 per month ($249 /mo if annual)
Standard offers access to five social profiles while the other two are ten. All levels allow for scheduling and content calendar access. You also get the same level of analytics on a per-post or overall view.
The Professional level includes competitive reports, access to tags, and scheduling based on optimal times (the queue function). You can also get response rate analysis reports and paid social reports.
Advanced features included automated link tracking, access to a digital content library, and message spike alerts on activity increases.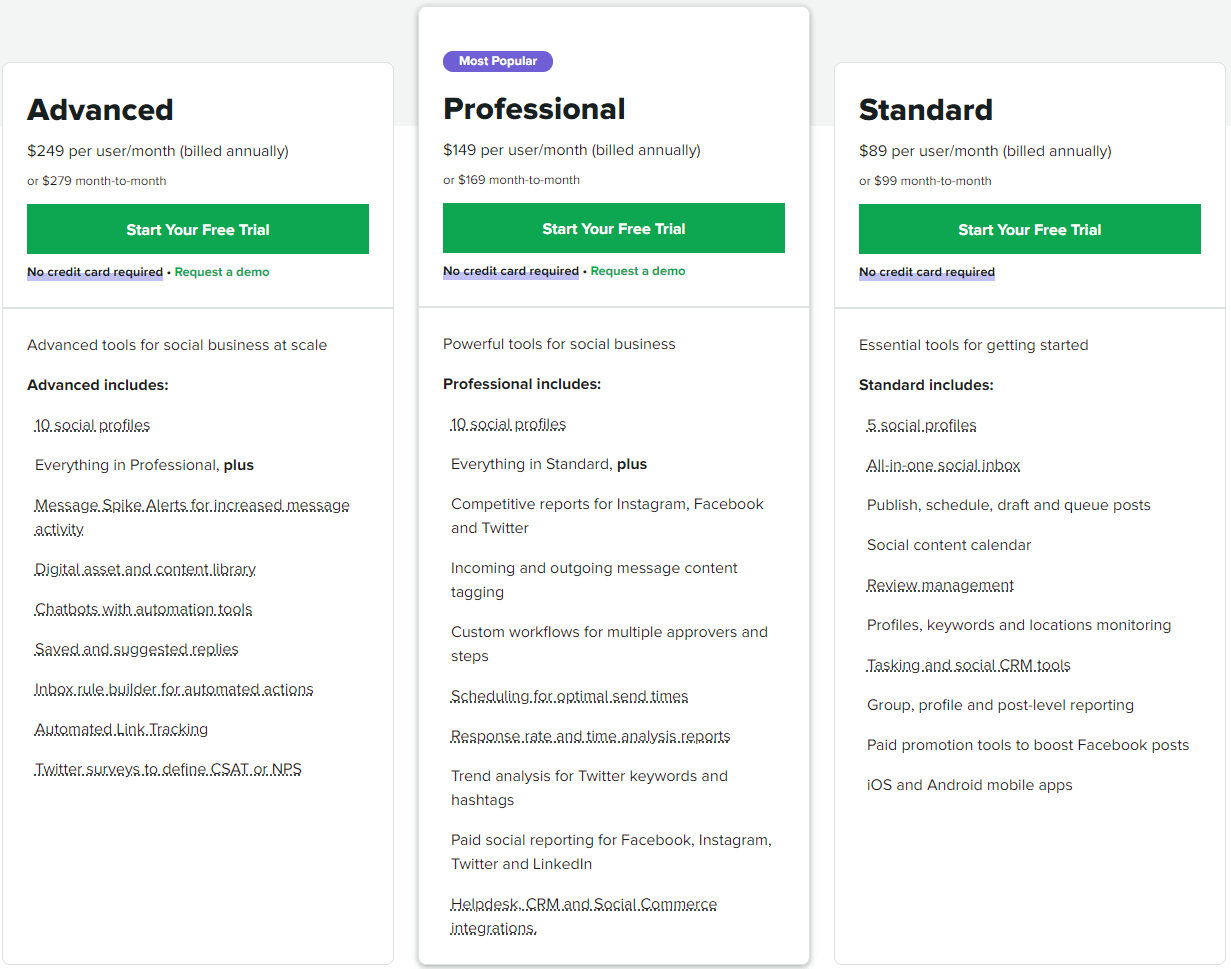 Agorapulse has similar pricing:
Pro:

$99 per month ($79 /mo if annual)

Premium:

$199 per month ($159 /mo if annual)

Enterprise

options are billed on a case-by-case basis
Agorapulse offers more accounts, starting at 10 and going up to 20 and 40 respectively. You also get between two and eight team members and up to 4 shared calendars.
Team workflows are limited to the second-most tier and the Enterprise tier. There is also differing onboarding support for people who pay more.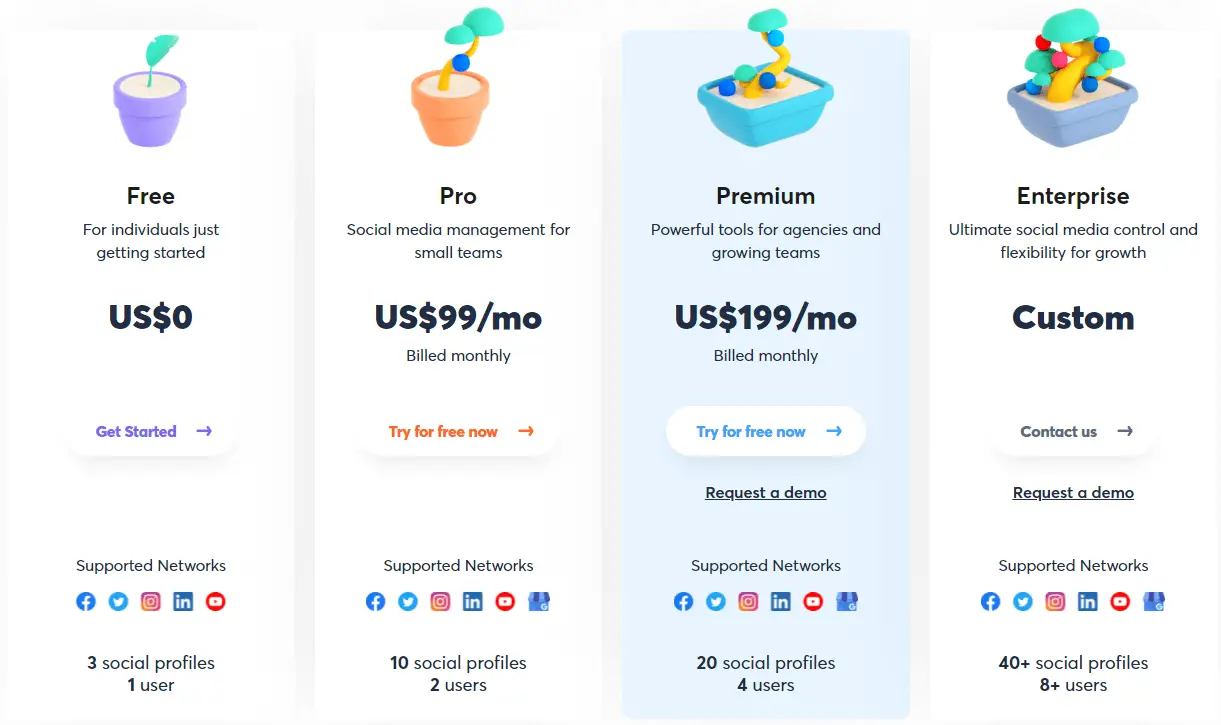 Integrations
Social Sprout includes integrations with CRM platforms, digital asset managers, and many more:
Marketo

Shopify

ZenDesk

Slack

Google Drive

Canva

Dropbox

Bit.ly

Google Analytics

Salesforce

Microsoft Dynamics 365
Agorapulse has fewer integrations:
Bit.ly

Canva

Facebook Ads
Agorapulse does not have any CRM software support. The asset management library is completely internal, not relying on sites like Dropbox or Google Drive.
Customer Support
Both companies offer a knowledge base system enabling you to perform self-service with relative ease. You can schedule a demo on either site and easily get sales available.
Sprout Social has a live chat option that is relatively responsive for those that have any questions while using the platform. The company also offers access to customer service, those seeking a walkthrough will need to pay the advanced rate. Agorapulse offers a chatbot system and claims to have a 30 minute response time. 
Both companies have good reputations, with G2 giving both about 4.5 stars across the board. Sprout Social has double the reviews, so it is clearly the most popular platform.
When To Choose Sprout Social vs Agorapulse 
With pricing and features being fairly similar, cases where you should use Sprout Social vs Agorapulse:
Sprout Social is better for large teams that need to handle numerous projects. Its workflow capabilities and integrations are built for relatively more tech-savvy individuals who are comfortable with the relatively more sophisticated set of features. 
Agorapulse is far more user-friendly but has fewer integrations and powerful features as well. For those seeking a simpler platform that supports more social accounts, Agorapulse is better.
To be sure that either platform feels right, we recommend you try them both. The best way to get comfortable with either platform is to dive headfirst and take advantage of those sweet free trials.
You can see how other social media management tools stack up to Sprout Social in the following comparisons: